San Francisco is a wonderful destination for those who love getting out in the open air and enjoying the marvels designed by Mother Nature. The city benefits from a privileged location at the north end of the San Francisco Peninsula and includes significant stretches of the Pacific Ocean and the San Francisco Bay. The result? An array of scenic beaches, history-filled islands, gorgeous coastline trails, and other outdoor charms.
San Francisco is also home to lush green gardens perfect for picnicking, idyllic sunset spots, and Insta-worthy streets where you can walk while breathing some fresh air.
Read on and you'll find the 11 most popular outdoor activities in San Francisco. Whether you're a beach babe or an urban explorer, you'll find a variety of outdoor adventures in this travel guide. Have a look!
Find Places To Stay in San Francisco, California
11 Best Outdoor Activities in San Francisco, CA
Bike Across The Golden Gate Bridge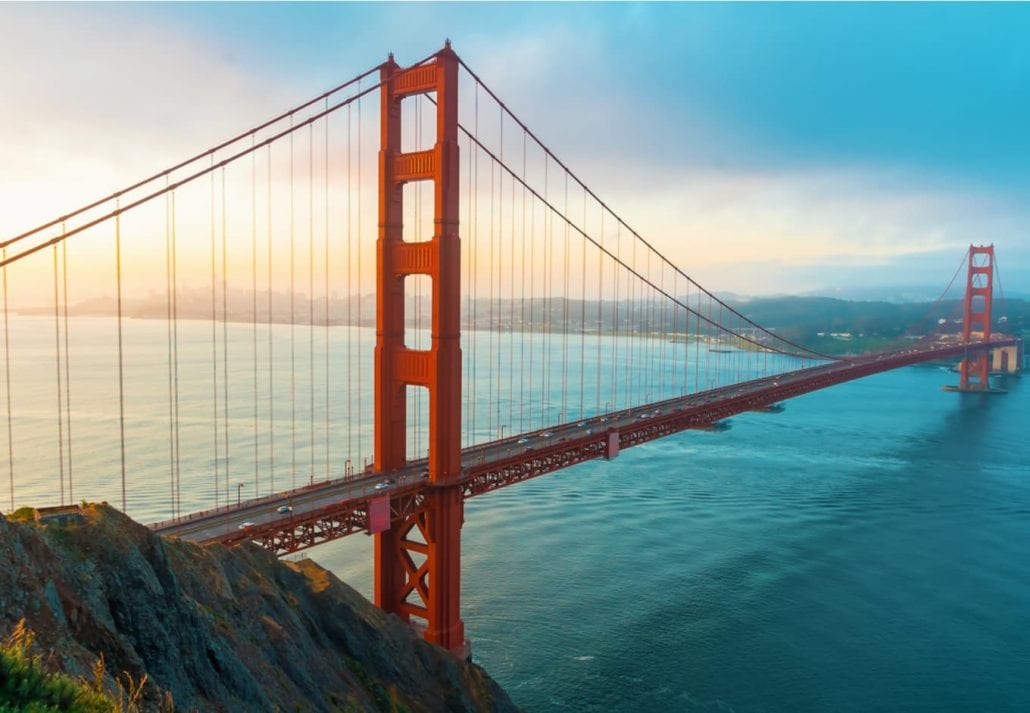 The iconic Golden Gate Bridge needs no introduction. Made of two 746-foot tall towers, and sweeping main cables, this worldwide famous landmark beautifully crosses the strait of the Golden Gate from San Francisco's Presidio to the Marin headlands, and it offers the best views of the San Francisco Bay area.
To experience the Golden Gate at its finest, you can either bike across the bridge, or marvel at it from viewpoints like the Fort Point National Historic Site, Baker Beach, or Fort Baker.
Go For A Leisure Stroll In The Golden Gate Park
The Golden Gate Park is a lush oasis in the middle of San Francisco. Filled with glittering lakes, emerald-green meadows, and idyllic gardens, this is the ultimate destination for nature lovers seeking to escape the city's hustle and bustle.
Encompassing more than 1,000 acres of land, the park is home to the Conservatory of Flowers, a Victorian building that houses almost 2,000 species of aquatic and tropical plants, including a 100-year-old giant Imperial Philodendron.
There, you'll also find the San Francisco Botanical Garden, which showcases nearly 9000 different kinds of plants from around the world.
Another must-visit spot in the park is The Japanese Tea Garden, the oldest in the United States, and dotted with well-manicured plants, Japanese maples, and cherry trees.
Check The Views From The Angel Island State Park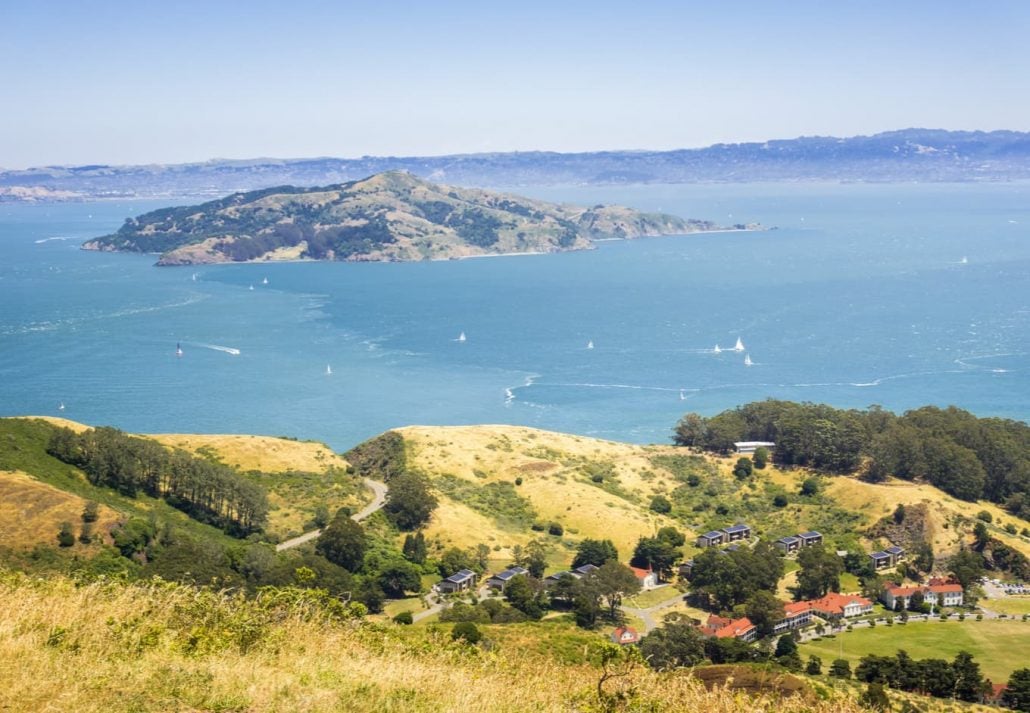 Angel Island is the largest natural island in the San Francisco Bay area. Once a hunting and gathering destination for the local native tribes, and a safe refuge stop for Spanish explorers, this history-filled island is particularly visited due to its 360-degree spectacular views of the Golden Gate Bridge, Bay Bridge, Richmond Bridge, Tiburon, and the San Francisco bay.
The island, which is just a short ferry ride from San Francisco, is also praised for its natural beauty. There, you'll find a variety of plant species from the coast of California, including typical grassy chaparral, coast-live oak trees, and native grasses.
This 740 acres site can be explored through a variety of scenic hiking trails, as well as through a tram tour that includes an audio history of the island.
Access to the island is by private boat or public ferry from San Francisco, Tiburon, or Vallejo.
Take Insta-Worthy Pictures Of Lombard Street
Often considered one of the most Instagrammable places in San Francisco, Lombard Street is famous for its eight sharp hairpin turns framed by Russian Hill homes and artfully manicured gardens.
The street stretches from The Presidio east to The Embarcadero, and thanks to its picturesque aesthetic, it's visited by millions of people every year.
You can either drive through the crooked curves or even better, walk down the stairs located on both sides of Lombard Street.
From the highest part of the street, it's possible to catch a glimpse of San Francisco Bay, the Bay Bridge, and Coit Tower.
Discover Fisherman's Wharf On Foot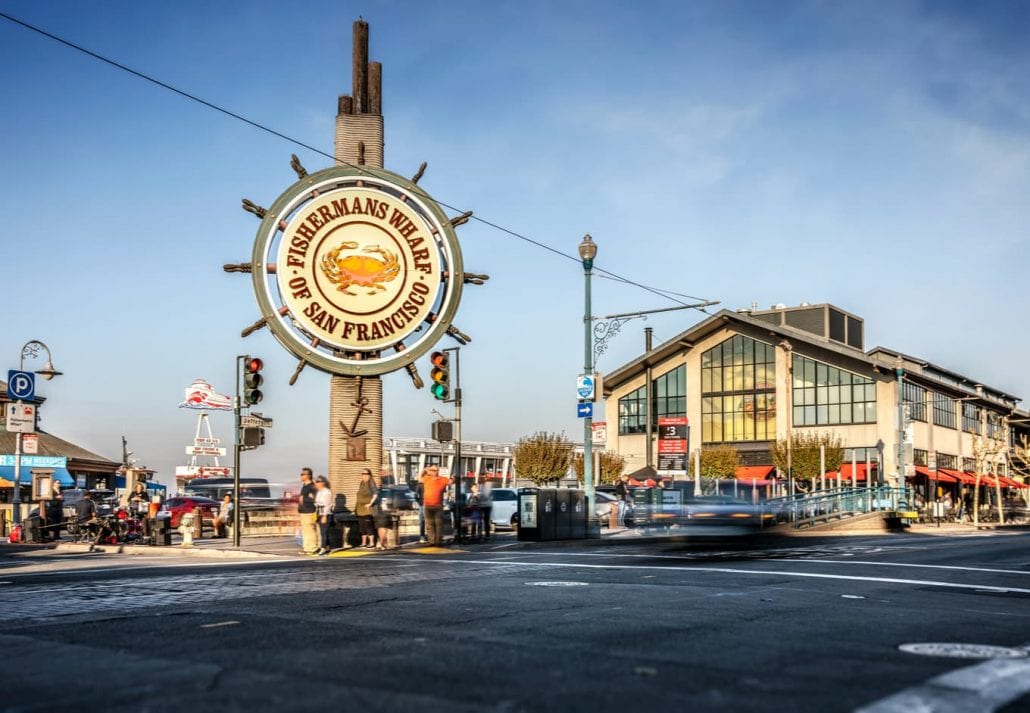 Located on the northern waterfront area of San​ Francisco, Fisherman's Wharf is one of the most iconic locations in the city. This lively neighborhood is home to famous landmarks including PIER 39, a 45-acre waterfront complex that offers scenic views of Golden Gate and Bay Bridges, Alcatraz Island, and Angel Island.
Fisherman's Wharf is also a prime spot for foodies visiting San Francisco. Head over to the iconic Ghirardelli Chocolate Factory to curb your sugar cravings, to Buena Vista Cafe for the most famous Irish Coffee in San Francisco, and to The Godmother for the most delicious fish tacos in the city.
Explore San Francisco's Beaches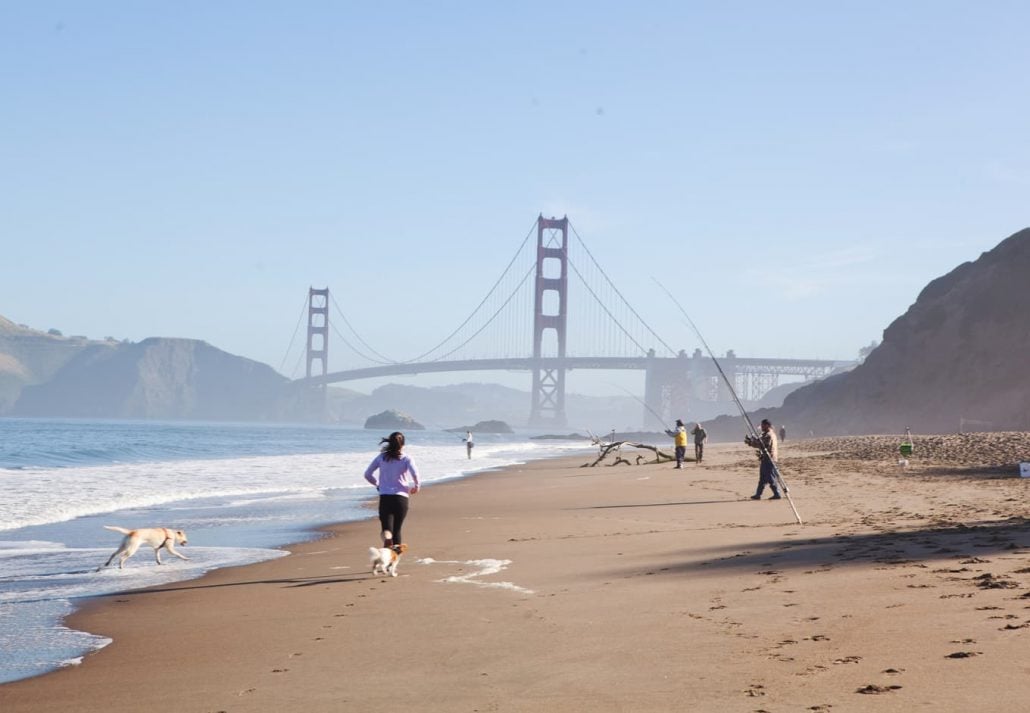 One of the top outdoor activities in San Francisco is exploring the city's beaches. The area boasts a beautifully dramatic and craggy coastline that provides a glorious setting for those seeking to enjoy a fine sea breeze and some well-deserved time among nature.
One of the best beaches in San Francisco is Ocean Beach, which features an esplanade that is an excellent spot for scenic walks. And while this beach is not ideal for swimming due to the dangerous riptides, it has a 3.5-mile stretch of white sand where you can sit down and enjoy the most show-stopping views of the Pacific Ocean.
Be sure to also visit the famous Baker Beach, located in the Golden Gate National Recreation Area. This mile-long sandy shoreline stretches beneath rugged cliffs in the southwest corner of the Presidio and rewards visitors with heart-warming views of the Golden Gate, the Bridge Pacific Ocean, the Marin Headlands, and Lands End.
See San Francisco's Skyline From Twin Peaks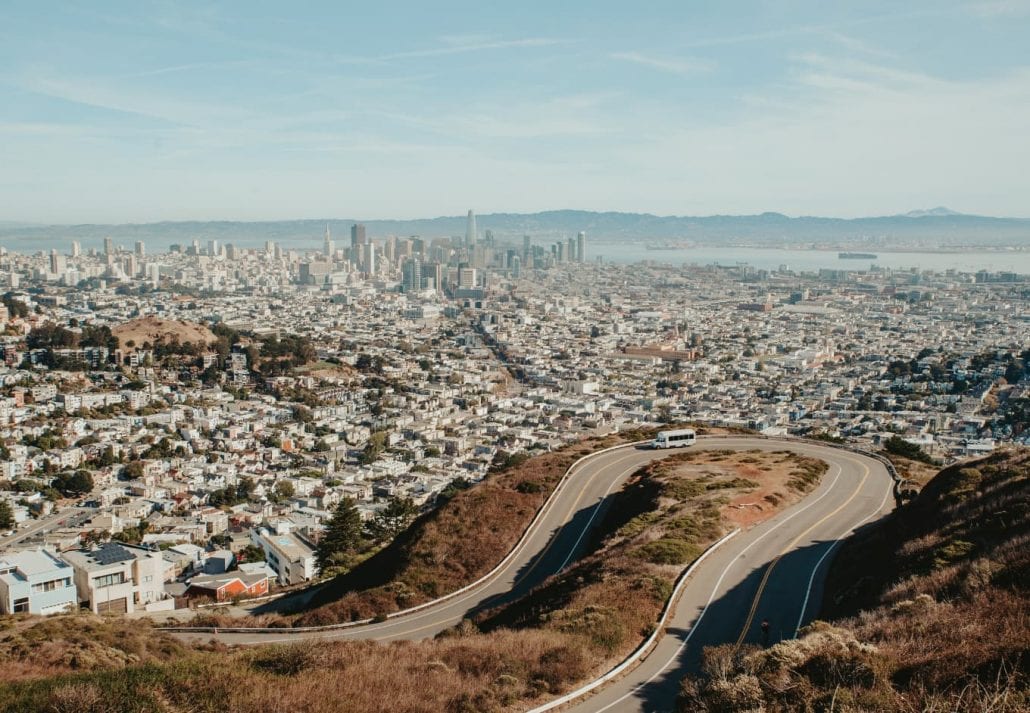 For a breathtaking sunset and to take in gorgeous views of the city skyline, hike the 0.7-mile trail network that ascends to Twin Peaks. Located 922 feet above sea level, this 64-acre hilltop park offers 360º scenic vistas of the Bay Area, and it's a prime location for checking out the San Francisco skyline.
Go Window Shopping In Union Square
Perfectly located in downtown San Francisco, Union Square is the perfect place to go for an unscheduled walk in the city. The area is well known for its tempting stores and features green spaces where you can take five on a bench to simply watch the city's action unfold around you.
Take In The Beauty Of The Palace of Fine Arts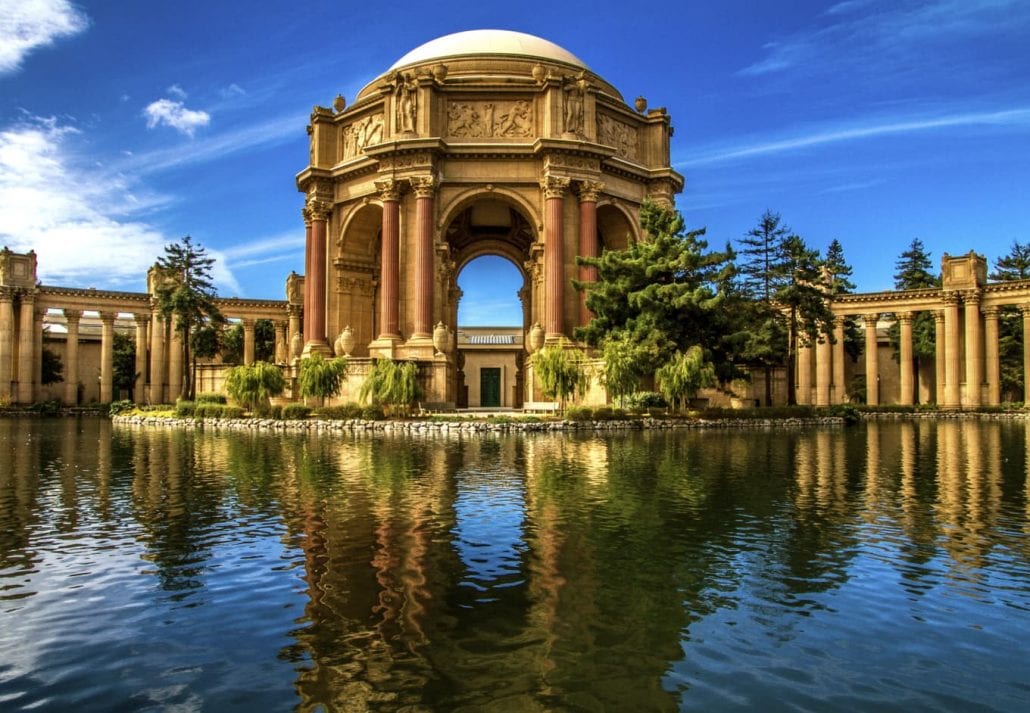 Feel like escaping to a nature-centric landscape away from San Francisco's bustling streets? Then head over to the Palace of Fine Arts. Known for its serene atmosphere, the place features an alluring Greco-Roman rotunda and colonnades, lush gardens, and a lagoon, being the perfect spot for some idle afternoon stroll in the city.
Go On A Day Trip To The Muir Woods National Monument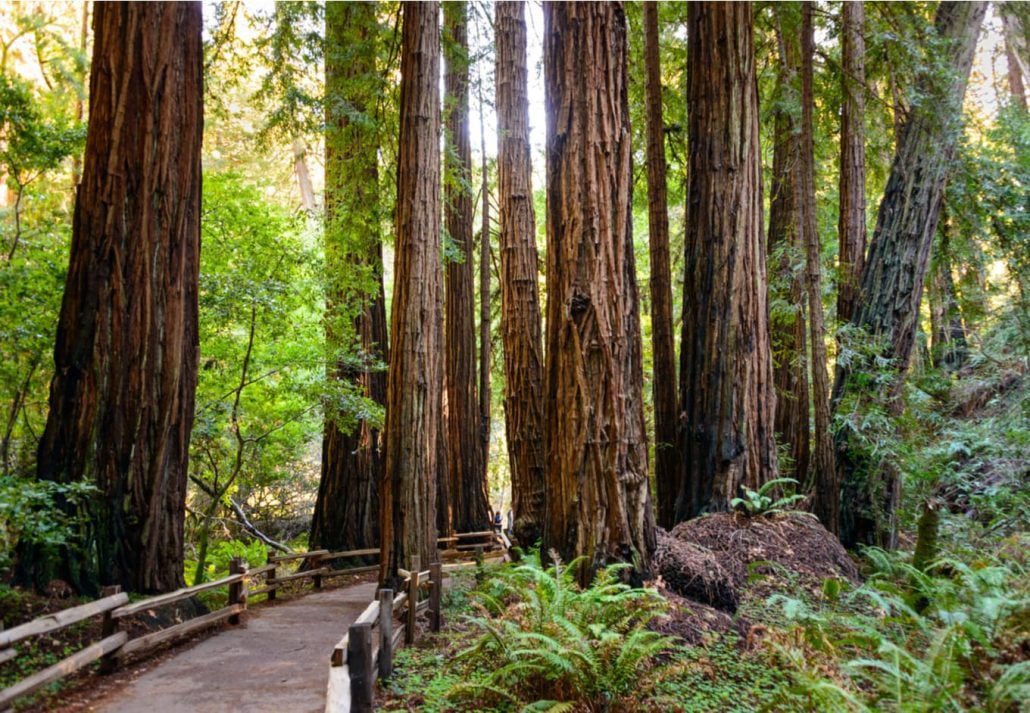 Situated across the Golden Gate Bridge, on Mount Tamalpais on the Marin Peninsula, Muir Woods protects 554 acres of old-growth redwood forest, which is California's oldest and tallest natural wonder.
Aside from preserving one of the last remaining coastal redwood forests in Northern California, the park is home to an awe-inspiring diversity of flora and fauna. During a Muir Woods tour, you'll get the chance to get face to face with over 50 species of birds, including spotted owls, as well as coyotes, butterflies, and the Pacific banana slug, the largest land slug in North America!
The park is home to 6 miles of trails, which afford show-stopping views of the old-growth coast redwoods.
Recommended Read: The 8 Best Day Trips From San Francisco, California
Take A Hot Air Balloon Ride In Napa Valley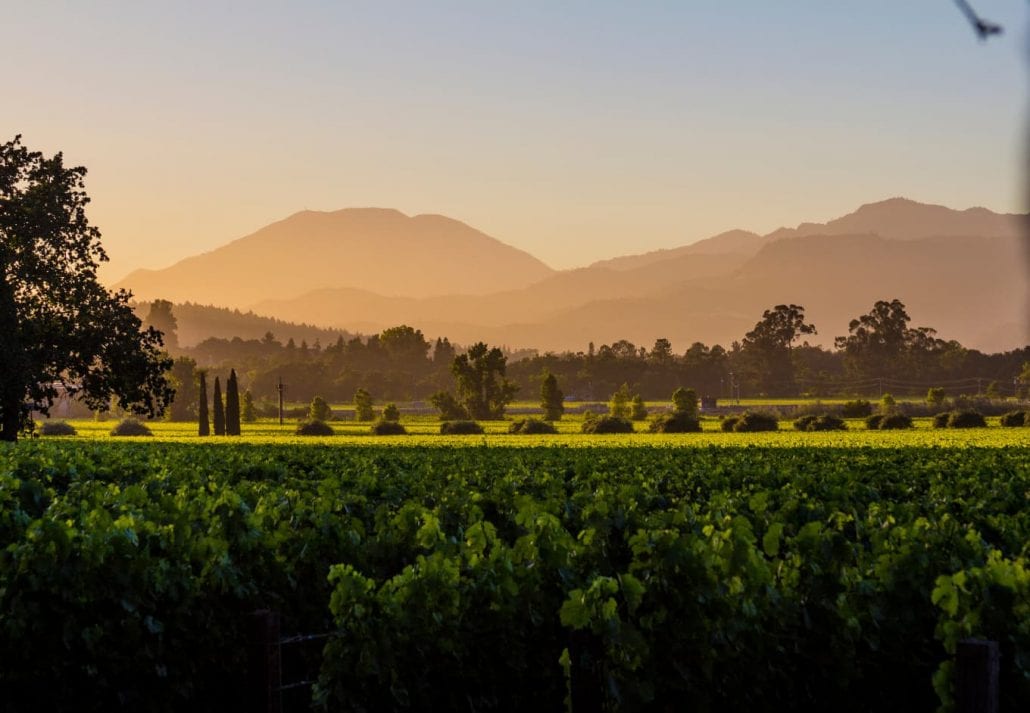 Located north of San Francisco, the Napa Valley region is covered in a golden blanket of sprawling vineyards and legendary wineries, which are considered the best in the United States.
For a one-of-a-kind experience, be sure to go for an outdoor wine tasting at Trefethen Family Vineyard. This family-run winery is home to a leafy villa built in the early 1900s, where visitors can taste limited-production wines, including their award-winning Reserve Cabernet Sauvignon paired with cured meats and local artisan cheeses.
Aside from wine-tasting sessions in legendary wineries, visitors can also play gold in fabulous courses, and take hot air balloon rides over the golden vineyards of Napa Valley.
FAQ
What outdoor activities are allowed in San Francisco?
Several outdoor activities are allowed in San Francisco. These include going to the beach, picnicking, visiting the city's urban parks, hiking, and strolling around Fisherman's Wharf.
What should I not miss in San Francisco?
When traveling to San Francisco, make sure you visit the Golden Gate Bridge, Alcatraz Island, Union Square, and Fisherman's Wharf.
What are the best outdoor activities in San Francisco?
The top outdoor attractions in San Francisco are:
Golden Gate Bridge;
Golden Gate Park;
Angel Island State Park;
Lombard Street;
Fisherman's Wharf;
San Francisco's Beaches;
Twin Peaks;
Union Square;
Palace of Fine Arts.
Does the San Francisco Bay Area have good beaches?
Yes. The area is dotted with good beaches that might not be ideal for swimming or tanning, but are perfect for activities such as watersports, bird-watching, scenic walks, and picnicking.
What are the best beaches in San Francisco, CA?
The 7 best beaches in San Francisco:
Ocean Beach;
Baker Beach;
Crissy Field Beach;
Pescadero State Beach;
Aquatic Park Cove;
Muir Beach;
Mile Rock Beach.
Browse. Book. Stay.
CuddlyNest provides all accommodations to all travelers at the best price. Find unlimited travel inspiration on our blogs and our social media channels Facebook, Instagram, Pinterest
You May Also Like:
North America Travel Guide
Most Romantic Weekend Getaways in the United States
Long Weekend Getaways in the United States
Best Family Vacations In The United States
Best National Parks In The United States
Best Cabin Rentals in the United States
Best Dog-Friendly Vacations In The United States
Best Getaways In Southern California
The Ultimate California Travel Guide
11 Off The Beaten Path Experiences In San Francisco
The 20 Best Restaurants In San Francisco
The 15 Most Instagrammable Places In San Francisco, California
The 10 Best Beaches Near Orlando, Florida
The 10 Most Beautiful Islands in Florida
A Guide To The 7 Best Pensacola Florida Beaches
The 15 Best Beaches In The United States