Foggy San Francisco might not be known as a beach town. But thanks to a privileged location on the West Coast of the United States, right at the north end of the San Francisco Peninsula, the city includes significant stretches of the Pacific Ocean and the San Francisco Bay. The result? A beautifully dramatic and craggy coastline that provides a glorious setting for those seeking to enjoy the soothing effects of the ocean.
And while the San Francisco beaches are not suitable for swimming due to their dangerous riptides, they are perfect for a variety of outdoor activities such as scenic walks, bird-watching, and picnicking.
Visiting San Francisco can also mean escaping to wonderful and unspoiled beaches. And where you'll go will depend on your interests. The famous Baker Beach is perfect for indulging in breathtaking views of the Golden Gate Bridge, while Muir Beach is the ideal place for playing volleyball in the sand. Seeking the ideal conditions for windsurfing or kiteboarding? Then head over to the Crissy Field East Beach, known for its thermal winds that buffet the area.
Ready to dive headlong into a sea of possibilities? Then read this well-curated travel guide to discover our top favorite San Francisco beaches.
Find Places To Stay in San Francisco, California
The 7 Best San Francisco Beaches
Ocean Beach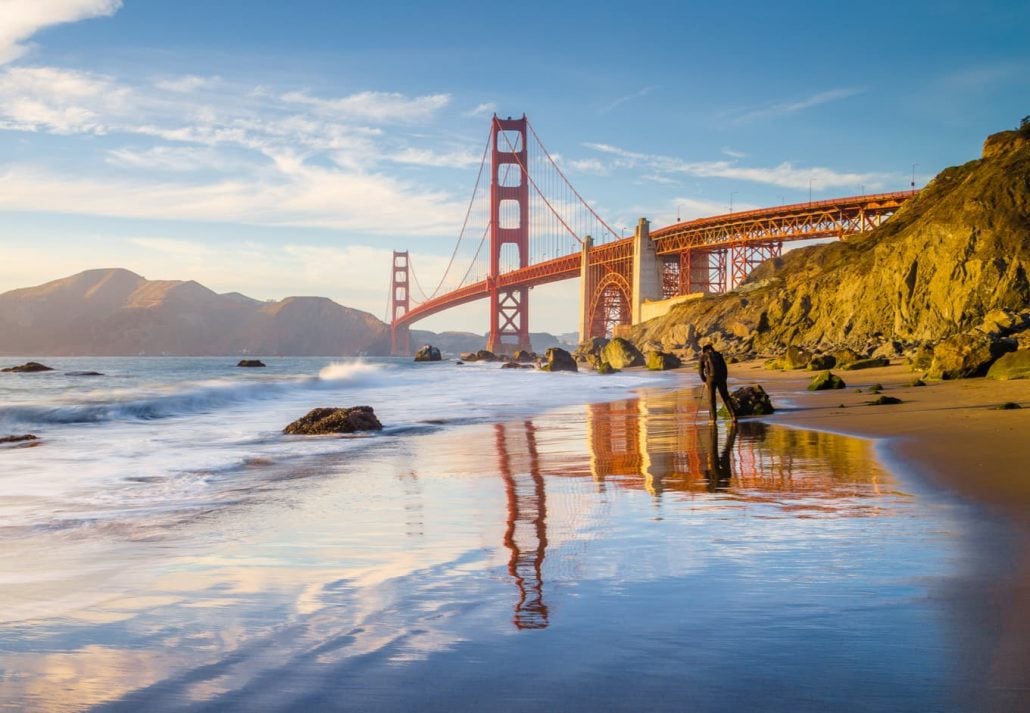 Ocean Beach is a long beach located on the westernmost border of San Francisco, adjacent to Golden Gate Park. Running from Cliff House south to Sloat Boulevard, the beach features a 3.5-mile stretch of white sand and offers the most show-stopping views of the Pacific Ocean
The beach also boasts an esplanade that is an excellent spot for scenic walks — you can even extend your trip into Golden Gate Park or the San Francisco Zoo. At night, visitors can enjoy cozy beach bonfires ( there are fire rings between stairwells 15 through 20), and when the wind is kicking, the place becomes a veritable wonderland for windsurfing.
Note that swimming is dangerous at Ocean Beach due to cold water temperatures and strong rip currents.
Recommended Read: The Best Time to Visit San Francisco, California
Baker Beach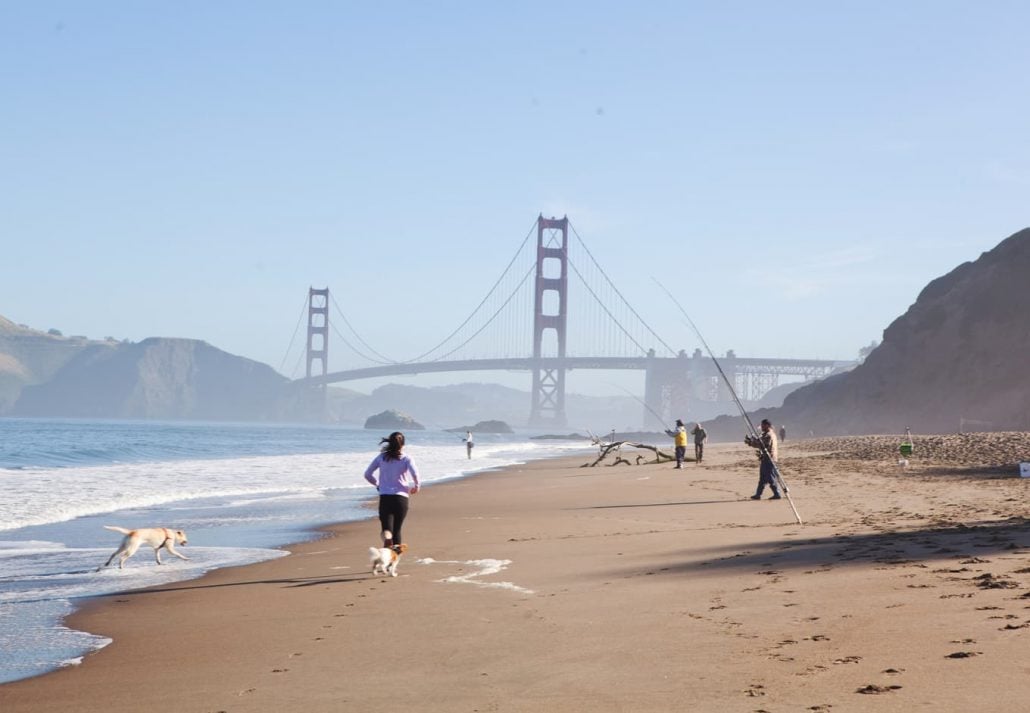 Baker Beach is a section of the sprawling Golden Gate National Recreation Area, which preserves over 82,000 acres of shoreline park and beachfront areas within the San Francisco Bay Area. This mile-long sandy shoreline stretches beneath the rugged cliffs in the southwest corner of the Presidio and rewards visitors with heart-warming views of the Golden Gate Bridge, the Pacific Ocean, the Marin Headlands, and Lands End.
The north side of Baker Beach is "clothing optional", meaning it's also a nude beach.
Recommended Read: A Guide To The 8 Best Nude Beaches In The United States
Crissy Field Beach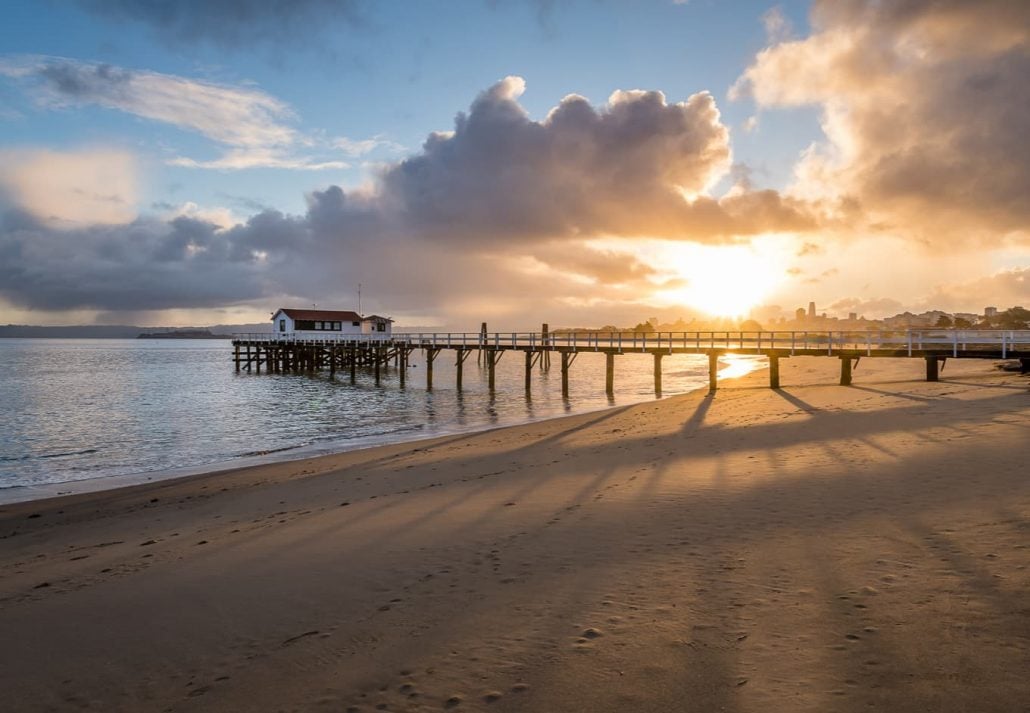 When the nice weather descends, do as the locals and head over to Crissy Field East Beach. The beach has a fully accessible trail where you can cycle, jog or walk, as well as picnic tables for a mouth-watering meal with views of the Golden Gate Bridge, Marin Headlands, Angel Island, and Alcatraz Island.
A popular place among locals on sunny weekends, the East Beach is safe for swimming and perfect for surfing.
There is also a raised boardwalk that takes you into the Crissy Marsh, which is a prime place for bird watching.
Pescadero State Beach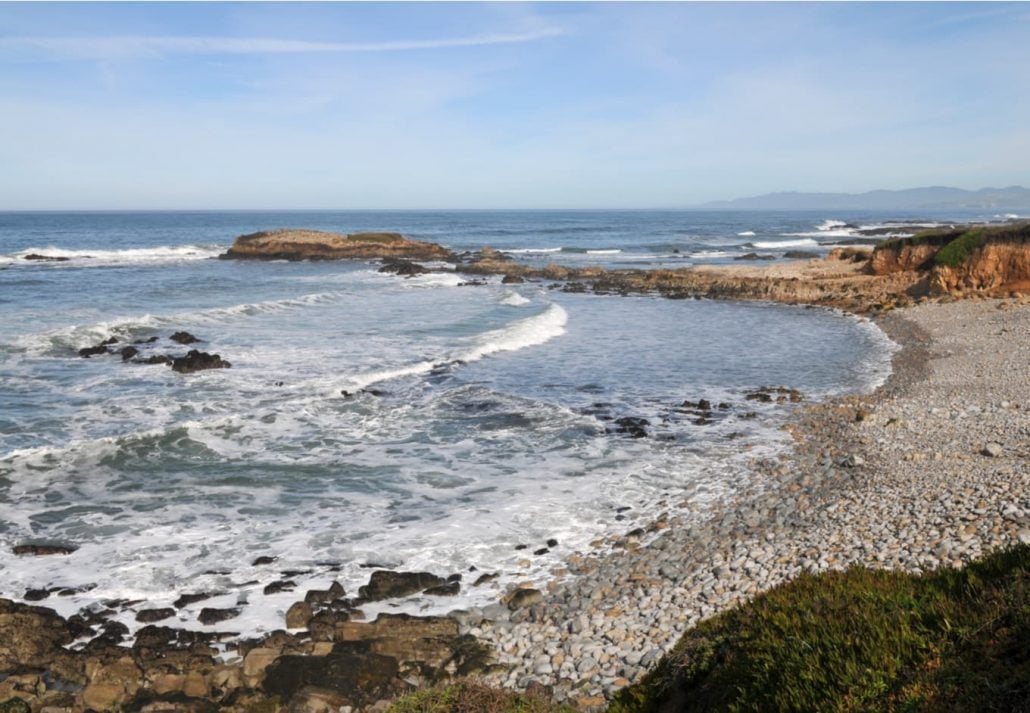 Pescadero State Beach is a must-visit for nature lovers. Situated 15 miles south of Half Moon Bay, the beach is part of a chain of Coastside beaches that forms some of California's best coastline. The place is beautifully adorned with striking features such as sandy coves, rocky cliffs, and tide pools, making it the ultimate destination for escaping the city's hustle and bustle.
Tried-and-trued activities popular among visitors include strolling the sandy beach (in the north lot) and visiting the Pescadero Marsh Natural Preserve, which is located across the highway from the beach and is a great hiking destination bird watching spot.
Aquatic Park Cove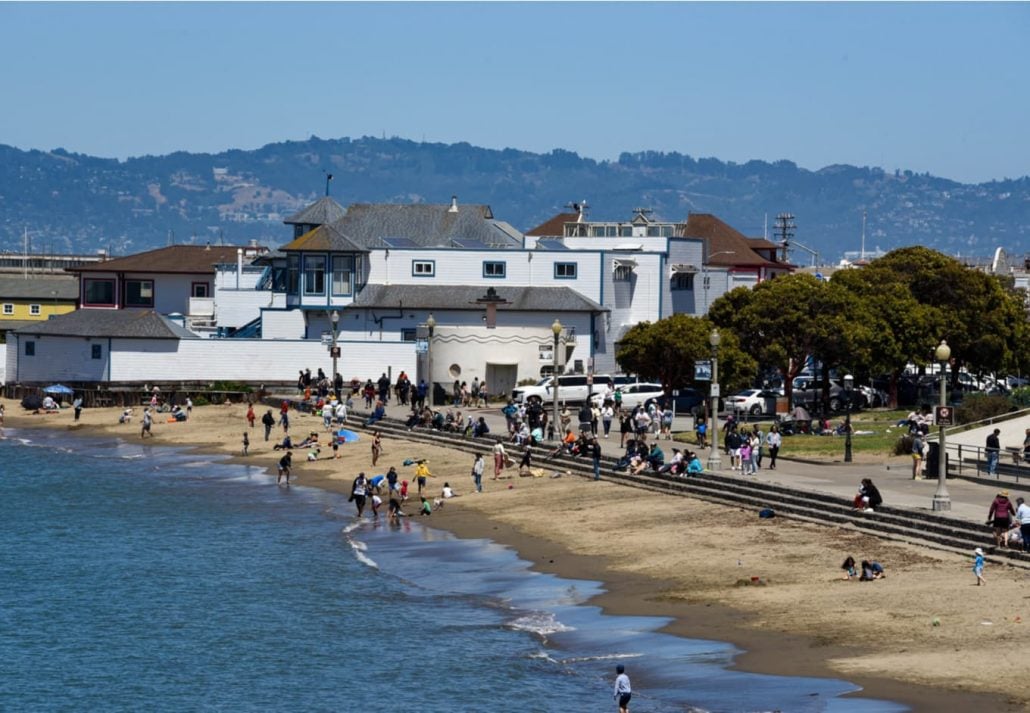 At the western end of Fisherman's Wharf lies the San Francisco Maritime National Historical Park, a public space that encompasses a fleet of historic vessels, a visitor center, and a maritime museum. The park also happens to harbor the Aquatic Park Cover, a lovely protected cove that is popular with swimmers in the Bay Area, as it's fairly protected from rougher currents, tides, and vessel traffic. This is also a prime place for kayaking, paddle boarding, and rowing.
The Aquatic Park Cove benefits from a glorious location close to San Francisco's top attractions, including Ghirardelli Square, and Lombard Street, and is within walking and biking distance to Golden Gate Bridge, Crissy Field, and the Golden Gate National Recreation Area.
Muir Beach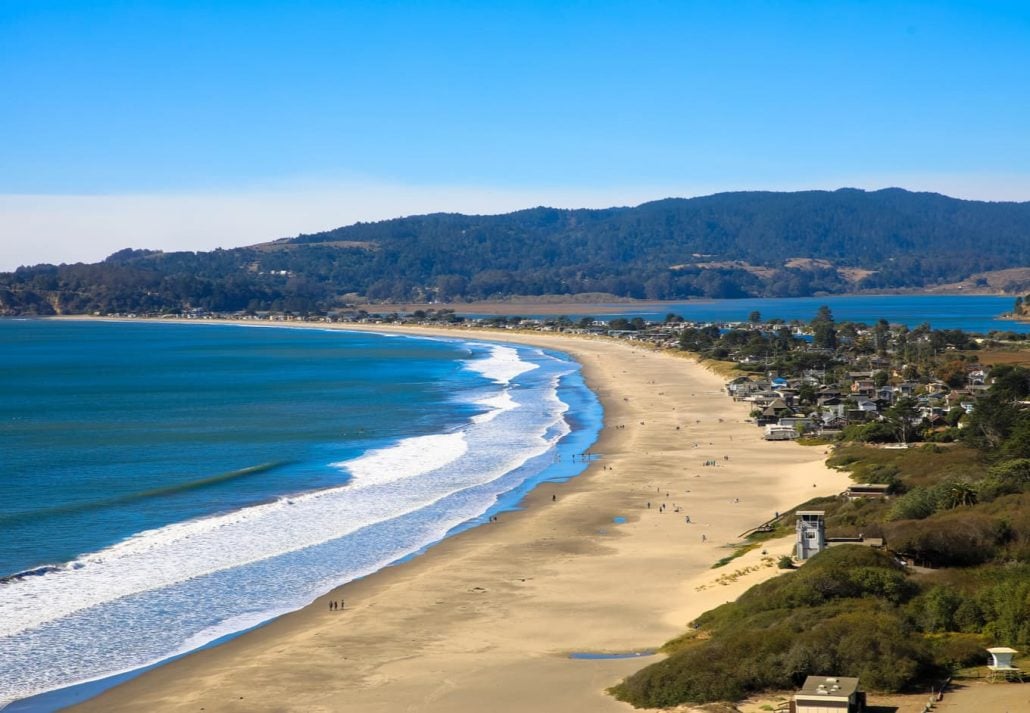 Some of the best beaches in the area are located outside of San Francisco. One of the most sought-after is Muir Beach, which lies on the Pacific Coast, 10 miles from Golden Gate City. This beach has an overlook that provides expansive views of the Pacific, including the Point Reyes Peninsula, as well as plenty of whale watching opportunities during the winter months.
Apart from sunbathing or swimming in the ocean, visitors can play beach volleyball, explore tide pools, and marvel at a variety of sea creatures such as hermit crabs, starfish, and sea urchins.
The beach is flanked by the redwood forest of Muir Woods, which is home to a dazzling wealth of hiking trails.
Visiting San Francisco during the fall? Then head over to Muir Beach to catch a glimpse of thousands of monarch butterflies (Danaus plexippus) migrating to the California coast.
Mile Rock Beach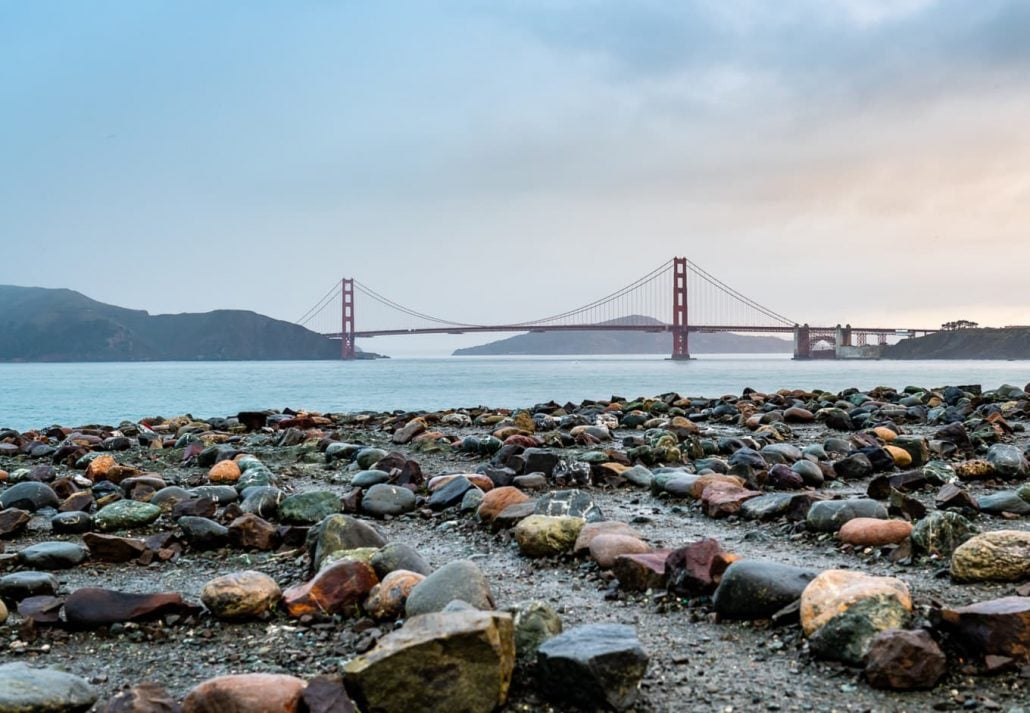 Mile Rock Beach is a secluded cove beautifully nestled in the Lands End recreation area, connected to the Coastal Trail. Dotted with large boulders, stones, and old cement barriers, this rocky beach treats visitors to eye-popping panoramic views of the Golden Gate Bridge, making it a great spot for taking Insta-worthy pictures of this marvelous architectural masterpiece. Another top activity on this beach is stacking rocks in a pile —just be sure you don't knock down others or it's bad luck!
Also, this San Francisco beach is dog-friendly, and its pristine natural background (the beach has no amenities) design a wonderful setting for playing with your furry friend.
FAQ
Do people in San Francisco go to the beach?
Yes. San Francisco is home to an array of beaches, which are visited by locals and travelers when the weather is pleasant.
Can you swim at San Francisco beaches?
Due to the dangerous ocean conditions and strong riptides, it's not safe to swim at most beaches in San Francisco.
Are there warm beaches in San Francisco?
San Francisco's beaches are not known for being warm. In case you want to soak up the sun, visit San Francisco's beaches between September and October, which is when the weather is the warmest.
What are the best beaches in San Francisco, CA?
The 7 best beaches in San Francisco:
Ocean Beach;
Baker Beach;
Crissy Field Beach;
Pescadero State Beach;
Aquatic Park Cove;
Muir Beach;
Mile Rock Beach.
Does the San Francisco Bay Area have good beaches?
Yes. The area is dotted with good beaches that might not be ideal for swimming or tanning, but are perfect for activities such as watersports, bird-watching, scenic walks, and picnicking.
What is the best time to visit the beaches in San Francisco?
September and October. This is when the city experiences the "Indian Summer", unseasonably warm weather that happens during autumn in some places in the northern hemisphere. So, if you're looking for clear skies, less fog, mild temperatures, and no rainy days, these fall months are the best to go to the beach in San Francisco.
Browse. Book. Stay.
CuddlyNest provides all accommodations to all travelers at the best price. Find unlimited travel inspiration on our blogs and our social media channels Facebook, Instagram, Pinterest
You May Also Like:
North America Travel Guide
Most Romantic Weekend Getaways in the United States
Long Weekend Getaways in the United States
Best Family Vacations In The United States
Best National Parks In The United States
Best Cabin Rentals in the United States
Best Dog-Friendly Vacations In The United States
Best Getaways In Southern California
The Ultimate California Travel Guide
11 Off The Beaten Path Experiences In San Francisco
The 20 Best Restaurants In San Francisco
The 15 Most Instagrammable Places In San Francisco, California
The 10 Best Beaches Near Orlando, Florida
The 10 Most Beautiful Islands in Florida
A Guide To The 7 Best Pensacola Florida Beaches
The 15 Best Beaches In The United States