Riyadh, in Saudi Arabia, is teeming with fascinating cultural places to visit, natural wonders, some of the best fine-dining establishments, and important business centers. On your visit to Riyadh, prepare to learn about this thriving city's mysteries and find its hidden treasures.
The biggest city in both the Arabian Peninsula and the Kingdom of Saudi Arabia, Riyadh, serves as the country's capital. One of the biggest populations in the Middle East is found in Riyadh.
Riyadh is becoming increasingly popular for both leisure and business travel and tourism and has a lot of stunning luxury and boutique hotels to choose from. A city of modern skyscrapers, Riyadh is one of the most developed cities in the Middle East. Here is our selection of the best hotels in Riyadh.
Also Read: Top 9 Most Exciting Things To Do In Riyadh
The 7 Top Hotels In Riyadh
The Ritz Carlton Riyadh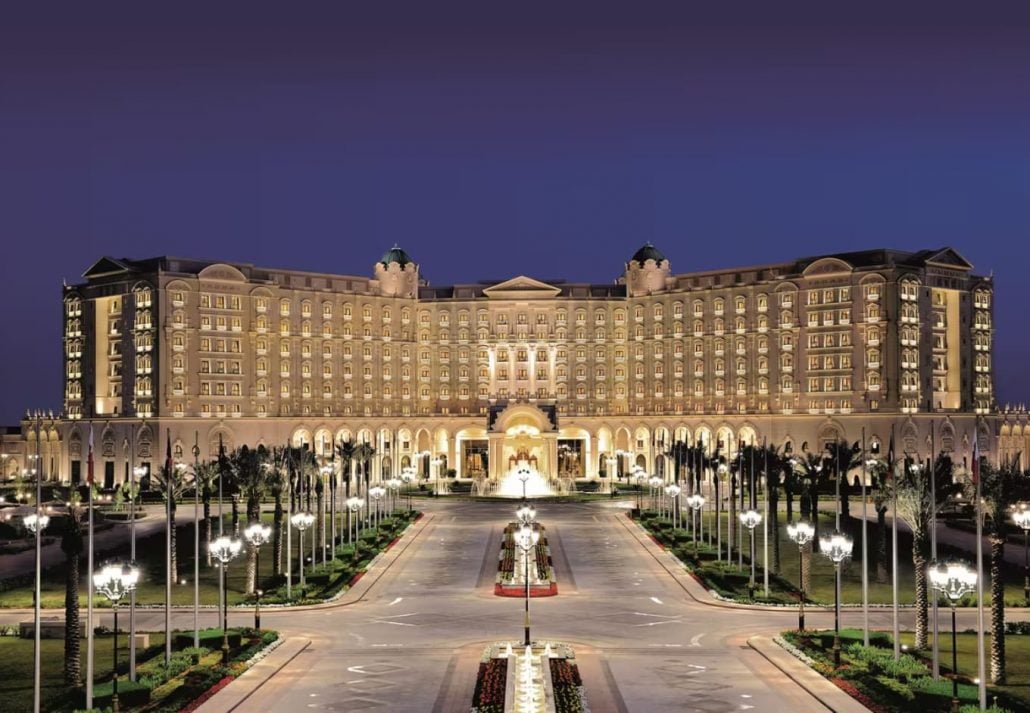 The Ritz Carlton Riyadh is one of the most luxurious hotels to stay in Riyadh. From the moment you enter, you're welcomed with the sight of ancient olive trees, 52 acres of stunning landscaped gardens, arched doorways, and a lovely indoor pool with floor-to-ceiling windows overlooking the landscaping.
The hotel lobby is adorned with marble walls and ceilings, opulent curtains, a classic Middle Eastern design, and decor. The rooms come with iPod docking stations and the hotel also has six different restaurants.
Azzuro serves up Italian fare and Al Orjouan is their signature all-day-dining buffet restaurant serving Middle Eastern classics. This is a very good hotel choice if you're looking to splurge on a high-end luxury hotel.
Address: Area, Makkah Al Mukarramah Rd, Al Hada, Riyadh 11493, Saudi Arabia
Braira Al Nakheel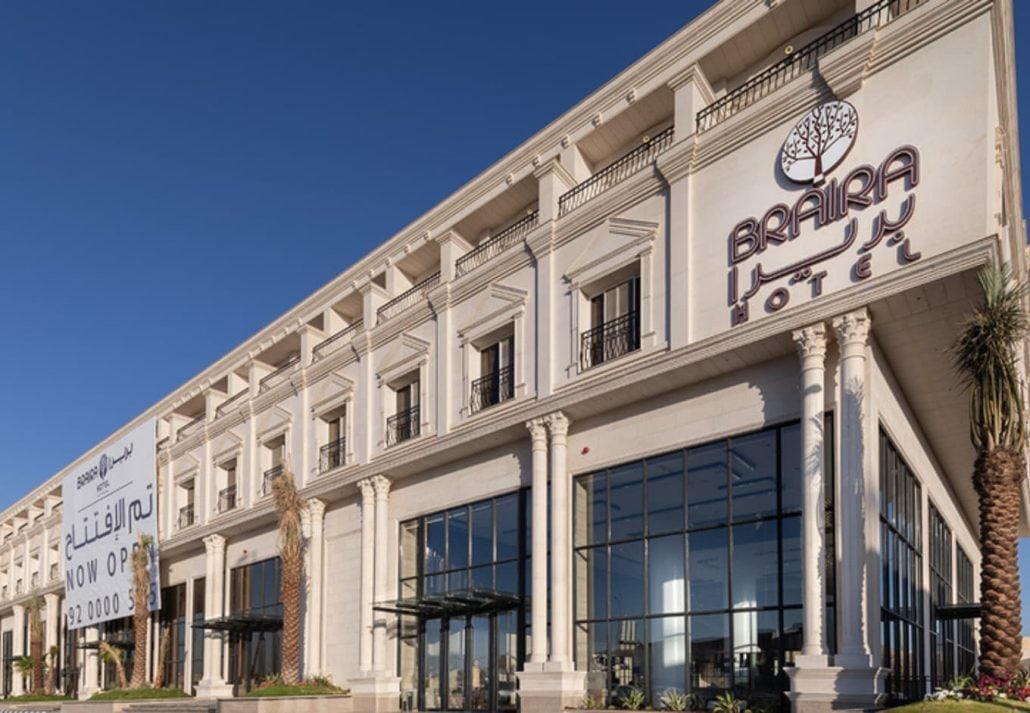 Braira Al Nakheel is an affordable hotel in Riyadh that is a 6-minute walk away from the Al Nakheel Mall, near the center of Riyadh. It is also a 15-minute drive away from the King Khalid International Airport.
This is a 4-star boutique hotel that has an on-site restaurant perfect for family dining, serving up both local and international delights.
The hotel also provides free WiFi and free parking. The rooms have a modern business hotel feel to them and offer all the amenities you need to be comfortable.
The hotel also boasts separate men's and women's spas, fitness centers, and two swimming pools. Based on several customer reviews that rave about the hotel's location and service, we highly recommend this hotel located in the city center of Riyadh.
Address: Al Imam Saud Ibn Abdul Aziz Branch Rd, Al Izdihar, Riyadh 12485, Saudi Arabia
Courtyard By Marriott Riyadh Diplomatic Quarter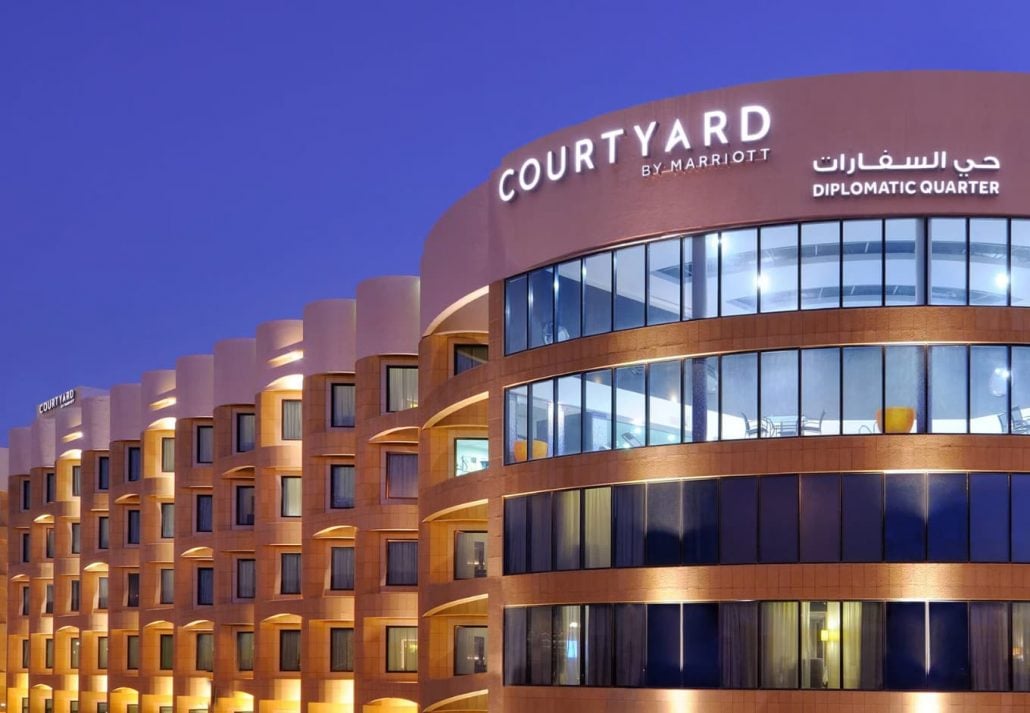 The Courtyard By Marriott Riyadh Diplomatic Quarter Hotel is an extended-stay hotel perfect for both business travelers and longer-term leisure travelers. It's contemporary in its feel and offers the best services and amenities that are true to the Marriott brand.
Choose to splurge for the higher category rooms such as the Ambassador Suite which comes with a whirlpool tub or choose one of the comfortable family suites with ample moving space, a separate workspace, and extra beds for family members.
This hotel is located in the Al-Hada district and is close to Wadi Hanifah and King Abdullah Park. The hotel also has a fitness centre, and an infinity pool and spa. Olea Café Kitchen and Lounge serves buffet breakfast as well as lunch and dinner, and you can also order in-room service.
Address: Al-Hada District Abdullah Bin Huzafah, Al-Sahmi Street, Riyadh 64819, Saudi Arabia
Hyatt Regency Riyadh Olaya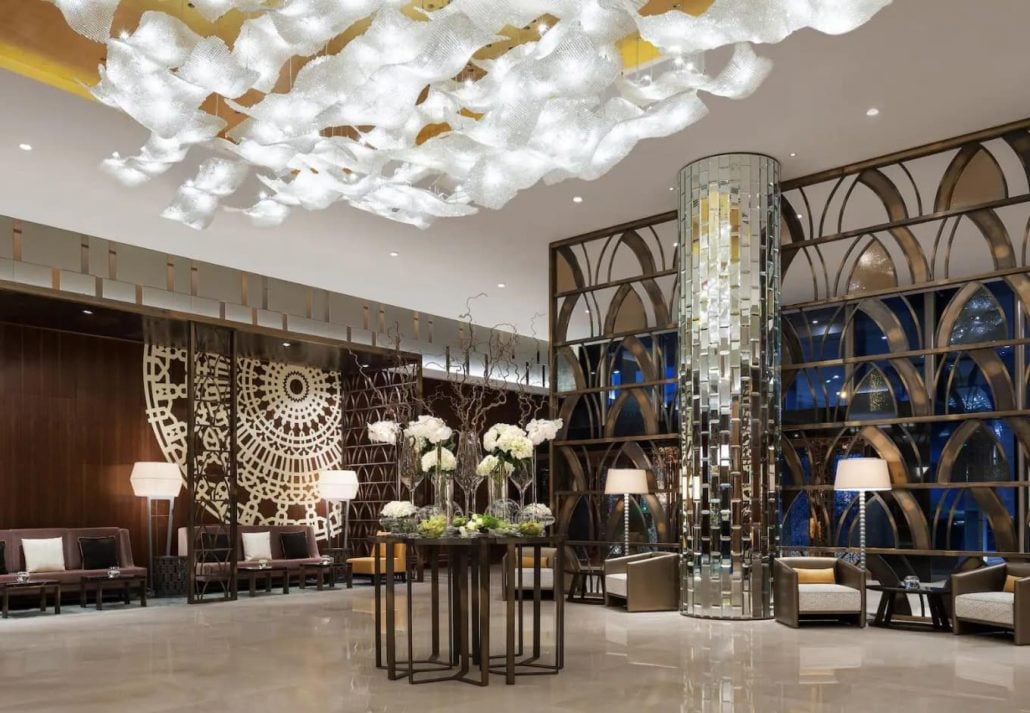 Hyatt Regency Riyadh Olaya is a huge luxury hotel with 257 rooms, stands 28 floors tall near the amazing Tahlia Street on Olaya Street, close to all the major happenings in the capital city of Saudi Arabia. If you're visiting for business, the hotel is conveniently close to the Riyadh International Convention & Exhibition Centre.
The rooms have stunning views of the city and you can enjoy these panoramic views with the floor-to-ceiling windows in the rooms. The rooms are decorated beautifully with designer decor. This hotel has a range of on-site dining options.
Fifty-Sixth Avenue Diner is perfect for casual dining and classic American food, and the Azure restaurant is known for serving delicious Greek and Turkish coastal food. We highly recommend getting treatments at their luxurious Sokoun Spa as well as experiencing their Moroccan Hamam.
Address: Olaya St, Al Olaya, Riyadh 11433, Saudi Arabia
DoubleTree by Hilton Hotel Riyadh – Al Muroj Business Gate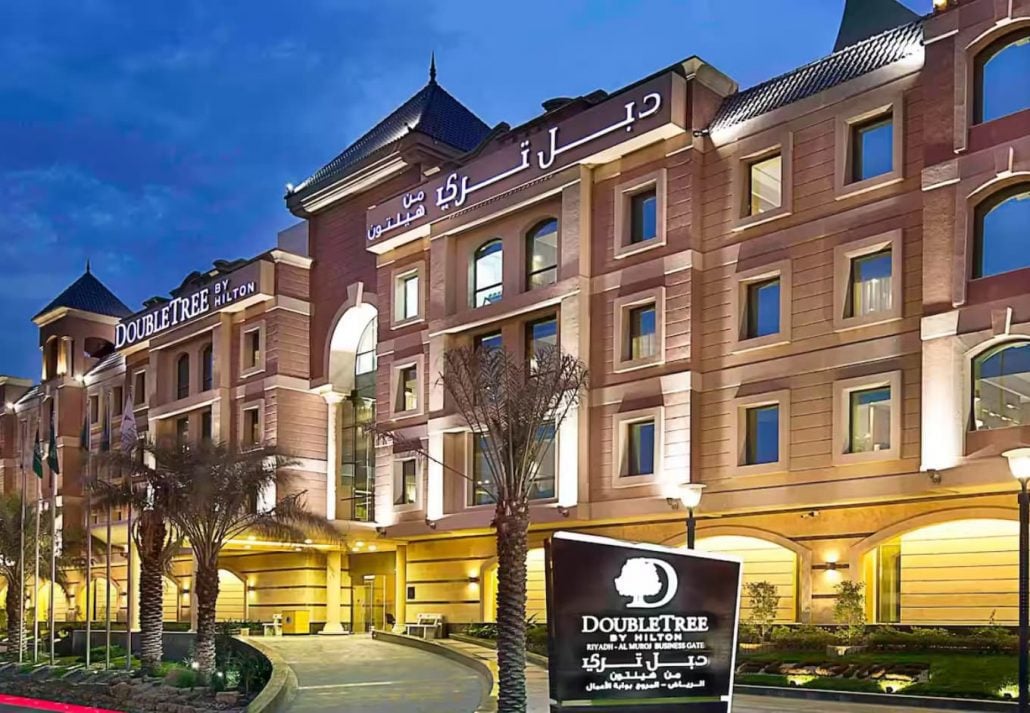 In the heart of the King Abdullah Financial District, sits the DoubleTree by Hilton Hotel Riyadh – Al Muroj Business Gate. The city center and the Diplomatic Quarter are 20 minutes' drive from the hotel, while King Khalid International Airport is 15 minutes' distance by car.
The air-conditioned guest rooms are stylish and roomy and have contemporary conveniences including a Smart HDTV and free WiFi. Enjoy a range of different cuisines at the restaurant that is open all day.
In the coffee house, you can also savor appetizers and specialized hot drinks. The cutting-edge fitness center is open around-the-clock for guests to use.
At the Maiya Lounge, every meal is created by their executive chef, who collaborates with a licensed nutritionist. Breakfast, lunch, and supper are all served in their casual dining restaurant, called Open All Day, offering both an a-la-carte menu and a buffet with a wide range of live culinary features.
Address: 2653 Northern Ring Rd, Al Muruj, Riyadh 12283, Saudi Arabia
Also Read: Ultimate Middle East Travel Guide
Crowne Plaza Riyadh – RDC Hotel & Convention, an IHG Hotel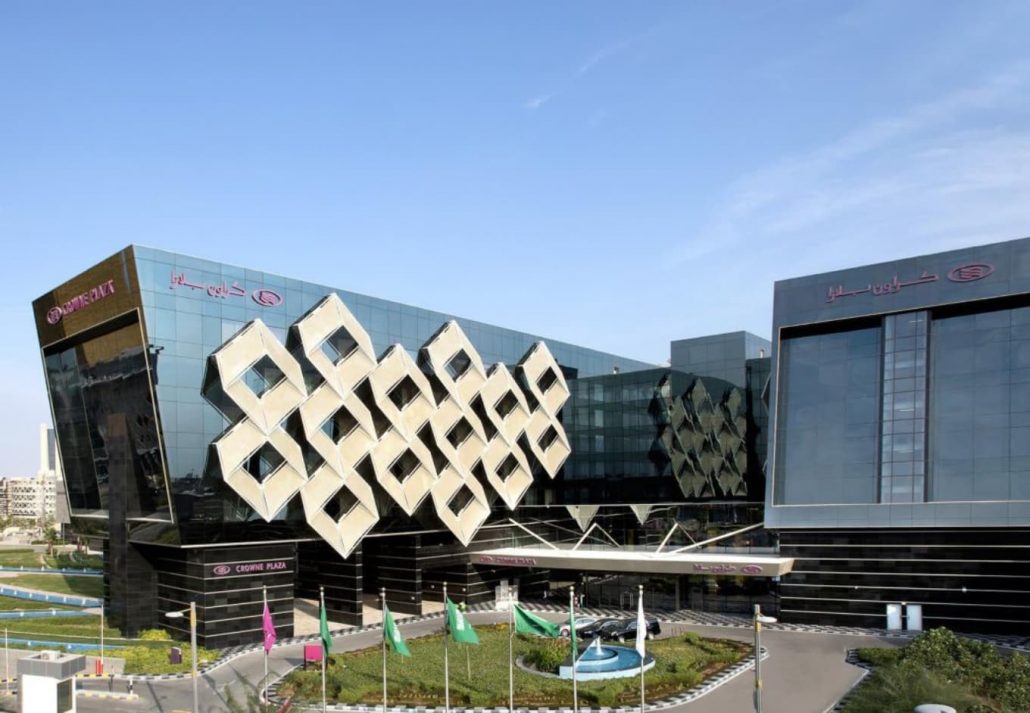 The Crowne Plaza Riyadh RDC Hotel & Convention is located a mere 3 km away from the U Walk by the Arabian Mall located in Riyadh and has some of the best amenities in any hotel in this area. It has 5 on-site dining options, an outdoor swimming pool, a fitness center, and a hot tub cum sauna.
Experience a unique Japanese-Peruvian fine-dining experience at KOI, Brazilian food at Wildfire, and local Middle Eastern delights at Mosaique. You can also sip on afternoon tea at the Tea Garden terrace and have coffee meetings at the SkyLite Cafe.
The hotel has 18 different meeting rooms to choose from for all your event and conference needs.
Address: Wadi Al Muaydin, Street, Unit 4, Imam Saud Ibn Abdul Aziz Road, Riyadh 12382, Saudi Arabia
Fairmont Riyadh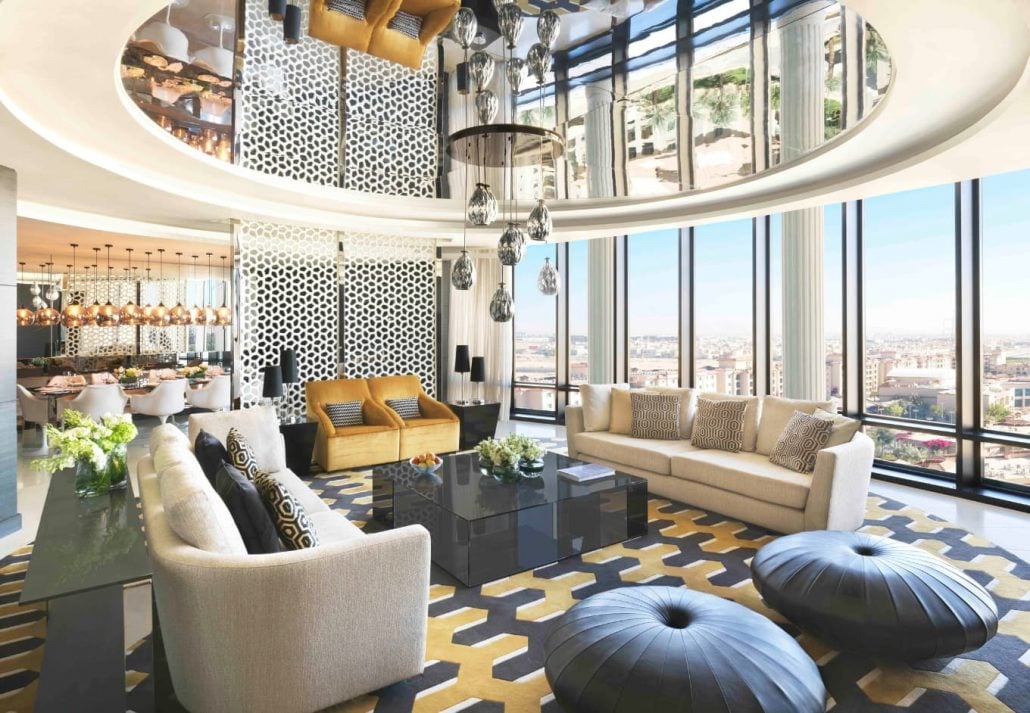 Fairmont Riyadh is a luxury hotel located within the Business Gate Complex, having direct access to over 60 different corporate companies. It is one of the best places to stay in central Riyadh and is praised by reviewers for the staff and the room is clean and tidy.
Certainly one of the more expensive Riyadh hotels, Fairmont Riyadh is worth the splurge with its rooms having floor-to-ceiling windows, Le Labo collection products, and exclusive amenities like luxury men's and women's spas, a health club, and an indoor pool.
When it comes to on-site dining, guests are spoiled for choice with The 365 restaurant having a huge buffet and live counter system, which also features an interactive theatre experience; The Plaza where you can grab light snacks and gourmet sweets, The Savoy Room where you can enjoy an afternoon high tea experience, and Pesto, where you can enjoy authentic southern Italian food.
Address: Area, Business Gate, Qurtubah, Riyadh 11552, Saudi Arabia
FAQ
Which is the luxury area in Riyadh?
Al-Muhammadiyah is one of the best luxury areas in Riyadh and is sought after for its expensive real estate.
How can I spend time in Riyadh?
Some of the best things to do in Riyadh are to visit The Boulevard, The 303, Wadi Hanifah, Edge Of The World, Skybridge, and Riyadh Zoo.
Why is Riyadh famous?
Riyadh is popular for its several cultural centres, its famous attractions such as the Masmak Fort, Ad-Diriyah, which is a UNESCO World Heritage Site, Deera Square, and Riyadh Zoo. Grab a bite to eat at one of the famous Najd Village restaurants in Riyadh to enjoy their best local delicacies.
How much does a hotel cost in Riyadh?
A good hotel in Riyadh will cost you anywhere between $50 to $400 depending on the level of luxury that you're looking for.
What are the best affordable hotels in Riyadh?
Some of the best affordable hotels in Riyadh are:
HDB Sahafa هدب
Land Walk فندق لاند ووك
Reef Al Malaz International Hotel by Al Azmy
Browse. Book. Stay.
CuddlyNest provides all accommodations to all travelers at the best price. Find unlimited travel inspiration on our blog and social media channels.

You might also like:
Ultimate Middle East Travel Guide
Ultimate Oceania Travel Guide
Fruits to Taste When in Europe