Sanibel is a beautiful and well-protected Gulf Coast barrier island. Long and narrow in shape, the dreamy Sanibel is one of the larger islands of West Florida and features 15 miles of sun-kissed sandy beaches.
Aside from endless miles of gorgeous beaches, Sanibel Island is a lush sanctuary filled with spectacular natural features, including wilderness refuges, tropical gardens, and various wildlife species.
Some bucket-list experiences here are sunbathing, kayaking, bird watching, and exploring idyllic parks like the Ding Darling Wildlife Refuge.
Whether you are looking for a romantic getaway, a family trip, or a nature escape, this Southwest Florida paradise is the perfect choice for your vacation!
Here's a guide to the top 9 things to do in Sanibel. Have a look!
Find Places To Stay In Sanibel Island, Florida
The 9 Best Things to do on Sanibel Island, FL
Lighthouse Beach Park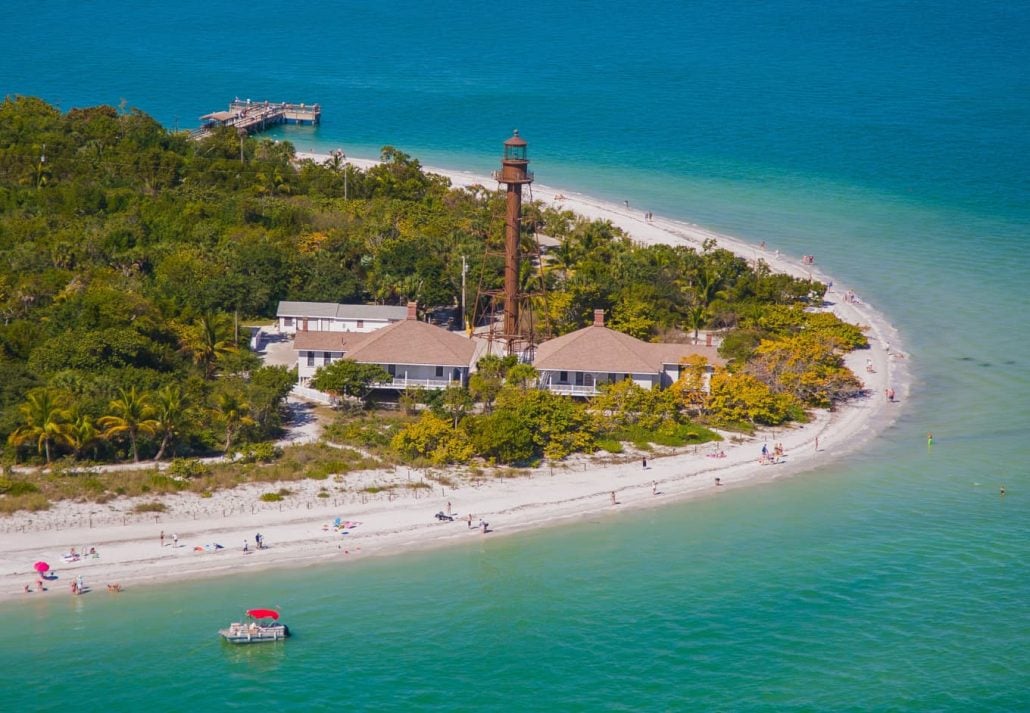 Located at Point Ybel, at the eastern tip of Sanibel Island, Lighthouse Park Beach & Fishing Pier is a stunning 45-acre park where visitors can experience nature at its finest.
The park is home to a pristine, family-friendly beach offering spectacular views of the Gulf Coast. Sunbathing in the sugar white sand, shelling, kayaking, and swimming in the ocean's emerald waters are some of the top activities here.
At the park's northern end, you'll find a fishing pier, a prime spot for catching redfish, snook, sheepshead, black drum, snapper, and other species.
If you're lucky, you'll also be able to spot friendly dolphins frolicking around the water.
Picnic tables are available when you want to enjoy snacks under the canopy of the trees.
Don't leave the park without checking out the Sanibel Island Lighthouse. One of the first lighthouses on Florida's Gulf Coast, this 98-foot tower offers showstopping views of the surrounding area and plenty of photo opportunities.
Address: 112 Periwinkle Way, Sanibel, FL
Recommended Read: The 10 Most Beautiful Islands in Florida
Sanibel Island Museums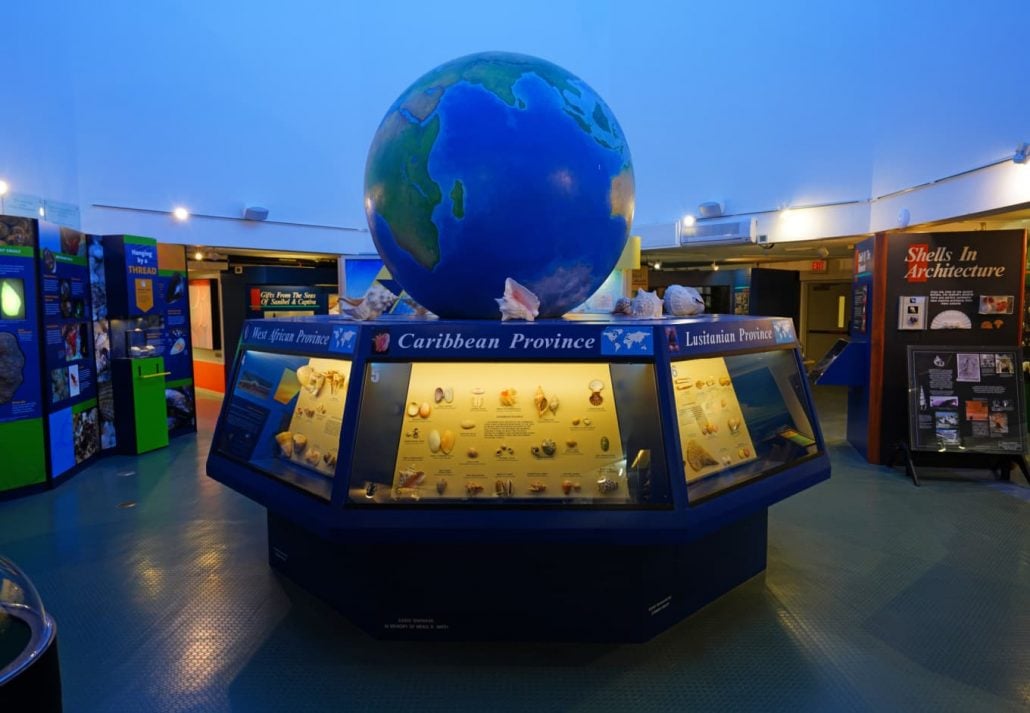 Sanibel Island is as much about world-class as it is about beaches. Worth-visiting institutions include the Village Sanibel Historical Museum, which preserves nine historic buildings that tell the island's story.
Be sure also to visit the family-friendly Bailey-Matthews National Shell Museum, the only one in the United States devoted solely to shells and mollusks.
Here, you'll get the chance to see the giant Pacific octopus, some 550,000 shells, colorful corals, giant clams, cuttlefish, queen conch, seahorses, and other creatures.
Ding Darling National Wildlife Refuge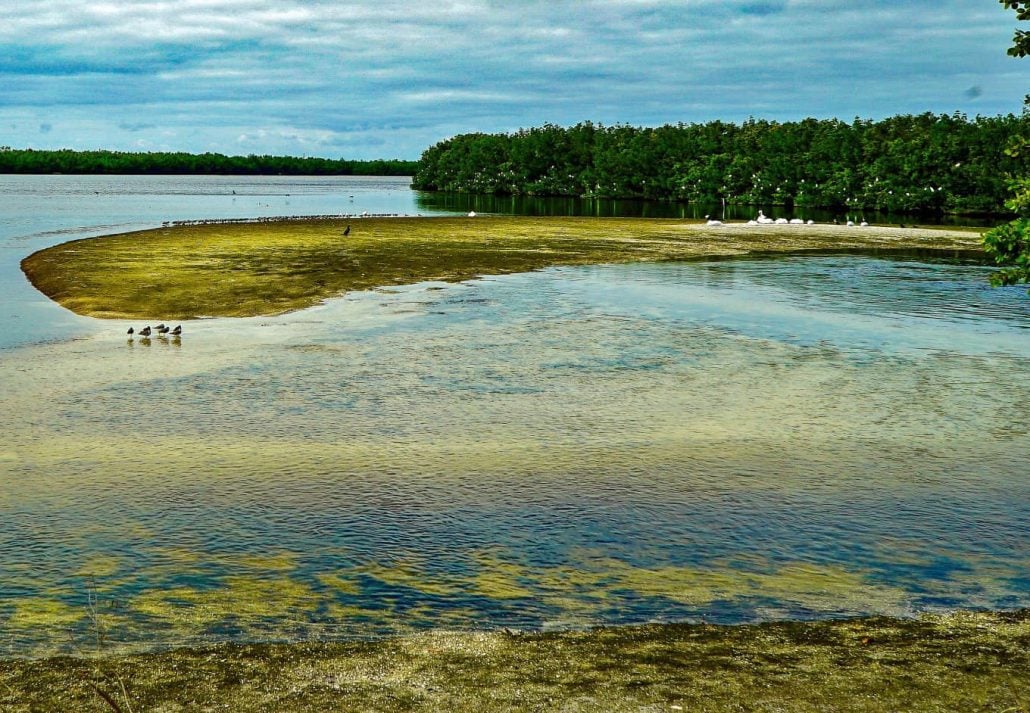 Nature comes in a spectacular variety in the Ding Darling National Wildlife Refuge. Part of the largest undeveloped mangrove ecosystem in the USA, this staggering park protects an array of threatened species, aside from providing habitat for fascinating migratory birds.
Several hiking trails allow visitors to explore the wonders of this wildlife refuge. One of the most famous is the Wildlife and Education Boardwalk, which provides excellent views of freshwater areas inhabited by alligators and nesting birds.
Address: 1 Wildlife Dr, Sanibel, FL 33957
Sanibel Island Farmers Market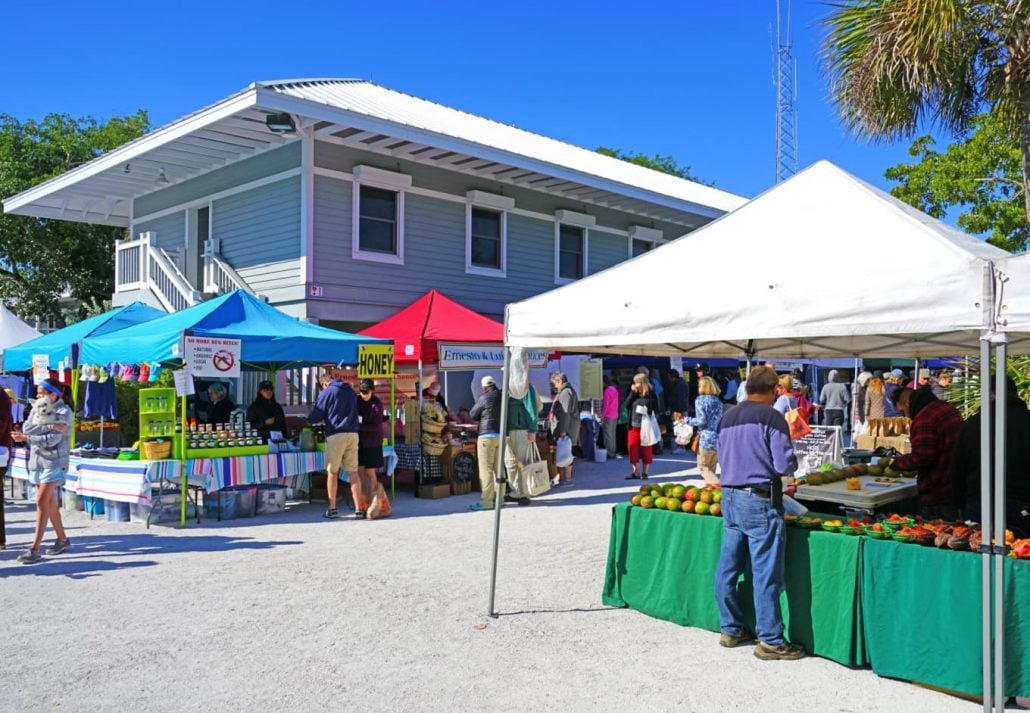 Every Sunday from October to May, the Sanibel Island Farmers Market is the ultimate destination for shopping locally grown products.
While meandering through the colorful stalks of this vibrant farmer's market, you'll come across locally sourced meat, cheese, baked goods, fresh fruit smoothies, fish, art, jewelry, and more.
Loosen your belt because several stalls sell freshly made dishes you can eat on the go. Stop by Flan World Corp for a life-changing coconut flan, Aux Délices Bakery for authentic French pastries, and the Doughnut Station for the fluffiest doughnuts.
Address: 800 Dunlop Rd, Sanibel
Sanibel Causeway Bridge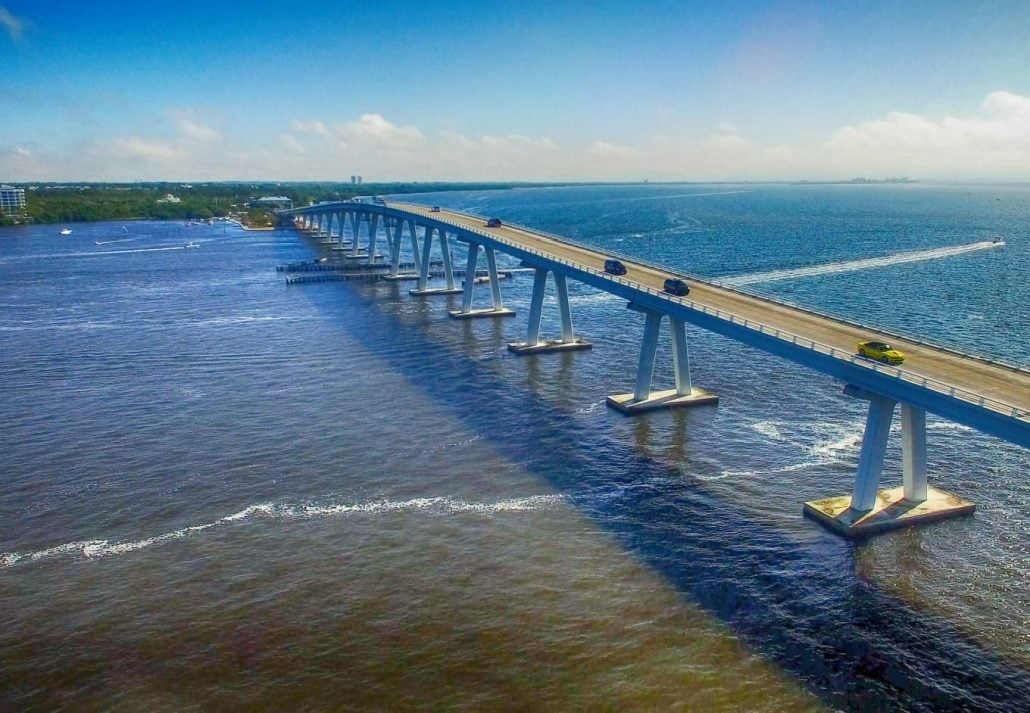 The Sanibel Causeway Bridge is a nearly 3-mile road along the west coast, near the beaches overlooking the Gulf of Mexico.
Connecting the Florida mainland to Sanibel Island, this majestic roadway rises 70 feet over beautiful San Carlos Bay and offers show-stopping views over the aquamarine waters. Definitely worth the drive!
Sanibel Island Beaches
Sanibel Island has enough beautiful beaches to keep you busy for days. Located off Sanibel-Captiva Road, Bowman's Beach has several miles of secluded white sand and gentle waters ideal for a refreshing swim.
At this dreamy beach, you can try the famous "Sanibel Stoop," which consists in bending over to retrieve seashells from the sand.
Make sure to also stop by the idyllic Blind Pass Beach on both Sanibel & Captiva Islands. This is a fantastic place for viewing Florida manatees. We also recommended Algiers Beach (aka Gulfside City Park Beach), one of the most popular dog-friendly beaches in Sanibel.
Sanibel Moorings Botanical Gardens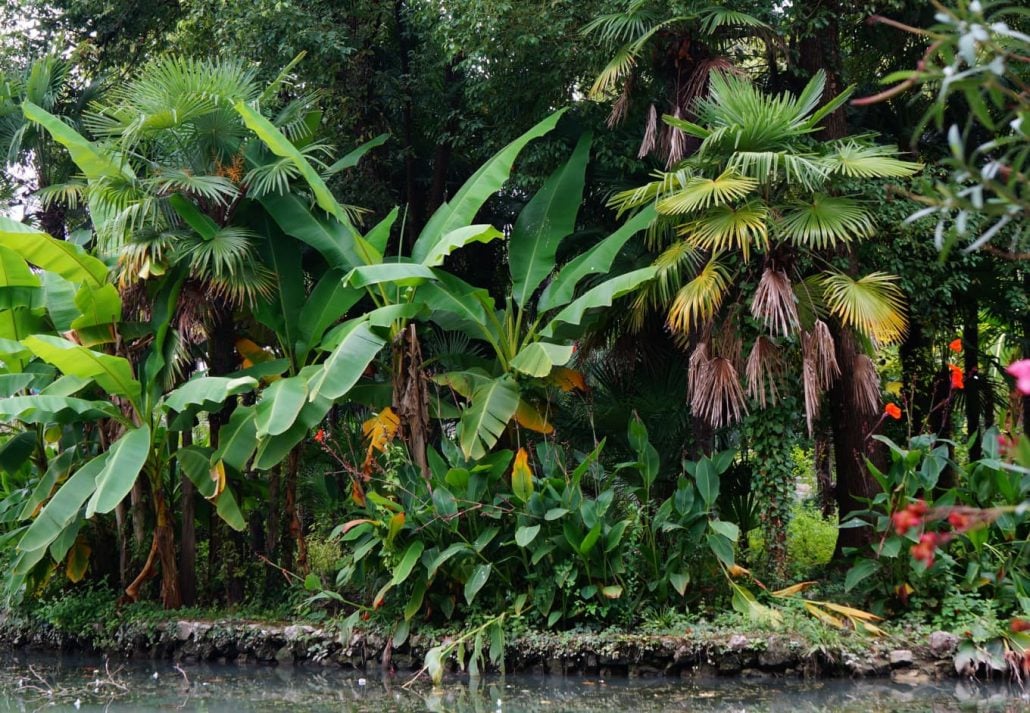 The Sanibel Moorings Botanical Gardens takes visitors on a colorful journey through idyllic tropical gardens.
Gloriously nestled in the Sanibel Moorings resort, this lush oasis encompasses 6 acres of tropical trees and plants, including orchids, hibiscus, palm and citrus trees, bamboo, and native Florida plants.
These eye-popping gardens host wild creatures like butterflies, turtles, rabbits, and birds.
Address: 845 E Gulf Dr, Sanibel, FL 33957
Captiva Island Day Trip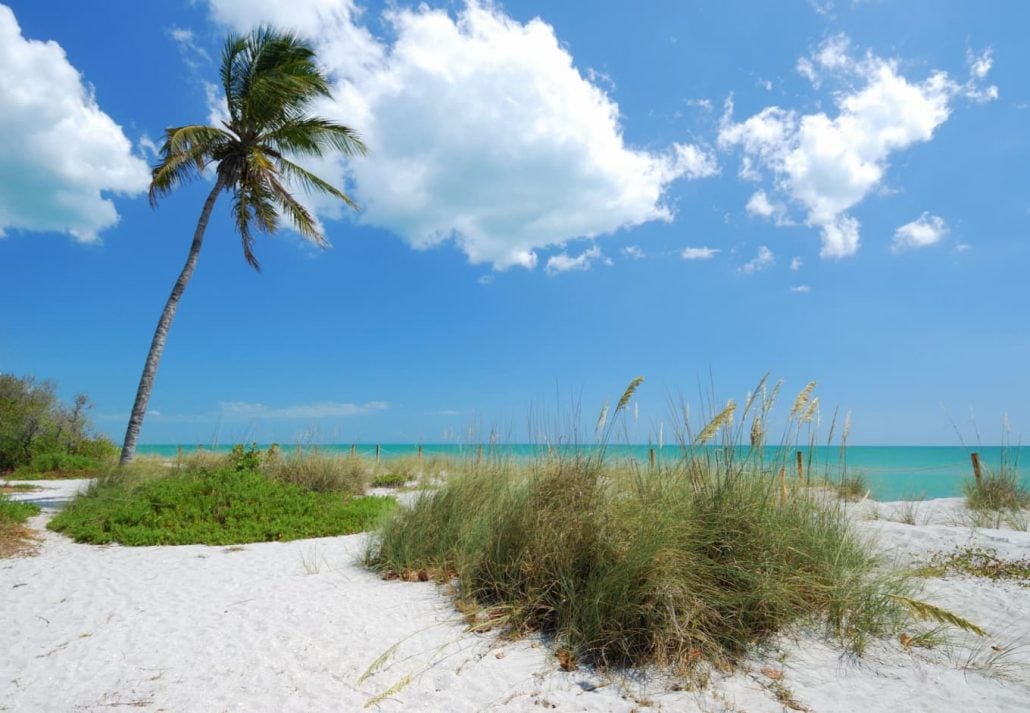 Captiva Island is a wonderful day trip from Sanibel Island. Located near Fort Myers, just offshore Florida's Gulf Coast, this unique island offers visitors the opportunity to bask in many outdoor activities.
Here, visit the otherworldly Captiva Beach, famous for its snow-white sand and shallow crystal-clear waters.
Also, check out the show-stopping Captiva Pass, which is the strait that separates North Captiva Island from La Costa Island. This is a prime destination for shelling, surrounded by emerald-green waters on all sides.
Clinic for the Rehabilitation of Wildlife (CROW)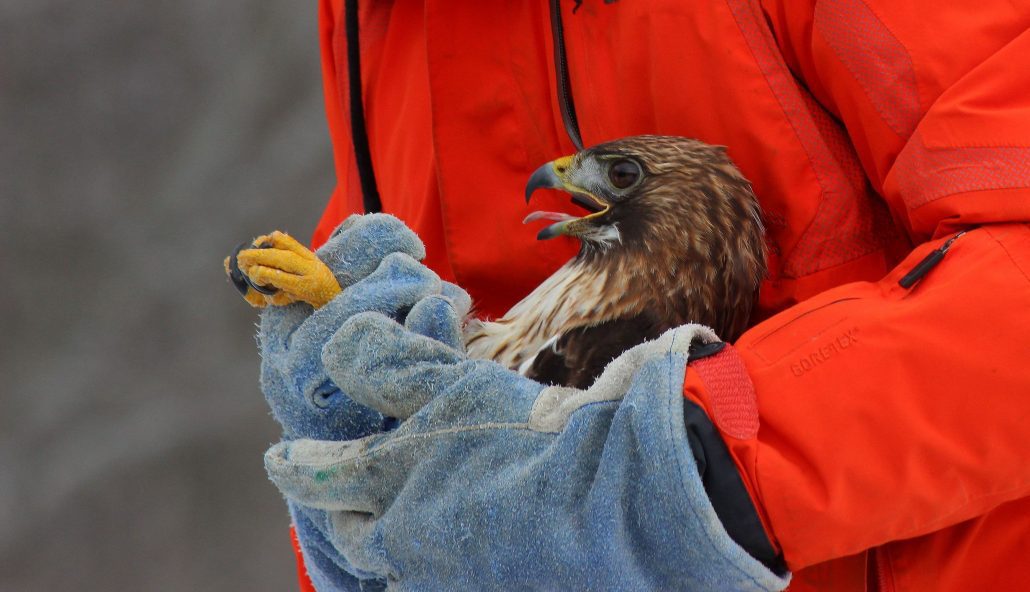 The Clinic for the Rehabilitation of Wildlife (CROW) is great for learning about Southwest Florida's native and migratory wildlife.
Dedicated to saving wildlife through state-of-the-art veterinary care, this center offers various educational experiences.
CROW's Visitor Education Center features a collection of interactive exhibits and videos, while the guided "Wildlife Walk" through the hospital allows you to observe veterinarians treating sick and injured wildlife.
Address: 3883 Sanibel Captiva Rd, Sanibel
FAQ
What is Sanibel Island known for?
Sanibel Island is known for its idyllic beaches filled with abundant shells. Not by chance, it became the world's most famous place for shelling.
Where is Sanibel Island located?
Sanibel Island is located off the coast of southwest Florida, just west of Fort Myers.
Is visiting Sanibel Island worth it?
Sanibel is a pristine island with beautiful beaches, nature preserves, and tropical lush gardens.
What's the best time to visit Sanibel Island?
Winter and springtime (from December to April) are the best times to visit Sanibel. These months offer the best weather, with comfortable temperatures and less rain, making it a joy to explore the island.
What are the top attractions on Sanibel Island?
The best attractions on Sanibel Island are:
Village Sanibel Historical Museum;
Bailey-Matthews National Shell Museum;
Ding Darling National Wildlife Refuge;
Sanibel Island Farmers Market;
Sanibel Causeway Bridge;
Sanibel Island Beaches;
Sanibel Moorings Botanical Gardens;
Captiva Island Day Trip;
Clinic for the Rehabilitation of Wildlife (CROW).
Browse. Book. Stay.
CuddlyNest provides all accommodations to all travelers at the best price. Find unlimited travel inspiration on our blogs and our social media channels Facebook, Instagram, Pinterest
You May Also Like:
The 10 Best Beaches Near Orlando, Florida
15 Unbeatable Florida Family Vacations with Kids
The 4 Best Family-Friendly Vacation Spots in Orlando
The 15 Best Long Weekend Getaways In The US
The Ultimate North America Travel Guide
10 Best Day Trips From Naples, Florida
The Ultimate Guide For a Pet-Friendly Holiday in Florida
The Best Time To Visit Orlando, Florida
7 Amazing Water Parks In Orlando, Florida
8 Best Hotels Near SeaWorld Orlando, Florida
9 Best Hotels In Orlando, Florida
The 5 Best Hotels Near Downtown Orlando, Florida
The 8 Best Hotels Near Orlando Airport
The 9 Best Pet-Friendly Hotels In Orlando, Florida
The Best Hotels Near Disney World Orlando