It's the weekend! You've had a long and stressful week, but it's finally Friday —time to relax and have some fun. What are you going to do this weekend? If you're itching to explore a new and exciting getaway, then fret not- we've got your back. In this blog post, we'll be sharing our favorite places in New York that are perfect for a weekend getaway with friends or family.
From hiking in the Catskills to exploring breweries on Long Island – there is something for everyone! Check out these destinations and start planning now so you can enjoy your next weekend like never before.
The Most Amazing Weekend Getaways In New York
Long Island
Long Island is an island off the coast of New York and one of the best places for a weekend trip. Families can embark on an outdoor adventure and enjoy a variety of water sports, like kayaking or paddle boarding along with plenty of hiking trails to explore in this region!
If you're looking for a more relaxing time on Long Island, there are many charming places where you can enjoy a drink and dine in. For an upscale fine dining experience, book a table at 18 Bay, a plush Italian-inspired restaurant set in a Victorian house. But if you're craving a more casual dining experience, stop by Bigelow's New England Fried Clams for seafood galore.
If your idea of relaxation includes drinking wine then don't pass up the chance to book a wine tasting at Wine Country Tasting Room & Adirondack Winery, located in downtown Lake George Village.
The best things to do in Long Island will depend largely on what you are looking for in your vacation experience. If you're more into nature then head north towards Silver Lake State Park where there are plenty of hiking trails and bountiful wildlife. But if going shopping is what you're craving, then visiting the South Bay Mall is a must.
Find Hotels In Long Island, New York | Find Homes In Long Island, New York
North and South Forks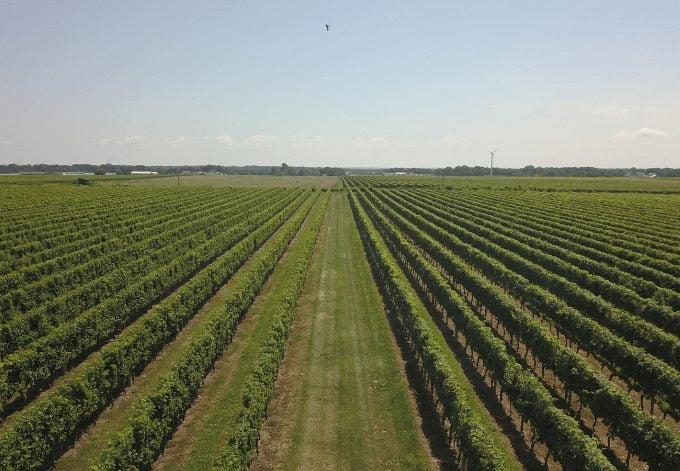 Travelers looking for romantic getaways in the New York State should head to the North and South Forks of Long Island. These picturesque communities are home to some of NY's most beautiful beaches, fishing villages with great seafood restaurants, wineries perfect for wine tasting tours (including one that is just 25 minutes from Manhattan), and open fields in which you can go hiking or play golf on an 18-hole course!
The North Fork of Long Island is a region in the northeastern portion of New York's Suffolk County. Also known as the Napa Valley of the East Coast, the area is praised for its wine country and scenic beaches, as well as its rich cultural history.
If you're looking for a stellar wine tasting experience, visit the Macari Vineyards for a selection of Macari wines, and a gourmet lunch by Chef Lauren Lombardi at an outdoor bungalow.
Find Hotels In Long Island, New York | Find Homes In Long Island, New York
Lake Placid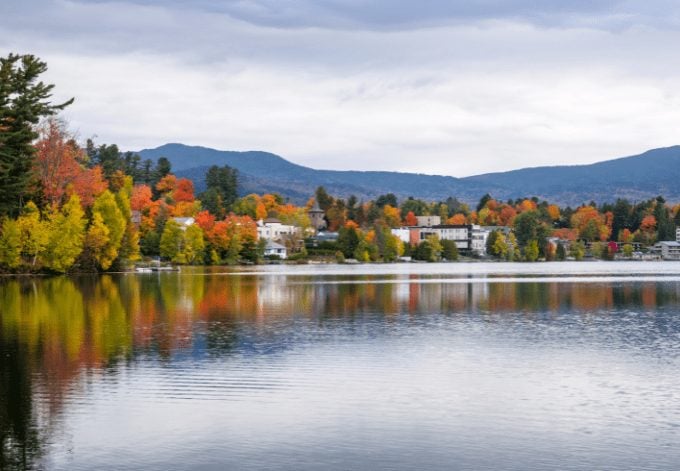 Boasting a captivating old-world charm, Lake Placid is an atmospheric town in Upstate New York, in the northeast of the United States. Located on Lake Champlain, between Vermont and Canada, this destination offers breathtaking views of its mountains and lakefronts, making it an ideal place to take part in outdoor activities like boating or hiking.
The summer months in Lake Placid are typically busiest due to all the festivals happening during this time such as their annual triathlon where participants can swim across Lake Champlain before cycling through some scenic countryside followed by a final leg consisting of running around Mirror Lake.
A visit to the Adirondack Mountains region is a must for any nature lover. During summer months you can hike or partake in one of many mountain biking trails, but with so much to do all year round even if you're visiting during wintertime, there's no reason not to indulge your inner snowboarder and hit up some local ski hills.
Find Hotels In Lake Placid, New York | Find Homes In Lake Placid, New York
Shelter Island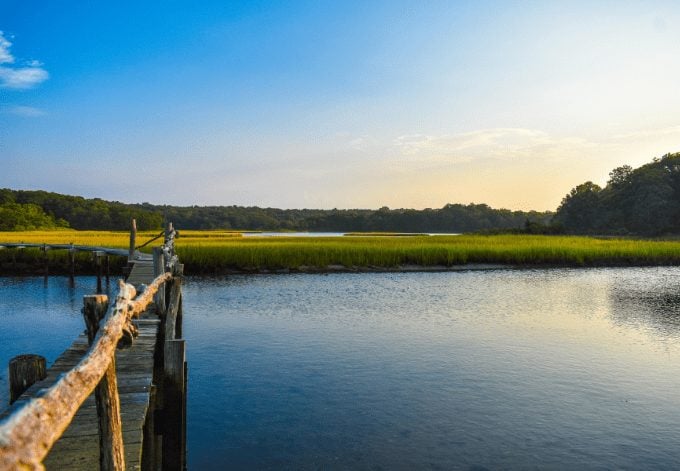 Thanks to its laid-back vibe, this island offers plenty of room for relaxation as well as other activities including fishing, biking, kayaking, or paddleboarding. This is also one of the best places to catch breathtaking views of sunrise and sunset over Gardiners Bay, which will surely leave visitors feeling enchanted!
One of the top places in Shelter Island is called "The Point". The Point is a private beach and community for people who love boating, fishing, or just spending time with their family. Other amazing things to do in this quaint destination include visiting historic sites on the town's main street and going for a lip-smacking seafood feast in Little Creek Oyster Farm & Market.
There are so many reasons why Shelter Island should be your next destination but we'll leave you with one last thought: the island is only 45 minutes away from Manhattan by boat, making it an ideal place to escape for a weekend and one of the best Weekend Getaways from NYC. With that in mind, pack up your bags and head out on a ferry today!
Find Hotels Near Shelter Island, New York | Find Homes Near Shelter Island, New York
Lake George
Lake George is a gorgeous place to visit, especially during summer when the water's warm and inviting! The lake offers plenty of recreational activities for visitors including kayaking, boating, fishing, and swimming. It also boasts some of the best family attractions in all of New York including Putnam County Fairgrounds, Adirondack Experience Museum, and Santa's Workshop at Holiday Mountain Ski Area.
If you're looking for something more relaxing then head over to Sagamore Hill which was once Theodore Roosevelt's "Summer White House" or go horseback riding with Hidden Trails Riding Stables. There are so many things to do here that even we can't list them all! But one thing is certain: Lake George will never disappoint.
Find Hotels Near Lake George, New York
Catskills
The Catskills region of New York is a popular destination for weekend getaways. There are many lakes, mountains, and rivers to enjoy at any season of the year. One of Catskills top attractions is the Hunter Mountain Scenic Skyride, an 11-minute ride that takes you to the top of the 3200′ high summit of Hunter Mountain. From up there, you'll be rewarded with jaw-dropping views of the Northern Catskill Mountains, the Berkshires in Massachusetts, and Vermont's Green Mountains.
While the entire region is dotted with cozy beds and breakfasts to stay at, the adventurous souls can go camping right on the banks of the Hudson River and enjoy a restoring time around nature.
The Catskill also happens to be one of the most romantic weekend getaways in New York. Couples can have a picnic at Minisink Battlefield County Park, catch a glimpse of the radiant fall colors of the Windham Mountain blissfully stroll around the Falling Waters Preserve, one of the most scenic areas along the banks of the Hudson River.
Find Hotels Near Catskills, New York | Find Homes Near Catskills, New York
Best Weekend Getaways From New York
Newport, Rhode Island
Thanks to its mouthwatering variety of restaurants, Newport is regarded as one of the best weekend trips for foodies. For a high-caliber fine dining experience, visit The Dining Room at Castle Hill Inn and Restaurant Bouchard. For a more laidback meal, Midtown Oyster Bar is the place to go
Some of the best things to do in Newport include visiting the state's largest natural area and preserve- Block Island National Wildlife Refuge – and hitting the famous Cliff Walk, which offers stunning views of the Newport shoreline.
Addition: There's plenty of amazing shopping opportunities in Newport too, with beautiful boutiques located right on Thames Street or up near Broadway Square. Stop by Allwraps Jewelers if you're looking for a charming engagement ring – they have breathtaking selections and even do custom designs!
This town was named one out of America's Best Small Towns this year so now might as well check it off your bucket list before everyone else does!
Find Hotels Near Newport, Rhode Island | Find Homes Near Newport, Rhode Island
The Berkshires, Western Massachusetts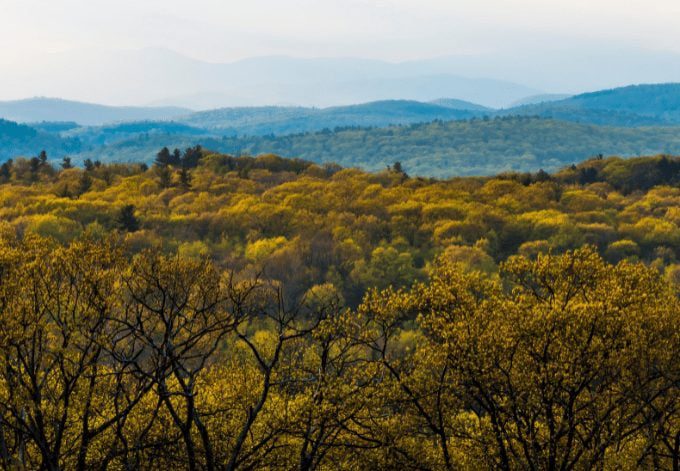 The Berkshires is an area in the western part of Massachusetts, about two hours outside of Boston. There are plenty of incredible hiking trails to explore and stunning views all around–it's perfect for a long weekend getaway!
Easthampton has some great shops so you can stock up on local goods before heading out into nature. Birch Mountain Orchard & Winery is also worth stopping by if you're looking for fresh apples or locally crafted wine – they have free tastings every Saturday from 12-to-six pm! And don't forget The Trailside Museum where there are thousands of antique toys that your kids will love exploring as well!
Adventurous couples who are spending the weekend in this romantic getaway can indulge in a variety of lovely things to do together, including hiking, biking, skiing, and marveling at Berkshire's picturesque mountains and lush green rolling hills.
Find Hotels Near The Berkshires, Massachusetts | Find Homes Near The Berkshires, Massachusetts
Greenwich, Connecticut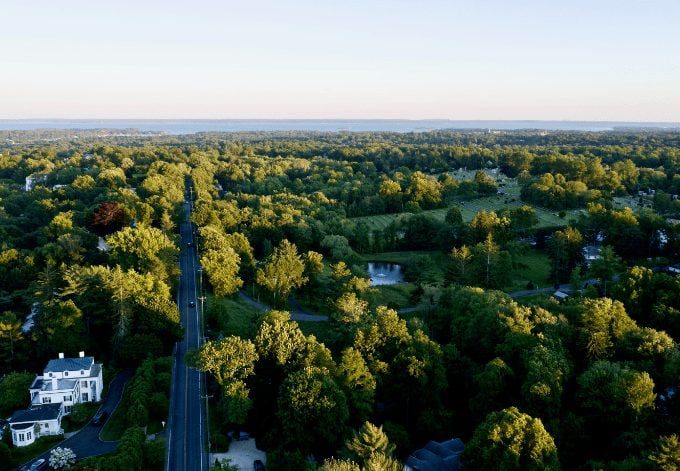 The town of Greenwich, Connecticut is a fantastic weekend getaway for those who live in the northeast. It's located about an hour outside of New York City and has some stunning views that are worth seeing with your own eyes!
There are also plenty of places to explore within this small town, so you'll never be bored while visiting – from historic homes (like Bruce Museum) to unique boutiques (where you can find some great antiques or locally-made jewelry too!), there's something for everyone! And don't forget The Maritime Aquarium where you're guaranteed to see seals and penguins frolic around their habitat! They've got killer sea lion shows which will have both kids and adults entertained.
Greenwich, Connecticut is also a great place to visit for those who love history. The town was once home to President George Washington, and there are lots of things that he left behind (including a working grist mill!) Be sure to also explore some incredible architecture from the 1800s while you're here!
Find Hotels In Greenwich, Connecticut | Find Homes In Greenwich, Connecticut

Here Are Some Curated Readings For You:
Romantic Weekend Getaways in Arizona