Be it any time of the year, the neon glitz and glamor of the Big Apple manages to get together locals and tourists alike from all over the world. But it's really the holiday season, with its breathtaking, spectacular Christmas lights, that New York City brings visitors galore!
From Saks Fifth Avenue, in Manhattan, to the iconic Dyker Heights, you will find them all donned in glowing window displays and festive holiday lights. That's not all — To add a little more to the holiday spirit, the city of New York makes sure all of its world-famous sites are also dressed in luminous Christmas decorations and twinkling lights!
Wondering "Where to see Christmas lights near me?". Then we've got you covered! To truly witness its glory, you best keep reading to find out, as we scour the city of New York for charming holiday decorations, Insta-worthy tree lighting, and a winter wonderland that is like no other.
The Most Beautiful Christmas Lights In NYC
Dyker Heights Christmas lights, Brooklyn Neighborhood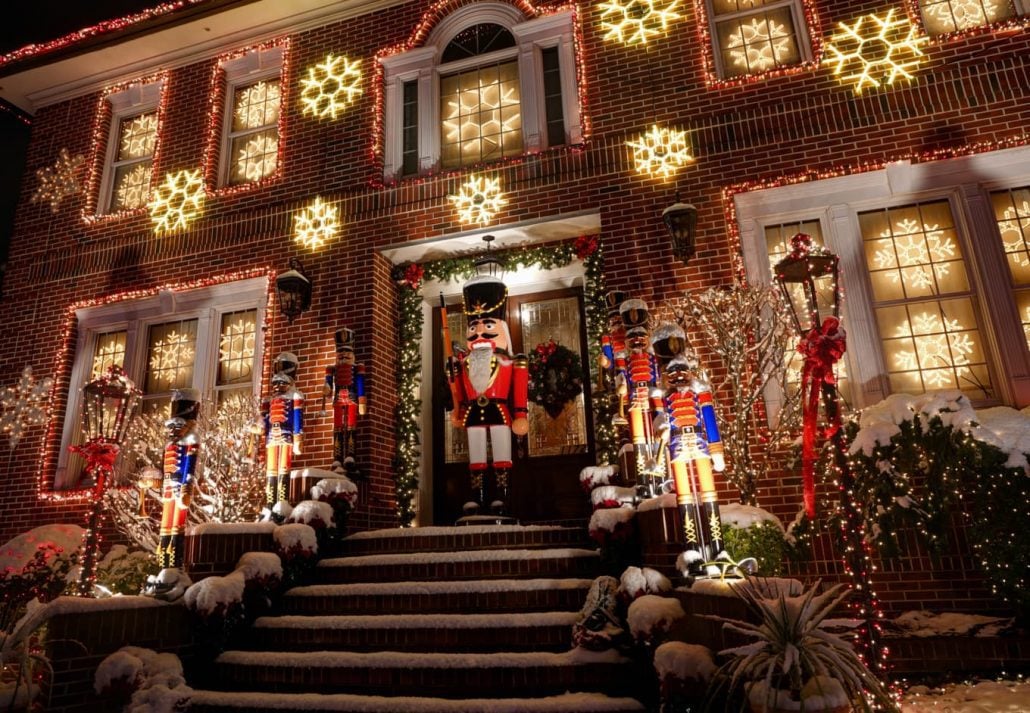 There's something really special about Dyker Heights Christmas lights during the holidays. Every December, it's brimming with eager New Yorkers, vibrant displays, and a host of live performances!
Dyker Heights organizes a special New York lights tour during Christmas, starting from Manhattan, taking you around the city to catch illustrious window displays and a magical light show. The bus tour is 3 and a half hours long and ends with complimentary hot chocolate and snacks.
Even with many entrants into the fray, the Dyker Heights Christmas lights continue to be packed to the hilt.
When: The annual Dyker Heights Christmas lighting takes place the day after Thanksgiving, this year the date falls on November 25th, 2022.
Saks Fifth Avenue, Manhattan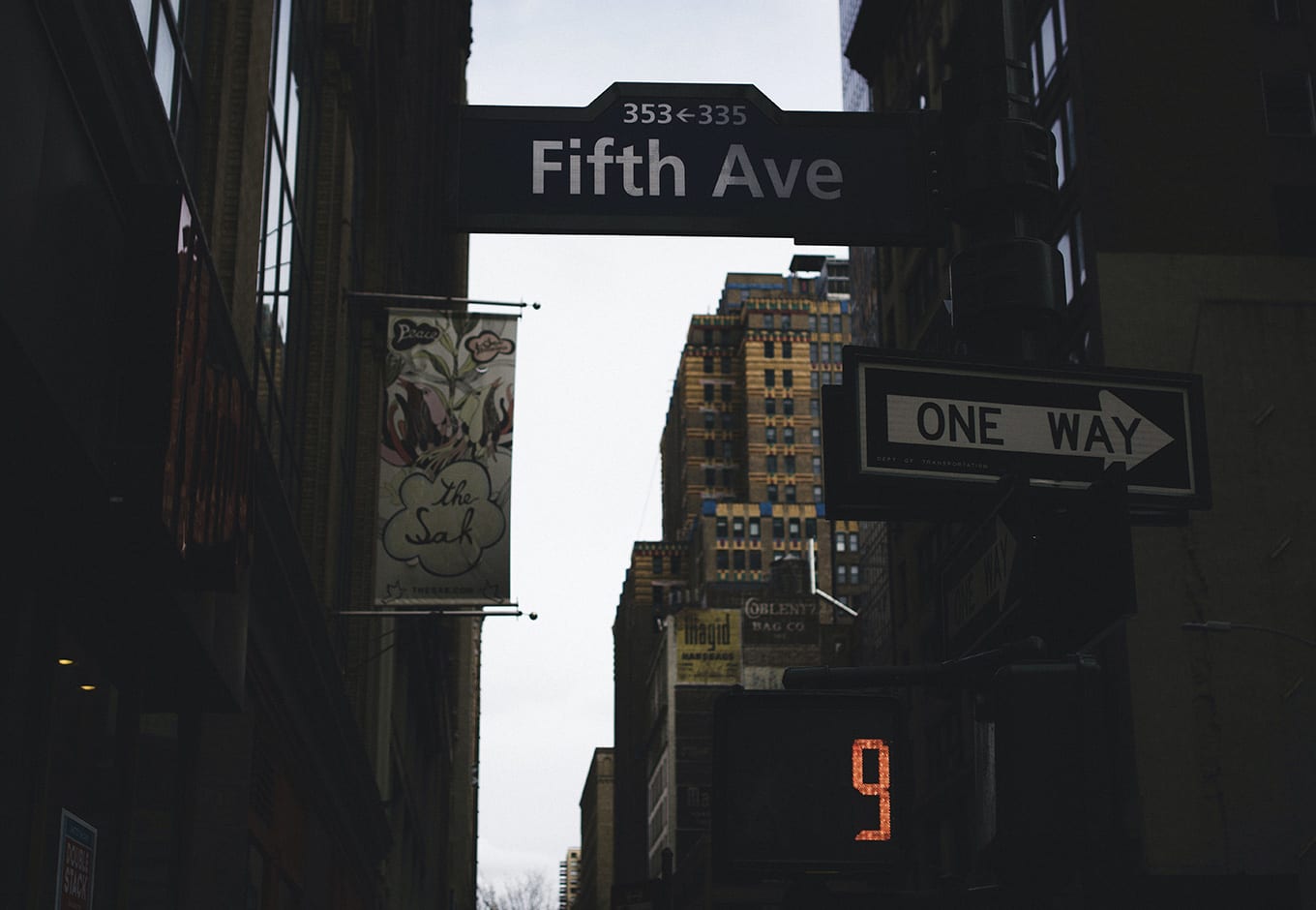 Spend an evening traversing around in Manhattan, looking for charming lanterns and Santa himself. You will find an arsenal of department stores and shops decorated in dazzling lights. The Saks Fifth Avenue continues to be filled to capacity with its picturesque tree lighting.
You will also find other brands such as Bergdorf Goodman, Tiffany and Co., Lord and Taylor, and Henri Bendel adorned in vibrant led lights! The Saks, however, remains to be the favorite among New Yorkers, with its delightful light show and holiday display.
Washington Square Park, Lower Manhattan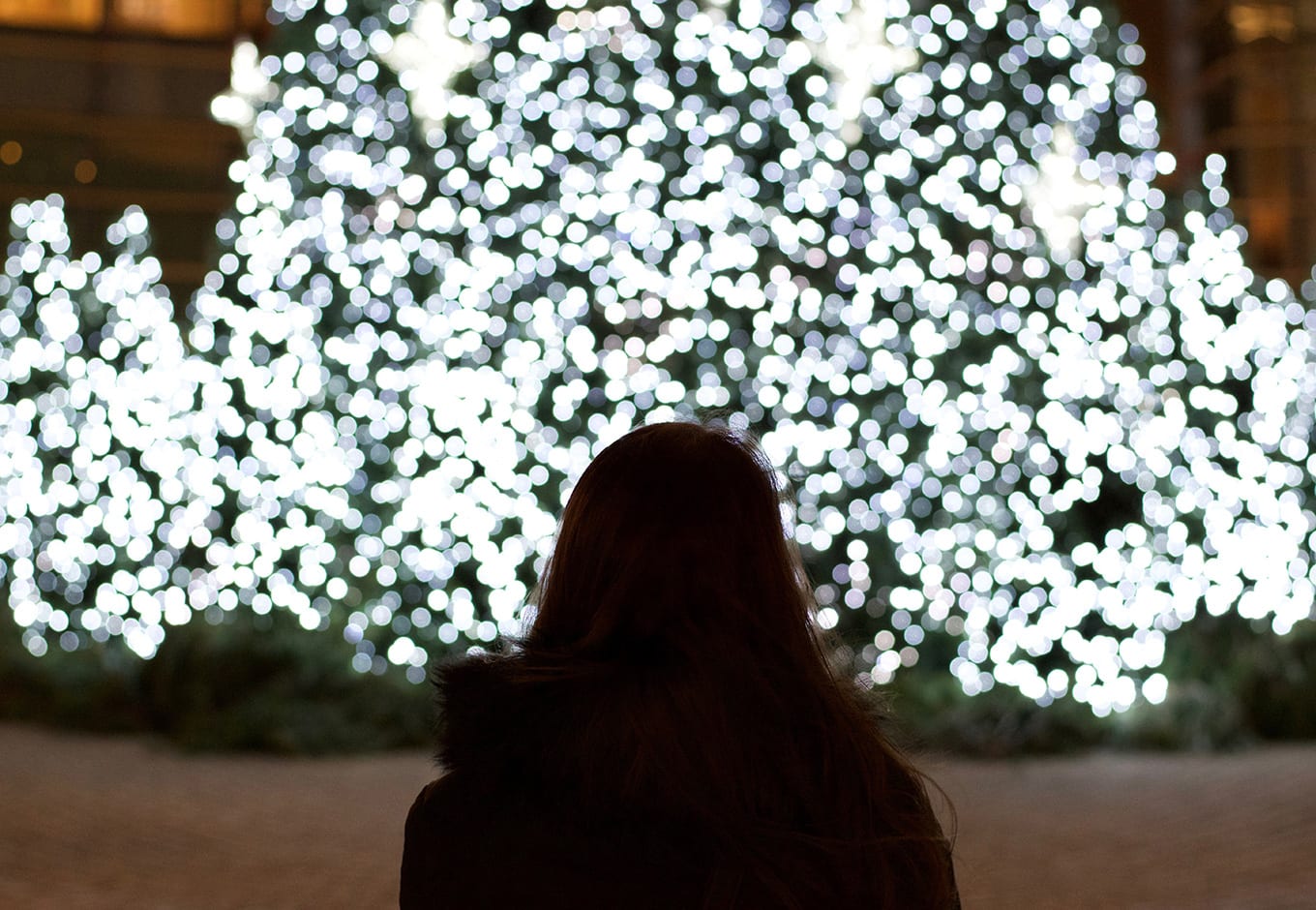 Every year there's a stunning Christmas tree at Washington Square Park that features a glorious lighting ceremony and is considered one of the best Christmas lights in NYC! You can join in the fun as Rob Susman Brass Quartet sing-along charming Christmas carols while Santa Claus hands out candy canes and delicious sugary treats.
Lincoln Center Plaza, Manhattan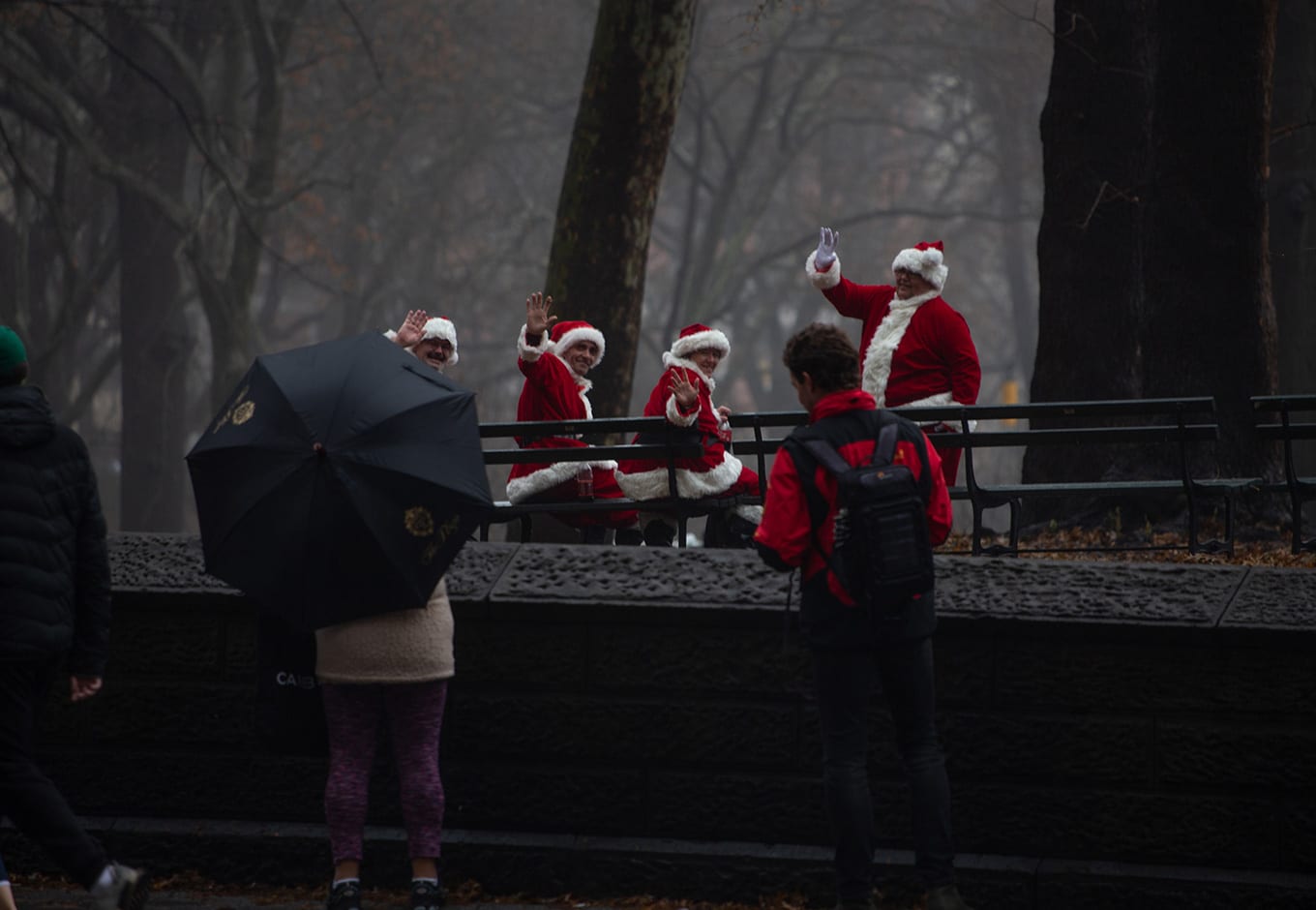 Lincoln Center Plaza is where you will find the most magical Christmas lights in NYC apart from the nativity scene! Every year, it's beaming with a picturesque light display, along with a Christmas tree that's a sight to behold. It also features a tantalizing holiday light show that never fails to impress!
It also hosts a popular performance every holiday called The Spirit Of Christmas that will keep you entertained to the tee.
Radio City Music Hall, Midtown Manhattan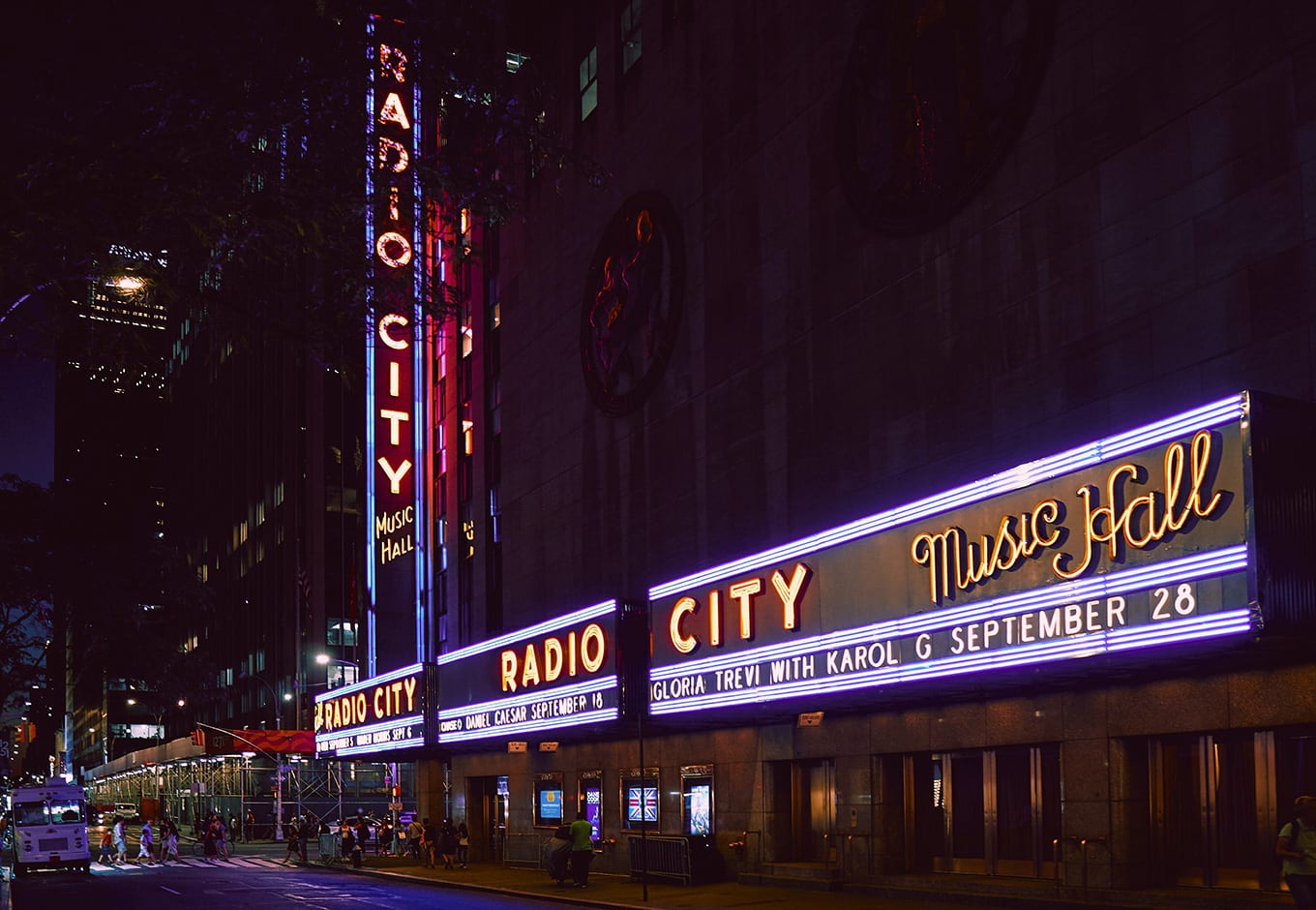 If there's one place that New Yorkers love to go to for festive holiday music and fascinating Christmas lights in NYC, it has to be Radio City Music Hall.
Every holiday season, under its beautifully-embellished ceiling, the music hall hosts a world-famous show called Radio City Christmas Spectacular, which no matter when you go, is packed to the hilt. You can also watch the Rockettes and a host of other scintillating dance performances along with magical New York Christmas lights.
Empire State Building, Midtown Manhattan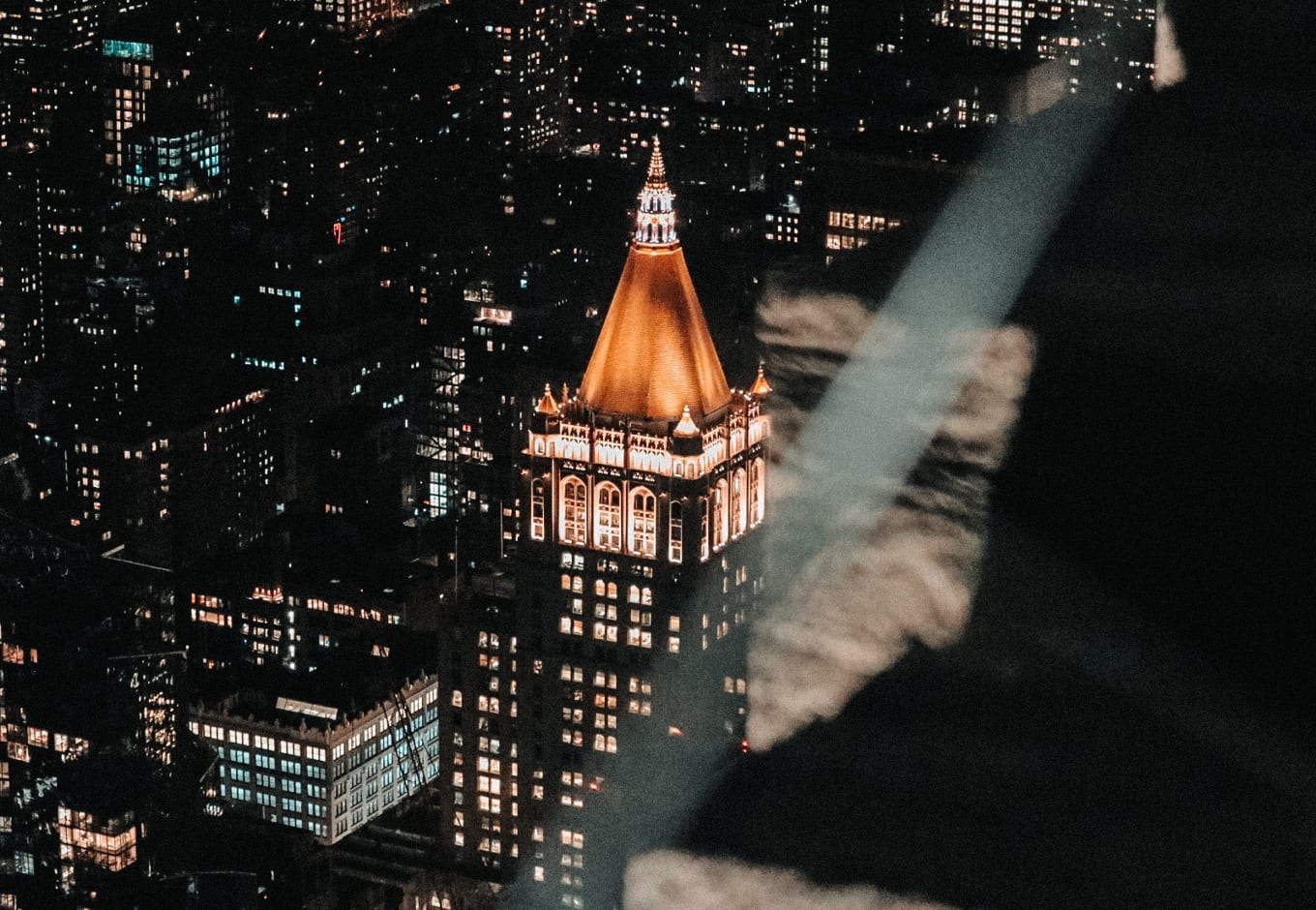 Full of luminous colors and a shimmery Christmas tree, the Empire State Building is the perfect place to be if you are looking for fascinating Christmas lights in NYC!
It showcases a series of intricate holiday window displays, and captivating light and music show that will fill your visit with dance and entertainment like no other! You can tune in for Christmas carols and dazzling fairy lights, along with music shows around some of the most legendary American singers!
Make sure to also keep an eye out for a line-up of special exhibitions at the Empire State Building.
Rockefeller Plaza Center, Manhattan
The Rockefeller Center in New York City is widely popular for its breathtaking scenery from Top of the Rock. Among the most alluring holiday light, it showcases a larger-than-life Christmas tree along with a variety of mouthwatering restaurants and eateries!
You can also venture to the Plaza, practice skating on the rink, and guzzle up some foamy eggnog. Don't forget to also keep an eye out for some classic NYC comedy gigs that will make sure you are cackling all night long!
Bank Of America Winter Village, Bryant Park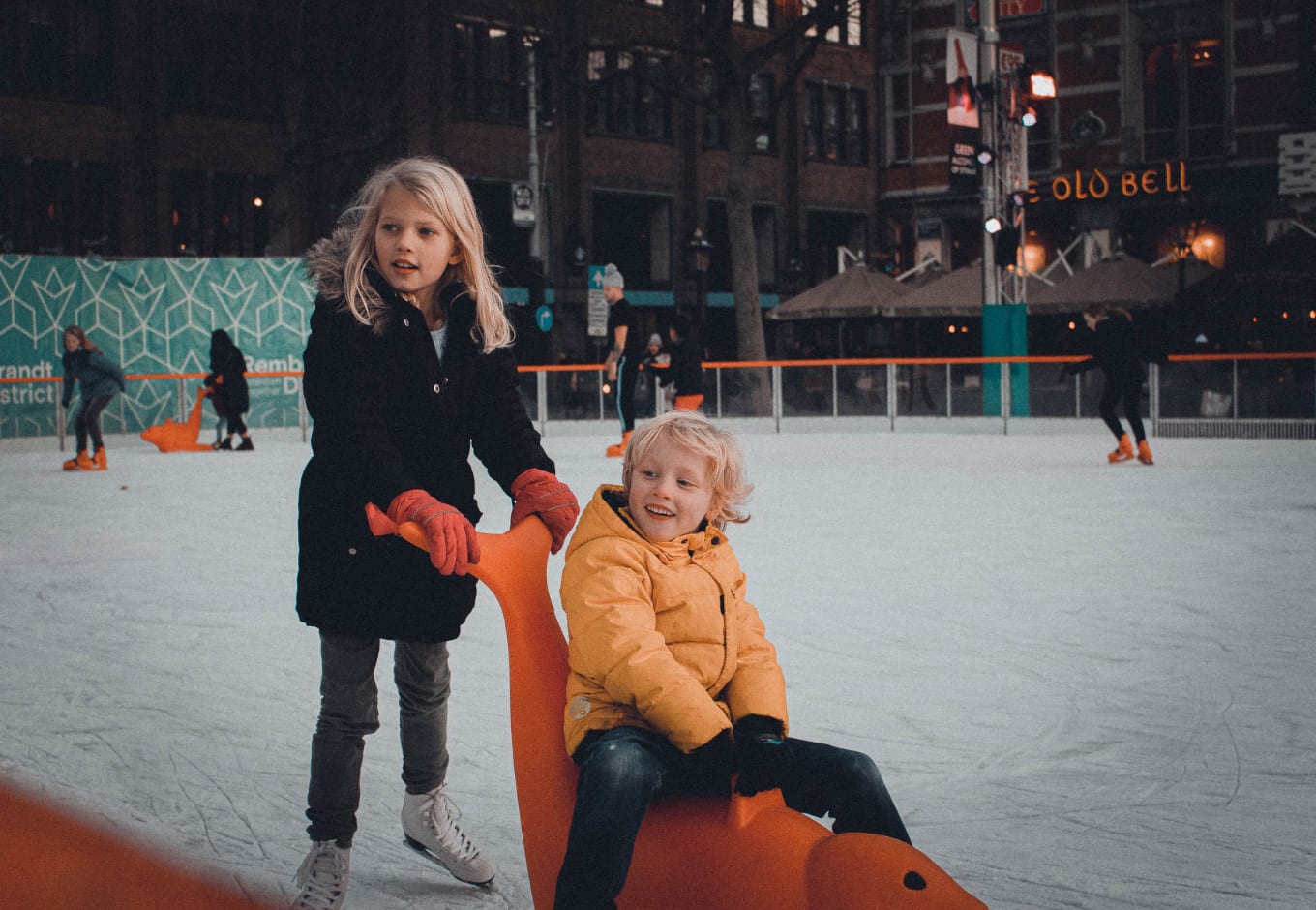 Winter Village at Bryant Park is a hot favorite for every New Yorker looking for colorful Christmas trees, vibrant holiday markets, and captivating New York Christmas lights.
It houses a gigantic ice skating rink that's free of cost if you carry your own pair of skates. It also features an arsenal of pop-up shops and bakeries along with some of the best Christmas lights in NYC every holiday season.
Believe-it-or-not, you can witness as many as 30,000 twinkling lights on its 55-foot towering Christmas tree!
However, what Bryant Park is most famous for, is its vibrant dining and drinking scenes along with its festive menu that will spoil you for choice.
Bronx Zoo Holiday Lights, Bronx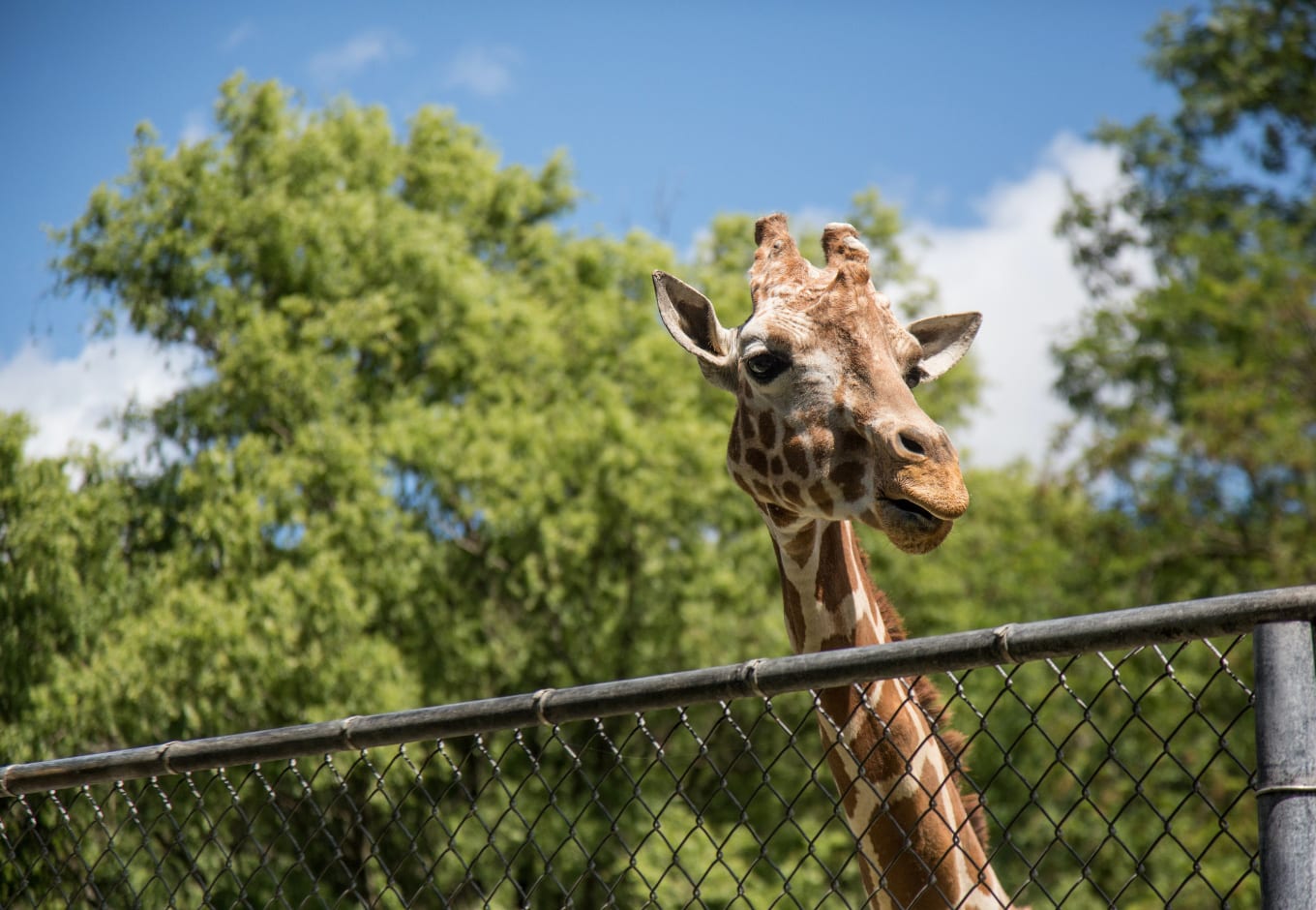 Much has been spoken about the neon glitz and glamor that takes over the Big Apple during the Christmas season, but a lesser-known fact is that the city's zoos and animal parks also turn into magnificent Christmas lights in NYC!
You can plan a day observing a variety of unusual species and watch live performances. While the Staten Island Zoo and Queens Zoo compete for the top position, there's nothing quite like the Bronx Zoo Holiday Lights!
Bigger than ever, this year it displays over 50 adorable animals made of gleaming light displays. You can also join in on the fun as picturesque ice carving installations set the backdrop.
Survive on a diet of foamy lattes and gingerbread cookies, before you pick up charming souvenirs and trinkets from a plethora of pop-up stalls!
Brookfield Place Holiday Market, Lower Manhattan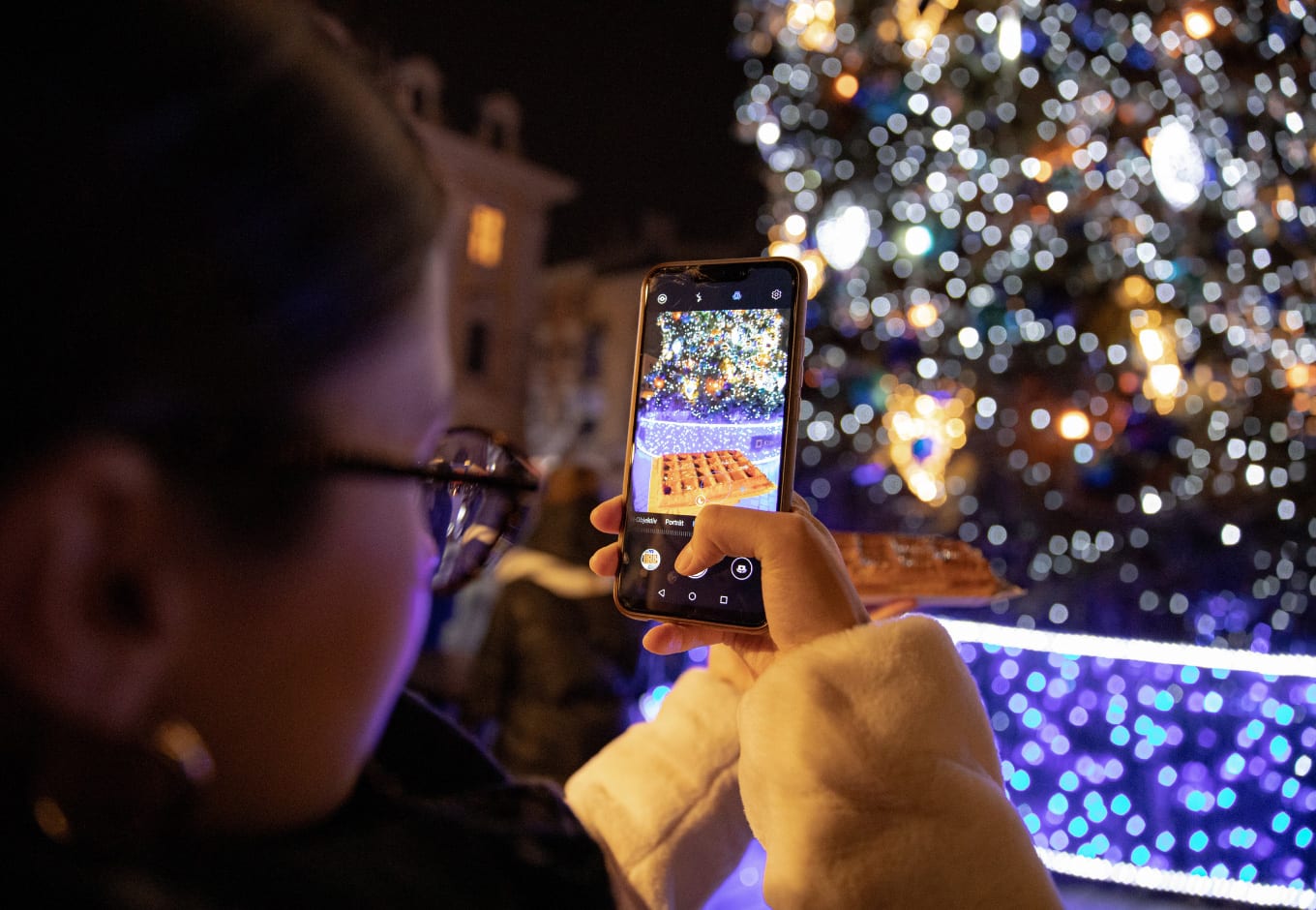 Head out to The Rink in Brookfield Place with your friends and family to enjoy an evening of classic Christmas spirit!
Tucked away in Lower Manhattan, The Rink is known for its teeming winter wonderland along with photo-worthy display and lights!
Here you can indulge in holiday activities such as ice skating, free gift-wrapping services, and art installations. For children and adults alike, we recommend trying out Reindeer Roundup, a playful activity that takes you on a quest to help Santa look for his absconding animals!
New York Botanical Garden Glow, The Bronx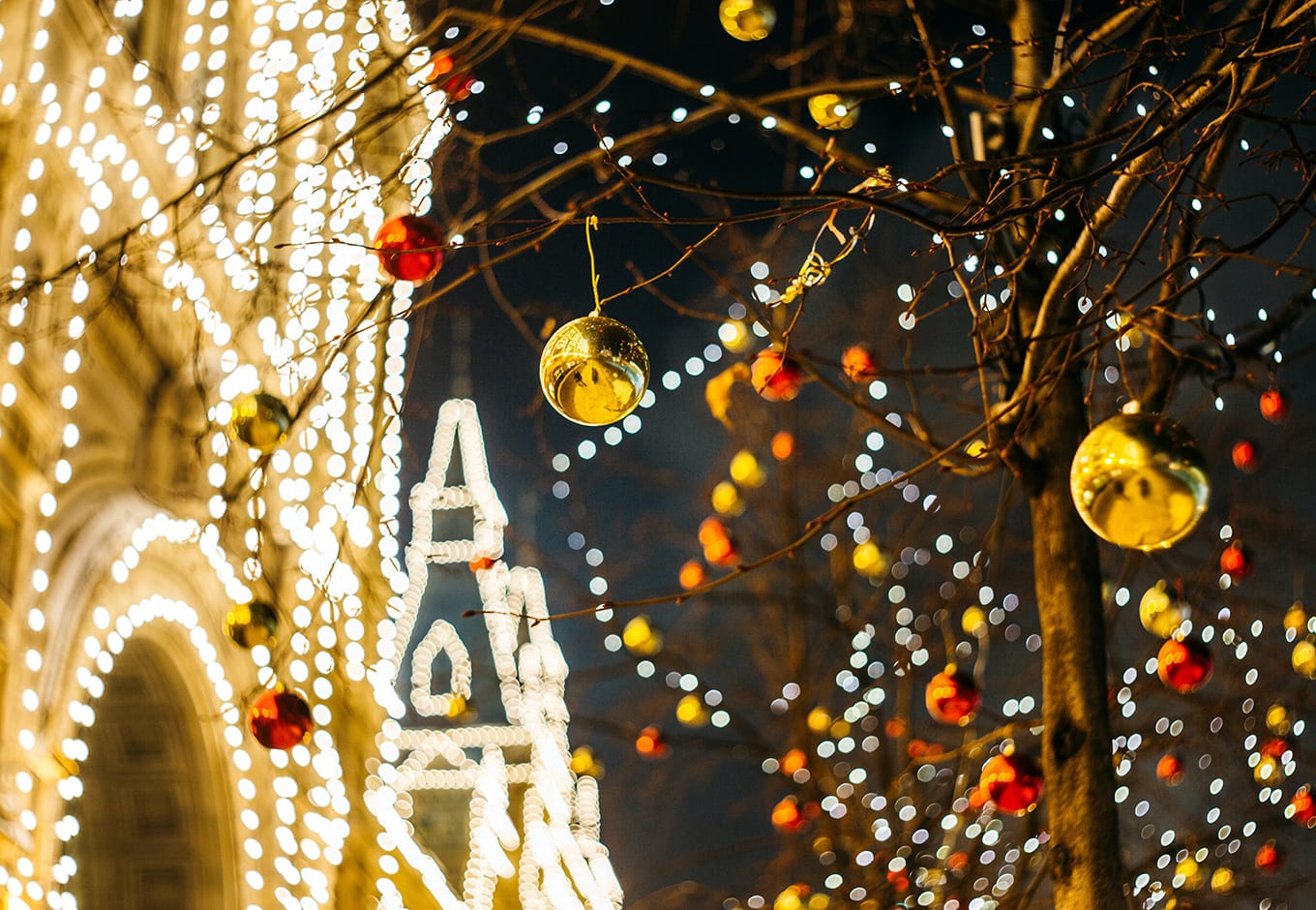 Home to one of the most spectacular festive displays, the New York Botanical Garden is almost arrogant in its beauty! It boasts a surreal holiday light and ice carving, along with an arsenal of winter activities and dance performances. One can also not miss its beloved Holiday Train Show. With so much to offer, it is no wonder then that the New York Botanical Garden Glow also happens to feature picture-perfect Christmas lights in NYC!
Get ready to enjoy a myriad of sparkling light displays, photo-worthy art installations, and poppy colors!
Make sure to also witness its over-the-top ice carving and pop-up performances.
Holiday Under The Stars, Time Warner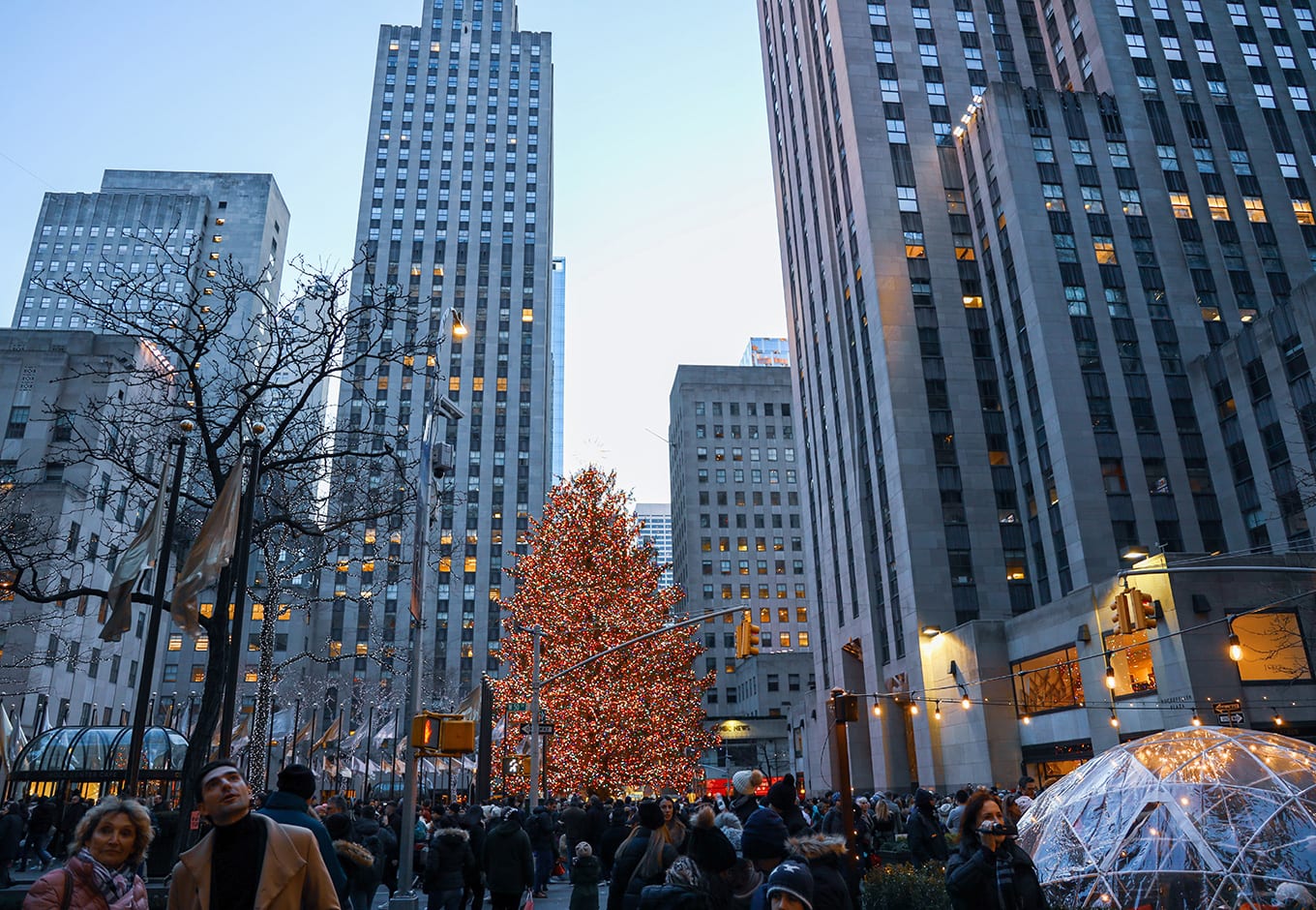 It's a Christmas tradition; New Yorkers from across the city come together at The Shops at Columbus Circle in Time Warner Center to witness the magnificent Holiday Under The Stars light show! It displays mesmerizing 14-feet star lighting with scenic views of the iconic Central Park and fascinating New York Christmas lights.
On particularly nippy winter evenings, patrons take refuge here, as all of the events are hosted indoors.
If you want to indulge in some holiday shopping, Time Warner Center also hosts a plethora of shops and stores that will spoil you for choice! Not to mention, an extended time to let you splurge even more.
Once all this fun works up your appetite, head to the many restaurants and bars available here that happen to be some of the best drinking and dining scenes in New York City.
Central Park Christmas Lights, Central Park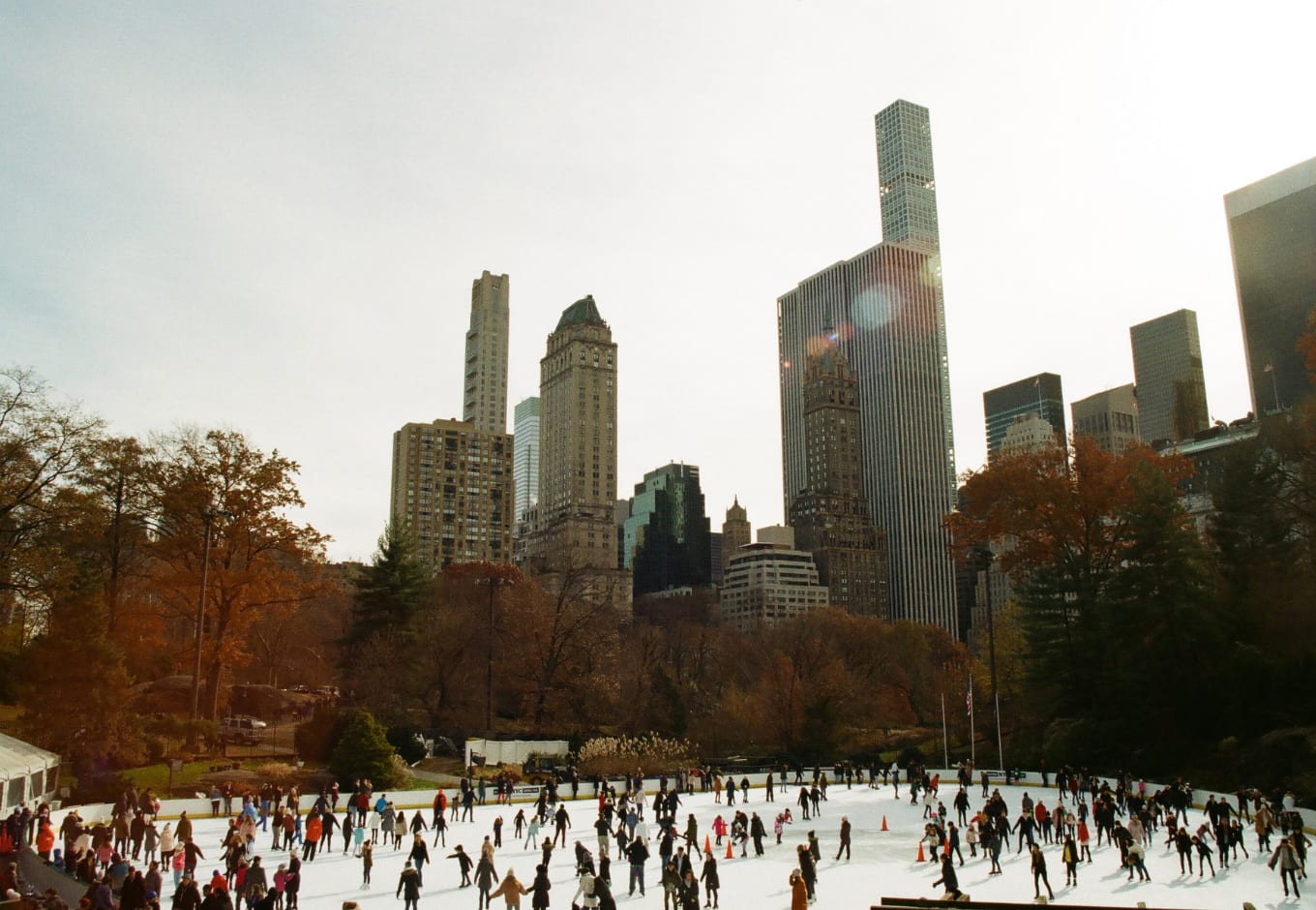 Central Park is always a good idea. You can escape the city's crowded sidewalks and stroll through acres of grassy lawns. Arguably the most peaceful and picturesque haunt in the city, it is known for its sprawling playgrounds and hypnotic fountains!
But there is something really special about it this time of the year — perhaps the luminous Central Park Christmas Lights. Come December, it is brimming with snow-capped winter markets, photo-worthy spots, and thousands of illuminating Christmas lights in NYC! Along the way, you will also spot intricately designed statues, sculptures, and a photo-worthy ice skating rink.
Don't forget to sample delectable holiday treats and guzzle down some decadent hot cocoa before you pose with Santa Clause himself for your Instagram photos!
We also recommend exploring nearby attractions such as the Wollman Rink and a charming lake-view restaurant called Rock The Boat.
Macy's, Manhattan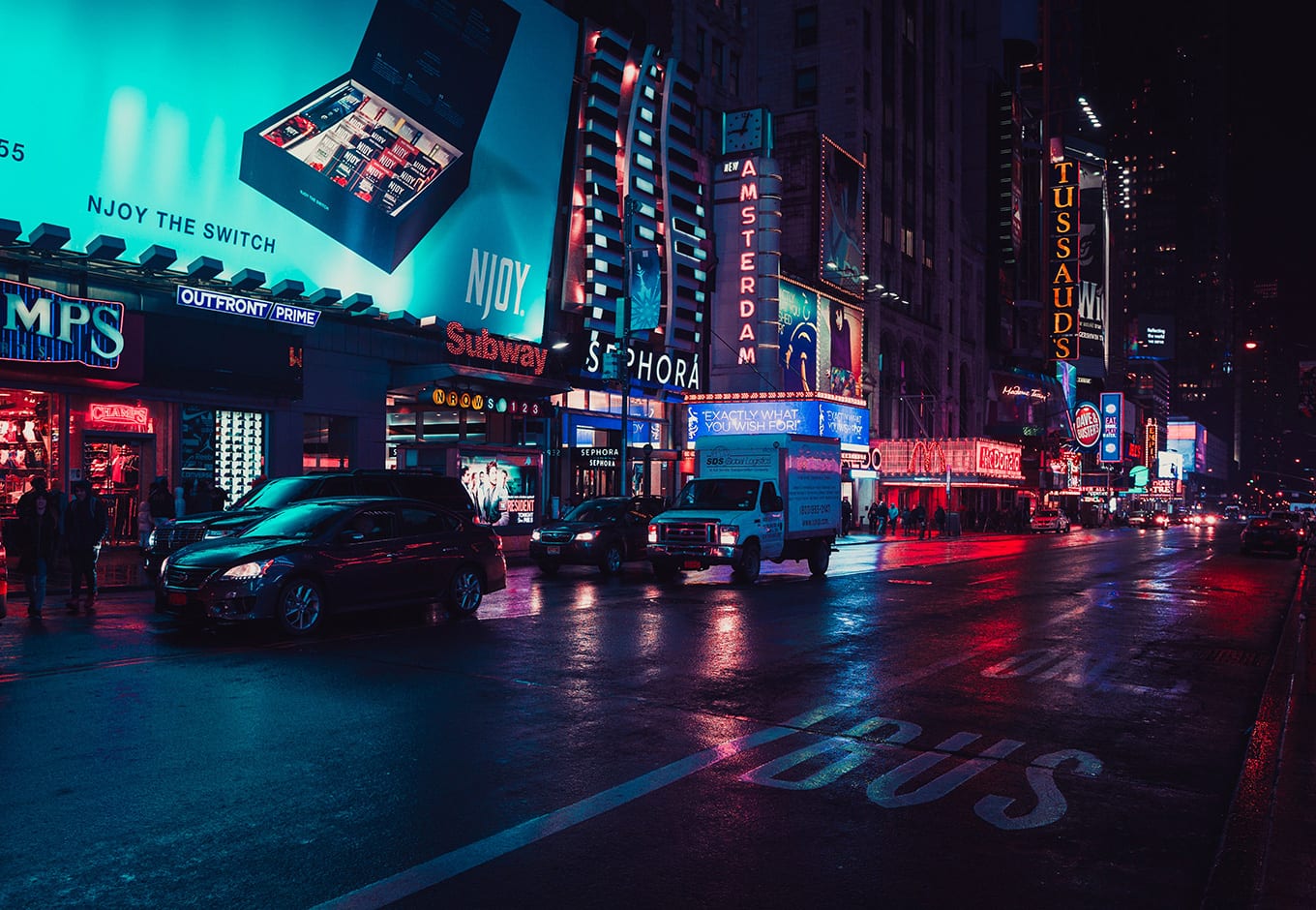 Think: New York's most sought-after department store converted into a glorious light display! That's what Macy's in Manhattan transforms into, during the festive season.
Bringing shoppers galore all year long, Macy's becomes widely popular for its holiday activities and among the most enchanting Christmas lights in NYC this time around. Located on Herald Square, it is packed with enthusiastic New Yorkers fillings their carts with holiday gifts and mother-watering treats!
Tip: Make sure to also catch the famous Thanksgiving Day Parade here at Macy's.
Historic Richmond Town, Staten Island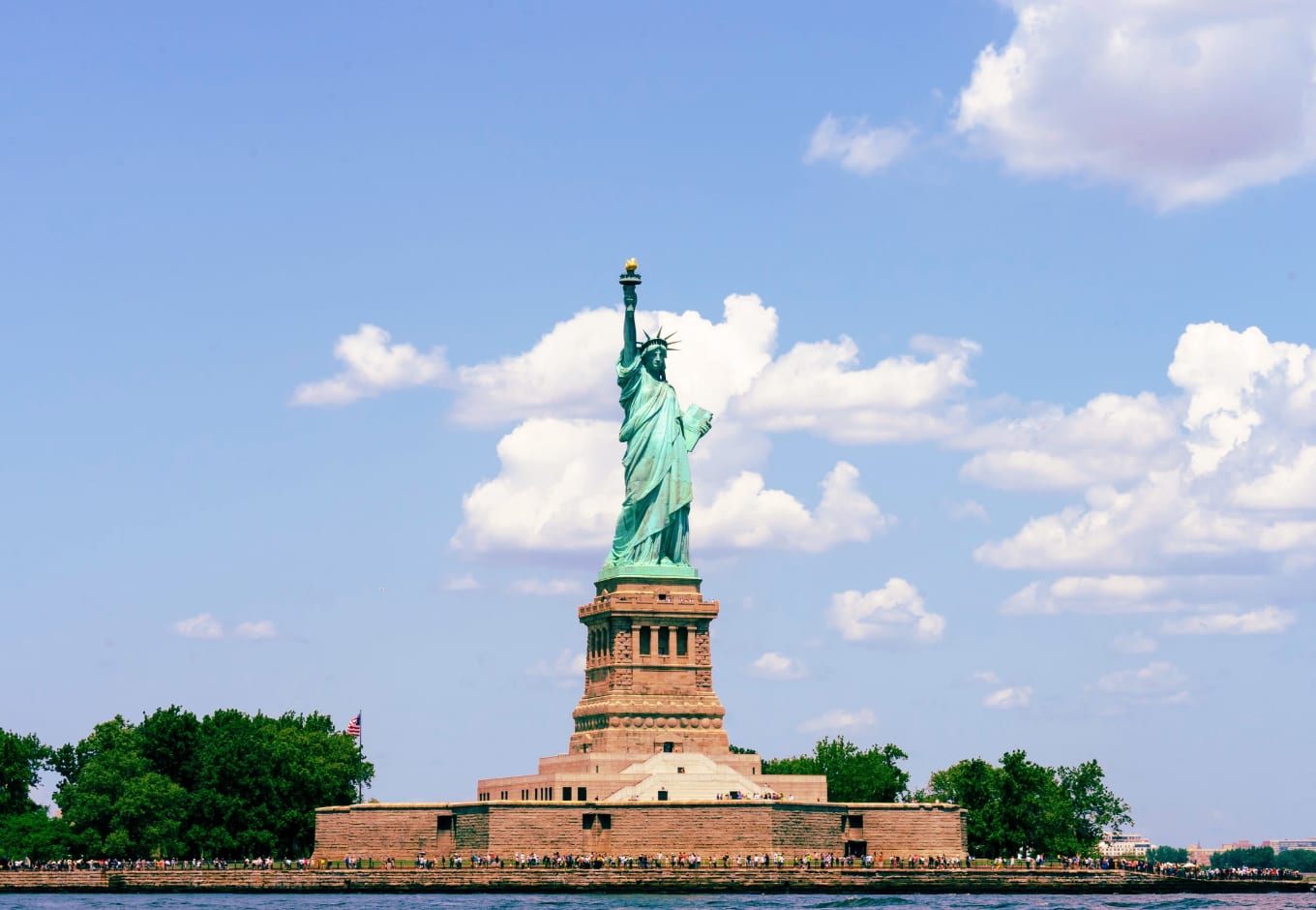 Considered one of the best Christmas lights in NYC, there's something for everyone at the Historic Richmond Town in Staten Island.
You can expect charming holiday lights, alluring displays, and our beloved Santa Claus himself! With dedicated guides who take you through the Christmas traditions and customs of yesteryear, this one also knows how to combine fun and learning.
Once done, don't forget to revisit the iconic Statue of Liberty which continues to be among the most sought-after landmarks in New York.
When: To be announced.
Frequently Asked Questions
How long is the tree up in NYC?
If you are heading to Rockefeller Center to catch a glimpse of its glorious Christmas tree, make sure to plan your visit from December 2022 to early January 2023, anytime between 6 a.m to 12 a.m.
Those who want to watch the lighting ceremony from the comfort of their homes can tune in to the NBC television channel for a live telecast.
Is February a good time to visit New York City?
With New Year's Eve and the festive season coming to an end, the month of February is considered an off-season for New York, slashing down flight prices across the city. If you are on a tight budget, February is an ideal time, as you may even get your hands on some great offers on your stay!
Where are the best Christmas window displays in NYC?
From Saks Fifth Avenue in Manhattan to the iconic Dyker Heights, you will find them all donned in glowing window displays and holiday lights. However, the best Christmas lights in NYC still remain Holiday Under The Stars in Time Warner and Central Park Holiday Lights, among many others. Make sure to also check out Grand Army Plaza on Flatbush Ave in Brooklyn.
Stays You'll Love In New York City