Every street you turn down in Bali will have something to offer you. From magnificent cityscapes to traditional architecture, Indonesia is a beautiful country, and Bali is no exception.
Aside from being a great year-round destination thanks to its tropical monsoon weather, Bali is a welcoming retreat for travelers who want to spend some time surrounded by natural beauty. In Bali, ancient ornamented temples, like Tanah Lot and the Uluwatu Temple, coexist side by side with white sand beautiful beaches, extensive green rice paddies, and active volcanoes, like the Batur Mount.
For you want to experience the best of the Island, CuddlyNest has created a comprehensive guide with the 20 best Bali tourist attractions. Get ready to explore the most beautiful and wondrous places available in Indonesia.
Why is Bali famous For Tourism?
Bali is one of the 17,500 islands located across Indonesia, which is the largest archipelagic country in the world. Situated between the islands of Java and Lombok, Bali is well known for its lush verdant volcanic mountains, extensive coral reefs, and terraced rice paddies.

Much of Bali's cultural heritage revolves around Hinduism, and the island is home to over 10.000 beautifully decorated temples, which coexist side by side with abundant wildlife. Nature, by the way, is what makes this destination so special. Several peaks over 2,000 meters covered in tropical rainforests are one of the unique features that provide de island with a unique landscape.
Thanks to its refreshing natural beauty combined with sacred religious sites, Bali is a great place for travelers who are looking for wellness or spiritual retreat. Not by chance, the Island was one of the locations of the "Eat, Pray, Love" movie, which followed the self-knowledge journey of an American travel writer.

Granted with tropical sunshine all year round, Bali is also famous for its sandy pristine beaches from North to South. The island is also part of the Coral Triangle, the area with the highest biodiversity of marine species in the world, with over 500 reef-building coral species. These world-class beaches are a welcoming retreat for surfers, or for anyone who's looking for fun activities, and water sports.

Aside from forested hills, gorgeous religious sites, and idyllic beaches, there's another reason that makes Bali so special. Over the past few years, the island has become one of the top Digital Nomad destinations in the world, which gives this destination a unique vibrant atmosphere
Which Part of Bali is The Most Beautiful?
The Indic Ocean bathes the south of Bali, which happens to have the most beautiful sandy beaches on the island. This is also the most popular area on the island since is where the airport is located.
South Bali is home to cities such as Denpasar – the administrative capital of the island-, Jimbaran, which is filled with seaside resorts, and Seminyak, home to some of the most upscale beaches in Bali. Also, beaches in the south tend to have white sand and are great for surfing.

Another great location for travelers is East Bali. This region is home to a rugged coastline, rice terraces, lush forests, and an active volcano, the famous Mount Agung. In fact, differently from South Bali, East Bali has a black sand beach, which is believed to have originated from the lava of Mount Agung.
What Is The Best Time to Visit Bali?
Bali has a tropical monsoon climate, with fairly even temperatures all year long, around 30º C. You might want to avoid visiting the island during the Easter and Christmas holidays, which is when the weather is most unpredictable.
Best Places to Visit in Bali
The Uluwatu Temple
Bali is known for its magnificent sea temples, built to honor the sea spirits that protect the waters surrounding the beautiful island. Uluwatu Temple is one of the most picturesque and beautiful of these temples, situated on a high cliff overlooking the sea. Sunsets from the Uluwatu Temple sea temple are absolutely breathtaking, and you must experience them at least once while in Bali. While there, you may get to meet a monkey or two that live in the forest surrounding the temple.
Ubud Monkey Forest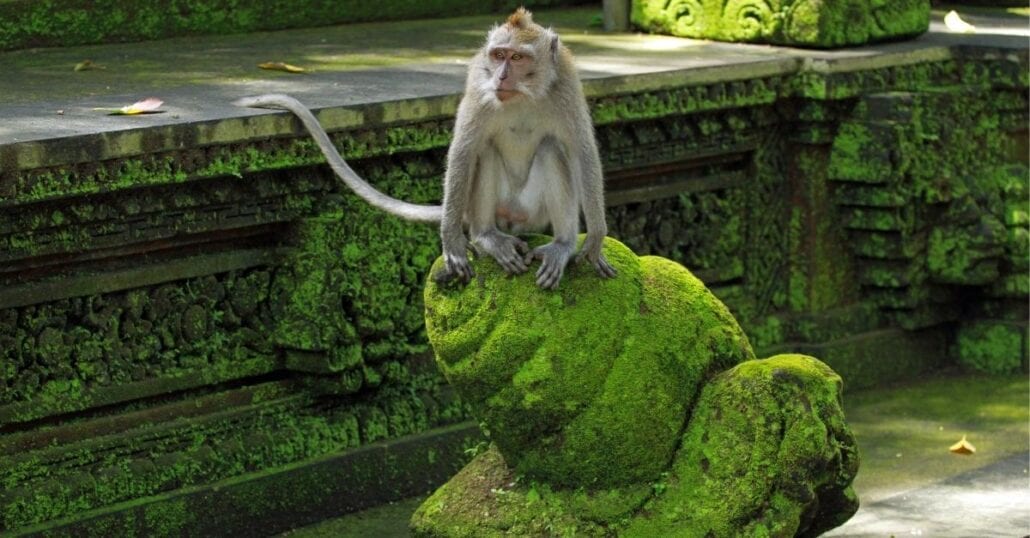 Also called the Sacred Monkey Forest of Padangtegal, the Ubud Monkey Forest is incredibly popular among tourists and locals in Bali. Here you can find gray long-tailed macaques, playfully living normal lives while visitors watch them swing happily and hang around the forest's canopies. In the Monkey Forest, you can also find smaller temples throughout the forest with beautiful architecture and ancient guardian statues positioned outside.
Tanah Lot Temple
Bali is filled with historic temples, but the most iconic of all is definitely Tanah Lot, the island's famous sea temple. This temple isn't just beautiful up close — from a distance; you can see a silhouette of amazing architecture as it's perched on a giant rock. Surrounded by the ocean, Tanah Lot is dedicated specifically to see spirits. Around Tanah Lot, on the shore, there are various smaller shrines that are equally beautiful and easier to access if you're afraid to get your feet a little wet. For sure one of the most unmissable places in Bali.
Goa Gajah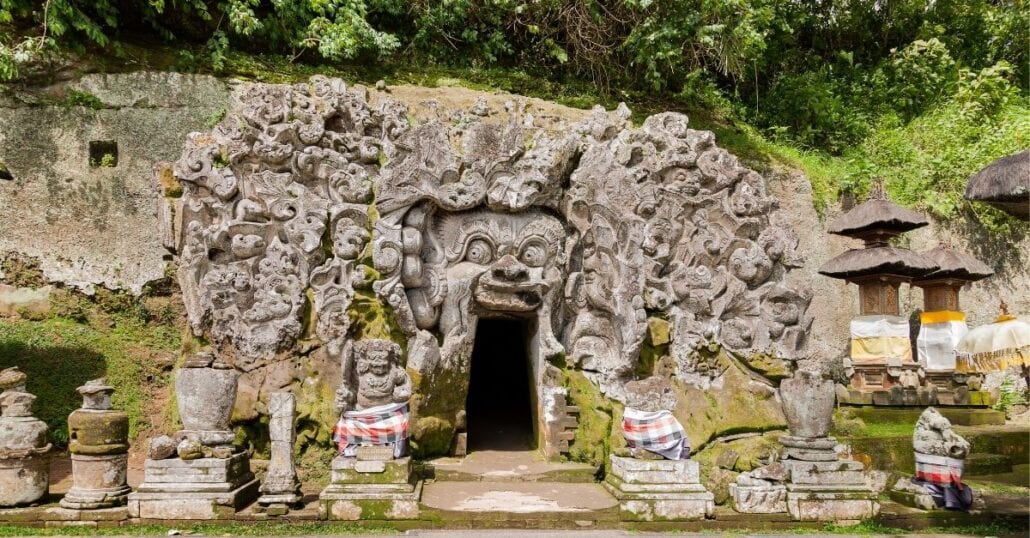 Goa Gajah translates to "elephant cave", though there are no elephants here. Instead, the cave is an artistic and archaeological landmark with massive historical value in Bali. Instead of elephants, visitors can find a massive courtyard filled with ancient relics and crumbling statues that represent the history of Bali.
The most impressive part of Goa Gajah is a well-preserved rock wall covered in intricate carvings of faces, creatures, and other geometric patterns. This attraction in Bali perfectly encapsulates the archeology found on the island, and it shouldn't be a spot you miss when visiting Bali.
Tegalalang Rice Fields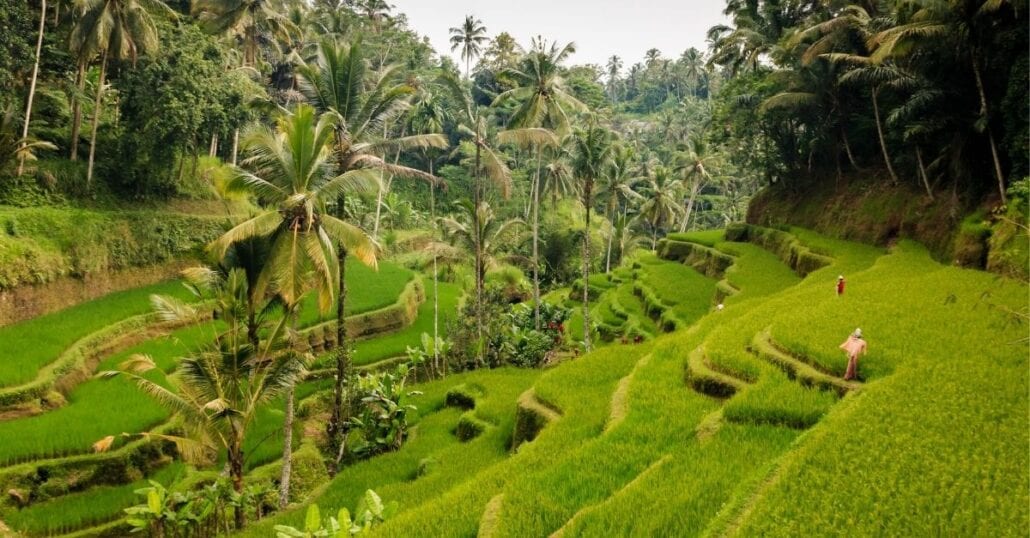 Subak is a traditional style of irrigation found in Bali, used primarily in their numerous rice fields. This is one of the best-known rice terraces in Bali, and one of the more picturesque examples of their unique style of rice harvesting. In these rice fields, the rice grows on step-laddered plains cascading up and down craggy cliffs. The views seen within the terraced rice fields are absolutely stunning, and you can't see fields like this anywhere else in the world.
Bali Botanical Garden
Aside from the terraced rice fields, and the Monkey temple, there's another great place for travelers who want to experience the refreshing nature of Bali: The Bali Botanical Garden.
Considered Indonesia's largest Botanic Garden, this green oasis is located in central Bali, within a 90 minutes drive north of Denpasar. The 157-hectare Botanic garden is a veritable wonderland bundled against Tapak Hill and placed 1300 meters above sea level.
The botanical garden is home to a unique ecosystem, containing the world's biggest begonia collection — with 100 species on display —, almost 100 species of bamboo, and around 300 types of orchids. Peaceful and refreshing, this lush garden also has a remnant tropical forest, carnivorous plants, and traditional Balinese medicinal plants.
But, in case you're looking for a little bit of adrenaline, you might wanna plan a visit to the Bali Treetop Adventure Park, which is set inside the garden. A fun outdoor adventure for families, the Treetop Adventure Park has a myriad of adventure circuits and challenges for all levels and ages, with a height range between 2 and 20 meters. This is one of the best places in Bali for adventure-seekers.
Pura Ulun Danu Bratan Temple
Ulun Danu Beratan, literally "The Floating Temple", was built in the 16th-century in honor of Dewi Danu, the water goddess and the Hindu trinity, Brahma, Vishnu, and Shiva. Surrounded by a dramatic mountainous landscape, the temple is located on the western side of the Beratan Lake in Bedugul, central Bali. The Bedugul area, by the way, is a great weekend getaway in Bali, and you can even plan a quick trip to explore the area, which is also home to the Botanical Garden of Bali.

The Ulun Danu Beratan Temple complex includes 5 temples: Lingga Petak, Taman Beji, Dalem Purwa, Dalem Prajapati, and Penataran Agung. The first one, Lingga Petak temple, is on the shore to the east, and it has a Meru tower with a sacred well that contains holy water and an eleven-tiered tower dedicated to Vishnu and Dewi Danu, the lake Goddess. The temple also houses a Buddhist stupa facing south, with a resident Buddha statue.

Aside from visiting the shrines, when going to Ulun Danu Beratan Temple you can also opt for enjoying activities on the Beratan Lake, which is known as the "Lake of The Holy Mountain" thanks to the great fertility of the soil in the area. Some of the most popular activities include fishing, traditional Jukung boating, sailing, and pedal boating.
Ubud Art Market
Cinephiles may quickly recognize the Ubud Art Market from the movie "Eat, Pray, Love", since this quirky outdoor market is one of the locations used in the film. And just like Liz Gilbert, Julia Robert's character in the movie, you can also stroll around the colorful stalls and get lost among a myriad of hand-crafted goods. So, during your trip to Bali, take some time to visit the Ubud Art Market.
Also known as Pasar Seni Ubud, the Ubud Art Market is the perfect place to look for locally produced items, such as silk scarves, baskets, artisanal fragrances and oils, satin skirts, Buddha statuettes, sarongs, silver jewelry and ornamented wooden picture frames. And even if you don't feel like shopping, the Ubud market has a lively hectic atmosphere which is worth experiencing. Friendly reminder: most items have no set price, and haggling is encouraged as part of the fun.
Mount Batur
Did you ever want to watch the sunrise at the top of an active volcano? If the answer is yes, then you're about to cross this item off your Bucket list. That's because one of the top experiences in Bali consists of trekking Mount Batur, and then watching a breathtaking orange sunrise with views of the Kintamani region, in northeast Bali, where the volcano is located.
Mount Batur is 1,717 meters high, or 5,633 feet above sea level, and the hike takes around 1.5 to 2 hours.
A great idea is to book a Mount Batur hike with a local company, which will pick you up at your hotel, drive you to the mount and introduce you to the region, and safely guide you while explaining all the curious facts about the volcano. The pick-up time is usually extremely early, at around 2 am, which gives enough time for tourists to arrive at the summit at 5:30 to enjoy a gorgeous sunset.
From the peak of Mount Batur, you'll also be able to enjoy a panoramic view of the Batyr caldera and Lake Batur, and maybe even witness actual steam come out of the volcano. To make the full out of this experience, make sure to dress comfortably and wear some appropriate trekking shoes..
Blue Point Beach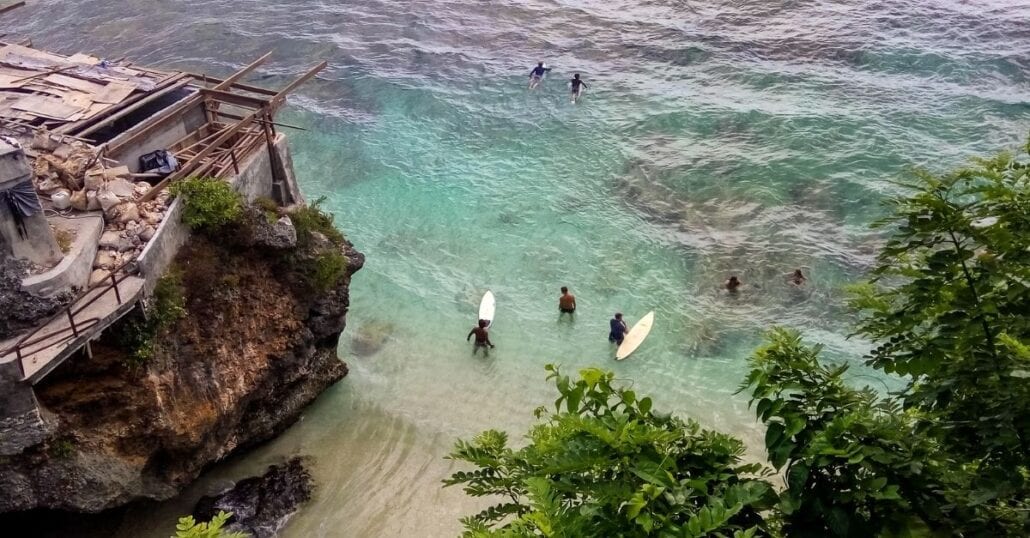 Also known as Blue Point Beach, Suluban Beach is one of the best surfing spots in Bali. Located in the village of Pecatu, at the southern tip of the Badung regency, Suluban Beach offers surfers massive waves from 3 to 12 feet from April to August. But in case you don't surf, no worries. The Blue Point Beach is a sight worth seeing thanks to its natural limestone formations, and clear blue water, which is perfect for swimming.
Penataran Lempuyang Temple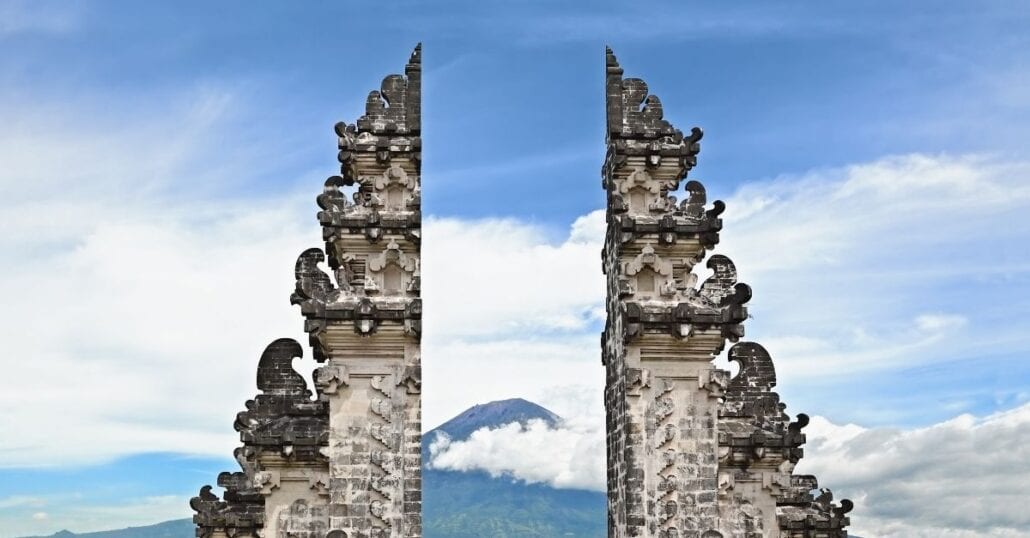 Pura Penataran Agung Lempuyangi is one of the oldest and most prominent Balinese temples and is also believed to predate most temples in Bali. Situated on the peak of Mount Lempuyang, in East Bali, Pura Penataran Agung Lempuyangi is actually part of a temple complex, which consists of 7 other temples. The Pura Lempuyang is the most popular of the complex, and one of the most photographed in Bali.
The main temple is placed 2,000 ft. high above sea level, and it's divided into three areas: the outer sanctum, the middle sanctum, and the inner main sanctum. The courtyard of Pura Penataran Agung Lempuyang is dotted by many Meru towers and shrines, which are dedicated to different gods.
In case you would like to visit Pura Penataran Agung Lempuyangi, a good idea is to either rent a scooter or a private driver. A quick tip: as a sign of respect, make sure to dress appropriately and read about the rules before entering the temple.
Menjangan Island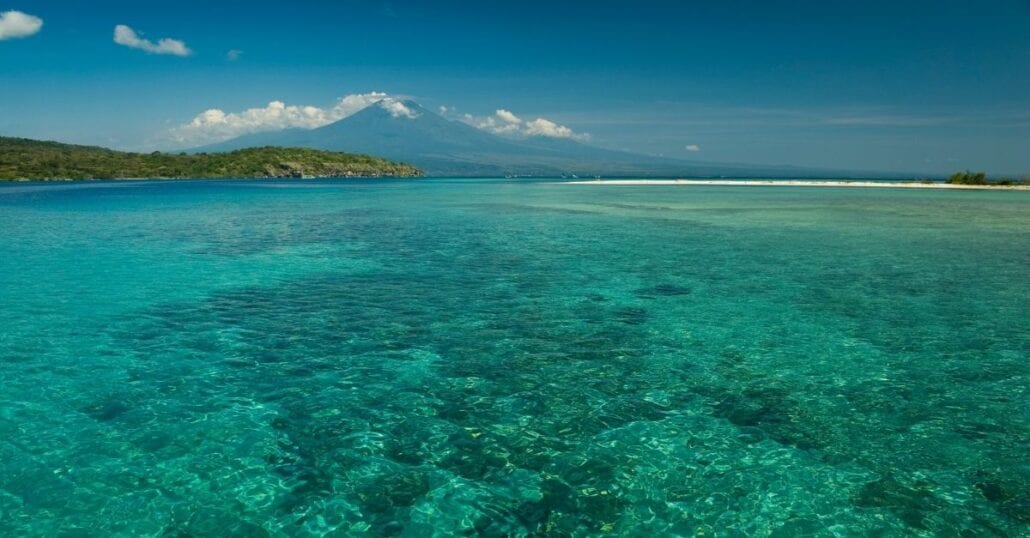 Menjangan is a secluded paradise located 5 miles northwest of Bali. Part of the Indonesian archipelago, Menjangan Island can be reached by a boat ride from the Labuhan Lalang port, in Northern Bali. After a 30 minute ride, you'll arrive at this memorable paradise that has an extensive savannah, home to the rare Javan rusa deer, which in Indonesian is called "Menjangan".
Menjangan Island is a great day trip from Bali. After crossing this small island by boat, make sure to explore the best things this destination has to offer. You can uncover its stunning collection of shrines, including the Segara Giri Dharma Kencana Temple, and swim in the calm crystal clear waters of the ocean.
Thanks to its mellow currents, Menjangan Island is a great scuba diving and snorkeling spot, and there are plenty of tours for you to choose from. Some of the most amazing dive sites include the Eel Gardens, and Pos 1 and 2, home to abundant and colorful marine life.
Nusa Lembongan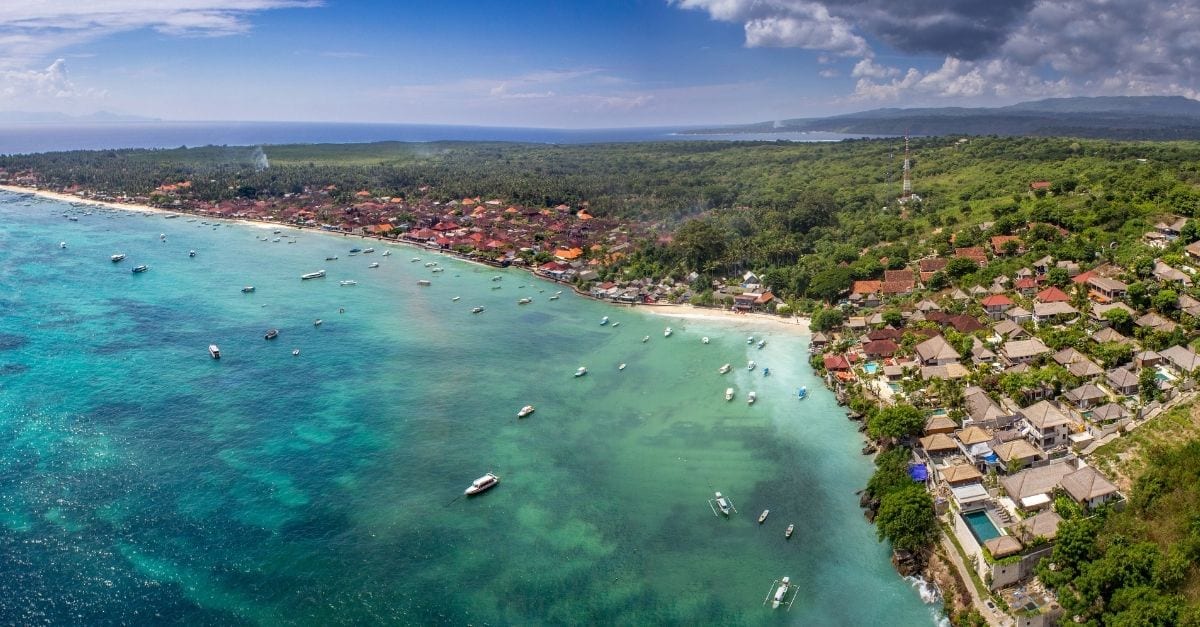 Nusa Lembongan is located a 30-minute ferry ride from Bali, and it's another great day trip from your Indonesian vacation. Coral reefs and limestone cliffs surround Nusa Lembongan, which is part of a group of three islands. Nusa Lembongan also has white sandy beaches with transparent water, which are perfect for scuba diving and other water sports. If you're visiting Nusa Lembongan, make sure to Dream Beach during the early morning hours, when it's not overcrowded with tourists, and to watch the sunset at Jungut Batu Beach. Make sure you also visit the rock pools, which is also a great sunset spot in Nusa Lembongan.
For more water sports, and exploring, you can also visit the other Nusa islands, which are Nusa Penida and Nusa Dua. Nusa Penida is considered the most exotic of the three islands, thanks to its thanks to ancient Hindu temples and natural features of cliffs and blue lagoons. Some of the best attractions in Nusa Penida are Cristal Bay, one of Bali's best dive sites, and the Goa Giri Putri Temple, which is placed within a limestone cave in the Karangsari village.
Nusa Dua, on the other hand, is more secluded and quiet, and also one of the best places in Bali for those who are looking for a luxury retreat. Dotted with resorts and luxury hotels, Nusa Dua is also known as the upscale district of Bali, and it's one of the best places for travelers who go there are looking for a quiet time on the beach away from the tourists.
Ubud Royal Palace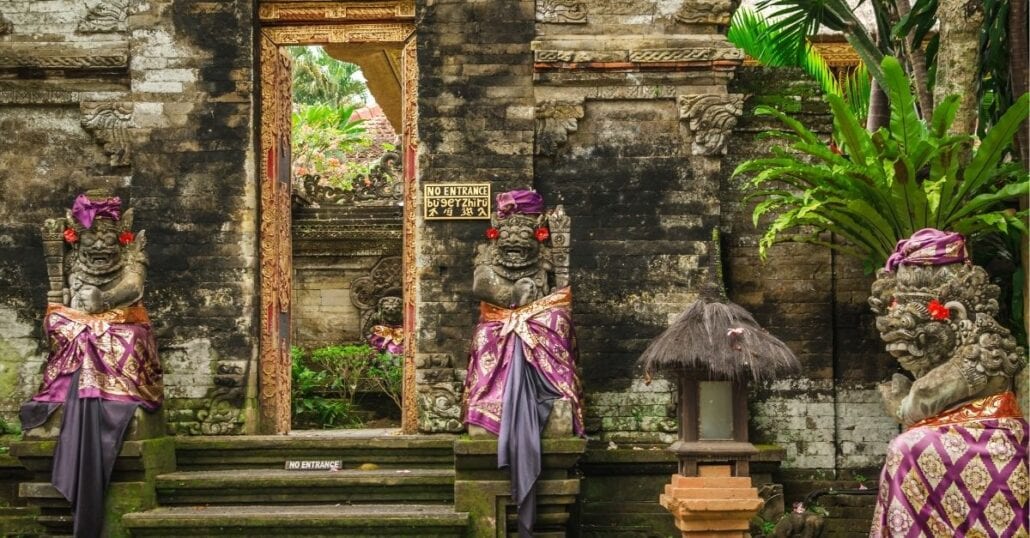 After doing a spot of shopping on the Ubud Art Market, make sure to drop by the Ubud Palace, which is the official residence of the royal family of Ubud, Bali. This historic building, locally known as Puri Saren Agung, dates back to 1640 but collapsed during the 1917 earthquake. Rebuilt in 1928, Ubud Palace is inhabited by the heirs of the last Balinese king and consists of a number of large buildings, a private temple, and a meeting room.
The back section of the Ubud Palace, which is the family's private quarters, is not open for visitors. But you'll be able to roam around the lush gardens, the front part of the palace, and the courtyards.

The Ubud Palace also hosts a variety of traditional Balinese dance performances (like the famous Kecak dance), which is being held mostly during the evenings in the courtyard of the palace.
Canggu Beach
No trip to Bali would be complete without a visit to the famous Canggu beach. Named one of the "World's 100 Best Beaches" by CNN, Canggu is located in North Kuta, in the Indonesian District of Badung. This beach became especially popular because of its wide stretch of volcanic black sand beach, and for being a great place to surf in Bali. Aside from taking a tour around Canggu, and uncovering some of the best beaches in this area, a great idea is to take a trip to the Tanah Lot Temple, which is located within a 20-minute scooter ride from Canggu.
Pura Besakih Temple
Located on the slopes of Mount Agung, the Pura Besakih Temple is the largest and most important temple of the Hindu religion in Bali. Also known as the Mother Temple of Bali, Pura Besakih is actually a temple complex comprising 80 individual temples, situated close to the Mound Agung volcano. The main temple is the Pura Penataran Agung, which houses a lotus throne that dates back to the 17th-century.
Considered one of the top attractions in Bali, the Pura Besakih Temple hosts at least 70 festivals annually, as every one of its temples celebrates an anniversary.
Sanur Beach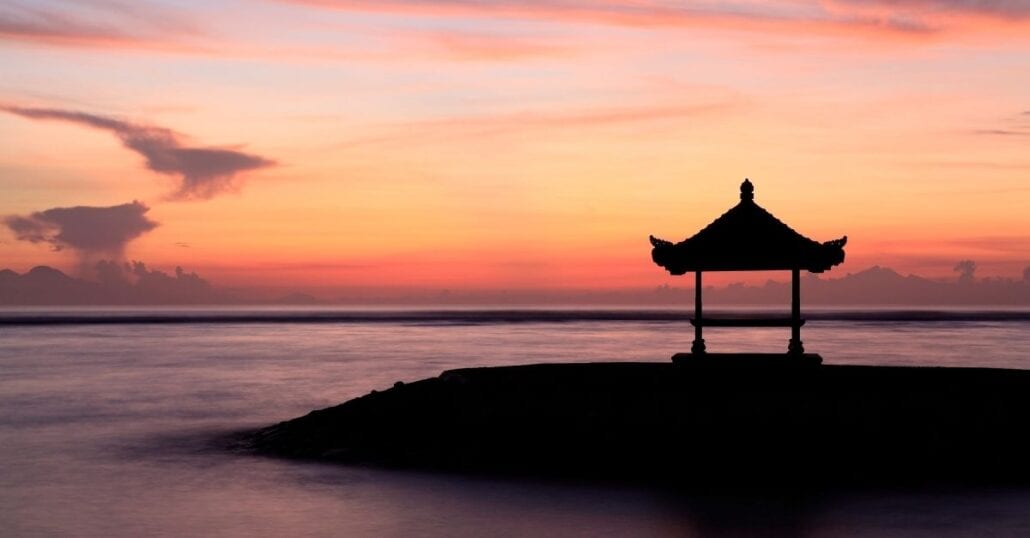 By now you already know that beaches are one of the top tourist attractions on the island. So, when you travel to Bali, don't forget to visit Sanur Beach, located southeast of the island. Sanur Beach is placed far away from bustling Bali beaches, like Kuta Beach and Seminyak. Instead, Sanur is calmer and quieter, perfect for travelers who want to escape the hustle and bustle of Bali.
Sanur Beach consists of a long stretch of soft sand and calm waters, which is not ideal for surfing. Perfect for a relaxing weekend in Bali, this beach offers one of the most stunning sunsets on the island, and it's surrounded by five stars accommodation.
Where to Stay in Bali
As you can see, there's something for everyone in Bali, Indonesia. From sea temples to volcanoes where you can watch the sunrise and paddy fields, there are many ways to experience the Balinese culture.
You already know what are the best places in Bali, so now find a CuddlyNest discount rental property on the island and begin planning your getaway today.
Browse. Book. Stay.
CuddlyNest provides all accommodations to all travelers at the best price. Find unlimited travel inspiration on our blog and social media channels.
Here are some curated readings for you:
Countries with Digital Nomad Visa
Best Yoga Destinations in The World
Sacred Attractions Around The World
Vietnam Versus Thailand
You might also like:
Best Music Festivals
Things to Do in Bali
Best Waterfall Hikes