Turkey is a magnificent country that perfectly blends the culture of Europe and Asia. You have so much to discover here, from art galleries to amazing local eateries.
But, did you know that Turkey also has fun amusement parks? They boast thrilling rollercoaster rides, slides, charming gift shops, and game centers. Browse through our guide to the best amusement parks in Turkey!
Find The Best Time To Visit Turkey
The 5 Best Amusement Parks In Turkey
The Land Of Legends Theme Park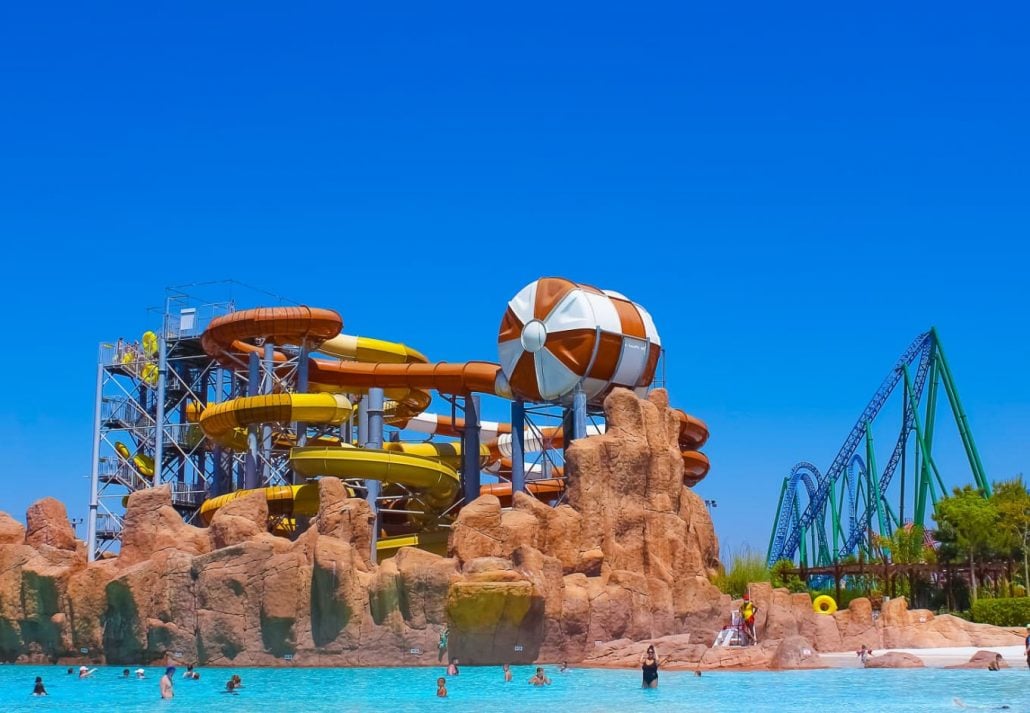 The Land Of Legends Theme Park is a magnificently styled park in Kadriye. It offers more than 40 fun slides, water coasters, pools, a shopping center, several restaurants, lounges, and a 5D theater.
The crowd's favorite water coaster is the adrenaline-filled Typhoon Coaster in the Adventure Land zone. At a height of 43 meters, you reach the water at a speed of 86 kilometers! Furthermore, there's Water Mania where you race against water pressure, Hyper Coaster with a 360-degree loop, Power Fall, Twister, Air Balloon Race, and so much more.
In Aqua Land, you have the opportunity to meet dolphins, go scuba diving, or surf. You can also go on an underwater walk with a helmet and feed seven different kinds of sharks – Zebra Sharks, White Tip Sharks, Black Tip Sharks, Nurse Sharks, Bamboo Sharks, Sandbar Sharks, Guitar Fish, and Narinari Rays.
Secret Lagoon zone has special slides like the Tunnel Deep Dive that vertically descends you into the water and Turbolance which has a steep descent and upwards drift. One thing's for sure, The Land Of Legends Theme Park offers an unforgettable experience!
Location: Kadriye Mahallesi Atatürk Caddesi No:1, D:No 515, 07506 Serik/Antalya, Turkey
Open: The park is open 24 hours / Adventure Land 10 AM-7 PM / Aqua Land (Dolphin Encounters, Mythical Journey) 10 AM-4:30 PM & other activities 10 AM-7 PM / Secret Lagoon 10 AM-7 PM
ViaSea Theme Park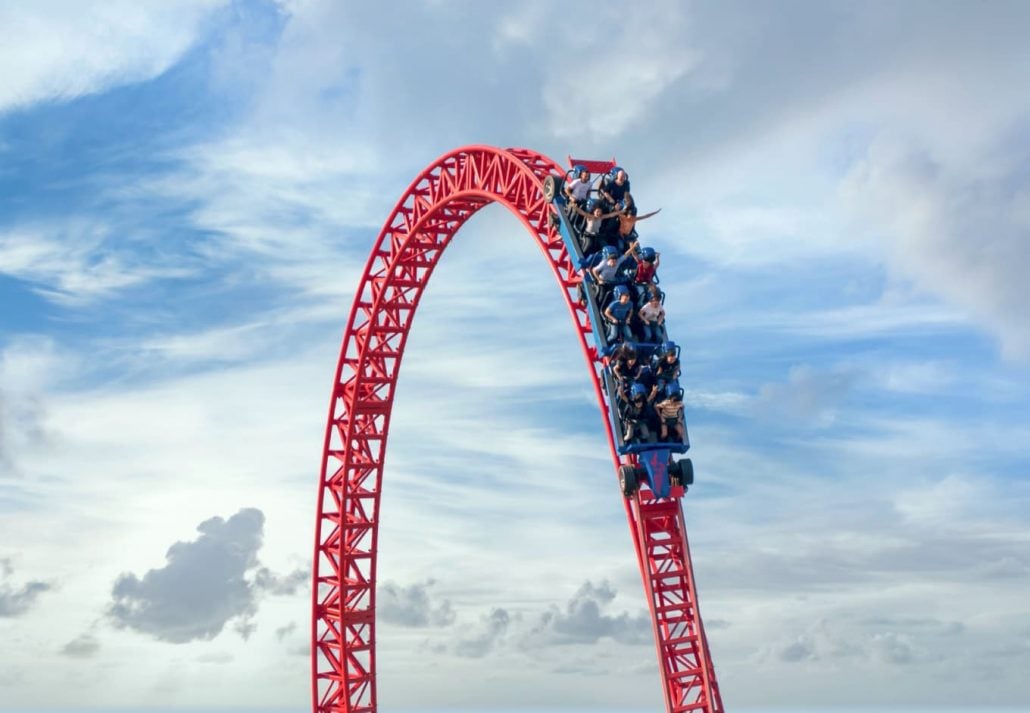 ViaSea Theme Park has one of the most thrilling roller coasters in the world. There are 28 heart-pounding rides like the remarkable Red Fire rollercoaster, a climate-themed aquarium, a movie cinema, and a game center with games that suit everyone's desires.
Various smaller children's rides are also available, along with some exciting hovercraft bumper cars. An observation wheel that offers a panoramic view of the ocean and an impressive aquarium can be found near the Marina outside the park.
Location: Cami Mah ViaSea Eğlence Meydanı Viaport Marina No:29, 34940 Tuzla, Turkey
Open: Monday 3 PM-10 PM, Tue-Sun 12 PM-10 PM
Recommended Read The 8 Most Amazing Museums in Turkey
Vialand Theme Park
Vialand Theme Park was the first entertainment, shopping, and living complex in Turkey. It offers incredible units for children like the Merry Farm and Little Explorers and a variety of thrilling rollercoasters. After a fun-filled day at the park, go to the bowling alley or a theater, or visit one of the excellent restaurants in the complex.
Location: Yeşilpınar, Şht. Metin Kaya Sk. No: 11/1, 34065 Eyüpsultan/İstanbul, Turkey
Open: Daily from 11 AM to 9 PM
Recommended Read 12 Amazing Art & Cultural Attractions In Turkey
Sazova Park
Located in Eskisehir, Sazova Park boasts plenty of family-friendly activities. It consists of several parts including The Disney-like Fairy Tale Castle, Eskişehir Zoo with wild animals, Planetarium, Esminiaturk (similar to the world's largest miniature park in Istanbul), a Japanese garden, an artificial lake with a pirate ship, and science centers.
The park is quite special because it also features a train station where a colorful train starts its journey. With so much to offer, Sazova Park gives kids and adults unlimited entertainment!
Location: Sazova, Sazova parkı, Ulusal Egemenlik Blv., 26150 Tepebaşı/Eskişehir, Turkey
Open: Monday closed, Tue-Sun 10 AM-5 PM
Adaland Aquapark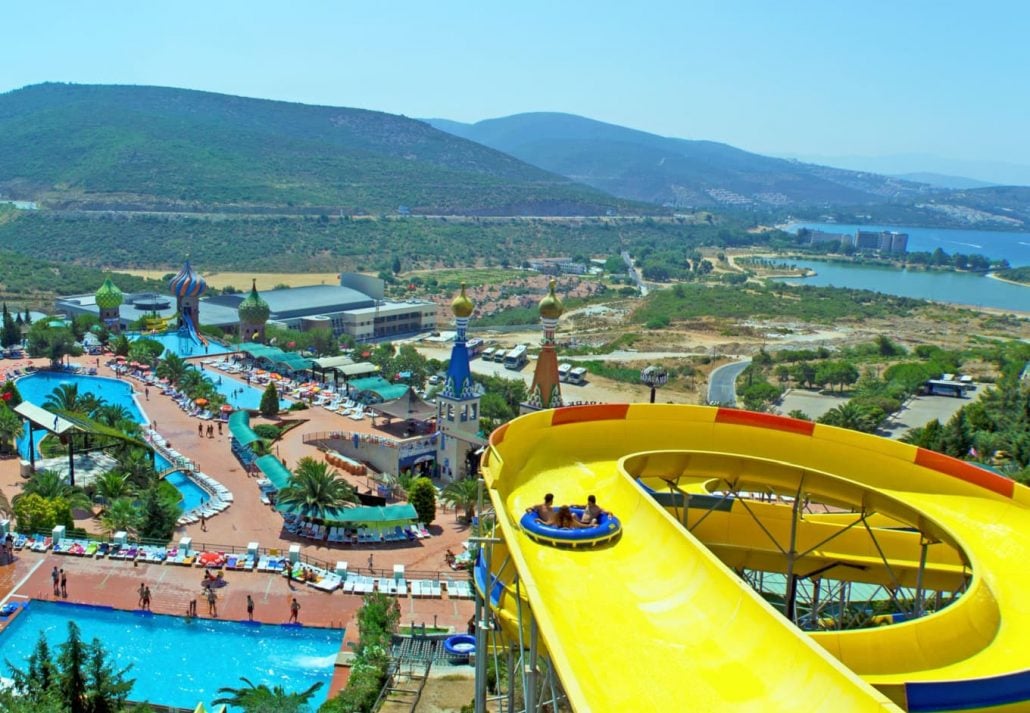 The family-friendly Aqualand Aquapark has pools and rafting waterslides. Slide & Fly, Head down & Freefall, Loop Pink & Loop Blue, Water Coaster, and Amazon Family Slide are among the park's attractions. These adrenaline-pumping experiences provide adventure seekers with 360° slide tours, boats for six people, slide drops at speeds up to 60 km/hour, and river rafting turns.
The fun doesn't stop here! There's a wave pool, kids pool with mini water slides, a jacuzzi, a lazy river, and a breathtaking 600-meter track for rafting. Plus, there's a separate Dolphinpark where you can meet, touch, and swim with dolphins. Visitors can also attend one of their wonderful Dolphin & Seal Shows.
Location: Çamlimanı Mevki, Kuştur Önü Yolu Cd. No:27, 09400 Kuşadası/Aydın, Turkey
Open: Daily from 10 AM to 5 PM
FAQ
Does Turkey have Disneyland?
Turkey doesn't have Disneyland.
Does Turkey have water parks?
Yes, Turkey has water parks. Some of the most popular ones are:
Water Planet Aqua Park
Jungle Istanbul
Viaport Marina
Adaland Water Park
Atlantis Marmaris Waterpark
What are the top theme parks in Turkey?
The most famous theme parks in Turkey are:
The Land of Legends Theme Park
ViaSea Theme Park
Vialand Theme Park
Adaland Aquapark
Sazova Park
What are other good theme parks in Turkey?
Moi Park
Tema World
Miniaturk
Aqua Toy City
Is Turkey a good family holiday destination?
Absolutely! Turkey has an amazing climate, gorgeous beaches, and excellent amusement parks that keep the whole family entertained.
CuddlyNest provides all accommodations to all travelers at the best price. Find unlimited travel inspiration on our blogs and our social media channels Facebook, Instagram, Pinterest.
You May Also Like:
6 Top-Rated Things To Do In Antalya, Turkey
5 Amazing Wineries In Greece
Top 10 Best Restaurants In Greece
A Guide To The Game Of Thrones Locations In Dubrovnik