Well-preserved wonders of the ancient world, idyllic beaches of turquoise waters, sprawling national parks, and a fascinating history spanning literal centuries make Turkey a must-visit country for wide-eyed travelers.
However, when planning their trips to Turkey, most travelers don't know when to visit the country. The answer is not straightforward, as the best time to visit Turkey depends on different factors such as budget, personal interests, activities, and more.
Whether you're seeking to explore the eye-popping beaches on the Turquoise Coast, or indulge in scenic hot air balloon rides, doing your research to find out the best time to visit Turkey is a must.
But worry not, we're here to help. In this thoughtful guide, we've broken down the best time to visit Turkey based on weather, prices, and events. Have a look below to learn more!
Turkey's Weather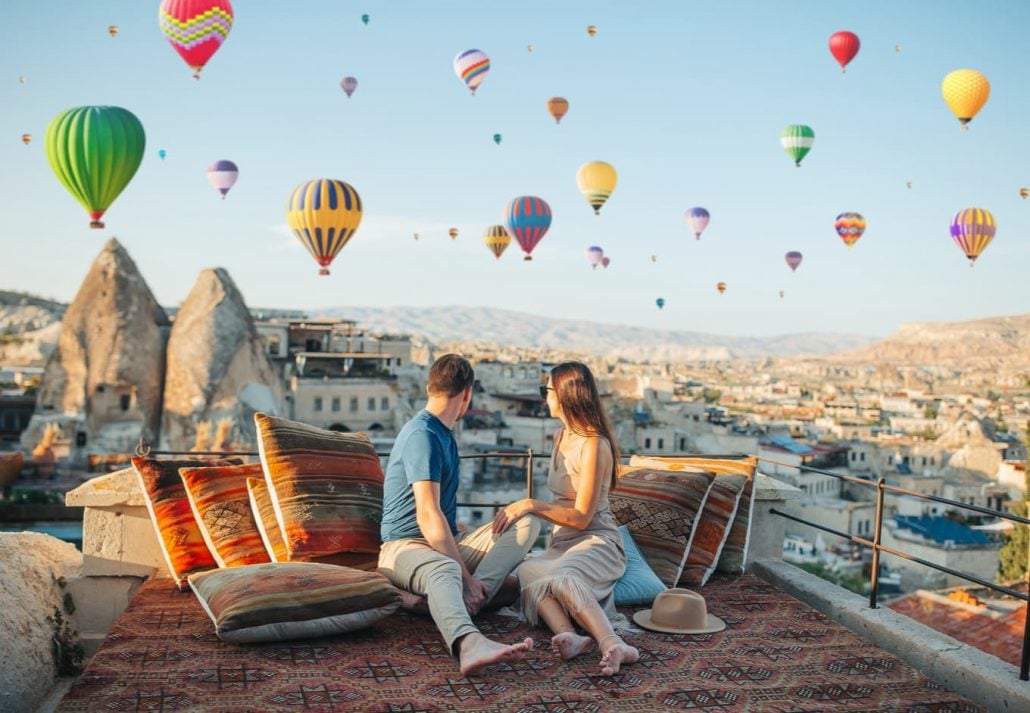 The climate in Turkey changes depending on the region. The coastal areas of Turkey bordering the Aegean Sea and the Mediterranean Sea, for instance, have a hot-summer Mediterranean climate, with hot, dry summers and mild to cool, wet winters. The coastal areas bordering the Black Sea are known for their temperate oceanic climate with warm, wet summers and cool to cold, wet winters. The coastal areas bordering the Sea of Marmara have a transitional climate between a temperate Mediterranean climate and a temperate oceanic climate with warm to hot, moderately dry summers and cool to cold, wet winters. Both the coastal areas of the Sea of Marmara and the Black Sea experience snowfall during wintertime.
Turkey receives most of its rainfall in winter and spring. In summer, the rain decreases while the temperature and evaporation increase.
Turkey's Seasons
Spring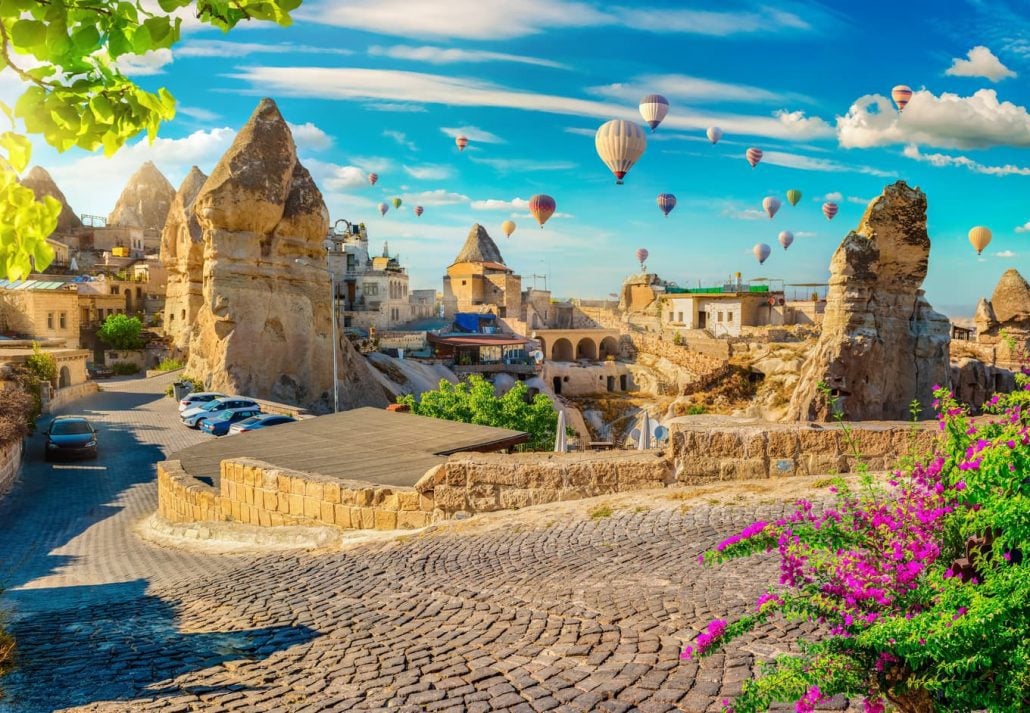 Springtime, which runs from March until June, brings comfortably mild weather, with average temperatures peaking at around 23ºC during the day. Sea water warms up to 20 °C, making it a prime time for visiting the country's beaches.
The first months of the Spring are the rainiest, but in April and May precipitation decreases.
During springtime, the country is in full bloom and filled with beautiful citrus trees, pomegranates, figs, almonds, apricots, and cherry blossoms.
Summer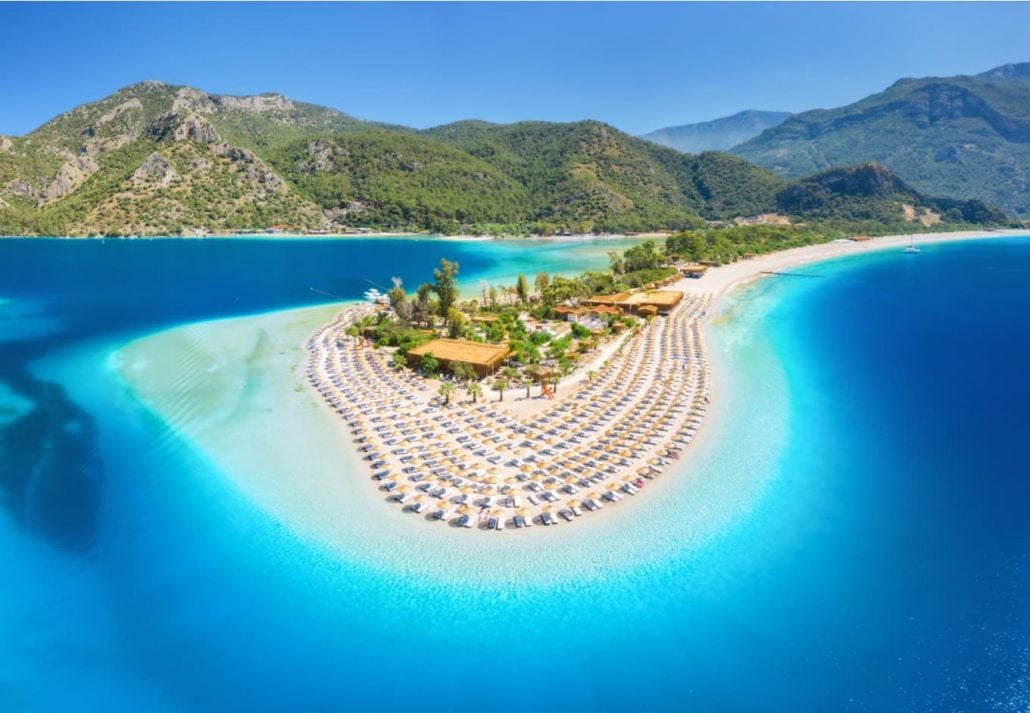 June to September are the summer months in Turkey. It can get extremely hot during that time of year, with temperatures reaching above 30ºC on the Aegean and Mediterranean coasts in July.
The climate of the Anatolian Plateau is a steppe climate, and the average temperature is 23°C in the summer.
Rainfall is low during the summertime, with July and August being the warmest and driest months.
Fall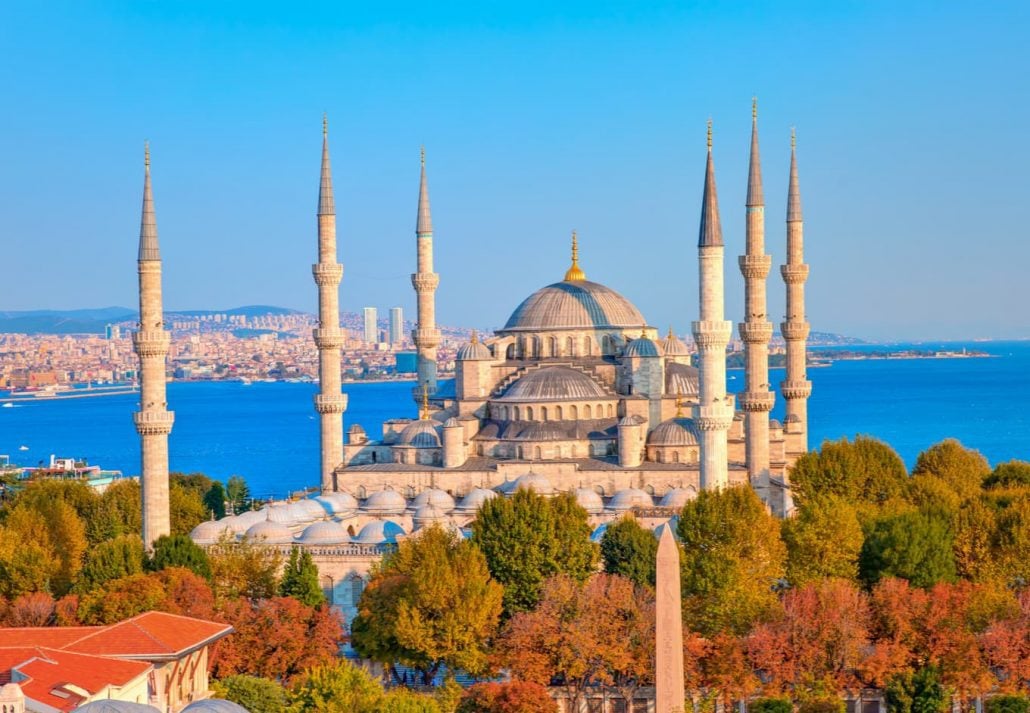 From late September to late December, it is autumn in Turkey. The weather begins to cool off in late October, and the temperature during the season fluctuates between 12°C and 29°C.
Average temperatures range from around 18° C in inland Cappadocia, 20° C in Istanbul and Ankara, and 25° C in coastal southern Antalya. Precipitation starts to increase in October, ranging from 4 – 104 mm during the fall season.
Winter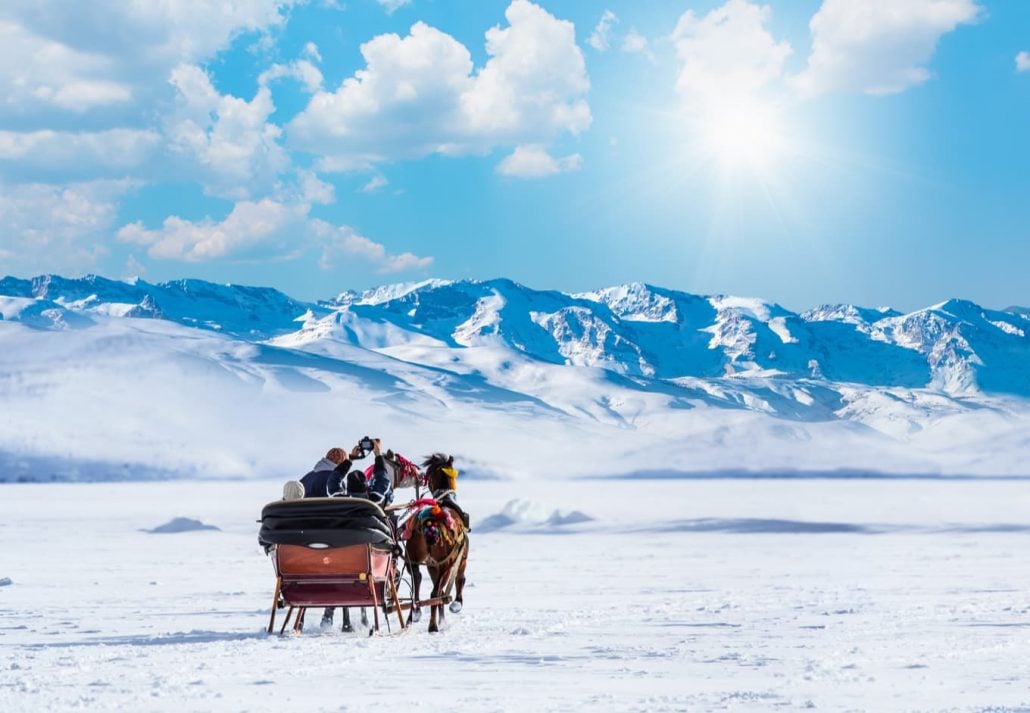 From December to February, temperatures in most parts of the country are low, but they can range from mild to snowy or from rainy to dry cold. Temperatures may vary from -13C to 24C depending upon the climate zone. Erzurum is the coldest place in Turkey during the winter.
In January and February, there's a chance of snow in most places, including Cappadocia, Bolu, Marmara Bölgesi, Kartepe, and Palandöken.
Turkey receives maximum rainfall during this period.
The Best Time To Visit Turkey
For Pleasant Weather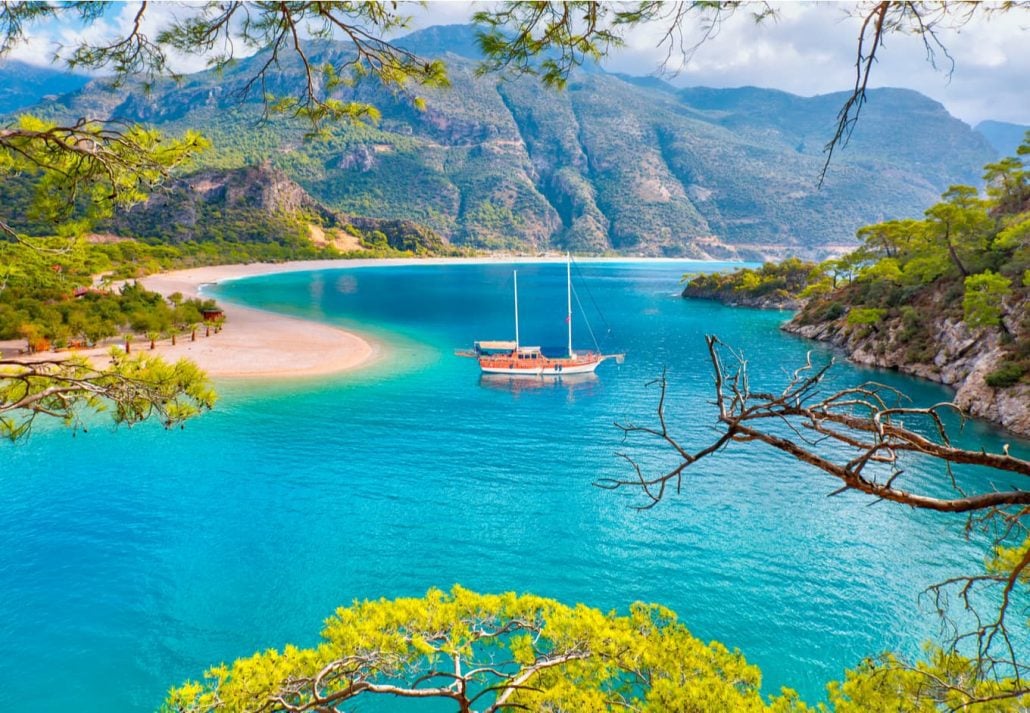 If you're seeking to enjoy pleasant temperatures, Spring and Fall are great times for visiting Turkey. These seasons provide a fine climate, not to mention colorful scenery.
Spring is when the flowers begin to bloom and the country is filled with gorgeous spreads of tulips. During fall the trees start to change to hues of yellow, orange, and red, making for a beautiful spectacle designed by mother nature.
For Lowest Prices & Fewer Crowds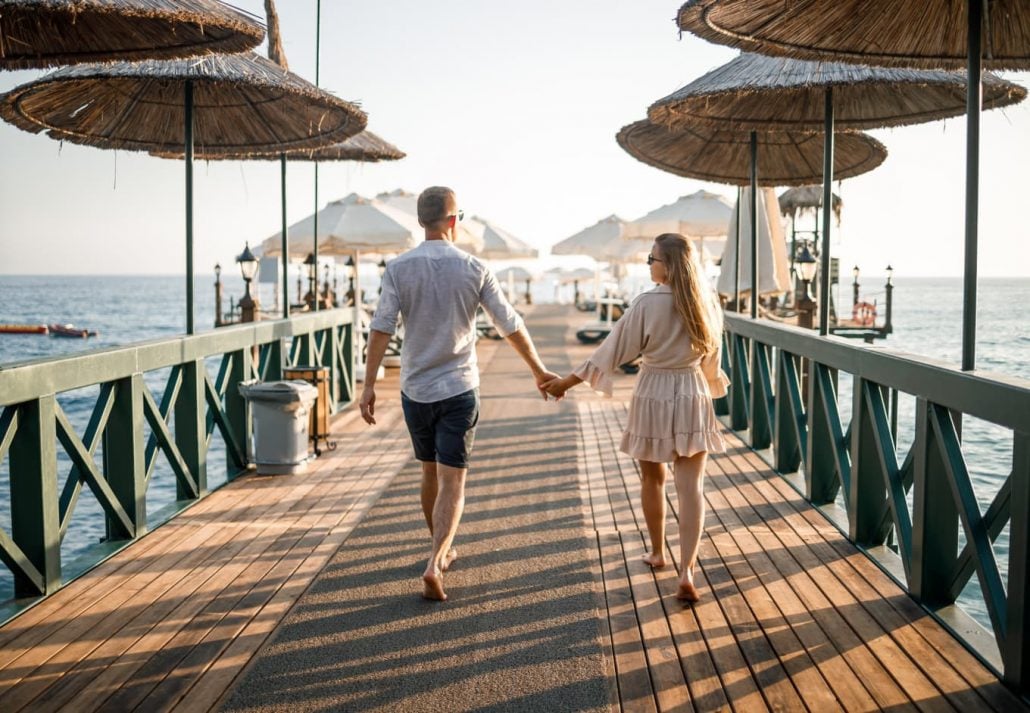 When it comes to affordable prices and fewer tourists, the shoulder season, between April and May and September and October, is a great time to visit Turkey.
For even more affordable rates on flights and accommodations, visit November during the low season. These fairly cold months bring the possibility of rain and snow, meaning that fewer tourists will want to visit the country.
For Bucket-List Activities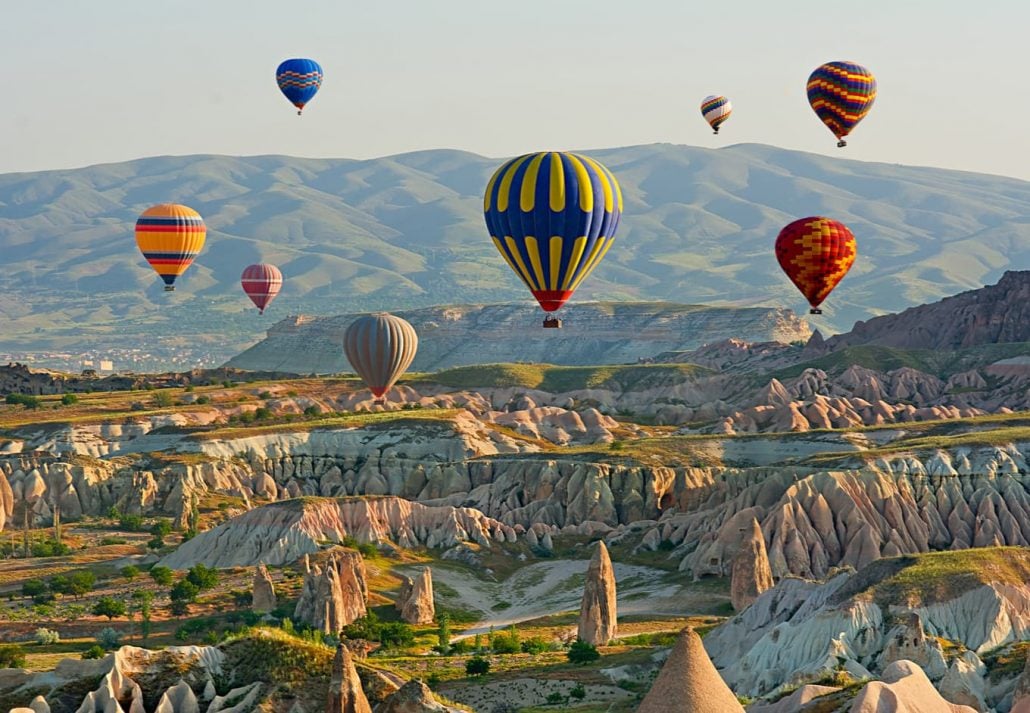 Every season brings an array of fabulous things to see and do in Turkey, so the best time to visit the country will depend on your interests.
If you're dreaming of exploring Turkey's idyllic Mediterranean coast, which is dotted with pristine beaches, the warm summer months of July, August, and September are perfect times to visit Turkey. Note that this is also the high season in the country, meaning that overall prices will be higher.
In case you want to explore Turkey's breathtaking national parks, plan your trip for the Spring or Fall. This is when nature is at its finest, bursting with blooming flowers or the fall foliage.
Springtime is also a prime time for taking a hot-air balloon flight in Cappadocia, as well as exploring Turkey's century-old cities, as the weather is comfortable and pleasant.
For skiing on Turkey's world-class slopes, wintertime is the best time to visit.
For Amazing Events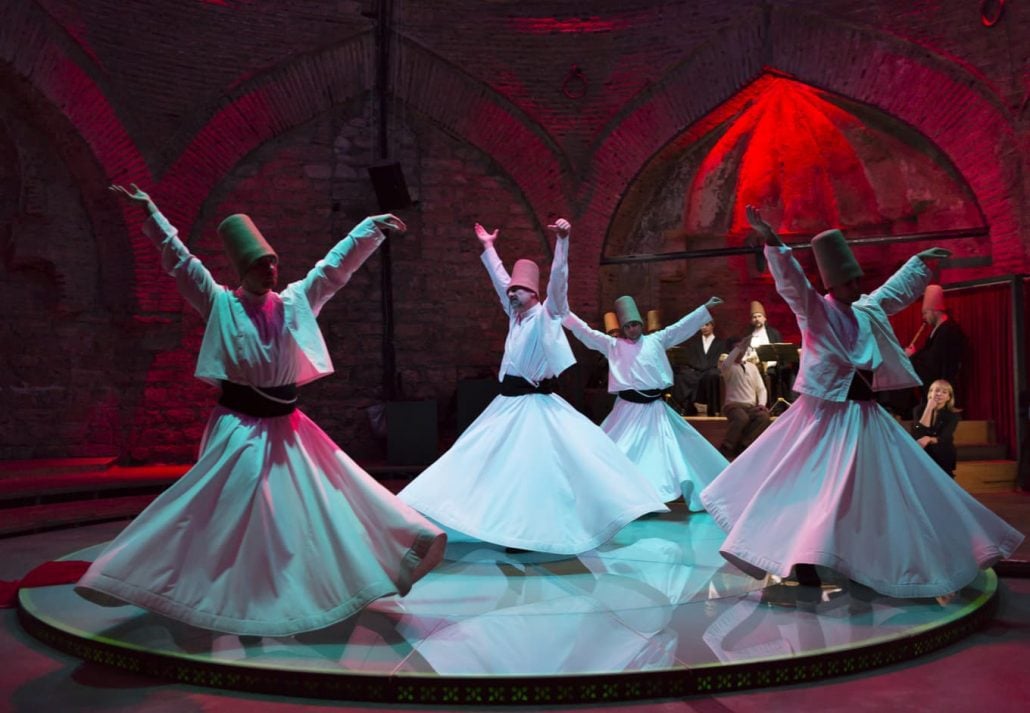 Turkey has a dazzling calendar of cultural events happening year-round. So, when it comes to amazing festivities to enjoy in the country, every season is a good bet.
In Spring, Turkey hosts the colorful Istanbul Tulip Festival (March-April), as well as the International Istanbul Film Festival (April), and the Istanbul Music Festival (May-June). There's also the Hidrellez Festival (May), which celebrates the start of spring with colorful street performances by traditional gypsy bands.
Summertime is when the bustling Istanbul Jazz Festival (July) takes place. From June and July, the famous Aspendos International Opera and Ballet Festival, wet within the breathtaking Aspendos Roman Theater, happens.
Visiting Turkey during the fall? Then be sure to check out the Izmir World Fair (early December), which is the oldest tradeshow in Turkey and considered the cradle of the country's fairs and expositions. Another bucket-list fall festivity is the Whirling Dervish Festival, which happens in the city of Konya, and features a spellbinding spectacle of dancers whirling to worship the death of their spiritual leader Mevlana Jelaleddin.
In winter, Turkey also hosts a series of snow festivals, such as the Geçitli Snow Festival, which draws thousands of visitors to indulge in winter sports.
FAQ
What is the best time for visiting Turkey?
Spring (March to May), and Fall (September to November) are great for a Turkey trip. These seasons provide comfortable and mild weather, with temperatures sitting at a pleasant 21ºC, aside from fewer crowds, and more affordable rates for flights and accommodation.
What is the hottest month in Turkey?
The hottest month of the year is July with an average daily maximum of 35º C and an average low of 25º C.
What is the cheapest month to visit Turkey?
Considering flight prices and hotel rates, the cheapest month to visit San Francisco is July.
When is the peak season in Turkey?
The peak season in Turkey is the summer, which runs from June to August.
What is the rainy season in Turkey?
Most rainy days are in January, February, and December.
How many days do you need in Turkey?
Between five to ten days is a great amount of time to visit Turkey.
CuddlyNest provides all accommodations to all travelers at the best price. Find unlimited travel inspiration on our blog and social media channels.
You Might Also Like:
7 Best Destinations For Surfing In Europe
40 Top & Most Beautiful Castles in Europe
A Guide To Jordan Wadi Rum: Top Things To Do
The Best Time to Visit Bangkok, Thailand
6 Top-Rated Things To Do In Antalya, Turkey