There are hundreds of beautiful Buddhist temples in South Korea. Most of them are located in the mountains, away from the busy city life. But, how do you know where to go?
They all have a rich history and are fascinating in their own way. Nevertheless, they're home to numerous national treasures that are well worth exploring. To make your decision-making process easier, we've compiled a list of the 10 most incredible temples in South Korea!
Find Places To Stay In Seoul, South Korea
The 10 Best Temples In South Korea
Haeinsa Temple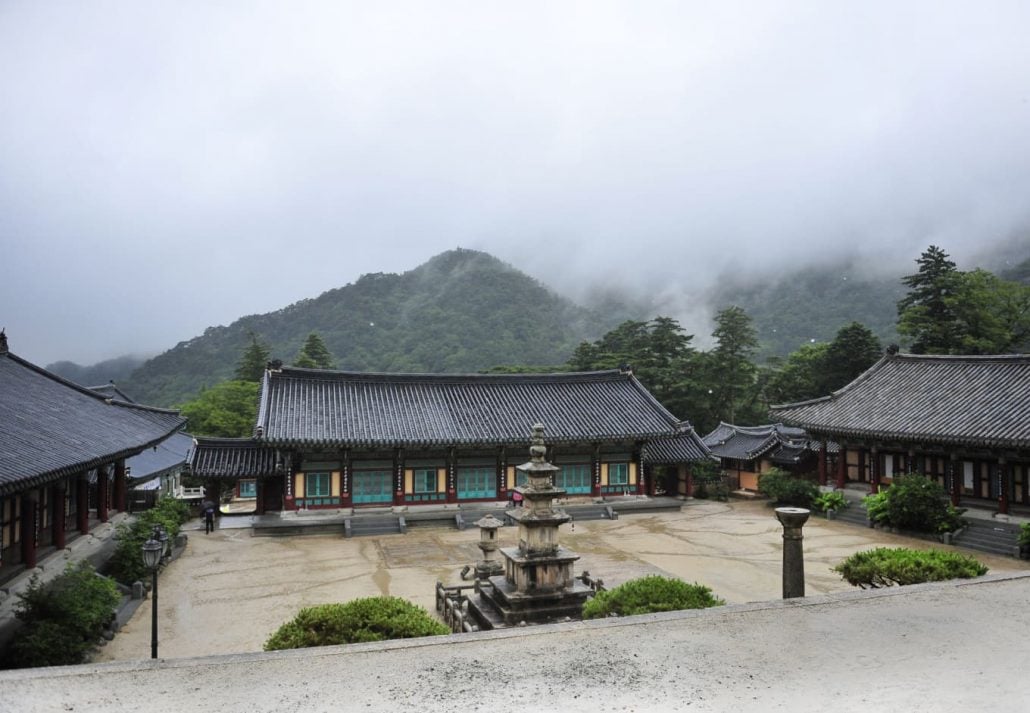 There are Three Jewel Temples in South Korea, and Haeinsa on Mount Gaya is one of them. The other two are Tongdosa Temple near Busan and Songgwangsa Temple in Wanju. These temples symbolize one of the Three Jewels of Buddhism: Buddha, Dharma, and Sangha. Plus, the most comprehensive collection of Buddhist writings, the Tripitaka Koreana, which was written on 80,000 woodblocks between 1237 and 1248, is kept at Haeinsa.
The temple is nestled in a beautiful remote area, surrounded by majestic mountain peaks and creeks. Nevertheless, Haeinsa remains the most significant Buddhist temple in South Korea.
Location: 122 Haeinsa-gil, Gaya-myeon, Hapcheon-gun, Gyeongsangnam-do, South Korea
Saseongam Temple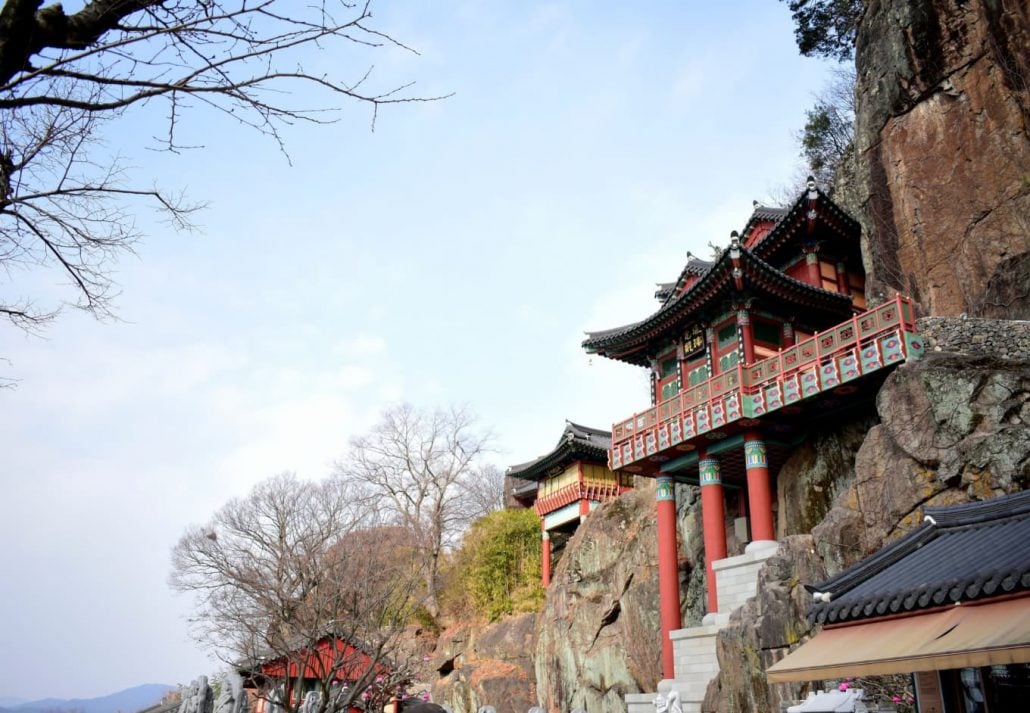 With a stunning steep stone staircase adorned with tiles, Saseongam Temple is definitely worth a visit. It's located on Mount Osan in Jeollanam-do Province and offers breathtaking views of the Seonjingang River and Jiri Mountain.
The temple features a Main Hall with redwood pillars, Jijangjeon, Sanshingak west of the Main Hall, Sanshingak dedicated to local Sanshin, and a Doseongul passageway between two enormous cliff-boulders.
Location: 189 Jukma-ri, Muncheok-myeon, Gurye-gun, Jeollanam-do, South Korea
Buseoksa Temple
Located close to Mt. Bonghwang in Buseok-myeon, Buseoksa Temple is one of Korea's oldest wooden buildings. It was built by monk Uisang in 676 which was also the 16th year of Munmu of Silla.
Buseoksa, known as the Temple of the Floating Stone, has 5 components that are recognized as national treasures: a wall painting in Josadang Hall, Muryangsujeon Hall, a clay statue of Amitabha Buddha, Josadang Hall, and a stone lantern.
Location: Buseoksa Temple, 345, Buseoksa-ro, Buseok-myeon, Yeongju, Gyeongsangbuk-do, South Korea
Jogyesa Temple
Jogyesa is the chief temple of the Jogye Order of Korean Buddhism. It offers an amazing temple stay program for meditation and relaxation. The program usually consists of a Buddhist service, 108 prostrations, communal work, tea ceremony rituals, and lotus lantern making.
The gorgeous temple is also a part of the annual Lotus Lantern Festival – a celebration of Buddha's birthday. Colorful lanterns are lit up around the temple and the main streets of Seoul.
Location: 55 Ujeongguk-ro, Jongno-gu, Seoul, South Korea
Golgulsa Temple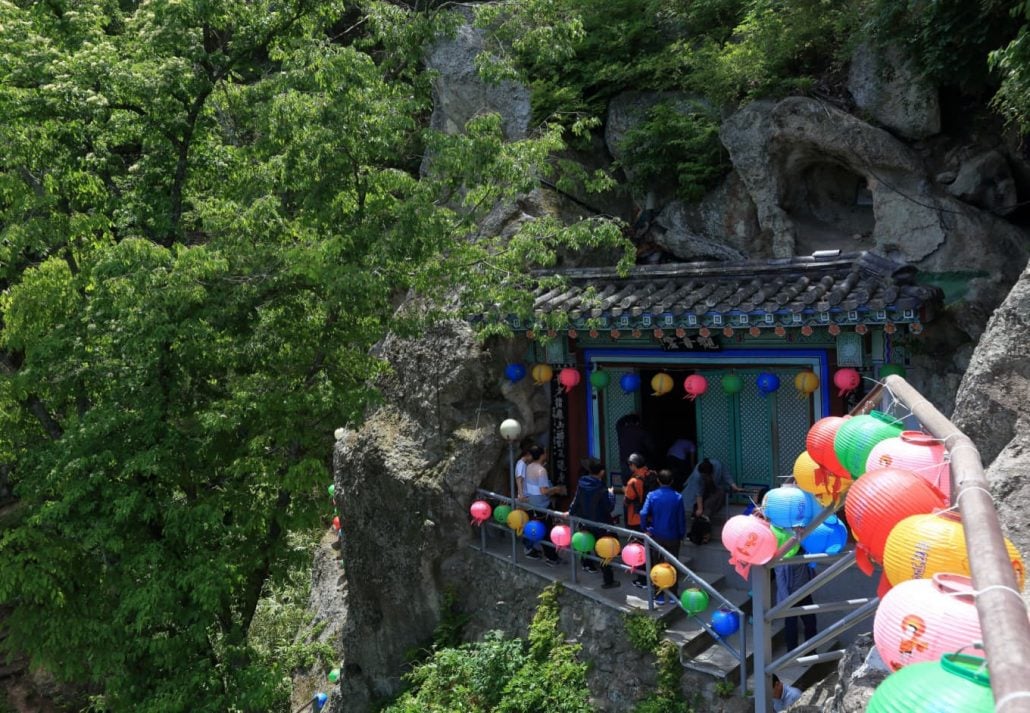 Golgulsa is the only cave temple in Korea and is situated near Gyeongju. Visitors can participate in a temple stay program that is accessible all year. Sunmudo, a Korean Buddhist martial art, is one of its main activities. The temple stay also offers archery, sitting and walking meditation, chanting, and 108 prostrations.
Location: 101-5 Girim-ro, Yangbuk-myeon, Gyeongju-si, Gyeongsangbuk-do, South Korea
Hwaeomsa Temple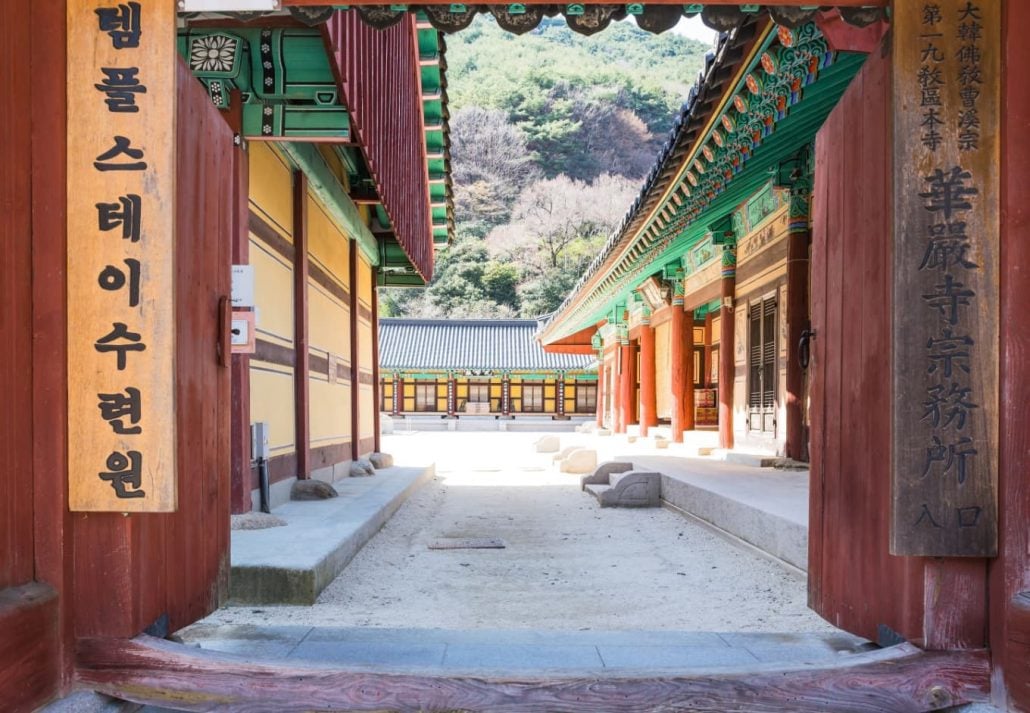 Hwaeomsa is an ancient temple found on the slopes of Jirisan Mountain and is one of the most famous temples in South Korea. In addition to eight artifacts classified as treasures, the temple also has four elements designated as national treasures, including the Gakhwangjeon Hall of Hwaeomsa Temple. Visitors looking for a break from the busy city life will appreciate the calm surroundings and the wonderful temple stay programs.
Location: Yeongiam-gil, Masan-myeon, Gurye-gun, Jeollanam-do, South Korea
Beomeosa Temple
The third largest temple in the Yeongnam area is Beomeosa. Along with the magnificent valley and majestic mountains in the background, the temple is incredibly popular all year long. You can view the main attractions as well as cultural treasures such as Daeungjeon, the three-story Stone Pagoda, Samguk Yusa, Jogyemun Gate, Cheonwangmun with guardian trees, and Wisteria habitat.
Location: 250 Beomeosa-ro, Geumjeong-gu, Busan, South Korea
Bongeunsa Temple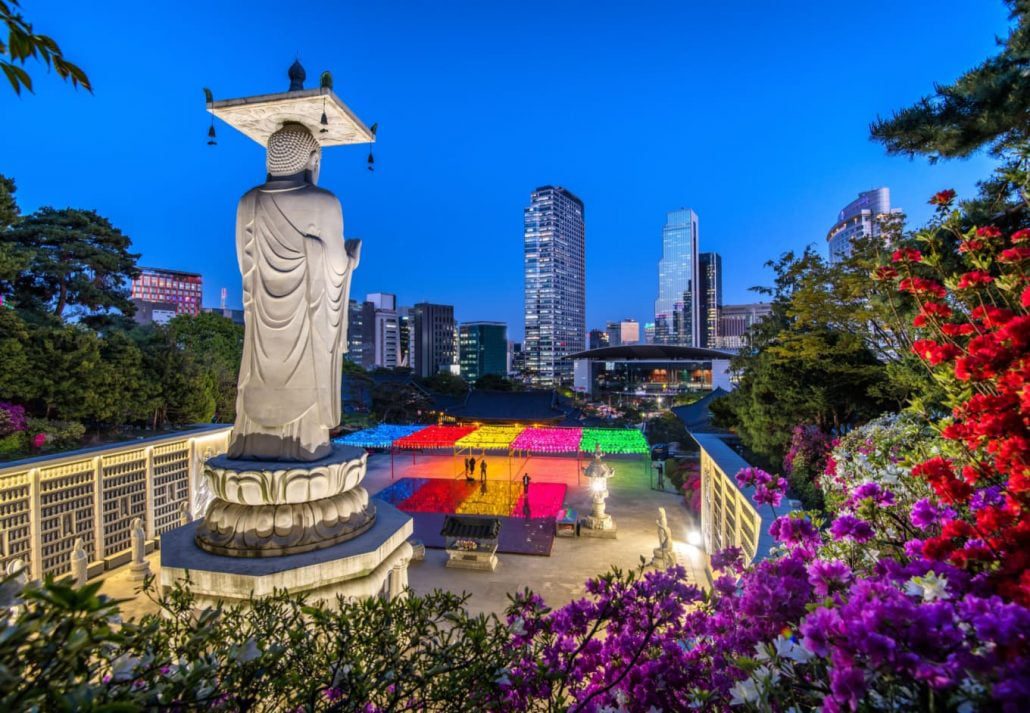 Bongeunsa Temple dates back to 794 and features an impressive 23-meter (91-foot) Maitreya Buddha statue. Furthermore, this stone statue is among the tallest ones in the country. During the reign of King Wonseong of Silla, the temple was known as Gyeonseongsa. You are welcome to take part in a temple tour, tea ceremony, rosary making, and meditation.
Location: 531 Bongeunsa-ro, Gangnam-gu, Seoul, South Korea
Daeheungsa Temple
Featuring views of the western and southern coast of South Korea, Daeheungsa is the main temple of the Jogye Order of Korean Buddhism.
It's made up of conventional structures that have been placed into a number of sections that blend in with the surrounding natural characteristics. This is not usual with other temples built the traditional way. Moreover, Daeheungsa is recognized for its lengthy entrance path that meanders through a picturesque forest.
Location: 400 Daeheungsa-gil, Samsan-myeon, Haenam-gun, Jeollanam-do, South Korea
Taeansa Temple
During the Silla period, Taeansa Temple was used as one of the centers for the nine Zen Orders (Gusanseonmun). It has a huge pagoda dedicated to the Korean War, the Neungpa-gak wooden bridge with a blue dragon, an artificial Yeon-ji Pond, the Iljumun Gate, Budowon with stele and stupas, Daeung-jeon Hall with Buddhist murals, and so much more. Fall is a particularly lovely time to visit Taeansa because the forest around it turns bright red and yellow. The quiet surroundings make this a great area for a walk.
Location: 622-215 Taean-ro, Jukgok-myeon, Gokseong-gun, Jeollanam-do, South Korea
FAQ
What are the top ten temples to visit in South Korea?
Haeinsa Temple;

Saseongam Temple;

Buseoksa Temple;

Jogyesa Temple;

Golgulsa Temple;

Hwaeomsa Temple;

Beomeosa Temple;

Bongeunsa Temple;

Daeheungsa Temple;

Taeansa Temple.
What are the best temple stay programs in South Korea?
Baekyangsa;

Jogyesa;

Golgulsa,

Jikjisa;

Guinsa.
What are the different types of Buddhist temples?
There are three main types of Buddhist structures: temples, stupas, and monasteries.
Is there a Hindu temple in South Korea?
There are several Hindu temples in South Korea:
Sri Radha Shyamasundar Mandir;

Sri Lakshmi Narayanan Temple;

Himalayan Meditation and Yoga Sadhana Mandir;

Sri Sri Radha Krishna temple.
Does Seoul have temples?
There are over 900 traditional temples in South Korea and a lot of them are located in Seoul.
CuddlyNest provides all accommodations to all travelers at the best price. Find unlimited travel inspiration on our blogs and social media channels Facebook, Instagram, and Pinterest.
You May Also Like:
20 Countries Where You Can See the Japanese Cherry Blossoms
The Ultimate Asia Travel Guide
50 Fun & Interesting Facts About India You Should Know About
11 Sacred Attractions Around the World
The Best Ways To Travel From Bangkok To Phuket
The Best Time to Visit Cambodia
3 Ways To Travel From Bangkok To Chiang Mai