From flavor-packed hot kimchi stews to mouthwatering deep-fried cookies, Korean cuisine is full of tasty surprises. You've likely heard of ramen, bibimbap, and tteokbokki, but the list of delectable Korean food creations is nearly endless. That's why we created a quick guide to the 12 best foods in South Korea that you must try!
Find Places To Stay In Seoul, South Korea
The 12 Best Foods In South Korea
Korean Fried Chicken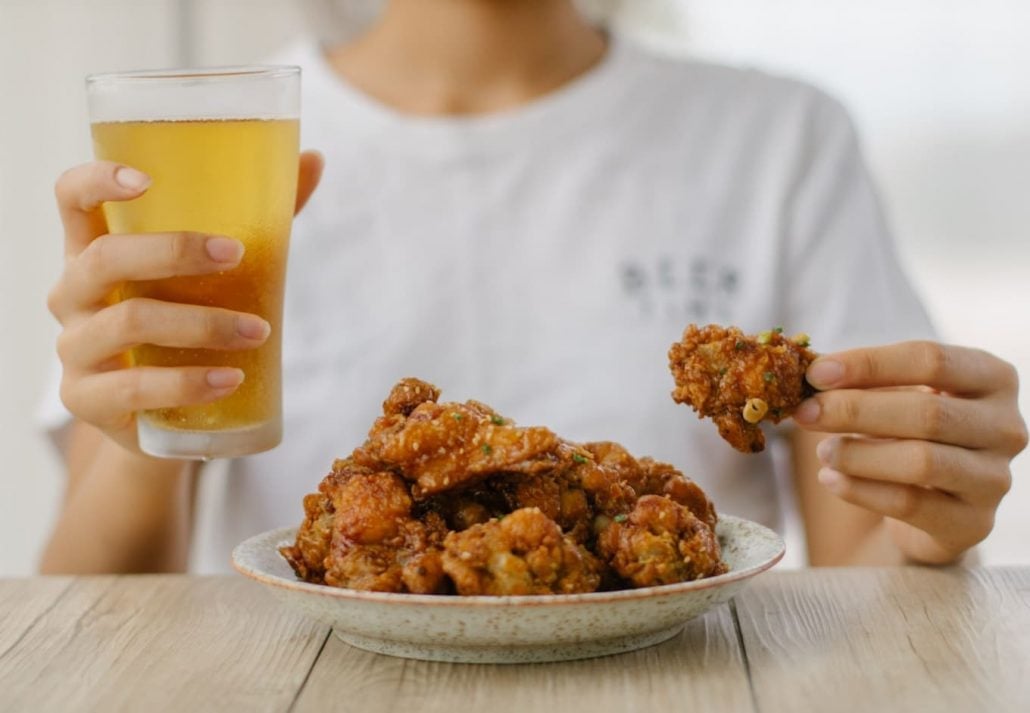 Fried chicken is one of the most loved Korean dishes. It's usually coated with a sweet and spicy sauce. Pair it with a glass of cold beer and enjoy its flavors to the fullest! What makes this fried chicken so different? It's not heavily battered yet it's extra crispy. One of the ingredients, potato starch, gives it the perfect crispiness and the chicken is fried twice.
Japchae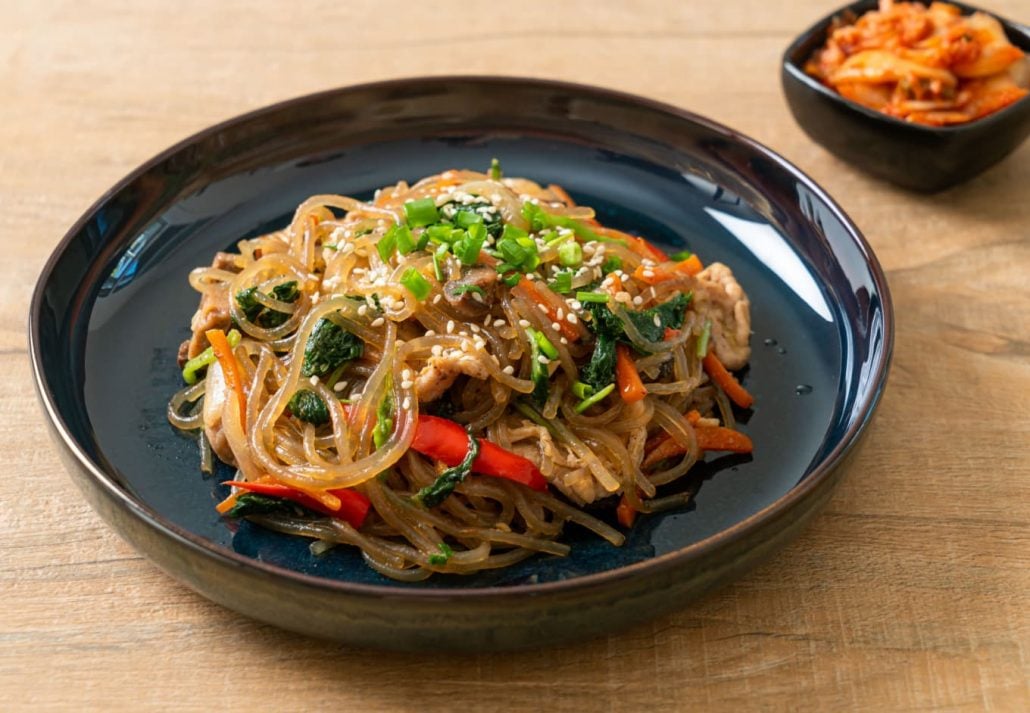 Japchae is a glass noodle stir fry with vegetables and soy sauce. Although there are no specific guidelines for the combination of veggies in japchae, mushrooms, carrots, spinach, onions, and leeks are usually the standard choice.
Kimchi Stew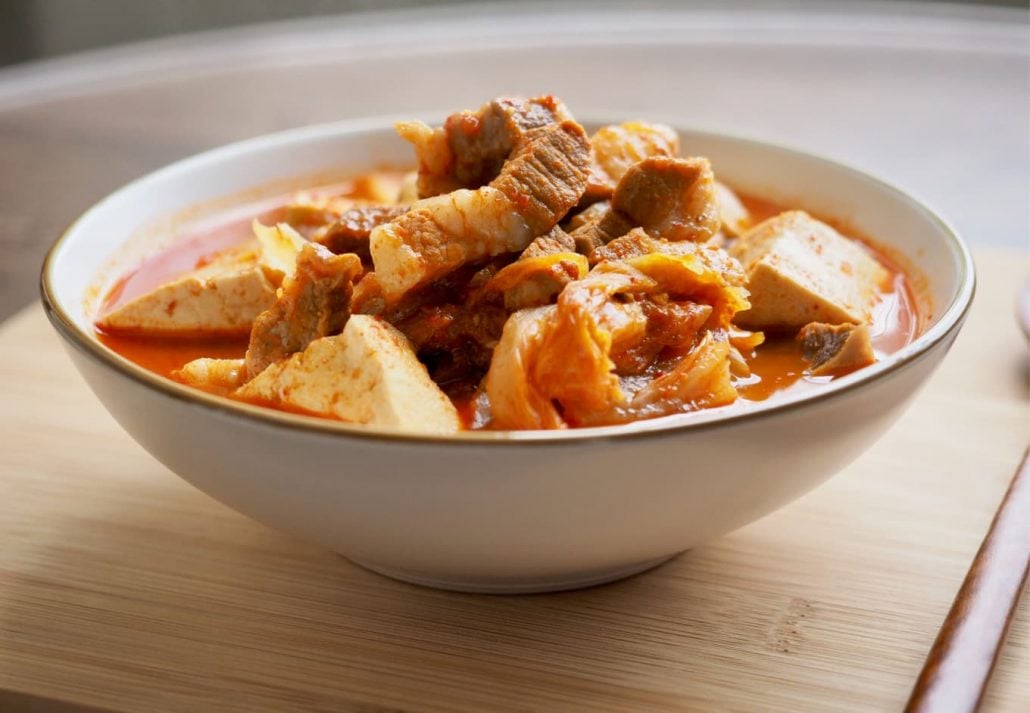 Kimchi stew or kimchi jjigae is commonly made with pork, fermented kimchi, and tofu. This delicious dish can also be paired with hot sticky rice. Because of its health benefits (probiotics), it's loved by people from different parts of the world.
Recommended Read: The 10 Best Temples In South Korea
Bibimbap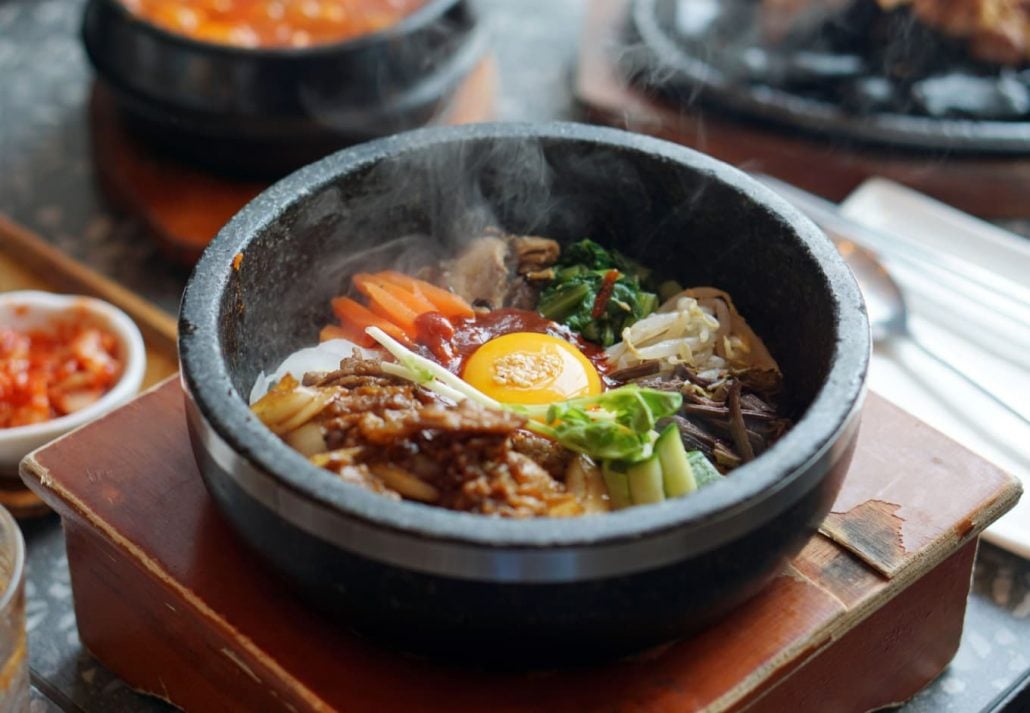 One of the most popular South Korean foods is bibimbap. It refers to a dish made with mixed vegetables, rice, eggs, and ground pork or beef. If you like spicy food, bibimbap can be seasoned with red pepper paste and if you don't, you can replace it with soy sauce. A single serving of this dish delivers a truly unique blend of flavor and nutrients.
Sundubu-jjigae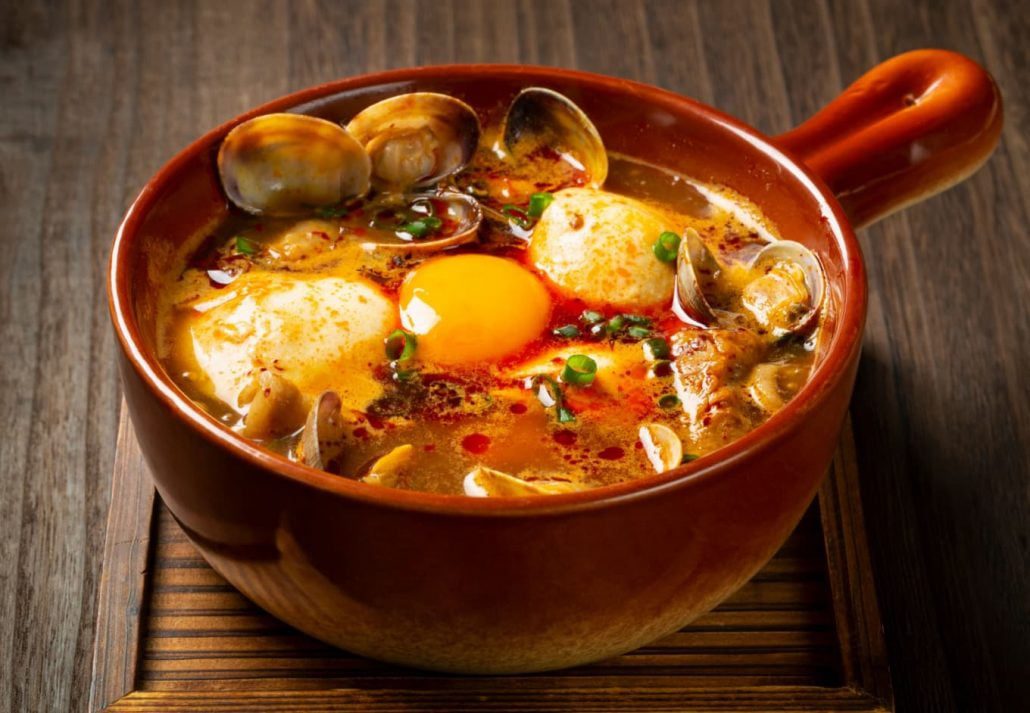 Sundubu-jjigae is a soft tofu stew made with freshly curdled tofu, vegetables, and egg. The yummy stew is light yet rich in flavor. Authentic sundubu-jjigae is served in an earthenware pot that has been designed to keep the heat in.
Seolleongtang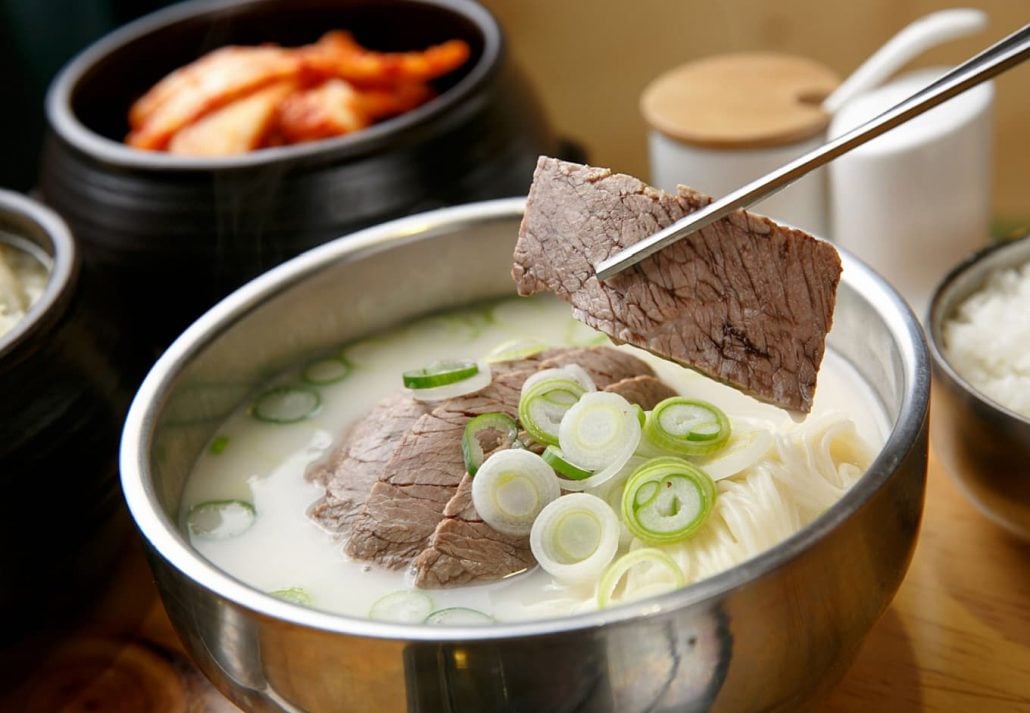 Seolleongtang is an ox bone soup made from briskets or other cuts. It's Seoul's local dish seasoned with ground black pepper, red pepper, garlic, salt, and finely chopped green onions. The milky white colors take hours to achieve and the taste is absolutely fantastic.
Yakgwa
Yakgwa, also known as gwajul, is a mouthwatering deep-fried cookie. It's made of wheat, sesame oil, cheongju, honey, and ginger juice. Due to their sweetness, people frequently serve these as desserts rather than regular snacks.
Samgyetang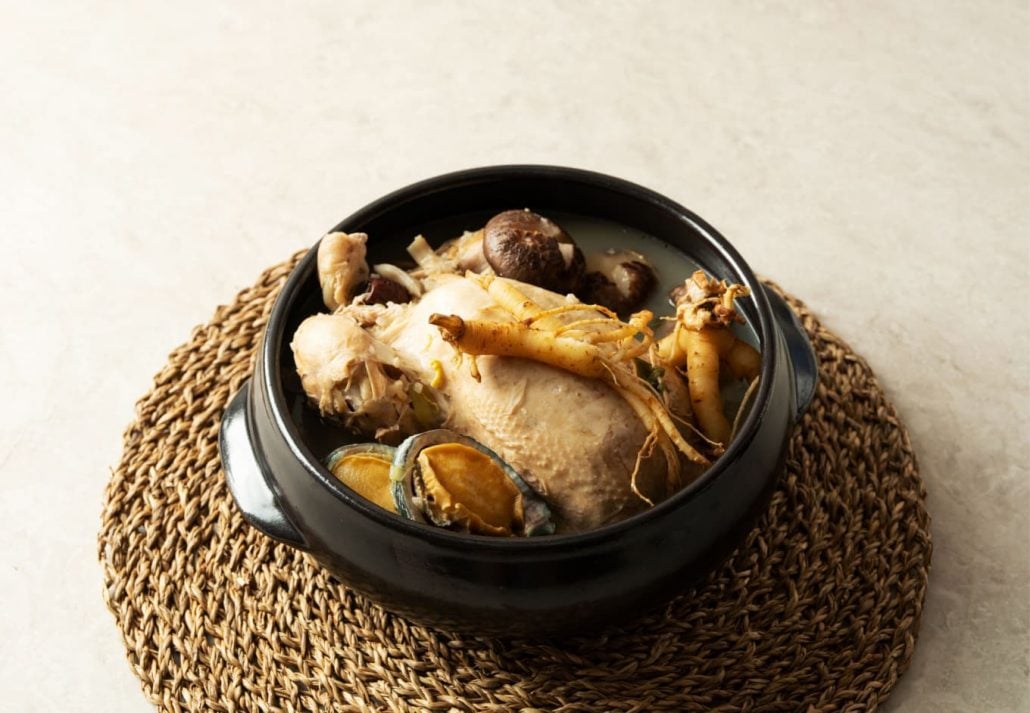 Korean ginseng chicken soup is called samgyetang and has a special aromatic flavor. This thick soup is mostly eaten during the hot summer days and is loved for its bitterness. The meat is tender and the broth is amazing. It's sure to become a weeknight favorite!
Samgyeopsal
Samgyeopsal is made with pork belly. It's the ultimate comfort food, especially when it's combined with soju shots. Samgyeopsal is also a popular Korean BBQ dish served with a spicy or non-spicy dipping sauce.
Kimchi Fried Rice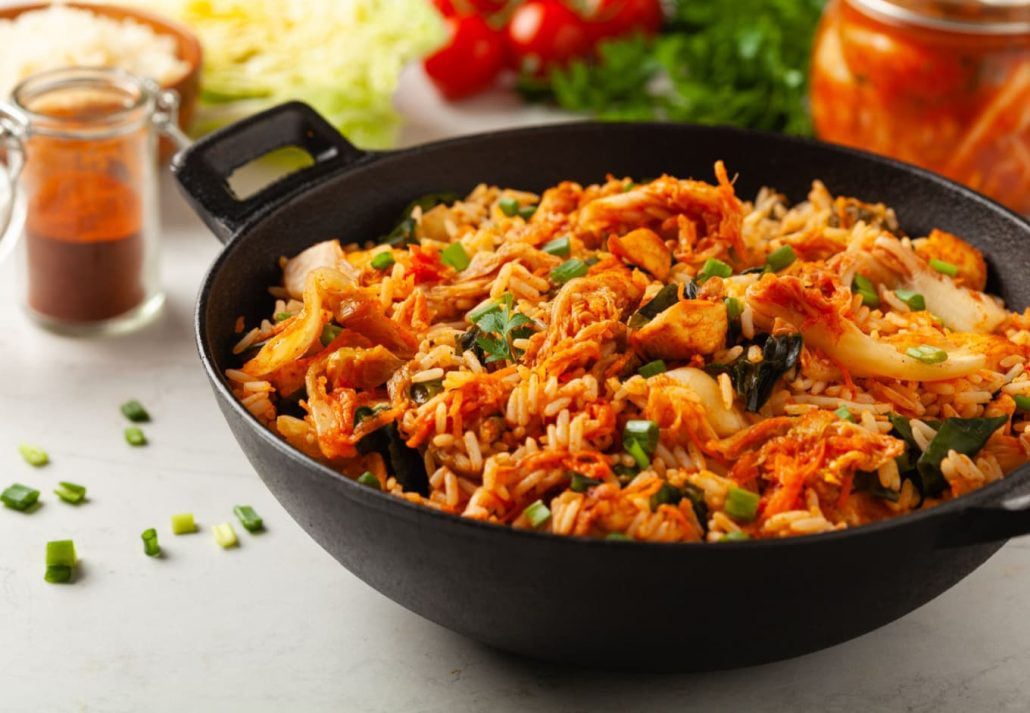 Kimchi-bokkeum-bap is a finger-licking dish loaded with kimchi, kale, eggs, mushrooms, and carrots. If you want to have it as a side dish, it goes great with braised pork belly or fried chicken.
Tteokbokki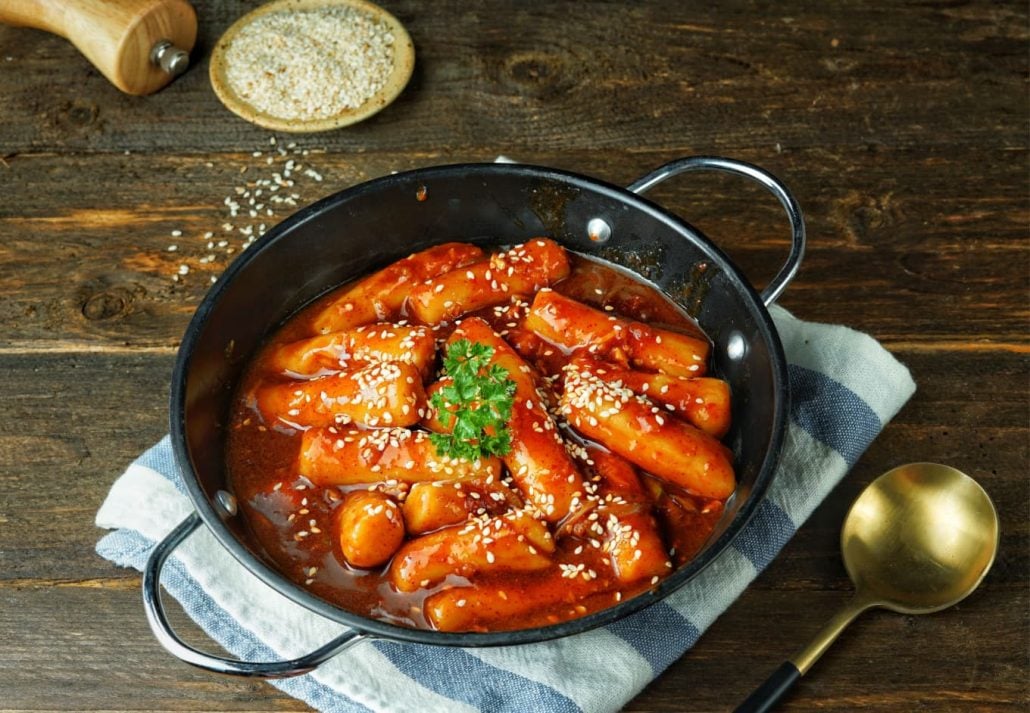 Tteokbokki are irresistibly soft and chewy rice cakes that can be found at a lot of street food stalls in Seoul. You can add your toppings including boiled eggs, melted cheese, ramen, or fish eggs. It's also easy to find variations of tteokbokki: non-spicy, with seafood, with short ribs, and more!
Haemul Pajeon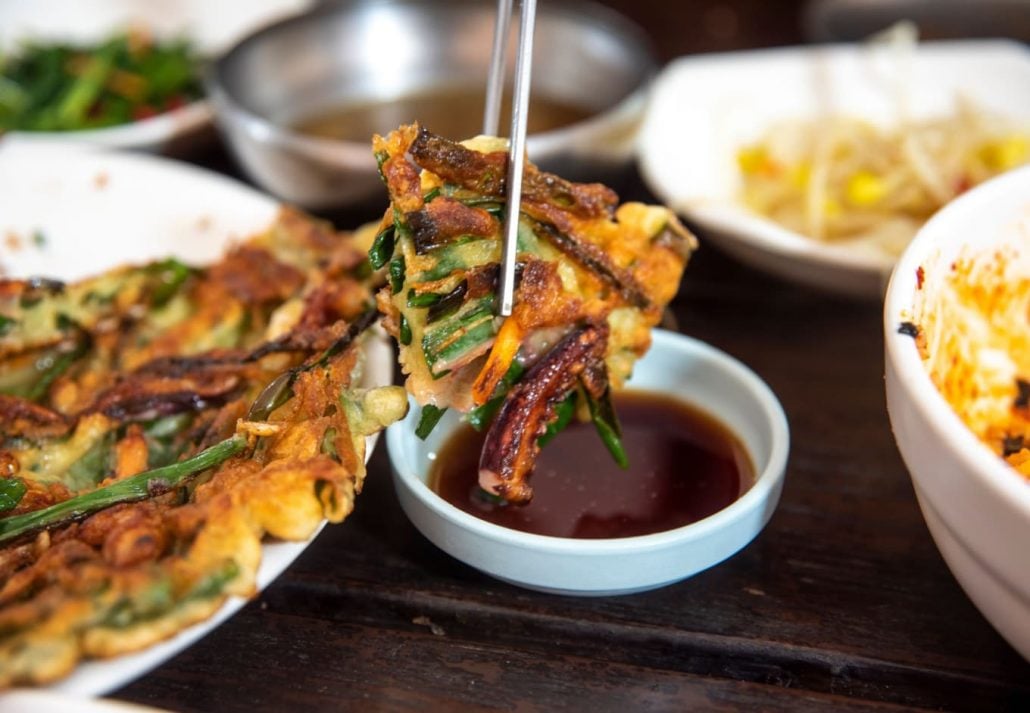 This seafood vegetable pancake can be filled with cuttlefish, clams, shrimps, scallions, or oysters. Koreans often pair it with Makgeolli – a milky alcoholic beverage. Haemul Pajeon is an ideal dish to prepare on a gloomy day.
FAQ
What is South Korea's main food?
Kimchi stew is South Korea's most popular dish.
What are the top South Korean foods to try?
The best Korean dishes are:
Korean Fried Chicken;

Japchae;

Kimchi Stew;

Bibimbap;

Sundubu-jjigae;

Seolleongtang;

Yakgwa;

Samgyetang;

Samgyeopsal;

Kimchi Fried Rice;

Tteokbokki;

Haemul Pajeon.
What do Koreans eat for dinner?
A Korean dinner generally consists of a bowl of rice, stew, and a few side dishes.
What is Korean cuisine known for?
Korean cuisine is known for simple dishes that are full of flavor. The dishes are mostly based on rice, meat, and vegetables.
Is Korean food delicious?
Yes, Korean food is absolutely delicious. There's no question about it!
CuddlyNest provides all accommodations to all travelers at the best price. Find unlimited travel inspiration on our blogs and social media channels Facebook, Instagram, and Pinterest.
You May Also Like:
The 11 Best Beaches In India For An Amazing Vacation
50 Fun & Interesting Facts About India You Should Know About
Best Travel Destinations In India Based On Your Zodiac Sign
The Holi Travel Guide to India: What it is and Where to Celebrate
20 Most Amazing Tourist Attractions in Bali
Things to Do in Bali, Indonesia – 2022 Guide
The Best Food You Can Find in Bali
Vietnam vs. Thailand: Which One Should You Visit First
The 6 Best Night Clubs In Hong Kong
A Guide To The Best Wineries In Hong Kong
A Guide To The Best Shopping In Hong Kong
The 6 Best Beaches In Hong Kong
The 5 Best Amusement Parks In Hong Kong
The Best 5-Star Hotels In Hong Kong