Skyscrapers, shopping, and bustling streets are what most people think of when Hong Kong is mentioned. But, as you get out of the city, you'll discover a beautiful long coastline, stunning islands, and amazing beaches.
Most of the beaches are staffed with lifeguards and have amenities like changing rooms, showers, and barbeque pits. While some are only a few minutes away, others are completely secluded. No matter what kind of beach you're looking for, our guide will help you find the perfect spot for your trip!
Find Best Places To Stay In Hong Kong
Discover 6 Breathtaking Beaches In Hong Kong
Repulse Bay Beach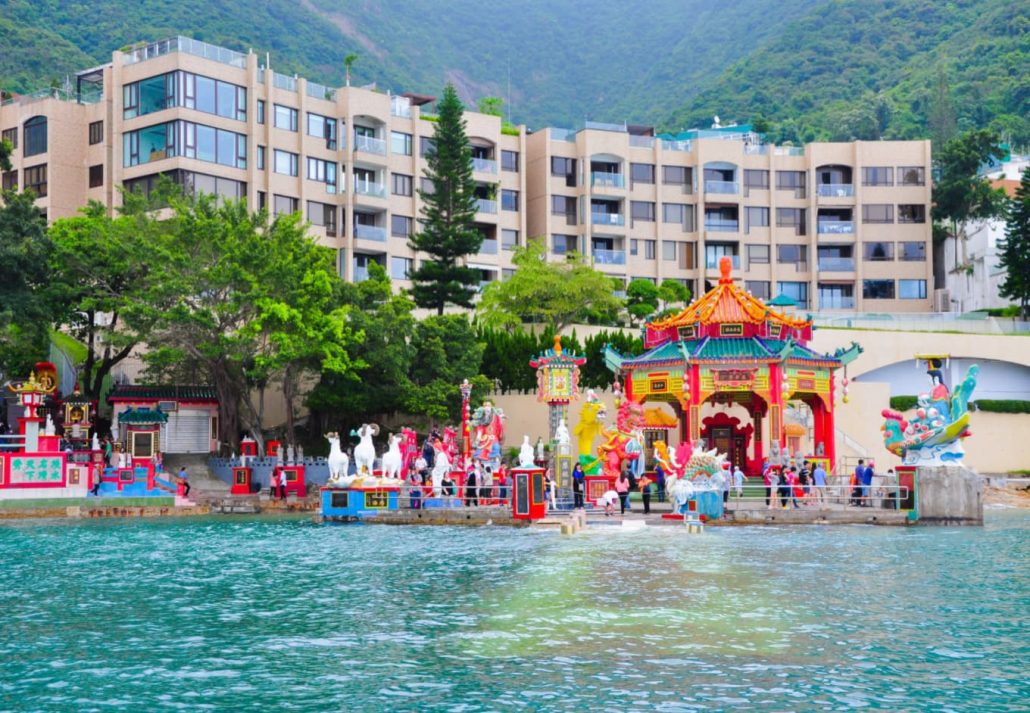 Repulse Bay Beach is a stunning beach with golden sand and breathtaking views of the surrounding islands. It's a fully developed area that has changing rooms, public toilets, showers, and a beach volleyball court. The two-story mall The Pulse, which is located across the beach, houses a supermarket, boutiques, restaurants, and a day spa. This place has everything you need!
Recommended Read The Best Time To Visit Hong Kong
Tai Long Wan — Sai Kung
Also called the Big Wave Bay, Tai Long Wan is nestled in Sai Kung — the back garden of Hong Kong. There are four excellent beaches here: Sai Wan, Ham Tin Wan, Tai Wan, and Tung Wan.
They're famous for their white sand, green hills, and peaceful environment. To reach Tai Long Wan, you can hike from Sai Wan Pavilion or get a private speedboat from the Sai Kung Pier. This is an ideal location to escape the hustle and bustle of Hong Kong.
Deep Water Bay Beach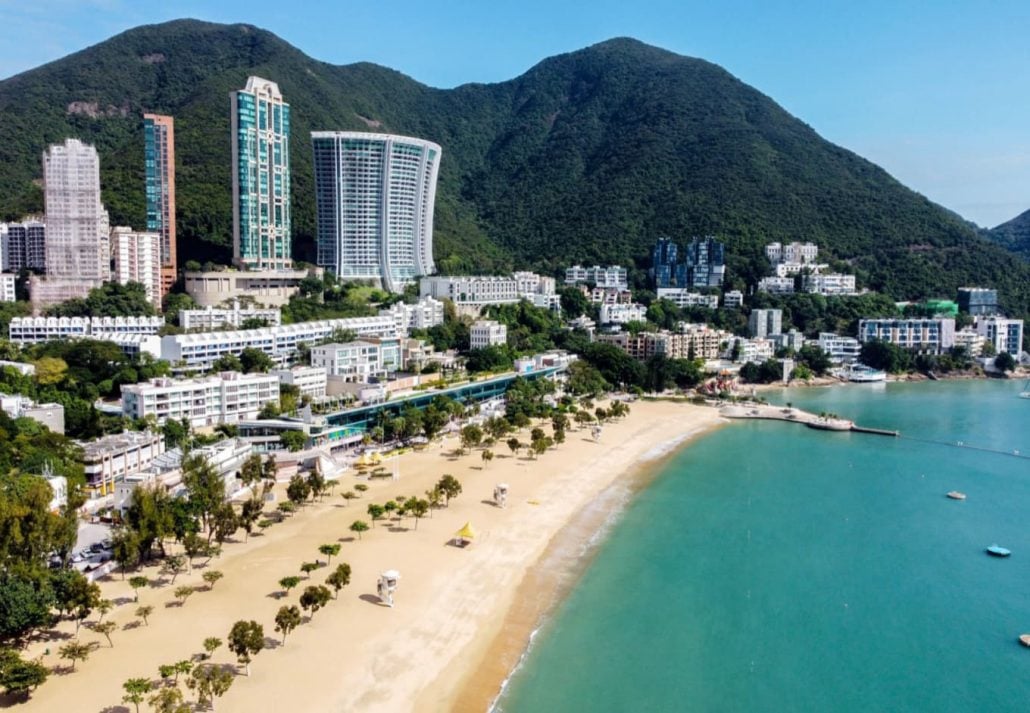 The Deep Water Bay can be seen in its entirety from the mountaintop of Ocean Park. It's found northwest of Repulse Bay and got its name because it supposedly has deeper water than the Repulse area.
A Seaview Promenade connects the two beaches, allowing joggers and walkers to get some exercise while taking in the spectacular sea view. Even though Repulse is more famous among tourists, Deep Water Bay's beach is loved by residents due to its tranquil ambiance.
Recommended Read The 6 Best Night Clubs In Hong Kong
Hung Shing Yeh Beach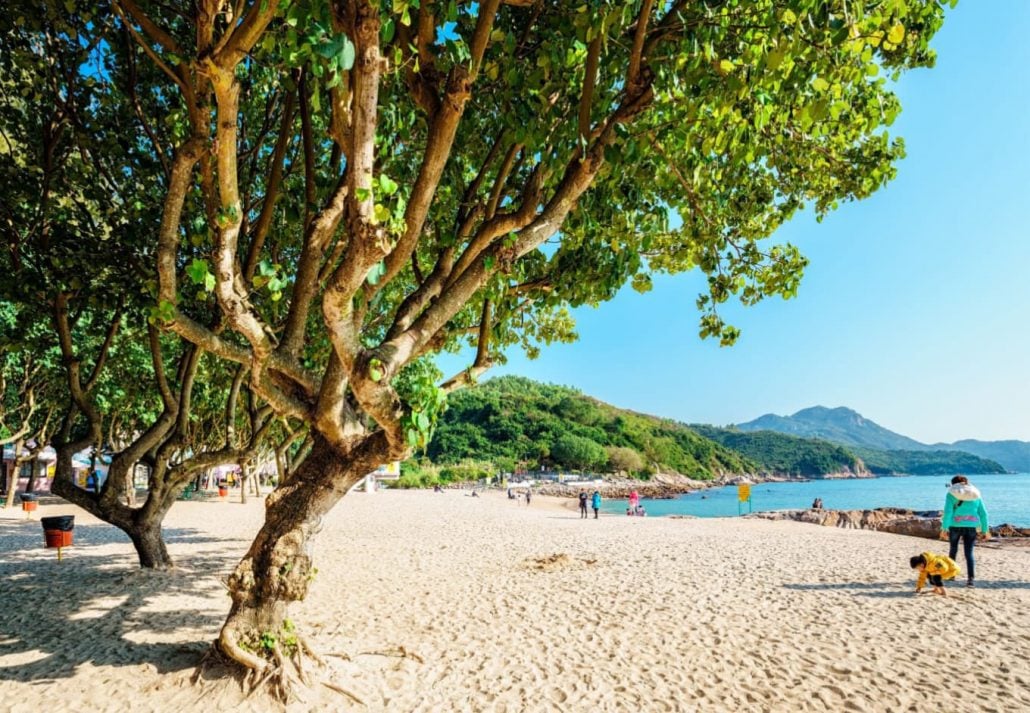 As one of the most popular Hong Kong beaches, Hung Shing Yeh Beach on Lamma Island offers an incredible experience for families. It has many facilities including a restaurant, barbecue pits, changing rooms, showers, and toilets.
Find your spot in the sandy area with shady trees or pay a small fee for an umbrella. Next to the beach, there's a section with stalls selling inflatable toys, ice cream, and corn.
Shek O Beach — Hong Kong Island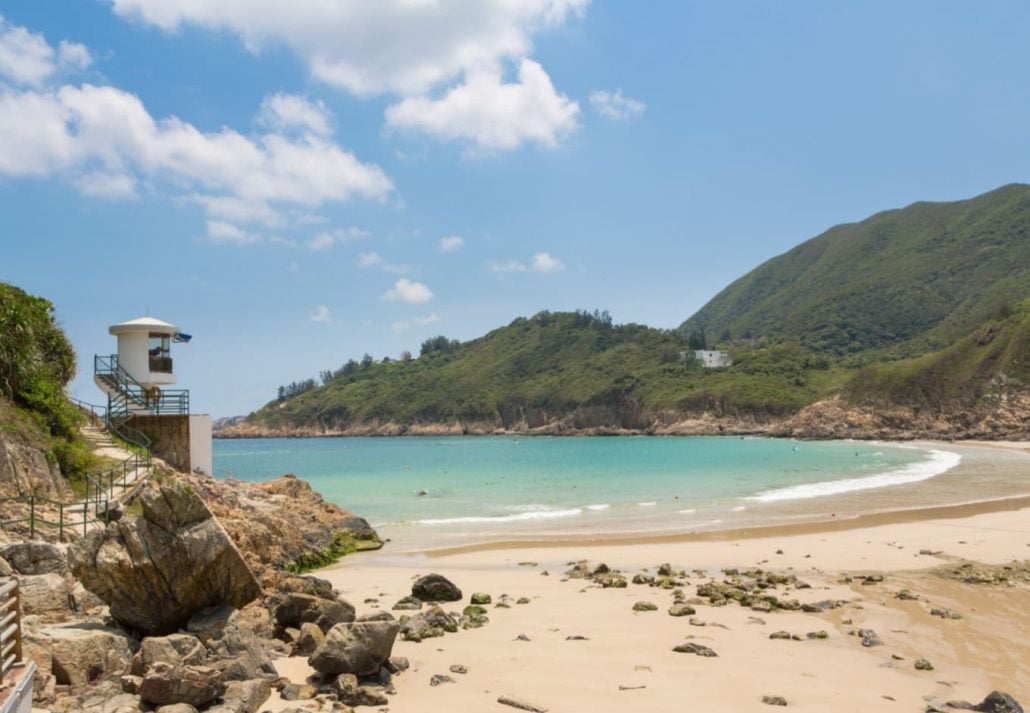 The gorgeous Shek O Beach is located on the southeast coast of Hong Kong Island. It's a remote beach, so it's best to stay at a hotel in an area with quick access to the bus station.
Shek O is known for having great eateries, clear sand, and a laid-back atmosphere. Because it's tucked into the peninsula, it doesn't get a lot of strong waves, making it ideal for visitors seeking a calm area.
When you're feeling hungry, go to the Shek O village which is behind the beach. Its narrow streets are full of amazing outdoor restaurants serving pizza, Thai BBQ, or seafood.
Turtle Beach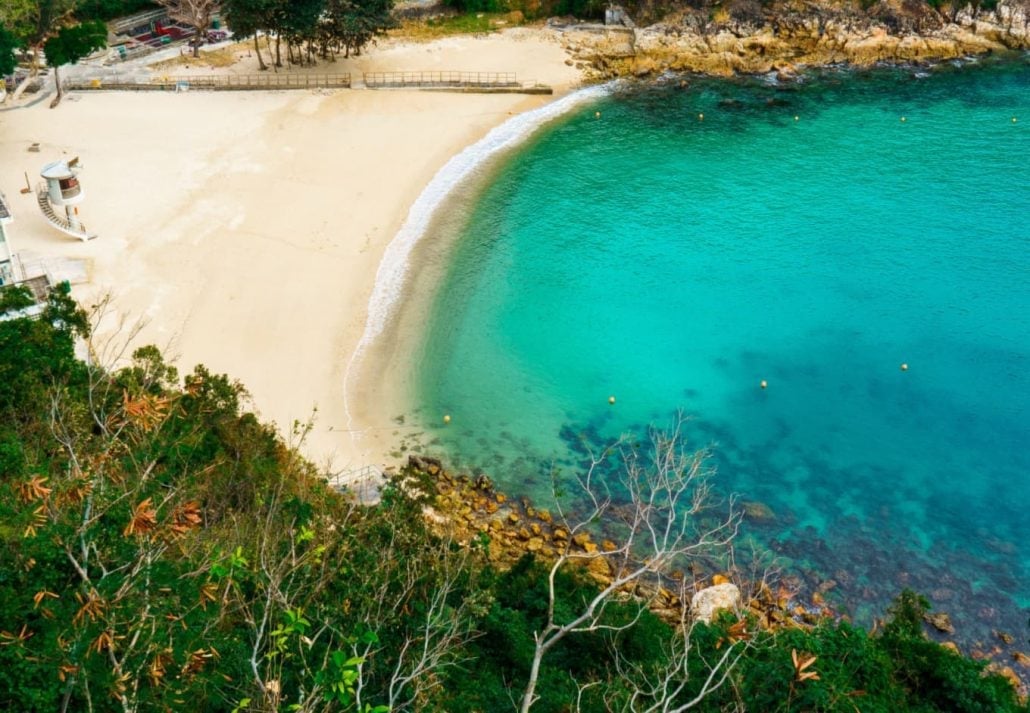 On the south side of the Tai Tam Reservoir, Turtle Cove Beach is often considered to be Hong Kong's most stunning beach. This spot won't let you down, whether you want to take a refreshing swim or partake in water activities like wakeboarding and waterskiing.
You will need to bring a picnic or grill because the beach only offers showers — no food or drink stands. It has extremely clear water teeming with sea life, particularly crabs, tiny fish, and sea cucumbers. It's a nice, calm, and clean beach!
Recommended Read The 5 Best Amusement Parks In Hong Kong
FAQ
What are other beaches in the Hong Kong area called?
Cheung Sha Beach;
Tung Wan Beach;
Golden Beach;
Silver Mine Bay Beach — Lantau Island;
Clearwater Bay Beach;
Ham Tin Beach;
Big Wave Bay Beach;
South Bay Beach;
Lo So Shing Beach.
Is Causeway Bay a beach?
No, Causeway Bay is a major shopping area on Hong Kong Island.
What's the longest beach in Hong Kong?
Cheung Sha Beach is the longest beach in Hong Kong. It's also known as Tung Wan Beach, which is located on Cheung Chau Island. It stretches for about 1.5 kilometers (0.93 miles).
What are the famous beaches on Sharp Island called?
Hong Kong's Shap Island has two popular beaches: Hap Mun Bay and Kiu Tsui Beach.
CuddlyNest provides all accommodations to all travelers at the best price. Find unlimited travel inspiration on our blog and social media channels.
You Might Also Like:
The Most Incredible Train Trips to Take in Asia
3 Ways To Travel From Bangkok To Chiang Mai
The Best Ways To Travel From Bangkok To Phuket
The Best Time to Visit Cambodia
Kinrō Kansha No Hi: All About Thanksgiving Day in Japan
20 Countries Where You Can See the Japanese Cherry Blossoms
All You Need to Know about Japanese Tea Traditions Before Travelling to Kyoto
The 11 Best Beaches In India For An Amazing Vacation
50 Fun & Interesting Facts About India You Should Know About
Best Travel Destinations In India Based On Your Zodiac Sign
The Holi Travel Guide to India: What it is and Where to Celebrate
20 Most Amazing Tourist Attractions in Bali
Things to Do in Bali, Indonesia – 2022 Guide
The Best Food You Can Find in Bali
Vietnam vs. Thailand: Which One Should You Visit First