Vibrant markets, gorgeous boutiques, and high-rise malls make Hong Kong one of the best shopping sites in the world! To get a glimpse of authentic local life, visit Hong Kong's bustling street markets. You'll find a variety of goods here – unique jewelry, paintings, trinkets, and semi-precious stones.
However, if you want to buy luxurious items, shopping malls are your best bet. Not only do they have amazing designer stores, but they also have world-class restaurants and several entertainment outlets. Without further ado, here's a list of the best locations for shopping in Hong Kong!
Find Places To Stay In Hong Kong
The 7 Best Shopping Locations In Hong Kong
Yau Ma Tei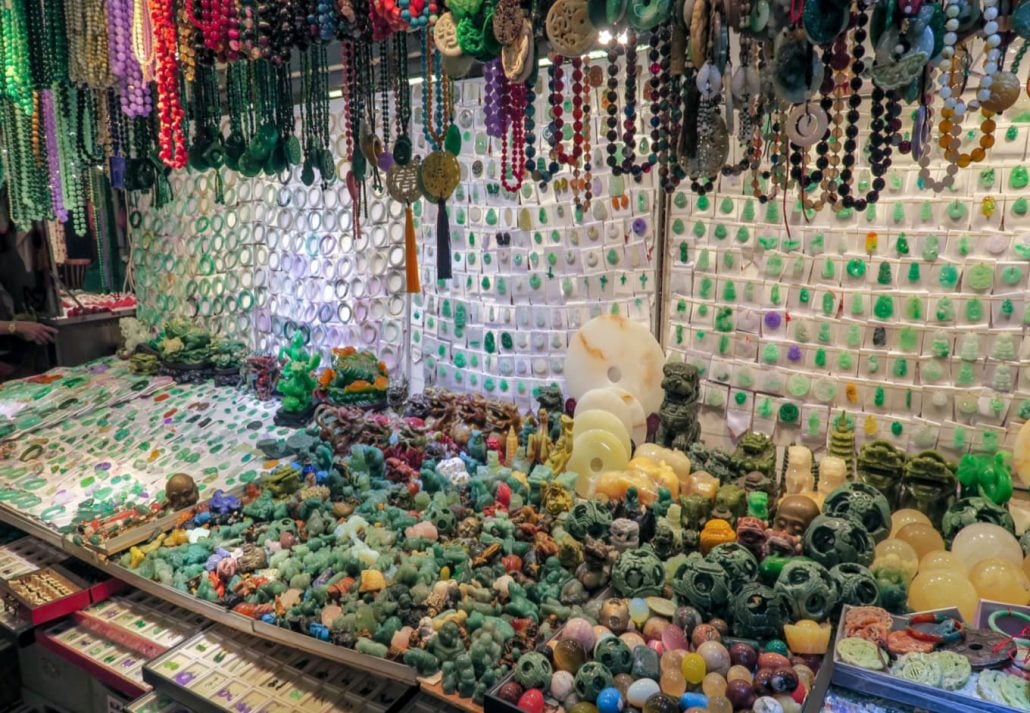 Yau Ma Tei is a famous indoor street market full of vendors selling pearls, jade, and other gemstones. In Chinese culture, jade represents purity, sanctity, and prestige. Therefore, it's immensely sought-after in Hong Kong, which is not surprising. It's truly a great place to buy some affordable souvenirs and explore Hong Kong's traditions. To purchase a high-quality jade, know that it should feel cold in your hand, it should have cracks like a natural stone, and the color must be opaque.
You can find Jade Market on both sides of Battery Street which divides the area into two zones. For more options, visit the A side of the market. It has more than 300 stalls, while the B side has 100.
Location: Yau Tsim Mong District, Kowloon Peninsula, Hong Kong
Tai Yuen Street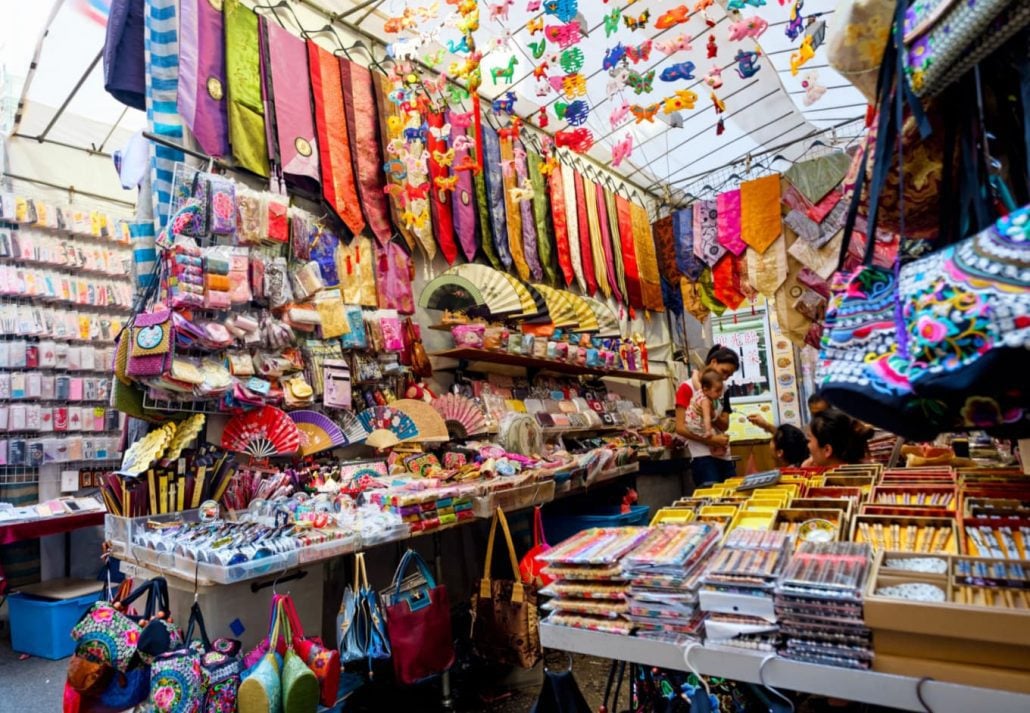 This Toy Market is a magical place that brings joy to both kids and adults. The stalls are full of inexpensive or limited-edition toys and some party supplies for Chinese New Year celebrations. You can get everything here, from remote-control vehicles to Star Wars and Marvel Comics figurines and hard-to-find LEGO sets. Moreover, there are Barbie dolls, board games, teddy bears, and toys featuring iconic children's cartoon characters.
Even though toys and decorations are prominently displayed, you can purchase cheap gadgets, clothing, footwear, and hair accessories. In between shopping, take a break to try some fried chicken and bowls of noodles. Visit Tai Yuen to take in the chaotic, yet the welcoming atmosphere of a Hong Kong street market!
Location: Wan Chai District, Hong Kong Island, Hong Kong
IFC Mall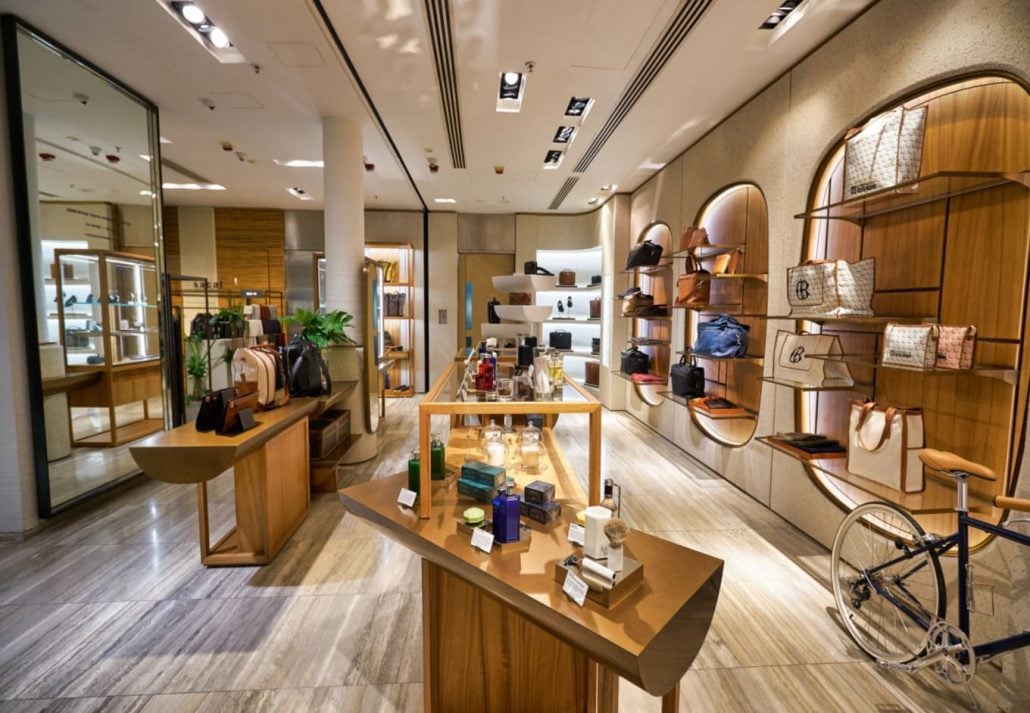 IFC Mall is nestled above the Hong Kong Station and boasts a wide range of designer stores and restaurants. It also has a terrace garden on the 4th floor where you can enjoy the view of Victoria Harbour.
One of the stores that you have to visit is Lane Crawford's flagship store. This is the place to visit if you want new Chanel sneakers or a Bottega Veneta bag. Furthermore, the store offers incredible designer collections for womenswear, menswear, shoes, accessories, beauty, and fine jewelry.
Location: 8 Finance Street, Central, Hong Kong
Opening Hours: Mon-Sun, 10 AM-7 PM
Cat Street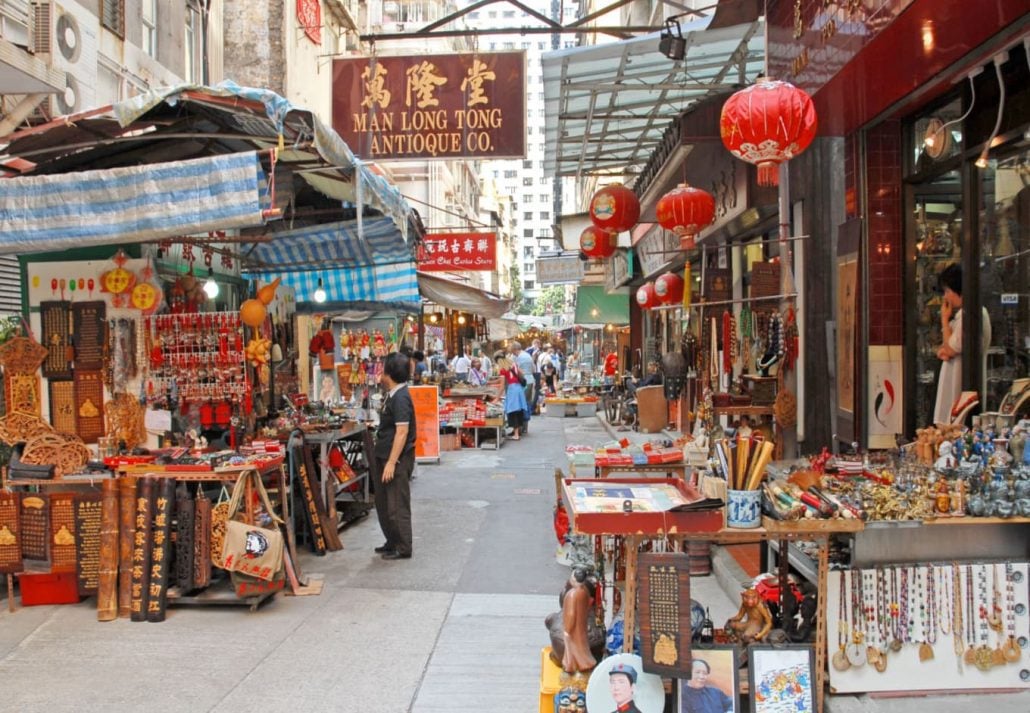 On the Lascar Row in Sheung Wan, Cat Street Market is packed with cool antiques. If you're looking for a souvenir this shopping street has everything – from old watches and trinkets to silk goods and Mao statues. You probably won't find hidden gems here, but it's a great spot to buy a gift or stock up on noodle bowls, jewelry boxes, and colorful pots.
Location: Upper Lascar Row, Sheung Wan, Hong Kong
Recommended Read: The Best Time To Visit Hong Kong
Stanley Market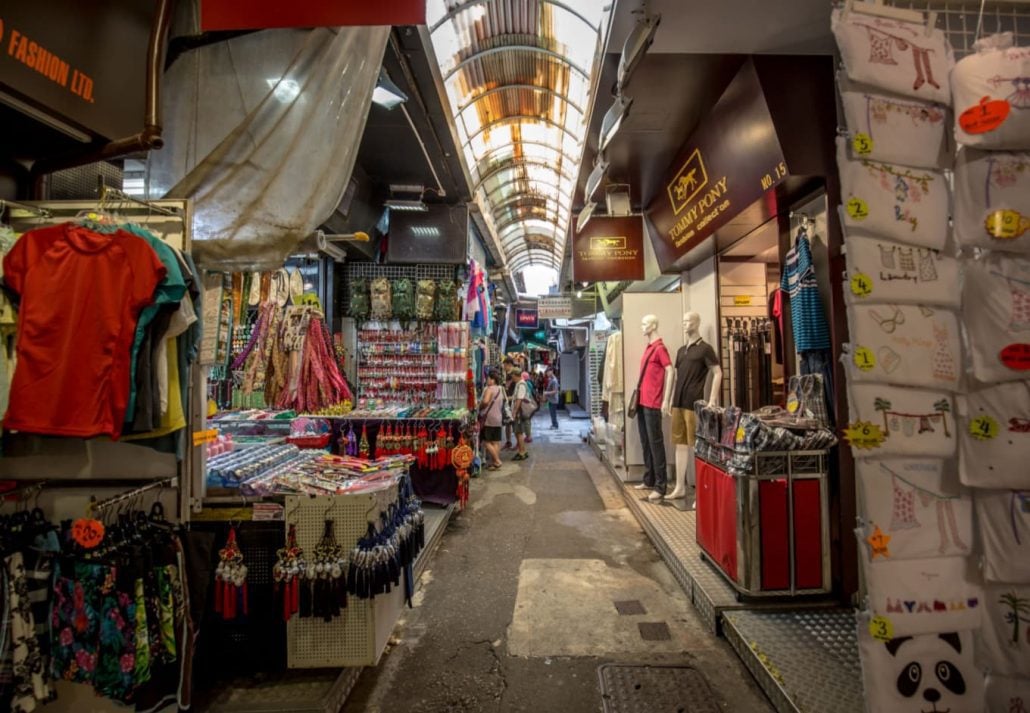 Stanley Market sells affordable local products including Chinese birdcages, silk dresses, linen, clothes for kids, and accessories. The market mostly attracts tourists, but locals love to stop by to grab an item or two.
The good thing is that it's less crowded than other street markets and vendors will bargain if you ask for the best deal. After Stanley, visit the magnificent Murray House and the Chinese Tin Hau Temple.
Location: Stanley Municipal Services Building, 6 Stanley Market Road, Stanley, Hong Kong
Gough Street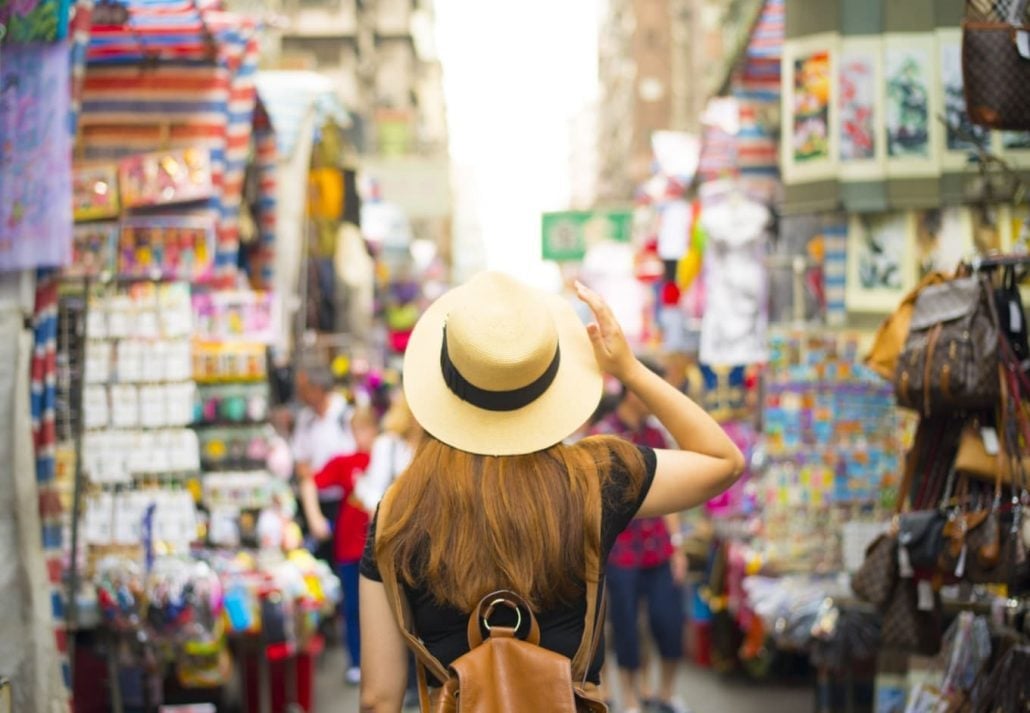 As one of the hippest Hong Kong street markets, Gough Market offers a mix of boutiques, fun cafes, and amazing restaurants. It's found north of Hollywood Road, also known as NoHo. Gentrification has largely pushed out the print shops that formerly dominated the neighborhood, but a few of them are still operating alongside designer stores. Since this isn't the place to find bargains, be prepared to pay a premium price for high-end brands. It's best to come in the evening hours to experience the neighborhood's lively atmosphere!
Location: Sheung Wan, Central, Hong Kong
Recommended Read: The Ultimate Asia Travel Guide
Harbour City Mall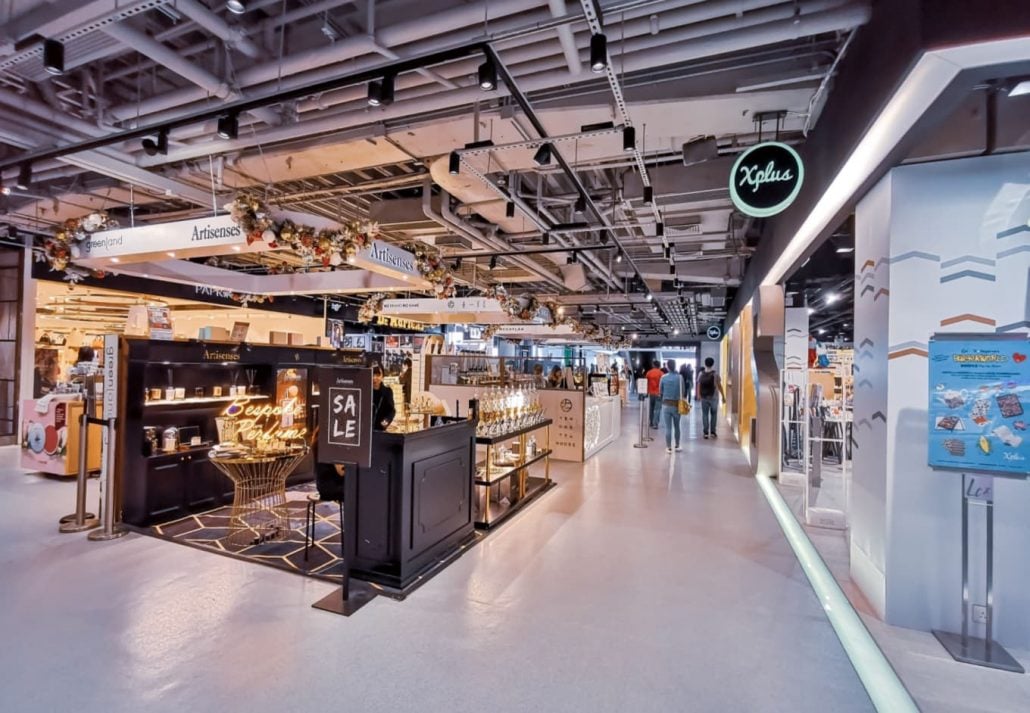 In Tsim Sha Tsui, Harbour City boasts more than 400 stores and 50 eateries. It has an extensive selection of luxury stores including Polo Ralph Lauren, Prada, Versace, Hugo Boss, and many more. To take in the sunset views, head to the mall's observation deck surrounded by the sea. It offers a 270-degree panorama of Victoria Harbour and views of Hong Kong Island and Kowloon.
Location: 3-27 Canton Road, Tsim Sha Tsui, Kowloon, Hong Kong
Opening Hours: Mon-Sun, 10 AM-10 PM
FAQ
What are other good locations for shopping in Hong Kong?
Goldfish Market
Ladies Market
Temple Street Night Market
Jardine's Bazaar
Granville Road
Sino Center
Li Yuen Street East and West
Chun Yeung Street
Fa Yuen Street
Is Hong Kong good for shopping?
Yes, Hong Kong is considered to be the world's best shopping site.
What's the largest shopping mall in Hong Kong?
The largest shopping mall in Hong Kong is Harbour City.
What are the best Hong Kong shopping malls?
Pacific Place
Cityplaza
Festival Walk
IFC Mall
Landmark
Times Square, Hong Kong Island
What do I need to know before shopping in Hong Kong?
Go to shopping malls that have a sign of "excellence" given by the Hong Kong Tourism Board. They guarantee both quality and service, and their products are clearly priced.
CuddlyNest provides all accommodations to all travelers at the best price. Find unlimited travel inspiration on our blog and social media channels.
You Might Also Like:
A Guide To Jordan Wadi Rum: Top Things To Do
The Best Time to Visit Bangkok, Thailand
6 Top-Rated Things To Do In Antalya, Turkey
20 Countries Where You Can See the Japanese Cherry Blossoms
The Ultimate Asia Travel Guide
50 Fun & Interesting Facts About India You Should Know About
11 Sacred Attractions Around the World
The Best Ways To Travel From Bangkok To Phuket
The Best Time to Visit Cambodia
3 Ways To Travel From Bangkok To Chiang Mai