Hong Kong in Asia is a world of luxury, a mix of cultures, and a paradise where you can find everything at the best of its virtue, and the lavish 5 Star Hotels In Hong Kong are no exception to it.
While traveling to a bustling city like Hong Kong can be exhausting, you will find yourself searching for a haven to seek peace and relaxation as your hectic day is over and safely cemented in memories, to look back at time and smile.
And what can be better than relaxing in a suite in the world's top luxury destination, serving a breathtaking view and impeccable assistance?
Unwind at top luxury hotels in Hong Kong coupled with Michelin star restaurants, luxurious spas, and infinity pools that fascinatingly brighten the glimmering city lights of Hong Kong island skyline with a fancy glass of chardonnay.
The devil is in the details, and these best 5-star hotels in Hong Kong are exquisitely redefining perfection.
Find Places to stay in Hong Kong
The Best 5 Star Hotels In Hong Kong
The Peninsula, Hong Kong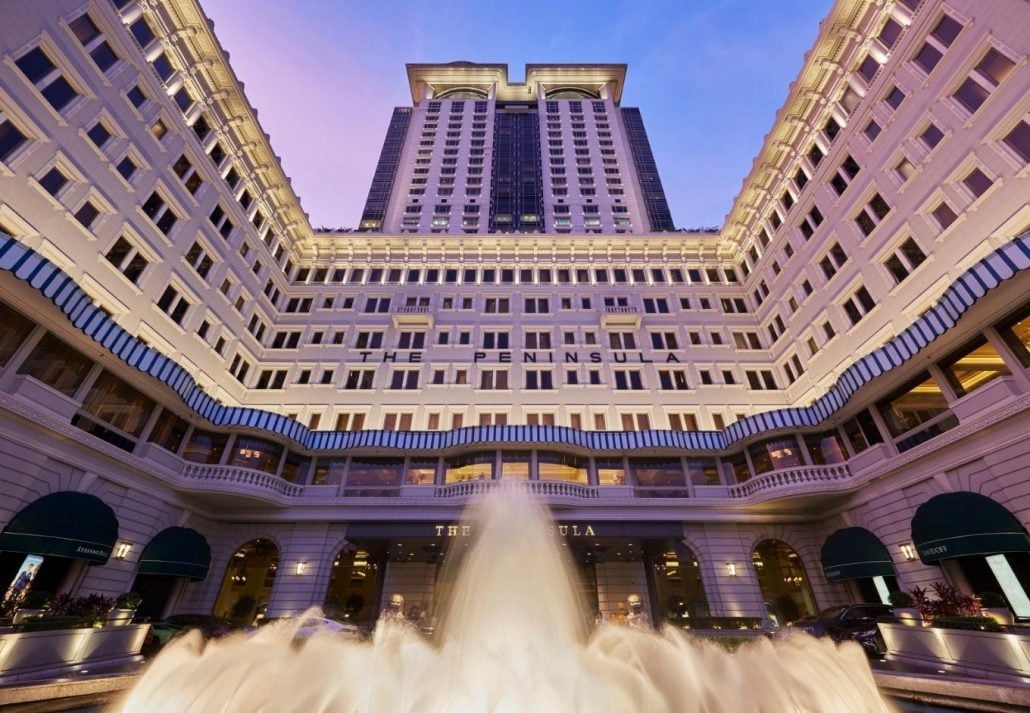 Take the road to luxury with glamour and glitz with The Peninsula, Hong Kong in the heart of busy central Kowloon.
Consistently ranked among the top 5-star hotels in the world, this iconic building strikes a perfect balance between eastern and western hospitality.
Equipped with all modern amenities, if not more, relax in the hotel's 12,000-square-foot Peninsula Spa and fitness center, followed by an afternoon tea.
You can end your day devouring the best-in-class seafood and delectable dim sums at the hotel's Michelin-starred restaurant specializing in Cantonese cuisine.
We would mention free wi-fi, but the hotel's own helipad, a squadron of fourteen Rolls-Royce, and limousines awaiting your fancy arrival will put that to shame.
The hotel has beautifully decorated unique rooms providing excellent comfort. But you can always choose to go a little extra with its timelessly sophisticated spacious suites that offer a stunning view of Victoria Harbour from their floor-to-ceiling windows, a complimentary Rolls Royce Phantom, and a private chauffeur at your service.
Get the best deal at The Peninsula, Hong Kong
Mandarin Oriental, Hong Kong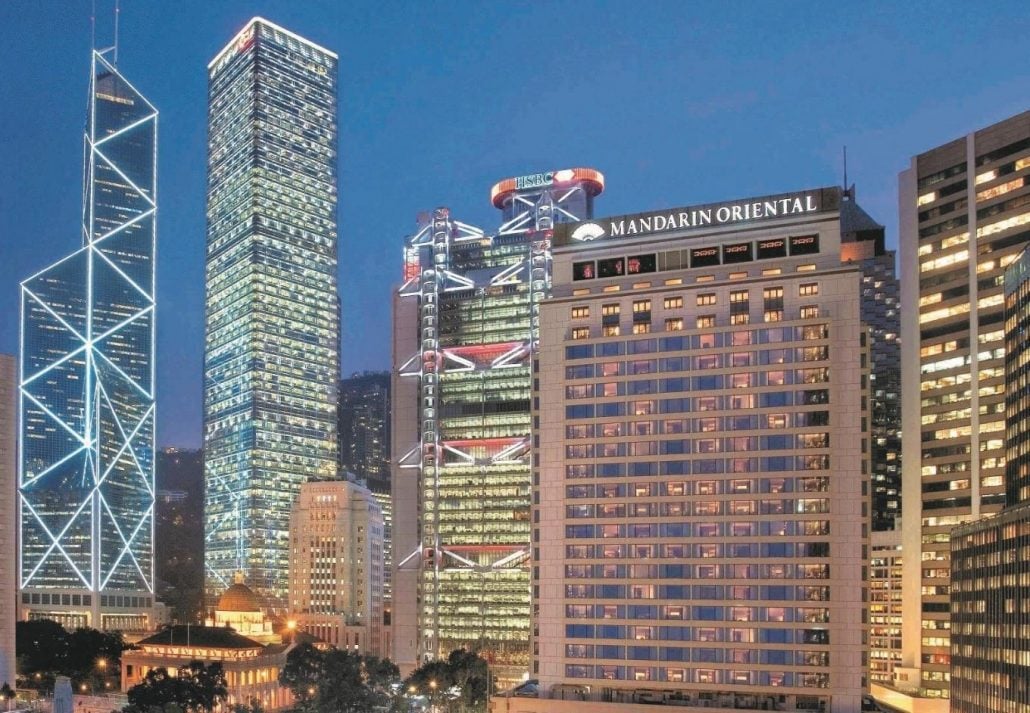 Hong Kong's Landmark mandarin oriental stands at the pinnacle of the island's luxurious stay.
The hotel has an impressive collection of 9 restaurants and bars, including its Michelin Star restaurant, Mandarin, a fitness center, club lounge, heated swimming pool, and holistic spa.
Hosted in a convenient location, in the middle of Hong Kong's busy central, the hotel is close to the popular pacific place shopping complex. Its architecture wonderfully orchestrates modern luxury entwining Asian traditions; this beloved stay offers a timeless view of the Hong Kong skyline and victoria's harbor.
The luxurious hotel maintains flat screen tv, minibars, housekeeping, rooms with wifi, and allergy-free accommodations. Additionally, there are modern amenities such as a fitness center with a gym and workout area, entertainment personnel, babysitting, and a kids' activity area.
This hotel is well-equipped to accommodate all of your needs in the most splendid way imaginable, with a range of room types, including luxury suites, non-smoking rooms, and rooms with an ocean view.
Get the best deal at Mandarin Oriental, Hong Kong
Hotel Indigo, Hong Kong Island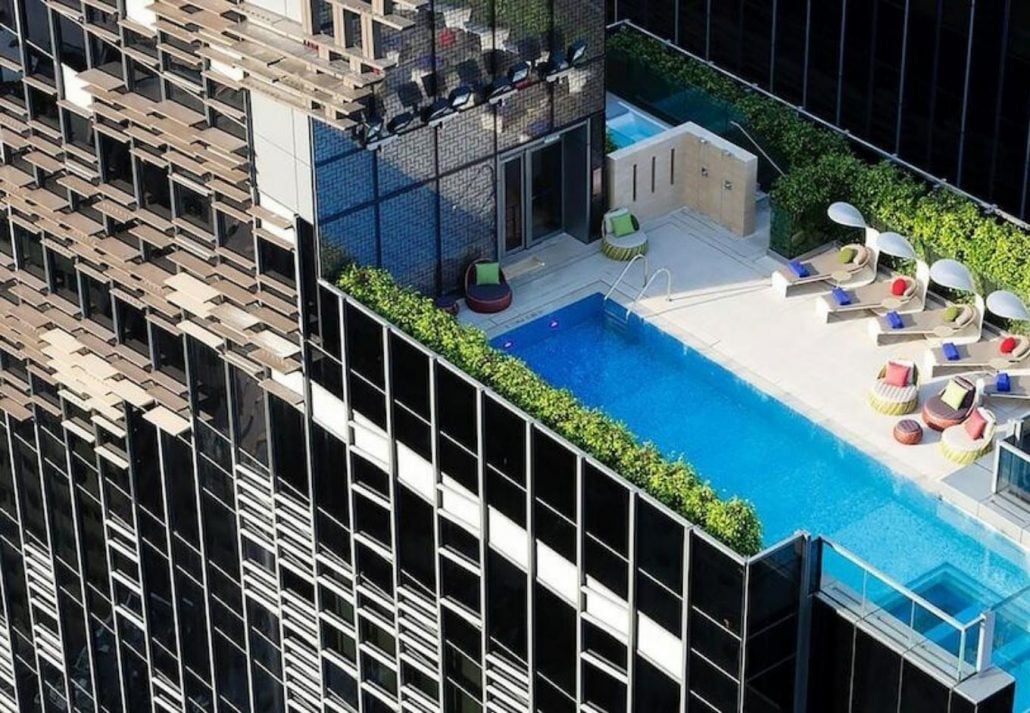 This luxury boutique hotel is in the limelight of wan chai, one of Hong Kong's most culturally and historically varied neighborhoods.
With modern but chic decor embedded with artwork, each room tells its own tale.
This hong kong hotel features an infinity pool on its rooftop and a sky bar.
Based in a convenient location with markets and the metro station in proximity, one can stroll around the popular neighborhood and comfortably wind their adventures in the hotel's luxury.
Guest rooms feature floor-to-ceiling windows boasting expansive views of Wan Chai and thoughtfully incorporated artwork and intricate detailing, heavily inspired by the cultural riches of the neighborhood.
This five-star hotel is a luxe stay blending stories and cultures in the most extravagant manner possible.
Mandarin Oriental, Hong Kong is in the city's center, a 5-minute walk from the Legislative Council Building and Landmark Shopping Area, and not even a mile away from The Hong Kong Observation Wheel and Central Ferry Piers.
Get the best deal at Hotel Indigo, Hong Kong Island
St. Regis, Hong Kong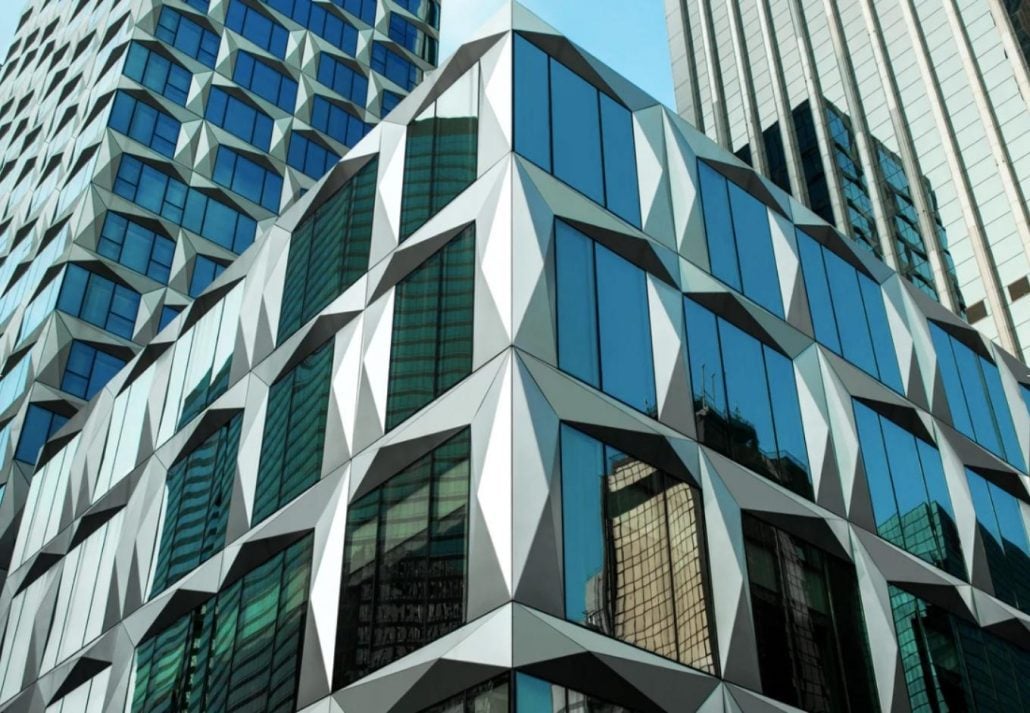 St. Regis hotel is in the center of thriving Wan Chai, with meticulously creative architecture inspired by various cultures and crafts of timeless magnificence.
With its Michelin-star restaurants, including two Michelin-starred French restaurants and one Michelin-star Chinese restaurant, you're in for fine dining whenever you desire during your stay.
Along with delicious food and top-notch services, the hotel offers free bikes for you to explore the vibrant Hong Kong atmosphere, an outdoor swimming pool, pampering spa services, buffet breakfast, and a fitness center.
This five-star hotel in Hong Kong offers a bar serving their original drinks inspired by the narrative of two equally thriving yet completely different global cities of New York and Hong Kong.
If you're in the mood for some elegant time inspired by your luxe stay, the hotel also offers a remarkable Afternoon Tea experience.
The hotel Regis Hong Kong offers free WiFi with a front desk open around the clock, room service, and currency exchange.
The property has 127 spacious rooms, each carefully designed and lavish suite with customized butler services so you can be completely relaxed as you immerse yourself in the harbor views.
Get the best deal at St. Regis, Hong Kong
Ritz Carlton, Hong Kong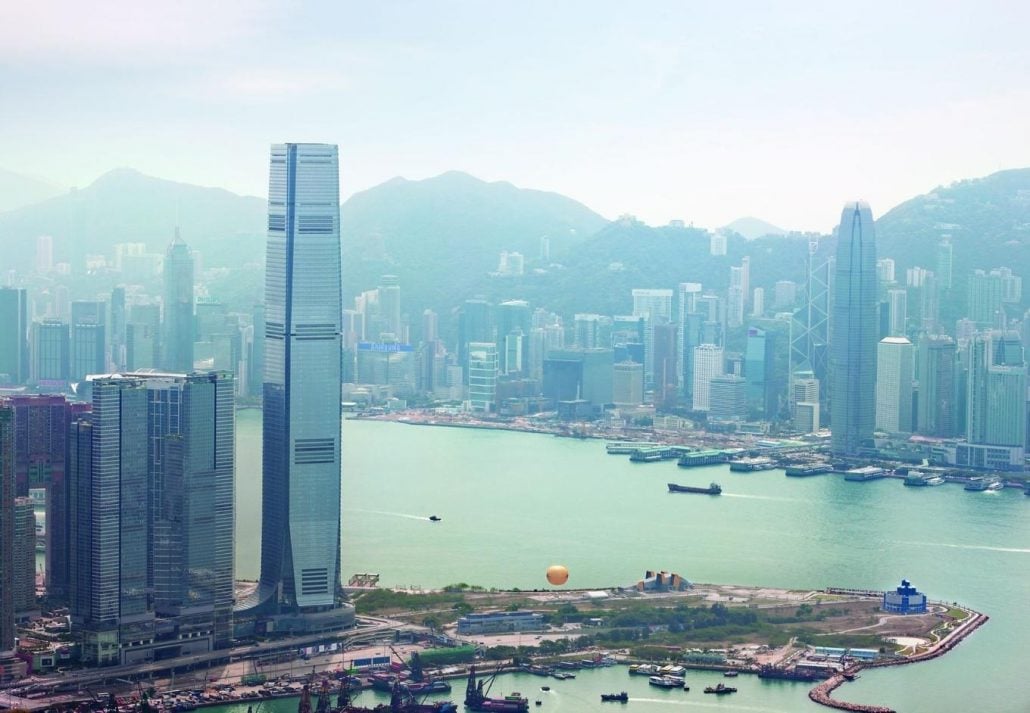 The Ritz-Carlton, Hong Kong, located in Kowloon's International Commerce Centre, rises 118 floors above the city of the International Commerce Center and takes the visitors from the bustling city life to a haven of serenity with alluring views.
Experience the Hong Kong city skyline up to the horizon and the victoria harbor scenic view in The Ritz Carlton, Hong Kong with its five-star rooms, a rooftop lounge, Michelin-starred restaurants, and event spaces.
Go above and beyond with your indulgence in spa treatments and crafted cocktails by escaping the city's rush at one of the world's highest hotels.
Get the best deal at Ritz Carlton, Hong Kong
Four Seasons Hotel, Hong Kong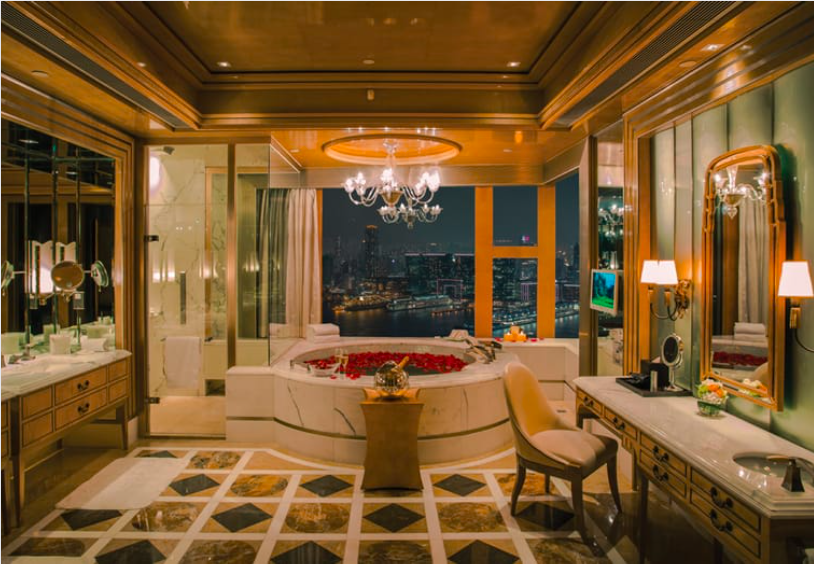 Situated at the edge of storied victoria harbor, devour in the world of delicacy with a seven Michelin-starred restaurant and wellness at the Four Seasons hotel Hong Kong.
Experience luxury and top-notch hospitality coupled with suites and rooms with floor-to-ceiling windows overlooking the bay of victoria harbor, Victoria Peak, and Kowloon; it is one of the best 5-star hotels the city has to offer.
With integrated Chinese and western personalities, this hotel has all the amenities, with rooms equipped with Nespresso machines and a marble en suite bathroom with Parisian toiletries, a soaking tub, and a separate walk-in rain shower.
The Central Pier, where visitors can board a ferry to Tsim Sha Tsui and other islands, is only a 10-minute stroll away. The hotel is connected directly to the International Finance Centre and is just a short walk from Hong Kong MTR Station.
Get the best deal at Four Seasons Hotel, Hong Kong
Grand Hyatt, Hong Kong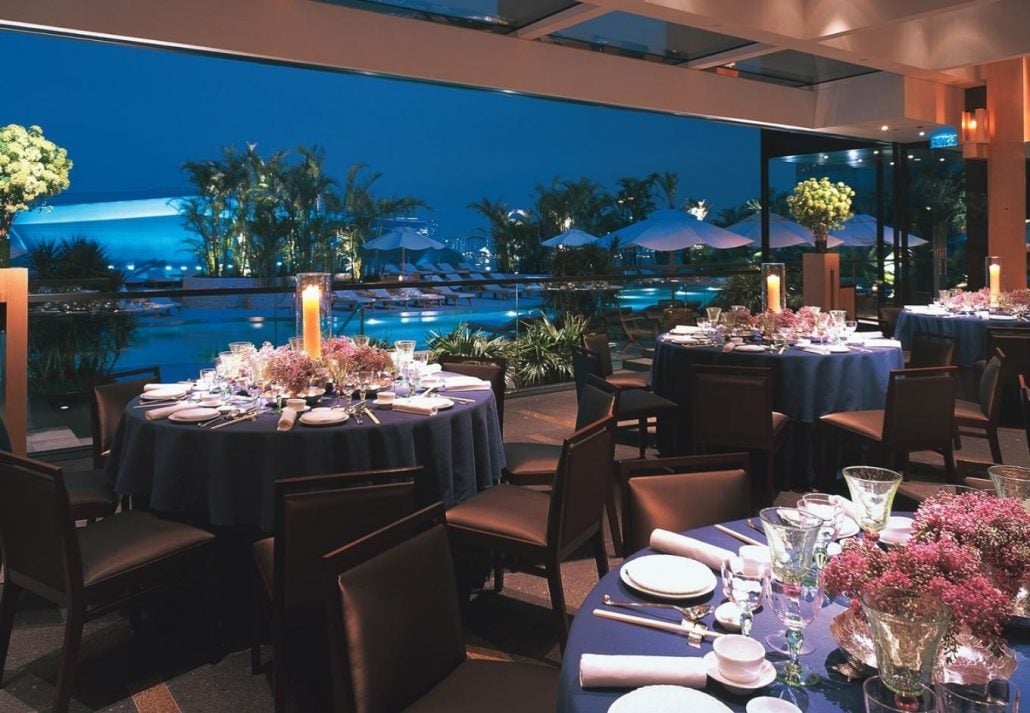 The Grand Hyatt Hong Kong exemplifies hotel excellence and provides services and amenities to accommodate every need.
The opulent Grand Hyatt Hong Kong features a spa and a 50 meters long heated outdoor pool and is directly connected to the Hong Kong Convention and Exhibition Centre and a 5-8 minute walk from Exhibition Centre MTR Station and Star Ferry Pier.
The hotel has 542 distinctive and elegant rooms and suites with floor-to-ceiling windows overlooking Victoria Harbour and the gentle ambiance of a contemporary style is boosted effortlessly by the best technology in all deluxe accommodations.
Get the best deal at Grand Hyatt, Hong Kong
Island Shangri-la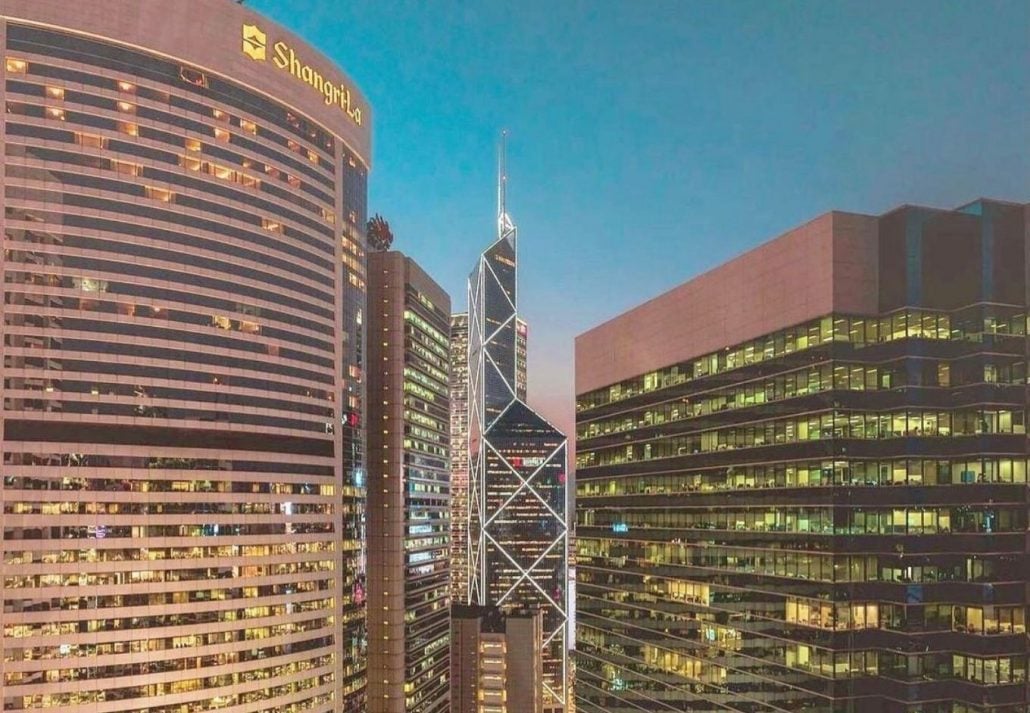 One of the best hotels in Hong Kong, Hotel Island Shangri La quickly rose to prominence for its unrivaled grandeur and classic design.
One stop away from Central, on top of the Admiralty MTR station, the hotel is in the pacific place shopping complex.
A network of walkways allows you to go from the hotel to Central without going down to the street level, and Hong Kong Park is around the corner.
With seven dining options, an indoor pool, and complimentary wired internet access in every room, you're in for a comfortable stay in the most sumptuous way.
The hotel offers a luxurious stay with western and eastern influences and an atmosphere that exudes an old-money ambiance owing to its massive chandeliers and more than 700 paintings, so If you want to dress up and rush through the hallways romanticizing old Hollywood, we get it.
Get the best deal at Grand Hyatt, Hong Kong
FAQ
What is the highest-rated star hotel?
Burj Al Arab is repeatedly referred to as the most luxurious hotel in the world and the "first seven-star hotel" in the world.
Which are the best 5-star hotels in Hong Kong?
Nina Hotel Tsuen Wan West
Rosewood Hong Kong
The Landmark Mandarin Oriental
Kerry Hotel, Hong Kong
The Peninsula Hong Kong.
Conrad Hong Kong
Marco Polo Hong Kong Hotel
Regal Hong Kong Hotel
The Murray, Hong Kong, a Niccolo Hotel
Rosewood Hong Kong
Conrad Hong Kong
Cordis Hong Kong at Langham Place
Sheraton Hong Kong Tung Chung Hotel
Hotel ICON, Kowloon
The Upper House
Hotel Intercontinental Hong Kong
The Murray, Hong Kong
Which are the best 4-star hotels in Hong Kong?
Harbour Plaza Resort City
Pentahotel Hong Kong, Tuen Mun
The Fleming, Hong Kong
K11 Artus
Nathan Hotel
Hotel COZi Resort
Summit View Kowloon
Eaton HK
Sheung Wan Hotel
Which are the best 5-star quarantine hotels in Hong Kong?
The Langham Hong Kong ·
Conrad Hong Kong
W Hong Kong ·
Crowne Plaza Hotel Hong Kong
The Landmark Mandarin Oriental, Central
The Kerry Hotel
Sheraton, Tsim Sha Tsui
Which is the most expensive hotel in Hong Kong?
Four Seasons
The Landmark Oriental
The Peninsula
InterContinental
The Ritz-Carlton
How much do 5-Star hotels in Hong Kong cost?
5-star hotels in Hong Kong cost an average of $400- $450 a night, per room.
CuddlyNest provides all accommodations to all travelers at the best price. Find unlimited travel inspiration on our blogs and our social media channels Facebook, Instagram, Pinterest.
You May Also Like:
The 6 Best Night Clubs In Hong Kong
A Guide To The Best Wineries In Hong Kong
A Guide To The Best Shopping In Hong Kong
The 6 Best Beaches In Hong Kong
The 5 Best Amusement Parks In Hong Kong