New York promises a treat to everyone! From an enviable range of historic staples to the hidden gems that are its best-kept secret, there's something here for us all. You'll find the city brimming with breathtaking landscapes, teeming restaurants, and packs of eager tourists.
But there's something truly magical about the city this time of the year! Come holiday season, and you'll witness a treasure trove of vibrant winter markets, charming Christmas lights, and larger-than-life rinks for ice skating in NYC! It's no wonder then that such a colorful city is one of the most sought-after destinations to also bring in the New Year!
If you're dreaming of sliding through New York's fun-filled outdoor rinks, and then have some well-deserved rest time drinking a cup of hot chocolate, this post is for you!
Find Places To Stay In New York City (deals starting at $260 per night)
Manhattan Ice Skating Rinks
Riverbank State Park Ice Skating Rink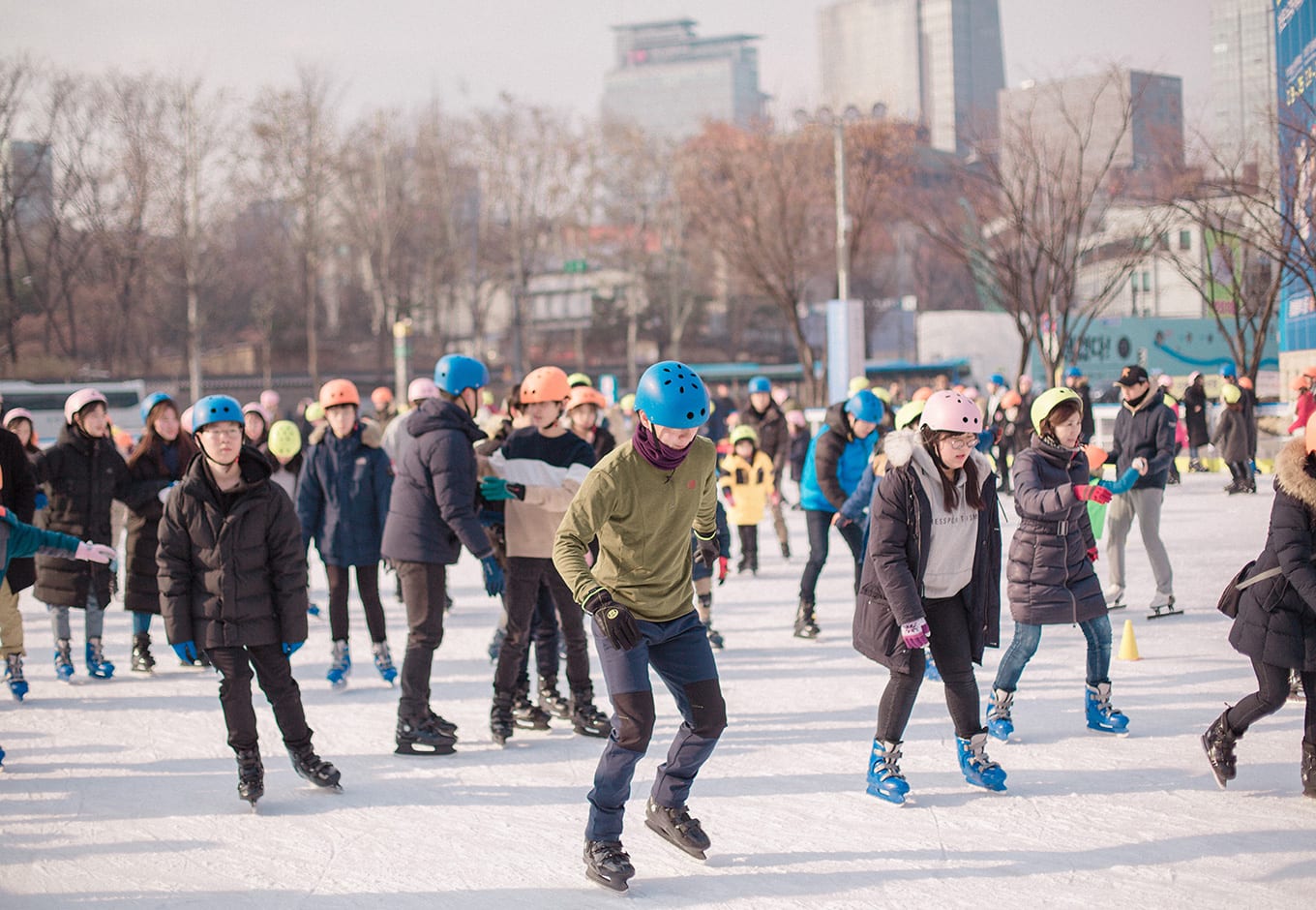 Tucked away near the Hudson River in Harlem, Riverbank State Park boasts one of the most gigantic outdoor ice skating rinks in NYC, along with spectacular views of Upper Manhattan. It is filled with a myriad of activities, sceneries, and eateries so wide that you'll be spoilt for choice! It also offers tantalizing landscapes of Riverside Drive and George Washington Bridge, which is only a stone-throw-away.
Unlike most outdoor venues for ice skating in NYC, this one is covered with a roof to protect skaters from harsh winter winds and stinging snowfalls.
A lesser-known fact about the Riverbank State Park, however, is that it's a popular neighborhood haunt to catch local ice hockey matches, while in summer it transforms into a fun-filled theme park, featuring some of the most exhilarating rides and roller coasters!
The Rink at Brookfield Place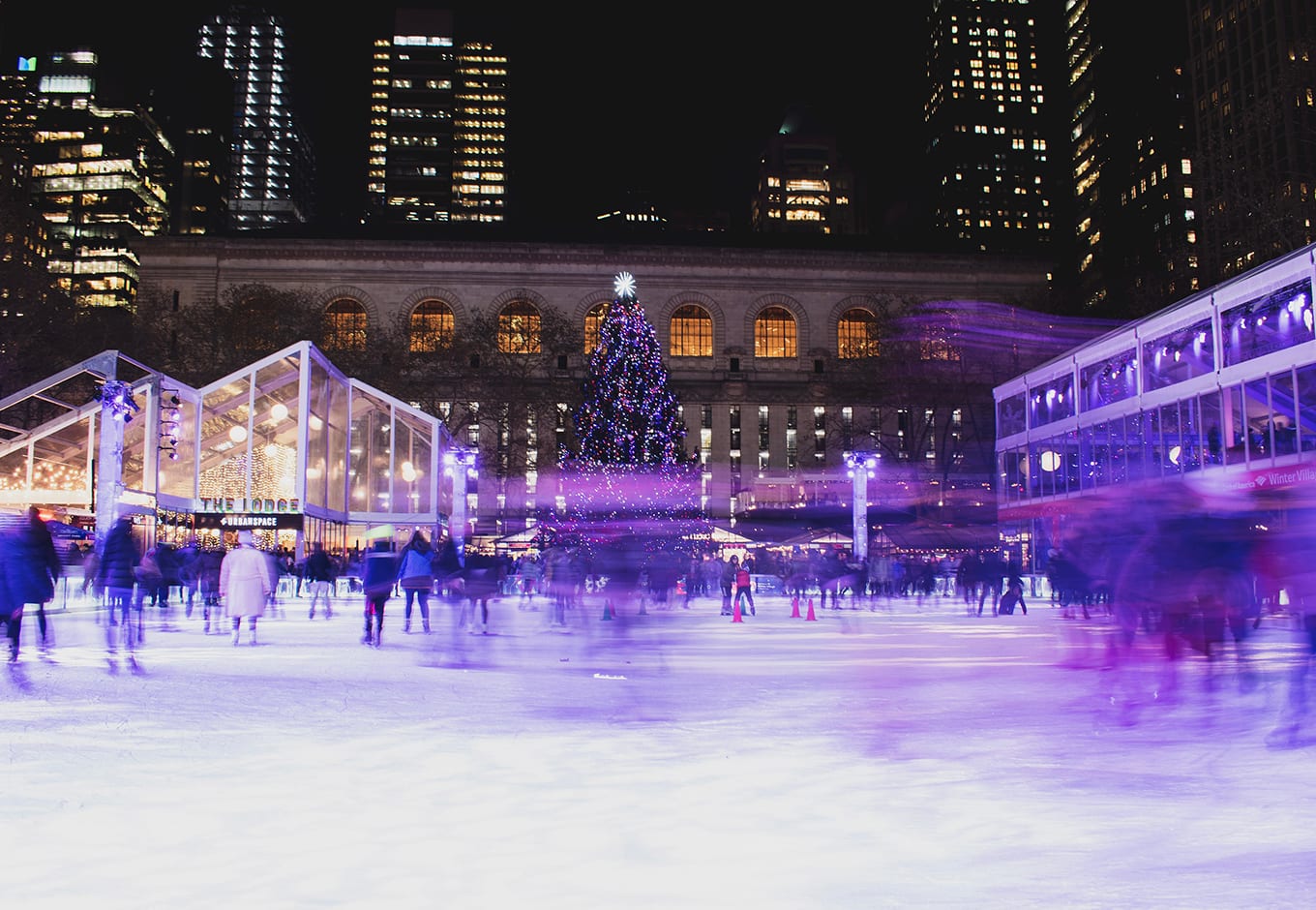 Head out to The Rink in Brookfield Place with your friends and family to soak in some classic holiday cheer!
Tucked away in Lower Manhattan, The Rink at Brookfield Place is among the most sought-after places for ice skating in NYC. Known for its scenic views of the waterfront and city skyline, it's the place to be this winter season.
You can also indulge in a plethora of other holiday activities such as free gift-wrapping services and Christmas art installations. For children and adults alike, we recommend trying out Reindeer Roundup — a playful activity that takes you on a quest to help Santa look for his absconding animals!
Once all this adventure works up your appetite, you can spend the rest of the evening on a diet of creamy Christmas cakes and foamy lattes.
Bank of America Winter Village at Bryant Park
Bank of America Winter Village at Bryant Park is a hot favorite choice for every New Yorker looking for teeming holiday markets, colorful Christmas trees, and the best places for ice skating in NYC. It features an arsenal of pop-up shops and bakeries along with a sizable rink that's usually filled to capacity.
What also makes Bryant Park so famous, is its array of vibrant dining and drinking scene that serves some of the most delectable festive menus in the city.
Also Read: The Bryant Park Winter Village Guide
The Rink at Rockefeller Center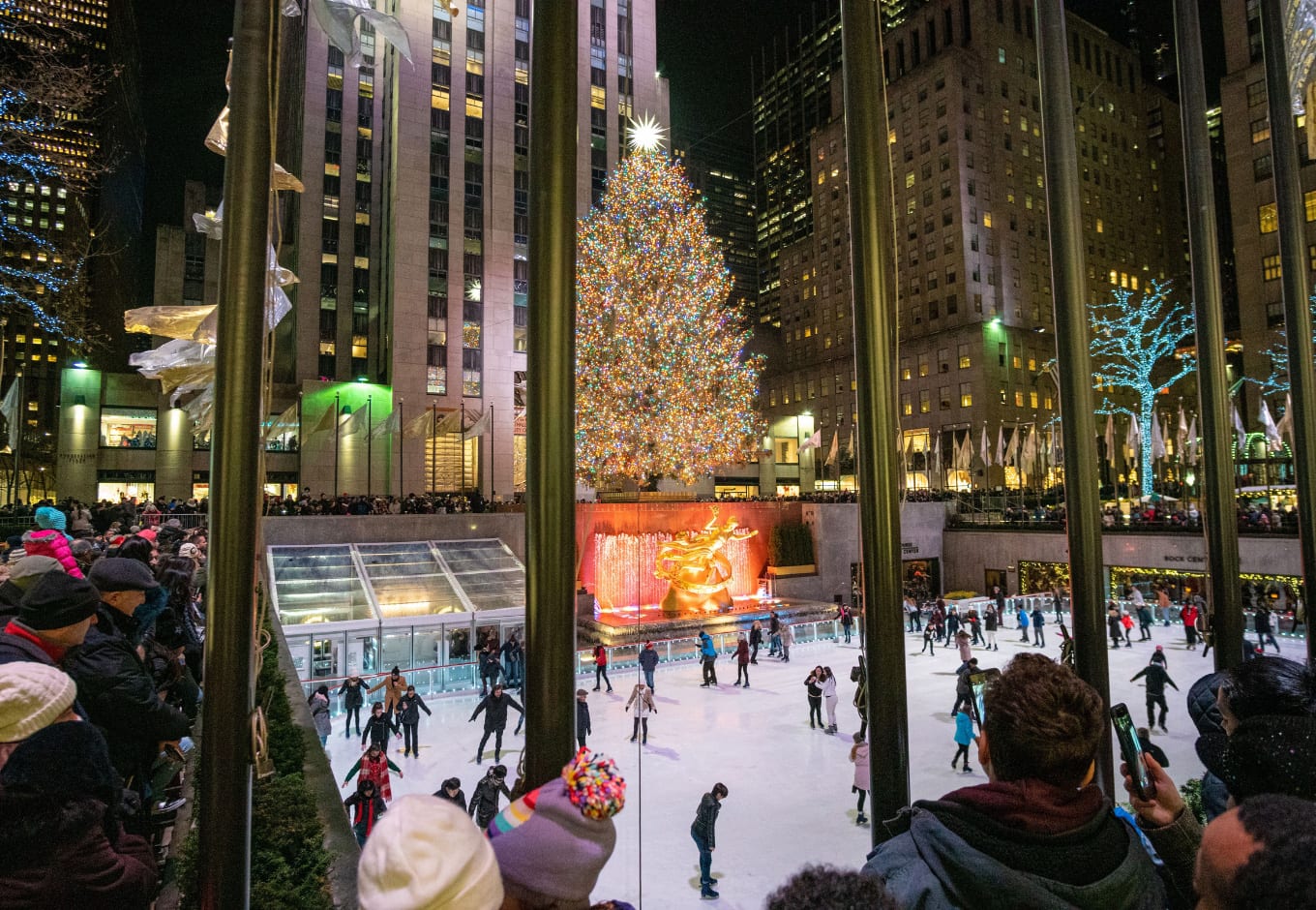 The Rockefeller Center in Battery Park City is a widely popular ice skating destination for the breathtaking scenery it offers. You can catch incredible views of the city skyline from its observation deck called Top of the Rock.
Come the holiday season, you can also witness picture-perfect Christmas trees, dazzling window displays, and exciting venues for ice skating in NYC! In fact, it's a tradition for most New Yorkers to spend their visits practicing skating on the rink, guzzling up foamy eggnog, and filling their basket with Christmas goodies.
While you're here, don't forget to also check out Rockefeller Center Plaza and the Radio City Music Hall.
Winterland Rink at Pier 17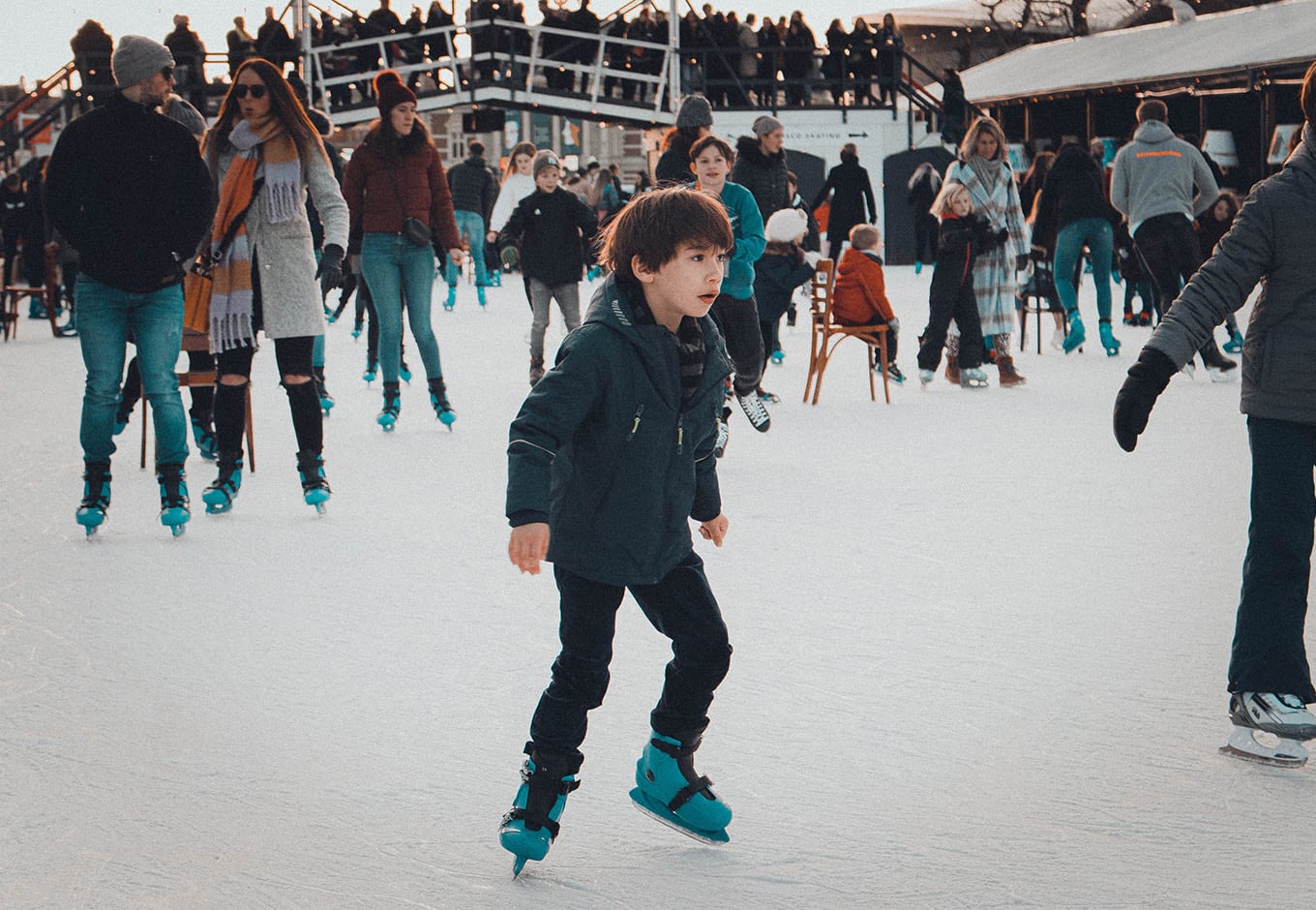 With many entrants into the fray, our all-time favorite spot for ice skating in NYC remains the Winterland Rooftop Rink at Seaport District in Pier 17. It boasts a sprawling rooftop rink with stunning views of the Brooklyn Bridge, East River, and many other landmarks in New York!
While the kids spend their day taking private skating lessons, adults can head to a snack bar or the many Christmas pop-up restaurants in the vicinity. Miracle on 35 West 8th St., Rofl on 281 Third Avenue, and Sippin' Santa's on 13 First Avenue are highly recommended for glittering decors, themed cocktails, and enthusiastic bartenders.
Ice-Skating at Central Park
Central Park's Wollman Rink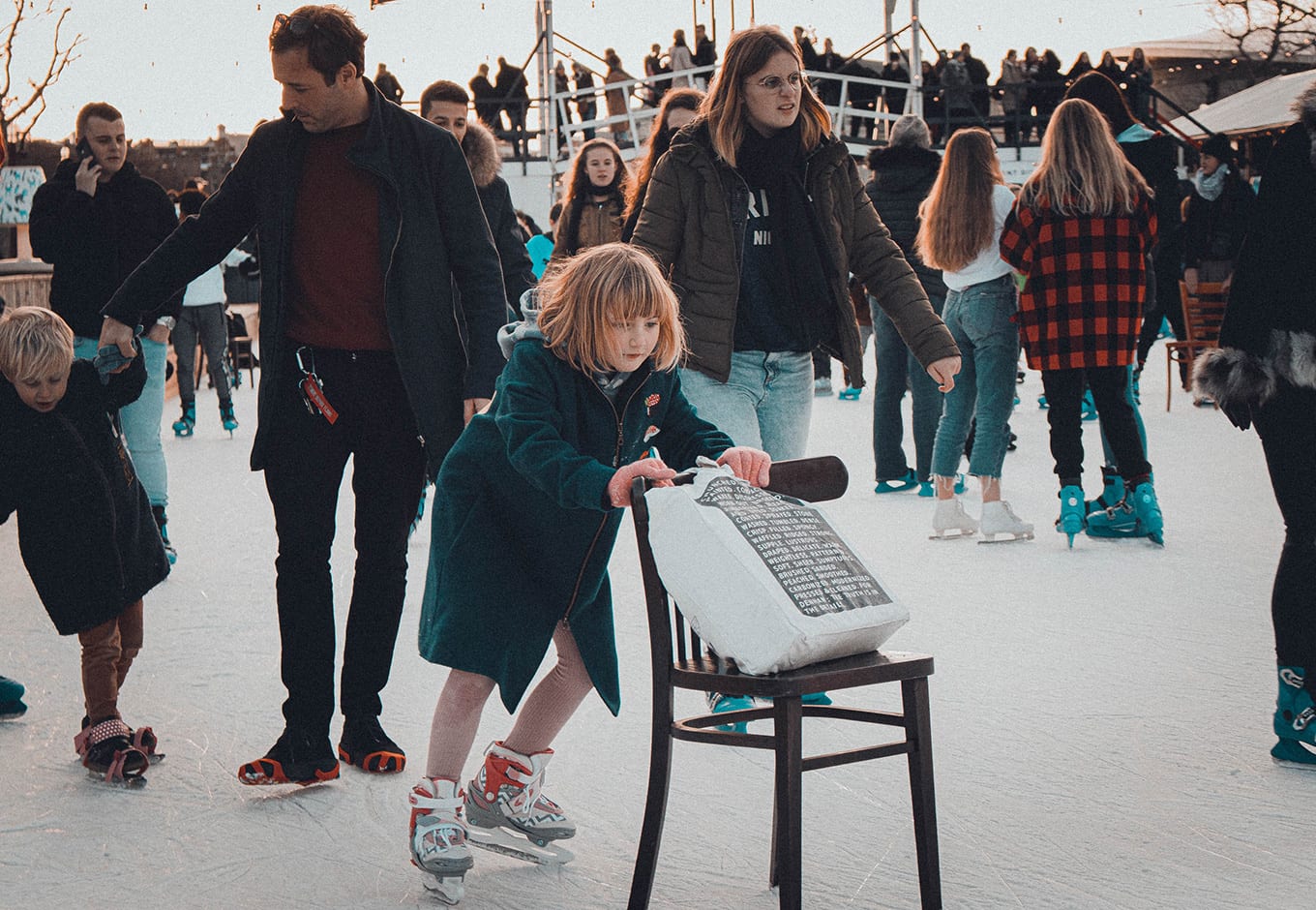 One of the best ways to escape the city's crowded sidewalks is by taking a stroll across acres of grassy lawns at Central Park. Arguably the most peaceful and picturesque haunt in the city, it is known for its sprawling playgrounds and hypnotic fountains all year long!
During the winter season, however, you will also spot intricately designed ice statues and sculptures, along with captivating skating rinks along the way.
The Woolman Rink on Fifth Avenue remains the most popular with its over-the-top decor and beautifully lit holiday lights! Make sure to also indulge in freshly baked gingerbread cookies and pick up holiday souvenirs from the many pop-up markets littered around.
Ice Skating in Brooklyn
Lakeside Ice Rink at Prospect Park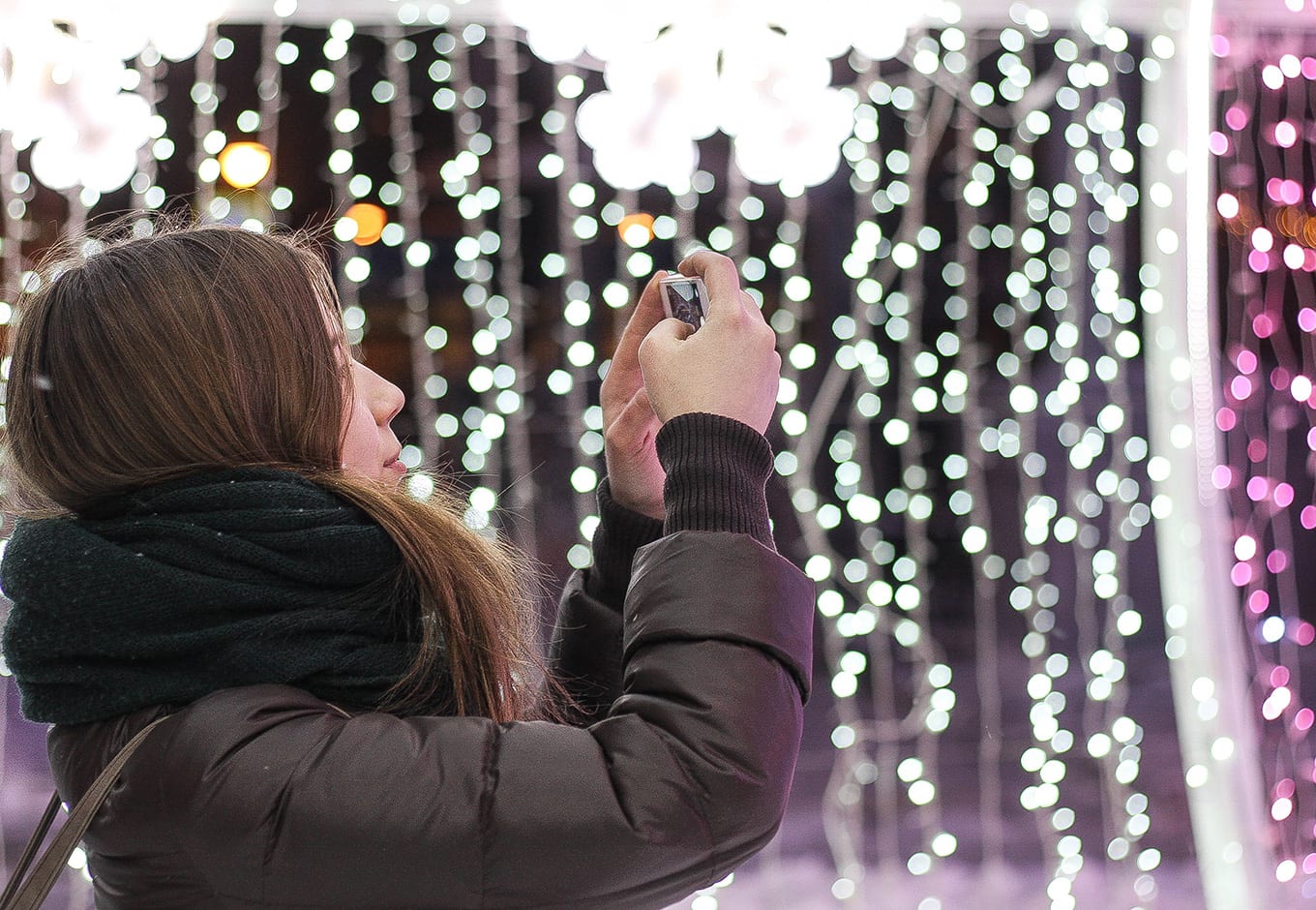 Wedged between Ocean Avenue and Lincoln Road, the Lakeside Rink offers an outdoor ice rink along with another covered with a rooftop. It hosts some of the most entertaining and fun-filled events all year long and turns into a charming venue for ice skating in NYC in winter.
Kids practicing figure skating and playing endless matches of hockey is a sight you will commonly see here.
Year after year, Lakeside Rink is brimming with glorious colors and magnificent lights. It's no wonder then that the Lakeside Rink happens to be a sought-after skating rink in NYC.
Also Read:
The Best Places To Travel In December — USA
Best Places To Travel In January — USA
Abe Stark Rink in Coney Island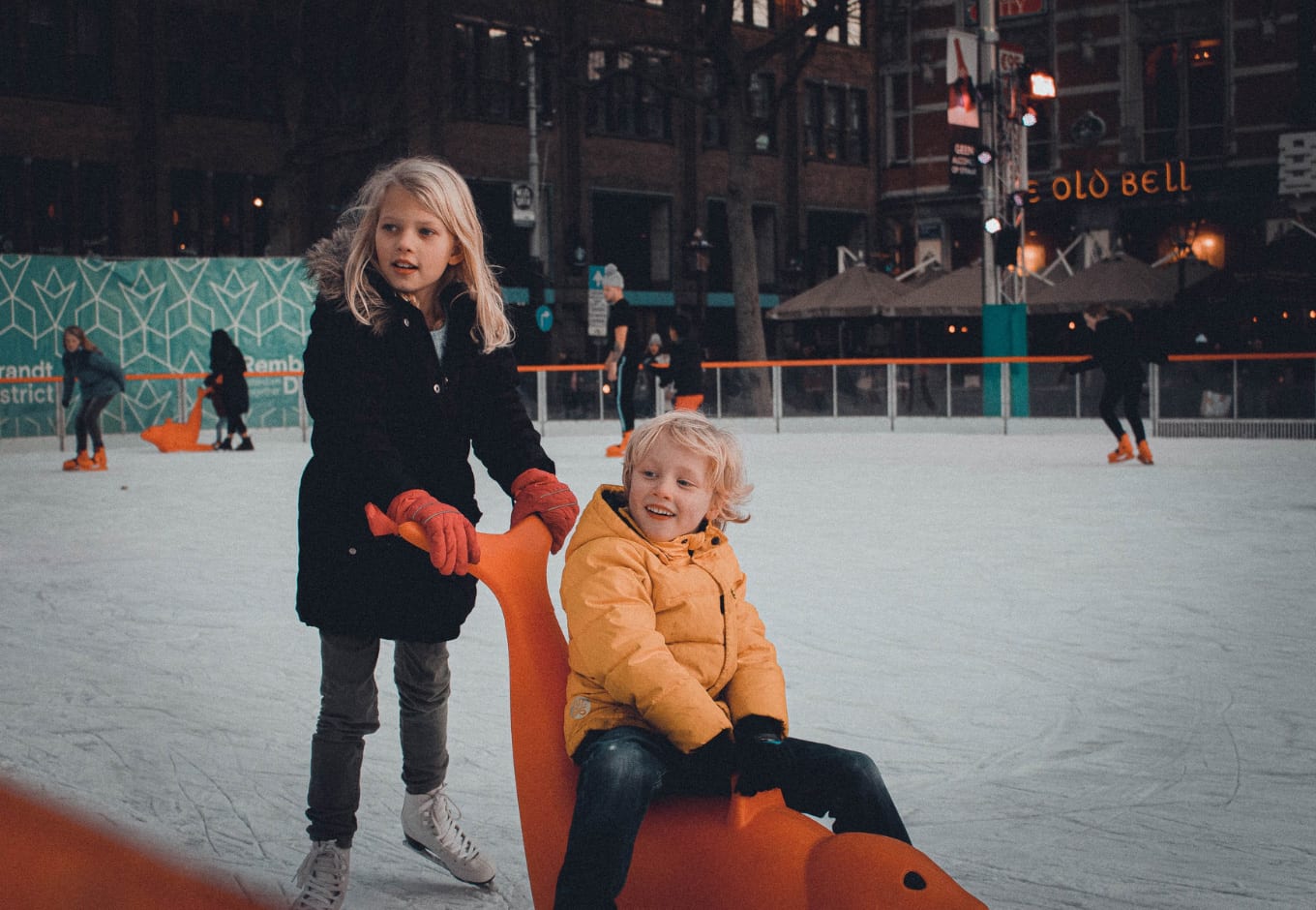 Coney Island is the go-to hangout spot to spend lazy afternoons by the beach. You'll find tourists cozily soaking in the sun and sipping on cheeky Pina Coladas, as children keep themselves busy building sandcastles.
In the holiday months, however — particularly in December — things are different. The island gets isolated and rather quiet, although making it a great option to wander off from the city's heaving crowds!
The Abe Stark Rink still manages to bring people together from around the world and earn itself the reputation of being the best skating rink in NYC year after year. It also offers private lessons and hockey classes.
We also recommend grabbing some beers at Coney Island Brewing Company, indulging in holiday shopping, and experiencing the Christmas Nights of Lights in December.
FAQ
When can you ice skate in New York?
Most ice rinks in New York begin from late October or November up to the month of March or early April of the next year.
Where else to ice skate in NYC?
Some other venues for skating in New York are William Vale, Williamsburg, Chelsea Piers, Long Island City, and 42nd Street.
Browse. Book. Stay.
CuddlyNest provides all accommodations to all travelers at the best price. Find unlimited travel inspiration on our blog and social media channels:
Facebook, Instagram, Pinterest, and X.
You might also like:
The Best Winter Vacations In The US
Best Things To Do In NYC
Best Things To Do In NYC This Weekend
Best Halloween Cities To Visit In The USA
The 10 Best Street Food Cities In The USA
The 13 Most Romantic Towns In The USA
The 10 Best Spas & Wellness Retreats In The US