Washington DC boasts a range of stunning public parks near the National Mall and Tidal Basin. After all, parks comprise around 20 percent of the city's land. With so many options, it might be difficult to decide which one to explore first. That's why we're bringing you a list of the most beautiful parks in Washington DC!
Find Places To Stay In Washington DC
The Most Beautiful Parks In Washington DC
Dumbarton Oaks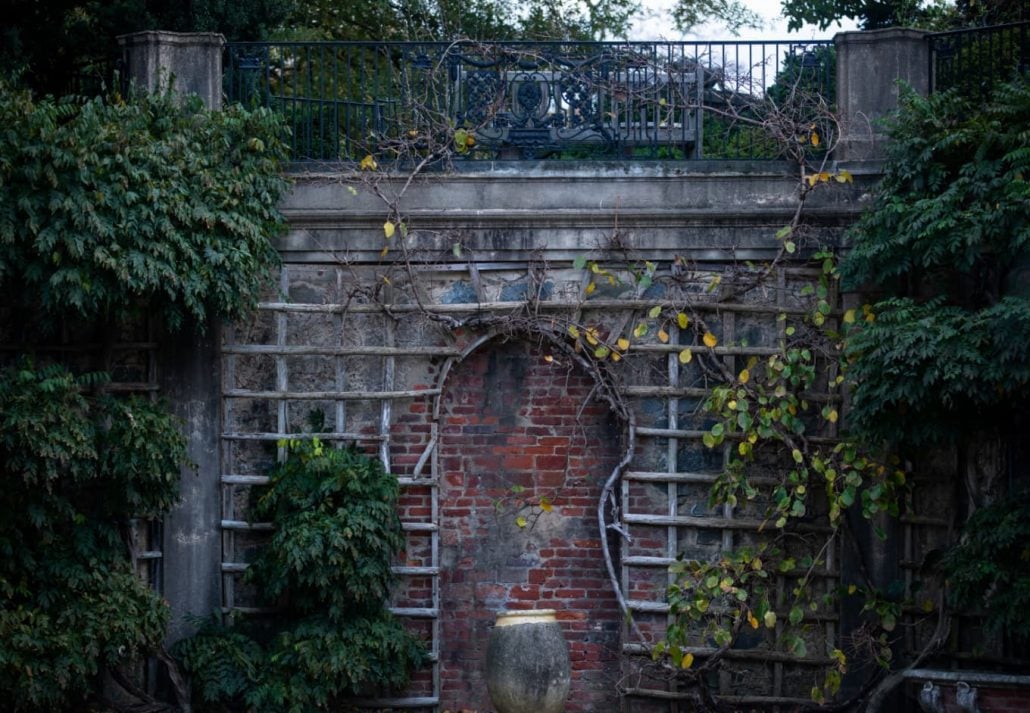 The historic Dumbarton Oaks Park is recognized for its beautiful stone-clapper bridge and relaxing environment in the middle of the bustling capital. Robert Woods Bliss and Mildred Barnes Blis bought this area in 1920 and asked Beatrix Farrand to design it. Beatrix was America's first professional female landscape architect and one of the founding members of the American Society of Landscape Architects. In 1940, the park was gifted to the National Park Service.
Location: R St NW, Washington, DC 20007, United States
Rock Creek Park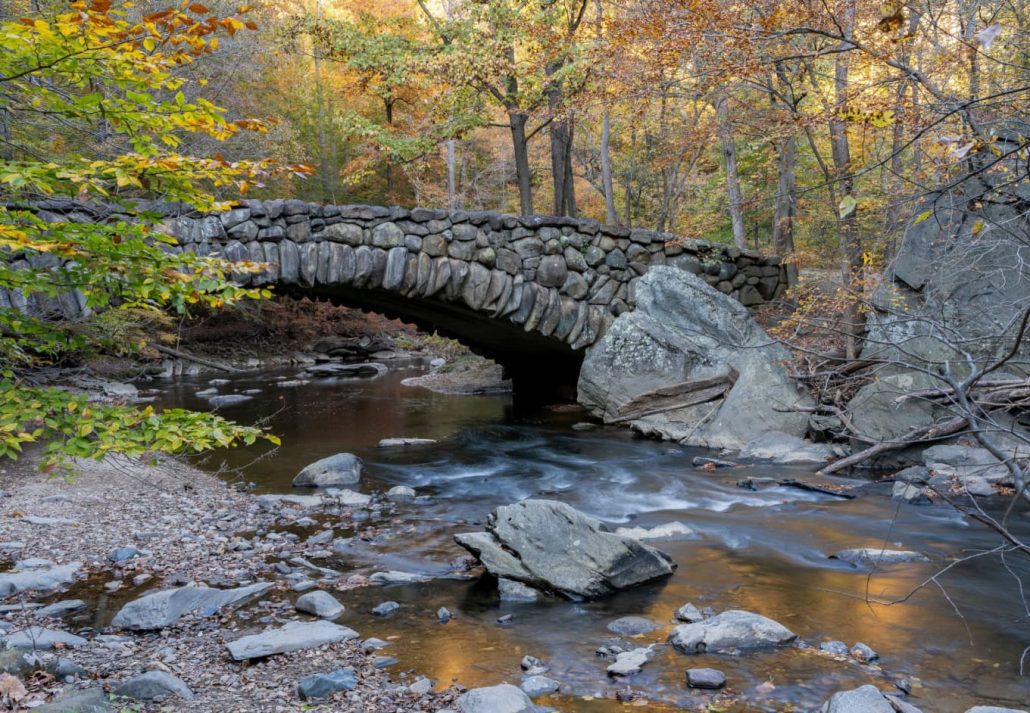 Rock Creek Park is the perfect place for recreation. With fresh air, wild animals, charming working mills, and a variety of outdoor activities, it offers visitors an escape from busy city life. You can have a picnic, explore hiking trails, ride a bike, go fishing, play tennis or golf, and ride a horse. If you're looking for an indoor activity, visit the Nature Center Exhibit Hall to learn more about the plants and animals in the area.
Location: 5200 Glover Rd NW, Washington, DC 20008, United States
Recommended Read The Best Time To Visit Washington DC
Bartholdi Park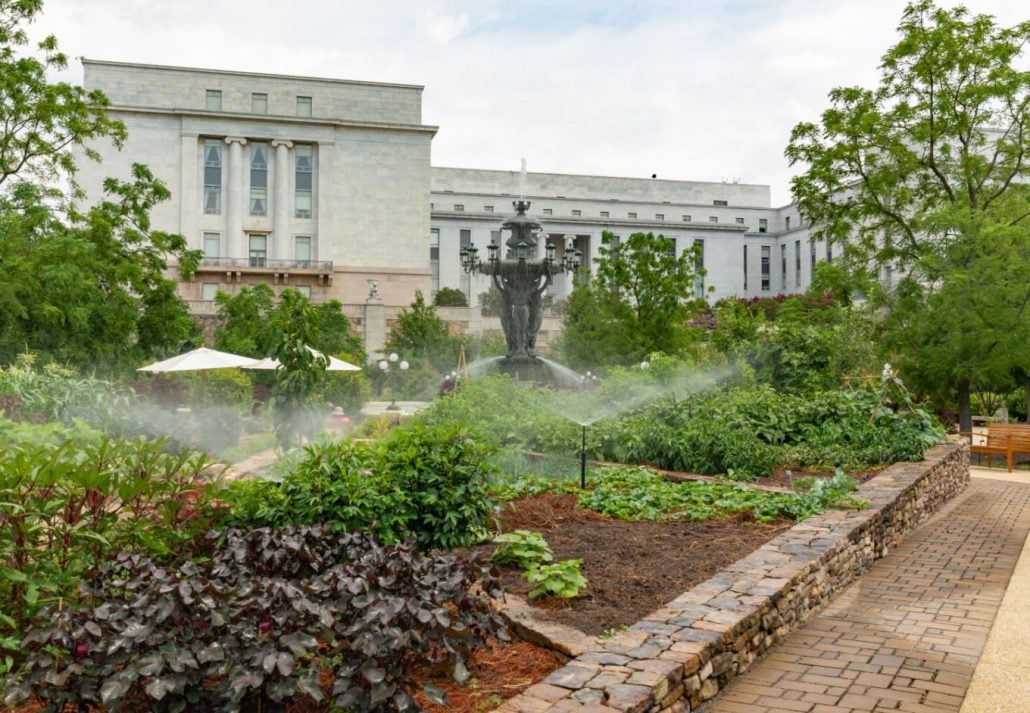 Bartholdi Park is located near US Botanic Garden, Independence Avenue, and Washington Avenue. It was named after the French sculptor, Frédéric Auguste Bartholdi, who designed the Statue of Liberty. The park has a beautiful fountain and a lovely flower garden.
Location: 245 First St SW, Washington, DC 20024, United States
Georgetown Waterfront Park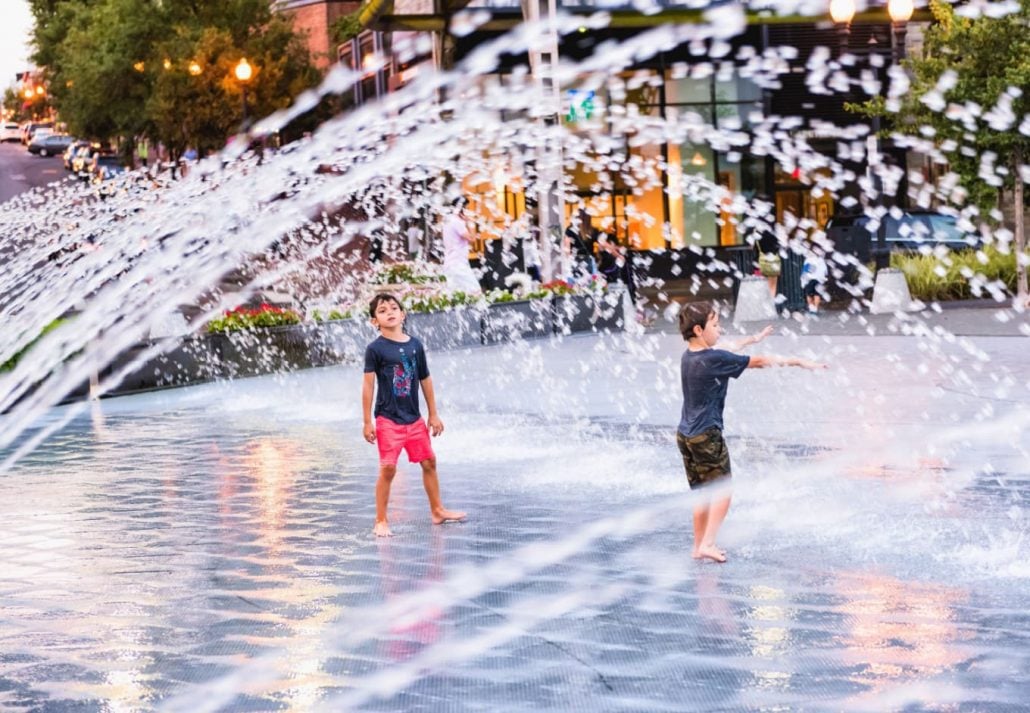 Along the Potomac River, Georgetown Waterfront Park stretches from Cumberland to Mount Vernon. It's a gorgeous spot with rain gardens, a fountain, and designated pathways for pedestrians, skaters, and cyclists.
Location: 3303 Water St NW, Washington, DC 20007, United States
Recommended Read Chinatown, DC: The Ultimate Guide
The Yards Park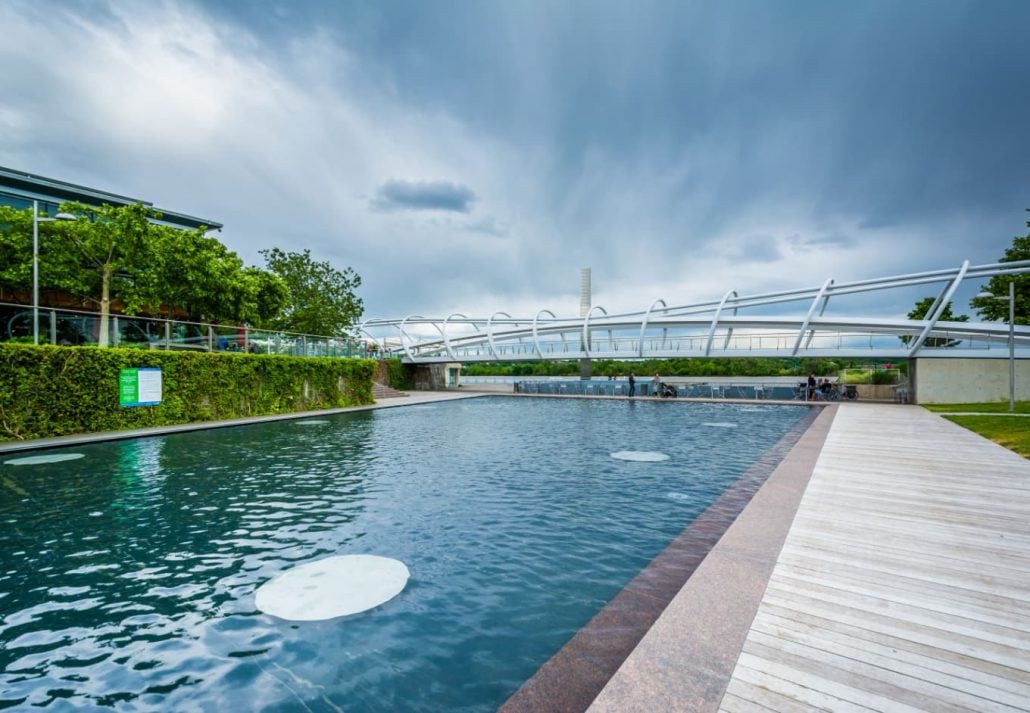 The award-winning Yards Park provides green spaces, a performance venue, and dancing fountains along the Anacostia River. It's a cool place for families, joggers, strollers, and pets. It also has plenty of food options nearby.
Location: 355 Water St SE, Washington, DC 20003, United States
Tidal Basin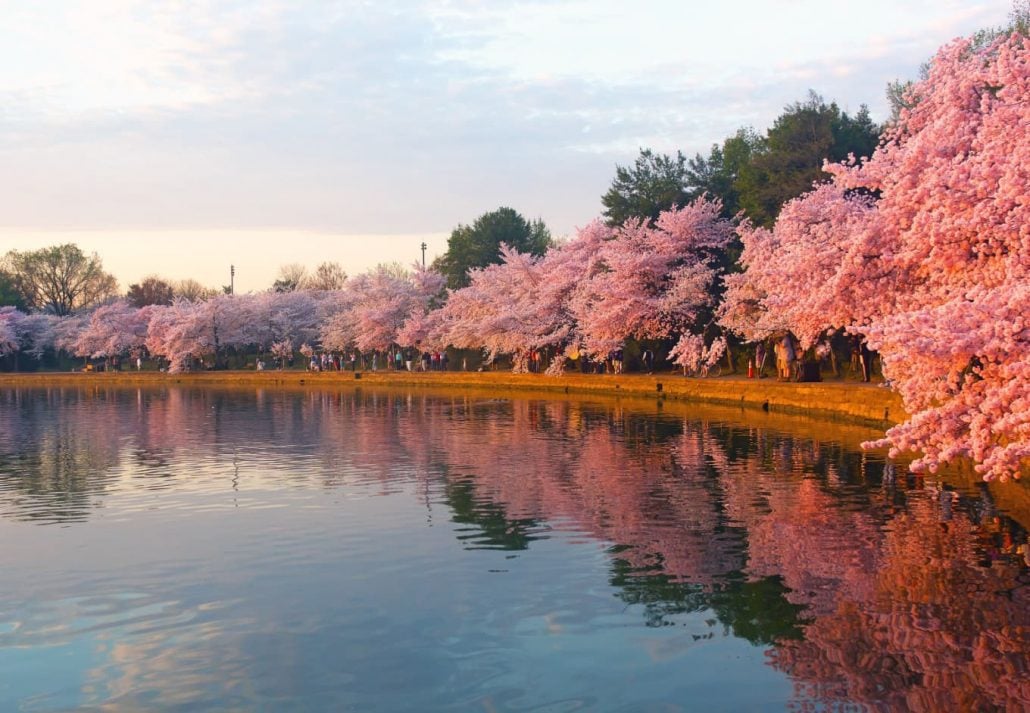 Close to the National Mall, Tidal Basin is surrounded by many important sights ─ Martin Luther King, Jr. Memorial, Jefferson Memorial, Washington Monument, Lincoln Memorial, Korean War Veterans Memorial, Capitol Building, and the site of the First Cherry Tree Planting. Visitors can rent a paddleboat during late spring, summer, and early fall.
Recommended Read The 5 Best Hotels In Washington DC
US National Arboretum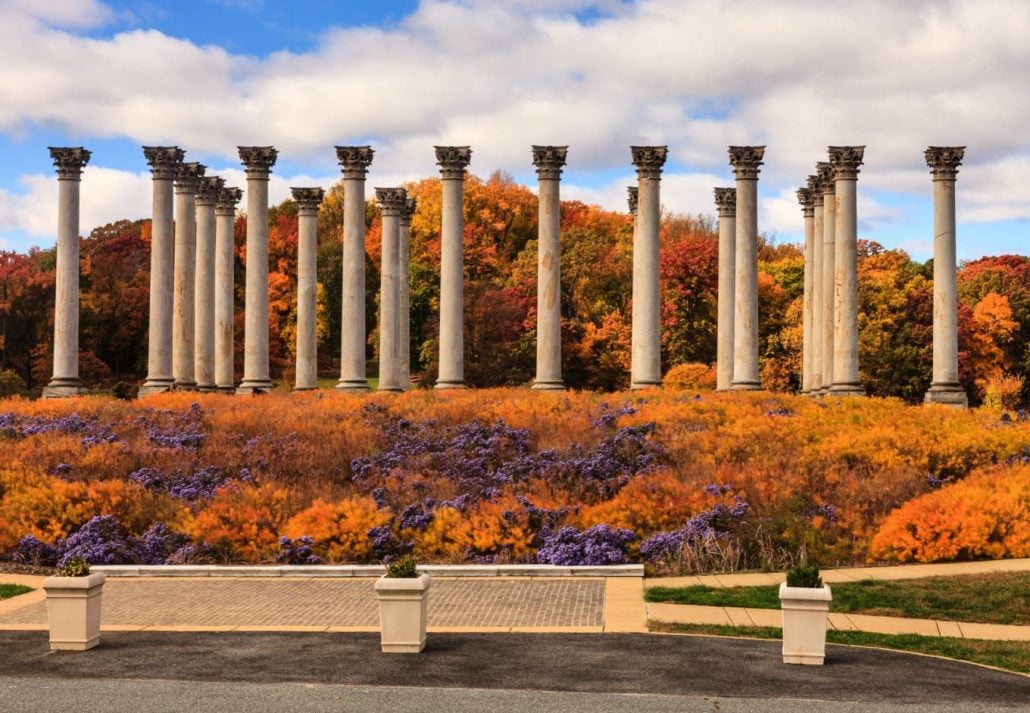 US National Arboretum is a free outdoor museum with a wonderful collection of plants. It's also a public garden and a research institution. This peaceful oasis is great for long walks. Make sure to stop by the Bonsai Museum, the Herb Garden, and the National Capitol Columns.
Location: 3501 New York Ave NE, Washington, DC 20002, United States
Lincoln Park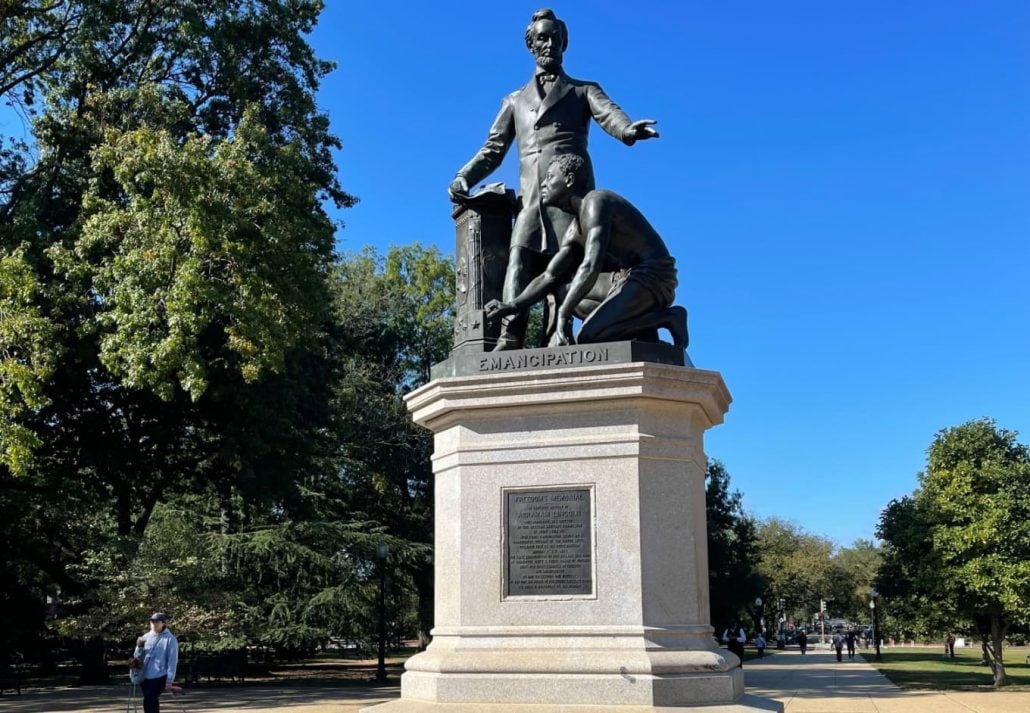 Lincoln Park is the largest urban park in Capitol Hill. It features monuments of President Abraham Lincoln and civil rights activist Mary McLeod Bethune. The park has playgrounds, lots of benches, and magnificent trees.
Recommended Read The 8 Best Museums In Washington DC
FAQ
What are the best parks in Washington DC?
Dumbarton Oaks;

Rock Creek Park;

Bartholdi Park;

Georgetown Waterfront Park;

The Yards Park;

Tidal Basin;

US National Arboretum;

Lincoln Park.
How many national parks are in DC?
There are more than 30 National Parks in Washington DC.
How many parks are managed by National Park Service in DC?
A number of parks in DC are managed by National Park Service. Some of the most popular ones are:
Kenilworth Park & Aquatic Gardens;

Anacostia Park;

Capitol Hill Parks;

Rock Creek Park;

President's Park.
CuddlyNest provides all accommodations to all travelers at the best price. Find unlimited travel inspiration on our blogs and social media channels Facebook, Instagram, and Pinterest.
You May Also Like:
How To Get From Boston To Cape Cod: 5 Ways
6 Amazing Free Things To Do In Boston, MA
The 8 Best Restaurants In Boston, Massachusetts
The Best Hotels In Boston, Massachusetts
The Best Hotels Near Busch Gardens, Tampa, FL
The Best Things To Do In Downtown Tampa, FL
The Most Beautiful Tampa Parks
The Best Beaches In Tampa Area, FL
5 Great Things To Do In Ybor City, Tampa, FL