We recently watched Taco Chronicles on Netflix, which made us think, "What is the real difference between Tex-Mex vs Mexican food?". They're surely both delicious, comforting, and flavorful, but there are actually a few differences between them.
So if you've been pondering this question just like we have, read on as we delve deeper into this common query and learn about the difference between Tex Mex vs Mexican Food
An Introduction to Mexican Cuisine
Mexican Food: A Quick Background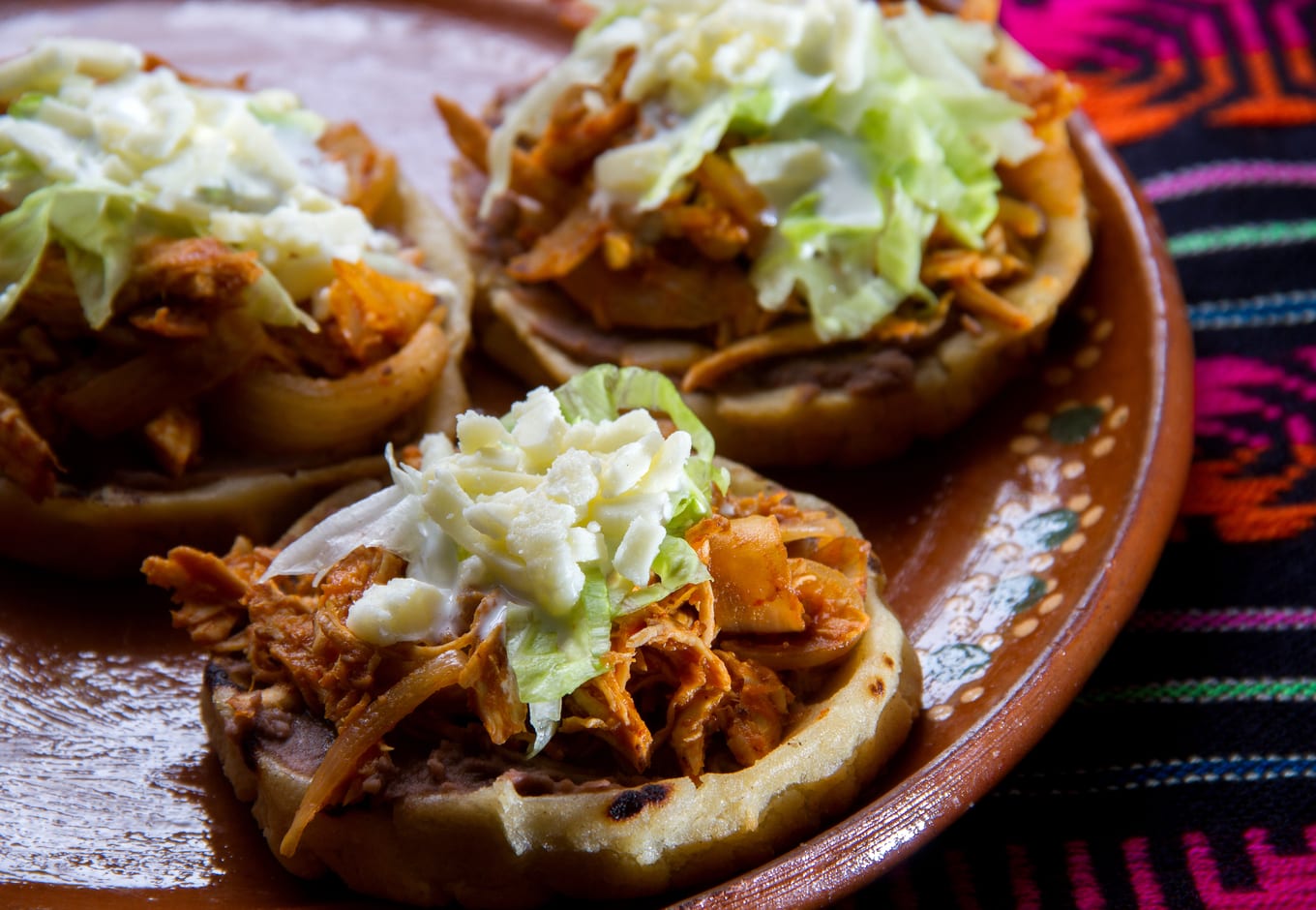 Mexican food has a worldwide reputation for being spicy. But we can guarantee you that this rich cuisine has much more to offer than just a burning sensation on your tongue.
The roots of Mexican cuisine actually lie in a combination of Mesoamerican and Spanish cuisine, and after the Spanish conquered the Aztec empire and Mesoamerica, a number of ingredients were introduced to the local native foods. Those were dairy products, meats from domesticated animals (pork, chicken, goat), rice, sugar, olive oil, and fruits and vegetables. Before that, Mexican cuisine brought together a slew of local native foods, such as corn, beans, squash, avocados, tomatillos, agave, and chili pepper, just to name a few. Aside from the Spanish flavors, Mexican cuisine was also influenced by Asian and African ingredients.
Thanks to its diversity of flavors and ingredients, Mexican food became an important part of Mexico's culture, and in 2010 it was inscribed in the Representative List of the Intangible Cultural Heritage of Humanity by UNESCO.

The Main Ingredients of Mexican Food
The traditional Mexican food is mainly made with ingredients that are native to Mexico, such as corn (maze), chili peppers, tomatoes, squashes, cocoa, vanilla, beans, and avocados.
Fun Facts About Mexican Food
Tomatoes Originated in Mexico. While this ingredient is often associated with Italian food, it actually originated in western South America and Central America. In fact, Italians actually ate their pasta without tomato sauce, and the edible berry was brought from Mexico to Europe in 1519 by Cortez, a Spanish explorer.
There are three different colors of corn tortillas. The famous corn tortillas come in three different colors: white maize, yellow maize, and blue maize.
Chocolate was invented in Mexico. You might be surprised, but the history of chocolate didn't begin in Switzerland or Belgium. It actually began in Mesoamerica, and anthropologists have found evidence that chocolate was made by pre-Olmec cultures, which lived in what today is known as Mexico.
Tamales are more than 8,000 years old. Made of masa or dough, these delicious wrapped goodies originated in n Mesoamerica as early as 8000 to 5000 BC. They were also considered sacred by the Aztec and Maya civilizations, as it is the food of the gods.
Mexican food is sometimes prepared with unusual ingredients. Aside from delicious fresh tomatoes and avocados, Mexican food is also prepared with more exotic ingredients, such as escamoles (ant egg sac), and cow eyeballs (for the eyeball tacos).

Stretch your reading: Fun Facts About Mexico
Mexican Food and Tex-Mex
The Differences Between Traditional Mexican and Tex-Mex
So, by now you must have realized how rich and diverse Mexican food is. But, before you head over to Mexico for a true foodie's experience, it might be a good idea to learn the difference between Mexican vs Tex-Mex.
In short, Tex-Mex is a fusion between American (Texan) and Mexican Cuisine. It originated with the Tejano people of Texas, and it became a sub-type of Southwestern cuisine.
The most notable difference between the two cuisines is the ingredients. In almost all Tex-Mex dishes, cumin is the main ingredient, however, most traditional Mexican dishes don't include it at all. Mexican people often use ingredients such as chile peppers, oregano, cacao, cilantro, and more to season their dishes.
Also, Tex-Mex taco shells are typically hard tortilla shells, while Mexican taco recipes call for soft corn tortillas.
If you find cheddar on your Mexican food, then it is a Tex-Mex dish, as Mexicans always use white or yellow cheese. Many typical Mexican dishes including enchiladas, tacos, and more belong to both Mexican and Tex-Mex cuisines. However, Tex-Mex prepares them with their own flavors and style.
The Most Iconic Tex-Mex Dishes
Here we've listed a few iconic Tex-Mex dishes to give you some ideas about what to eat during your next Cinco de Mayo celebration!
Chili con Carne: Chili con Carne is a classic Tex-Mex dish made of chili, which is chilis, chicken broth, and your own (or others) secret ingredients, and Carne, either chicken, beef, or pork. If you haven't tried traditional Chili con Carne before, then what are you waiting for?
Steak Fajitas: Fajitas are grilled meats usually served on a taco and doused with delicious spices and toppings. A definite must-have during your next traditional Tex-Mex celebration.
Queso: Queso has been described as one of the pillars of Tex-Mex cuisine, and is even sometimes referred to as the "national party dip of Texas". Essentially gooey, melted yellow cheese with green chiles, you'll be able to find this dish almost anywhere Tex-Mex food is served.
Puffy Tacos: Tacos are a hugely popular Mexican food all over the world, and for good reason. At its most basic, tacos are small tortillas filled with cheeses, sauce, and fillings such as meat, beans, or vegetables. Traditionally, a Mexican taco is very basic, and rarely contains more than just meat and some sauce and few toppings. But the Puffy Taco is a specialty from San Antonio, and are stuffed with a number of meats, along with lettuce, cheese, and salsa.
Cheese Enchiladas: Enchiladas were made for cheese lovers! A large tortilla stuffed with veggies, beans, and meat, then covered in cheese and baked, this mouthwatering dish is classic and one you won't want to miss. The Tex-Mex version of the enchiladas is cheesier, and the sauce is prepared differently.
The Most Iconic Mexican Dishes
Mexican cuisine is a diverse and massive array of cultures and ingredients, so it's hard to list just a few dishes. However, we've listed a few traditional Mexican foods here just to give you an idea of what Mexican cuisine offers.
Mole: Mole is actually a sauce, which is usually served over meat. It became a staple of Mexican food, and it's made with around 20 ingredients such as chili peppers, tomatoes, tomatillos, black peppers, garlic, and other ingredients.
Chilaquiles: This is a popular traditional breakfast dish in Mexico, and it's made with corn tortillas cut in quarters and lightly fried. The tortillas are then topped with green or red salsa and are eaten with either fried eggs or pulled chicken, as well as cheese.
Pozole: Comforting and heartwarming, the pozole is a traditional soup or stew, that is made from hominy, pork, and red chile. Some of the toppings that add even more flavor to this delicious dish are shredded cabbage, radishes, cilantro, lime, and avocado.
Chiles en Nogada: This Mexican dish consists of poblano chiles (a mild-flavor chili pepper originating in Puebla, Mexico) stuffed with ground turkey picadillo and covered in a creamy walnut-based sauce called nogada. The dish is then topped with pomegranate seeds and parsley.
Tacos Al Pastor: Also known as Al Pastor, these tacos are made with sliced marinated pork shoulder, and are usually served with sliced onion, pineapple, and cilantro.
We hope you learned a thing or two, about Cinco de Mayo! Enjoy your feast, and don't forget to let us know what you make at home.
Browse. Book. Stay.
CuddlyNest provides all accommodations to all travelers at the best price. Find unlimited travel inspiration on our blog and social media channels.
Here are some curated readings for you:
Best brunch in Barcelona
Best European Drinks
Best Rooftop Bars in Athens
Traditional German Must-Eats
Italian Recipes To Make At Home
Traditional Croatian Cuisine Food Guide
Similar Articles Around The Globe:
Cheap Food Around the World!
Best Food in Bali
Where to find best Ice cream