Amusement parks in Greece only recently gained popularity as fun destinations for families and friends. This, however, did not halt the rapid expansion of numerous top-tier amusement theme parks throughout the country.
They're full of water slides with extreme turns, crazy free falls, exciting water whirlpools, relaxing Lazy Rivers, and kid-friendly splash towers. There's something for everyone here! Ready for an adventure? Here are the 5 best amusement parks in Greece.
The 5 Best Amusement Parks In Greece
Aqualand Corfu Water Park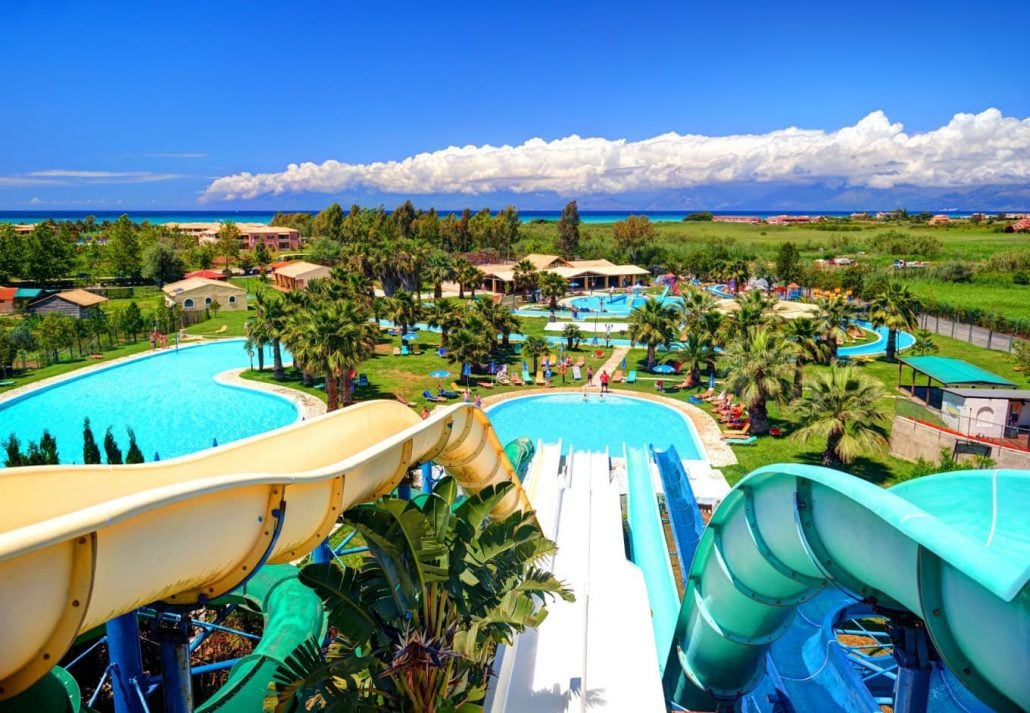 Aqualand is located in Corfu and is one of the biggest water parks in the world. It's equipped with 51 water slides, water-related activities for kids, and pools. The area is divided into five categories: Family Adventure, Family Thrill, Kids, Pools, and Thrill.
With 18 slides, Family Adventure offers a real summer experience for the whole family. There's rafting, a Tornado slide, bumper racers, giant slides, multi-racing slides, and speedy Compo tower slides. Make sure to try all the waterslides! Furthermore, Family Thrill has 4 heart-stopping slides including the Deep Blue Kayak, Black Hole, Crazy River with extreme turns and water whirlpools, and the magnificent Catapult that launches you in the air.
If that's not exciting enough, the Thrill area boasts 11 next-level slides – a 24-meter free fall, an accelerating hydro tube, kamikazes, and double twisters. If slides aren't your thing and you'd prefer to just relax, check out the Wave Pool, Lazy River, and jacuzzi. On the other hand, kids have a chance to play in the fun Pirate Area, slide down the slides in Fantasy Island, Young Rebels, and Millenium areas, and refresh in baby pools.
There are plenty of opportunities to grab food and drinks at on-site restaurants. You'll definitely find something that suits your taste buds. Check out Fast Food, Grill House, or Fritland. Enjoy your cold beverage at Aqualand's Bar and get freshly baked donuts at Aqualand's Gelateria.
Location: Agios Ioannis Parelia, Corfu 491 00, Greece
Opening Hours: Daily from 10 AM to 6 PM
Splash Water Park Isthmos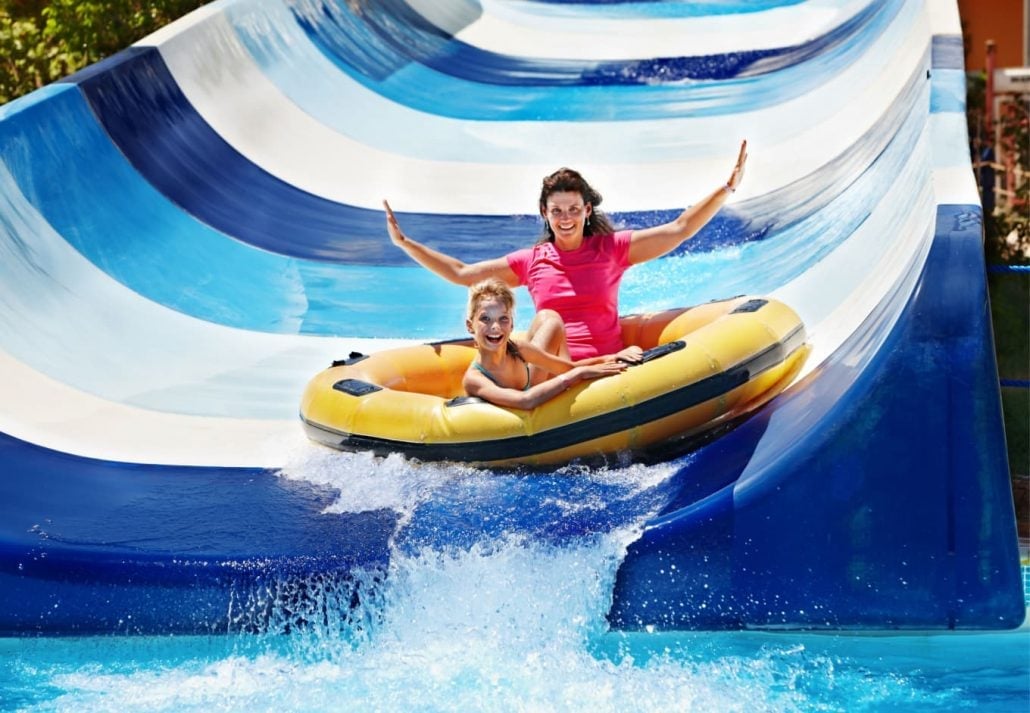 This popular amusement park offers high-speed slides, dark tunnels, and exciting turns and twists. Along with kamikaze, free fall, multi slides, and black holes, there's a body open slide that spins you down 88 meters before you drop into the pool. Indulge in a frenetic summer party and try all the slides!
For those who aren't interested in thrilling slides, there's a pool with soft tubes for floating around and a Lazy River. If you're with children, they will love the five kid-friendly slides and a pool with a splash tower. It's pretty clear that Splash Water Park provides visitors with real endless summer fun.
Location: Isthmos, Loutraki 203 00, Greece
Opening Hours: Daily from 7 AM to 5 PM
Recommended Read 16 Best Things To Do In Greece
Allou! Fun Park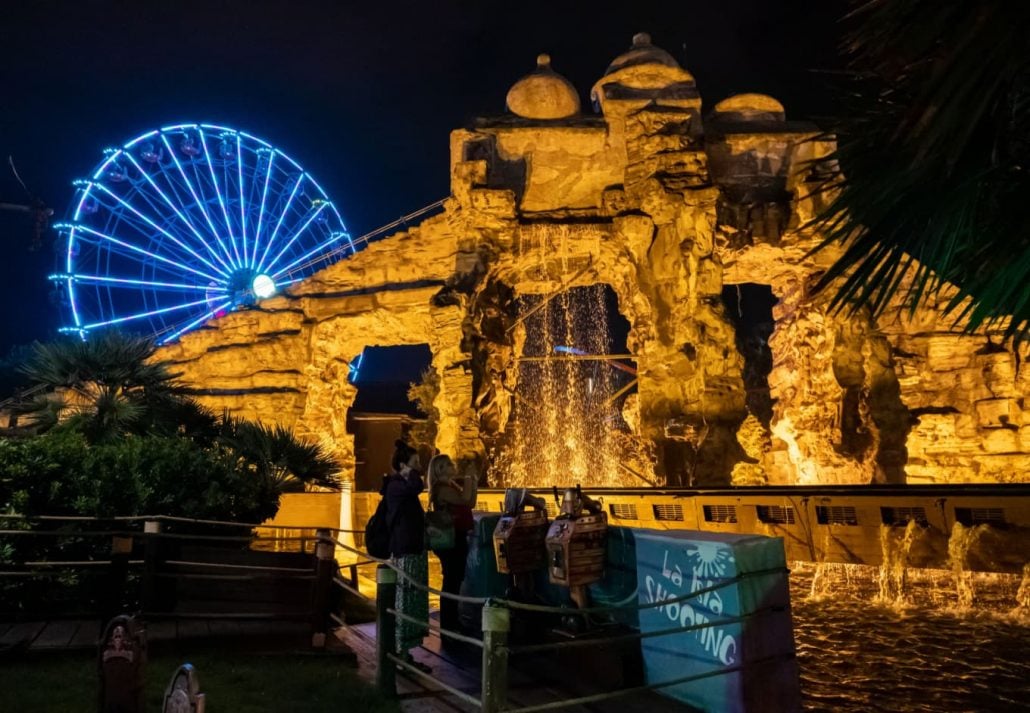 Alou in Athens is full of adrenaline-pumping rides. From a Ferris wheel and a haunted house to rollercoasters and bumper cars, this amusement park has plenty of fun options! The park's highlights include Shock & Drop tower drop, Star Flyer, Move It thrill ride, and La Isla log fume. When you've had enough fun, order a fresh salad or tasty hot dog at nearby restaurants, or perhaps a refreshing drink at Cafe La Isla.
Location: Leof. Kifisou ke Petrou Ralli, Ag. Ioannis Rentis 182 33, Greece
Opening Hours: Allou! Fun Park Mon-Fri 5 PM-12 AM / Kidom Mon-Fri 4:30 AM-11:30 PM
Tsilivi Waterpark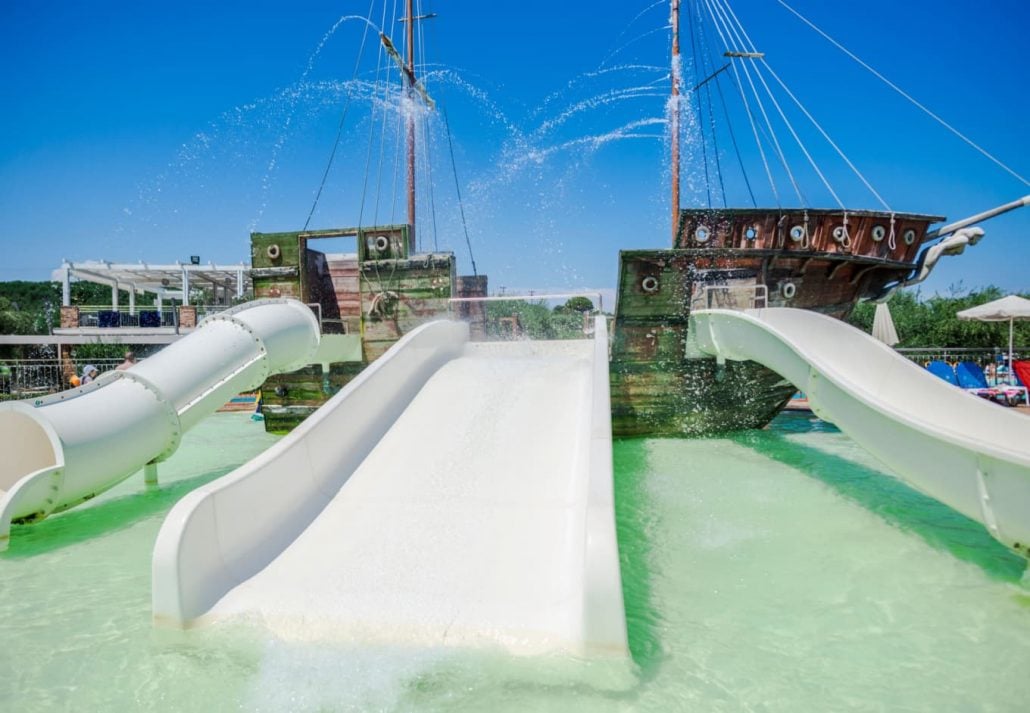 Tsilivi Waterpark offers fun for the entire family. Grown-ups can try the Turbulence slide, a quadruple Multi-slide, a spooky Blackhole slide, rafting, and an open-air slide. Of course, you can take in the relaxing atmosphere on the Lazy River with an air mattress, alone or with a family member. Kids can roam around the Pirate Ship, Water Jungle, or at a pool area with toys (elephants, mushrooms, dolphins) that eject water. The possibilities are endless here!
Location: Planos 291 00, Greece
Opening Hours: Daily from 10 AM to 5:30 PM
Recommended Read 10 Of The Best Beaches In Greece
Zante Water Village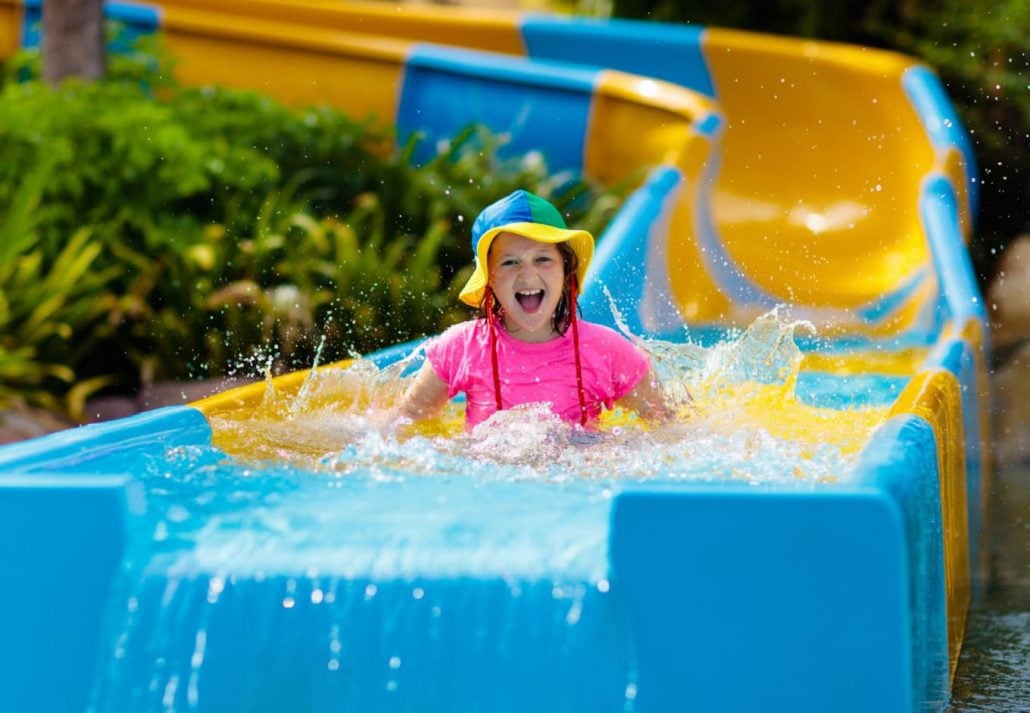 Zante Water Village is one of the biggest water parks in Greece. It's nestled on the southeast part of Zakynthos island. If you're a true thrill-seeker, this is a great place for you. Experience an exciting 25-meter-high free fall, a high-speed Hydrotube, and a head-down mat racer. Slide side to side before plunging to a 17-meter drop on the Boomerango Plus tube ride – a rare one in Europe.
Jungle Adventure with more than 50 features, a lagoon pool, a baby pool, and Children's Tower is perfect for the whole family. It's hard to get bored here! You can even enjoy games out of the water. There are go-karts, kid's cars, trampolines, mini golf, and penalty.
When you get hungry, stop by the fast food restaurant that serves mouthwatering hamburgers, children's meals, and pasta dishes.
Location: Zante Water Village, Zakynthos, Greece
Opening Hours: Daily from 10 AM to 6 PM
FAQ
What's the most popular water park in Greece?
Aqualand Corfu Water Park is the most popular water park in Greece.
What are the best theme parks in Greece?
Allou! Fun Park
Aqualand Corfu Water Park
Waterpark in Rhodes
Are there rollercoasters in Greece?
Yes. Amusement parks with rollercoasters are:
Allou! Fun Park
Aidonakia
Watercity Waterpark Crete
Waterpark in Rhodes
CuddlyNest provides all accommodations to all travelers at the best price. Find unlimited travel inspiration on our blogs and our social media channels Facebook, Instagram, and Pinterest.
You May Also Like:
Top 10 Best Restaurants In Greece
The 8 Best Night Clubs In Greece
16 Best Things To Do In Greece
5 Amazing Wineries In Greece
A Guide To The Best Shopping In Greece
The Best Time To Visit Greece
50 Fun Facts about Greece