California's resorts are certainly on top of their game. They're known for spoiling guests with a wide array of high-touch amenities and facilities, including private beaches, luxurious spas, majestic, stunning pools, tropical bars, award-winning restaurants, and kids' clubs, to name a few.
From the glittering San Diego Bay to the rugged coastline of Half Moon Bay, the California beach resorts provide the perfect seaside escape for couples, families, and even solo travelers seeking to unwind and recharge.
Here's a hand-picked list of the top beach resorts in California, considering aesthetics, service, location, and value for money. You will find the perfect fit on this list regardless of your budget or style preferences.
The 8 Best Beach Resorts in California
Hotel del Coronado, San Diego
Hotel del Coronado is a historic hotel that has been a gem in San Diego since 1888. Set within a treasured building designated as National Historic Landmark, this glamorous resort is ideally located along California's Pacific coastline and comprises several distinct neighborhoods filled with luxurious accommodations (spacious cottages, villas, residences, and suites).
One of the resort's highlights is the majestic Cabana Pool, framed by shaded chaise lounges, beach umbrellas, and private cabanas where guests can relax and enjoy craft cocktails and coastal dishes.
For fitness enthusiasts, there's a 24/7 fitness center and outdoor workout sessions, while those looking for relaxation can indulge in the resort's luxurious spa, which features ocean-inspired treatments and a private terrace with a vanishing-edge pool.
Hotel del Coronado also provides guests private beach access and several on-site restaurants. A must-try is Sereña, an oceanfront eatery serving delicious seafood dishes made with seasonal ingredients from Southern California farmers.
Address: 1500 Orange Ave, Coronado, CA
Top Amenities: Outdoor pool, spa, concierge service, underground parking garage, private car service, beach access, electric vehicle charging, CPR-certified childcare service
Loews Coronado Bay Resort, San Diego
Loews Coronado Bay Resort is one of the best hotels in San Diego. Beautifully situated on Coronado Island, this luxurious hotel features 440 guestrooms, 40 plush suites, and private balconies or patios overlooking the Pacific Ocean.
Artfully decorated with soothing colors that evoke the atmosphere of San Diego, all the rooms are equipped with luxury amenities like free wi-fi, 55-inch flat-screen TVs and Keurig coffeemakers, Stearns & Foster pillowtop mattresses, and plush terrycloth robes.
Loews Coronado Bay Resort feels more like a private oasis than a resort. Here, travelers can unwind and forget about the outside world while sipping in a freshly made mojito by the pool or enjoying a tropical sea-stone massage at the on-site luxury spa.
Those looking for fun can rent jet skis, sailboats, kayaks, or SUP boards and head to the Loews Private Marina for an adventure in the water.
Other Loews Coronado Bay Resort facilities include four restaurants and bars and meeting spaces for business travelers.
Address: 4000 Coronado Bay Rd, Coronado, CA
Top Amenities: Three heated swimming pools & a poolside concierge, full-service spa, fitness center, shuttle to Silver Strand State Beach and Downtown Coronado Village, babysitting, dry cleaning & pressing, valet parking
The Ritz-Carlton, Half Moon Bay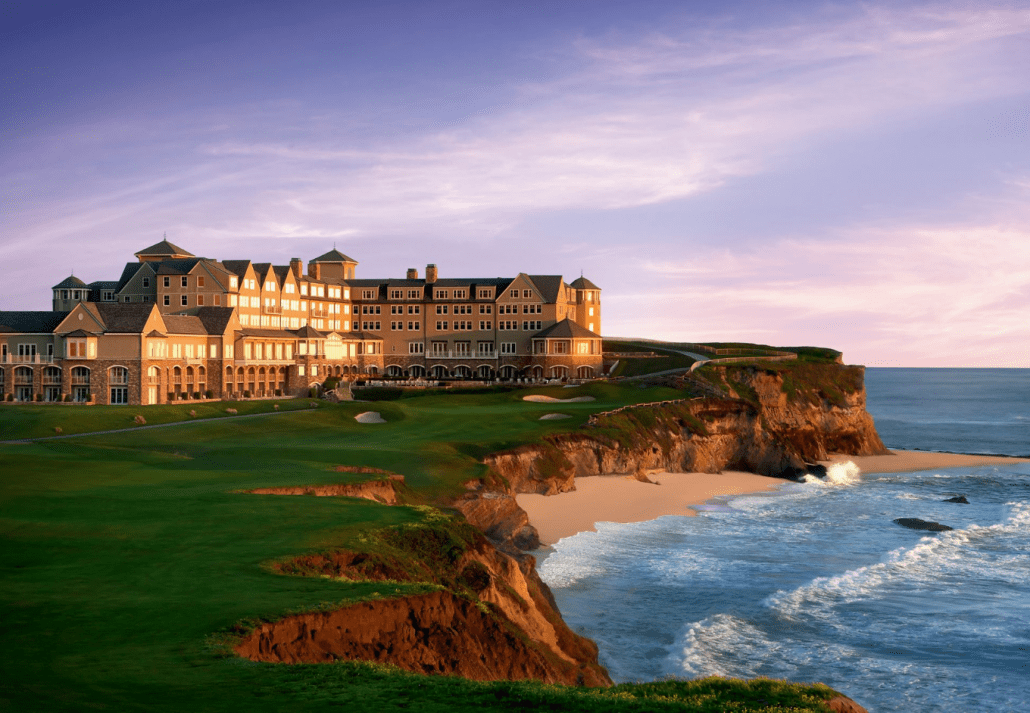 Ritz-Carlton is a gem perched atop a rugged oceanside bluff in Half Moon Bay. Situated just 30 minutes from San Francisco and Silicon Valley, this 5-star resort offers guests the opportunity to escape from the pressures of life and enjoy luxury at its finest.
You'll have many options with 239 guest rooms and 22 suites, including secluded Guest Houses. Each room has sumptuous bedding, in-room dining, a deep soaking hot tub, and expansive golf course views.
The resort's spa offers an array of treatments, including an HydraFacial treatment and a Full Moon Sound Therapy Meditation ritual. Golf enthusiasts will love the resort's Ocean Course and parkland-style Old Course, offering stunning views and challenging play. The hotel also boasts several restaurants and cafes, including the acclaimed seafood restaurant Navio, known for its indulgent Sunday Brunch.
Address: 1 Miramontes Point Rd, Half Moon Bay, CA
Top Amenities & Services: Spa, golf courses, indoor and outdoor meeting space, Executive business center, tennis courts, Techno gym
Monarch Beach Resort, Dana Point
The Waldorf Astoria Monarch Beach Resort & Club is a luxurious retreat perched atop a massive seaside bluff in Dana Point.
This AAA Five-Diamond resort has spacious and well-appointed guest rooms and suites with private terraces and patios, custom-designed furnishings, and spa-inspired bathrooms. Guests can enjoy the refreshing coastal breezes on their private terrace or patio, which provide the perfect ambiance for a morning cup of coffee or a picturesque sunset.
Guests can relax in their private beach club, lounge poolside in their private cabana, work out in the open-air Athletic Club, or have a thrilling golfing session on the resort's stellar championship golf course. There's also a spa, the Waldorf Astoria Spa, which offers personalized treatments, and several on-site restaurants. A must-try is the acclaimed Bourbon Steak Orange County from chef Michael Mina.
Address: Dana Point, California 92629
Top Amenities & Services: Golf course, swimming pool, spa, restaurants, private beach club
Fairmont Miramar Hotel & Bungalows, Santa Monica
Set on five expansive acres atop the bluffs, the Fairmont Miramar Hotel & Bungalows is an exquisite luxury beach resort that flaunts heart-warming views of the Pacific Ocean.
This luxury beach resort has 297 elegant guest rooms, suites, and bungalows, all with essential amenities such as Keurig coffee machines, hair dryers, iron and ironing boards, and plush bathrobes. While some rooms offer direct pool access, others provide breathtaking ocean views.
Indulge in a relaxing spa experience with a soothing massage incorporating CBD oil, or work up a sweat in the state-of-the-art gym that features Peleton® bikes and Cybex® equipment, all while gazing out at the serene ocean views.
Take a dip in the shimmering swimming pool surrounded by towering palm trees, or savor a delectable meal at one of the resort's four restaurants. Be sure to visit FIG, where chefs whip up seasonally inspired dishes using fresh produce from the local Farmers' Markets. With Santa Monica State Beach and the Santa Monica Pier located just steps away, you can end your day by taking in the breathtaking sunset views.
Address: 101 Wilshire Blvd, Santa Monica, CA
Top Amenities & Services: Laundry services, spa, swimming pool, events space, pet-friendly, restaurants, room service
Terranea Resort, Rancho Palos Verdes
Terranea Resort is a dazzling getaway in Rancho Palos Verdes, a luscious coastal city in Los Angeles County.
Set within 102 awe-inspiring acres and offering 270-degree views of the Pacific Ocean, the hotel is home to a collection of sophisticated oceanfront luxury accommodations suites, villas, bungalows, and casitas.
The resort's amenities include a high-class spa and fitness center that offers a range of rejuvenating treatments and facilities such as saunas, steam rooms, whirlpools, cold plunges, and fire pits.
Golf enthusiasts can enjoy the resort's award-winning nine-hole, par-3 oceanfront golf course while soaking in the stunning views of the Pacific Ocean and Catalina Island.
Terranea also has four swimming pools, one with a thrilling 140-foot water slide that the kids will love.
Take your pick for dining, as the resort is home to eight different eateries, including al fresco restaurants, a vibrant lobby bar, and a bakery. Be sure to make a reservation at MAR'SEL, known for its seasonally rotating fine dining menu highlighting locally sourced ingredients, such as citrus and herbs grown on the resort's grounds, hand-ground chocolate, and farm-fresh eggs.
Address: 100 Terranea Way, Rancho Palos Verdes, CA
Top Amenities & Services: Fitness center, golf course, spa, restaurants, swimming pools, meeting and event space, kid's club, 24-hour concierge
Hilton Santa Barbara Beachfront Resort, Santa Barbara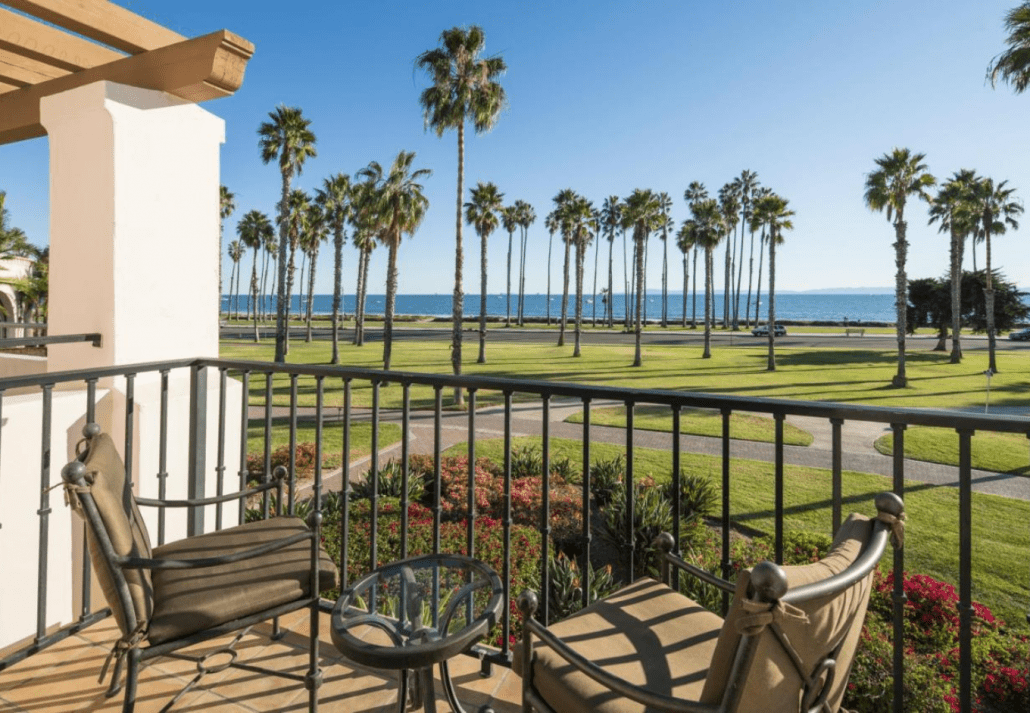 Gloriously located just across East Beach and one mile from the Funk Zone district, Hilton Santa Barbara Beachfront Resort is the perfect vantage point for exploring Santa Barbara.
But this lavish resort has more than a convenient location near central Santa Barbara. Hilton Santa Barbara has 335 spacious rooms and 25 suites, all featuring fresh, coastal-inspired décor and a private balcony or patio with views of the Pacific Ocean, Santa Ynez Mountains, and lush gardens.
At this 24-acre beachfront resort, guests can lounge by the tree-lined pool while drinking a freshly made cocktail from Terraza del Mar or move their bodies at the hotel's tennis courts.
Those needing some relaxation time can't pass up the chance to get an anti-stress-back massage at the oceanfront Spa del Mar just across from Hilton.
Guests can also rent a bicycle (included in the resort fee) and tour Santa Barbara on two wheels.
Stellar culinary experiences are also a highlight of Hilton Santa Barbara. To feast on bistro-style dishes paired with unique cocktails, head over to The Set, which also has jaw-dropping views of the pacific ocean.
Make sure to also stop by The Fess Parker Wine Tasting Room, an elegant wooden venue offering guests an authentic boutique wine-tasting experience with selections from the Fess Parker and Epiphany cellars.
Address: 633 E Cabrillo Blvd, Santa Barbara, CA
Top Amenities: Wine tasting rooms, on-site restaurant bike rental, pet-friendly rooms, business center, swimming pool, fitness center, spa, tennis court, concierge service
Hyatt Regency Huntington Beach Resort and Spa, Huntington Beach
The Hyatt Regency Huntington Beach Resort and Spa is a Spanish-inspired resort in Huntington Beach, one of California's best seaside escapes.
This family-friendly resort has 517 coastal chic guest rooms, including 57 upscale and spacious suites with balconies and premium guest rooms with a private fire pit on a furnished patio.
For the ultimate indulgence, opt for the Catalina Suite, which has 1,000 square feet of space, full ocean views, a master bedroom with a comfy king bed, two spa-quality bathrooms, and a living room with a sofa bed.
Hyatt Regency Huntington Beach has a beachfront location, meaning guests can enjoy easy access to the sand and ocean, and offers several services such as bonfires on the sand with beach chairs, blankets, hot chocolate, and s'mores.
Bike rentals are available for guests to explore the 10-mile paved path along the beach, just across the bridge from the resort.
Cool off the California weather by taking a plunge in the resort's two swimming pools or have a blissful massage at the Pacific Waters Spa.
Dining options abound but try Watertable, known for its seasonal menus filled with locally sourced ingredients, world-class vintage wines, and artisanal cocktails while taking in impressive views of the Pacific Ocean.
Address: 21500 E Pacific Coast Hwy, Huntington Beach, CA
Top Amenities: Free internet access, on-site restaurant, room service, pet-friendly, fitness center, laundry, concierge, digital check-in
Rosewood Miramar Beach, Montecito
The Rosewood Miramar Beach is an award-winning five-star hotel gloriously nestled on an exclusive oceanfront stretch of Montecito, aka "The American Riviera."
Considered one of the best luxury beach resorts in California, Rosewood Miramar is home to 123 rooms and 35 suites scattered across 16 acres of rolling lawns and lush landscaping, making it the epitome of modern beach living. All thoughtfully furnished accommodations are bright, airy, and exceptionally comfortable, directly on the ocean or overlooking the resort's manicured gardens. They're also smothered top to bottom with amenities like LED televisions, designer bathrooms, personal Nespresso machines, and luxury bath amenities.
To indulge in the ultimate relaxation experience, unwind at one of the resort's two pools or head to the beautiful Miramar Beach directly across the resort. Rosewood Miramar Beach also offers guests exclusive beach butler service and organizes various beach activities year-round.
After a day lounging under the sun, guests can head to the spa to restore massages using essential oils and warm towel compressions to reduce inflammation and promote better sleep. Finally, Rosewood Miramar Beach's six restaurants and bars offer a delightful range of culinary options, making it a dream destination for any foodie.
Address: 1759 S Jameson Ln, Montecito, CA
Top Amenities: Adult and family pools, beach activities, fitness studio, bocce courts, complimentary WiFi, six restaurants and bars, bicycle rentals
FAQ
What Is The Best Time To Visit California?
Boasting consistently lovely weather, California is a year-round destination. For indulging in milder yet luminous and pleasant weather, September and October are ideal months to visit California.
What are the best beach resorts in California?
The best California beach resorts are:
Hotel del Coronado, San Diego
Loews Coronado Bay Resort, San Diego
The Ritz-Carlton, Half Moon Bay
Monarch Beach Resort, Dana Point
Fairmont Miramar Hotel & Bungalows, Santa Monica
Terranea Resort, Rancho Palos Verdes
Hilton Santa Barbara Beachfront Resort, Santa Barbara
Hyatt Regency Huntington Beach Resort and Spa, Huntington Beach
Rosewood Miramar Beach, Montecito
What are the best hotels on the beach in California?
The best beach hotels in California are:
Wayfarer San Diego, San Diego
The Ritz-Carlton, Half Moon Bay
Monarch Beach Resort, Dana Point
Hotel La Jolla Curio Collection by Hilton, La Jolla
Vespera on Ocean, Autograph Collection, Pismo Beach
Loews Coronado Bay Resort, San Diego
Montage Laguna Beach, Laguna Beach
Hotel Californian, Santa Barbara
Portola Hotel & Spa at Monterey Bay, Monterey
Browse. Book. Stay.
CuddlyNest provides all accommodations to all travelers at the best price. Find unlimited travel inspiration on our blogs and our social media channels Facebook, Instagram, Pinterest
You might also like:
North America Travel Guide
Most Romantic Weekend Getaways in the United States
Long Weekend Getaways in the United States
Best Family Vacations In The United States
Best National Parks In The United States
Best Cabin Rentals in the United States
Best Dog-Friendly Vacations In The United States
The Most Amazing Things To Do in San Diego, California
The Best Time To Visit San Diego, California
The 6 Best Hotels in San Diego, California
Best Hotels in Santa Barbara, California
Bucket-List Things to do in Santa Barbara, California
Best & Fun Things To Do In Santa Monica, California
Best Restaurants In Los Angeles, California
Ultimate Guide To Downtown Los Angeles, California