What's not to love about San Diego? This breezy and balmy Southern California city boasts 70 miles of coastline, scenic views of the Pacific Ocean and San Diego Bay, world-class museums, and… over 100 days of sunshine a year!
While visiting San Diego, aka "America's finest city", you'll want to soak up the sun on the local beaches, have wild encounters with adorable animals at the famous San Diego Zoo, snoop around the Maritime Museum of San Diego, and walk along the scenic paths of Balboa Park.
Here's a guide to the top 16 things to do in San Diego, including historical sites, museums, family-friendly attractions, and amazing nature-based locations.
Find Places to Stay in San Diego, California
The 16 Best Things to Do in San Diego, CA
Tour The Old Town San Diego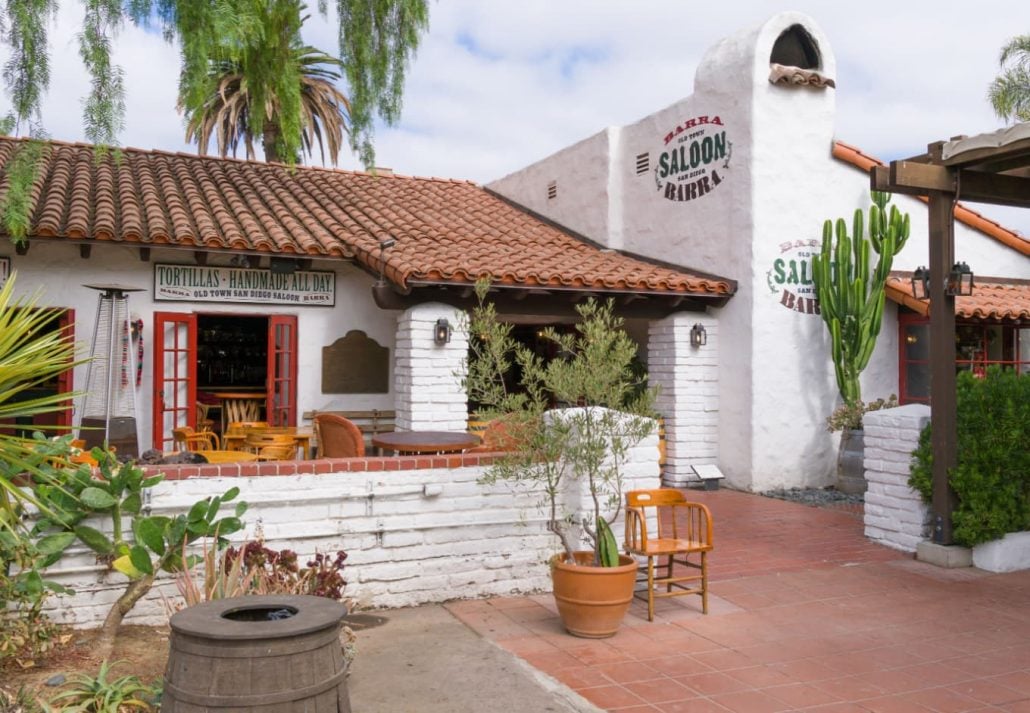 A self-guided tour through Old Town is an unparalleled way to dive deep into San Diego's fascinating history. This atmospheric neighborhood is home to Presidio Park, the oldest settled area in San Diego, and the site of the first European settlement on the West Coast.
Within the park, be sure to visit the iconic Junipero Serra Museum, which is set in a mission-style building and chronicles the history of San Diego.
Other must-see historical sites in the Old Town include the Mormon Battalion Historic Site, which dates back to 1847 and tells the story of the Mormons that fought in the Mexican-American War. Be sure to also check out La Casa de Estudillo, an original adobe mansion owned by a Spanish aristocrat during the Mexican Period.
Every Wednesday and Saturday, the Old Town State Historic Park offers live re-enactments of activities that would have taken place in the 1800s, including blacksmithing, carpentry, and games.
Explore The Balboa Park's Attractions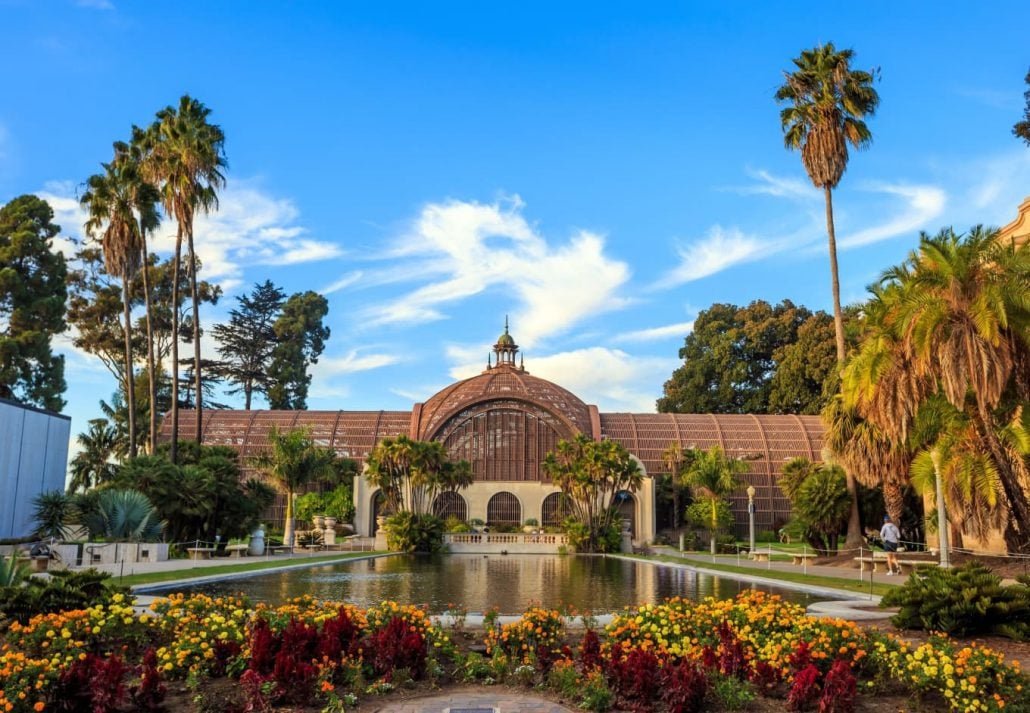 Referred to as "the cultural heart of San Diego", Balboa Park is a 1,200-acre neighborhood that houses some of the top San Diego attractions.
This culturally-rich area was listed as a National Historic Landmark and is home to no less than 18 incredible museums catering to every interest and curiosity.
Here, you'll also find scenic nature trails, one of the world's largest outdoor pipe organs, and the Old Globe Theater, where Shakespeare plays are performed.
Be sure to also check out the serene Japanese Friendship Garden of San Diego, beautifully dotted with black pine trees, and ornamental plants like camellias, magnolia, wisteria, and cherry blossom trees.
Address: 1549 El Prado San Diego, CA 92101
Discover The Natural Beautiful Of La Jolla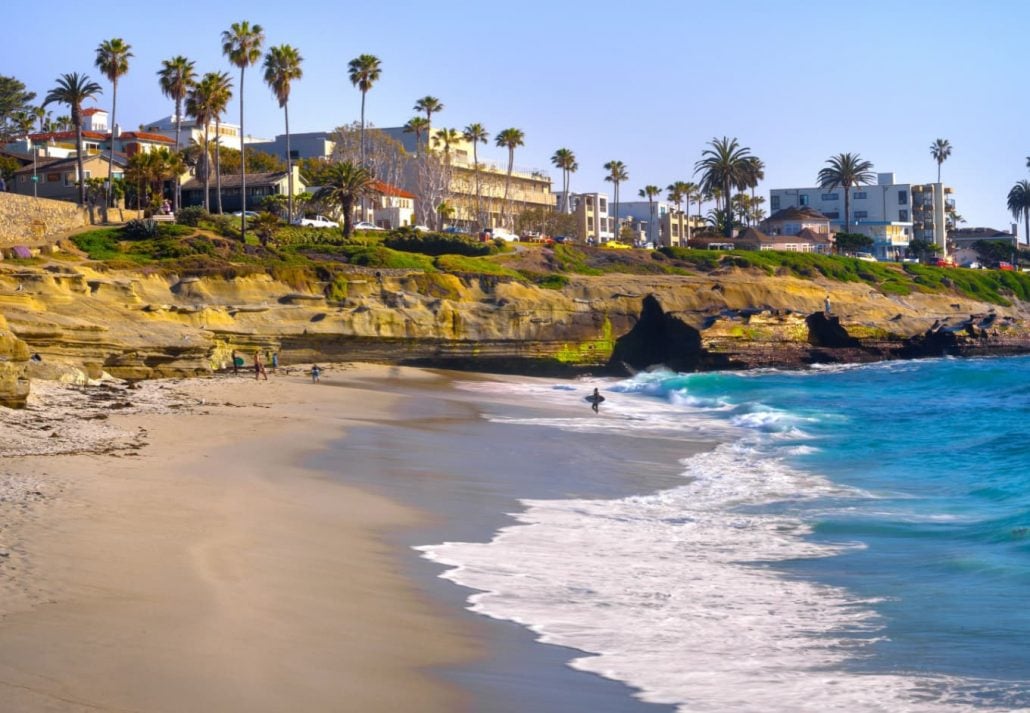 La Jolla is a vibrant seaside village praised for its immense natural beauty. Occupying 7 miles of curving coastline along the Pacific Ocean, this rugged area draws visitors thanks to its inspiring natural features.
Nestled between sandstone cliffs lies La Jolla Cove, a small coastal inlet known for its gentle waves. Just off Coast Boulevard, you'll find the La Jolla tide pools, one of the most spectacular locations in all of San Diego. While exploring the tide pools, expect to come across a variety of marine species, such as anemones, starfish, small crabs, hermit crabs, clams, and even small octopuses.
Want to learn how to surf? Then head over to La Jolla Shores Beach, famous for its reliability, and predictability. This beach also features a mile-long crescent-shaped stretch of sand that is perfect for jogging and sunbathing.
Take In Views Of The San Diego Bay From The San Diego Harbor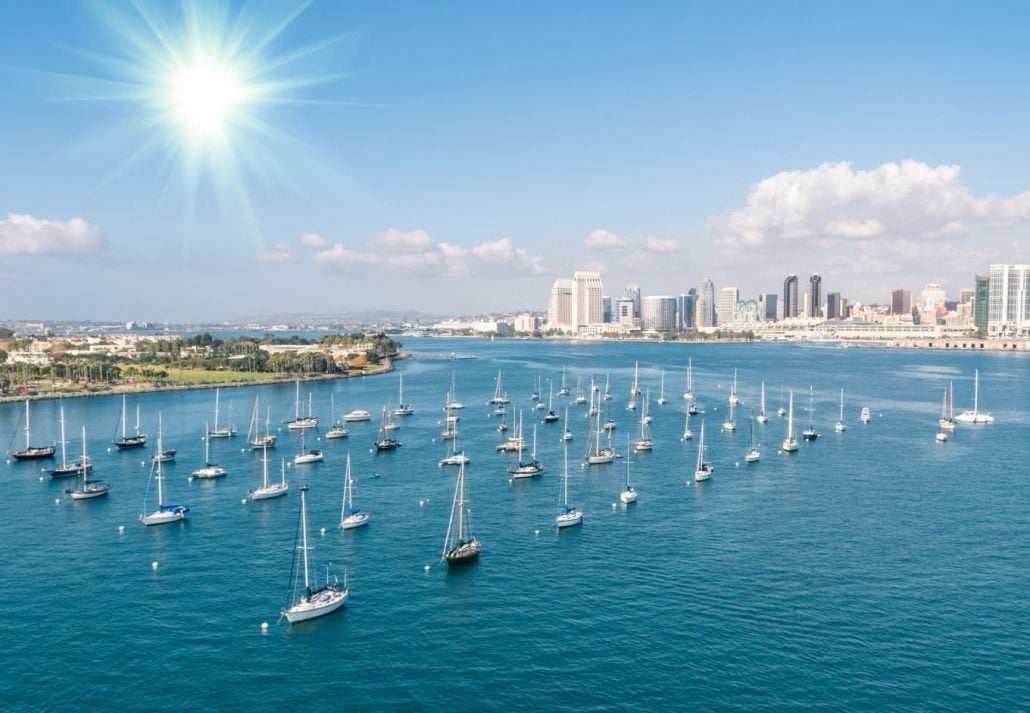 The San Diego Harbor is a bustling waterfront area that offers the most showstopping views of San Diego bay.
Aside from treating visitors to breathtaking scenery, this alluring Southern California harbor is home to a range of family-friendly attractions. Highlights include the 14-acre Seaport Village, which features a vibrant boardwalk, as well as 50 unique shops and more than 10 restaurants; and the USS Midway Museum, home to an array of aircraft, including the historic USS Midway Aircraft Carrier.
Address: San Diego Bay San Diego, CA 92135
Visit San Diego's World-Class Museums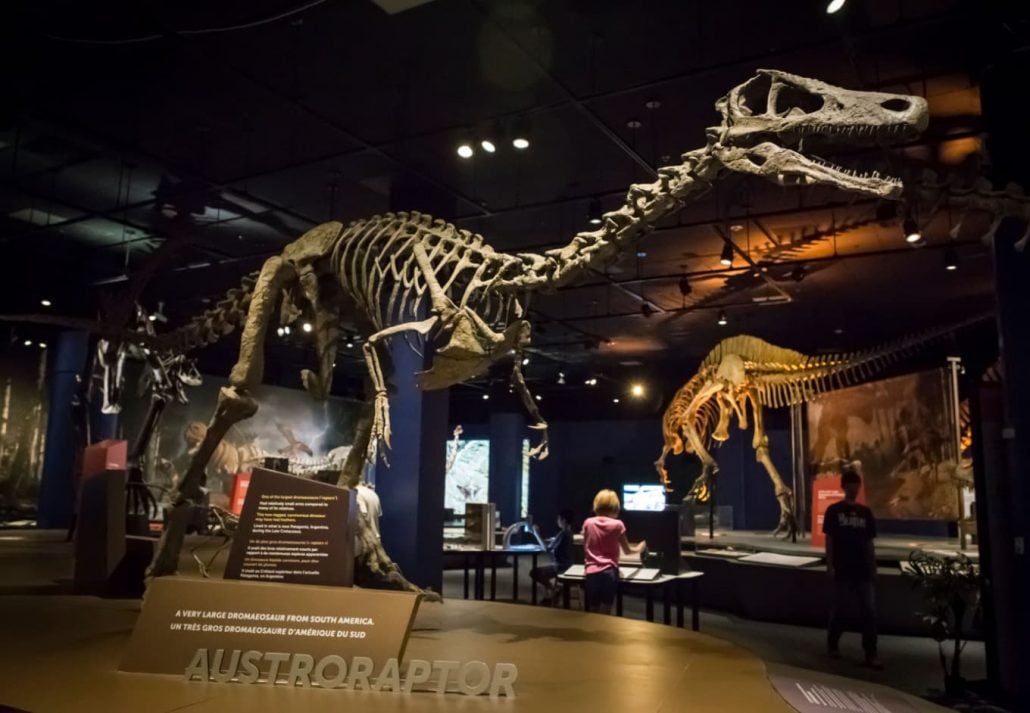 San Diego is as much about idyllic beaches as it is about world-class museums that cater to everyone. So whether you're a history buff or a science nerd, you're sure to find a stellar museum for you in San Diego.
One of the best museums in San Diego is the San Diego Natural History Museum. This kid-friendly museum is home to an Allosaurus cast skeleton, and a pendulum designed by Jean Leon Foucault in 1851 to demonstrate Earth's rotation.
Be sure to also visit the San Diego Museum of Art, which harbors masterpieces by Spanish old masters such as El Greco, Goya, Ribera, Sanchez Cotán, and Zurbarán.
The Maritime Museum of San Diego is also worth a visit. Here, you'll get the chance to get up close with the Star of India, the world's oldest active sailing ship.
See The San Diego Skyline From Coronado Island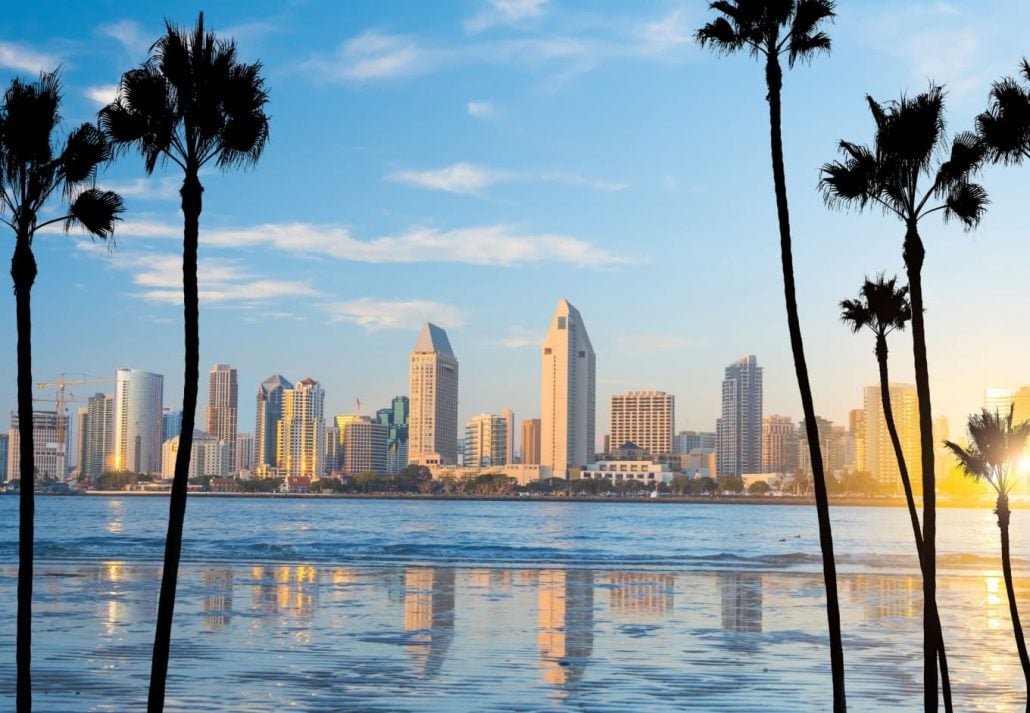 A short drive or ferry ride from downtown San Diego, in the middle of San Diego Bay, lies Coronado Island.
This balmy island is a go-to destination for those seeking to enjoy some of the best San Diego beaches, including the 1.75 miles long Coronado Beach. Behind this idyllic stretch of sand, you'll find the Hotel del Coronado, California's most iconic resort.
After lounging in Coronado Beach's soft white sand, head over to the lush Centennial Park, from where you'll be spoiled with stunning views of the San Diego skyline.
Watch The Sunset In Point Loma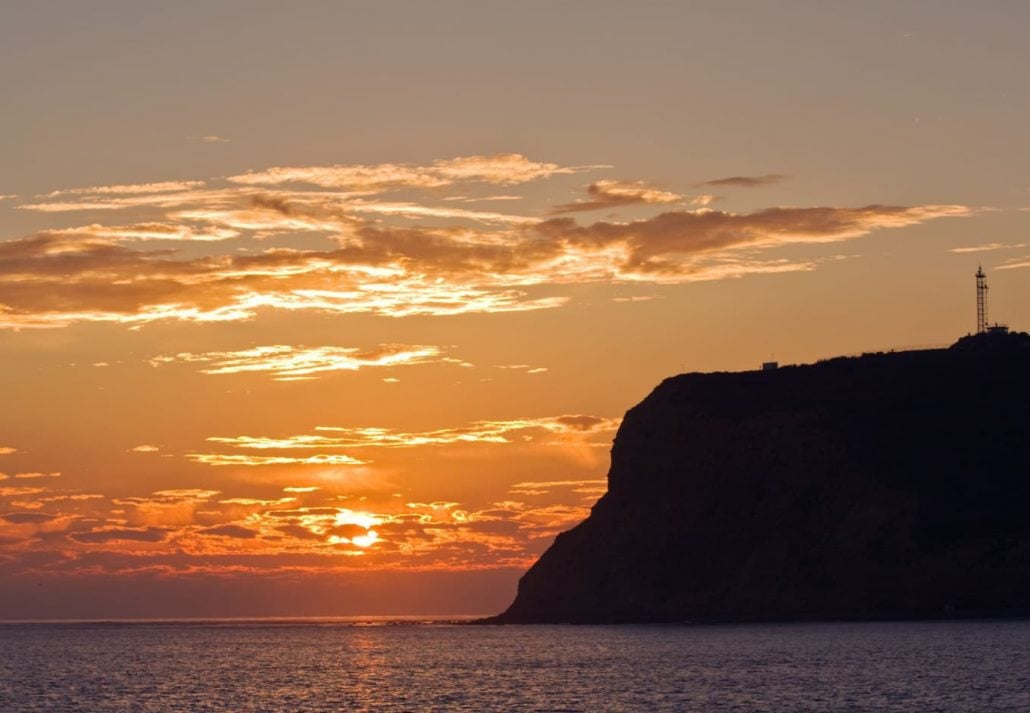 The seaside community of Point Loma is a wonderful destination for active and outdoorsy adventures. Nature lovers can't miss the Cabrillo National Monument, a park home to gorgeous hiking trails, serene tide pools, as well as the historic Old Point Loma Lighthouse.
Stretching along the western shoreline of Point Loma, Sunset Cliffs Natural Park is a wonderland punctuated by cliff formations and caves. This is a popular place in San Diego for enjoying views of the ocean and watching the sunset.
Visit California's First Mission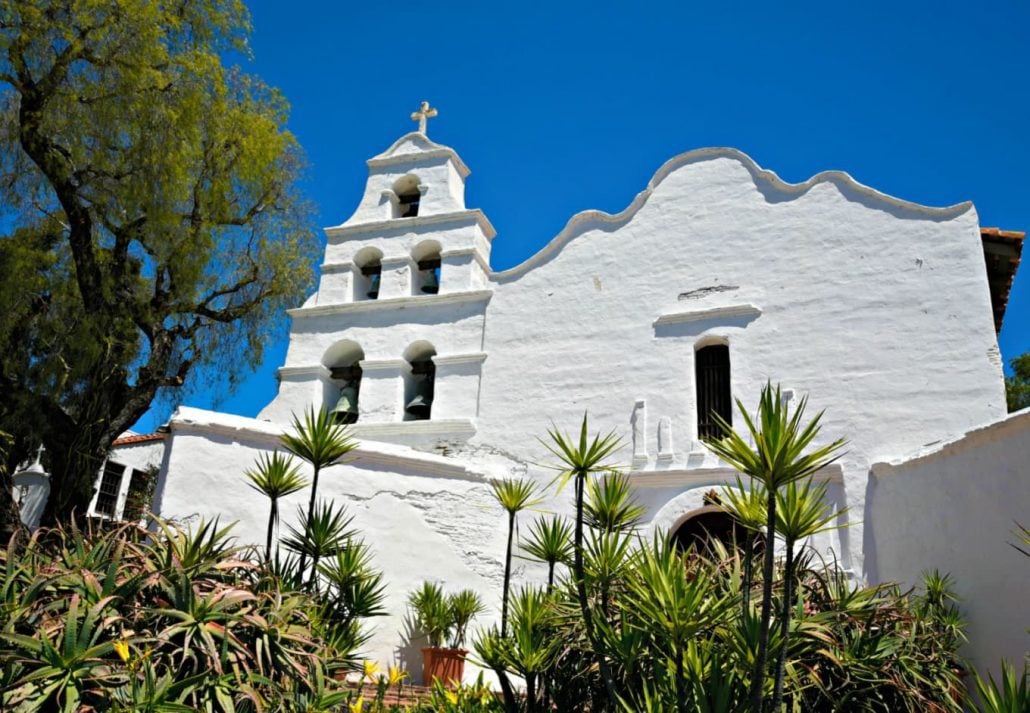 There are 21 missions dotting the California coast, and San Diego lays claim to the first — the Basilica San Diego de Alcalá. Founded in 1769 by Franciscan priest Junípero Serra in an area long inhabited by the Kumeyaay people, the basilica marks the origin of Christianity in the American west.
The church was made a Minor Basilica in 1976 by Pope Paull V and currently serves as an active parish for the Catholic community in San Diego. It's also a cultural center for people of all faiths who want to learn more about the history of San Diego.
Address: 10818 San Diego Mission Rd, San Diego, CA 92108
Enjoy An Oceanfront Breakfast In Pacific Beach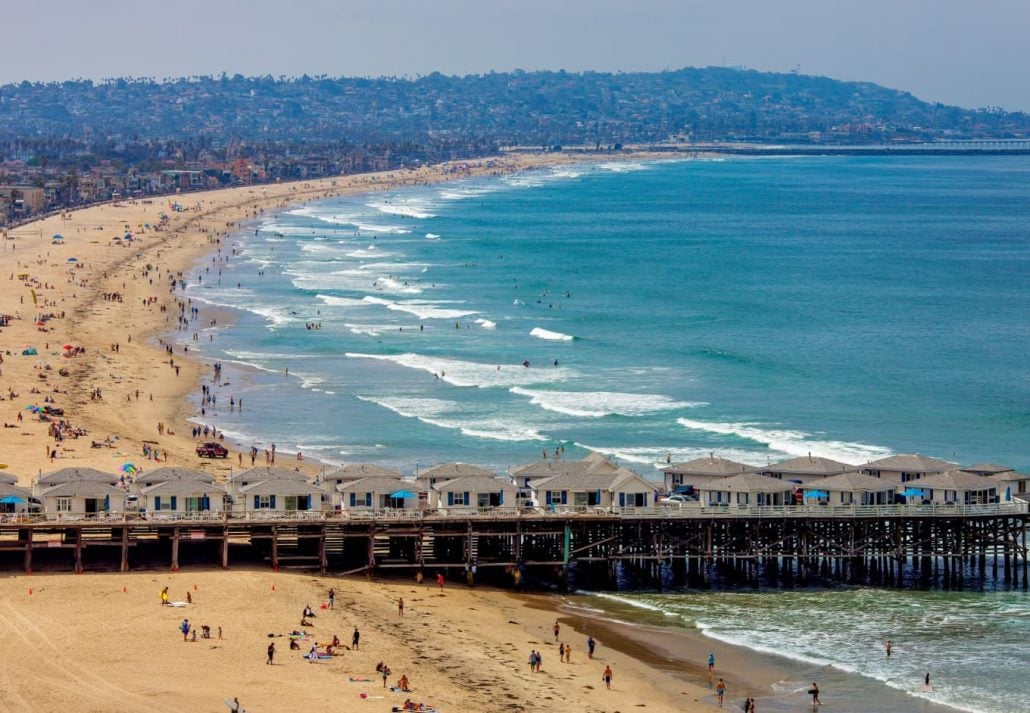 Pacific Beach is a bustling neighborhood known for its teeming nightlife scene. But this area offers way more than incredible beach parties! In PB, as the locals call it, visitors are happily surprised to find incredible surfing destinations, including Turmaline Beach, a 3.2-mile-long boardwalk, and Crystal Pier, which is a top spot for fishing.
Delectable culinary experiences are also a highlight of Pacific Beach. Don't miss the chance to stop by the legendary Kono's Surf Club Café, an oceanfront cafe famous for its giant breakfast burritos.
Check Out The San Diego Views From PETCO Park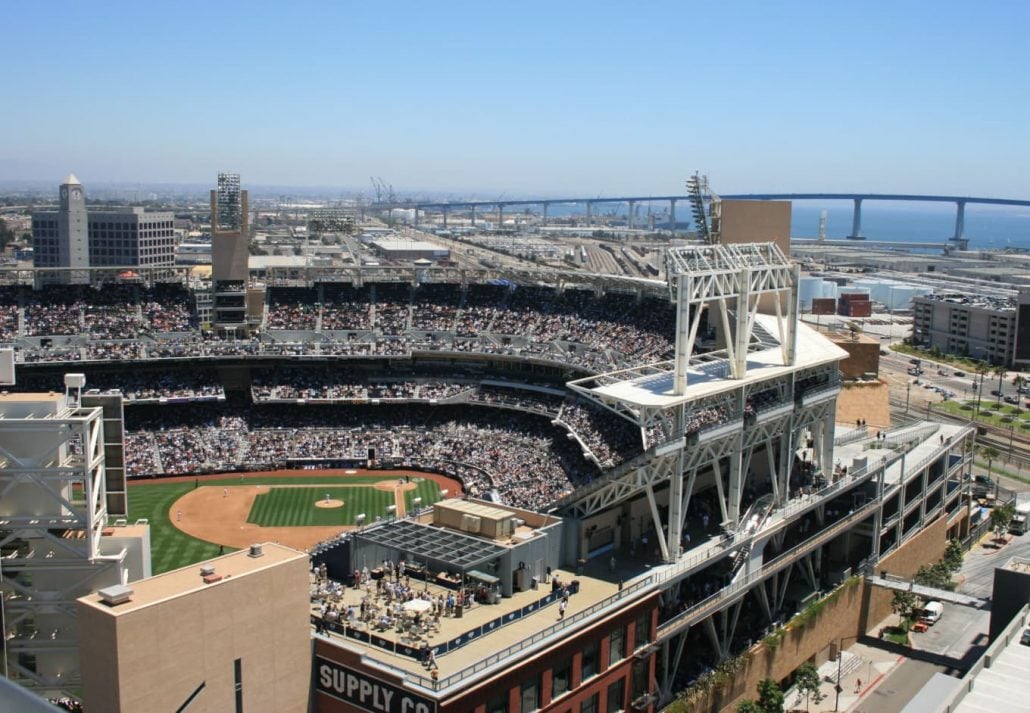 Located in Downtown San Diego, PETCO Park is one of the top San Diego attractions for sports enthusiasts. This magnificent baseball stadium — a National Historic Landmark —is home to the San Diego Padres, an American professional baseball team that competes in Major League Baseball.
Whether you're a sports fan, a visit to PETCO park is worth it. The stadium is known for its state-of-the-art facilities, and for offering the most show-stopping views of San Diego.
Address: 100 Park Blvd, San Diego, CA 92101
Go On Whale Watching On A San Diego Harbor Cruise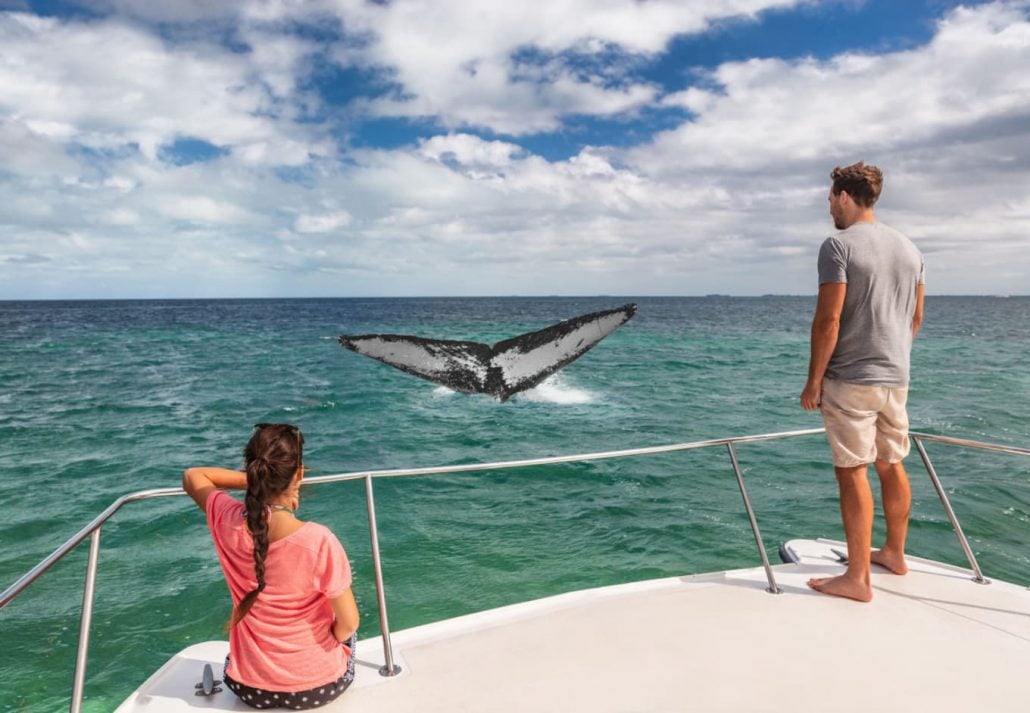 San Diego is one of the top destinations for year-round whale watching in the United States. For the precious opportunity to spot not only whales, but several species of dolphins, sea lions, and sea birds off of San Diego's beautiful coast, go for a half-day cruise departing from Harbor Drive.
Meet Wild Creatures At The San Diego Zoo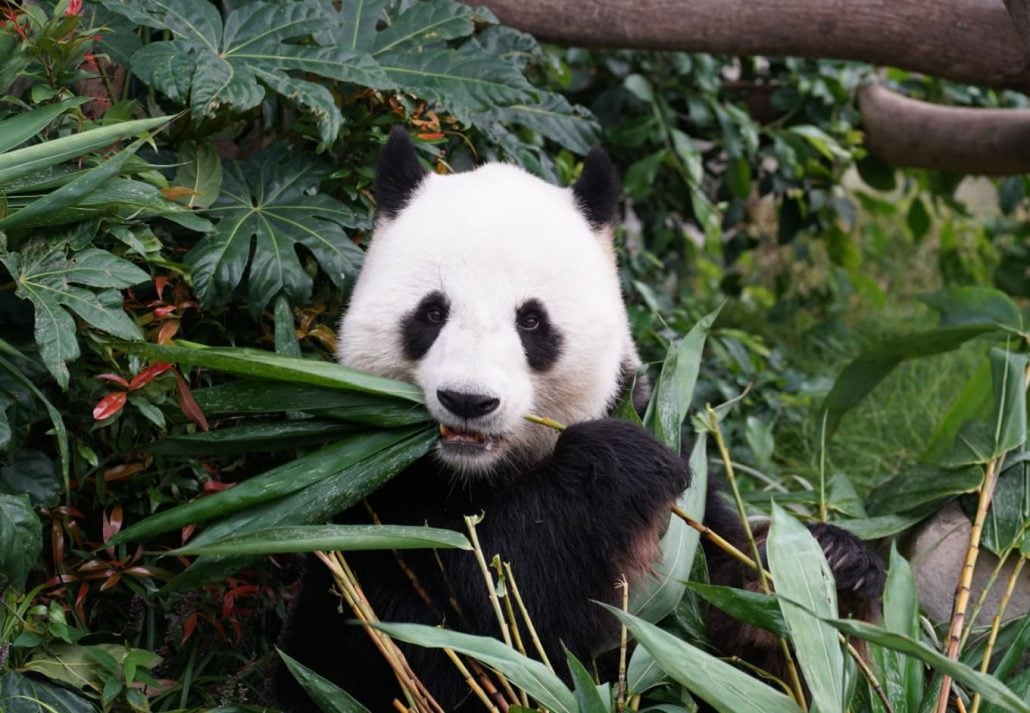 Located in Balboa Park, the world-famous San Diego Zoo is one of the largest zoos in the USA. This kid-friendly San Diego attraction is home to 4000 animals of more than 650 species and subspecies on 100 acres. Some of the animals you'll meet there include Arctic foxes, leopards, bonobos, and even Chinese alligators!
Get Outdoorsy At The Torrey Pines State Natural Reserve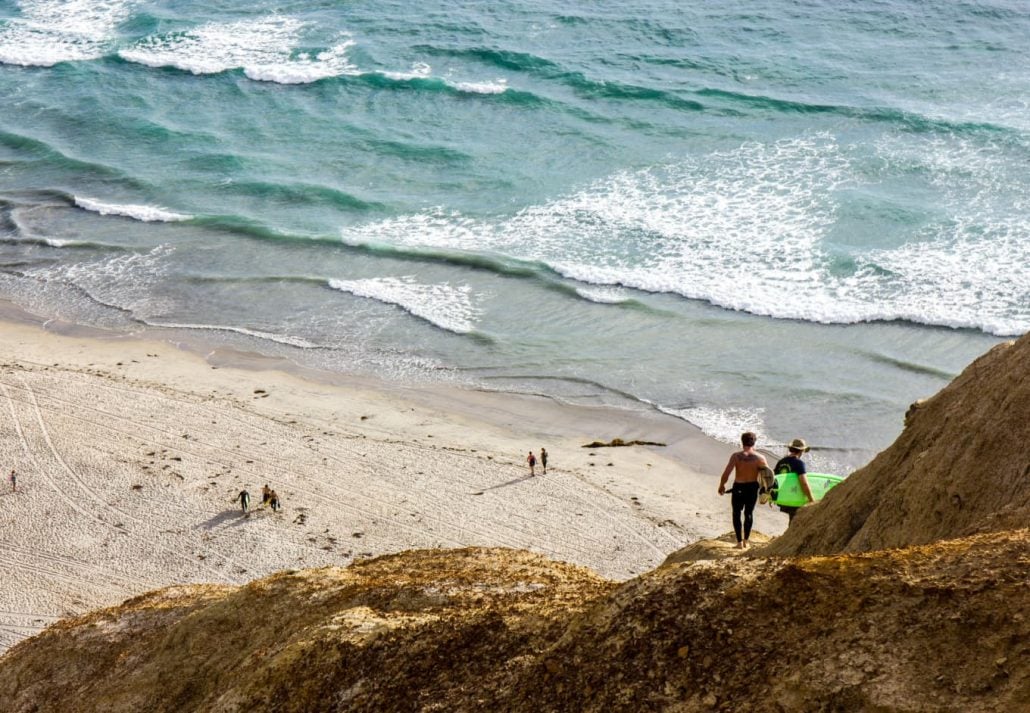 Nature lovers: make sure to add a visit to the Torrey Pines State Natural Reserve to your San Diego itinerary. This 2,000 acres coastal park in La Jolla encompasses maritime chaparral, the rare Torrey pine, miles of unspoiled beaches, unique geological formations, and a lagoon that is vital to migrating seabirds.
At the very bottom of the state reserve lies the Torrey Pines State Beach, which is beautifully framed by a series of 300-foot sandstone cliffs of white and golden stone.
Address: 12600 N Torrey Pines Rd, La Jolla, CA 92037
Ride The Giant Dipper Coaster At Belmont Park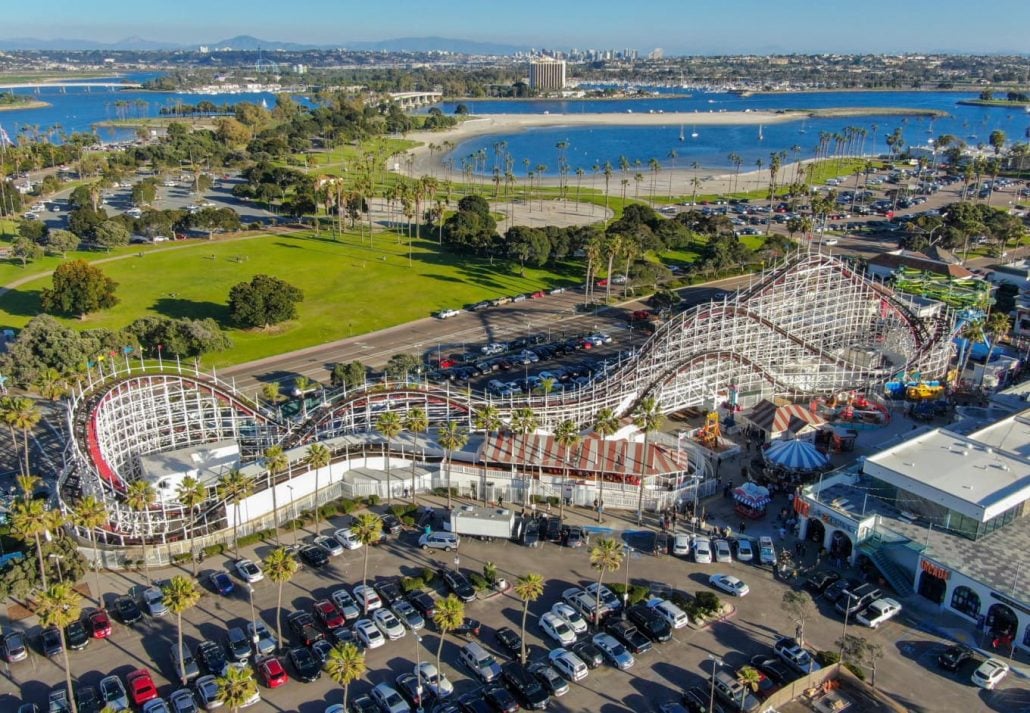 Perfectly located in San Diego Mission Bay, this beachfront amusement park is home to some pulse-pounding rides for the entire family.
Daring visitors will love to experience the historic Giant Dipper roller coaster, which speeds up to 48 mph with sharp dips and turns, and the Beach Blaster, where rides are suspended while reaching heights of up to 67 mph.
And there are gentler options, too. Toddlers visiting Belmont Park can ride the Liberty Carousel, beautifully embellished with 12 paintings depicting San Diego's history, drive the bumper cars, or play on the Laser Tag Arena.
Address: 3146 Mission Blvd, San Diego, CA 92109
San Diego Zoo Safari Park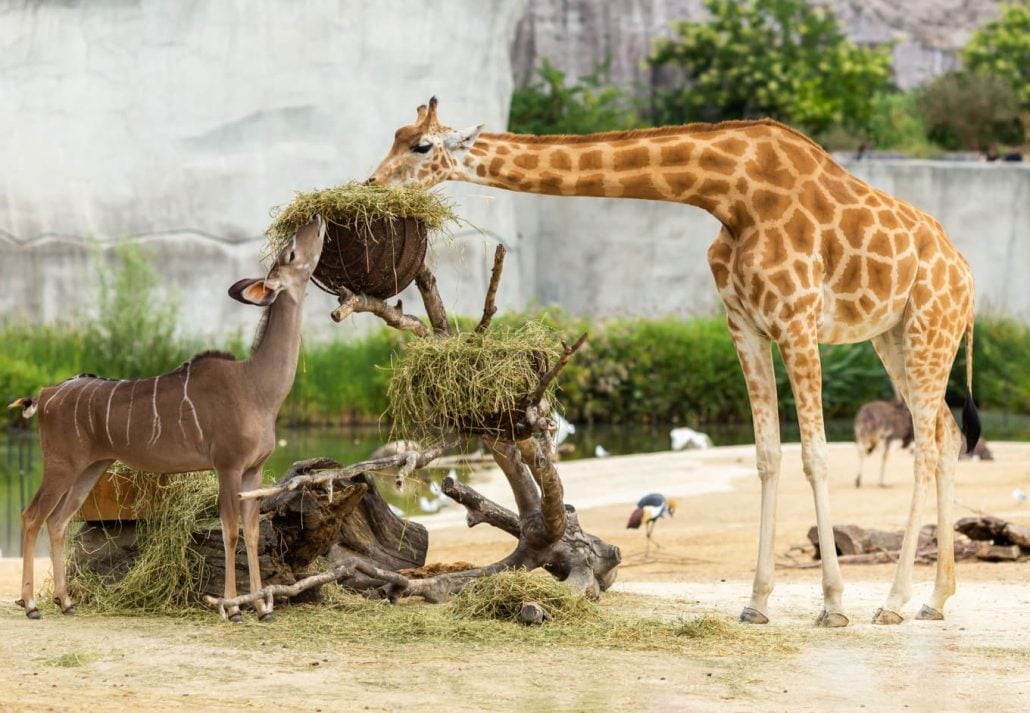 One of San Diego's top family-friendly attractions, San Diego Zoo Safari Park is home to a medley of fascinating creatures. A wildlife safari in this sprawling 1,8000 zoo will give you the chance to encounter an array of animals such as African elephants, koalas, giraffes, cheetahs, and more.
Gaslamp Quarter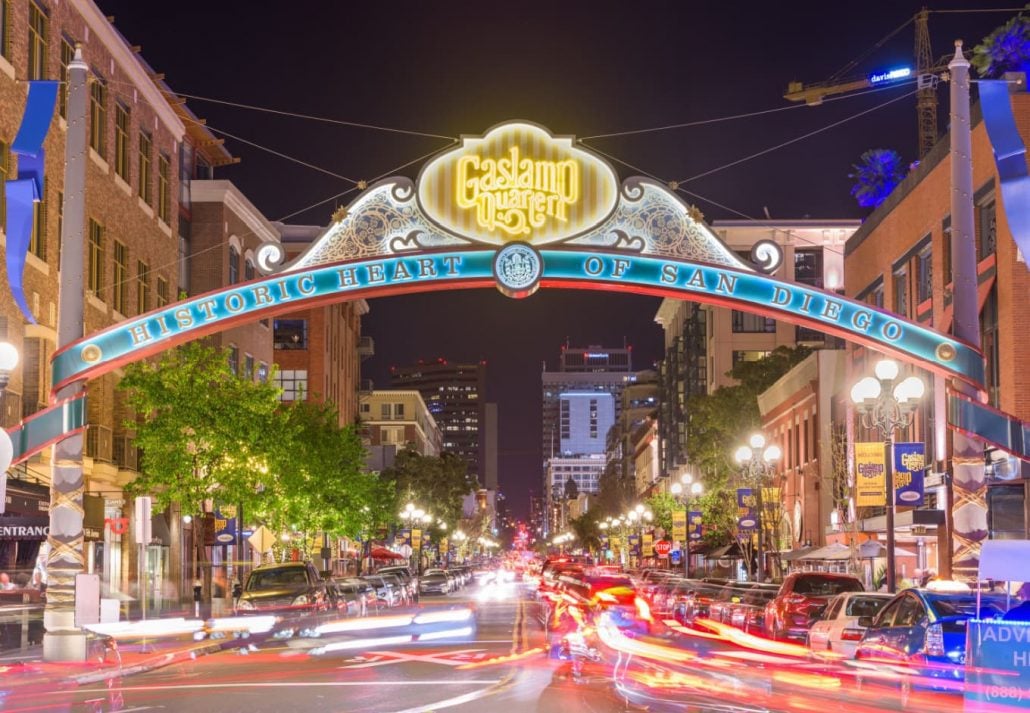 Located in Downtown San Diego, Gaslamp Quarter is a vibrant neighborhood known for its trend known for its teeming nightlife. Here, restored late-19th- and early-20th-century Victorian buildings house tantalizing nightclubs, rooftop bars, and cocktail lounges, as well as trendy shops and art galleries.
This is the perfect destination for experiencing the teeming San Diego nightlife.
FAQ
What should you not miss in San Diego?
The top attractions in San Diego are:
Old Town San Diego;
Balboa Park;
La Jolla;
San Diego Harbor;
Coronado Island;
San Diego's Museums;
Point Loma;
Basilica San Diego de Alcalá;
Pacific Beach;
PETCO Park;
San Diego Zoo;
Torrey Pines State Natural Reserve;
Belmont Park;
San Diego Zoo Safari Park.
Are 2 days in San Diego enough?
We recommend planning at least 3 days to explore San Diego and its main tourist attractions.
What are the 4 highlights of San Diego?
The top highlights of San Diego are the San Diego beaches, Balboa Park, San Diego Zoo, and the Gaslamp Quarter.
What is the best time to visit San Diego?
Visiting San Diego from May through early October is the best bet. During this time of year, the weather is mild (average high temperature is 24ºC), making it a joy to enjoy enjoying the beach and outdoor attractions.
CuddlyNest provides all accommodations to all travelers at the best price. Find unlimited travel inspiration on our blogs and social media channels Facebook, Instagram, and Pinterest.
You May Also Like:
North America Travel Guide
Most Romantic Weekend Getaways in the United States
Long Weekend Getaways in the United States
Best Family Vacations In The United States
Best National Parks In The United States
Best Cabin Rentals in the United States
Best Dog-Friendly Vacations In The United States
Best Getaways In Southern California
The Ultimate California Travel Guide
11 Off The Beaten Path Experiences In San Francisco
The 20 Best Restaurants In San Francisco
The 15 Most Instagrammable Places In San Francisco, California
The Best Time To Visit San Diego, California