Downtown Los Angeles has shown great deals of development over the past few years. This neighborhood with a historic core is quickly becoming the central location for art, merging of different cultures, presenting an abundance of international cuisines, and one of the most happening areas of Los Angeles.
Downtown LA is a vibrant area full of life and is always bustling with people. It wasn't nearly as developed as it is now even just a few years ago. Gear up to enjoy some of the most remarkable historic landmarks that offer panoramic views of the city, the most lively and unique restaurants and cafes located inside LA, and the most amazing culture you'll ever be a part of. From attending concerts or sports events at The Staples Center to grabbing some delicious sushi in Little Tokyo, there are tons to do in Downtown Los Angeles.
We also highly recommend visiting the famous The Broad which is a contemporary immersive art museum featuring works of art by artists such as Roy Lichtenstein, Cindy Sherman, and Jeff Koons. Here are some other must-visit places in Downtown LA.
The Best Places To Visit in Downtown Los Angeles, California
Grand Central Market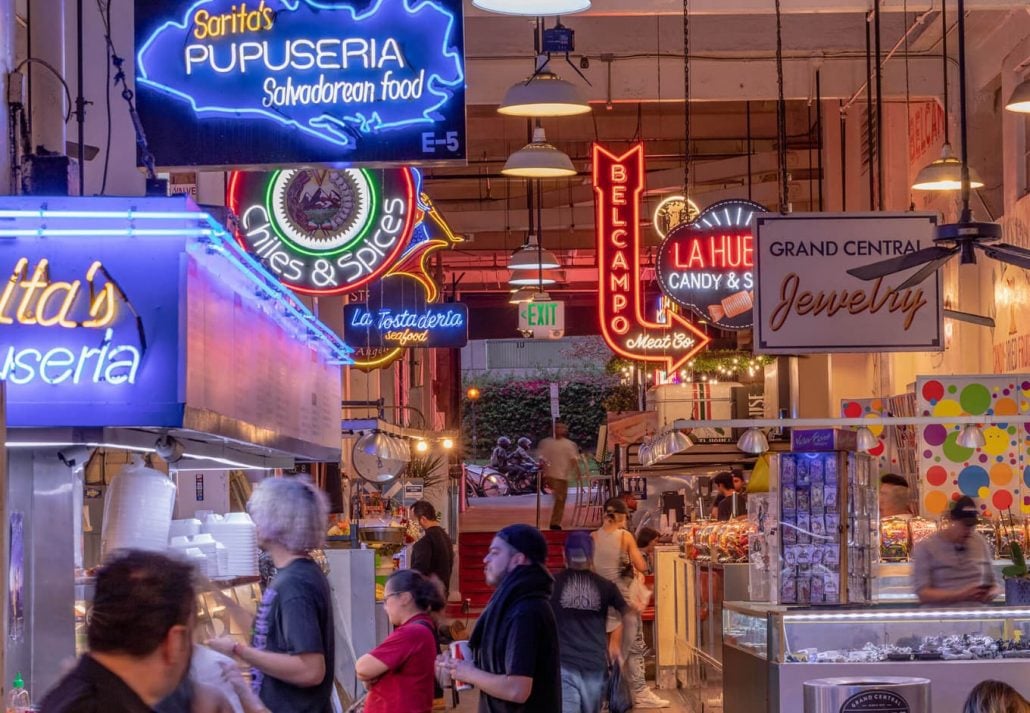 Grand Central Market is an iconic place to visit in Downtown Los Angeles and absolutely should not be missed. Located at the bottom of Bunker Hill, this marketplace offers a variety of fresh seasonal produce, local food stalls serving up a multitude of cuisines, and gourmet restaurants and bars as well. Try the famed Eggslut sandwich, grab a comforting bowl of soup at China Cafe, or delicious tacos from Tacos Tumbras. Enjoy the downtown historic core of this market, and be sure to come here for a hearty lunch or brunch where you try a bit of everything.
Walt Disney Concert Hall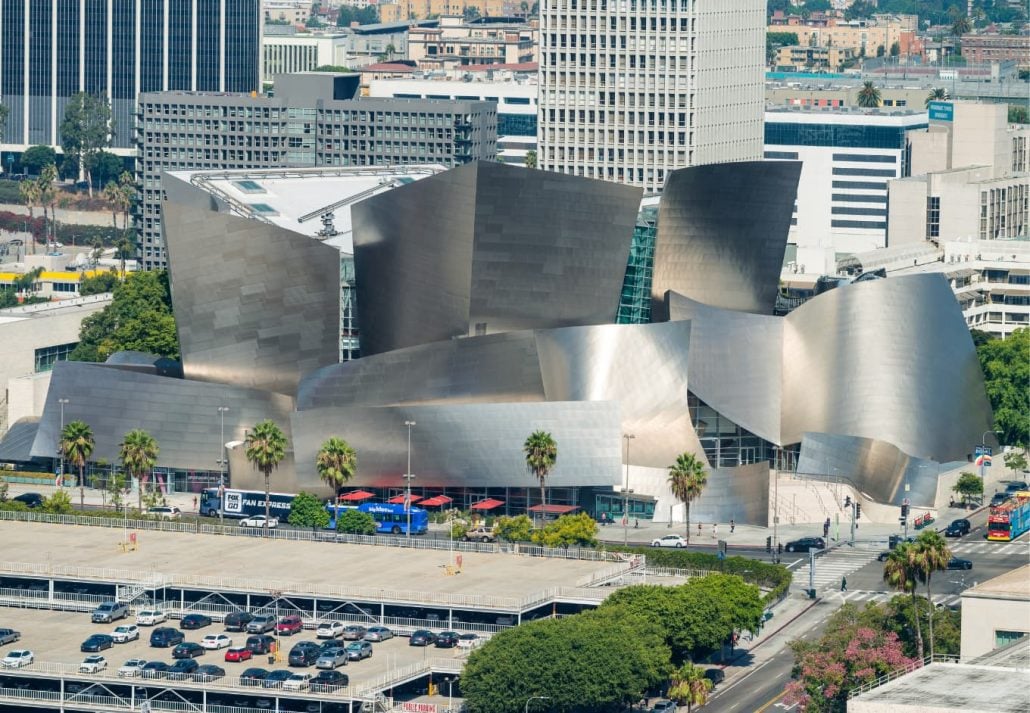 A stunning architectural masterpiece designed by Frank Gehry. This state-of-the-art venue is home to the LA Philharmonic and frequently hosts concerts, performances, and events. While we would highly recommend catching a show by the LA Philharmonic, even if you can't attend a show there, we still recommend visiting it and admiring the beautiful steel structures on the exterior of the building. Frank Gehry designed the building and you can take a free self-guided audio tour through the building even without a concert ticket.
Bradbury Building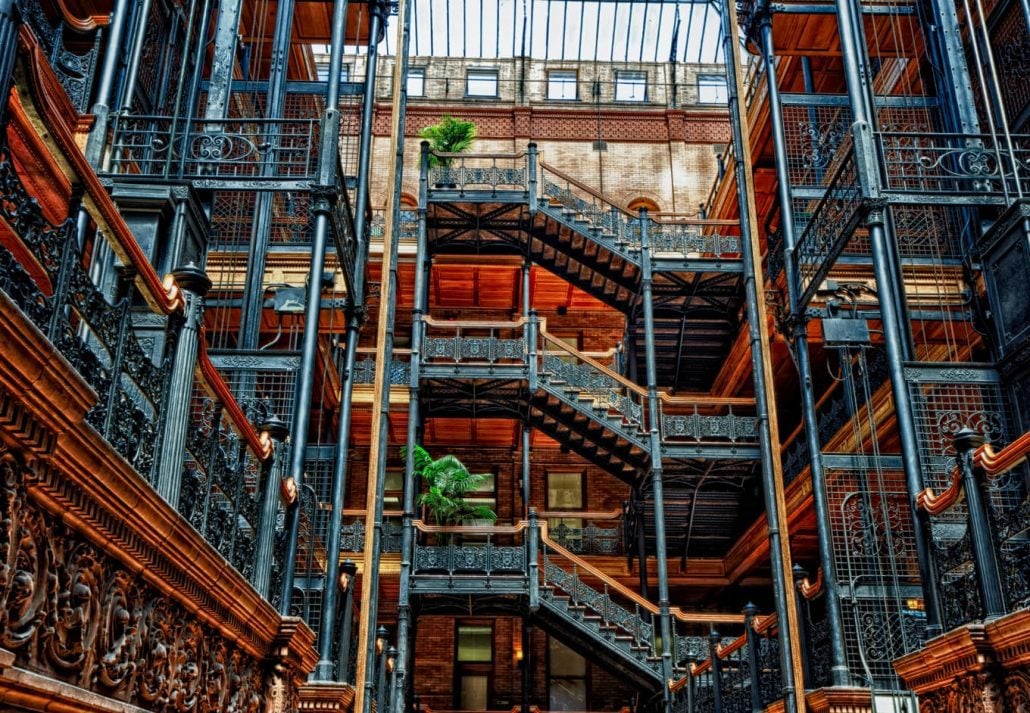 This beautiful building is a National Historic Landmark known for its ornate Victorian-style architecture and elaborate ironwork. The building is open to the public and is worth a visit for its stunning interior design alone. The building is famous for its appearance in the movie Blade Runner. This iconic building was built in 1893 and is the oldest commercial building that is still standing strong in LA.
Skyspace LA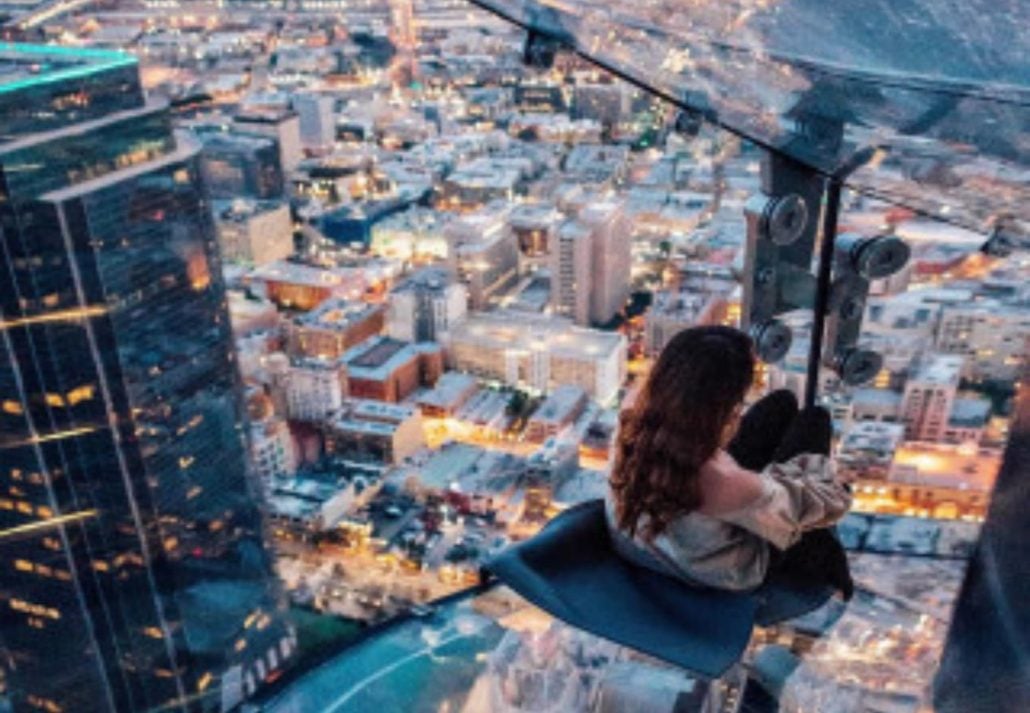 If you're looking for a unique and breathtaking view of the city, head to Skyspace LA, located on the 70th floor of the USA Bank Tower. This observation deck offers 360-degree views of Los Angeles and even has a glass slide that takes you from the top to the bottom of the building. This is the tallest open-air observation deck in the whole of California. There's also an exhilarating 45-foot-long outdoor glass slide that visitors can slide on from the 70th floor. This slide offers stunning views of downtown LA.
Restaurants And Bars
Bestia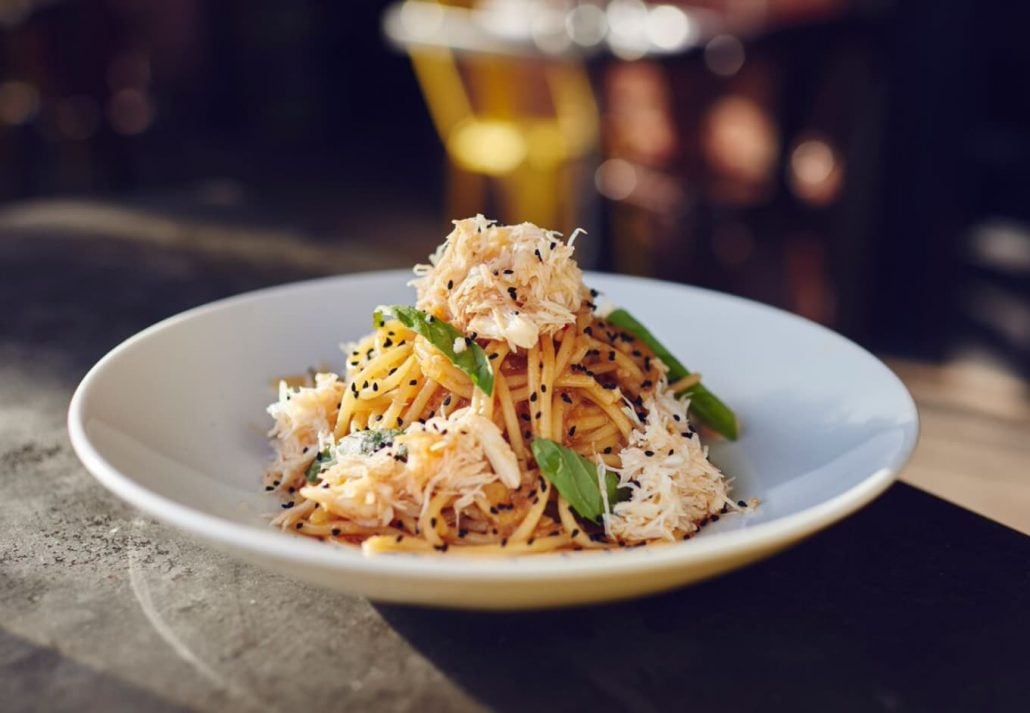 Bestia is a popular Italian restaurant located in the Arts District. The restaurant is known for its wood-fired pizzas, handmade pasta, and locally-sourced ingredients. This neighborhood is home to a thriving creative community and is home to a number of galleries, studios, and cultural institutions. It's a great place to wander and discover new artists and exhibits. Gorge down on scrumptious Neopolitan pizzas, handmade pasta, and several fancy mains paired with the best wines and cocktails. Among their mains, we recommend the grilled whole Branzino and the grilled spiced pork loin. The squid ink lemon Chittara pasta and ricotta Tortelli are their must-try kinds of pasta.
Ace Hotel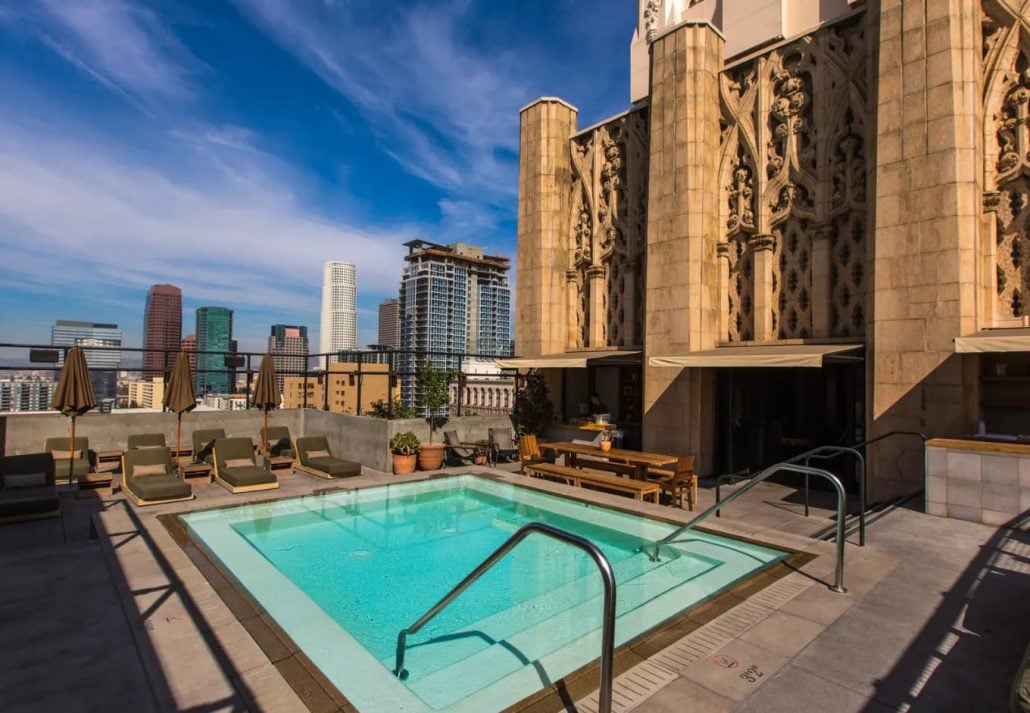 The Ace Hotel is another popular destination in the downtown area, offering a stylish and hip place to stay for travelers. The hotel is located in the Broadway Theatre District and is within walking distance of many of the city's top attractions. This area is home to a number of historic theaters that host a wide range of performances, from musicals and plays to concerts and comedy shows. It's a great place to catch a live performance. Ace Hotel also has some of the best gourmet restaurants in the area.
The Best Places To Go Shopping in Downtown LA
Fashion District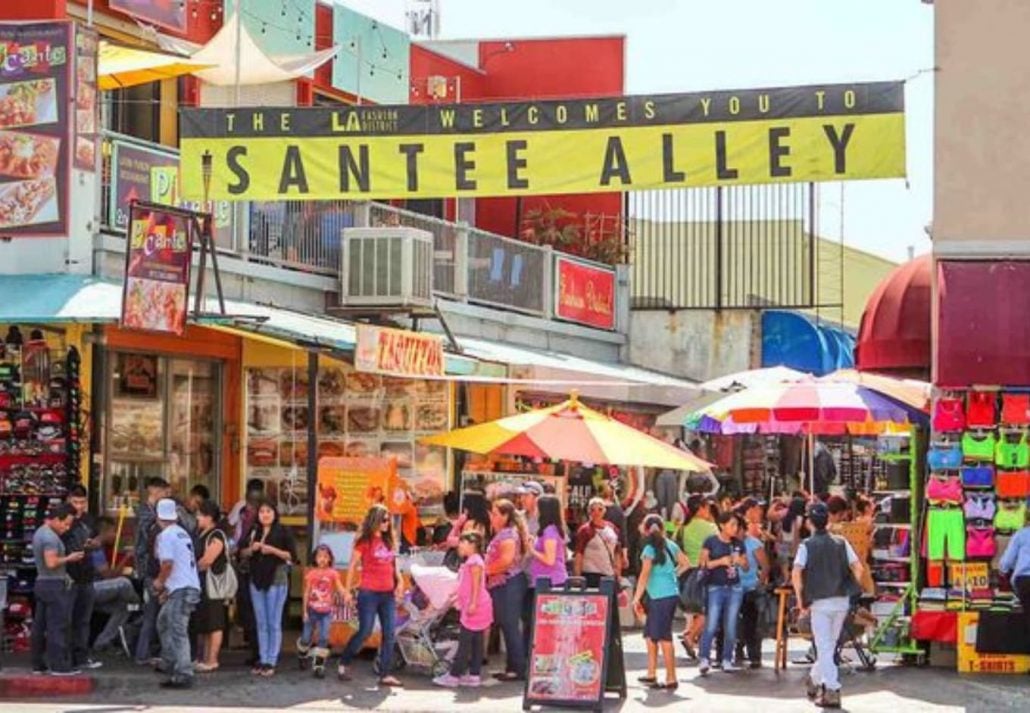 Fashion District is a must-visit destination for fashionistas. This neighborhood is home to hundreds of wholesale and retail clothing stores, offering everything from designer brands to trendy streetwear. This is every shopaholic's paradise.
Olvera Street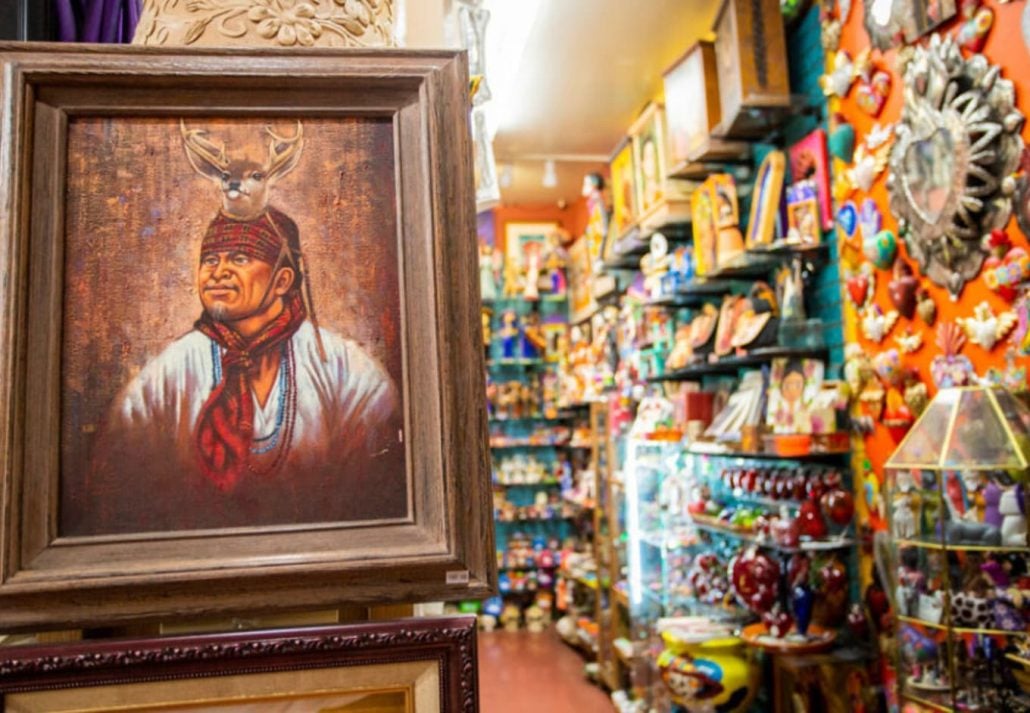 For a taste of LA's rich cultural history, visit Olvera Street, a historic marketplace that has been a popular destination since the 1930s. The street is lined with colorful Mexican-style storefronts and is home to a number of artisanal crafts, souvenirs, and traditional Mexican cuisine.
The Last Bookstore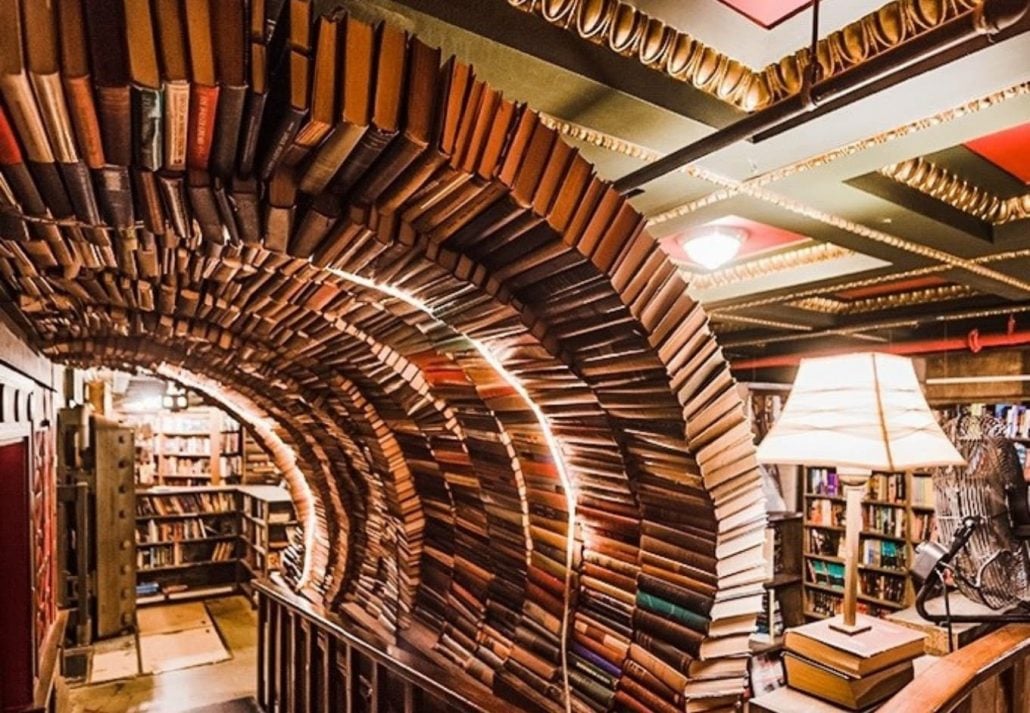 No visit to downtown LA is complete without a visit to The Last Bookstore, a unique and sprawling bookstore located in the historic Core Building. In addition to its vast collection of used and new books, the store also features a vinyl record shop, a gallery space, and a cozy reading room.
FAQ
Is Downtown Los Angeles worth visiting?
Downtown Los Angeles is definitely a must-visit area owing to its rich culture and historic core, contemporary museums, food from several international cuisines and so much more.
What is Downtown LA known for?
Downtown Los Angeles is known for its museums, concert halls, theatres, neighborhoods of several different cultures, and some of the best restaurants in the country – both fine dining and street food.
How do I spend a day in Downtown LA?
Here are some things you should do if you have only one day to spend in LA:
Visit Grand Central Market
Go to the Bradbury Building
Eat a meal at Bestia
Go shopping in Fashion District
What is classed as Downtown in LA?
Starting from the Los Angeles city line with Vernon on the south, bound by the Los Angeles River on the east, on the west by the 110 Freeway, and by Cesar Chavez Avenue on the northeast.
What's the oldest building in Downtown LA?
The oldest commercial building in not just Downtown Los Angeles, but in the whole of Los Angeles, is the Bradbury building.
CuddlyNest provides all accommodations to all travelers at the best price. Find unlimited travel inspiration on our blogs and social media channels Facebook, Instagram, and Pinterest.
You May Also Like:
North America Travel Guide
Most Romantic Weekend Getaways in the United States
Long Weekend Getaways in the United States
Best Family Vacations In The United States
Best National Parks In The United States
Best Cabin Rentals in the United States
Best Dog-Friendly Vacations In The United States
Best Getaways In Southern California
The Ultimate California Travel Guide
11 Off The Beaten Path Experiences In San Francisco
The 20 Best Restaurants In San Francisco
The 15 Most Instagrammable Places In San Francisco, California