Walt Disney World is a family-favorite theme park in Orlando, Florida, and is esteemed to be one of the best theme parks in the country. When Walt Disney World first launched, it only featured two on-site hotels, but now that number is around 25! With 25 hotels within Disney World's premises and several other excellent hotels nearby, it seems impossible to pick one. Let's explore the six best Disney World hotels to make this decision much simpler!
Whether you're looking to have an unforgettable plush luxury experience at Disney's Grand Floridian Resort Spa, unwinding by the sea at Disney's Caribbean Beach Resort or Disney's Beach Club Resort, experiencing the modern Disney's Contemporary Resort, taking a stroll through the famous Disney Springs, or enjoying along with your kids at Disney's Animal Kingdom Lodge, Walt Disney World has the perfect hotel to offer for every family.
Top 5 Walt Disney World Hotels
Disney's Grand Floridian Resort Spa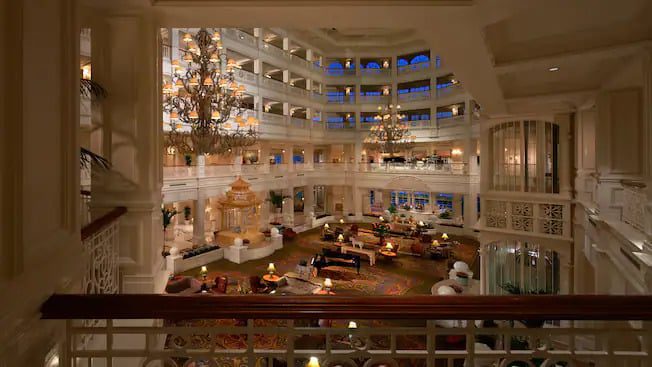 The most exemplary and luxurious of Disney World Hotels, Disney's Grand Floridian Resort Spa is charming and timeless. Located right next to The Magic Kingdom, this is Disney World's flagship resort and is the most luxurious as well. Not themed quite like the other resorts which are more playful in nature, this deluxe resort is unique in its Victorian grandeur by the ocean and will leave both kids and adults in awe. Being the most luxurious of the Disney resorts also makes it the most expensive with the nightly price for the base rooms starting at $500 and going up to $700 during peak seasons.
Victoria & Albert's is a restaurant here that is the fanciest and most expensive restaurant in Disney, offering a true five-star dining experience complete with a dress code and a rule that prevents kids below the age of 10 from entering. A more affordable but also lovely dining option at Disney's Grand Floridian Resort Spa is the Beauty And The Beast lounge.
Disney's Beach Club Resort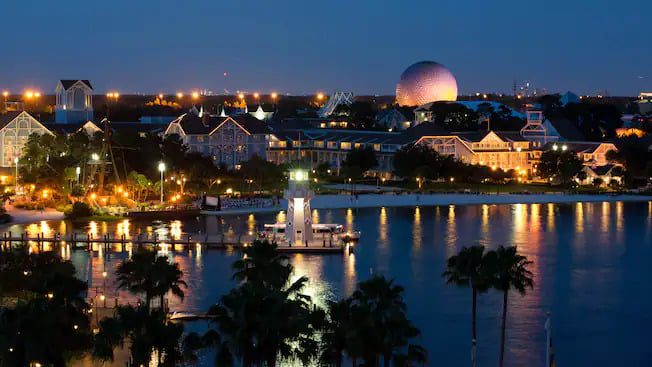 Disney's Beach Club Resort is the sister property of Disney's Yacht Club Resort and they both offer lovely seaside luxury stay experiences near Disney's Hollywood Studios. The Beach Club Resort is themed keeping in mind a New England beach club and feels very different from Florida's beach clubs. With Victorian architecture featuring pastel blue and beige tones, the resort has a warm, welcoming and light feel to it that perfectly flows from its interiors to its exteriors on the beach. The best restaurants to try at this resort are the Yachtsman Steakhouse and Beaches And Cream for burgers.
Disney's Yacht Club Resort
Disney's Yacht Club Resort is a nautical-themed resort near Epcot and Hollywood Studios, and also includes access to Stormalong Bay, which is a huge pool area with a few different waterpark attractions like a lazy river, waterslide, and shipwreck. The resort also has beach access. This Disney World hotel, like its sister property, is themed around a New England yacht club and we highly recommend exploring Disney's Hollywood Studios from this resort.
Disney's Polynesian Village Resort
Being one of the original Disney World hotels inspired by Walt Disney, Disney's Polynesian Village Resort was always iconic but has also gone under a Moana-themed renovation recently, making it all the more special, and a must-visit spot on your Disney World vacation. Located in close proximity to The Magic Kingdom, this resort will make you feel like you're on a lush green tiki island in the ocean. Trader Sam's Grog Grotto serves iconic tiki-themed drinks for all ages (until 8 PM, after which it becomes an adults-only bar) and features volcano and rain eruptions. You also have to try out the famous Dole Whip from Pineapple Lanai. But the most iconic and newest addition to the dining options here is the Ohana, which is a Polynesian-inspired dining venue.
Disney's Animal Kingdom Lodge
Last, but certainly not least on our list is the world-famous Disney's Animal Kingdom Lodge, themed after an African wilderness lodge giving guests the true experience of being on a wildlife safari. A resort that will make you forget that you are in the USA, and located next to Disney's Animal Kingdom Park, features a 74-acre large animal reserve that envelopes the resort.
There are over 200 animals that live in the reserve, including giraffes, zebras, ostriches, and gazelles with guests being able to view them from several guest rooms and viewing stations. It's no wonder that this is one of the best Disney World Resorts! We recommend staying in a Savanna-view room where, if you're lucky, you might just wake up to a giraffe grazing right next to your balcony. You can also experience delicious authentic African food at either Boma, Jiko, or Sanaa, which is the restaurant offering the best views. A must-do activity here is to go on their nighttime safari.
FAQ
What is Disney World's nicest hotel?
Disney Grand Floridian Resort Spa is a classic, iconic Disney World hotel. This luxury hotel is elegant, charming, and definitely the nicest deluxe resort in Disney World.
Is it worth the money to stay at Disney resort?
Yes! Staying at the Best Disney World Hotels is an experience of its own and adds a lot of fun to any Walt Disney World vacation.
Does it matter where you stay at Disney World?
Every one of the best Disney World hotels offers a unique experience that the other resorts wouldn't have. Choosing which of the Disney resort hotels to stay in would solely be based on the experience you want to have. Some stunning options are Disney's Polynesian Village Resort, Disney's Caribbean Beach Resort, Disney's Animal Kingdom Lodge, Disney's Contemporary Resort, and Disney's Pop Century Resort.
CuddlyNest provides all accommodations to all travelers at the best price. Find unlimited travel inspiration on our blogs and social media channels Facebook, Instagram, and Pinterest.
You May Also Like:
North America Travel Guide
Most Romantic Weekend Getaways in the United States
Long Weekend Getaways in the United States
Best Family Vacations In The United States
Best National Parks In The United States
Best Cabin Rentals in the United States
Best Dog-Friendly Vacations In The United States
Best Getaways In Southern California
The Ultimate California Travel Guide
11 Off The Beaten Path Experiences In San Francisco
The 20 Best Restaurants In San Francisco
The 15 Most Instagrammable Places In San Francisco, California