Downtown Miami is a region that's known to be an oasis of luxurious skyscrapers that range from hotels and offices to fancy apartment buildings, with most of them offering views of the beautiful Biscayne Bay and the Miami River. From cruising on a yacht to going to the poshest clubs and restaurants, there are endless ways to explore this stunning part of Miami. Head over to Miami Brickell City Centre for the best luxury shopping experience, or go to the Bayside marketplace which is an open-air mall that has lovely artisanal stores and restaurants that overlook the river. Whether you're looking for a business stay or a secluded resort for leisure, downtown Miami has it all.
Some of the best hotels in downtown Miami include Comfort Inn Suites Downtown Brickell, Novotel Miami Brickell, Kimpton Epic Hotel, Intercontinental Miami which is an IHG hotel, and Hotel Beaux Arts. Below are our top picks for the five best hotels in Downtown Miami.
5 Best Hotels In Downtown Miami
Fortune House Hotel Suites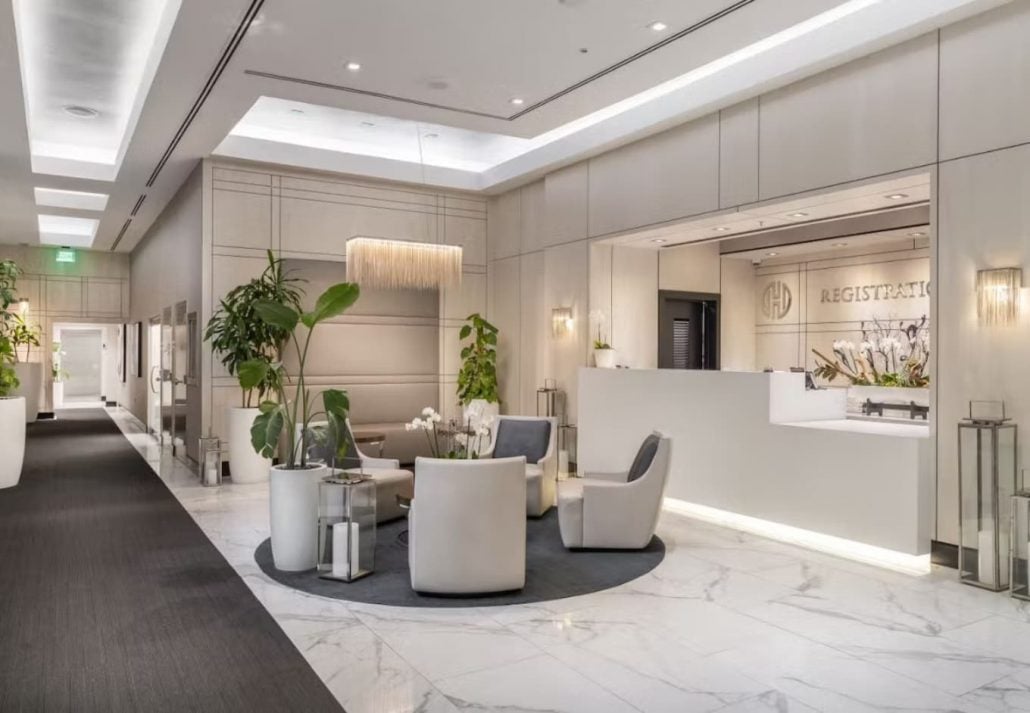 Fortune House Hotel Suites Miami is an opulent and nice hotel in the center of downtown Miami. It provides a variety of services to visitors, including a rooftop pool, a fitness facility, and a business center. The spacious rooms and suites of the hotel are big and attractive, with modern furnishings, luxurious bedding, and high-quality linens. Rooms have a flat-screen TV, a mini-fridge, a coffee maker, and a private bathroom with a shower and a hairdryer.
The hotel's main restaurant provides breakfast, lunch, and dinner, with cuisines ranging from traditional American fare to international fare. After a long day of touring or business meetings, visitors may unwind with a drink at the hotel's bar and lounge area. One of Fortune House Hotel Suites Miami's main attractions is its rooftop pool, which gives amazing views of the city skyline and provides a tranquil sanctuary in the midst of the bustling metropolis. The pool is encircled by luxurious lounge chairs, and the poolside bar serves beverages and food.
Hampton Inn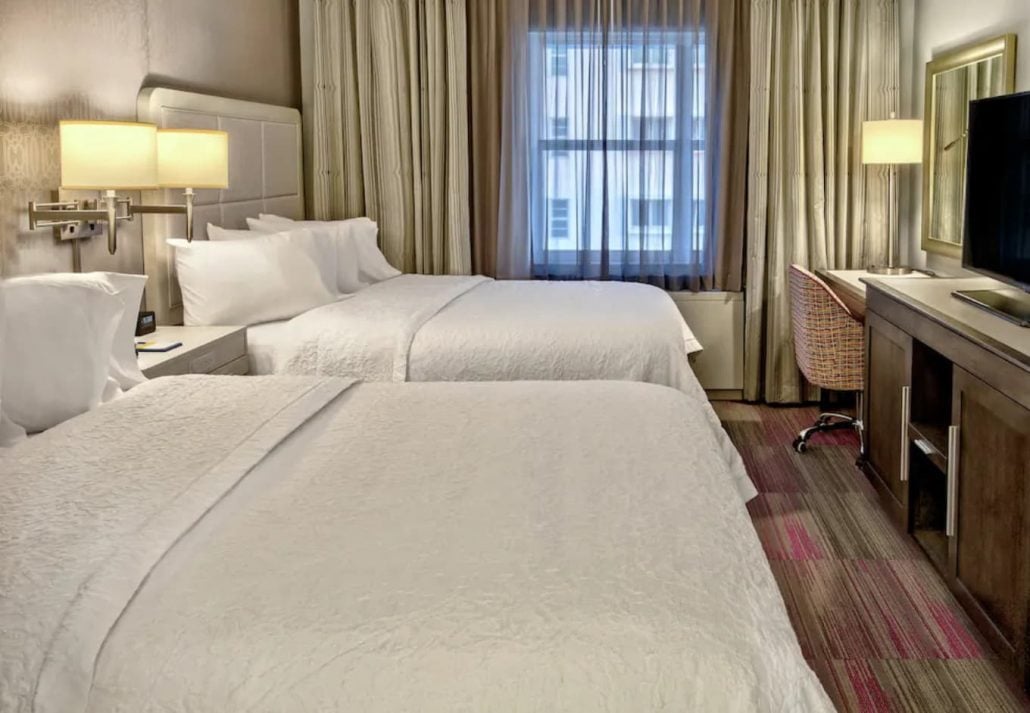 Hampton Inn Miami is a popular hotel choice for business travelers to the city, thanks to its convenient location and comfortable accommodations. One of the best downtown Miami hotels, the hotel is just a quick walk from several attractions and amenities. Upon arrival, guests are greeted by friendly staff members in the modern lobby, which features plenty of seating and a fireplace. The guest rooms are spacious, with comfortable beds, flat-screen TVs, and en-suite bathrooms.
One of the standout features of the Hampton Inn Miami is its outdoor pool, which is perfect for cooling off on hot days. Free Wi-Fi is available throughout the hotel, and there is an outdoor pool and fitness center on-site for guests to use. The hotel's complimentary breakfast buffet is a great way to start your day, with a variety of hot and cold options to choose from. There are also many restaurants and cafes within walking distance for other meals. The Hampton Inn Miami is a reliable and comfortable choice for travelers to the city, with top-notch amenities and a convenient location.
Four Seasons Hotel Miami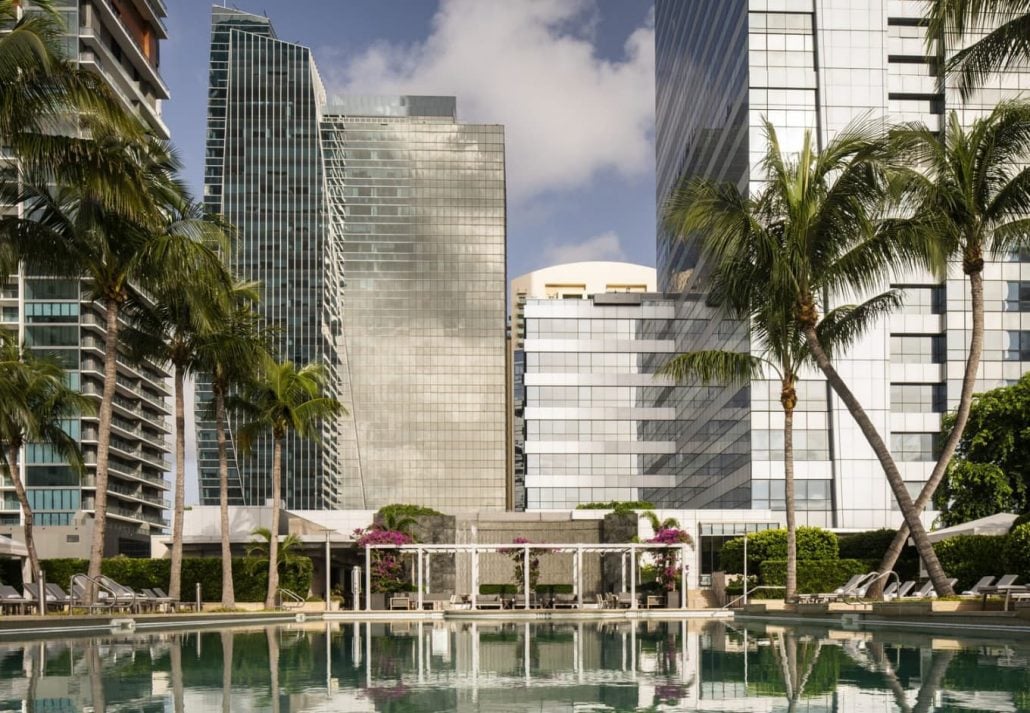 Four Seasons Hotel Miami is a luxury hotel that is one of the most iconic hotels in downtown Miami's city center, offering travelers an unparalleled level of comfort and service. The guest rooms at the Four Seasons Hotel Miami are spacious and beautifully decorated, with floor-to-ceiling windows offering breathtaking views of the city. Each room features a comfortable king-sized bed and marble bathrooms with rain showers. The hotel also offers a range of suites and villas for travelers looking for even more space and amenities. The hotel also offers a range of suites and villas for travelers looking for even more space and amenities such as a private balcony.
A noteworthy feature of this beautiful hotel is its outdoor pool area, which features private cabanas and a pool bar serving refreshing drinks and snacks. The hotel also has a full-service spa and fitness center, offering a range of treatments and workouts for guests to enjoy. The Four Seasons Hotel Miami also boasts several excellent dining options, including a rooftop restaurant offering panoramic views of the city and a modern Italian restaurant. For travelers looking to explore the city, the hotel offers a range of activities and tours, including boat trips and city sightseeing tours.
Also Read: 7 Things To Do In Miami
Miami Marriott Biscayne Bay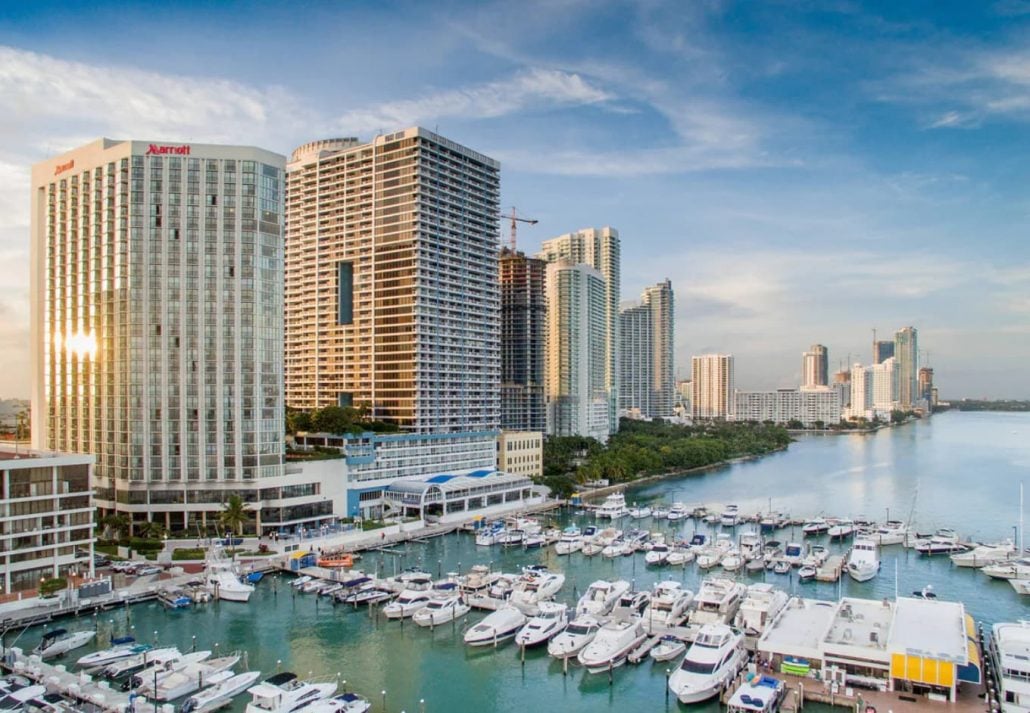 Miami Marriott Biscayne Bay is a stylish and modern hotel that offers travelers a comfortable and convenient base for exploring the city. It is one of the best luxury hotels in downtown Miami, specifically in the trendy Arts & Entertainment District. Many luxury rooms in this hotel offer breathtaking views of the bay and the city skyline. They have several large event spaces adding up to 20,000 sq. ft. of event space that can host the finest events you could imagine.
Their iconic restaurant called Catch Grill + Bar serves up the best American cuisine and fresh seafood that's been cooked to perfection. They also have a coffee house called The Market that is perfect for having a lovely cup of evening coffee. The hotel offers some of the best views of the port of Miami and Biscayne Bay from its luxurious suites.
The Gabriel Miami Downtown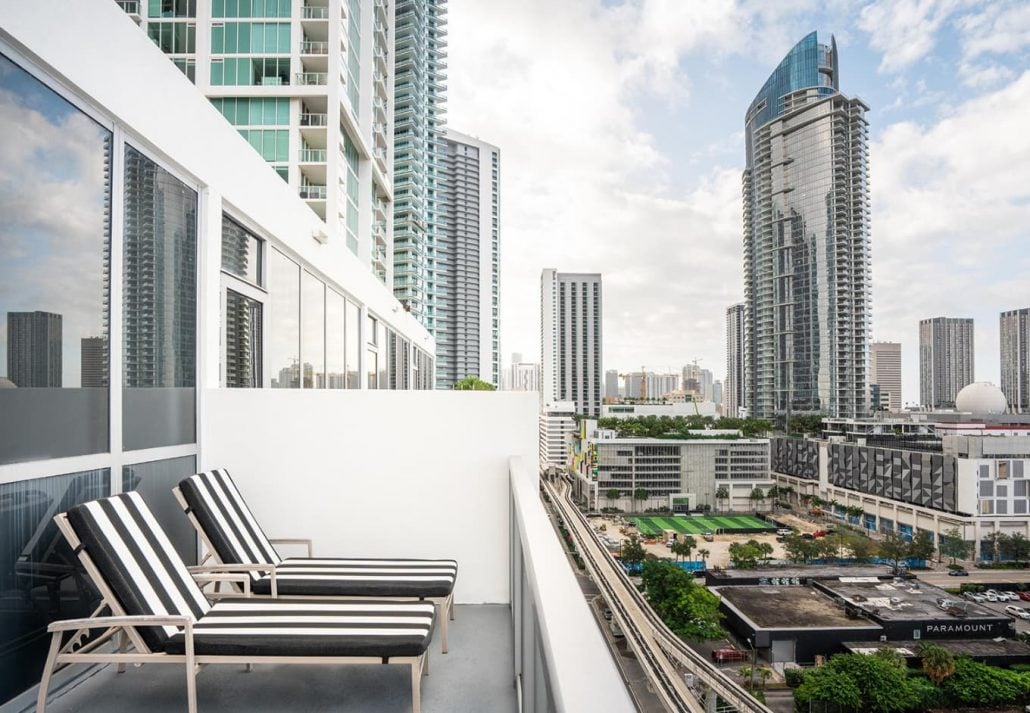 The Gabriel Miami Downtown is an artful, chic hotel in downtown Miami and is one of the best hotels to stay at, especially for leisure travelers owing to its modern amenities and central location. This gorgeous boutique hotel offers the epitome of contemporary classy elegance and luxury, along with the best connectivity and stunning views of Biscayne Bay. Their modern accommodations feature floor-to-ceiling windows and abstract art decor.
They have a stunning rooftop pool located on the 14th floor and a warm and welcoming library lounge that offers some lovely refreshments along with fine books on the art & culture of the region. Their Signature Restaurant serves fresh South Floridian foods and seafood with Bella's Bar serving up the best artisanal craft cocktails. They also have delicious room service options. Their spa called Satori offers some of the most luxurious spa treatments and is known to be one of the best spas in downtown Miami.
FAQ
Is it worth staying in downtown Miami?
Downtown Miami offers close proximity to many local attractions, delectable restaurants, and shopping centers. Staying here in some of the best luxury hotels in the city while being near Biscayne Bay and the Miami River is the best choice to make.
Is it better to stay in South Beach or downtown Miami?
Downtown Miami is the perfect place to stay while visiting Miami. You can always travel to South Beach easily from downtown Miami.
What area of Miami is best to stay in?
South Beach, Downtown Miami, and Key Biscayne are some of the best areas to stay in Miami, however, we highly recommend staying in downtown Miami Brickell for the best experience.
What part of Miami do celebrities stay in?
Celebrities opt to stay in the areas of downtown Miami, South Beach, and Key Biscayne as these areas have the best hotels that are posh and have brilliant views.
Where to stay for the first time in Miami?
If you're a first-time visitor to Miami, we recommend staying in South Beach, the Miami Beach area, Downtown Miami, Key Biscayne, and Brickell.
CuddlyNest provides all accommodations to all travelers at the best price. Find unlimited travel inspiration on our blogs and social media channels Facebook, Instagram, and Pinterest.
You May Also Like:
North America Travel Guide
Most Romantic Weekend Getaways in the United States
Long Weekend Getaways in the United States
Best Family Vacations In The United States
Best National Parks In The United States
Best Cabin Rentals in the United States
Best Dog-Friendly Vacations In The United States
Best Getaways In Southern California
The Ultimate California Travel Guide
11 Off The Beaten Path Experiences In San Francisco
The 20 Best Restaurants In San Francisco
The 15 Most Instagrammable Places In San Francisco, California