Bath is a gorgeous historic city located in the county of Somerset in England. It's renowned for its ancient Roman architecture and was named after the several Roman Baths in the city. The entire city has been designated a UNESCO World Heritage Site and it's unlike any other city in England. The Romans built the city as a huge thermal bath and it is now adorned with the most stunning neoclassical buildings.
Relax in the gorgeous Roman Baths with naturally thermal heated water, explore the stunning Georgian architecture of the city, and delve deep into the major influences that Bath has had on literature, film, art, and history. We highly recommend visiting this extremely unique city in England to have an experience like no other. There are so many stunning luxury hotels as well as affordable hotels in Bath.
Top 5 Hotels In Bath, England
Hilton Bath City Hotel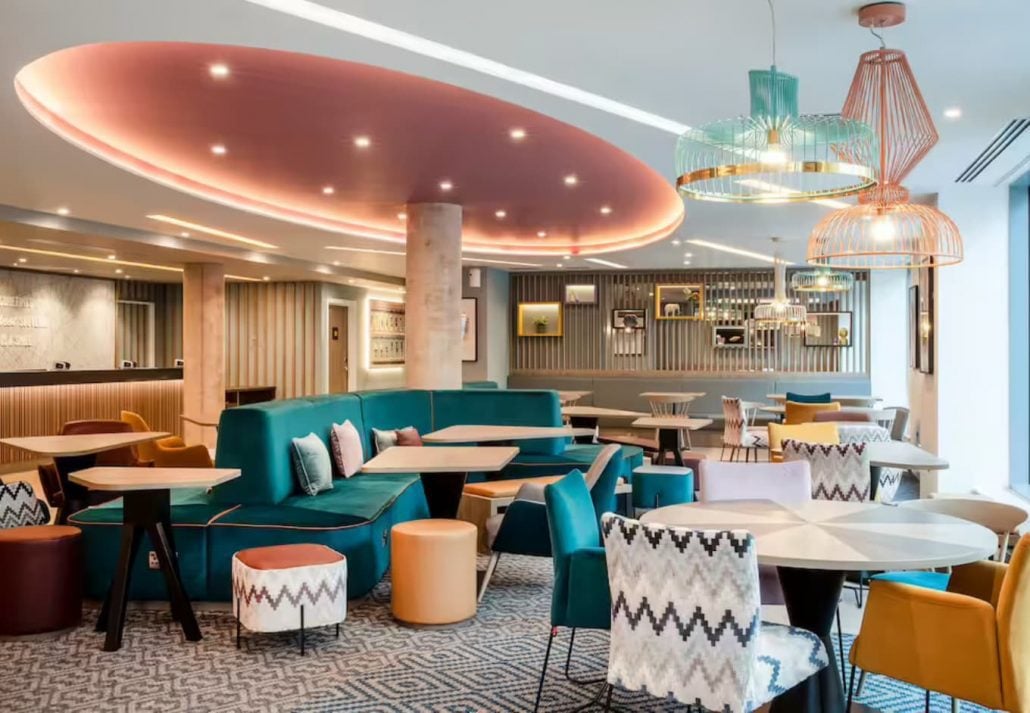 Located in the Bath city centre, the Hampton by Hilton Bath City Hotel is a comfortable, well-located hotel that is perfect for both leisure and business travelers. With amenities like a fitness centre, free parking, free WiFi, and a breakfast buffet spread, this hotel is located a mere 600 meters from the Bath Spa Railway Station. Bristol Airport is 29km from this hotel. You can also walk to some amazing bars, pubs, and restaurants nearby. The room bathrooms feature rainfall showerheads and the beds are designed for maximum comfort.
Macdonald Bath Spa Hotel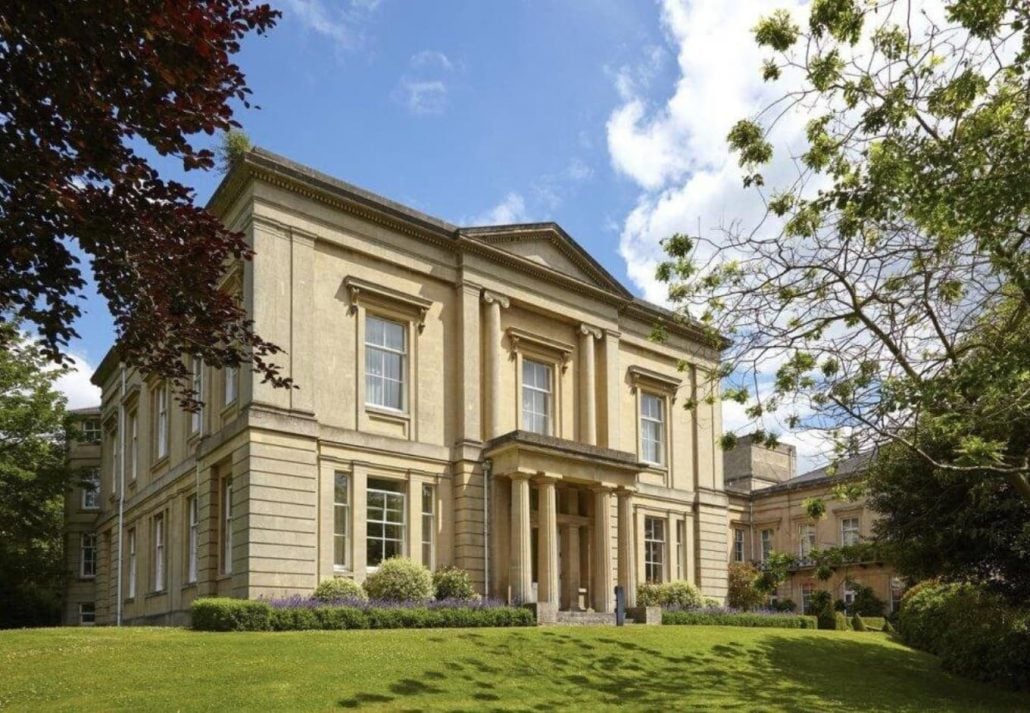 The Macdonald Bath Spa Hotel is a stunning plush luxury hotel situated on 7 acres of gorgeously manicured lawns and gardens is sure to make you catch a breath as you take in the Georgian architecture of the hotel. Featuring an indoor pool and an outdoor hydrotherapy pool, a hot tub, and state-of-the-art luxury spa facilities to leave you completely relaxed and rejuvenated, this Bath hotel is one of the most iconic. The grounds have gorgeous ponds that you can relax by, and the hotel rooms are adorned with marble and mahogany wood decor. The hotel itself is just a 10-minute walk from central Bath. The hotel has also developed a unique partnership with Jennifer Young to provide specific spa treatments for people living with and beyond cancer. Don't miss out on trying their iconic afternoon tea while you're here, and grab a bite to eat at their award-winning Velore restaurant.
Hotel Indigo Bath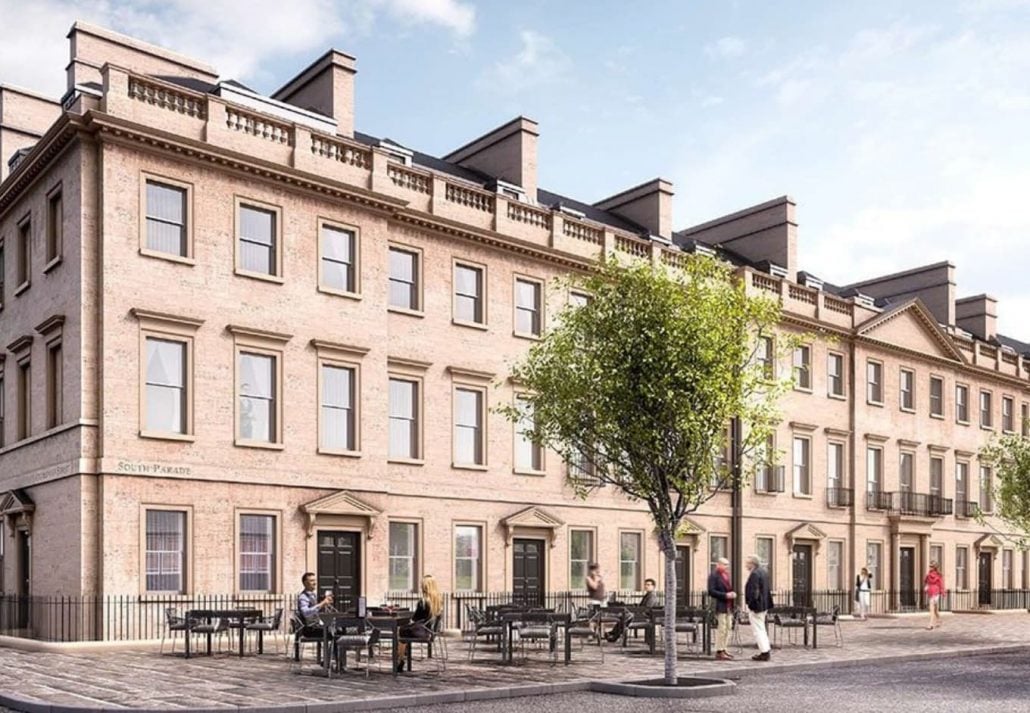 Hotel Indigo Bath is one of the most famous Bath hotels. Built into an 18th-century Georgian architectural building, and located a 5-minute walk from Bath Abbey and Thermae Bath Spa, and the city centre, this iconic hotel represents the best of historic Bath. It's located on Parade Street, which is a peaceful and quiet location and is also one of the best boutique hotels in the city. This neighbourhood brings the best of the romance, architecture, and history that Bath is known for. The rooms are all decorated uniquely, highlighting the age and time of the original 18th-century building, featuring comfortable Hypnos beds, Egyptian cotton sheets, a spa-like bathroom, and Nespresso coffee machines.
Abbey Hotel Bath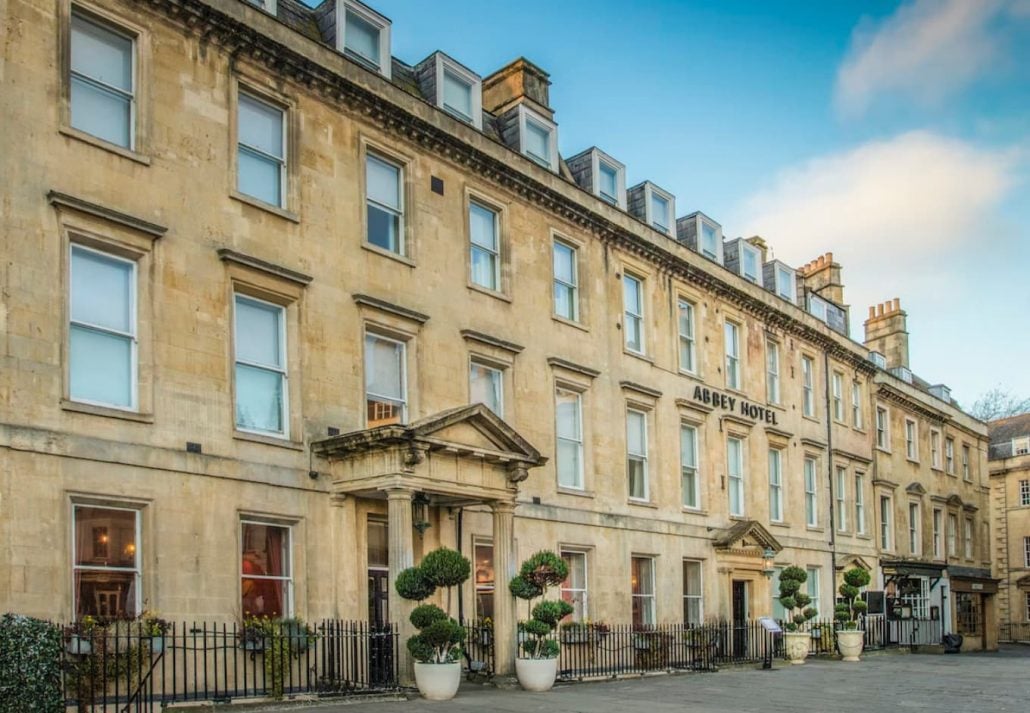 Abbey Hotel Bath is a Marriott Tribute Portfolio Hotel that has been listed as a historic building. This boutique hotel is a short walk from the Bath Spa Train Station, and isn't too far from the Royal Crescent as well. The hotel highlights the literary, film, and art of the historic Bath. The rooms offer stunning panoramic views of the city and also feature comfortable Hypnos beds, and have been redesigned in a uniquely contemporary way that celebrates the architect of the building, John Wood the Elder. What's even more unique about this hotel is ArtBar which rotationally changes its display of curated art collections that you can admire while sipping on your favourite drink.
The Gainsborough Bath Spa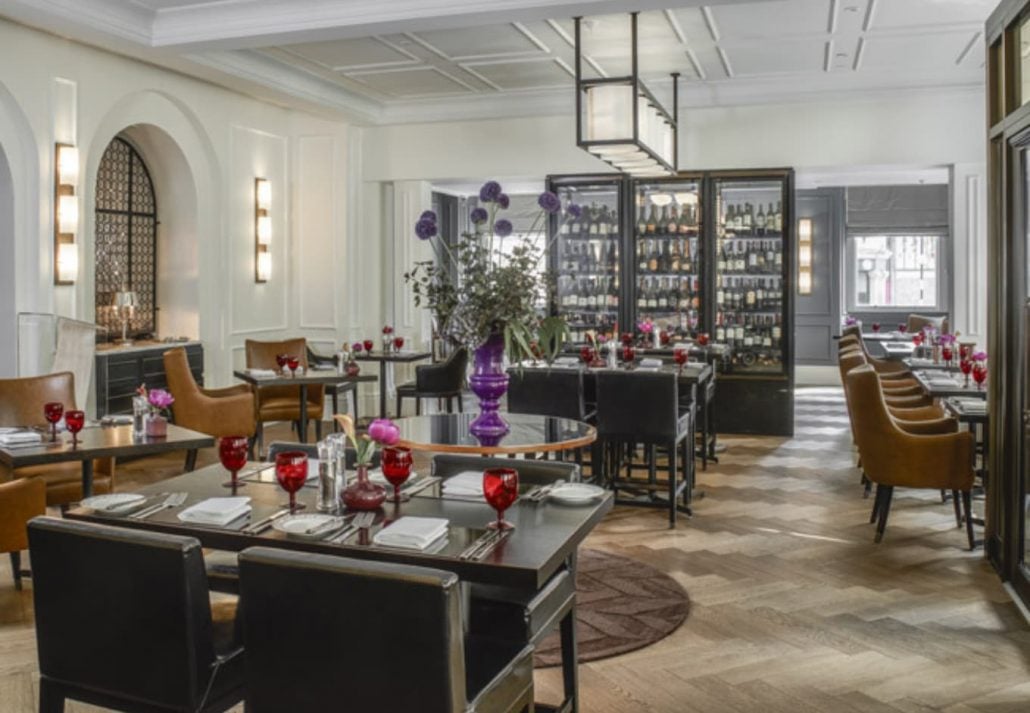 Named after the artist Sir Thomas Gainsborough, The Gainsborough Bath Spa Hotel is a unique 5-star property that features a Spa Village, making it the only hotel in the UK to have exclusive private access to the naturally heated thermal water that Bath is renowned for. The building is historically classified and you'll find Victorian and Georgian influences in the architecture. The Roman Baths are a mere 100 metres from the hotel and are within easy walking distance. Sip on some afternoon tea and don't miss out on visiting the Gainsborough Bar. This hotel is definitely on the more expensive end but it's absolutely worth it for the unique experience it provides.
FAQ
Why is it so expensive to stay in Bath?
Most hotels in Bath are expensive to stay in, however, there are some affordable options as well. The reason most Bath hotels are expensive is that although there's a lot of demand, there're only a few hotels in Bath.
Is Bath worth a visit?
Bath is a stunning city in England and it's most definitely worth a visit to admire the stunning architecture, relax in the historic Roman Baths of the city, and understand the rich history and romantic literary influences of the city.
What are some good hotels in Bath?
Some of the best hotels in Bath, UK are:
Roseate Villa Bath
Francis Hotel Bath
Bath Priory Hotel
Macdonald Spa Hotel
Hotel Indigo Bath
CuddlyNest provides all accommodations to all travelers at the best price. Find unlimited travel inspiration on our blogs and social media channels Facebook, Instagram, and Pinterest.
You May Also Like:
20 Bucket-List Things to do in Belfast, Northern Ireland
9 Amazing Things To Do In Bristol United Kingdom
The 13 Best Free Museums in London, England
The 7 Most Amazing Day Trips From London, England
The Ultimate Guide To Visiting The Tower Of London
The Best Hotels In London, England