The USA is one of the most highly sought-after countries for cheap city breaks. Whether you plan to spend your short break by the sea, escape the mundane to embark on a mini-adventure, or simply go for a relaxing staycation within your hometown, you'll find a wide range of places worth visiting and exploring at very good prices.
Planning to save some money on your next trip? Then read on to discover what are the best affordable city breaks in the USA. From destinations that are perfect for short break holidays to family-friendly locations, there's something for every mood and moment.
7 Amazing Budget-Friendly City Breaks in the USA
San Antonio, Texas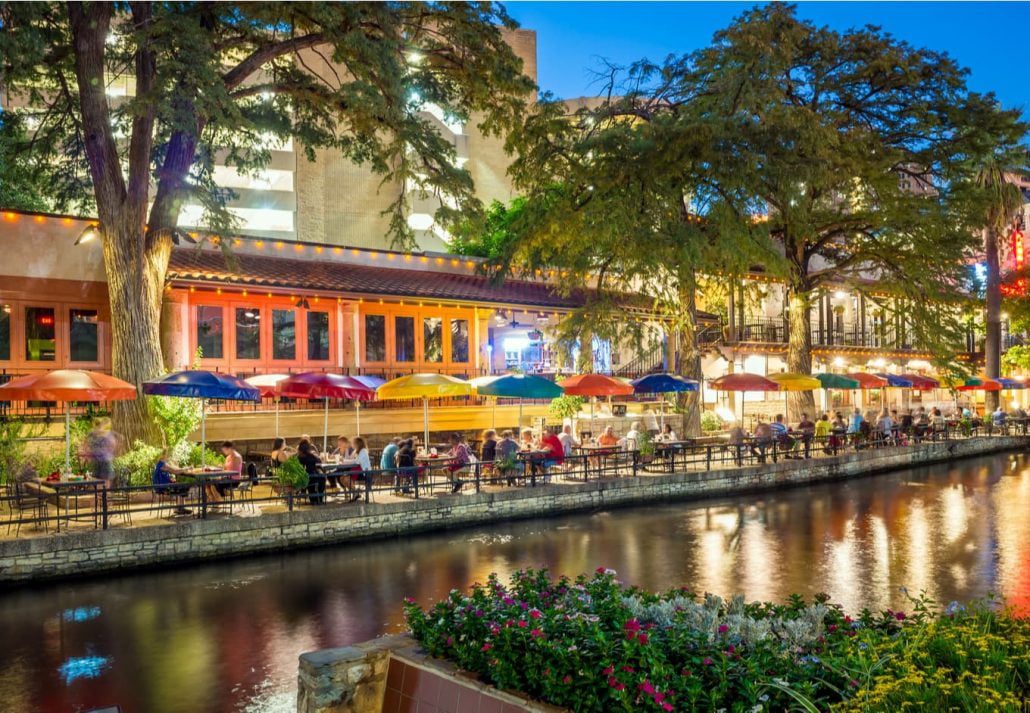 Known for its rich history, vibrant culture, and fascinating Mexican heritage, San Antonio is one of the top destinations for urban explorers seeking to save money on a short break trip.
There are a plethora of budget-friendly experiences and iconic sights in San Antonio if you consider setting sail to explore it. No matter what your plans are in the city, be sure to include a walk in the vibrant San Antonio River Walk on your bucket list. Aside from being free of charge, this scenic promenade spoils visitors and locals with a dazzling wealth of dining & shopping options, and cultural attractions.
Also, be sure to visit the Japanese Tea Gardens, and explore some of the city's historic sights like the King William Historic District, and the Mission Trail. These fascinating places are not only affordable, as you have to pay nothing to explore them, but they're also filled with history, meaning you'll be able to delve deep into San Antonio's past while sightseeing.
Find Places To Stay In San Antonio, Texas
El Paso, Texas
Another Texan city that evokes both Mexican and American history is El Paso. Nestled on the left bank of Rio Grande, in the frontier with Mexico, this is one of the best destinations for budget travelers seeking to experience a rich cultural mix during a weekend break.
If you're a history lover, you'd want to visit Hueco Tanks State Park & Historic Site, a desert sanctuary where people have been trekking for thousands of years. Foodies will love indulging in the city's tantalizing Mexican restaurants, while culture lovers will have the best time in the El Paso Museum of Art. Set within a Neoclassical revival building, the institution is home to a stellar selection of works, including Samuel H. Kress's collection of paintings and sculptures by Italian Renaissance and Spanish Baroque artists. Plus, admission to the museum is always free, making it the perfect destination for those wanting to explore El Paso without breaking the bank.
To relax and take a break from the world, hit the road and explore the 2-mile-long Scenic Drive, which is guaranteed to reward you with stunning views of the city and the surrounding mountains.
Going on a weekend trip with the little ones? No worries! El Paso has a great selection of family-friendly attractions. One of the best places to visit with children in the city is the El Paso Zoo, which plays host to animals from Africa, America, Asia, and the Chihuahuan Desert.
Find Places To Stay in El Paso, Texas
Daytona Beach, Florida
Located on Florida's idyllic Atlantic Coast, Daytona is one of the best affordable short breaks for beach lovers in the U.S. The city flaunts 23 miles of glittering coastline, and it's often regarded as being one of the best beaches near Orlando.
Daytona is full of exciting — and affordable — attractions for families, and water sports enthusiasts. Aside from, obviously, chilling on the beach, travelers can indulge in an array of activities like surfing, kayaking, and parasailing, and go for a scenic stroll at the Boardwalk & Pier.
More budget-friendly activities in Daytona include the Saturday night concerts at the Daytona Beach Bandshell or head over to the Southeast Museum of Photography. A department of the Daytona State College, the museum enhances the community's appreciation of culture, history, art, and photography through world-class exhibitions by several artists.
Philadelphia, Pennsylvania
Praised for its historical attractions that relate to the founding of the United States, Philadelphia is a must-visit for anyone who wants to go on a fascinating journey back in time. The "City of Brotherly Love" harbors a glorious array of affordable attractions where travelers can learn everything and more about the country. Must-visits include Washington Square, famous for being home to the Tomb of the Unknown Soldier of the American Revolution, a memorial that honors the thousands of soldiers who died during the American Revolutionary War.
Make sure to also explore the Independence Hall, a Georgian-style historic building where both the United States Declaration of Independence and the United States Constitution were signed, and take a tour of the Congress Hall. Other worth-visiting sites are Fireman's Hall Museum, which is housed in a renovated 1902 firehouse, and the Edgar Allan Poe House, where the North-American author wrote some of his best work.
In case you're looking for a relaxing break away from Philadelphia's bustling streets, flock to one of the city's lush parks, such as the 1,200-acre Core Creek Park.
Foodies who are on a budget will have a great time in "Philly". The city is dotted with lip-smacking trucks selling everything from heartwarming Indian treats to signature local dishes, like the Philly Cheesesteak.
Find Places To Stay in Philadelphia, Pennsylvania
Atlanta, Georgia
The capital city of Georgia is a vibrant and cosmopolitan destination known for its myriad of low-cost activities that cater to every type of traveler. One of the ways to explore Atlanta on a budget is by exploring its glorious array of urban parks. Some of the best are Piedmont Park, which happens to host a series of bustling festivals and cultural events, and the 3200-acre Stone Mountain Park, home to scenic hiking trails, a sparkling lake, and family-friendly picnic areas.
During your Atlanta holiday, don't pass up the chance to tour the city's colorful street art murals, especially those at the Atlanta BeltLine's Eastside Trail. During the stroll, you can even stop by either the Krog Street Market or the Ponce City Market for a quick bite.
When it comes to budget-friendly accommodation, Atlanta is filled with options. Hotels can range from $50 to $150/night, but there are also affordable hostels that are perfect for solo travelers.
Find Places To Stay in Atlanta, Georgia
Albuquerque, New Mexico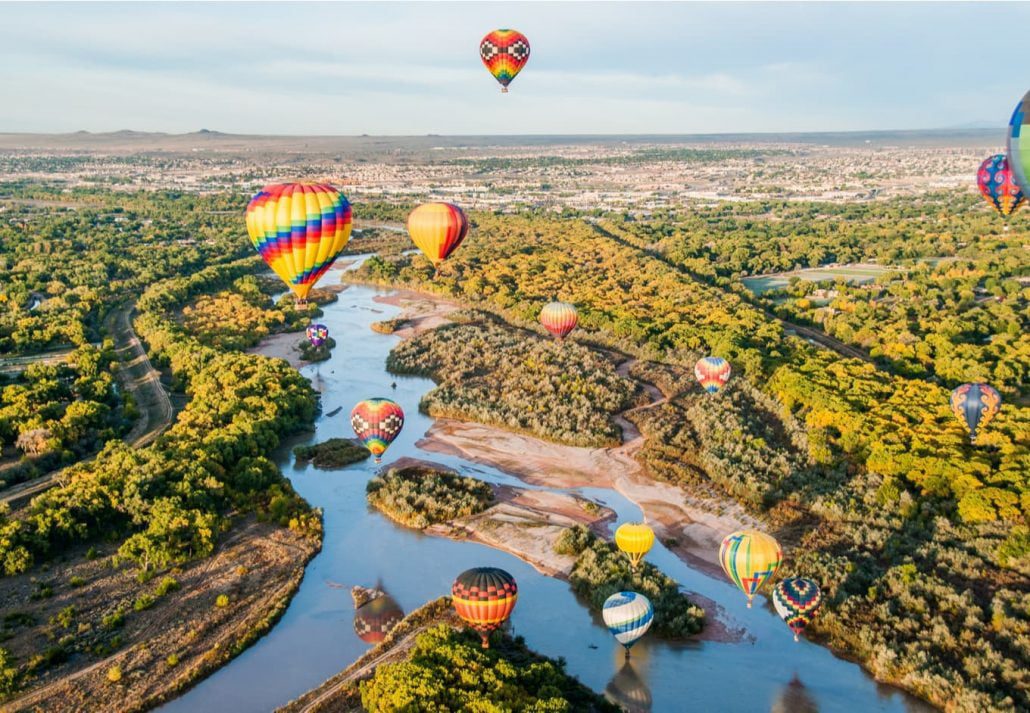 Located along the Rio Grande, Albuquerque combines cultural richness, outdoor recreation, and a slew of affordable attractions. For a veritable history class, go for a stroll around Albuquerque's Old Town. The area is the site of the city's original Spanish settlement, and it's filled with art galleries, quirky museums, and great restaurants. A must-visit is the century-old San Felipe de Neri Church, also known as the spiritual heart of Albuquerque.
Adventure-seekers can go mountain biking in the Sandia foothills, while culture-vultures will love spending a few hours snooping around the Albuquerque Museum of Art and History. This fabled institution is home to a finely curated selection of cultural relics from the past 400 years, including suits of Spanish armor.
Accommodation types include everything from hostels to hotels and vacation apartment stays., with prices ranging from $30 to $120/night.
Find Places To Stay in Albuquerque, New Mexico
Salt Lake City, Utah
Salt Lake is the perfect budget-friendly city break for autumn. The city is particularly famous for its wide range of historic sights, most of them located at the Historic Temple Square, the holy place of the Mormons. In there, you'll find four significant Mormon buildings: The Mormon Temple, the Mormon Tabernacle, the Temple Annex, and the Assembly Hall.
Another worth-visiting historic site in Salt Lake City is the Utah State Capitol Building, in Capitol Hill, one of Utah's most prominent landmarks.
If you have enough time up your sleeve, stop by Joseph Smith Memorial Building, a former Beaux-Arts hotel that is now home to a 500-seat theater that hosts various film experiences.
When it comes to accommodation, Salt Lake City boasts an array of budget-friendly options. For hotel stays, travelers can expect to spend 50$ to $115/ night and $20 to $30/night for hostels.
Best Places To Stay in Salt Lake City, Utah
FAQs
What are the cheapest city breaks?
Some of the cheapest destinations in the USA are:
Myrtle Beach, North Carolina;
New Orleans, Louisiana;
El Paso, Texas;
Salt Lake City, Utah;
Charleston, South Carolina;
Daytona, Florida.
What are the best city breaks in the US?
The 7 best city breaks in the United States are:
San Antonio, Texas;
El Paso, Texas;
Daytona Beach, Florida;
Salt Lake City, Utah;
Philadelphia, Pennsylvania;
Atlanta, Georgia;
Albuquerque, New Mexico.
What is there to do in city breaks?
City breaks offer visitors a variety of things to see and do. Attractions include everything from world-class museums and art galleries to tempting shopping spots, lush parks, and lip-smacking restaurants.
What is the meaning of city breaks?
A city break is a short trip that usually lasts two to four days. They may be to major cities or smaller destinations.
Browse. Book. Stay.
CuddlyNest provides all accommodations to all travelers at the best price. Find unlimited travel inspiration on our blogs and our social media channels Facebook, Instagram, Pinterest
You May Also Like:
The 10 Most Romantic Things To Do In Orlando, Florida
The 10 Best Street Food Cities In The USA
The 13 Most Romantic Towns In The USA
The 10 Best Spas & Wellness Retreats In The US
The 10 Most Amazing Lake Vacations in the U.S.
The 15 Best Long Weekend Getaways In The US
The 10 Most Romantic Weekend Getaways In The U.S.