Among all of Orlando's idyllic parks, the Harry P. Leu Gardens has got to be the most sublime. Thanks to its 50 acres of beautiful gardens dotted with extensive collections of plants, this lush oasis creates a gorgeous setting for a serene day away from the city's hustle and bustle.
There are a few things everyone should know before spending the day at Harry P. Leu Gardens, however. For that reason, we've created a thoughtful guide covering the relevant information that'll provide you with a one-of-a-kind experience at the park — from when to visit it to the highlights you can't miss, we tell it all!
Find Places To Stay in Orlando, Florida
About The Leu Gardens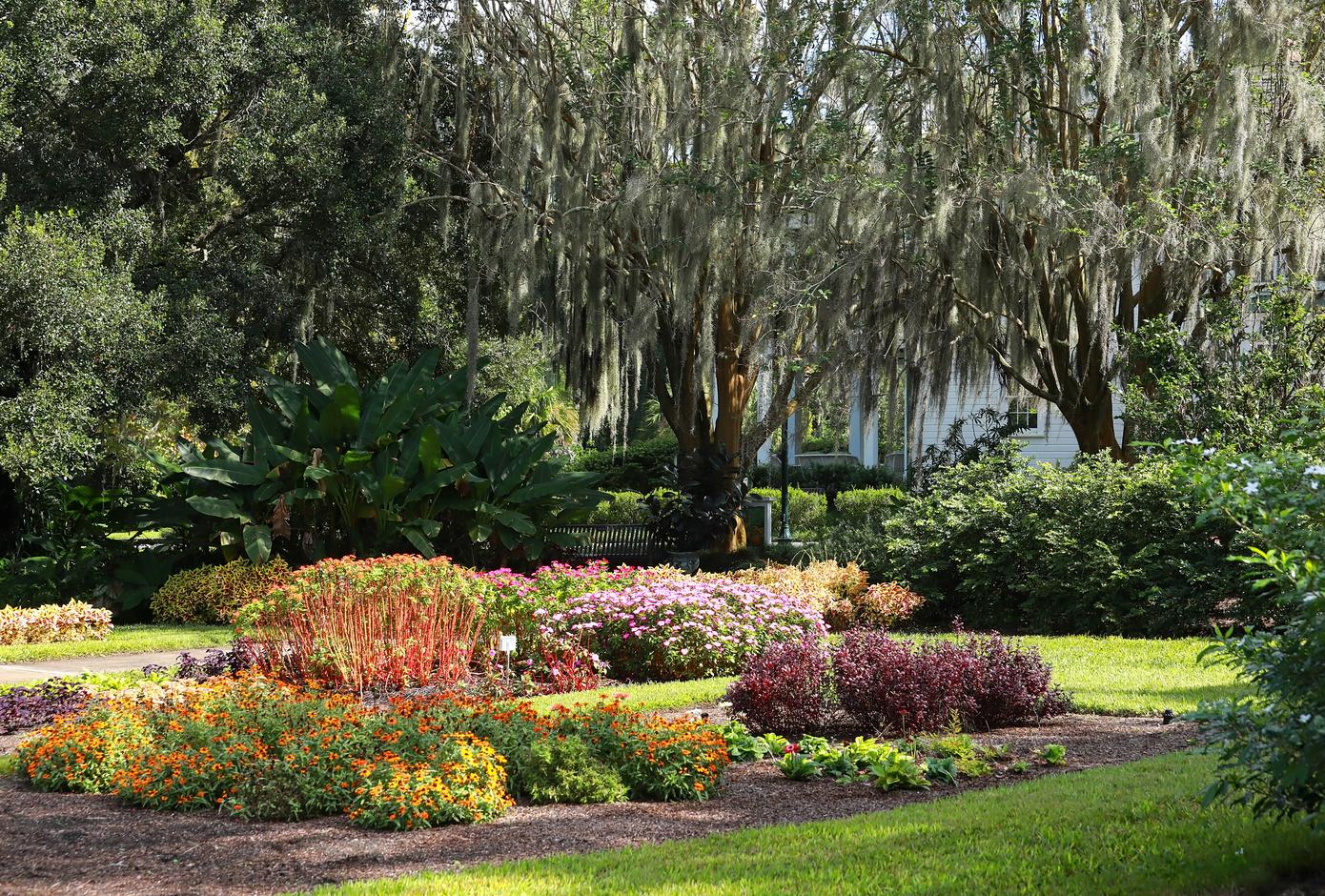 The Harry P. Leu Gardens is a quiet pocket of lush greenery located just minutes from Downtown Orlando. Within this lush botanical oasis, overlooking Lake Rowena, lies the historic Leu House, one of Central Florida's most historic estates. The property and its adjoining acres were owned by several earlier Orlando pioneers before being purchased in 1836 by Harry P. Leu and his wife, Mary Jane.
Mr. and Mrs. Leu traveled extensively and were in the habit of bringing back plants and seeds from their trips. While the couple was living on the estate and right up until passing away, they planted an array of exotic fauna across the grounds.
Listed on the National Register of Historic Places, the historical home where the "Leus" lived was carefully restored and donated to the City of Orlando alongside the gardens.
The gardens are divided into 15 themed sections, including a Butterfly Garden, Citrus Grove, Tropical Stream Garden, and Floral Clock.
Thanks to dazzling plant collections, which include beds of blooming roses, azaleas, bromeliads, and a tropical stream garden that creates the atmosphere of tropical rainforest, the Harry P. Leu Gardens is considered one of the best places to visit in Orlando.
When To Visit The Leu Gardens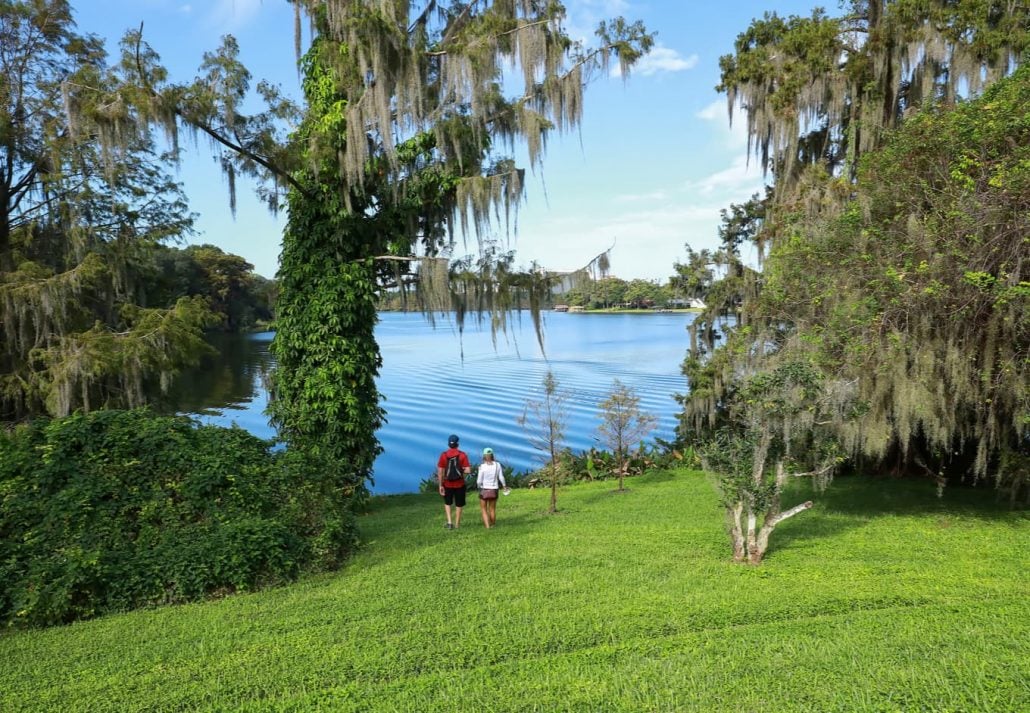 The gardens are open all year round and each season brings a spectacular variety of flowers and plants in full bloom.
Camellias can be seen in the wintertime, while Spring is the peak season for roses and azaleas. Summer is the perfect time for viewing an array of tropical plants and trees like bananas, sugar palms, and hibiscus. To marvel at eye-popping floss silk trees and orange-hued foliage, visit the gardens in the fall.
What To See In The Harry P. Leu Gardens
The Plant Collection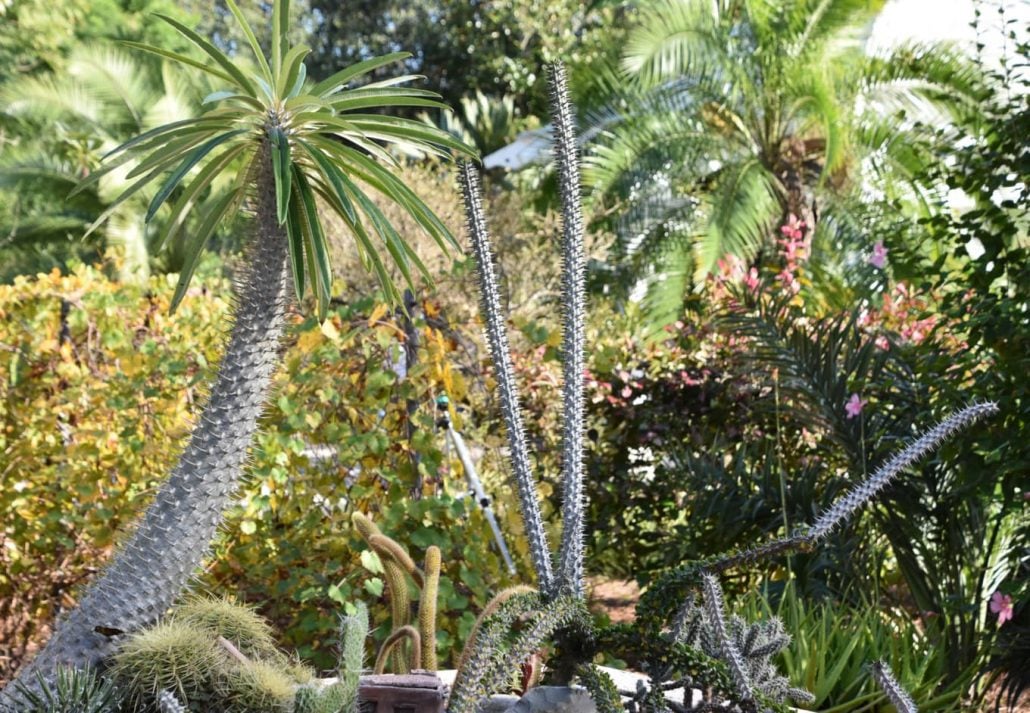 Wildlife comes in a spectacular variety in the Leu Gardens. Strewn across the estate, there's a dazzling collection of more than 15,000 plants, many of which are not usually seen in Central Florida.
If you're lucky enough to get the chance to visit the gardens during the winter, don't pass up the chance to marvel at the historic camellia collection (the third largest in the USA), located in the South Woods. In there, you'll also come across a striking azalea collection featuring some 50 different varieties and species of colorful azaleas.
While meandering your way through this lush oasis, you'll also come across a rose garden home to 650 roses of 215 varieties, and a wealth of fragrant flowers like the Southern Magnolia.
Aside from awe-inspiring flowers, the Leu Gardens are also inhabited by exotic plants. As you explore further, make your move to the Floral Clock. Nearby, you'll find a Bamboo garden dotted with nearly 50 different species and varieties of this woody-stemmed grass, and an extensive Palm collection containing almost 400 species of cold hardy, and semi-tender palms suited for the Central Florida climate.
Other must-visits include the 1500 sq. ft. vegetable garden, and a captivating collection of fruit trees such as jaboticaba (Brazilian grape tree), acerola (Barbados cherry), lychee, mango, nectarines, papaya, peaches, and plums just to name a few.
In case you have some extra time up your sleeve, be sure to also stop by the Herb Garden, which flaunts an awe-inspiring display of culinary, medicinal, ornamental, educational, historic, and aromatic herbs. Near the cottage, you can also catch a glimpse of reminiscent kitchen gardens from the turn of the century.

More Read: Orlando Holidays
Art Exhibits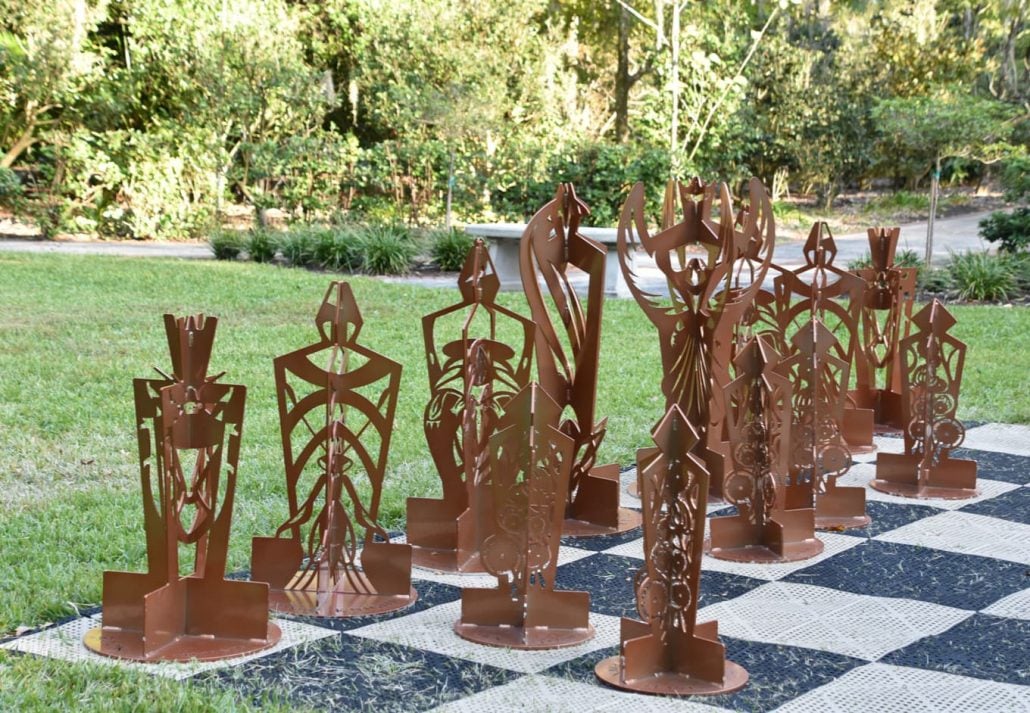 Whimsical works of art studs can be found spread throughout the Leu Gardens, meaning your attention will be caught by intriguing details at almost every turn. While winding through dreamy gardens, expect to stumble across several picture-ready sculptures, including the seven pieces in The Otfinoski Collection and the Citrus Workers.
The gardens also play hosts to a variety of rotating and permanent exhibits. Must-sees include the exhibition centered around Mulford B. Foster, a world-renowned self-trained naturalist that traveled throughout Mexico, discovering 200 new species of bromeliads. After being displayed in art shows in New York and Pennsylvania, the abstract works of M.B. Foster — a collection of eight alluring paintings —found their permanent home at Harry P. Leu Gardens.
Make sure you also catch a glimpse of "Flowers For Janette", a six-foot by ten-foot piece created by artist Frank Farmer in 1995. The piece features bright-colored enamel flowers painted on aluminum and resembles an impressionistic floral rendering.
There's also the "Doves of Peace" Statue by Bob Winship, located near the entrance to the White Garden.
You'll also find more works of art at the Garden House Welcome Center, including pieces by artists Bill Rollo (Camellias Watercolor), John Catterall (Grove Diptych), and Chrissie Mervine (Tree of Life Mosaic).
The Leu House Museum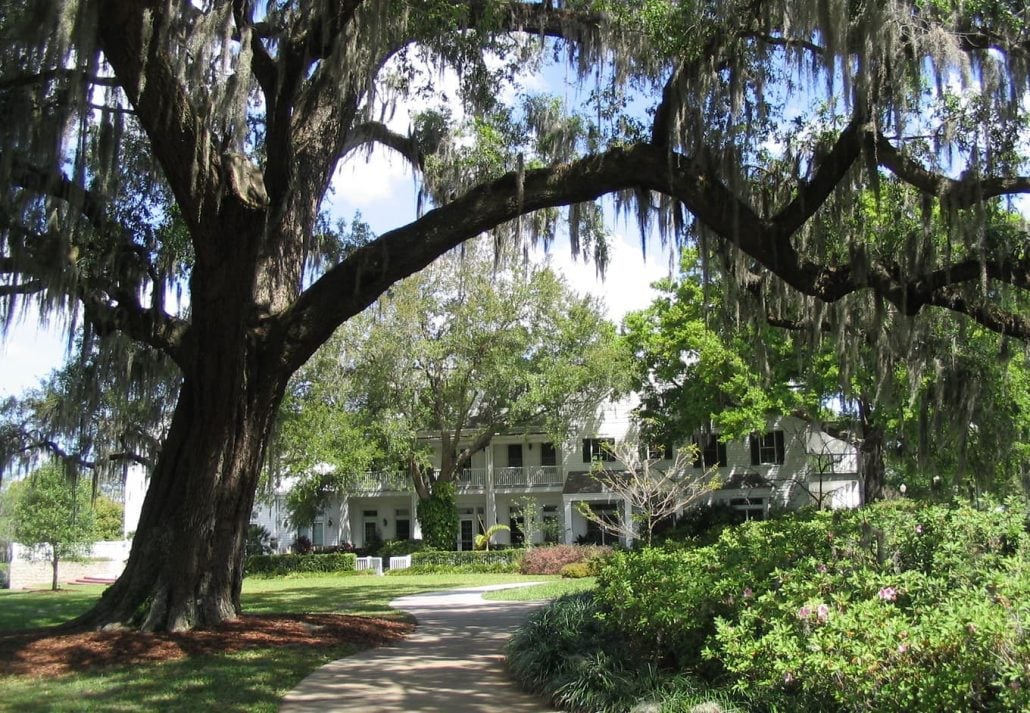 Travel back to turn-of-the-century of Florida on a tour of the Leu House Museum. Set in a restored 19th-century home listed on the National Register of Historic Places, the property was owned by four families before it was donated, alongside the surrounding gardens, to the City of Orlando in 1961.
During the tour, you'll embark on a fascinating journey dating back to 1858, when the house was settled by its first owners Angeline and David W. Mizell and farmed growing cotton, corn, and sugar cane. Sheriff David W. Mizell was tragically murdered in 1870, and in 1902, the property was bought by Duncan Pell, from New York, who wanted to try his luck in the citrus industry.
The third owners were Joseph and Martha Woodward from Birmingham, Alabama, who bought the house as a winter retreat. They added charm to the estate and named it "LaBelle" after the family's original ironworks business.
Now, this gorgeous estate and its gardens witness the legacy that Harry P. Leu, who purchased the property in 1936, left to the City of Orlando.
The Butterfly Garden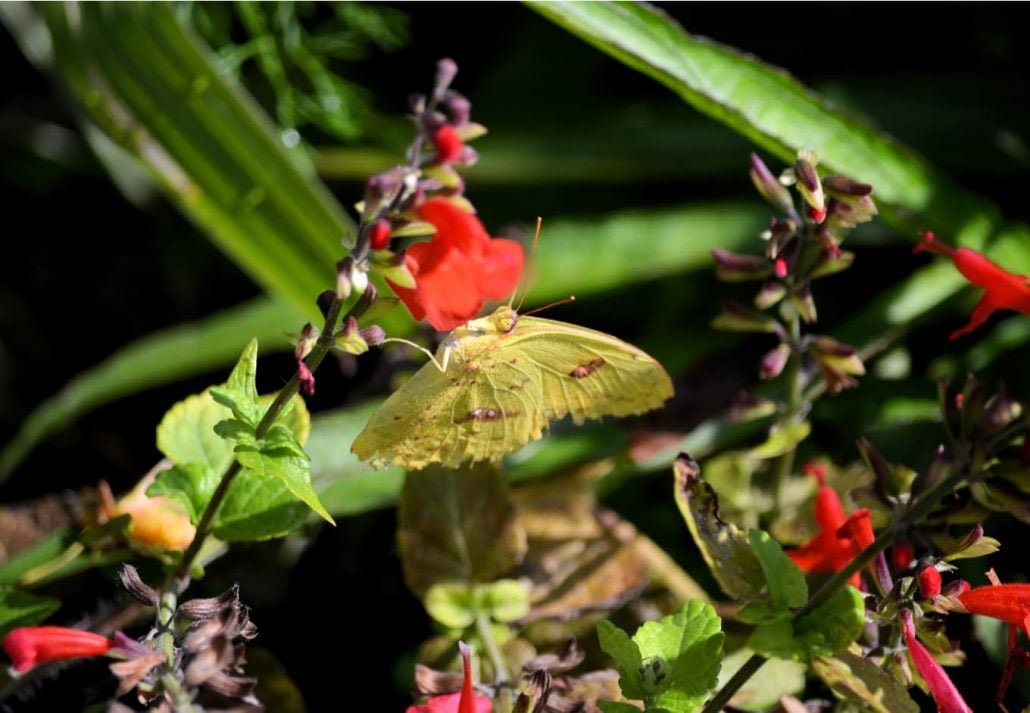 Here you can check a collection of nectar plants, shrubs, and trees that are frequented by a spectacular array of colorful butterflies, lovely hummingbirds, and even moths.
Useful Information About The Harry P. Leu Gardens
Admission Fees
Purchase daytime garden admission tickets online by clicking here.
| | |
| --- | --- |
| Leu Members | Free |
| Adult | $15 |
| Child (ages 4-17 years) | $10 |
| Active Military and Veterans with ID | $10 |
| Children (3 years and younger) | Free |
Location
1920 N Forest Ave, Orlando, FL 32803
Opening Times
Leu Gardens is open 9:00 a.m. – 5:00 p.m. every day and closed on December 25. There's no entrance after 4:00 p.m.
The Leu House Museum is open Tuesday-Sunday from 10:00 a.m. – 1:00 p.m., closed Mondays, the month of July and December 25.
Rules & Tips For Visiting The Leu Gardens
Face Masks are required inside all buildings until further notice;
Picnics, blankets, bicycles, alcohol, and recreational activities not permitted;
Pets, with the exception of service animals, are not permitted in Leu Gardens;
The gardens are self-guided. Spare around 2 hours for the visit;
Use your phone to scan the QR Code images on many garden signs to display additional information about the collections of plants;
Don't climb garden structures or trees, nor take the flowers home.
FAQ
How large is Leu Gardens?
The gardens contain nearly 50 acres and more than 15,000 plants.
Was Leu Gardens a plantation?
When settled by its first owners, Angeline and David W. Mizell, in 1858, the estate was home to cotton, corn, and sugar cane plantations.
Can you bring food into Harry P. Leu Gardens?
Visitors are allowed to bring small lunch bags on the patio of the Garden House Welcome Center. However, it's prohibited to picnic in the gardens.
How did Harry P Leu make his money?
Mr. Leu owned a very successful industrial supply company.
Can dogs go to Leu Gardens?
No. Only service animals are always allowed.
How far is the Leu Gardens from Downtown Orlando?
The gardens are located 2.7 miles (9-minute drive) from Downtown Orlando.
Browse. Book. Stay.
CuddlyNest provides all accommodations to all travelers at the best price. Find unlimited travel inspiration on our blogs and our social media channels Facebook, Instagram, Pinterest
You May Also Like:
The 10 Best Beaches Near Orlando, Florida
15 Unbeatable Florida Family Vacations with Kids
The 4 Best Family-Friendly Vacation Spots in Orlando
The 15 Best Long Weekend Getaways In The US
The Ultimate North America Travel Guide
10 Best Day Trips From Naples, Florida
The Ultimate Guide For a Pet-Friendly Holiday in Florida
The Best Time To Visit Orlando, Florida
7 Amazing Water Parks In Orlando, Florida
8 Best Hotels Near SeaWorld Orlando, Florida
9 Best Hotels In Orlando, Florida
The 5 Best Hotels Near Downtown Orlando, Florida
The 8 Best Hotels Near Orlando Airport
The 9 Best Pet-Friendly Hotels In Orlando, Florida
The Best Hotels Near Disney World Orlando
The Ultimate Guide To Shopping In Downtown Orlando