Best known for its sinful casinos and extravagant entertainment venues, Las Vegas also happens to be a first-rate shopping destination. From malls to shopping districts, from boutiques to pop-ups, there are plenty of places in the city to find the latest trends and upgrade your closet.
Here's a selection of 9 places where you can get the best shopping experience in Las Vegas. There are outdoor malls, budget-friendly outlets, upscale luxury shops, and more options for the ultimate retail therapy in Sin City!
Find Places To Stay in Las Vegas, Nevada
The 9 Best Places To Go Shopping in Las Vegas
Miracle Mile Shops & Las Vegas Strip
Aside from a dozen restaurants, casinos, and sleek rooftops, the lively Las Vegas Strip brings you almost 5 miles worth of retail heavy hitters. This major thoroughfare is dotted with an array of standout shops that cater to every style and budget.
In the very heart of The Strip, you'll find the Miracle Mile Shops, which features 200 retail favorites such as H&M, Sephora, GUESS, Lululemon, Morphe, and The Raider Image, just to name a few.
For an immersive shopping experience, head over to the Grand Bazaar Shops, a unique outdoor mall filled with specialty shops offering souvenirs, gifts, accessories, and apparel, as well as a selection of lip-smacking restaurants.
Recommended Read: The best shopping destinations in the USA
The Forum Shops at Caesars Palace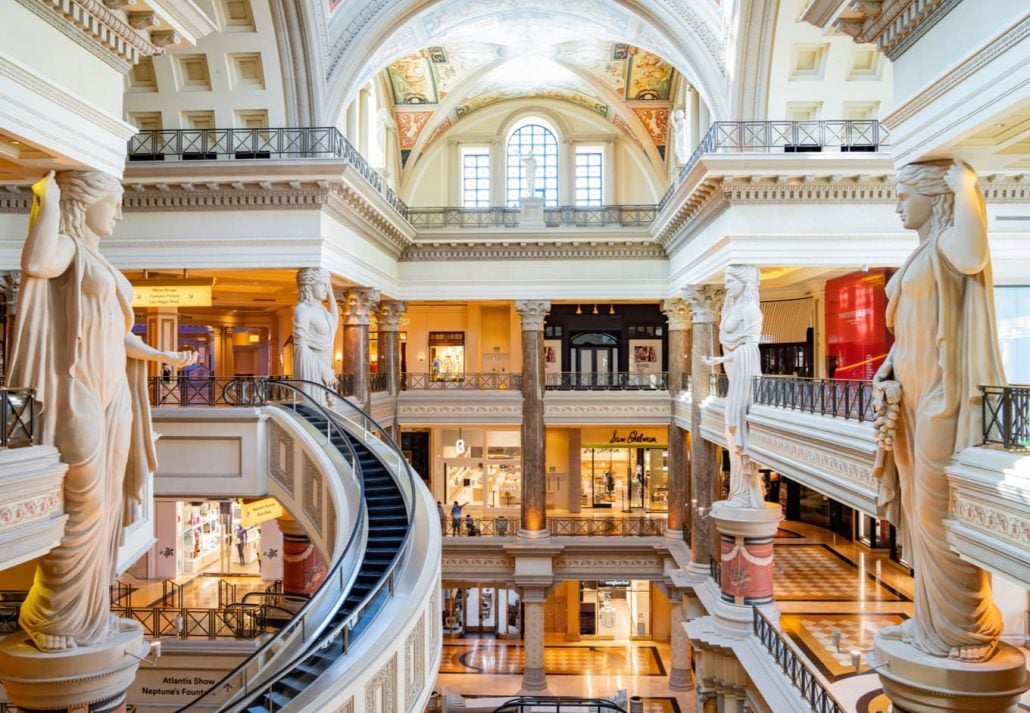 Dubbed "the shopping wonder of the world", The Forum Shops at Caesars is the go-to shopping destination for luxury-loving travelers. Located within Vega's iconic Caesars Palace Casino & Resort, the mall boasts approximately 160 couture and boutique shops, such as Gucci, Balenciaga, Hugo Boss, and Jimmy Choo, as well as fast-fashion brands like H&M and Abercrombie & Fitch.
There are plenty of great restaurants on offer on Forum as well. So, after a spot of shopping, stop by Cheesecake Factory, Carmines, or Sushi Roky for a hunger-busting meal!
Grand Canal Shoppes at the Venetian Resort
Located within the sumptuous Venetian Resort, the Grand Canal Shoppes spoils visitors with an unrivaled shopping experience. While meandering your way through cobblestone walkaways and under the illuminated painted ceiling of this Italian-inspired destination, you'll stumble upon 160 signature stores representing an array of upscale brands like Kate Spade, Coach, Louis Vuitton, Burberry, and Jimmy Choo, just to name a few.
After browsing through Venetian's unique stores, you can treat yourself to a Brazilian-Japanese dinner at SUSHISAMBA, and try your luck at the resort's world-class casino!
Wynn Plaza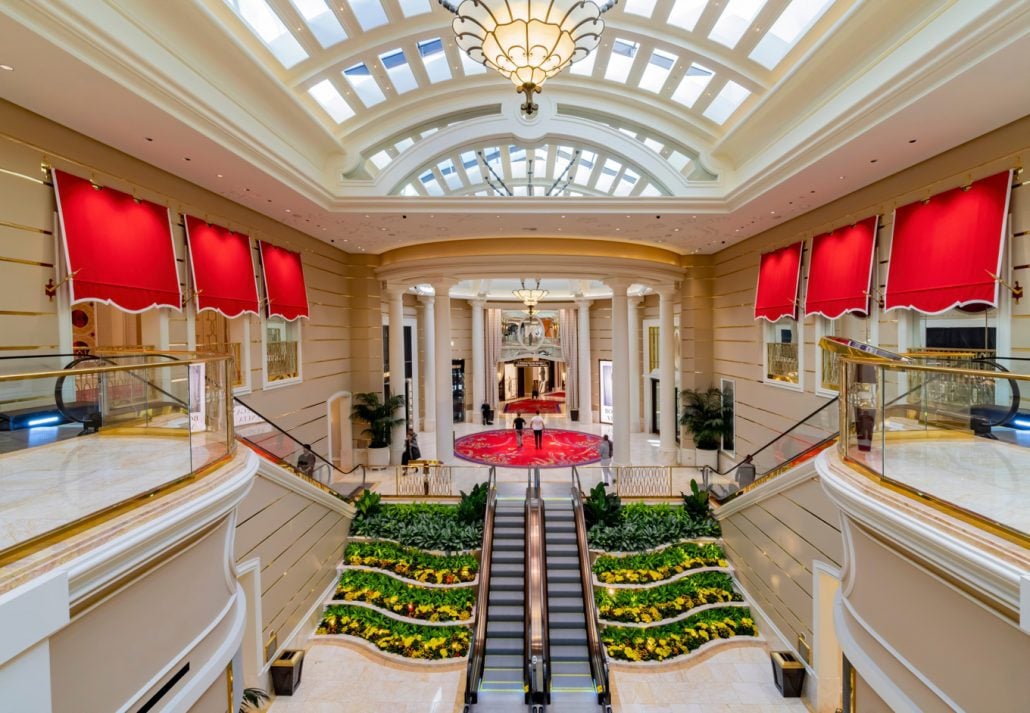 Gloriously placed in the Wynn Las Vegas resort, Wynn Plaza is another bucket-list spot for those seeking to indulge in luxury items, such as fine jewelry, status watches, and more. This grandiose shopping mall is considered one of the best upscale retail locations in the city and it features a dazzling array of high-end national and international brands, including Hermès, Balmain, Rimowa, Celine, and Le Labo.
Downtown Container Park
If a more laidback shopping experience is what you're looking for, then Downtown Container Park is the place to go. This family-friendly open-air shopping center is home to a great selection of retail stores — mostly locally owned boutiques shops —, as well as a mouthwatering selection of restaurants where you can sample everything from waffles to juicy stakes.
Downtown Summerlin
Placed west of the Strip, near the Red Rock Casino Resort, is a stunning and breezy open-air mall boasting over 125 stores. The mall is a great location for those seeking to enjoy a variety of big-name national brands, such as American Eagle, Foot Locker, Lucky Brand, Banana Republic, Bath & Body Works, and more.
Downtown Summerlin also plays host to major department stores like Nordstrom Rack and Macy's.
After a spot of shopping, visitors can enjoy the mall's entertainment destinations, such as the fun-filled Dave and Busters, or catch a movie at the local cinema.
Las Vegas North Premium Outlets
If you're looking to score great deals when shopping, then Las Vegas Premium Outlets is the place for you. Located in Downtown Las Vegas, near Fremont Street, this 540,000-square-foot outlet mall plays host to over 175 designer stores offering savings up to 65% every day. In there, you'll be able to buy desirable items from brands like Adidas, Michael Kors, Prada, Tommy Hilfiger, Versace, and Dolce & Gabbana, at discount prices and without breaking the bank!
Aria Fashion Show Mall
One of the largest shopping malls in the U.S., and the largest shopping destination on the Las Vegas Strip, the Fashion Show Mall flaunts more than 250 boutiques and seven signature department stores. Among the mall's captivating collection of shops, there's everything from high-end boutiques to national chains, meaning everyone will be pleasantly surprised.
Lauded stores at the Fashion Show Mall include Apple, Urban Outfitters, Forever 21, The GAP, Ann Taylor, Crocs, MAC Cosmetics, Saks Fifth Avenue, and Neiman Marcus.
Also, the mall is dog-friendly, so no need to leave your fur buddies at home!
FAQs
Is Las Vegas good for shopping?
Las Vegas is one of the best shopping destinations in the USA. The city is home to an array of stores, shopping malls, and outlets that cater to every taste, style, and budget.
What is the most popular mall in Las Vegas?
Is Gucci cheaper in Vegas?
You will find Gucci in Vegas, but certainly not cheap. For luxury brands at discount prices, be sure to visit the city's outlets, like Las Vegas North Premium Outlets.
Are luxury items cheaper in Vegas?
For luxury brands at discount prices, be sure to visit the city's outlets, like Las Vegas North Premium Outlets.
Which outlet is better in Las Vegas?
Las Vegas Premium Outlets North and South are the best outlet malls in Las Vegas. While the North location is more upscale, the South has more affordable stores.
CuddlyNest provides all accommodations to all travelers at the best price. Find unlimited travel inspiration on our blog and social media channels.
You Might Also Like:
The 11 Best Long Weekend Getaways In The US
The Ultimate North America Travel Guide
10 Best Day Trips From Naples, Florida
The 15 Most Instagrammable Places In San Francisco
11 Off The Beaten Path Experiences In San Francisco
The 20 Best Restaurants In San Francisco
The 10 Most Romantic Weekend Getaways In The U.S.