Located in the picturesque county of Nottinghamshire, Nottingham has so many gems to explore. From caves hidden beneath its streets and an old pub built into the rocks under Nottingham Castle to fun adventure golf and escape rooms, here are the best things to do in Nottingham!
Find Places To Stay In Nottingham
8 Best Things To Do In Nottingham: Top Places To Visit
Nottingham Castle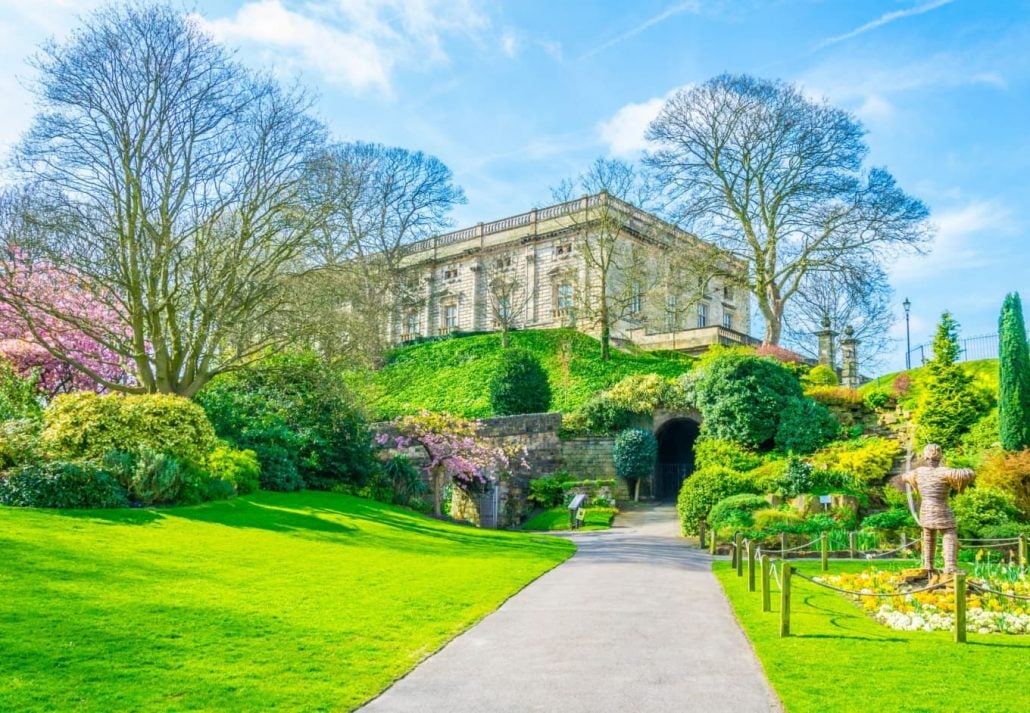 The beautiful ducal building was built on the site of the original Norman castle. It's home to a range of galleries and exhibitions, including the Nottingham Lace Gallery, museum and art collections in the Long Gallery, the Craft Gallery, the Museum of the Mercian Regiment, the Robin Hood Adventures with interactive displays, and more!
Find out how Nottingham's craftspeople used alabaster stone and salt-glazed pottery; see the stunning lace dresses, paintings, and sculptures; and use interactive gaming tables to discover what it was like to live in a medieval town.
Nevertheless, the castle closed its doors following a £30 million revamp but is set to reopen on Monday, June 26, 2023.
Address: Lenton Rd, Nottingham NG1 6EL, United Kingdom
National Justice Museum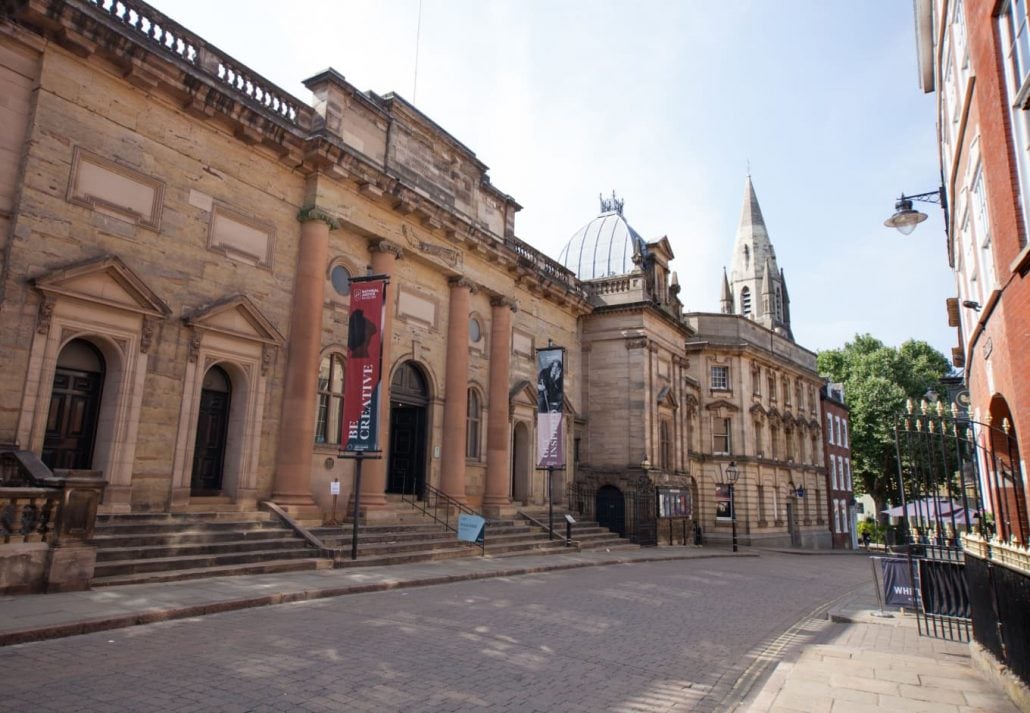 Housed in a former Victorian courtroom, police station, and prison, the National Justice Museum brings the law to life in new and exciting ways. Spread over five floors, the museum features a Georgian gaol, a Victorian courtroom, and cells. Take a tour of all exhibition areas with an actor guide, stand trial in the courtroom, and learn more about the history of the prison and the criminal justice system.
Address: National Justice Museum, High Pavement, Nottingham NG1 1HN, United Kingdom
City of Caves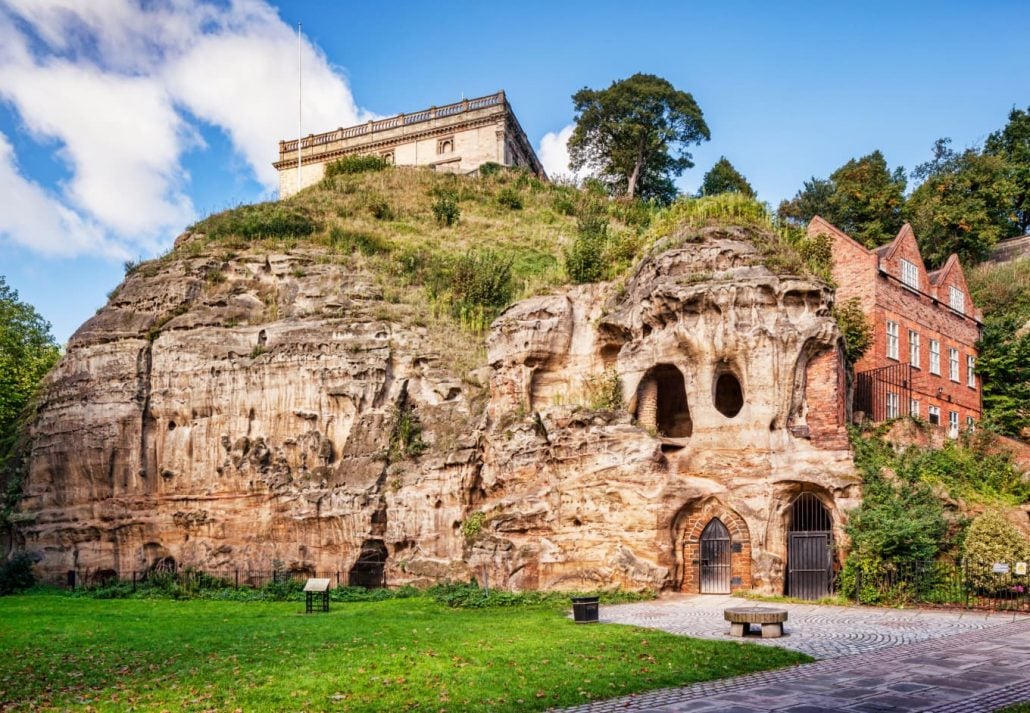 One of the top tourist attractions in Nottingham, the City of Caves, a network of caves carved out of sandstone, is managed and run by the National Justice Museum. It was used as an air raid shelter, a tannery, and a wine cellar. Walk through hidden passageways, imagine what life would have been like underground, and discover how the caves were carved out.
Please note that Google Maps may direct you through the Broadmarsh Shopping Centre, which is now closed. The City of Caves can currently be accessed from Garner's Hill, next to Nottingham Contemporary.
Address: Garner's Hill, Nottingham NG1 1HF, United Kingdom
Nottingham Contemporary
Famous for being one of the largest galleries of contemporary art in the UK, Nottingham Contemporary hosts exhibitions, talks, performances, and film screenings. Visitors can also see diverse objects and installations. After exploring the gallery, grab a cup of delicious coffee at the cafe downstairs.
Address: Weekday Cross, Nottingham NG1 2GB, United Kingdom
Recommended Read 7 Best Things To Do In Leeds, England
Ye Olde Trip to Jerusalem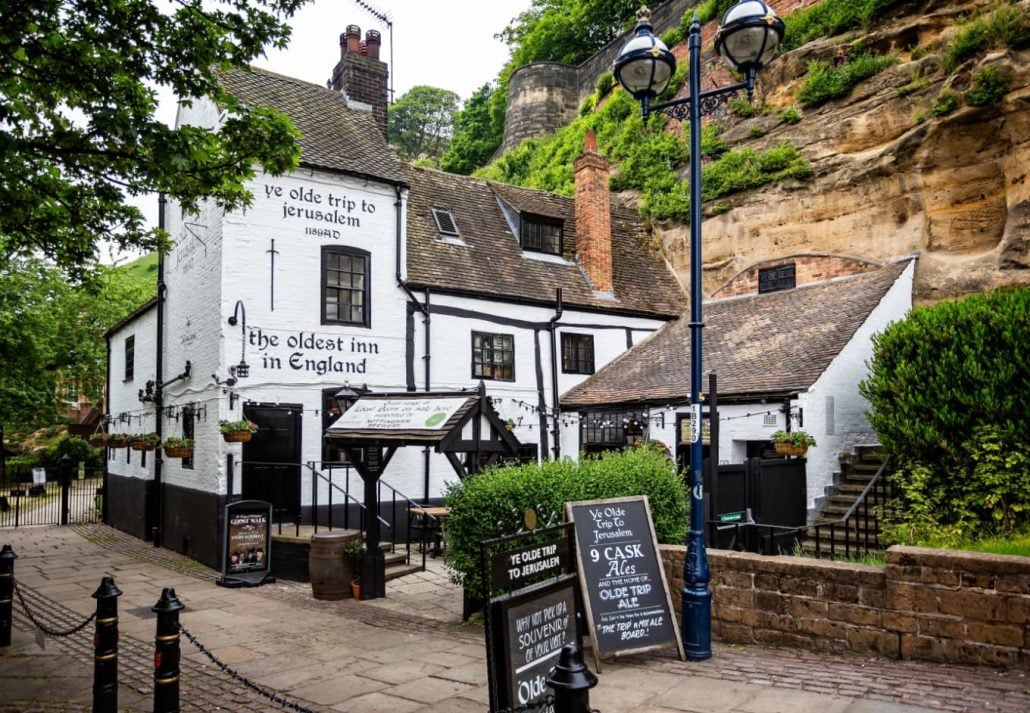 Built into the rocks under Nottingham Castle, Ye Olde Trip to Jerusalem is known as one of the oldest pubs in the city. It offers a nice selection of food and drinks, including iconic classics like fish and chips, pies, and burgers. The drinks menu features a fantastic wine list and a range of real ales. If you're a foodie or a history buff, this place is perfect for you.
Address: Brewhouse Yard, 1, Nottingham NG1 6AD, United Kingdom
The Lost City Adventure Golf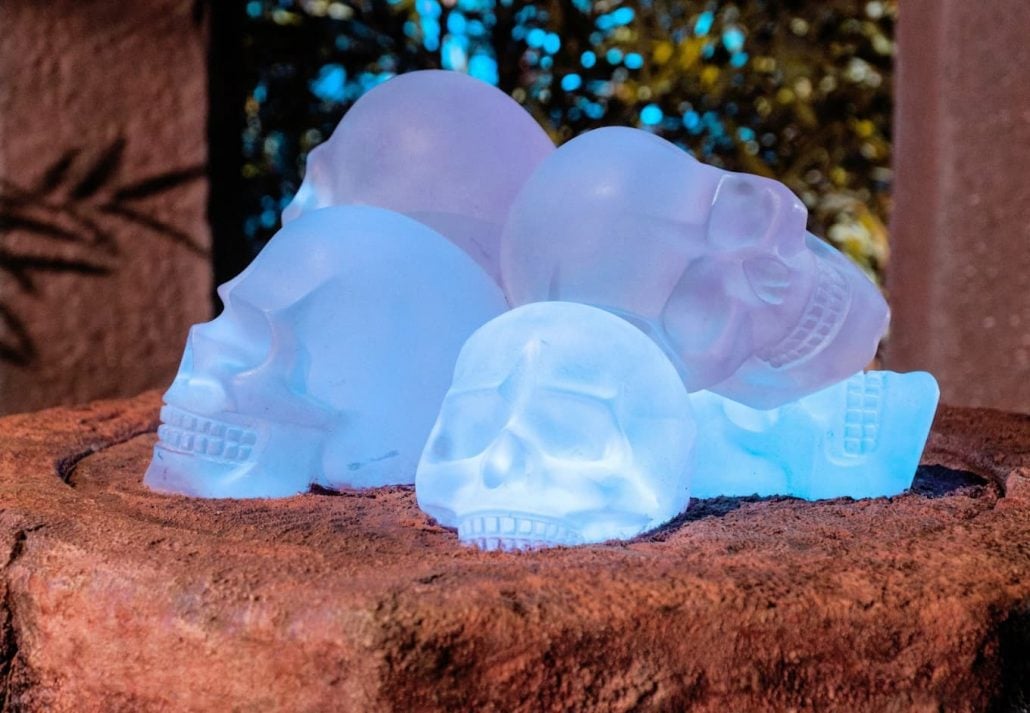 Another fun attraction in Nottingham is The Lost City Adventure Golf. It boasts two indoor 18-hole courses with interactive features, a tiki bar serving delicious cocktails and freshly made pizzas, and a bottomless brunch with 90 minutes of unlimited waffles and drinks. If you're looking for fun things to do in Nottingham, you can't go wrong with The Lost City Adventure Golf.
Address: The Cornerhouse, Burton St, Nottingham NG1 4DB, United Kingdom
Wollaton Hall, Gardens, And Deer Park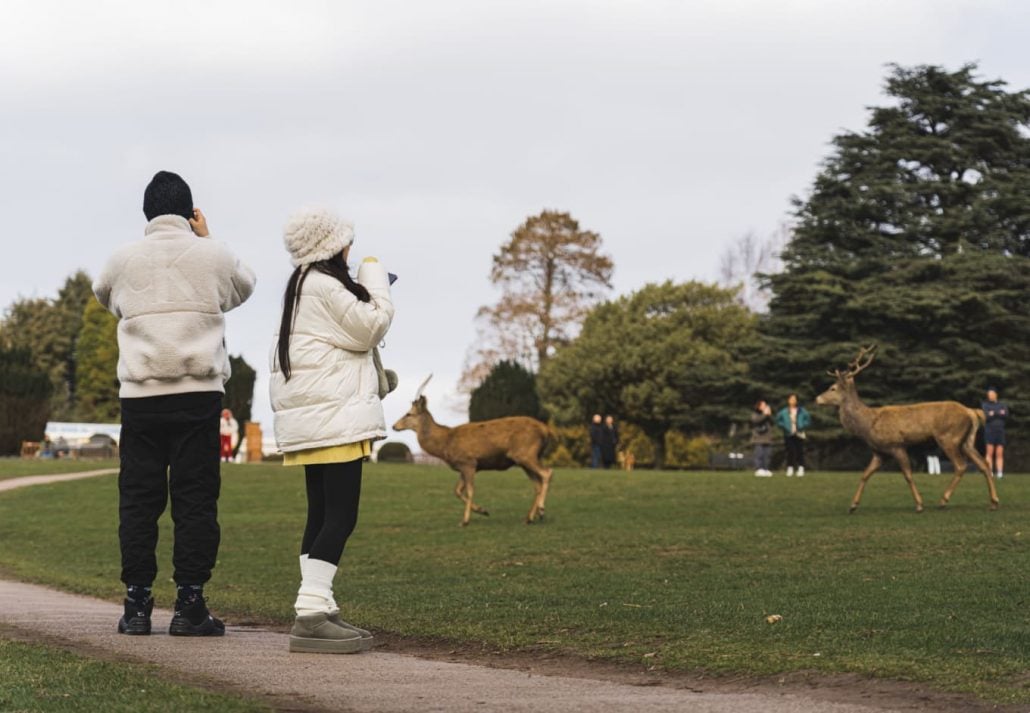 Wollaton Hall is a stunning 16-th century home and one of the country's best Grade I listed Elizabethan buildings. Natural History Museum and Nottingham Industrial Museum are also located here.
Furthermore, there are over 90 red and 120 fallow deer, a lake with a false bridge, and breathtaking gardens with a Doric temple and the Camellia House (the oldest cast-iron-framed glass house in Europe).
This wonderful place is also a great kid-friendly attraction — one play area is next to the 508 Café and the other one is near Lime Tree Avenue. With exciting family trails families can hunt for clues and claim a prize.
Address: Wollaton Rd, Nottingham NG8 2AE, United Kingdom
Recommended Read Best Parks In Cambridge, England
Escapologic Nottingham Escape Rooms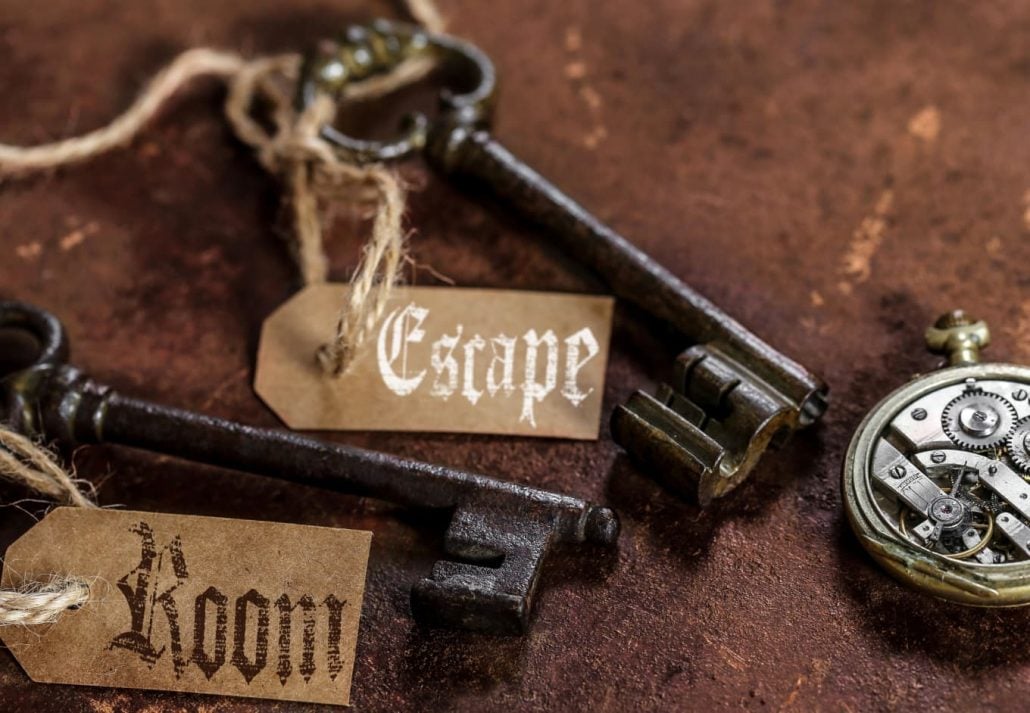 Escape rooms are an ideal activity for groups of friends! Visit Escapologic Nottingham Escape Rooms to discover abandoned laboratories and cursed crypts, find clues and crack codes to escape the rooms, and, of course, experience realistic sets and sound designs.
Address: 2 Stanford St, Nottingham NG1 7AQ, United Kingdom
FAQ
What is Nottingham best known for?
Nottingham is mostly famous for its connection to the legend of Robin Hood.
How many days should I stay in Nottingham?
Two days.
Where to stay in Nottingham?
Premier Inn Nottingham City Centre (Goldsmith Street) Hotel;

Crowne Plaza Nottingham;

Hart's Hotel;

St James Hotel, BW Premier Collection;

Dwell City Living;

Mercure Nottingham City Centre George Hotel;

Lace Market Hotel.
What to do in Nottingham?
Visit top-rated attractions like:
Nottingham Castle;

National Justice Museum;

City Of Caves;

Nottingham Contemporary;

Ye Olde Trip to Jerusalem;

The Lost City Adventure Golf;

Wollaton Hall, Gardens, And Deer Park;

Escapologic Nottingham Escape Rooms.
Where to go shopping in Nottingham?
Victoria Centre;

Riverside Retail Park;

Flying Horse Walk;

The Exchange;

East Point Retail Park;

Castle Retail Park.
Browse, book, and stay.
CuddlyNest provides all accommodations to all travelers at the best price. Find unlimited travel inspiration on our blogs and social media channels Facebook, Instagram, and Pinterest.
You may also like:
The 6 Best Bars In Leeds, England
The Ultimate Guide To Visiting Cardiff Castle
7 Best Things To Do In Cardiff, Wales
The Best Hotels In Cardiff, Wales
The Best Cambridge Restaurants
6 Best Museums In Cambridge, England
The 8 Best Things To Do In Liverpool, England
Liverpool Cathedrals: The Complete Guide
Liverpool Beatles Tours: All You Need To Know
The Best Museums In Liverpool That You Can't Miss
How To Get From London To Liverpool: 3 Ways
The Best Hotels In London, England
The Ultimate Guide To Visiting The Tower Of London