Turkey is the ultimate melting pot of cultures and landscapes. It's no secret that the gorgeous beaches inspire tourists to visit this picturesque country. Although it is surrounded by the inland waters of the Black Sea and the Mediterranean Sea, the most popular beaches are situated by the crystal-clear Aegean Sea. Here are the 5 most beautiful beaches in Turkey!
The 5 Best Beaches In Turkey
Kabak Beach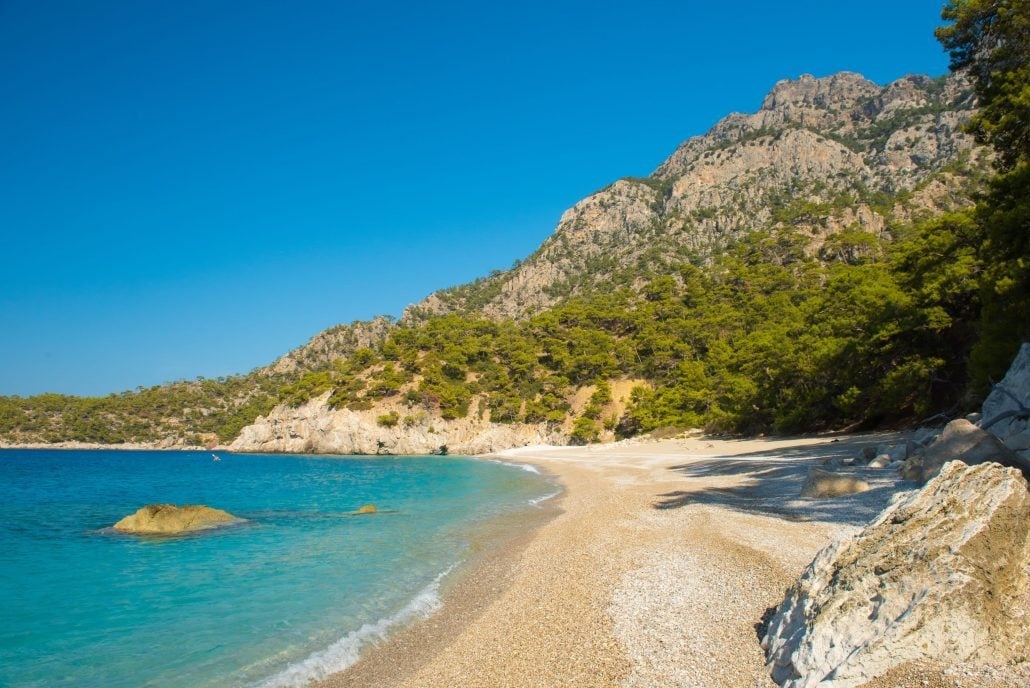 Kabak Beach, which draws a significant number of tourists each year, is a must-see location in the Faralya neighborhood. The beautiful beach boasts resort-style stays, charming bars, and endless rows of sun loungers.
Stay at the unique Mandala Camping that offers tents and wooden bungalows or the Tree Houses that overlook white sandy beaches and the turquoise blue sea.
This hidden gem can be reached by descending the trail on foot or by a high-suspension vehicle. It's perfect for nature lovers seeking a tranquil, revitalizing experience.
To relish some delicious meals, head to the nearby Turan Hill Lounge which serves everything from seafood to pasta. There's also Mamma's Restaurant offering excellent local homemade dishes.
Location: Fethiye, Mugla Province
Blue Lagoon – Ölüdeniz Beach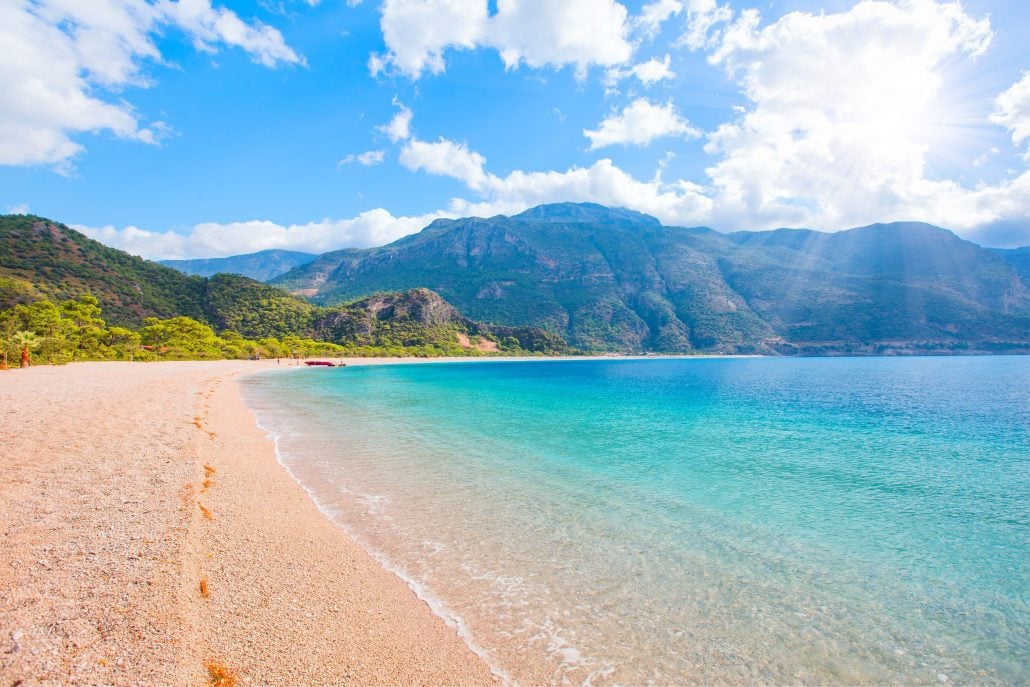 The wonderful Blue Lagoon is a famous beach found on the southwestern Turkish coast. You won't find any beach clubs or shows here, so it's perfect for unwinding. The popular destination is separated from the main beach and boasts shallow waters and rich marine life. It's the perfect place for snorkeling, paddle-boating, and canoeing. It's also super safe for children! Note that the sandy beach is protected by the National Park and you have to pay a fee to enter.
Where to stay? Take a look at the S3 Orange Exclusive Hotel with a scenic view and an on-site restaurant, the 3-star Tonoz Beach Hotel with a sauna, or the 5-star Salonika Suites with a swimming pool. All of them will provide you with an amazing solo trip or a family holiday experience.
Location: Ölüdeniz, Fethiye, Mugla Province
Butterfly Valley Beach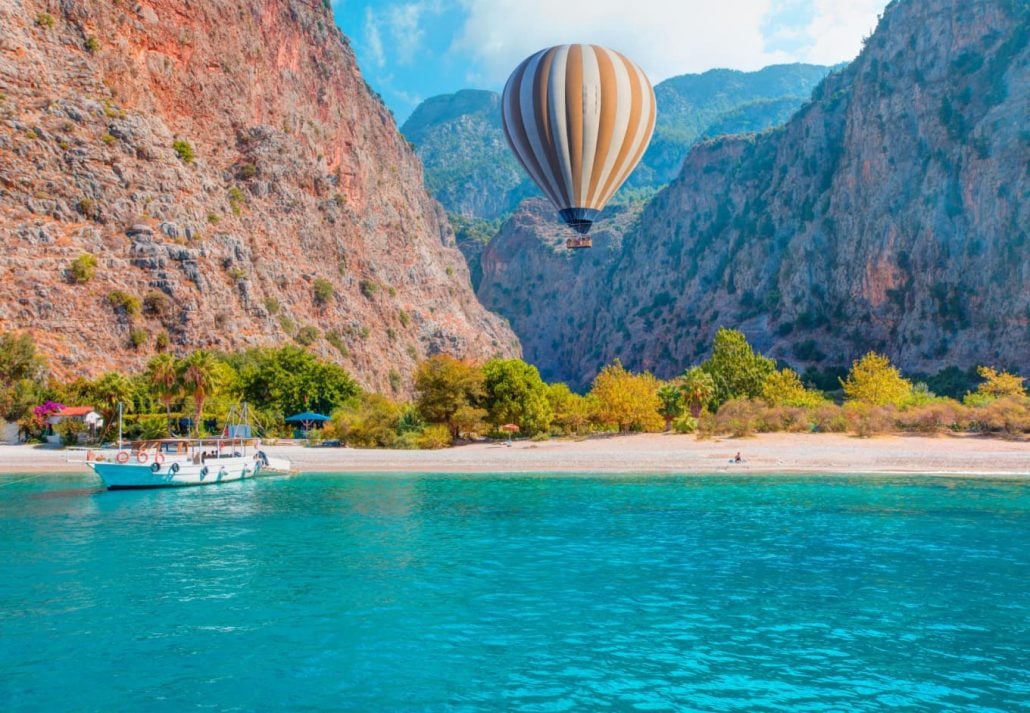 If you love boat trips, you'll absolutely adore the one that takes you from Oludeniz to Butterfly Valley Beach. The stunning beach with white sand is completely secluded and only offers basic facilities including huts and a small restaurant. Keep in mind that this it's a very popular location and draws a lot of people. It definitely has a lively atmosphere and both locals and tourists love to hang out here!
This narrow valley at the foot of Babada Mountain that opens onto the Mediterranean Sea was actually named after numerous species of butterflies that used to be there. They're rarely seen nowadays, but that doesn't diminish the breathtaking scenery.
Location: Fethiye, Mugla Province
Recommended Read 12 Amazing Art & Cultural Attractions In Turkey
Cirali Beach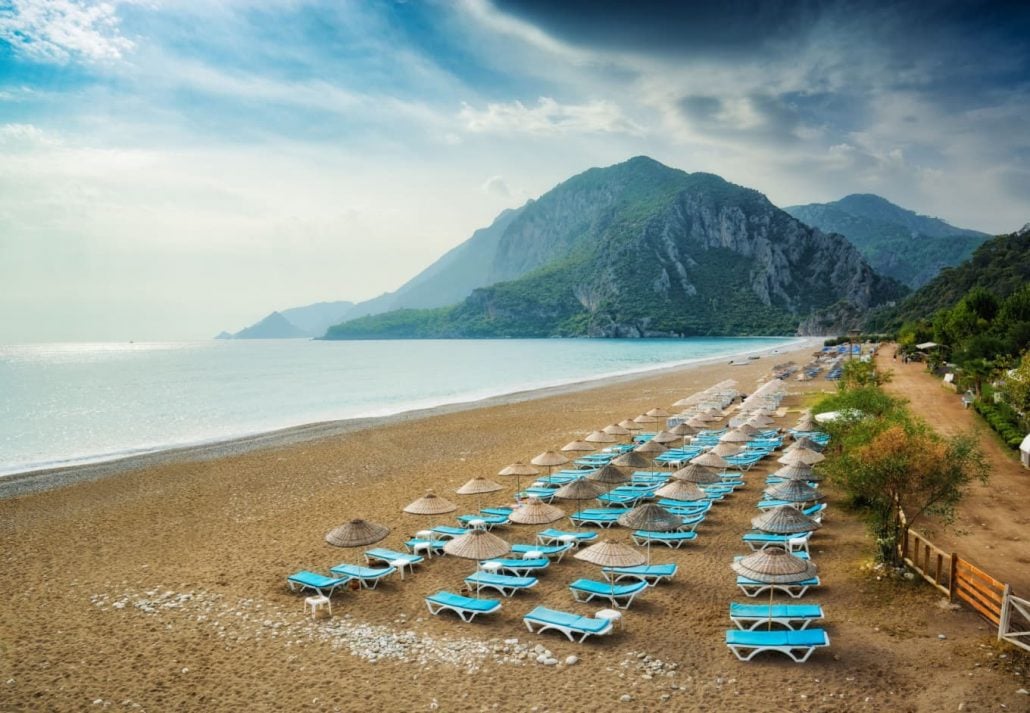 One of the most beautiful beaches in Turkey, Cirali Beach, is an ideal spot for scuba diving. To learn more about precise diving sites, contact local diving centers. It's also a good idea to bring your own gear.
Apart from the soft golden sand beach, visitors can stop by the lovely restaurants and beach bars like the Çıralı El Erizo Restaurant, Dione Restaurant/Bar, Sahil Etenna Restaurant, and others. Some of them place sun loungers, hammocks, and umbrellas on the beach.
The area also has a variety of incredible hotels such as the laptop-friendly Kimera Lounge or the non-smoking Cirali Sunrise Pansiyon and the beachfront campground Bellerofon Camping.
Location: Ulupınar, Kemer/Antalya, Turkey
Icmeler Beach
Only a 10-minute drive from Marmaris, Icmeler Beach offers plenty of water sports opportunities. Most visitors love to go on scuba diving or water skiing adventures. In addition, the surrounding hills and forests are ideal for hiking and other outdoor activities.
After a day of swimming, you simply have to visit the amazing Turkuaz Beach Bistro serving delicious spring rolls, hamburgers, fried calamari, vegetable pizzas, and mouthwatering strawberry ice cream pancakes. You also can't go wrong with the B-S Restaurant, Tiki Beach, or the Coco Beach Italian Restaurant.
Looking to stay in this outstanding area? Great choice! Choose the L'etoile Hotel – All Inclusive with a gym and a swimming pool, the Selen Icmeler offering free parking, the Navy Hotel with an on-site bar and scenic views, or simply use CuddlyNest to find the ideal accommodation for your specific needs.
Location: Marmaris Bay, Turkey
Recommended Read The 5 Best Places For Shopping In Turkey
FAQ
Which part of Turkey has the best beaches?
Bodrum Peninsula.
Are there any sandy beaches in Turkey?
Yes, there are plenty of sandy beaches in Turkey including:
Patara Beach

Lara Beach

Belek Beach

Cirali Beach

Side Beach
Where are the white beaches in Turkey?
In Oludeniz, Bodrum (Bitez Beach), Kemer (Moonlight Beach), and Belek.
What are the best beaches in Turkey?
The best beaches in Turkey are:
Kabak Beach

Blue Lagoon – Ölüdeniz Beach

Cirali Beach
Is there a turtle beach in Turkey?
Yes. Protected Loggerhead turtles and their breeding grounds are found at Iztuzu Beach.
What are other beautiful beaches in Turkey?
Cleopatra Beach

Kaputas Beach

Konyaaltı Beach

Ovabükü Beach

Ortakent Beach

Altinkum Beach

Iztuzu Beach
CuddlyNest provides all accommodations to all travelers at the best price. Find unlimited travel inspiration on our blogs and social media channels Facebook, Instagram, and Pinterest.
You May Also Like:
Skiing In Turkey: The Best Ski Centers
The 5 Best Hotels Near Taksim Square In Turkey
The 5 Best Wineries In Turkey
The 6 Best Restaurants In Turkey
The Best Time To Visit Turkey
6 Top-Rated Things To Do In Antalya, Turkey