When Turkey is mentioned, most people think of gorgeous beaches and breathtaking historical sights. But, this beautiful country is also known for having excellent local cuisine. From the world-famous Baklava to fresh seafood towers and grilled bass, foodies will surely find something to indulge in here.
Are your taste buds ready? Here's a list of the 6 best restaurants in Turkey!
The 6 Best Restaurants In Turkey
Aqua Restaurant
Aqua restaurant at the Bosphorus serves top-notch seafood dishes in a sophisticated environment that overlooks the natural strait. This place is among the best restaurants in Turkey thanks to its excellent service, live shows, and a mouthwatering menu.
The sushi part of the menu has a huge range of options. Try Sashimi with tuna tartare or yellowtail carpaccio, Nigiri with eel, Maki rolls, spicy salmon Uramaki rolls, or Ebi popcorn Hot rolls. Simply delicious!
For starters, taste the amazing lobster tail with green apple cream, or the popular Sea on Ice that consists of boiled prawns, Mediterranean sauce, spicy tuna, oysters, lobster, cocktail sauce, Pumpernickel bread, and Melba toast.
You won't regret ordering grilled sea bass for your main course. It's served with artichoke cream, stuffed onion, and sauce. There's also grilled tuna, pan-fried red mullet, pan-seared John Dory, and incredibly bread-crusted sea bream.
To top it all off, relish a black mulberry cheesecake that has a chocolate Baklava dough, or an Exotic ball dessert with mango and pineapple salsa, vanilla mousse, and crunchy chocolate rice.
Address: Ciragan Cad. No: 28 Besiktas, Four Seasons Hotel, Istanbul 34349 Turkey
Recommended Read 12 Amazing Art & Cultural Attractions In Turkey
Turk Fatih Tutak
Turk Fatih Tutak completely shook up the contemporary restaurant scene with innovative dishes. This restaurant has already made a name for itself as one of Turkey's top restaurants since it opened in December 2019. The mastermind behind it is the chef and owner Fatih Tutak who won the Best Chef award in 2020 in Time Out Istanbul.
The food is otherworldly here! Taste stuffed mussels, heavenly sea bass and Urfa trout caviar, heirloom tomatoes with cherries and fig leaves, and so much more. Don't hesitate to pair the dishes with tempting Turkish wine from local wine producers.
Address: Cumhuriyet, Cumhuriyet Hacıahmet Silahşör Cad, Yeniyol Sk. No:2, 34440 Şişli/İstanbul, Turkey
Safran Restaurant
This restaurant boasts its Academie Internationale de la Gastronomie award and serves marvelous Ottoman cuisine. Indulge in an exquisite seafood tower with jumbo prawns, salmon sashimi, and sea bass ceviche.
Perhaps, you'd like to eat more than just seafood. You can't go wrong with ordering a prime rib, a T-bone or New York steak, a split roasted lamb rack, or vegetable stew. Don't leave without tasting one of the flavor-packed desserts like the Katmer pastry filled with pistachios, Kunefe with Antioch cheese, or a carrot-shaped Baklava.
There's also a special menu called City Lights that highlights innovative dishes: hoisin duck wraps, seafood gyoza, beef with eggplant, fried ice cream, and more!
Please note that the restaurant has a dress code – don't enter in slippers, shorts, or training outfits.
Address: Gümüşsuyu Mahallesi Asker Ocağı Caddesi No:1 D:kat 15/B, 34437 Beyoğlu/İstanbul, Turkey
Recommended Read The 8 Most Amazing Museums in Turkey
Deniz Restaurant
In Izmir, this cozy restaurant offers amazing food and stunning views of the Kordon – a seaside promenade. With more than 30 years in the business, the managers of the Deniz Restaurant surely know how to keep their guests happy.
Foodies love to visit this spot for tasty fish appetizers and perfectly done calamari. You'll find three tasting menus here. The first one highlights fried calamari, seafood crepe, and big sea bass. The other one features a yummy sea pie, fish meatballs, and a cheese plate. Finally, taste the exquisite dishes on the third menu: seafood puff, fillet fish, two different seasonal salads, sea bream, and fish skewer.
If you're ever in Izmir, this place is a must-visit!
Address: Kültür, İzmir Palas Oteli, Atatürk Cd. No: 188/B D:ZEMİN, 35220 Konak/İzmir, Turkey
Recommended Read The 5 Best Amusement Parks In Turkey
St. Regis Brasserie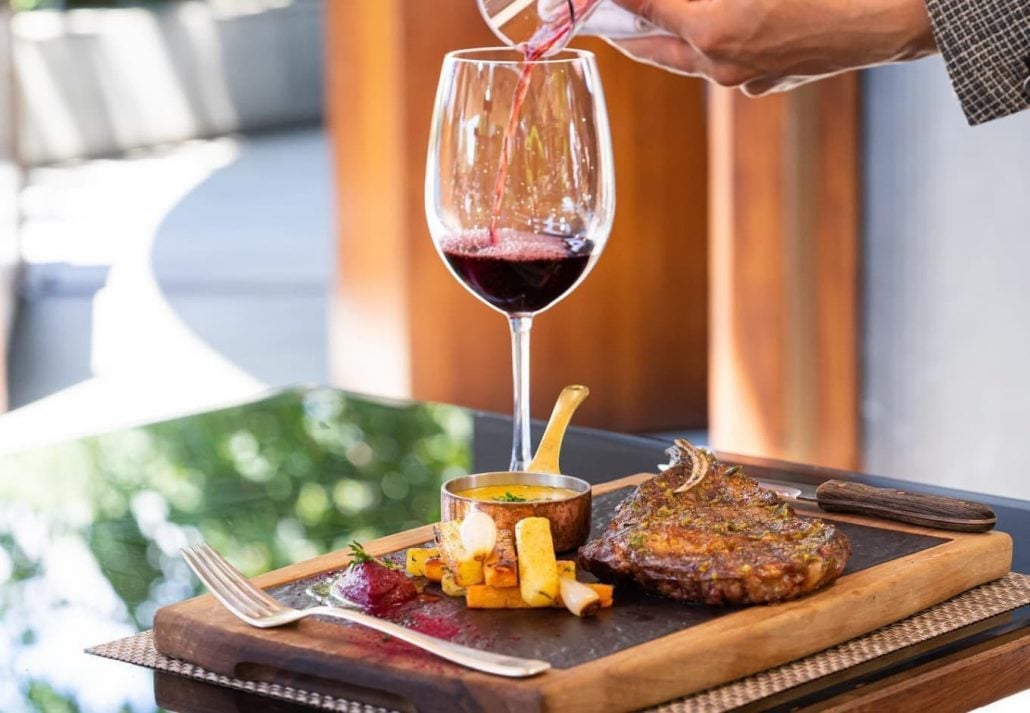 This intimate restaurant is located in the heart of Istanbul. The look of it was inspired by Art Deco and the food by traditional Turkish cuisine. The offered menu is seasonal with dishes that consist of fresh ingredients. Prepare your tastebuds for the main course by starting off with shrimp popcorn, rock sea bass Tiradito, or baby romaine lettuce with lavender goat cheese dressing. If this sounds too good, wait till you hear the main course dishes!
Think honey-glazed Alaskan black cod, cowboy ribeye steak, beef fajita, and homemade Manti. Of course, you must try the pumpkin field dessert with walnut ice cream, chocolate souffle, baked Sutlac, or the famous tiramisu.
Craving a delicious ice-cold cocktail? Check out their mixology menu that features Bloody Mary, Serenity, Sourish, Fool's Paradice, and more. For wine lovers, there's a sommelier selection of world-class wines including the Chateau Petrus, Pomerol, France from 1999.
It's pretty clear why this restaurant is super popular!
Address: Harbiye, Mim Kemal Öke Cd. No:35, 34365 Şişli/İstanbul, Turkey
Orfoz Restaurant
As one of the best fish restaurants in Turkey, Orfoz Restaurant takes you on an unforgettable gastronomic journey. Be prepared to try the best fresh clams with lemon, oysters with parmesan cheese, oven-baked aubergine, and the irresistible creme caramel.
Don't forget to pair your dishes with amazing wine from their wine list! Does a glass of semi-dry wine from 2014 sound good? Well, you also have a chance to relish a glass of Merlot from 2010 and even Tatlı Sert Narince from 2001.
This fabulous restaurant is truly a gem in the city of Bodrum. With so much tasty food to offer, visiting it once won't be enough. So, we suggest you book a comfy stay nearby. Take a good look at the stylish Petra Butik Otel with luxurious units or the budget-friendly Merih Hotel. Orfoz Restaurant will be a stone's throw away!
Address: Kumbahçe, Zeki Müren Cd. No:13, 48400 Bodrum/Muğla, Turkey
FAQ
Are there any Michelin-star restaurants in Turkey?
Not yet. The first selection of restaurants considered for the MICHELIN star will be revealed in October 2022.
What are the best restaurants in Turkey?
There are plenty of great restaurants in Turkey, but the best ones are:
Aqua Restaurant

Turk Fatih Tutak

Safran Restaurant

Deniz Restaurant

St. Regis Brasserie

Orfoz Restaurant
What is the traditional food in Turkey?
Doner Kebab, Manti, Sarma, Kofte, Baklava, Meze, Kumpir.
Is the food in Turkey halal?
Yes, most Turkish stores and restaurants have halal food.
CuddlyNest provides all accommodations to all travelers at the best price. Find unlimited travel inspiration on our blogs and social media channels Facebook, Instagram, and Pinterest.
You May Also Like:
7 Best Destinations For Surfing In Europe
40 Top & Most Beautiful Castles in Europe
A Guide To Jordan Wadi Rum: Top Things To Do
The Best Time to Visit Bangkok, Thailand
6 Top-Rated Things To Do In Antalya, Turkey