Hoping to find some hidden gems while shopping in Turkey? Good news! In the country's vibrant markets, you can buy anything and everything. Between stalls packed with handmade rugs and freshly made baklava, you won't go home empty-handed.
Although Istanbul has the best shopping scene, we made sure to include other major shopping destinations in the country. Here are the best places for shopping in Turkey!
Find The Five Best Hotels in Turkey
The 5 Best Places For Shopping In Turkey
Spice Bazaar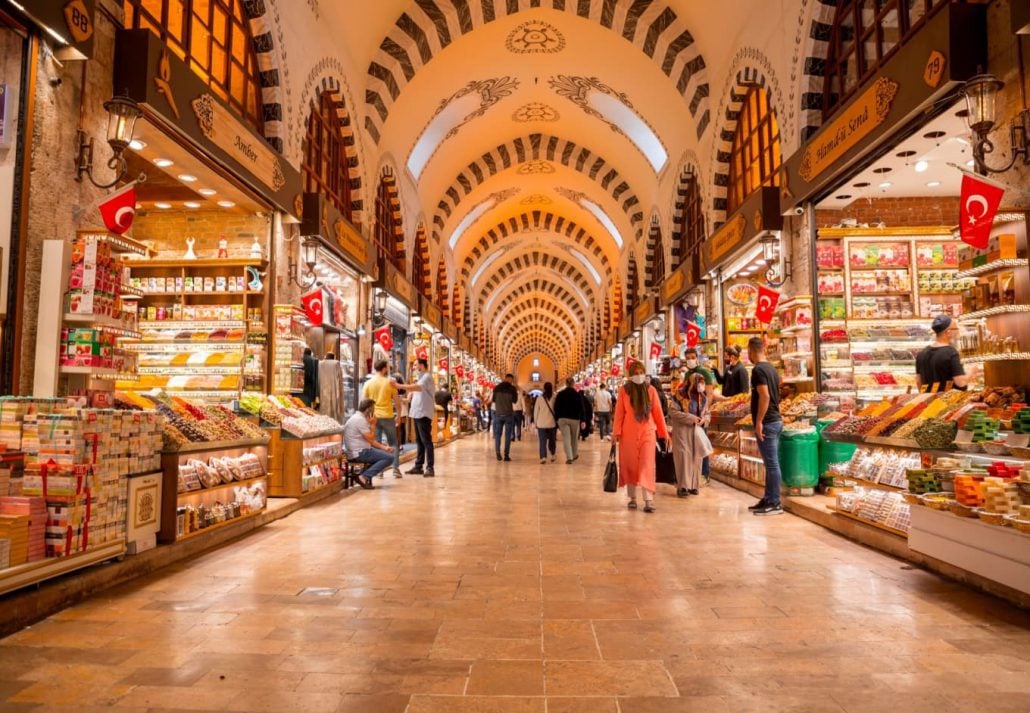 This Spice Market, also known as the Egyptian Bazaar, was constructed in 1664 as a part of the New Mosque. The L-shaped market gained popularity by selling Egyptian and domestic spices and herbs, Turkish delight, dried fruit, honeycombs, nuts, dried beef, and eski kaşar cheese. Visitors can also see many shops selling Turkish mosaic lamps, scarves, and costumes.
If you're a Turkish coffee lover, you must stop by the Kurukahveci Mehmet Efendi shop right by the bazaar. The lovely store has been in the coffee industry for a century. The wonderful smell of grounded coffee will tempt you from a mile away!
Location: Rüstem Paşa, Erzak Ambarı Sok. No:92, 34116 Fatih/İstanbul, Turkey
Grand Bazaar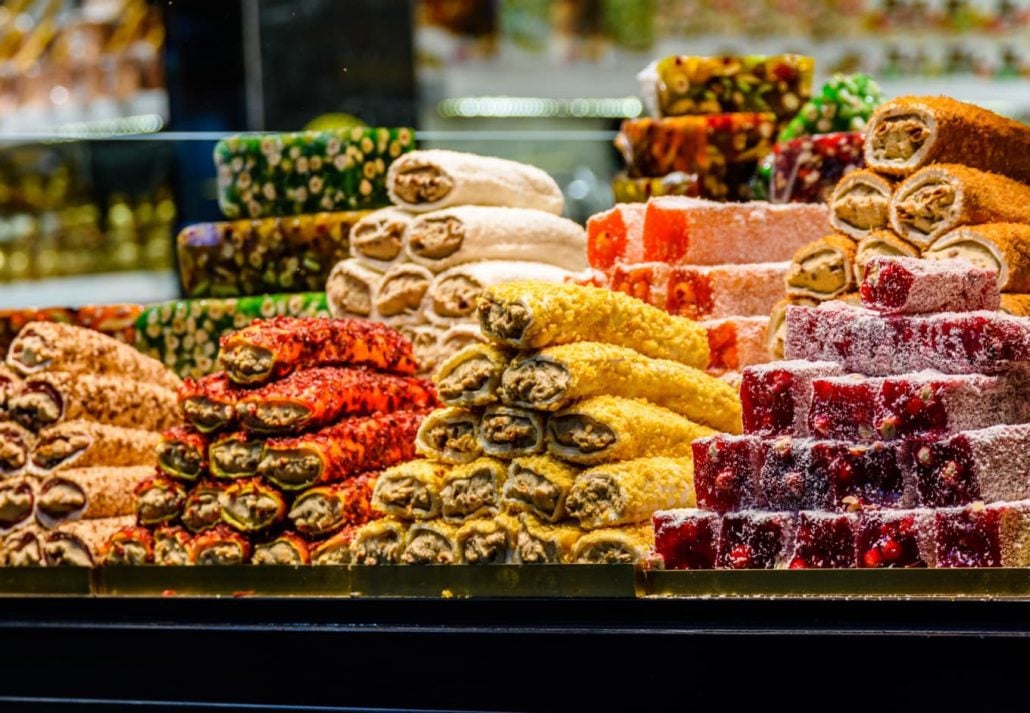 Istanbul's Grand Bazaar is probably the most famous shopping destination in the country. It's often referred to as one of the first shopping malls in the world.
Shop food and drinks, health and beauty products, decor and textiles, and kitchenware. It's a hotspot for buying souvenirs, olive oil, black tea, fresh baklava, blue evil eye amulets, unique Turkish carpets, and tea sets. With over 4,000 shops, it will take days to see everything the market has the offer!
Location: Beyazıt, Kalpakçılar Cd. No:22, 34126 Fatih/İstanbul, Turkey
Recommended Read The 6 Best Restaurants In Turkey
Arasta Bazaar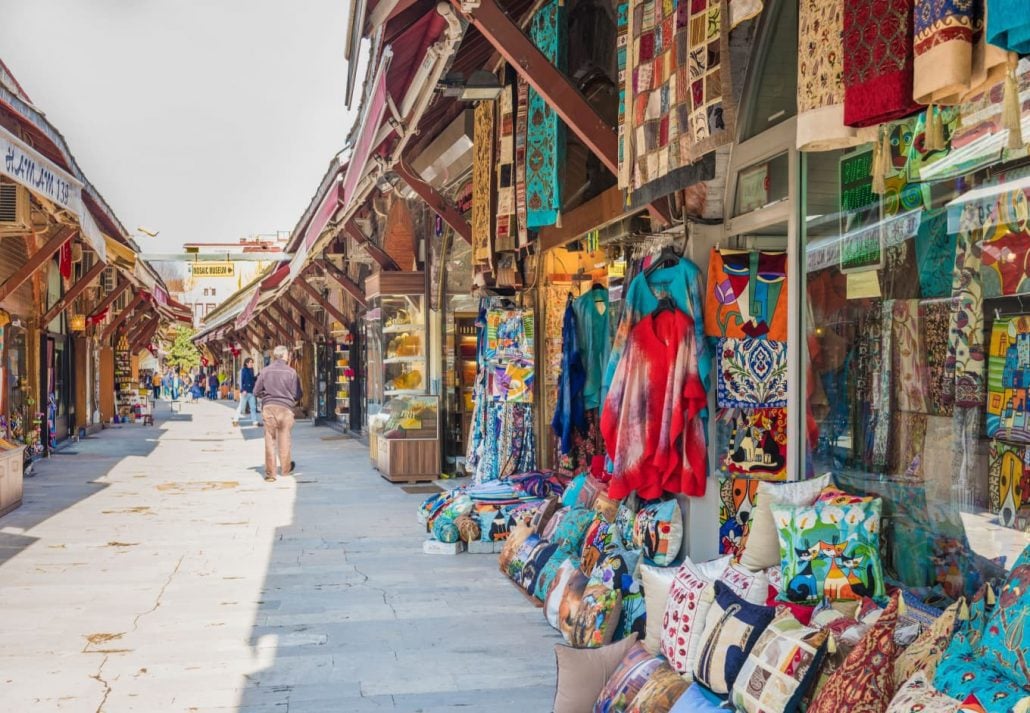 Arasta Bazaar is a buzzy market nestled in the famous Blue Mosque complex. Looking for a stay near this historical sight? Check out the 5 best hotels near Blue Mosque here.
It's interesting that this bazaar was known as the Sipahiler Bazaar during the Ottoman Empire. However, it was destroyed by fire in 1912 and was not used for a long time before being restored in 1980. Now, this market street is full of cool carpet shops, ceramic shops, antique shops, and vintage clothing shops. Keep in mind that many stores have a fixed price.
Location: Sultan Ahmet, Mimar Mehmet Ağa Cd. No:2, 34122 Fatih/İstanbul, Turkey
Kemeralti Market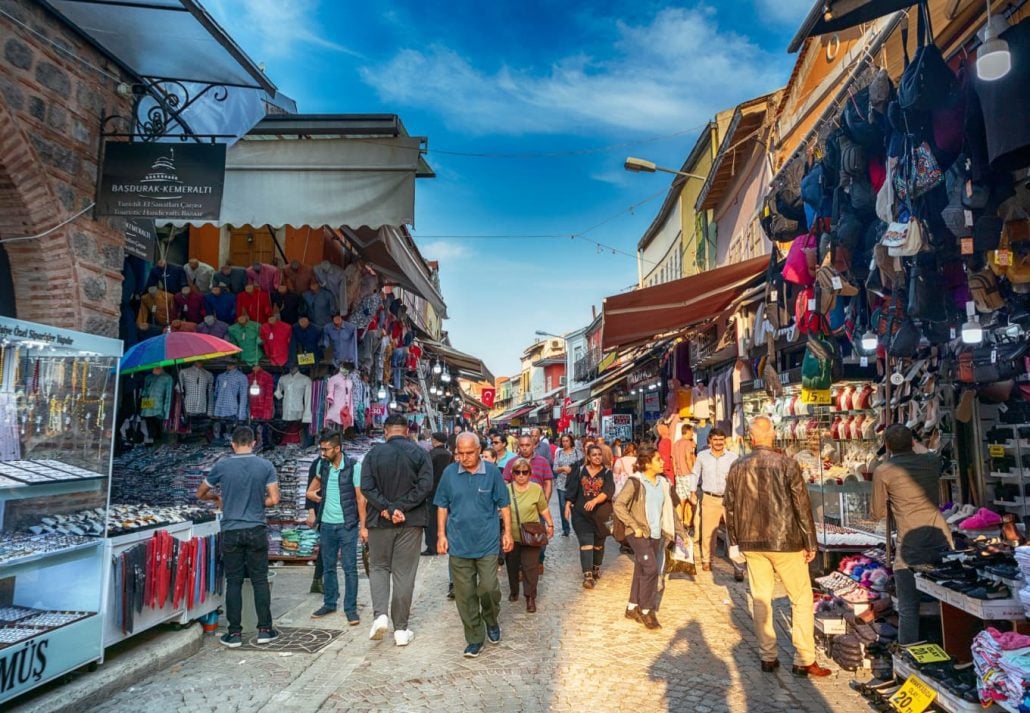 Located in the gorgeous city of Izmir, the Kemeralti Bazaar dates back to the 17th century. The top attraction here is the Turkish coffee boiled in a cup. You can find it between the Hisar Mosque and the Kızlarağası Han. Furthermore, the market is home to fantastic restaurants, workshops, and shops with fresh produce, souvenirs, clothes, spices, sweets, and jewelry.
Kemeralti is an oriental bazaar that is a real treasure trove!
Location: Konak, Anafartalar Cd., 35250 Konak/İzmir, Turkey
Recommended Read The 5 Best Wineries In Turkey
Forum Camlik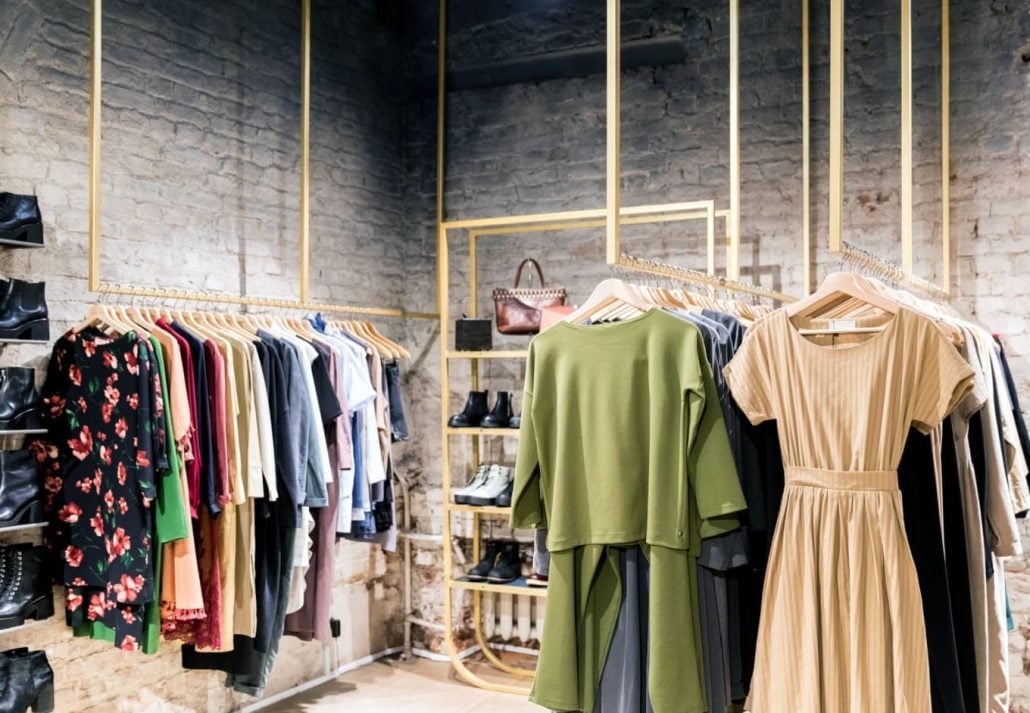 The 2-floor shopping center in Denizli (near Pamukkale) has everything you need – a cinema, arcade, bookstores, eateries, cafes, and a huge selection of stores. There's Blue Diamond, Karaca, Colin's, Deichman, LC Waikiki, Nike, Pierre Cardin, Puma, and other international brands!
After you're done with your shopping spree, order some delicious food in Boston Donuts, Burger King, KFC, McDonald's, or Usta Donerci. After a long day of visiting the Pamukkale thermal pools, this is a wonderful place to unwind.
Location: Mehmetçik, Doğan Demircioğlu Cd. No:2, 20170 Pamukkale/Denizli, Turkey
FAQ
What is best to buy in Turkey?
Some of the famous things to buy in Turkey are Turkish delight, handmade rugs, Turkish mosaic lamps, blue evil eye amulets, ceramics, tea sets, antiques, Turkish spices, olive oil soap, silver jewelry, and dry fruits.
What are the best shopping places in Istanbul?
Turkey offers plenty of great shopping destinations, but Istanbul has the most popular ones. They are:
Spice Bazaar

Grand Bazaar

Arasta Bazaar
Where to go for luxury shopping in Istanbul?
Bagdat Street is the most luxurious destination for shopping in Istanbul. It has a wide range of cafes, restaurants, and stores with famous brands.
What's the best place for souvenir shopping in Turkey?
Grand Bazaar is the best place for souvenir shopping.
What are the most famous markets in Turkey?
The most famous markets in Turkey are:
Spice Bazaar

Grand Bazaar

Arasta Bazaar

Kemeralti Market

Bakırcılar Çarşısı

Kapalı Çarşı, Ulu Çarşı and Koza Han
What are the most famous Turkish carpets?
The most famous Turkish carpets are Hereke.
CuddlyNest provides all accommodations to all travelers at the best price. Find unlimited travel inspiration on our blogs and social media channels Facebook, Instagram, and Pinterest.
You May Also Like:
The 5 Best Amusement Parks In Turkey
The 8 Most Amazing Museums in Turkey
12 Amazing Art & Cultural Attractions In Turkey
The Best Time To Visit Turkey
6 Top-Rated Things To Do In Antalya, Turkey
A Guide To Jordan Wadi Rum: Top Things To Do
The Ultimate Asia Travel Guide
Croatia Travel Tips: Things To Know Before Traveling to Croatia, Balkans
A Visit To The 7 Best Museums In Greece