Turkey is one of the most diverse and versatile countries to travel to. With several wonderous architectural and historical sights to learn from, beautiful beaches with the crisp blue waters of the Mediterranean Sea, and delightful local cuisine, every traveler would have something to indulge in here.
There are gorgeous hotels in Turkey of every type and budget. Whether you're looking to stay in the lap of luxury or more affordable and cheap hotels, we're certain you'll find one or more Turkey hotels that perfectly suit your needs. You can stay in a cave hotel in the Cappadoccia region, on a luxe beach resort in Bodrum, or in a 5-star property in the city centre of Istanbul. Every part of Turkey has something different to offer travelers.
Hotels in Turkey are a whole class apart; from the unique hospitality they provide the guests through their kind staff to their wide variety of accommodations, right from luxurious vacation rentals to resorts and hotels.
Discover the richness of Turkey's culture and heritage by visiting the main attractions of the ancient world such as the Blue Mosque, the Hagia Sophia, the Sultanahmet Square which is a roman era Hippodrome, Hadrian's Gate in Antalya, and the Grand Bazaar.
Let's look at a collection of hotels in Turkey that are specifically renowned for their very friendly staff, excellent service, delicious food, great location, and proximity to famous travel sites.
The Top Five Best Hotels In Turkey
Hotel Caftan Cave Suites, Göreme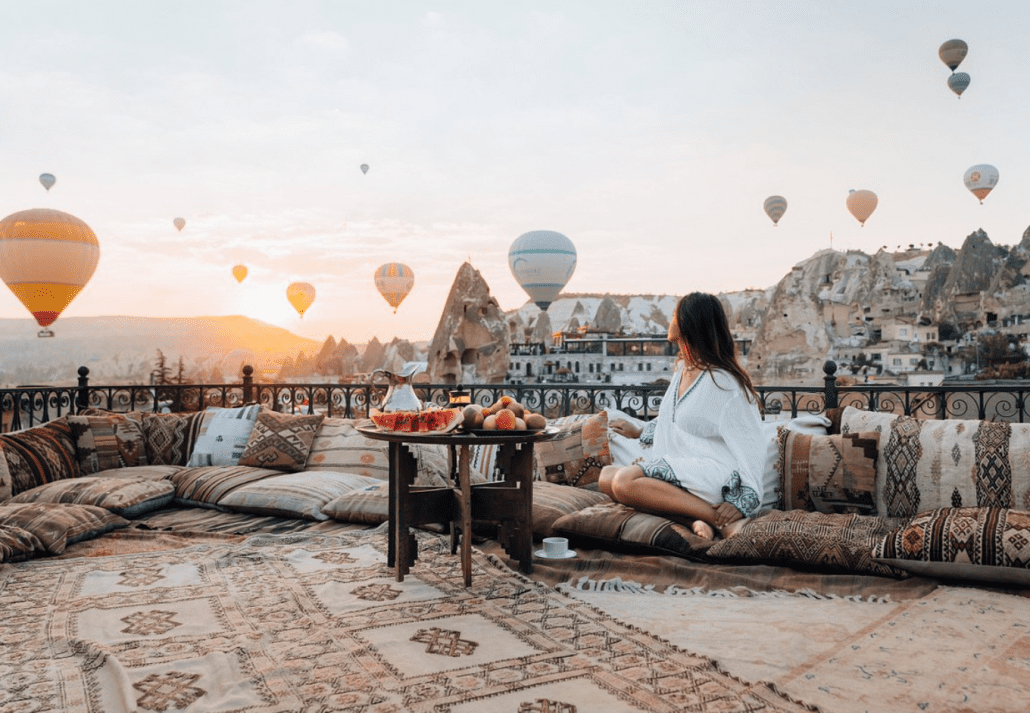 This gorgeous cave suite hotel is located in Göreme in the historical region of Cappadoccia, famous for its stunning hot air balloon view during sunset. This region is surrounded by the most beautiful cave suites with stunning views from rooftops and balconies.
Hotel Caftan Cave Suites is one of the finest hotels in Turkey, with immense attention paid to the minutest details. Largely raved about in guest reviews for two aspects – its wonderful location and the friendly staff, this hotel is a must-stay in Turkey.
The hotel and rooms have a very authentic and rustic volcanic rock-cave feel to them, and the decor is traditional Turkish. The most important part of the experience in this hotel is most definitely the view of the hot air balloons! The food, including the Turkish breakfast at the hotel, has been raved about in guest reviews, too, along with the pleasantness of the clean room the guests were provided with.
Cappadoccia has several landmarks and experiences that revolve around its unique landscape of volcanic rock and rock-cut churches and this hotel is right in the hotspot of the most popular regions there. The hotel also features a nice breakfast, a hot tub, and high-speed internet, with the rooms also having air conditioning and a minibar.
Address: Orta Mahallesi, Cami Sk. No11, 50180 Göreme, Merkez/Nevşehir, Turkey
Nearby Attractions: Goreme Historical National Park, Fairy Chimneys, Open Air Museum, Dark Church, Ortahisar Castle, Love Valley, Kilicar Vadisi, Pigeon Valley
Top Amenities & Services: Complimentary high-speed Wi-Fi, Minibar.
Divan Istanbul Asia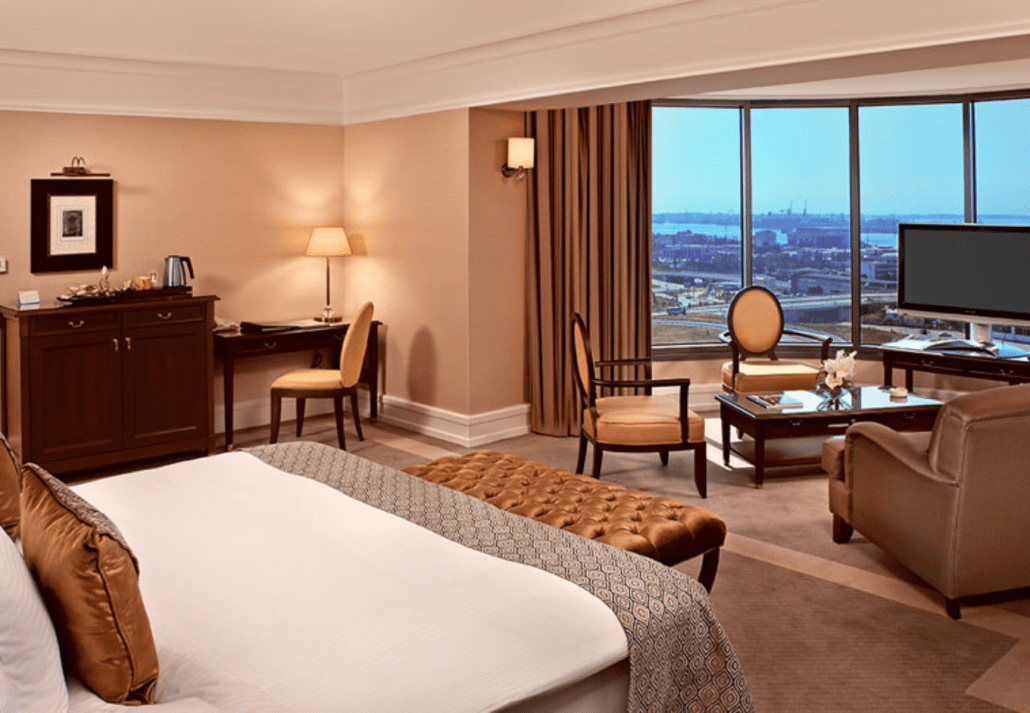 A luxurious feat of plush comfort, the Divan Istanbul Asia hotel located in the Pendik district of Istanbul's Asian side, is in close proximity to several landmarks and provides access to ample transit and food options as well.
With the ocean nearby, there are several waterfront landmarks for you to explore such as the Şemsi Paşa mosque from the 1500s and the Beylerbeyi Palace with its intricate architectural work. You can visit the ViaSea Aquarium, or even take a ferry from Pendik Marina to one of the nearby islands or the other side of the Marmara Sea, to enjoy amazing views.
This is one of the best Turkey hotels and features a posh rooftop bar and restaurant with sweeping panoramic views of the skyline and the ocean all around, a state-of-the-art fitness center with a healthy juice bar, and both an indoor pool and an outdoor pool. The spa and wellness centre features several options for you to relax and unwind, from unique professional massages to a Turkish bath, a rain room, sauna, and hot tub.
The hotel's restaurants serve delectable Turkish and international dishes that you won't be able to get enough of. The rooms of the hotel are ultra luxurious with comfort being the highest priority and the hotel looks as opulent as ever.
Address: Çamçeşme, Tevfik İleri Cd No:209, 34899 Pendik/İstanbul, Turkey
Nearby Attractions: Şemsi Paşa Mosque, Beylerbeyi Palace, ViaSea Aquarium, Buyukada island, Heybeliada island
Top Amenities & Services: Indoor and outdoor pools, spa and fitness center, complimentary Wi-Fi, airport transfers, babysitting service, concierge desk, Turkish hammam
Park Hyatt Istanbul Macka Palas – Boutique Class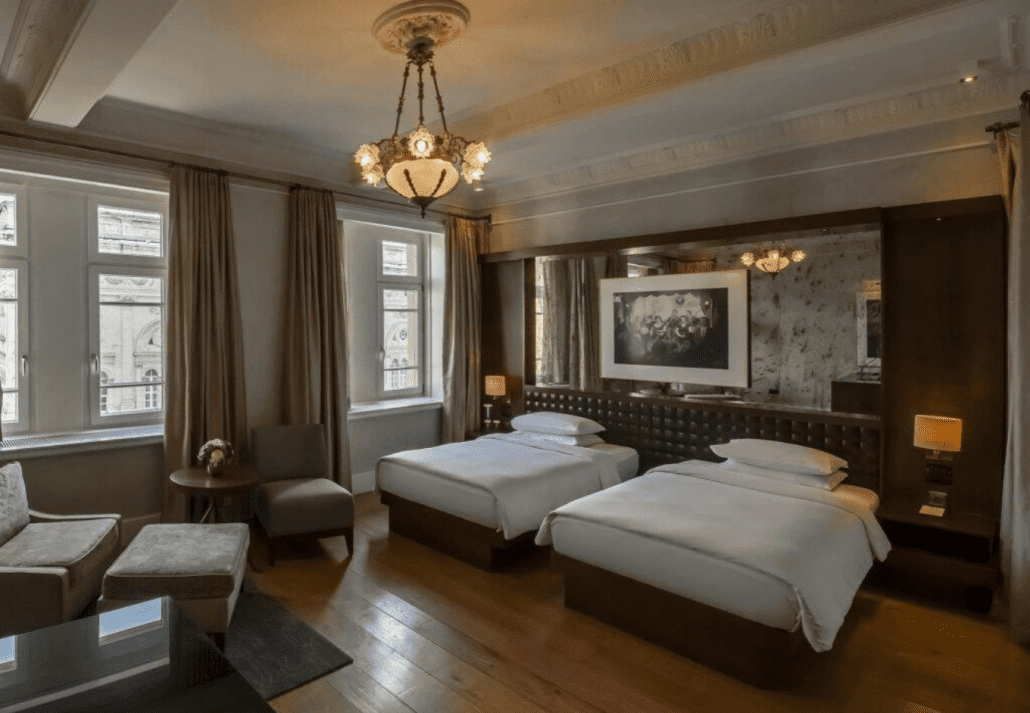 Park Hyatt Istanbul Macka Palas is located in the luxurious Nişantaş neighborhood of Istanbul, which is filled with chic clubs and restaurants, vibrant nightlife, and iconic landmarks. In the city centre of Istanbul, this luxury hotel is one of the best hotels in Turkey owing largely to its spot-on location, 5-star amenities, express check-in process, and brilliant service.
Situated on the European side of Istanbul, this hotel has close proximity to world-famous landmarks such as the Blue Mosque, the Hagia Sophia, and the Topkapi Palace. An absolute must-visit shopping destination when in Turkey, the historic Grand Bazaar with over 4000 shops and traditional souks, is a mere 20 minutes' drive from the hotel. The metro station is a short walk away which provides further access to travel around the city with ease.
The Park Hyatt Istanbul – Maçka Palas creates the ideal contemporary atmosphere by fusing its classic Art Deco architecture facade with cutting-edge design. The hotel's interiors are stunning and the rooms are extremely spacious with a traditional Turkish bath in all the rooms.
The restaurants serve delicious Mediterranean and Turkish food for all three meals and are revered for both fine dining and casual dining options. The carefully curated spa menu combines traditional Turkish massage options with Western practices to engulf you in a serene sanctuary of peace.
Address: Teşvikiye, Bronz Sk. No:4, 34367 Şişli/İstanbul, Turkey
Nearby Attractions: Hagia Sophia, The Blue Mosque, Topkapi Palace Museum, Grand Bazaar, Dolmabahçe Palace, Basilica Cistern, Galata Tower
Top Amenities & Services: Rooftop outdoor pool, spa and wellness centre, complimentary Wi-Fi, airport transfers, concierge desk, Turkish bath in every room, Pet-friendly
Caresse – Luxury Collection Resort & Spa, Bodrum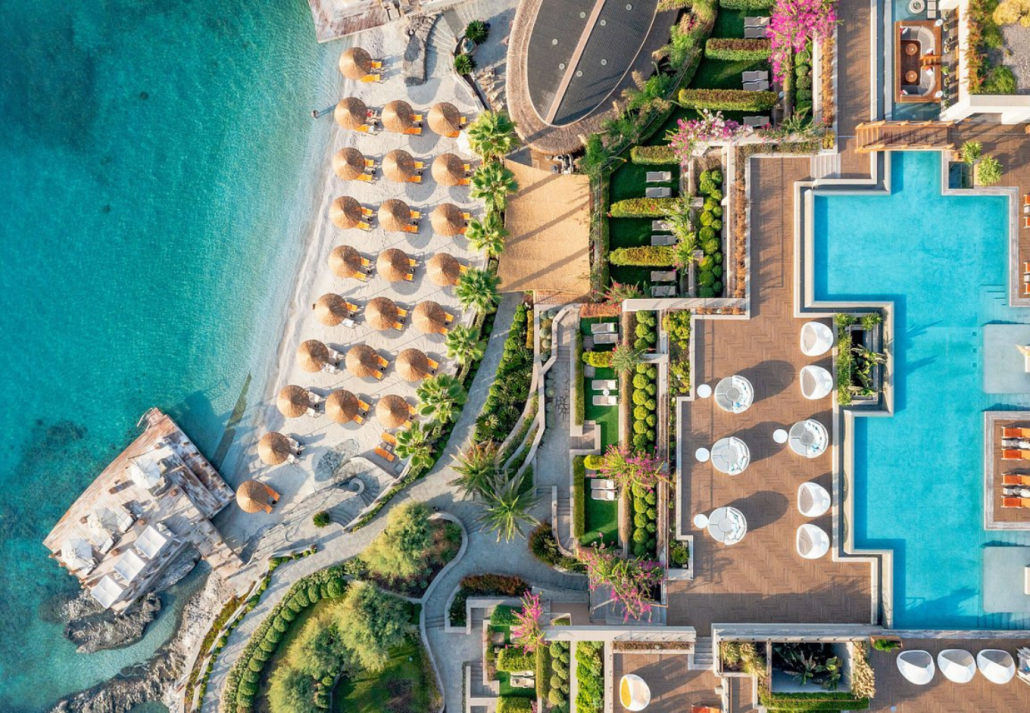 Caresse Luxury Collection Resort & Spa located in Bitez in the Aegean region with stunning views of the Mediterranean Sea features some of the most gorgeous and extravagant luxury amenities in any beach resort in Turkey. There's a reason why Bodrum is known as the jewel of the Turkish Riviera, which is on the southern coast of Turkey.
With its own private beach and an infinity swimming pool overlooking the Aegean Sea, this gorgeous luxury spa resort is one of the most revered Turkey hotels and offers the perfect combination of wellness with indulgence in luxury. A beautiful private beach deck and a sea view from every room, on top of the extraordinary service and food at this hotel, make Caresse a must-stay in Turkey.
Experience luxury on a whole new level with the best of the best in furniture and design adorning every room and the entire hotel itself. Relax on the luxury bed or head out onto the private balcony in every room to enjoy views of the expansive ocean.
The spa and restaurant both feature unique offerings to help you unwind in the lap of luxury. The Buddha Bar beach restaurant is open all day and is perfect to enjoy a lovely evening in. The Spa Caresse treatments are very famous in Turkey and are a magical way to help you relax. The helpful staff provides you with any assistance that you would need. The average price per night of the rooms can be a bit on the costlier side, but the experience makes up for it greatly.
Address: Adnan Menderes Caddesi No: 89 Asarlik Mevkii Park 225, 48400 Bodrum/Muğla, Turkey
Nearby Attractions: Mausoleum at Halicarnassus, Bodrum Castle, Museum of Underwater Archaeology, Myndos Gate, Yahsi Beach
Top Amenities & Services: Infinity pool, spa, and wellness centre, complimentary Wi-Fi, airport transfers, concierge desk, private beach, detox program, unique spa treatments
Four Seasons Hotel Istanbul at Sultanahmet
The Four Seasons Sultanahmet is in the heart of Istanbul's Old Town and is housed in what used to be a prison building with a gorgeous manicured courtyard. It provides opulent accommodation featuring unique crafts by Turkish artists, such as weaved Turkish rugs. 
Being situated in a prime location in the city centre, this hotel is only a few minutes' walk away from the famous main attractions such as the Hagia Sophia, the Blue Mosque, the Topkapi Palace Museum, and the Basilica Cistern. The location simply could not be better than this. While the average nightly price can work out to be a tad bit expensive, we think it's highly worth it!
The rooms and suites of the Four Seasons Istanbul are decorated with a Turkish motif and with several other neoclassical accents. Each room's bathroom features a large soaking tub. Seasons Restaurant, which offers breakfast, lunch, and supper, is housed in a glass pavilion in the hotel's courtyard area and furnished with Turkish art and elements from the time of the Ottoman Empire. 
Address: Sultanahmet, Tevkifhane Sk. No:1, 34122, Turkey
Nearby Attractions: Hagia Sophia, The Blue Mosque, Tokapi Palace Museum, Grand Bazaar, Dolmabahçe Palace, Basilica Cistern, Galata Tower, Sultanahmet Square
Top Amenities & Services: Spa and wellness centre, complimentary Wi-Fi, airport transfers, concierge desk, babysitting services, private cruise, access to the pool at the Four Seasons Bosphorus Hotel
FAQ
Is Turkey good for family holidays?
Tukey is an ideal family holiday destination. Its stunning beaches, the rich history in its architecture, and gorgeous hot air balloon views in Cappadoccia all make it the perfect holiday destination for families.
Which is the best area to stay in Turkey?
Cappadoccia, Bodrum, Istanbul, and Antalya are some of the top areas to stay in, in Turkey.
How expensive is a hotel in Turkey?
The nightly price of a good hotel in Turkey can range anywhere from $50 to $200. On average, this number is about $120, however, this completely depends on the category of accommodation you want, and the time of year you are traveling. The most low season month is December, while March is high season.
Which is the best area to stay in Istanbul?
Sultanahmet, Taksim, Karaköy & Galata, and Maçka & Nişantaşi are the top areas to stay in, in Istanbul.
How much money do I need in Turkey?
On average you should prepare to spend about $25-$40 per day per person, again depending largely on the type of places you want to visit and dine at.
What you should not do in Turkey?
Make sure to practice important table manners, don't wear shoes in places of worship, try not to waste food, follow dress codes in religious places, and dress as modestly as you can. When you're going shopping in traditional souks, remember that haggling and bargaining is the norm so the prices initially quoted are usually inflated. Make sure any cab you board has the taxi logo on it.
Browse. Book. Stay.
CuddlyNest provides all accommodations to all travelers at the best price. Find unlimited travel inspiration on our blogs and our social media channels Facebook, Instagram, Pinterest
You Might Also Like:
The 8 Most Amazing Museums in Turkey
6 Top-Rated Things To Do In Antalya, Turkey
The Best Time To Visit Turkey
The 5 Best Amusement Parks In Turkey
12 Amazing Art & Cultural Attractions In Turkey
The Best Time To Visit Greece
5 Amazing Wineries In Greece