Singapore treats travelers with the most unforgettable gastronomic experiences. Known for its tantalizing flavors, the delectable Singapore cuisine encompasses blends of Malay, Chinese, Indonesian, Indian, and western influences, and is rich in ingredients such as meat, rice, noodles, aromatic herbs, and jet-fresh seafood.
Some of the local dishes you should look out for include the Hainanese chicken rice, which is Singapore's national dish, and the flavorful fried Hokkien mee, made with fried egg noodles with prawns, sliced pork, and gravy.
Ready to eat your way through Singapore? Then read on to discover our guide to the top 13 dishes to try when visiting the island, and where to eat them!
Find Places To Stay in Singapore
13 Must-Try Foods In Singapore
Char Kway Teow
Char Kway Teow is one of Singapore's most iconic foods. This popular street food dish is so named for one of its main ingredients, the kway teow (flat rice noodles) that are char (stir-fried) in a wok over high heat with sweet dark soy sauce, blood cockles, bean sprouts, and Chinese sausage slices.
Other common ingredients that can be added to the char kway teow are fishcake, prawns, and cockles, which add a sweetness to the dish, while sambal chili and bits of crispy fried pork lard on the side make for an added salty crunch.
Where To Eat: Cockle Fried Kway Teow, Outram Park Fried Kway Teow, Hill Street Fried Kway Teow
Hainanese Chicken Rice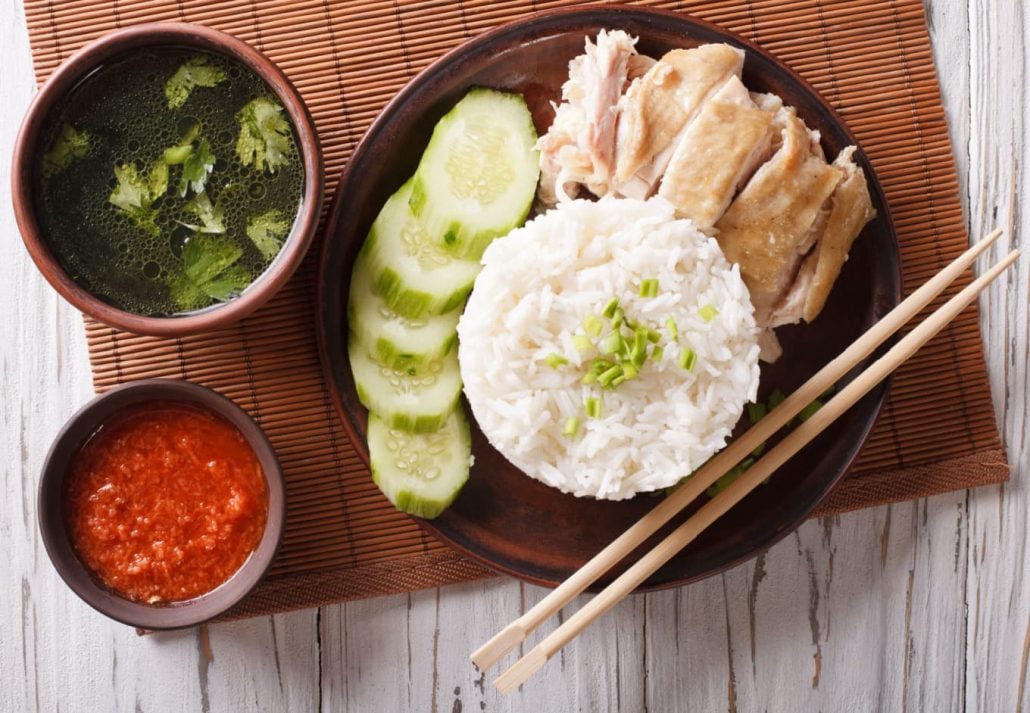 Created by immigrants from Hainan, in southern China, Hainanese chicken rice is considered one of the national dishes of Singapore. In fact, this flavorful food can be found anywhere on the island — from hawker stalls to restaurants — and it's said that is eaten "everywhere, every day" in Singapore.
The Hainanese chicken rice consists of steamed chicken served with rice cooked in chicken stock, and it's served with chili sauce and cucumber garnishes.
Curious fact: The first chicken rice restaurants opened in Singapore during the Japanese occupation in World War II when the British were forced out and their Hainanese servants lost their source of income.
Where To Eat: Tiong Bahru Hainanese Boneless Chicken Rice, Five Star Chicken Rice, Tian Tian Hainanese Chicken Rice
Oyster Omelette
Oyster omelette is another street-food staple in Singapore. It consists of an egg omelette mixed with flour and fried with a generous helping of plump small oysters garnished with coriander leaves, crispy bean sprouts, and a sweet, spicy sauce. The result? A thin crisp yet gooey-textured omelette that will tantalize your tastebuds.
Where To Eat: Bedok North Fried Oyster, Fengshan Market, and Food Centre, Hougang Oyster Omelette & Fried Kway Teow
Laksa
Originally from Malaysia, Laksa is also found in other South East Asian counties including Singapore and Indonesia. This soothing dish is basically a spicy noodle soup dish with a creamy coconut milk curry broth, which is cooked with aromatic herbs and boasts a bold red color. It can be topped with chicken, prawn, or fish.
Where To Eat: Katong Laksa, Wei Yi Laksa, Sungei Road Laksa
Bak Kut Teh
Believed to have been brought over to Singapore from Fujian, China, bak kut teh is a famous meat dish made with pork ribs simmered in a broth infused with herbs and spices, such as garlic, cloves, cinnamon, star anise, fennel seeds, and coriander.
The name bak kut teh literally translates to "meat bone tea" though no tea is actually used to make this dish.
There are three traditional variants of bak kut teh in Singapore: Hokkien, Teochew, and Cantonese.
The Hokkien version is thick and strongly scented, while the Cantonese is aromatic thanks to its abundance of medicinal herbs. Teochew soups are typically seasoned only with garlic, soy sauce, and pepper.
Bak Kut Teh is usually accompanied by steamed rice.
Where To Eat: Joo Siah Bak Kut Teh, Lau Ah Tee Bak Kut Teh, Leong Kee (Klang) Bak Kut Teh
Cendol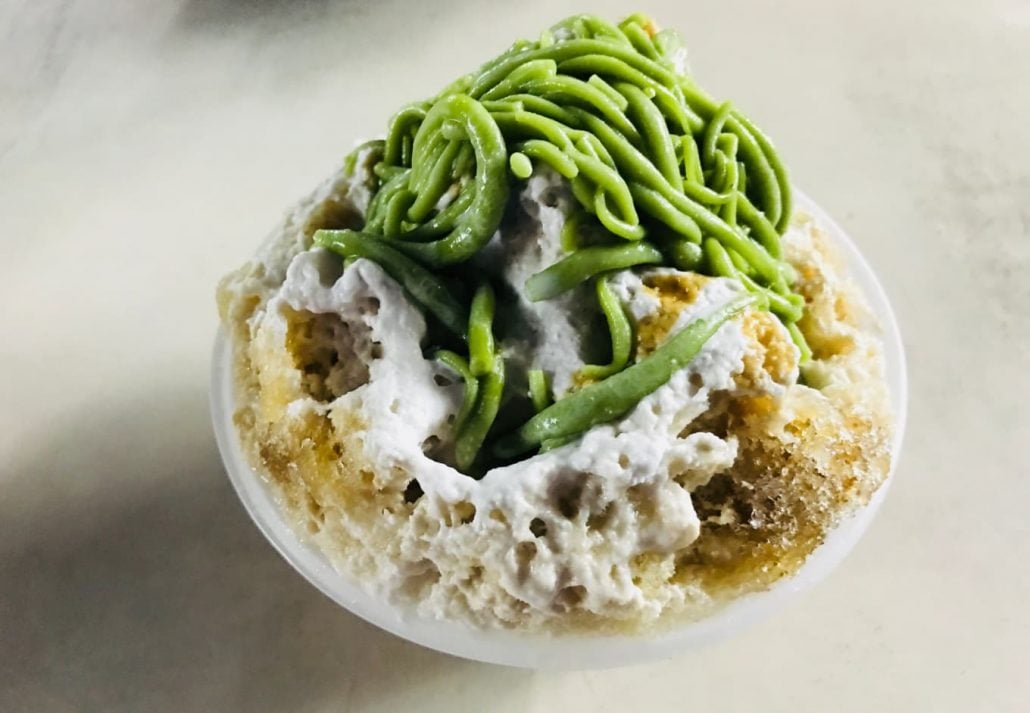 If you have a sweet tooth, don't pass up the chance to sample cendol, one of Singapore's most popular dessert dishes. Commonly found in Southeast Asia, it consists of green jelly "worms" made of rice flour mixed with coconut milk, palm syrup, and shaved ice. Depending on where it's from, other ingredients can also be added like red azuki bean, diced jackfruit, glutinous rice, sweet corn, and durian.
Where To Eat: Four Seasons Chendol, Old Amoy Chendol, Nyonya Chendol
Nasi Lemak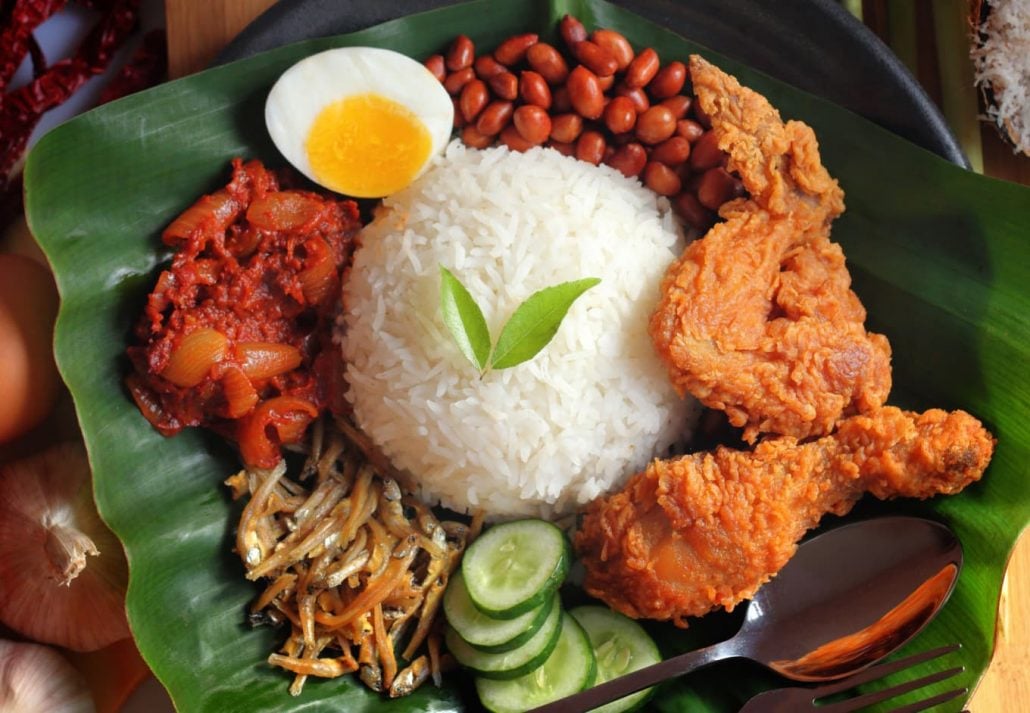 Originating in Malay cuisine, nasi lemak is widely eaten in Singapore. This hearty meal comprises coconut rice, a slice of omelette, anchovies, a slice of cucumber, and some chili paste, all packed in brown paper or banana leaf. It's mostly consumed as breakfast in both countries and commonly sold at hawker food centers and roadside stalls in Singapore.
Where To Eat: Crave Nasi Lemak, Bali Nasi Lemak, Uptown Nasi Lemak
Fish Head Curry
Fish head curry is a flavorful Singaporean dish deriving from a hybrid of Indian and Chinese ethnic cuisines. A huge fish head and vegetables cooked in a curry and served with rice or bread. It's usually accompanied by a glass of "calamansi" or local lime juice.
Where To Eat: Zai Shun Curry Fish Head, Yu Cun Curry Fish Head, Nana's Homemade Fish Head Curry
Roti Prata
Also known as the "Asian croissant," roti prata is a South Indian flatbread found in several countries in Southeast Asia. Fried on the griddle with ghee (clarified butter), this crisp, flaky, and buttery bread is usually served with a side of fish or mutton curry.
Where To Eat: Prata Saga Sambal Berlada, Rahmath Cheese Prata, The Roti Prata House
Hokkien Mee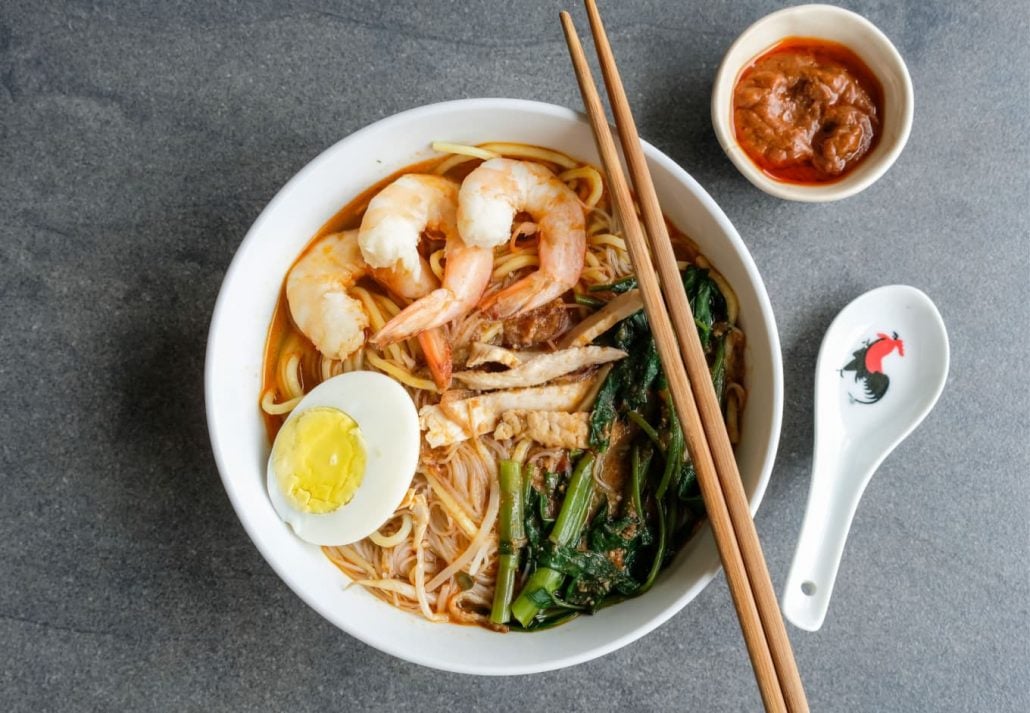 Hokkien mee is one of the most well-loved hawker foods in Singapore. This tantalizing dish is made of yellow egg noodles and rice noodles stir-fried with fragrant prawn stock and topped with prawns, fishcake, bean sprouts, and tender slices of pork belly.
The Singaporean version of Hokkien mee was created after World War II by Chinese sailors from Fujian (Hokkien) province in southern China, and the dish grew to become a classic of Singaporean cuisine.
Several hawker stalls selling Hokkien mee have been recognized by the Michelin Guide.
Where To Eat: Swee Guan Hokkien Mee , Geylang Lor 29 Hokkien Mee and Tiong Bahru Yi Sheng Fried Hokkien Mee
Nasi Briyani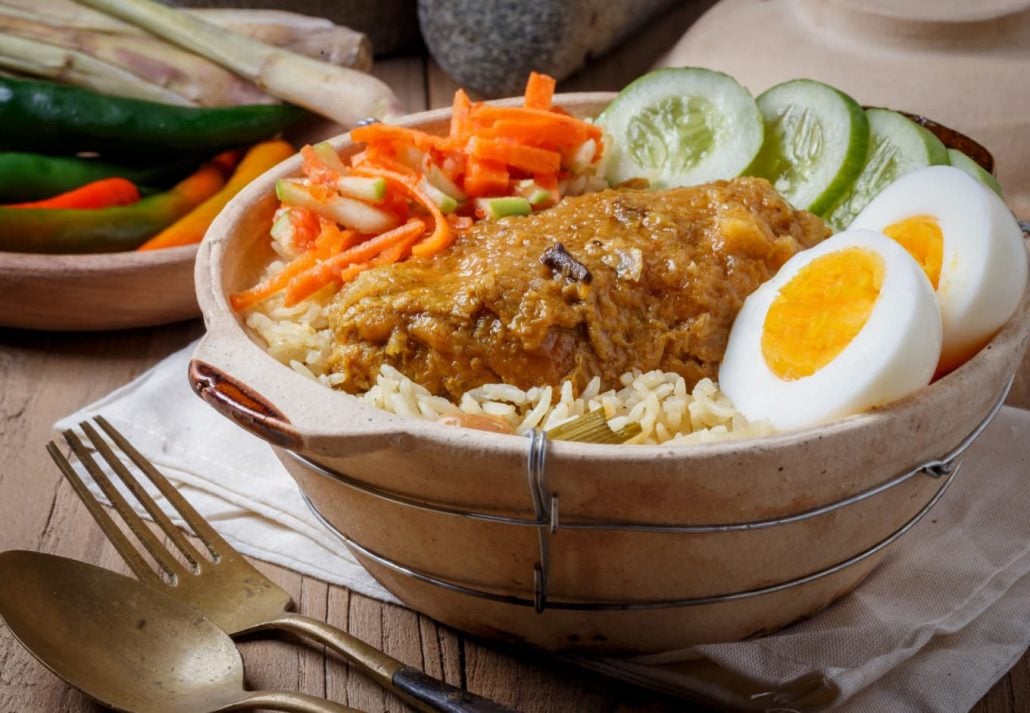 Nasi Briyani is one of the most popular dishes in South Asia. Originating among the Muslims of the Indian subcontinent, the dish consists of long-grain basmati rice cooked with garlic, yogurt, aromatic spices, onions, and sometimes with ghee or butter.
Ingredients for biryani vary according to the region, and sometimes meat (of either chicken, goat, beef, lamb, prawn, or fish), eggs, and potatoes can be added.
Where To Eat: Ali Nachia Briyani Dum, Allauddin's Briyani, Mami Midah Briyani
Kaya Toast
Kaya Toast is the most traditional Singaporean breakfast dish. It consists of two slices of toast with butter and kaya (coconut jam), and it's most commonly served alongside coffee and soft-boiled eggs.
It is believed that the Kaya Toast was created by Hainanese immigrants created who adapted what they had previously prepared while serving on British ships docked at ports during the Straits Settlements period. The kaya spread was considered a replacement for western fruit jams
Where To Eat: Babba Kaya Toast, Tong Ah Eating House
Bak Chor Mee
Bak Chor Mee (or minced meat noodles) is a Singaporean Chinese dish made with blanched thin egg noodles tossed in oil, black vinegar, a feisty chili paste, and garnished with minced pork, fishcake, and pork liver slices.
Where To Eat: Soon Heng Pork Noodles, Lai Heng Mushroom Minced Meat Noodles
FAQ
What is the most popular food in Singapore?
Hainanese Chicken Rice is the most popular food in Singapore and is considered the island's national dish.
What do Singapore people like to eat?
Singaporeans like to eat rice and noodle-focused dishes, as well as seafood such as chili crab and black pepper crab.
What are the must-try dishes in Singapore?
The 13 top dishes to try in Singapore:
Char Kway Teow One;
Hainanese Chicken Rice;
Oyster Omelette;
Laksa;
Bak Kut Teh;
Cendol;
Nasi Lemak;
Fish Head Curry;
Roti Prata;
Hokkien Mee;
Nasi Briyani;
Kaya Toast;
Bak Chor Mee.
CuddlyNest provides all accommodations to all travelers at the best price. Find unlimited travel inspiration on our blog and social media channels.
You Might Also Like:
The 9 Best Thai Food Dishes
The Best Time to Visit Bangkok, Thailand
6 Top-Rated Things To Do In Antalya, Turkey
20 Countries Where You Can See the Japanese Cherry Blossoms
The Ultimate Asia Travel Guide
50 Fun & Interesting Facts About India You Should Know About
11 Sacred Attractions Around the World
The Best Ways To Travel From Bangkok To Phuket
The Best Time to Visit Cambodia
3 Ways To Travel From Bangkok To Chiang Mai