New York is famous for many things — its vibrant streets, multicultural population, and world-famous landmarks that every well-seasoned traveler will instantly recognize.
The city is also well known for its lip-smacking pizza restaurants, which are often regarded as the best in the United States.
Throughout New York City, foodies are happily surprised to find a fantastic collection of pizza places, including century-old restaurants to modern and stylish eateries.
Whether you're seeking to try an authentic Neapolitan pizza, a hearty NYC pizza slice an inventive pizza made with creative ingredients, here's a round-up of the 12 best pizza places in New York. Have a look below!
Top 12 Places To Have The Best Pizza In New York City
Prince Street Pizza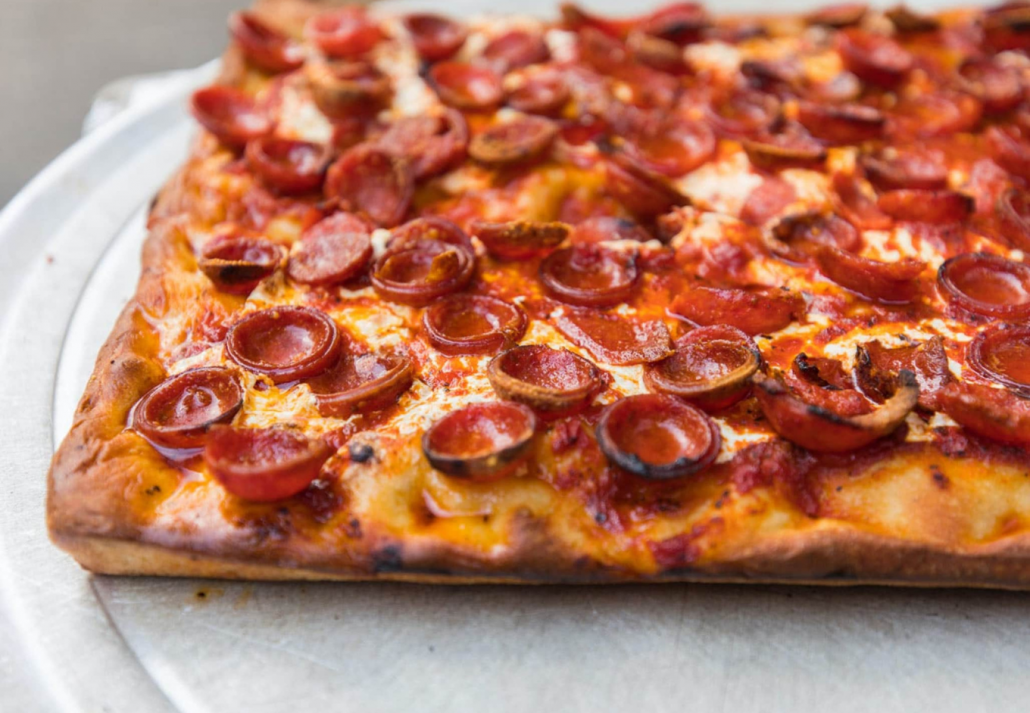 Craving a classic NYC slice? Then head over to Prince Street Pizza, located in the NoLita neighborhood.
This family-owned pizza place is known for its crisp and fluffy dough, and flavorful sauces made daily from scratch.
Prince Street Pizza is also famous for its signature SoHo Square Pizza, a thick square slice that can be ordered in six different flavors. One of the best-sellers is Spicy Spring, made with "fra diavolo sauce" (a flavorful family-recipe tomato sauce), fresh mozzarella, and loads of pepperoni.
Address: 27 Prince St A, New York, NY
Joe's Pizza
Joe's Pizza has been a Greenwich Village institution since 1975. Founded by Joe Pozzuoli, who is originally from the Italian city of Naples, aka the "birthplace of pizza", this restaurant is praised for serving authentic New York street slices.
When visiting Joe's Pizza, expect to sample an ultra-thin crust that's light and crispy, topped with fresh tomato sauce, melting cheese, and, on occasion, pepperoni slices.
The menu here is simple and traditionally made up of three options: plain, fresh mozzarella, and Sicilian slice (sometimes there's pepperoni available, too).
Joe's Pizza is widely regarded as the best pizza shop in New York City and is well-loved by a respectful list of celebrities like Kim Kardashian, Dua Lipa, and Rihanna.
Address: 7 Carmine St, New York, NY
Patsy's Pizzeria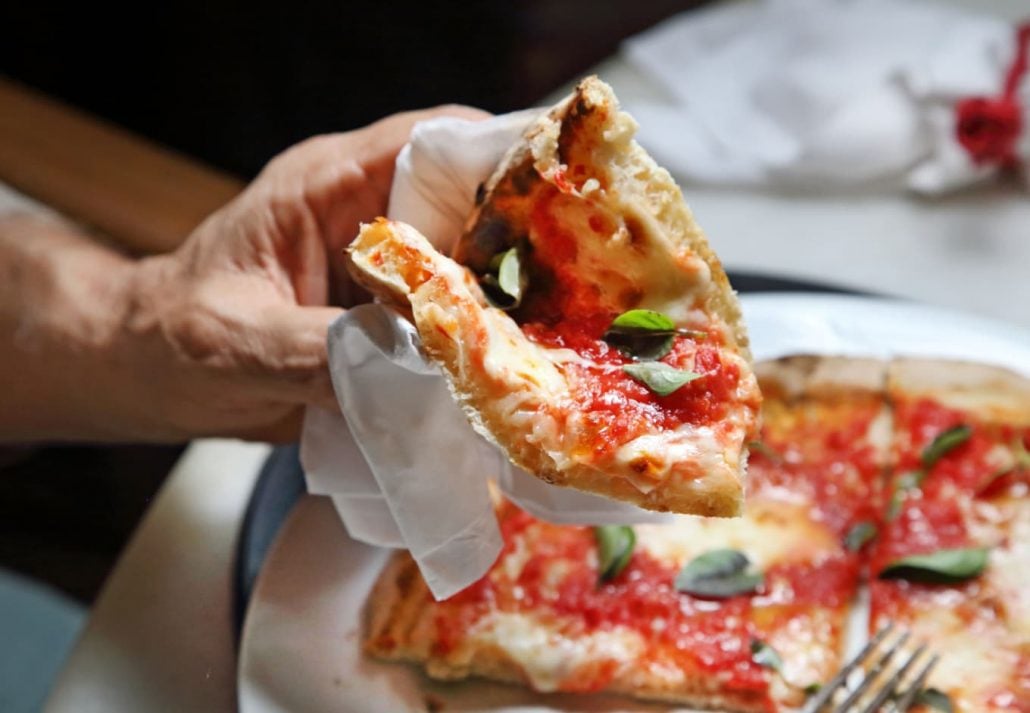 Gloriously located in the residential neighborhood of Upper West, Patsy's Pizzeria is a historic pizzeria in New York City. Opened in 1933 by Pasquale Lancieri, the restaurant is widely credited for inventing the "New York pizza by the slice" and popularizing traditional New York-style thin-crust pizza.
Patsy's Pizzeria draws both New Yorkers and travelers thanks to its mouth-watering authentic, Sicilian coal oven pizza.
Here, be sure to try their Original Coal Oven Pizza, a 16-inch thin-crust pizza with tomato sauce, and fresh mozzarella cheese.
Address: 2287 1st Ave., New York, NY
John's of Bleecker Street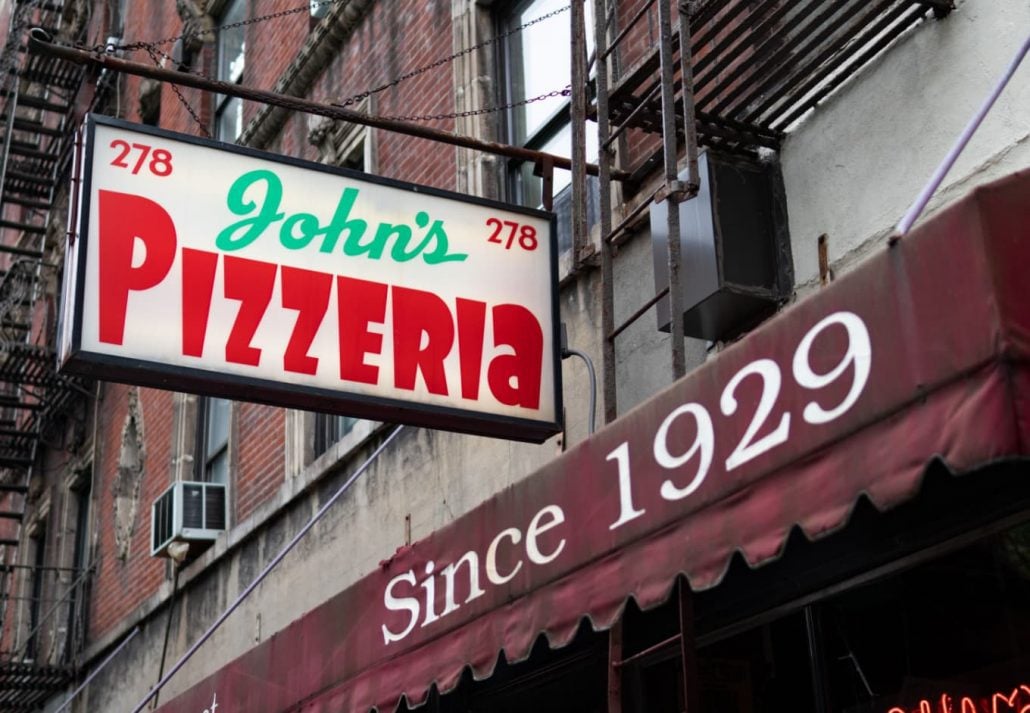 John's Pizzeria is a historic pizzeria on Bleecker Street in the Greenwich Village neighborhood of NYC. This pizza restaurant was started by Italian immigrant John Sasso in 1929 and became famous for its crispy crust pizza baked on steaming coal-fired brick ovens daily.
In this old-school restaurant with stylish white art deco floors, visitors can sample an array of whole pies cooked in an 850° F oven. Highlights include the classic Margherita pizza, made with aged mozzarella, tomato sauce, and fresh basil, and The Sasso, which combines mozzarella cheese, tomato sauce, pecorino romano cheese, oregano, and black pepper.
If you're in the mood for a bolder pizza, order the Boom Pie ( the staff's favorite), made with roasted tomatoes, ricotta, garlic, and basil.
Address: 278 Bleecker St, New York, NY
Famous Ben's Pizza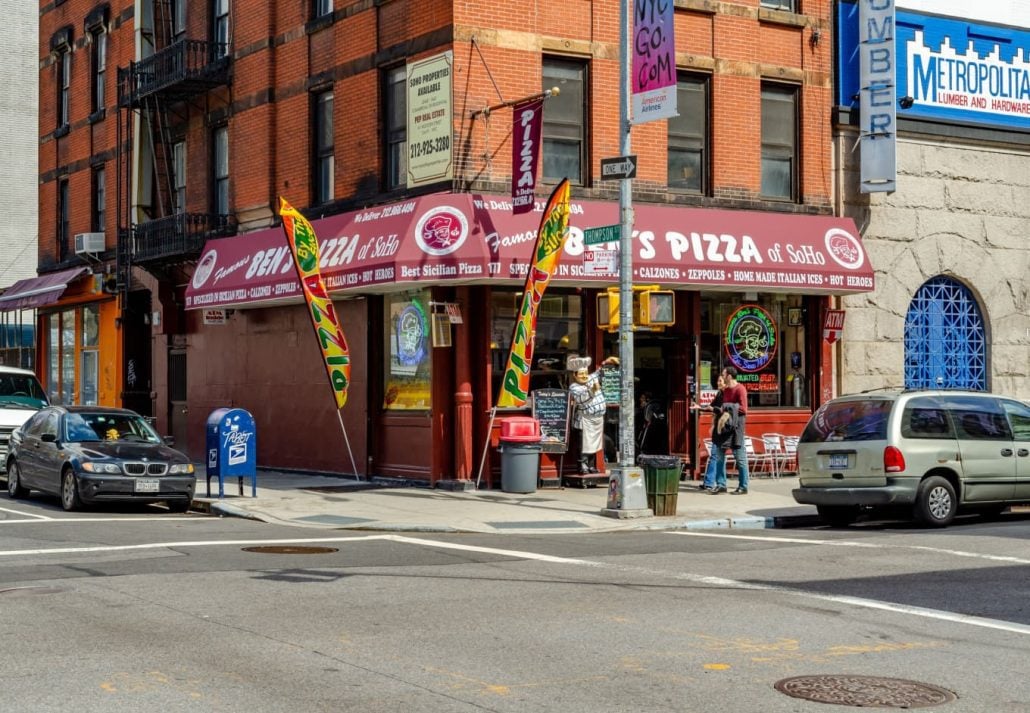 Famous Ben's Pizza is consistently voted as the best Sicilian pizza in New York. Their flagship restaurant opened in 1977 at 177 Spring Street and has been serving delicious pizza topped with tomato sauce and massive quantities of mozzarella.
One of their best-sellers, however, is the Palermo sfincione, a thick dough slice (similar to focaccia) sprinkled with a thick topping of olive-oiled and browned bread crumbs with a coarse puree of onions underneath.
Famous Ben's Pizza is such an icon in New York's food scene, that the restaurant was featured in an array of movies and television shows, including Men in Black 2, and Sex and the City.
Address: 177 Spring St, New York, NY
Joe & Pat's Pizzeria & Restaurant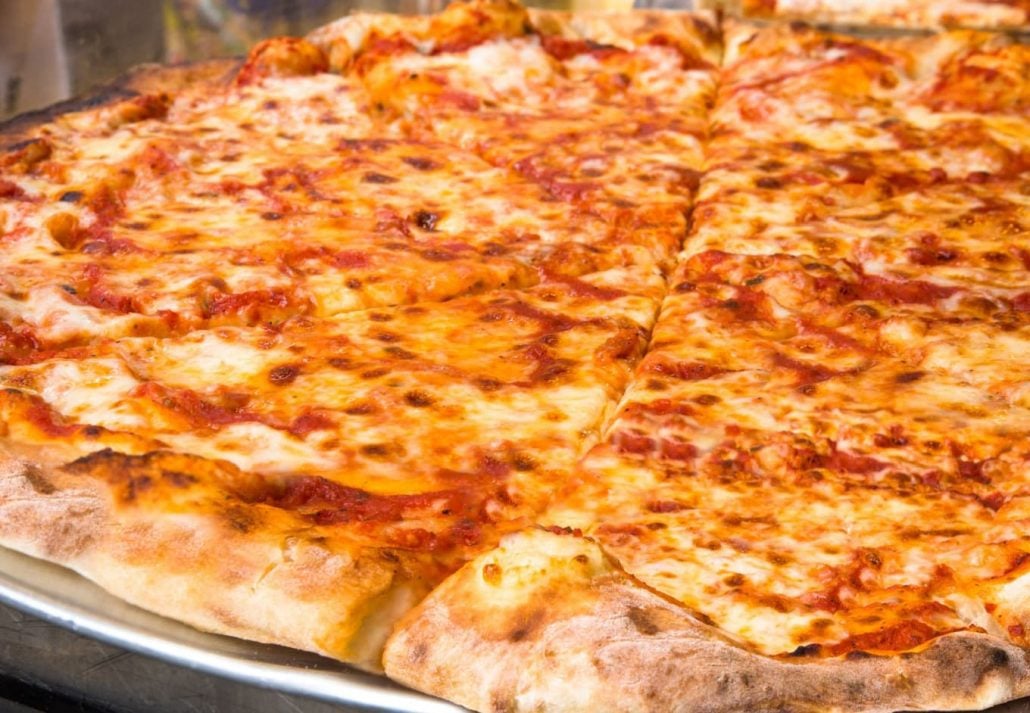 Joe & Pat's Pizzeria & Restaurant was founded in 1960 by Italian brothers Giuseppe & Pasquale Pappalardo, which moved from the town of Bosco Tre Casa, in Naples, to the United States.
Located in Staten Island, this legendary family-owned restaurant entices visitors with its Neopolitan-style pizza (made from a secret recipe) boasting a crispy crust and topped with fresh ingredients.
Joe & Pat's menu includes both traditional and more creative pizza flavors. If you want to play safe, order the classic Margherita, made with tomato sauce, mozzarella cheese, fresh basil, and, of course, extra virgin olive oil.
Feeling bold? Then, be sure to try the sausage and broccoli rabe pizza. To die for!
Address: 1758 Victory Blvd, Staten Island, NY
Ops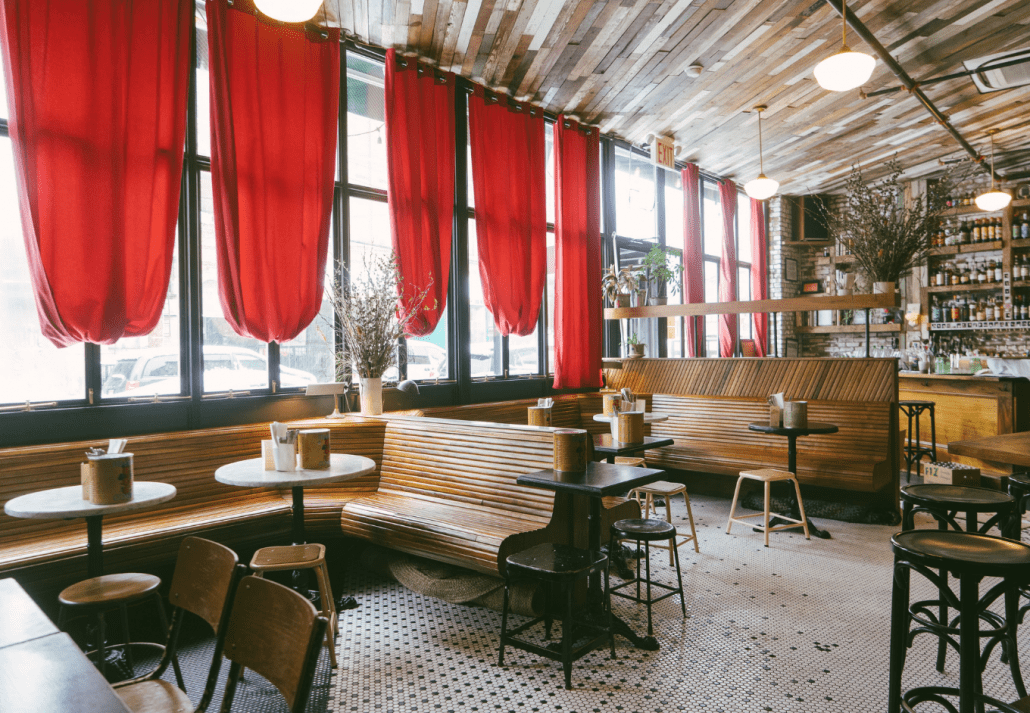 Ops is a trendy pizzeria and natural wine bar in Bushwick. On their straightforward menu, you'll find only 7 flavors of pizza, including classics like Marinara and Margherita, as well as modern creations such as Juno (broccoli rabe, potatoes, provolone, ricotta salata).
Their selection of red, white, and rose wines are the perfect pairing for freshly made, wood-fired pizzas.
Address: 346 Himrod St, Brooklyn, NY
Numero 28 Pizzeria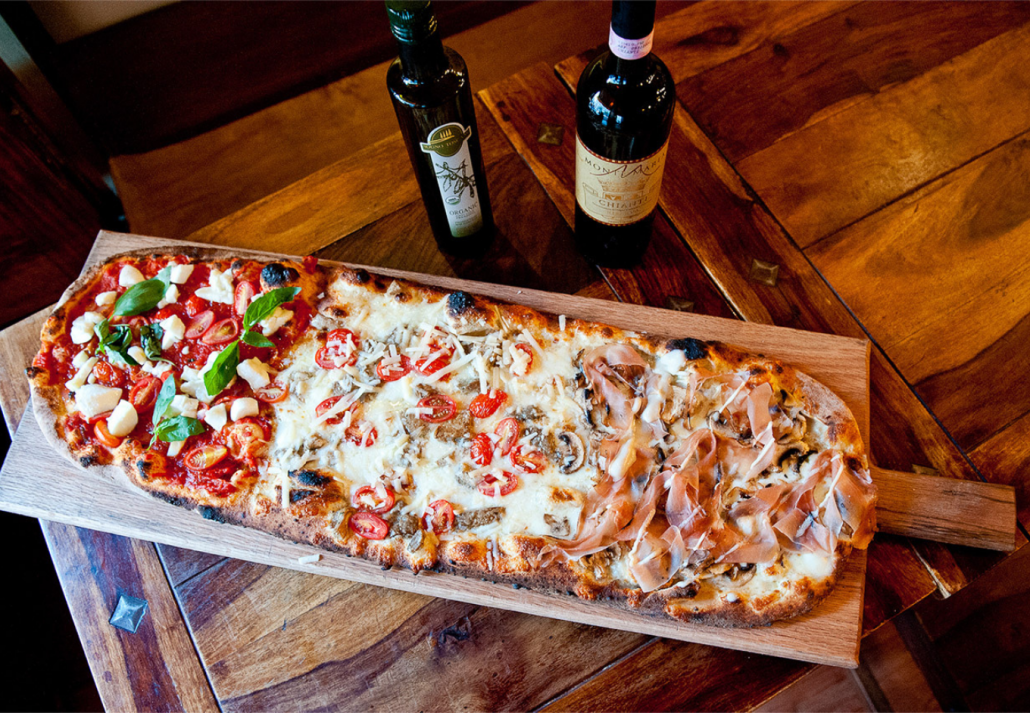 For an authentic Neapolitan pizza, visit Numero 28 Pizzeria. Here, all pizzas are bed in brick over to a not-too-thick, not-to-thin chewy, smoky crust, made from a recipe that's been around through five generations of pizza makers.
The pizzas are topped off by a selection of quality ingredients like Vesuvio's tomato, the D.O.C. buffalo mozzarella from Battipaglia, fresh basil, and Italian extra virgin olive oil.
Highlights include the Bufalina doc, with tomato sauce, cherry tomatoes, fresh mozzarella, basil, and extra virgin olive oil, and the Tartufo — mozzarella, mushrooms, and truffle oil.
Address: 28 Carmine Street, New York (West Village store)
Una Pizza Napoletana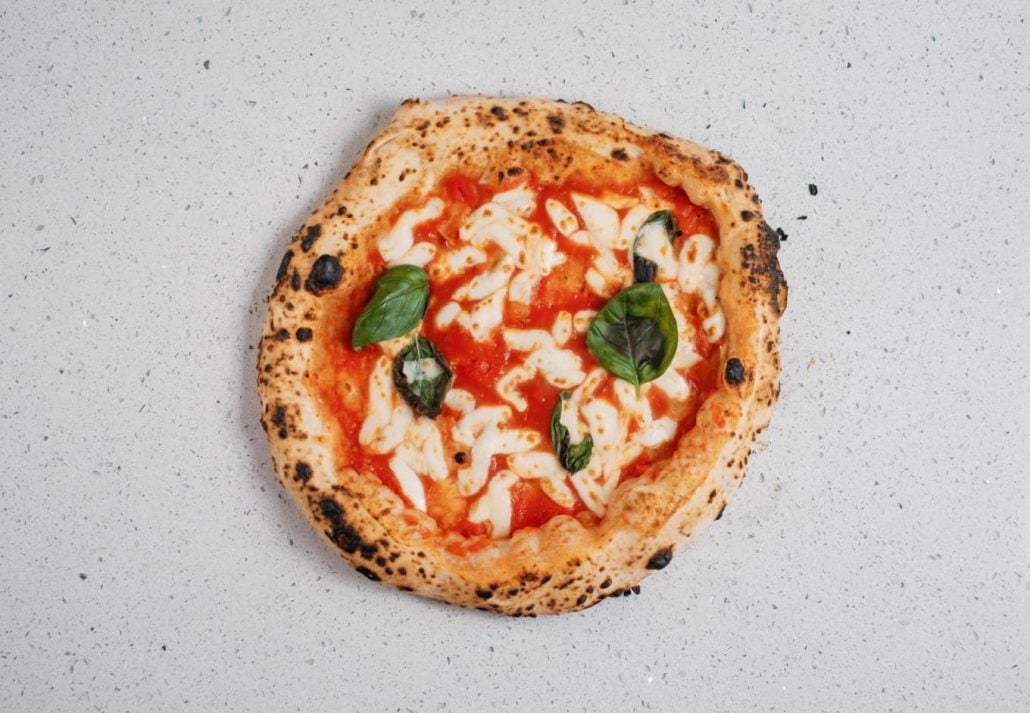 Una Pizza Napoletana is another go-to place for Neapolitan-style pizza in NYC. Beautifully decorated in a contemporary style, this restaurant is the sixth iteration of Anthony Mangieri's pizzeria (he is considered the pioneer of Neapolitan-style pizza in the United States).
At this pizza spot, the pies are puffy and blistered, made with naturally-leavened dough baked in a wood oven.
On the menu, there are 5 different pizza flavors available — Marinara, Margherita, Bianca, Filetti, and Cosacca. There's also a surprise special pizza flavor that changes weekly.
Our recommendation is the Cosacca, made with San Marzano tomatoes, pecorino romano cheese, basil, Sicilian sea salt, and extra virgin olive oil.
The pizzas can be beautifully paired with Neapolitan ice or Italian beers.
For dessert, there's housemade ice cream and Italian sorbet.
Address: 175 Orchard St, New York, NY
Lombardi's Pizza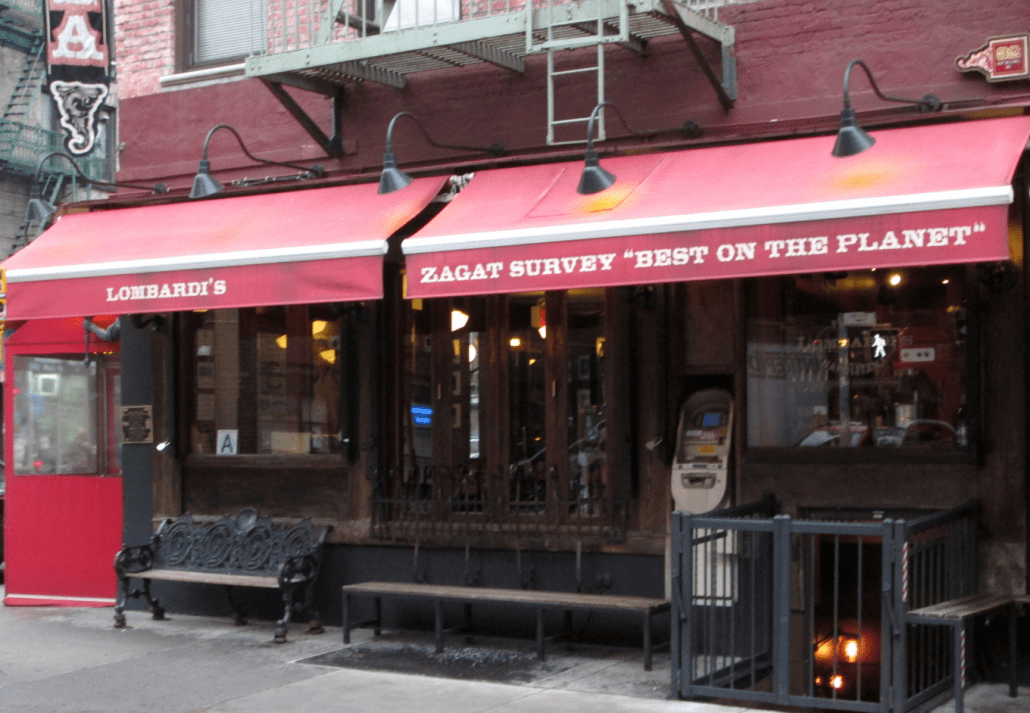 Lombardi's Pizza is a legendary restaurant located in Little Italy, NYC. The place was founded in 1905 by Italian immigrant Gennaro Lombardi, which is often credited with developing New York Style pizza.
Referred to as "America's first pizzeria", Lombardi's became a staple in New York due to its smoky-crusted coal oven-baked pizza, topped with purist tomato sauce, fresh whole milk mozzarella, and basil.
Some of the highlights here are the Rustic Double Pepperoni pizza (topped with extra pepperoni), and the iconic Clam Pie, paved with approximately 3 dozen chopped clams, as well as freshly shucked clams, garlic, oregano, pecorino Romano cheese, black pepper, and parsley.
Address: 32 Spring St, New York, NY
Lucali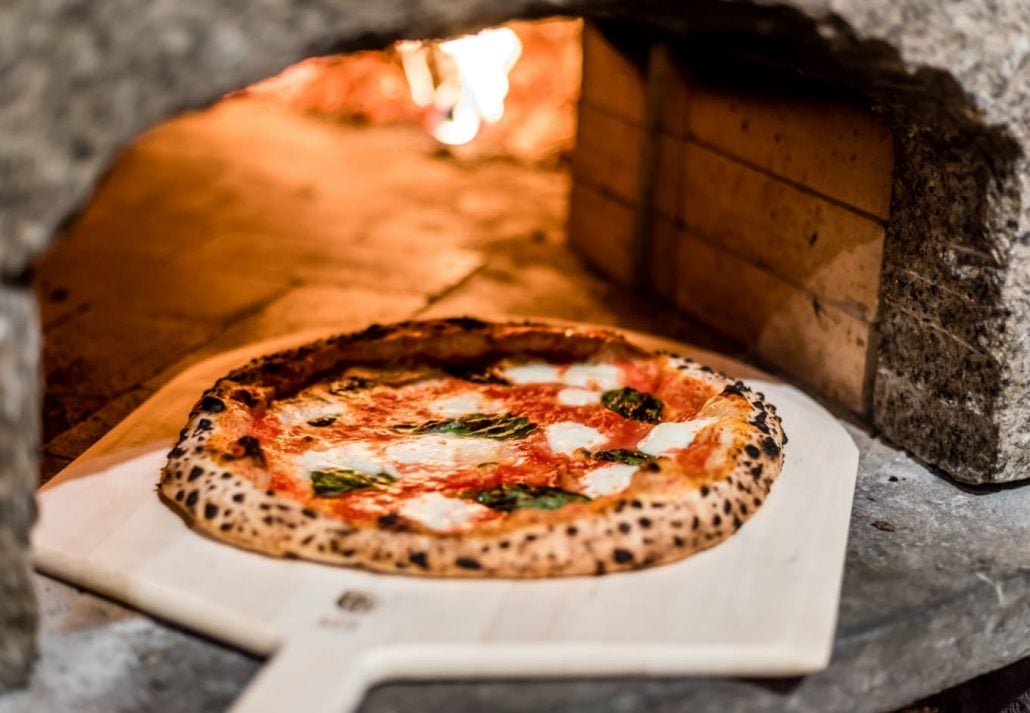 With locations in both New York and Miami, Lucali was founded by pizzaiolo Mark Iacono in 2006. This well-loved pizzeria is praised for its brick oven pizza and calzones, all made from on a marble counter in front of guests, using only farm-fresh, locally sourced ingredients.
Their best-seller is the plain pie, which comes with tomato sauce, three kinds of cheese, and a lot of fresh basil on a thin, light, chewy crust. You can also add toppings such as artichoke hearts, garlic, and pepperoni if you want to give your pizza a twist.
Address: 575 Henry St, Brooklyn, NY
Roberta's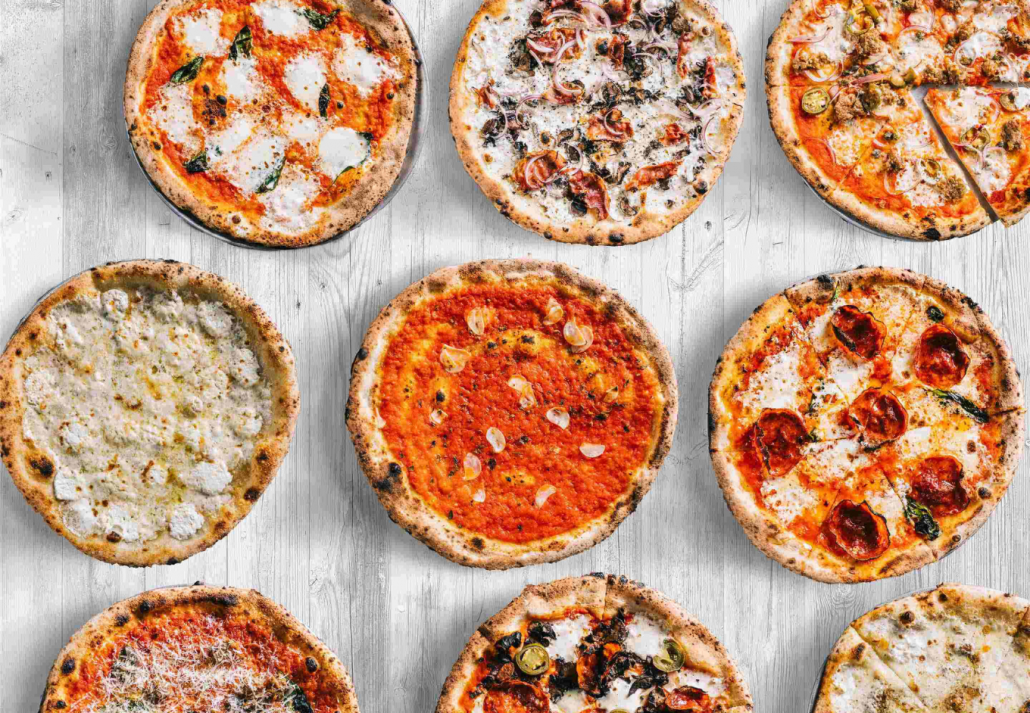 Boasting multiple locations in NYC, Roberta's is known for its original pizza flavors baked in a wood oven. There's the Bee Sting, which has tomato, mozzarella, soppressata (Italian dry salami), chili, and hot honey, and the super-fresh White and Greens made with mozzarella, parmesan cheese, market greens, and lemon.
Ursula's Parade, made with mozzarella, clams, parmesan, garlic, Calabrian chili, and breadcrumbs is also worth a try.
You can also pamper up your pizza with a range of toppings like red onion, basil, pork sausage, speck, and jalapeños.
Address: 261 Moore Street, Brooklyn, NY (Bushwick location)
FAQ
What is the best pizza in NYC?
The best pizza places in New York City are:
Prince Street Pizza;
Joe's Pizza;
Patsy's Pizzeria;
John's of Bleecker Street;
Famous Ben's Pizza;
Joe & Pat's Pizzeria & Restaurant;
Ops;
Numero 28 Pizzeria;
Una Pizza Napoletana;
Lombardi's Pizza;
Lucali;
Roberta's.
What is the difference between New York–style pizza and Neapolitan pizza?
New York pizza uses sugar and heavier yeast/flour. This results in an evenly thin, pizza that is much sturdier than the Neapolitan one. The Neapolitan pizza has a chewy crust dotted with a series of dark charred spots that carry a remarkable flavor.
Also, the New York pizza toppings are heaving. Neapolitan pizzas are dotted with chunks of fresh mozzarella, whereas the cheese layer of New York-style pizzas covers the entire pie.
Which NYC borough has the best pizza?
All NYC boroughs have great pizza places. But Brooklyn is often regarded as having the best pizza in New York City.
Does NYC still have a $1 pizza?
No. Due to inflation, there's no more $1 pizza in NYC.
What does a slice of pizza cost in New York City?
A typical plain slice of pizza in NYC cost $3.14.
Why is New York City pizza famous?
New York pizza is famous for its crunchiness and chewiness in all the right places, and for its generous layer of cheese on top.
CuddlyNest provides all accommodations to all travelers at the best price. Find unlimited travel inspiration on our blogs and social media channels Facebook, Instagram, and Pinterest.
You May Also Like:
8 Best Things To Do In New York City
Where To See The Best Christmas Lights In New York City
10 Best Weekend Getaways in New York State
Berlin vs New York: How Does It Compare?
The Best Things To Do In New York During Christmas
Best New Year City – New Year's Eve In NYC
Fun Facts About Mexico: 50 Things You May Not Know
The Best Time To Visit New York
The 9 Most Amazing Hidden Gems in New York