England is artfully dotted with over 4,000 castles framed by green rolling hills, mystical plains, and jewel-like lakes. Dating back hundreds of years, these century-old fortifications boast a rich history and have witnessed some of the most significant events that shaped the United Kingdom.
A true reflection of the UK's rich heritage, history, and culture, the English castles never fail to impress. Several have been restored to their former glory, dazzling visitors with architectural finesse. Others host a treasure trove of ancient relics such as royal armory, paintings, and furniture.
We've created this guide to the most incredible castles in England that'll leave you in awe. There are magnificent hillside fortresses, art-filled palaces, and more!
The 20 Best Castles in England
Windsor Castle, Windsor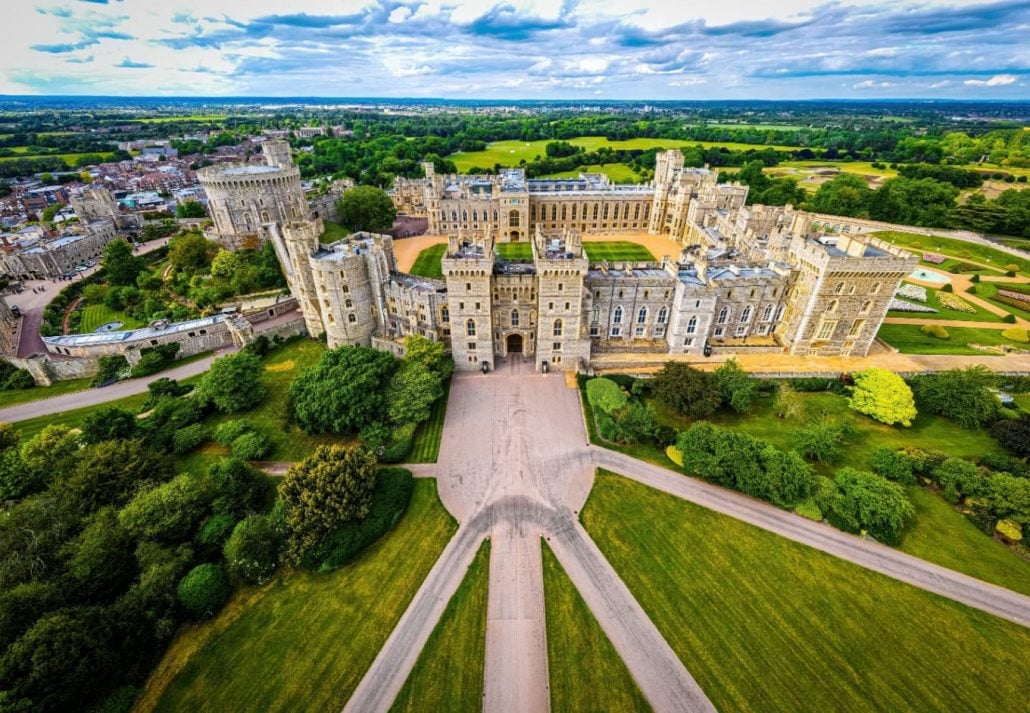 Often considered one of the best places to visit in England, Windsor is one of the most famous English castles.
Built by William the Conqueror in the 11th century, this is the longest and largest occupied castle in the world– 40 monarchs called it home throughout the ages!
The castle lies in Windsor on the River Thames, 24 miles outside of London, and is an official home of the British Royal Family. Inside, you'll find otherworldly treasures, like lavish 19th-century state apartments that are finely decorated with paintings by Holbein, Van Dyck, and Rubens.
Another highlight of Windsor Castle is the Grand Reception Room, which features beautiful chandeliers and a large malachite urn, presented to Queen Victoria by Tsar Nicholas I in 1839.
Address: Windsor SL4
Tower of London, London
The majestic Tower of London is a 4.9-hectare castle founded by William the Conqueror at the end of 1066. Considered one of the top London attractions, this commanding fortress has played an important role in English history, serving as an armory, a treasury, a menagerie, and a royal residence.
One of the most striking features of the Tower of London is its sparkling collection of 23,500 jewels — the Crown Jewels of England— which are worth around £20 billion. Take a guided tour around this historic castle to dive deep into British history!
Make sure you look at our ultimate guide to visiting the Tower Of London for useful tips before you go.
Address: London EC3N 4AB
Elton Hall, Elton
Elton Hall is a dreamy fortified manor house in Elton, Cambridgeshire's idyllic countryside. Set in a lush 3,800-acre estate, this castle-like baronial house has been the home of the affluent Proby family since 1660.
Listed as a Grade I building, Elton Hall has been embellished throughout the years. It flaunts a magnificent art collection filled with Old Master paintings and English portraits by Reynolds, Gainsborough, and Romney. Inside the mansion, you'll also see a spectacular library smothered top to bottom with 10,000 books and portraits of Oliver Cromwell, Charles 1, and Charles II.
Elton Hall is beautifully surrounded by an award-winning Victorian garden home to a lily pond, shrubs, orange and lemon trees, and an array of colorful flowers.
Address: Elton Hall, Elton PE8 6SH
Leeds Castle, Kent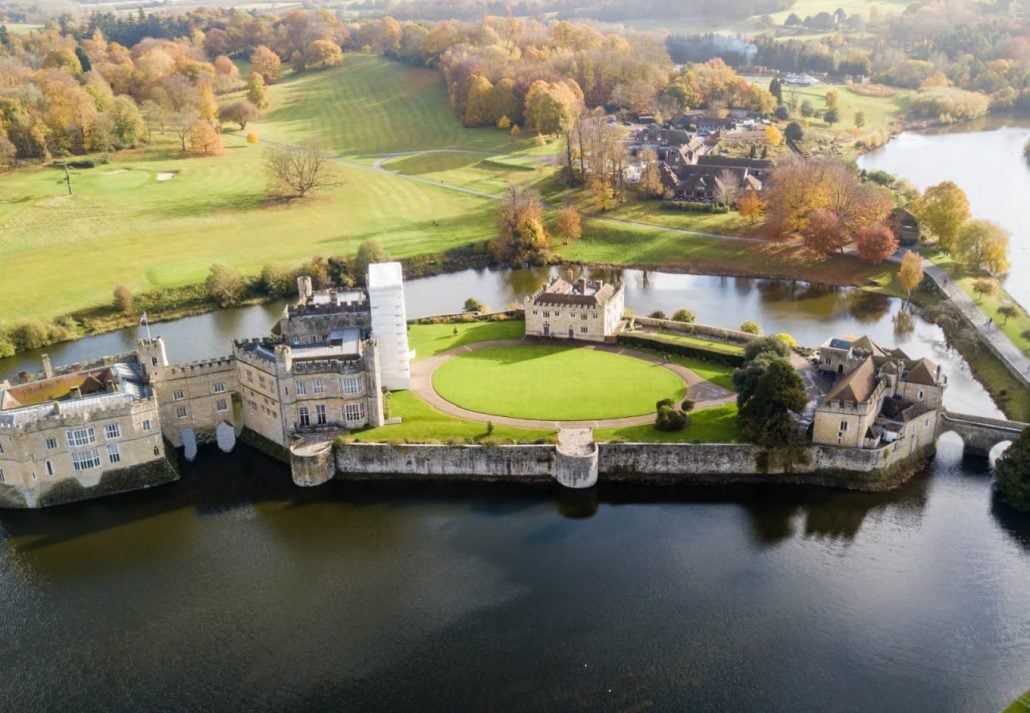 Set on two islands in a glorious lake, Leeds Castle is one of the most beautiful castles in Europe. This impeccably-preserved castle was a Norman stronghold and a royal residence of King Edward I, his wife Eleanor of Castile, and Henry VIII, who lived there with his first wife, Catherine of Aragon.
The Leeds Castle still stands proud as one of England's most important historic buildings and is open to the general public. Visitors can even stay overnight in the castle's b&b accommodation in the refurbished Stable Courtyard Bedrooms. 
While staying overnight in this history-filled b&b, explore the castle's Maze, dotted with 2,400 yew trees, and stroll around the Princess Alexandra Gardens, perfectly placed alongside the River Len.
Address: Broomfield, Maidstone ME17 1PL
Dover Castle, Dover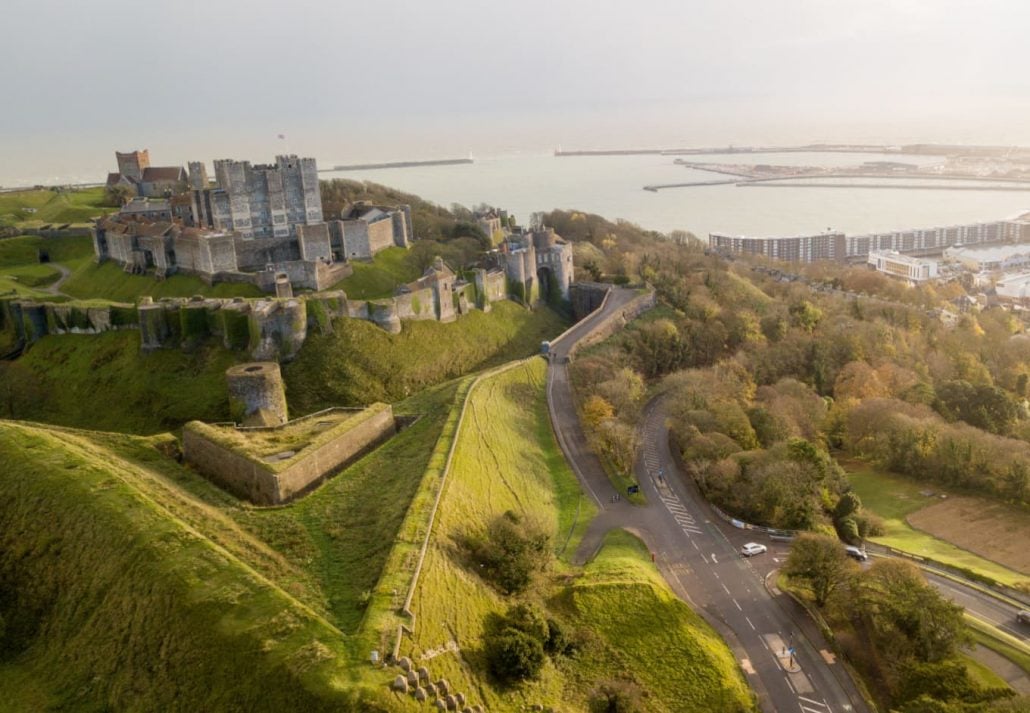 Perched atop the White Cliffs of Dover, in the rugged English coastline, the Dover Castle was founded in the 11th century on the site of an iron age hill fort. Often referred to as the "Key to England" due to its defensive significance, this medieval fortress as we know it today was established in the decade 1179–89 by Henry II (r.1154–89).
Throughout the years, the mighty Dover Castle has been the site of several epic events. It safeguarded Dover as a garrison and naval base in the First World War. Its underground tunnels became an air-raid shelter, a military command center, and an underground hospital in World War II.
Address: Castle Hill Rd., Dover CT16 1HU
Warwick Castle, Warwick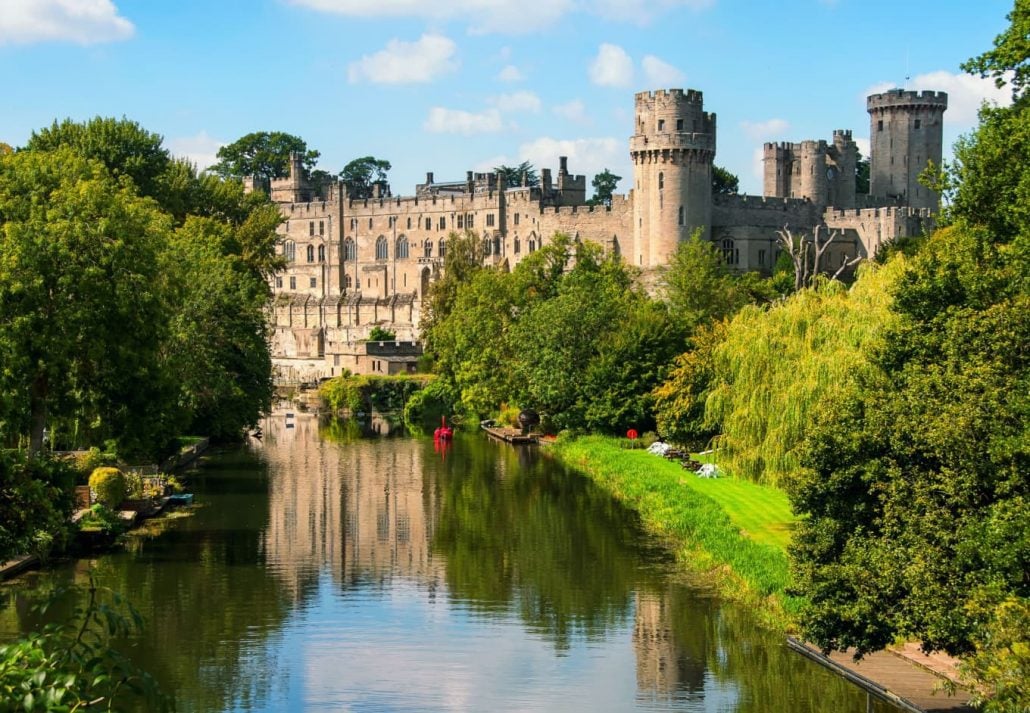 Originally built by William the Conqueror in 1068 as a wooden castle, Warwick was rebuilt in stone in the 12th century and used as a stronghold until the 17th century. Then, it was converted by Sir Fulke Greville into a dreamy country house surrounded by well-manicured gardens landscaped by Lancelot "Capability" Brown, one of Britain's greatest gardeners.
Spread across 64 acres, the Warwick Castle flaunts a sumptuous Great Hall of approximately 12 meters high, 19 meters long, and 14 meters wide, which is the largest room in the fortress. The palace also houses a State Dining Room, which has witnessed some of the most sumptuous dinner parties in history, with guests such as Queen Victoria and Prince Albert, and Queen Elizabeth II and Prince Philip.
Address: Warwick Castle, Stratford Road/West Street
Arundel Castle, Arundel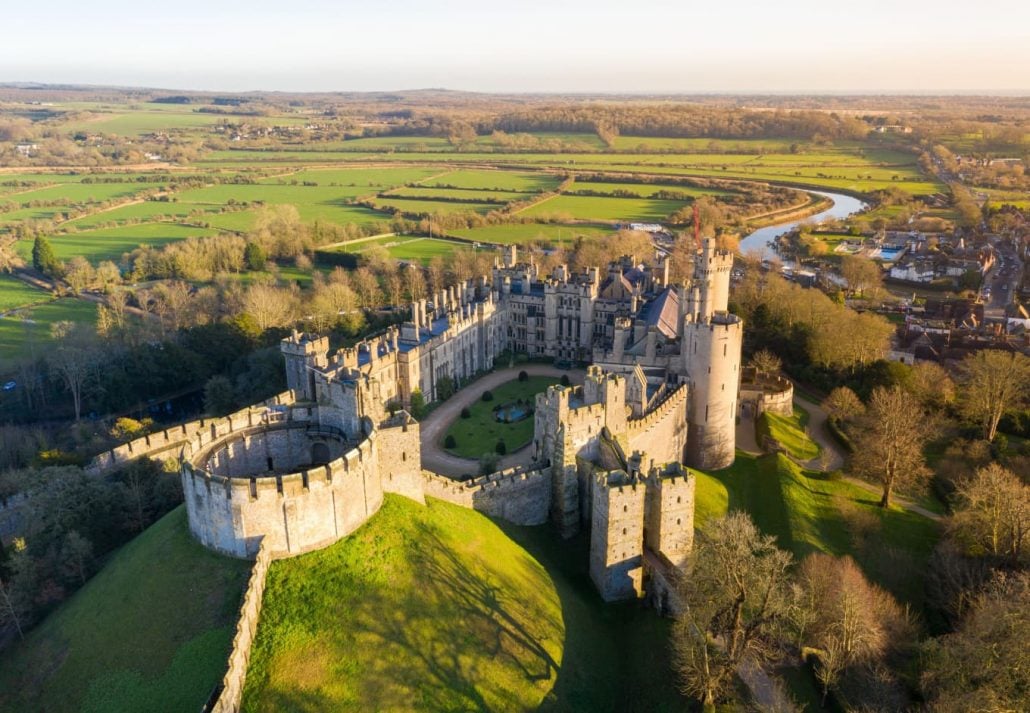 The Arundel Castle is a restored medieval castle surrounded by lush vegetation in idyllic West Sussex, England. Listed as a Grade I building, this history-filled fortress was established during the reign of Edward the Confessor and completed by Roger de Montgomery.
During the Civil War (1642-45), the Arundel Castle was severely damaged when it was twice besieged but restored in the 18th and 19th centuries by Charles Howard, 11th Duke of Norfolk.
Many original features, such as the Norman Keep, medieval Gatehouse, and Barbican, survive. The castle also hosts a collection of furniture and portraits – many designed in honor of Queen Victoria and Prince Albert.
The castle is beautifully surrounded by award-winning tropical and English gardens and features a glasshouse with chillis, grapes, lemons, and other plant species.
Address: Arundel BN18 9AB
Bolsover Castle, Bolsover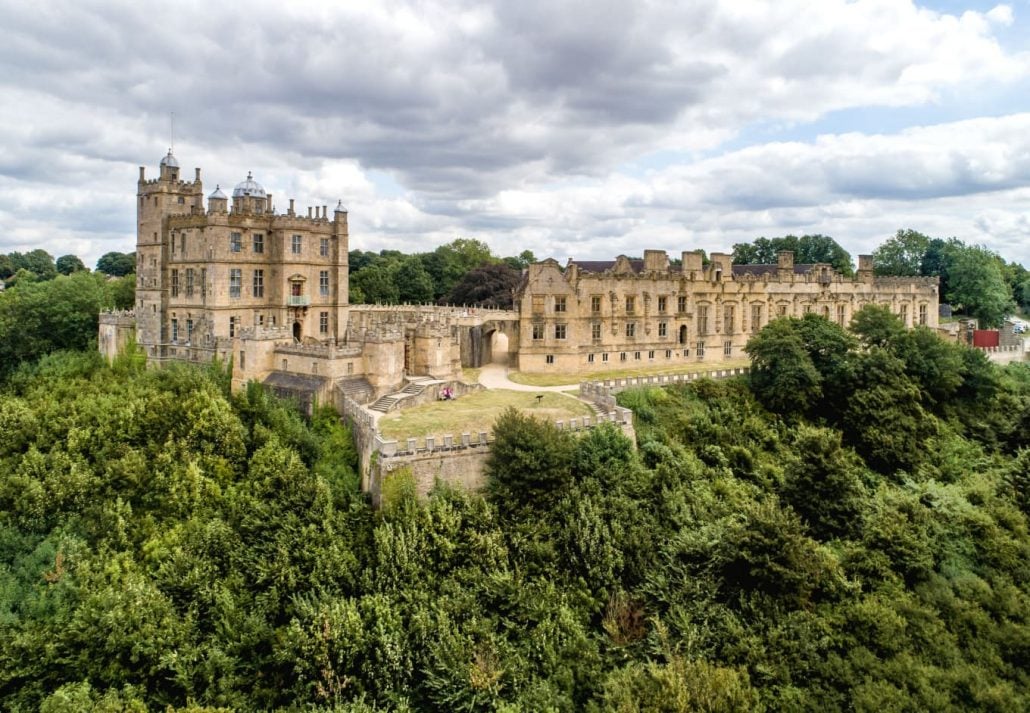 Bolsover Castle is a 17th-century fortification built on the grounds of a medieval castle from the 12th century. The structure you'll see now was built between 1612 and 1617 by Sir Charles Cavendish, who commissioned a palace he could use as a retreat from Welbeck, the principal seat of the Cavendish family.
Inside, you'll marvel at a labyrinth of rooms and lavish details such as carved marble fireplaces, beautifully painted ceilings, and richly colored wall paintings.
Address: Castle St, Bolsover, Chesterfield S44 6PR
Alnwick Castle, Alnwick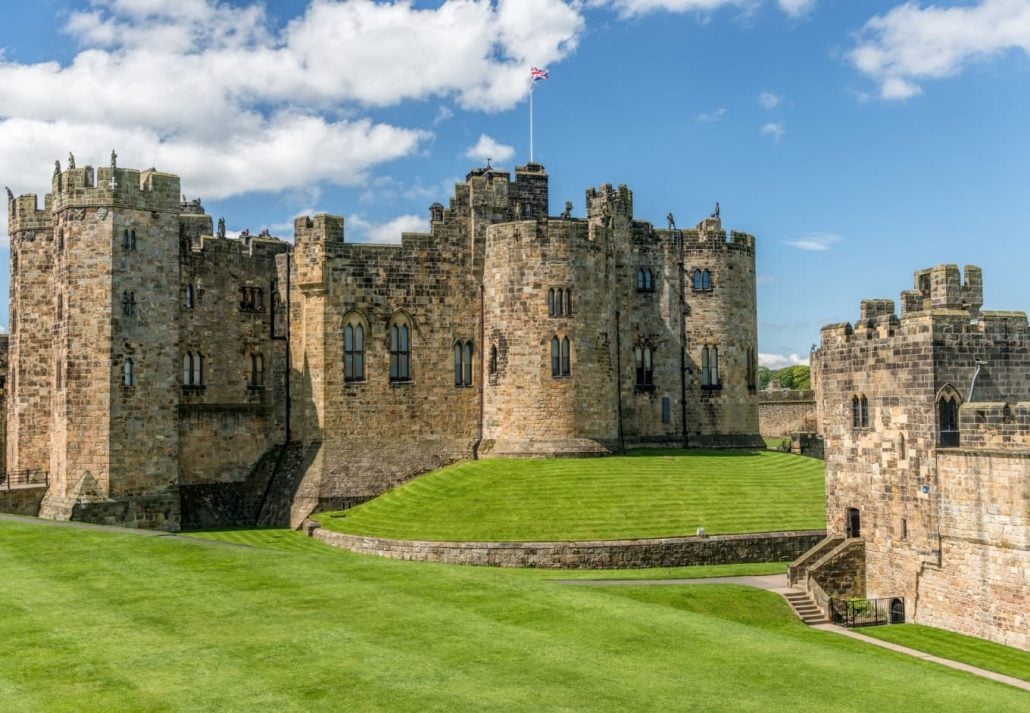 With a history of over 950 years, Alnwick is the second-largest inhabited castle in the UK. It was a Norman-style castle of motte and bailey until 1309 when it was purchased by the English knight Henry Percy and converted into a mighty border fortress in the following years.
The Alnwick Castle has served as a military outpost, a teaching college, a refuge for evacuees, a film set, and a family home. In recent years, it has witnessed an extensive program of refurbishment.
Inside, you'll come across an extraordinary collection of 16th-century Old Master paintings, including works by Titian, Palma il Vecchio, Sebastiano del Piombo, and Canaletto, two Baroque cabinets made by Domenico Cucci for King Louis XIV's palace of Versailles in 1683, and alluring ceramics made by European manufactures like Meissen, Sèvres, Paris, Chelsea, and Minton.
Address: Alnwick NE66 1NQ
Bamburgh Castle, Bamburgh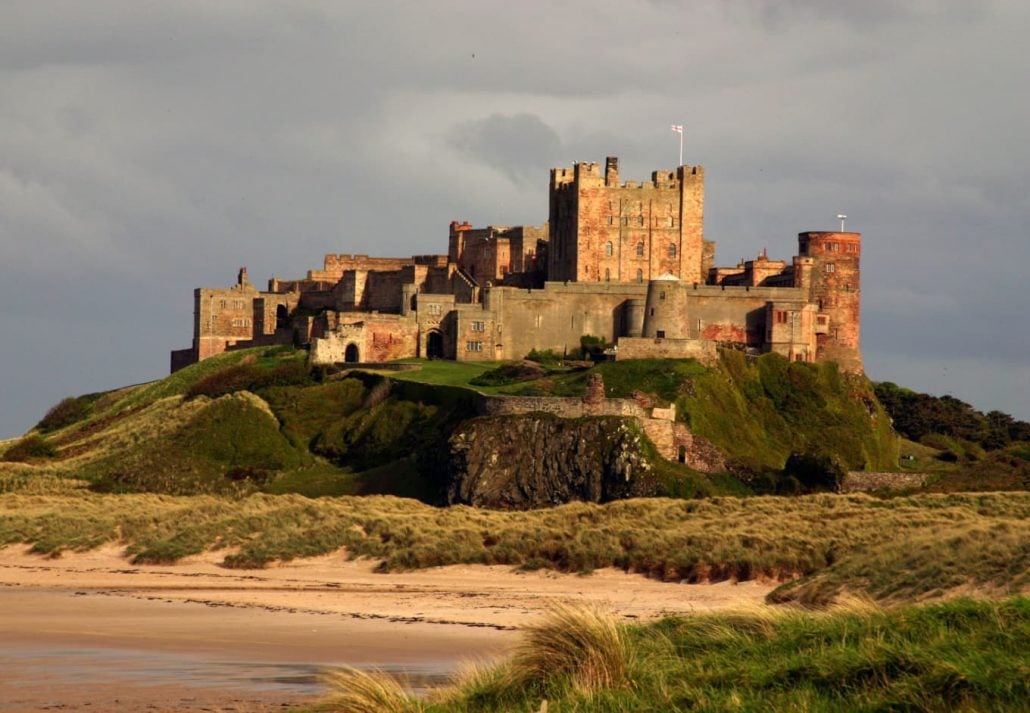 Bamburgh is a Norman castle built on the site of a Celtic Brittonic fort in Northumberland, on the northeast coast of England. Home to a succession of kings from Henry VI to James I throughout its 1,400 years of history, this majestic fortress was restored by various owners during the 18th and 19th centuries.
In 1894, the Bamburgh Castle was bought by the Victorian-era industrialist William Armstrong, who completed its restoration. Open for the general public to visit, the castle still belongs to the Armstrong family and harbors the dazzling collection of artwork, ceramics, and objects that William loved.
Visitors can marvel at the castle's gorgeous staterooms, the majestic king's hall, and the 12th-century keep that harbors a treasure trove of historical weapons.
Address: Bamburgh NE69 7DF
Bodiam Castle, East Sussex
Located in East Sussex, the Bodiam Castle was built in the 14th Century by a former Knight of Edward III to protect against the French invasion during the Hundred Years' War.
While visiting this 14th-century moated castle, you'll see huge towers, the barbican (a fortified outbuilding that protected the main gatehouse), and ruined interiors with remains of the great hall, the courtyard, and the lord and lady's apartments.
Address: Bodiam, Robertsbridge TN32 5UA
Highclere Castle, Highclere
Highclere Castle is a gorgeous Grade I listed country house that became famous for being the main filming location of Downton Abbey. The castle dates back to 749, but the building as we know it today was designed in 1842 by Sir Charles Barry, who also designed the Houses of Parliament.
This grandiose palace is home to over 200 sumptuous rooms, all luxuriously decorated and furnished and beautifully set amidst 1,000 acres of parkland framed by a collection of cedar trees, first imported into England in the 18th century.
Address: Highclere Park, Highclere, Newbury RG20 9RN
Framlingham Castle, Framlingham
Surrounded by green parkland and estates, Framlingham Castle was once a stronghold of the earls and dukes of Norfolk. This imposing 12th-century fortress boasts some of the UK's highest defense walls, which have stood for more than 800 years, and visitors can explore on foot.
During your visit, you'll also glimpse Framlingham's workhouse, the only building remaining inside the castle walls today, which provided works and lodging for the local documents from the 17th to 19th centuries.
Address: Church St, Framlingham, Woodbridge IP13 9BP
Durham Castle, Durham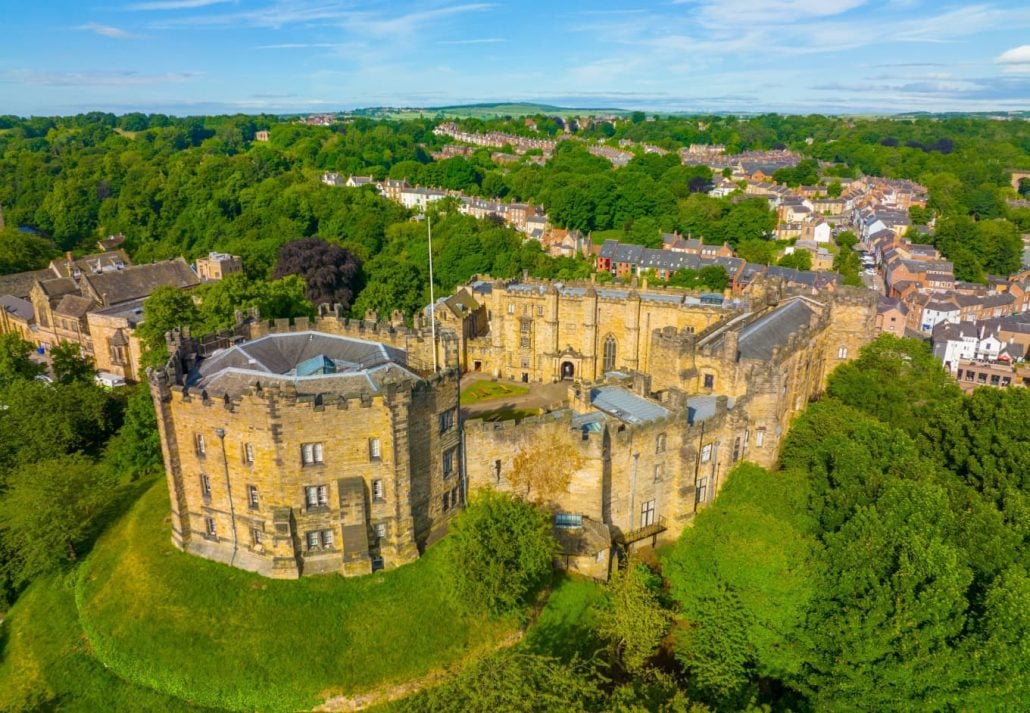 Perfectly located at the heart of Durham's World Heritage Site and occupied continuously since the 11th century, the Durham Castle was established nearly 1000 years ago under the orders of William the Conqueror.
The castle served as a military stronghold and the ceremonial palace of the Bishops of Durham, and since 1837, it has been occupied by the University College, Dunham.
You'll stand in awe with the castle's remodeled great hall, the armorial drainpipes, some of which are now over 450 years old, and the collection of 250 paintings, which includes over 120 oil paintings, watercolors, and engravings.
Address: Durham DH1 3RW
Tintagel Castle, Tintagel Island
The rugged landscape of Cornwall's north coast provides a dramatic backdrop for Tintagel Castle. Located on the mainland and half on a craggy headland casting into the Cornish sea, the castle is famous for being associated with the legend of King Arthur (in the 12th century, cleric Geoffrey of Monmouth described Tintagel as the place of Arthur's conception).
Walk among the castle's medieval remains to soak in the natural beauty of the headland, enjoy spectacular coastal views, and see a life-size bronze sculpture of ancient king Gallos.
Address: Castle Rd, Tintagel PL34 0HE
Dunstanburgh Castle, Northumberland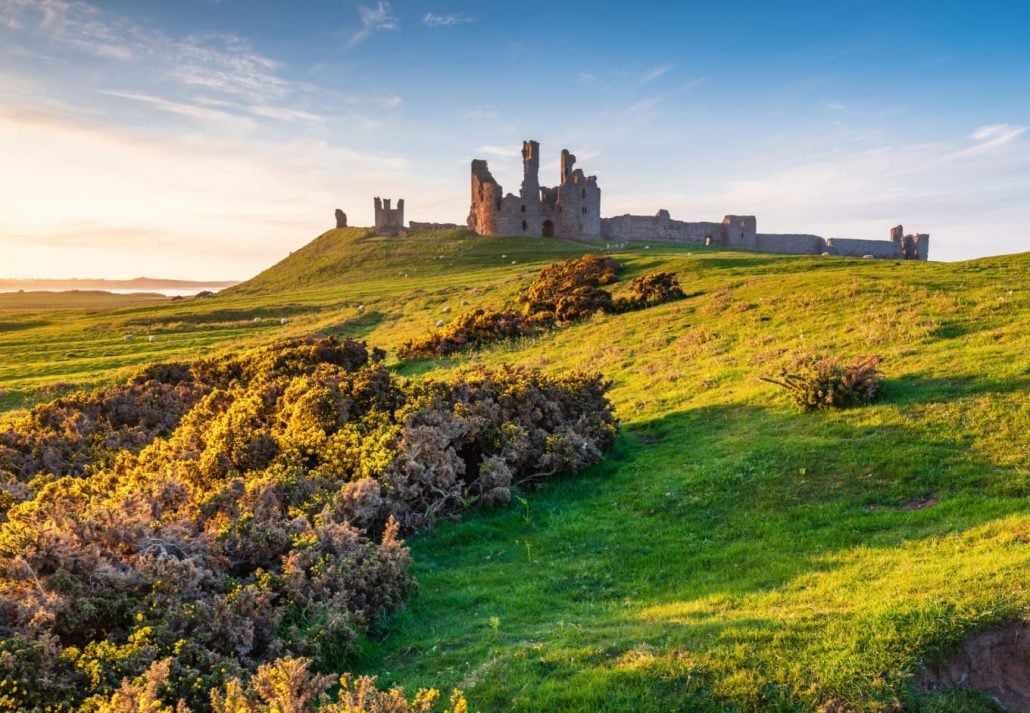 Once one of the largest fortifications in Northern England, Dunstanburgh Castle was built by Earl Thomas of Lancaster between 1313 and 1322 on the coast of Northumberland in northern England.
There's a 1.3-mile trail that provides access to Dunstanburgh Castle, now left in ruins. And along the way, you'll be able to take in the beauty of the English coastline and view abundant wildlife, such as wading birds and sea urchins,
After reaching Dunstanburgh Castle, visitors can explore ruins such as the great gatehouse and the Lilburn Tower.
Address: Dunstanburgh Rd, Craster, Alnwick NE66 3TT
Hever Castle, Hever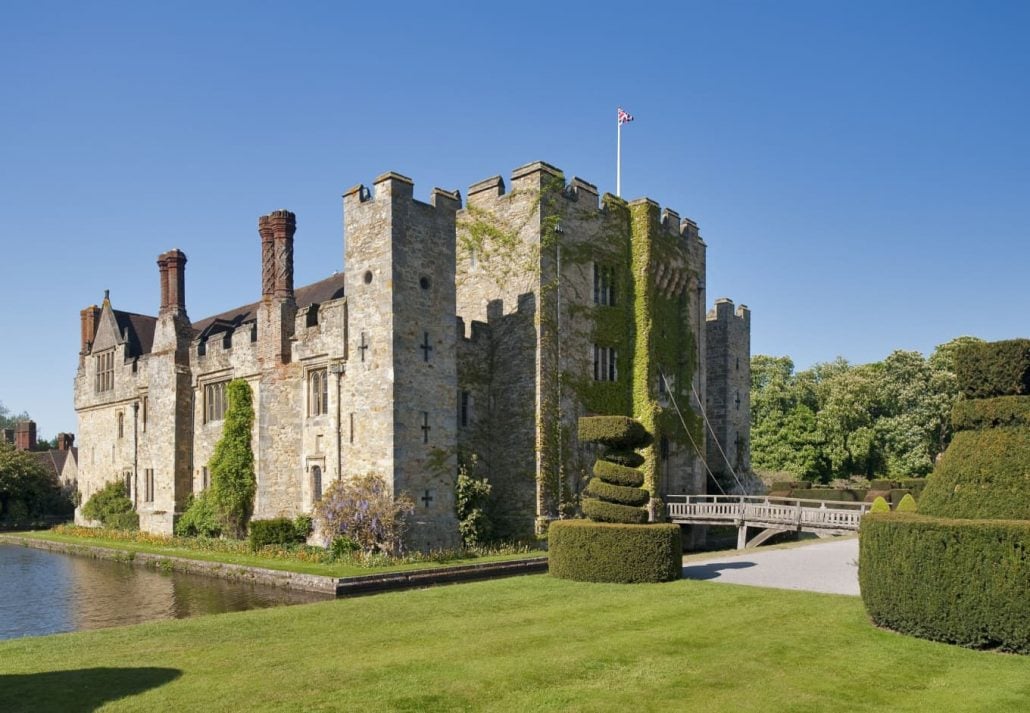 A visit to the Hever Castle is a must for history buffs. Situated in the village of Hever, 30 miles from London, this 700-year-old castle was once the childhood home of Anne Boleyn, second wife of Henry VIII and Mother of Elizabeth I.
In the early 20th century, the castle was artfully restored by William Waldorf Astor and grew to become one of England's most precious treasures.
The oldest parts of the Castle are the Medieval Gatehouse and the outer bailey, dating back to the 14th century.
The castle also has beautifully paneled rooms decorated with fine furniture, tapestries, antiques, and one of the best collections of Tudor portraits after the National Portrait Gallery. In the Book of Hours Room, you'll get the chance to see two prayer books that belonged to Anne Boleyn and bear her inscriptions and signature.
Address: Hever Rd, Hever, Edenbridge TN8 7NG
Corfe Castle, Isle of Purbeck
Founded by William the Conqueror in the 11th century, the Corfe Castle stands above the village of the same name on the Isle of Purbeck. A guided audio trail will teach you about this ruined fortification from the Norman, Tudor, and English Civil War periods to the present day.
Kids will love exploring the dramatic ruins of this former motte and bailey castle and getting a birds-eye view of the surrounding landscape of stunning rolling hills.
Address: Nr Wareham, Dorset
Kenilworth Castle and Elizabethan Garden, Kenilworth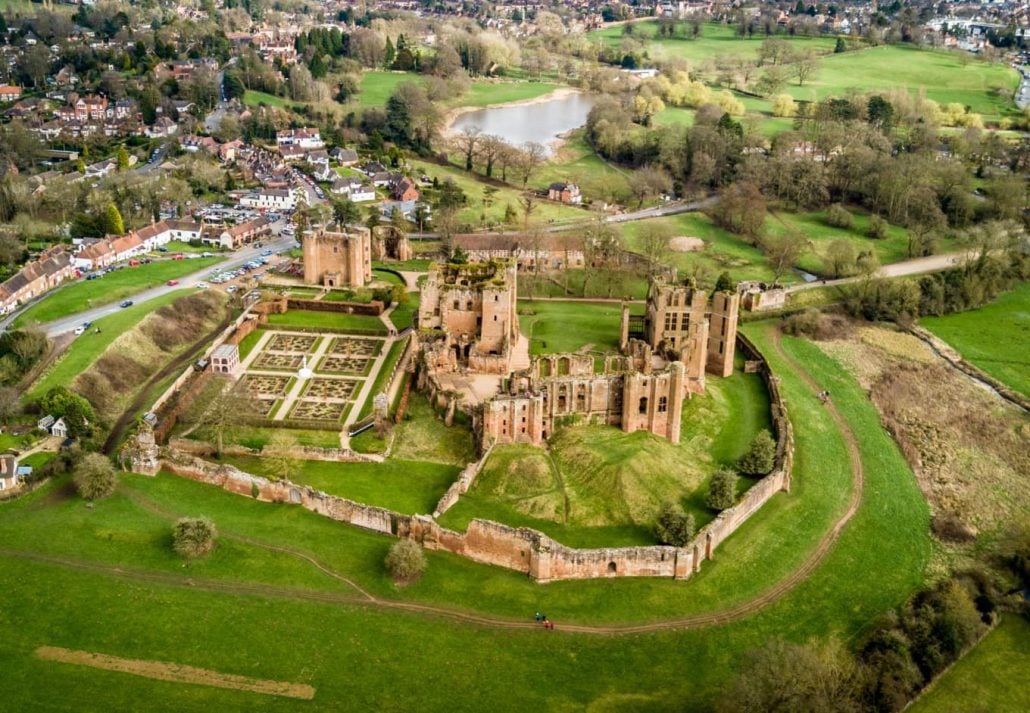 Kenilworth Castle was founded during the Norman conquest of England and was significantly enlarged by King John at the beginning of the 13th century.
Built almost entirely from local, new red sandstone, this former medieval fortress was transformed into a stunning Elizabethan palace by Robert Dudley in an effort to impress his queen.
While Kenilworth Castle is in ruins, visitors can explore treasured remains like the medieval Tudor towers, the well-manicured Elizabethan garden, and the 12th-century keep, the heart of castle life for 500 years.
Address: Castle Green, Kenilworth CV8 1NG
Berry Pomeroy Castle, Totnes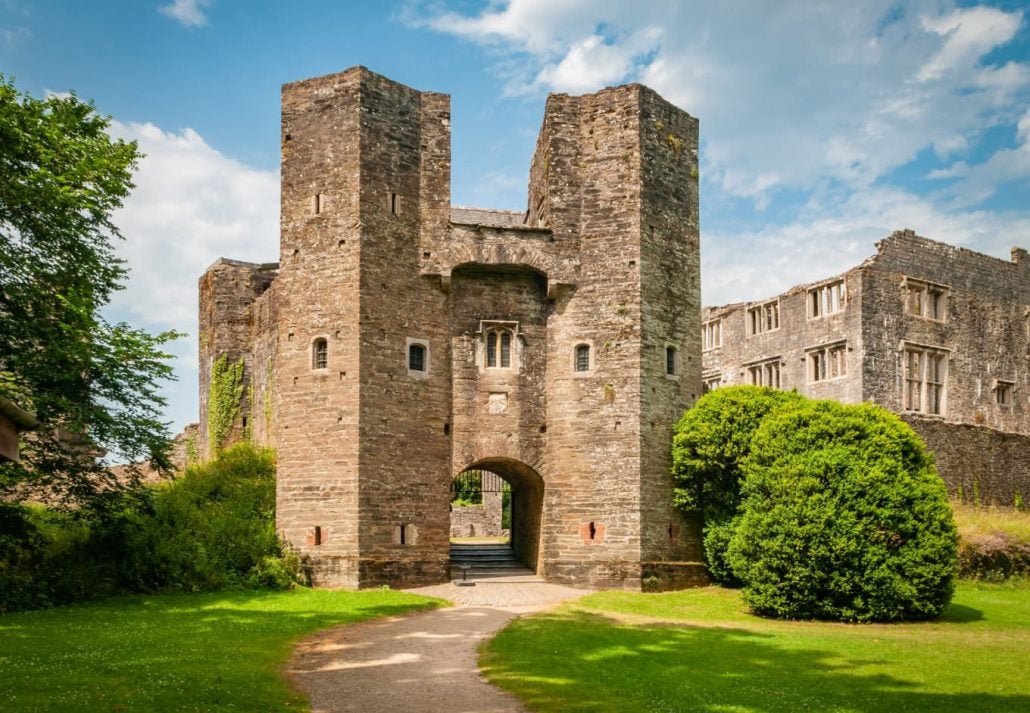 Tucked away in a wooded valley, Berry Pomeroy Castle is a 15th-century fortress that encircles a Tudor mansion belonging to the Seymour family.
Begun in around 1560 and enlarged around 1600, the mansion was designed to be the most spectacular house in Devon. However, it was never completed and was abandoned by 1700.
Framed by deep forests, the mysterious Berry Pomeroy Castle became associated with several ghostly legends, referred to as "one of the most haunted castles in Britain."
Daring visitors can go on an audio tour of this ruined castle and listen to several stories of ghostly happenings.
Address: Berry Pomeroy, Totnes TQ9 6LJ
FAQ
Which European country has the most beautiful castles?
England, Wales, Germany, and the Czech Republic are known for being home to Europe's most beautiful castles.
What city has the most castles in Europe?
Cardiff, in Wales, is widely regarded as the city with the most castles in the world.
Which EU country has the most castles?
Wales is the country with the most castles per square mile.
What is the oldest castle in Europe?
Château de Doué-la-Fontaine in France is the oldest standing castle in Europe.
What are the most famous castles in England?
The most famous castles in England are:
Windsor Castle;
Tower of London;
Elton Hall;
Leeds Castle;
Dover Castle;
Warwick Castle;
Arundel Castle;
Bolsover Castle;
Alnwick Castle;
Bamburgh Castle;
Bodiam Castle;
Highclere Castle;
Framlingham Castle;
Durham Castle;
Tintagel Castle;
Dunstanburgh Castle;
Hever Castle;
Corfe Castle;
Kenilworth Castle and Elizabethan Garden;
Berry Pomeroy Castle.
Browse. Book. Stay.
CuddlyNest provides all accommodations to all travelers at the best price. Find unlimited travel inspiration on our blog and social media channels.
You might also like:
Europe's Offbeat Vacation Destinations
Free Things to do in Barcelona
Fun Facts About Croatia
Liverpool Cathedrals: The Complete Guide
The Best Guide To Edinburgh Castle
A Short Guide To The 12 Best Scotland Castles
The 8 Best Things To Do In Liverpool, England
21 Amazing Hidden Gems in London, England
The 10 Best Things To Do In Cambridge, England
The 15 Best Things to do in Manchester, England
The 15 Best Pubs in London, England
The 12 Most Amazing Things to do in Bath, England