Known for and named after its natural hot springs, Bath has been a retreat of peace and serenity since Roman times. This atmospheric city was founded in the 1st century in England's West Country, in the valley of the River Avon, and still to the present day, it preserves its age-old historical and cultural gems.
Bath is home to luscious spas, incredible Georgian architecture, sprawling gardens, and precious museums. Thanks to its cultural and historical significance, it's the only city in the UK to be designated a UNESCO World Heritage Site.
Must-sees include the Roman Baths, impeccably-preserved remains of a grand Roman bathing complex, and the Bath Abbey, a Gothic-style cathedral with an artfully designed ceiling.
Ready to enjoy the wonders of this picturesque English town? Then, here's the ultimate guide to the top 12 things to do in Bath. Have a look!
Find Places To Stay in Bath, England
The 12 Top Things to do in Bath, England
Royal Crescent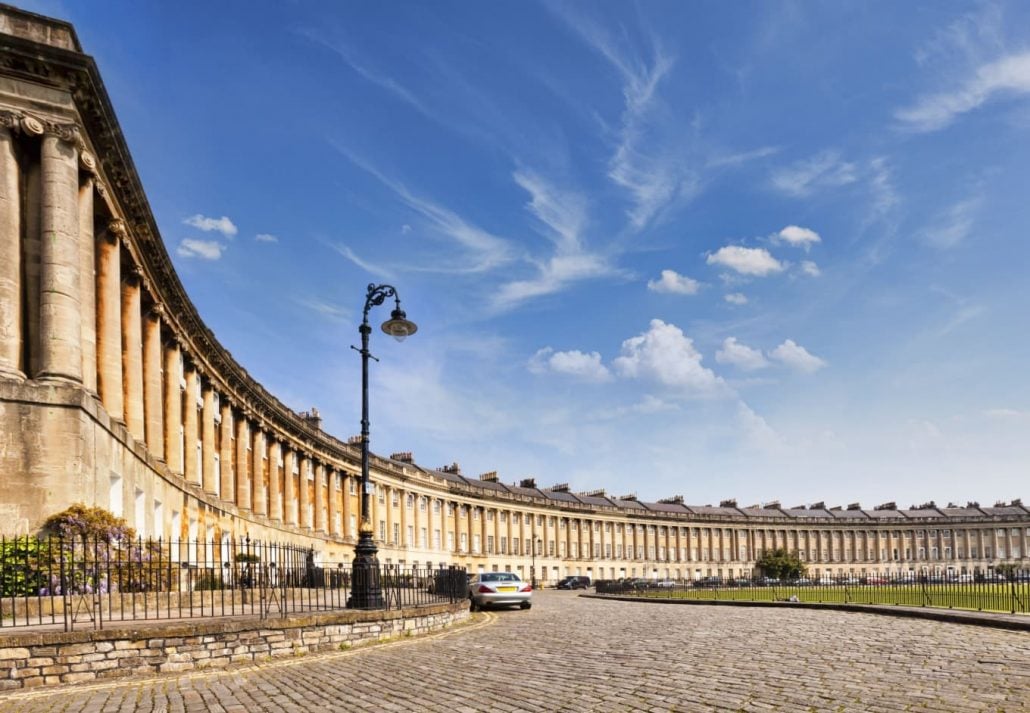 The Royal Crescent is one of England's finest samples of Georgian architecture. Stretching over 500 feet, the crescent comprises 30 uniform Georgian townhouses artfully designed in the 18th century by famed architect John Wood the Younger.
One of the crescent's houses (the No. 1 Royal Crescent) is home to a museum, and the central house at number 16 hosts the Royal Crescent Hotel & Spa. A must-visit for any day trip to Bath!
Recommended Read: The Best Places To Visit in England
Roman Baths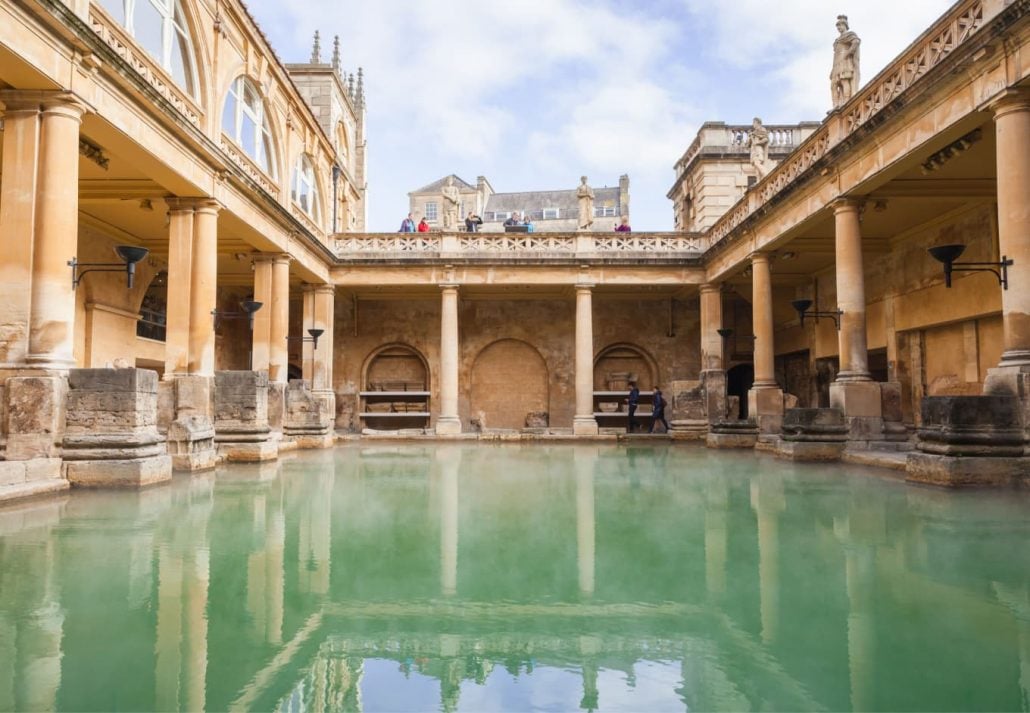 Next stop? The famous Roman Baths — a group of well-preserved remains of a grand Roman bathing complex still flowing with natural hot water. Dating back to 2,000 years, these baths were a majestic religious spa where the people of Roman Britain came to worship the goddess Sulis Minerva.
Visitors can explore this ancient complex, which comprises impeccably preserved baths, original Roman pavements, and the ruins of the Temple of Sulis Minerva. You can even drink hot spa water at the fountain containing 43 minerals.
Adjacent to the Roman Baths is a museum filled with antique treasures like the gilt bronze head of the Goddess Sulis Minerva and other Roman artifacts.
Address: Abbey Churchyard, Bath BA1 1LZ
Bath Abbey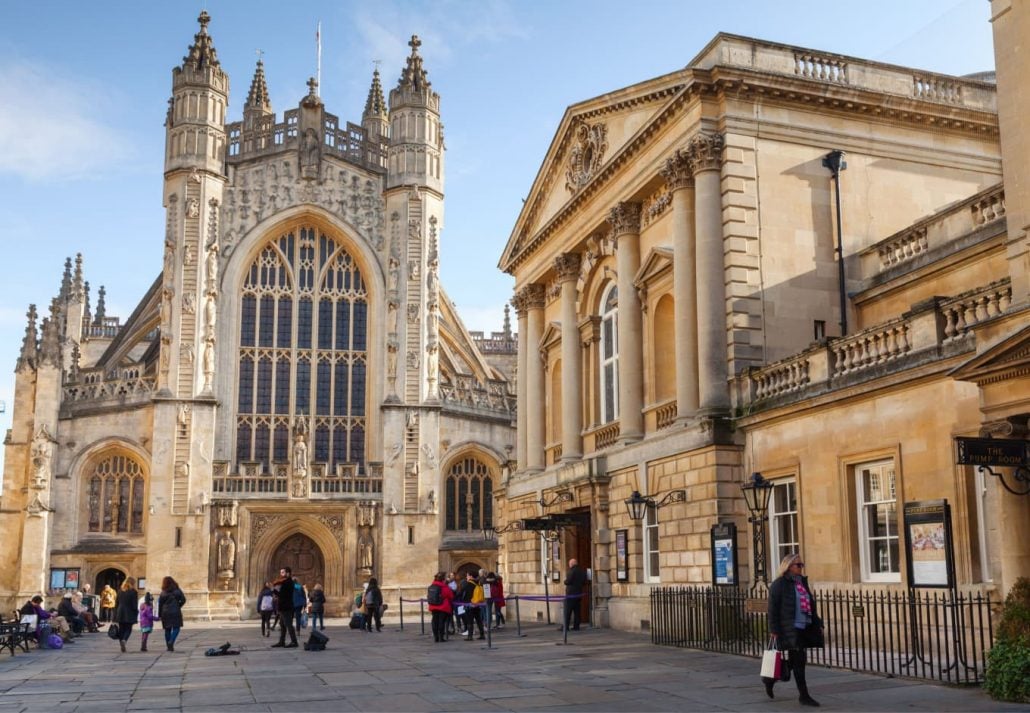 The Bath Abbey has been an architectural treasure for over 1300 years. Listed as a Grade I building, this Gothic-style cathedral awes visitors with its yellow Bath stone façade and majestic interiors.
Inside, you'll see an artfully designed ceiling considered one of England's finest examples of fan vaulting. The abbey is also beautifully decorated with 52 windows, beautiful chandeliers, finely carved pews, and two magnificent organs. A sight to behold!
Address: Bath BA1 1LT
Royal Victoria Park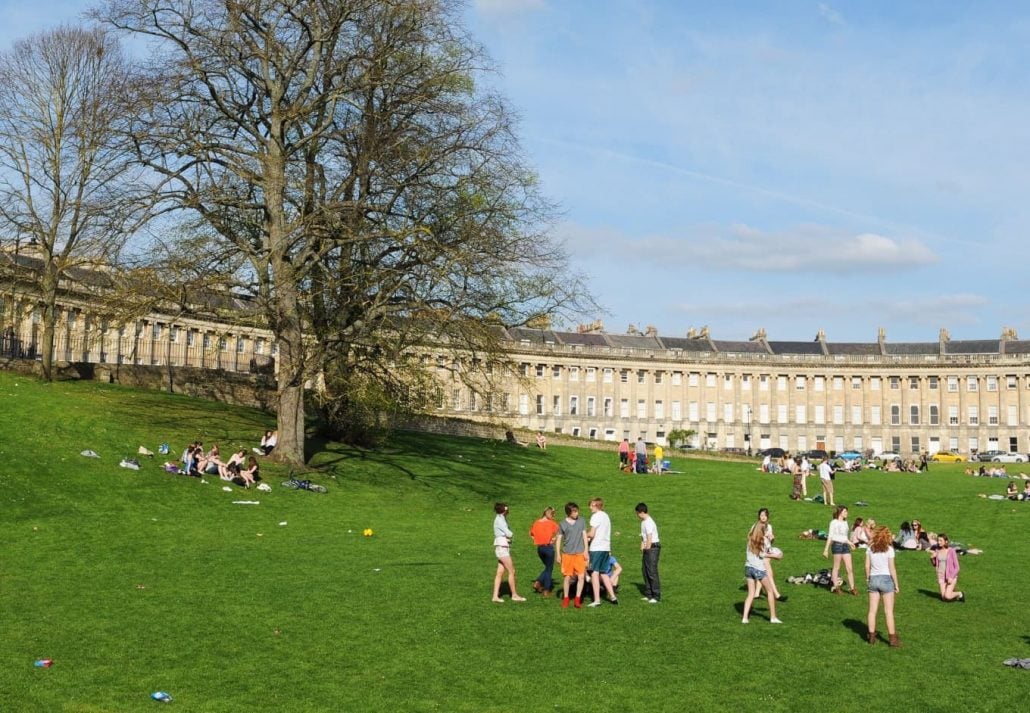 Escape the urban frenzy by spending a delightful afternoon in Royal Victoria Park. Located just a stone's throw away from the Bath city center, this lush was opened in 1830 by the 11-year-old Princess Victoria. The park spans 57 open spaces like wild meadows, flower gardens, zip lines, and a mini golf course.
Address: Marlborough Ln, Bath BA1 2NQ
Pulteney Bridge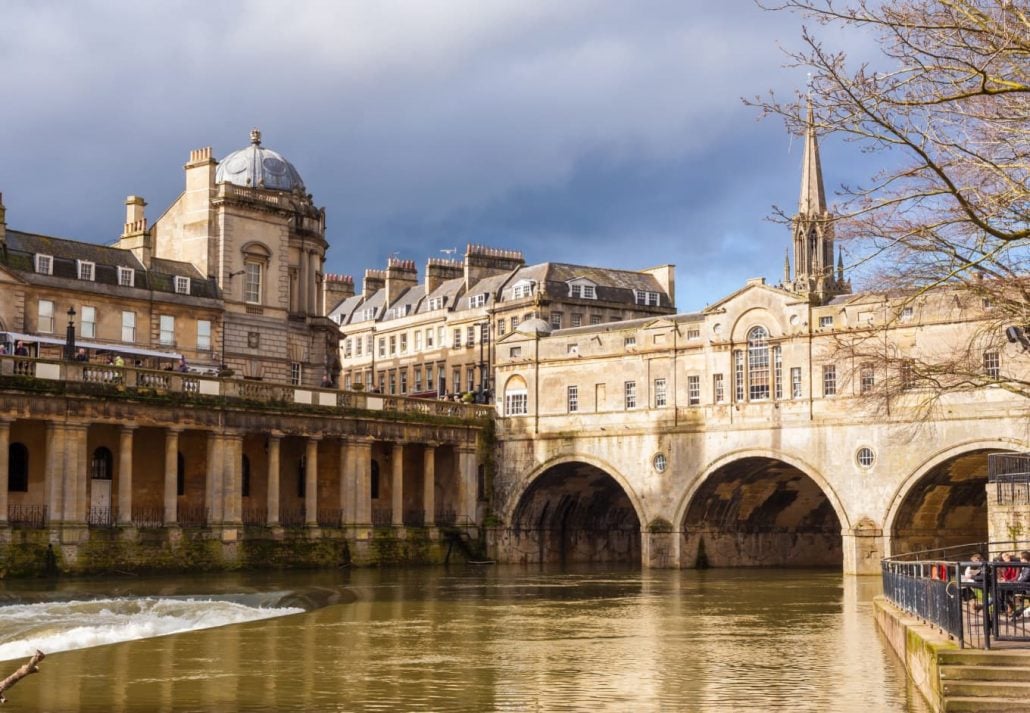 While exploring the charming streets of Bath, make sure to stop by the Pulteney Bridge, one of the most photographed spots in the city. Majestically crossing the River Avon, this beautiful Palladian Bridge was designed by Scottish architect Robert Adam and built-in 1774. It's one of only four in the world to have shops across its entire span on both sides.
Address: Bridge St, Bath BA2 4AT
Prior Park Landscape Garden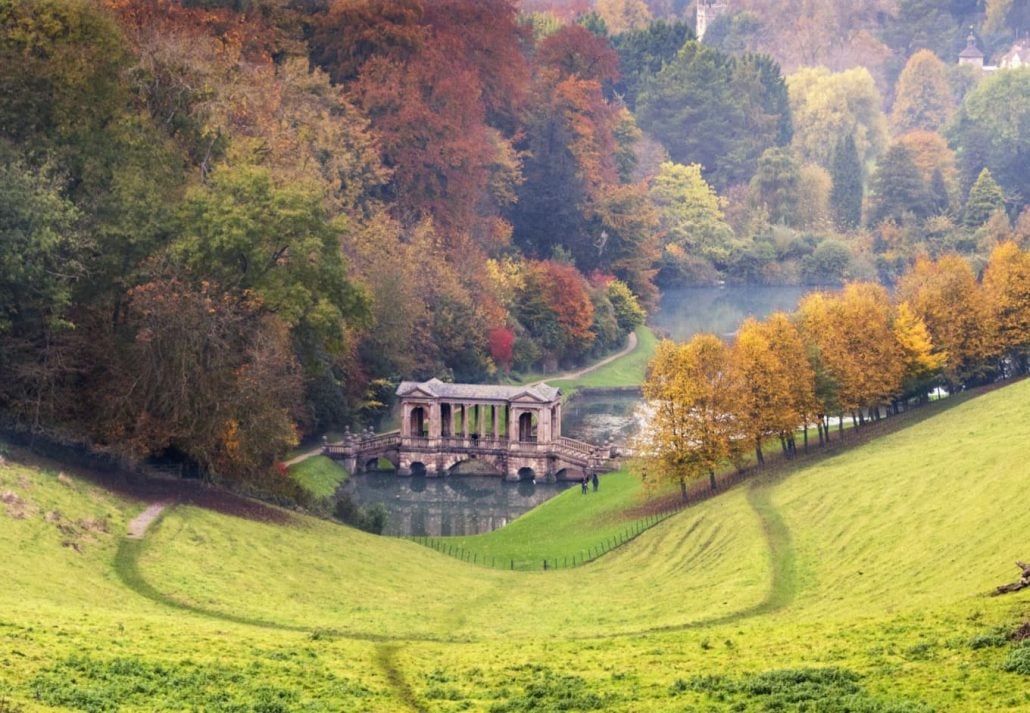 The Prior Park Landscape Garden is a green oasis that looks like it came out of a fairy tale. Founded by entrepreneur Ralph Allen and designed by the poet Alexander Pope, the park is set within a sweeping valley above Bath, rewarding visitors with gorgeous city views.
Aside from lush vegetation, the park encompasses eye-popping structures like a stunning Palladian-style bridge, a Gothic temple, and a grotto.
Address: Ralph Allen Dr, Bath BA2 5AH
The Circus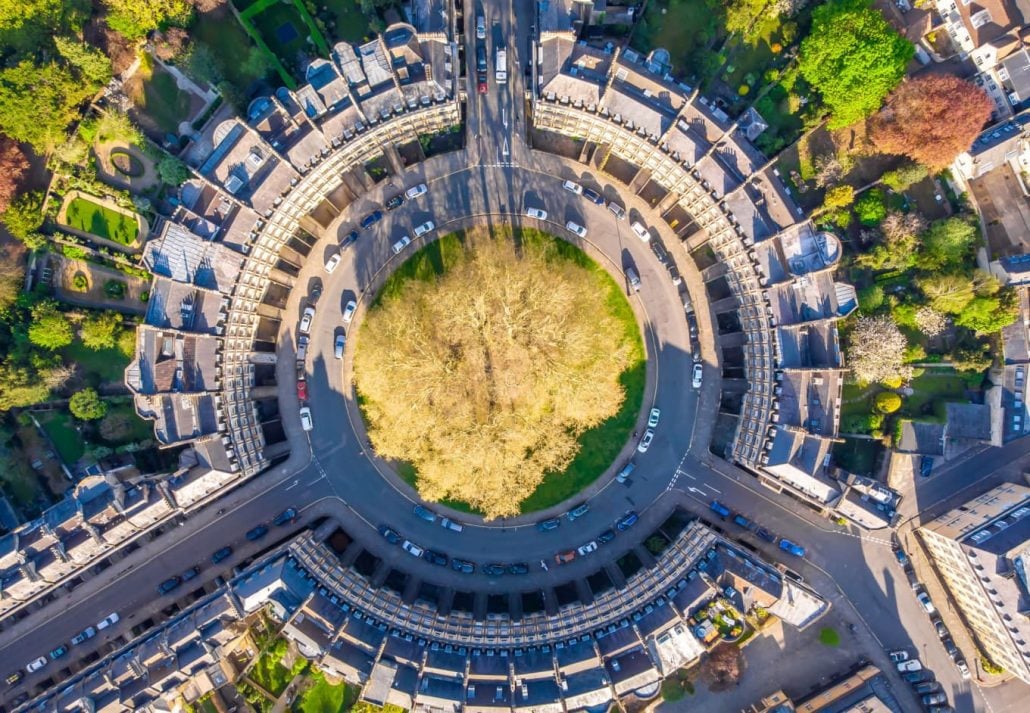 Like the Royal Crescent, the Circus is a Georgian architectural gem in Bath. This historic ring of large townhouses was designed by John Wood, the Elder, and has been home to many famous people, including the artist Thomas Gainsborough and Nicholas Cage.
Thermae Bath Spa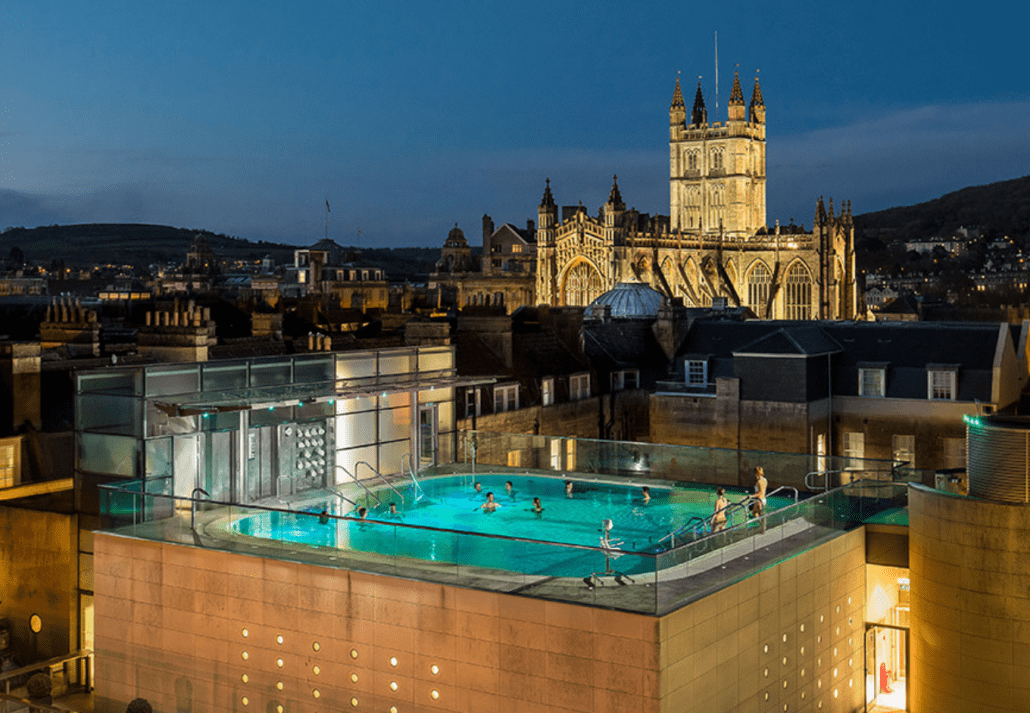 Time moves slower in the Thermae Bath Spa. Located in a state-of-the-art contemporary building, this serene spa plays a serene Minerva Bath that features the city's soothing natural thermal waters. On the rooftop, an open-air swimming pool offers breathtaking views of the Bath Skyline.
Address: The Hetling Pump Room, Hot Bath St, Bath BA1 1SJ
Jane Austen Centre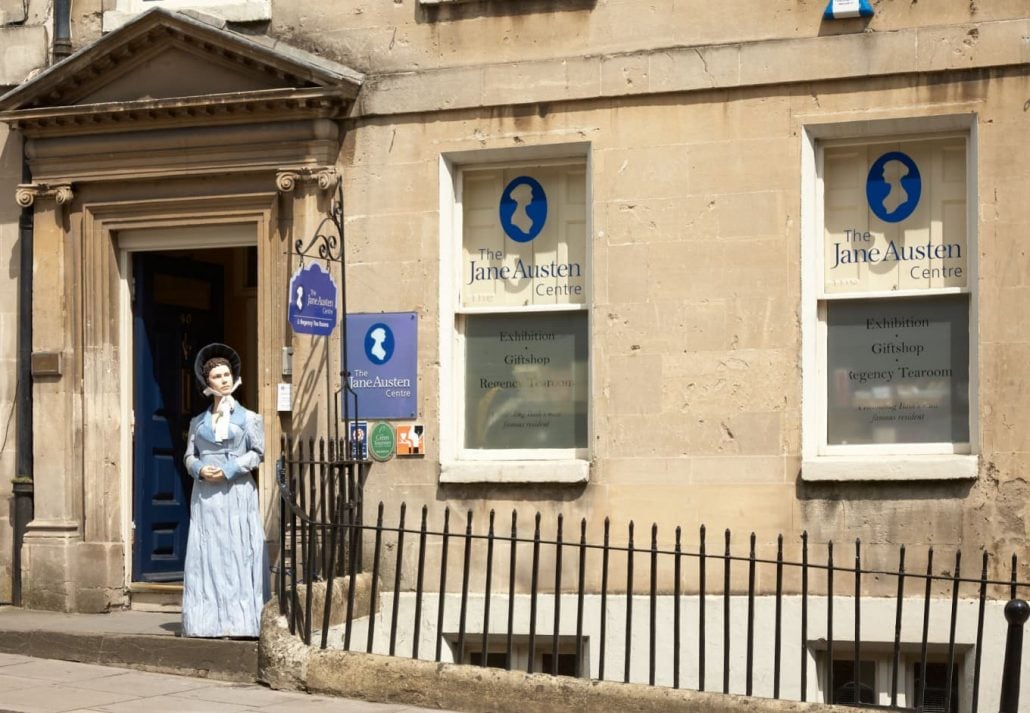 Book lovers can't pass up the chance to visit the Jane Austen Centre. The museum chronicles the life of the English novelist, one of Bath's most famous residents, through fascinating immersive experiences.
In a stunning Georgian building, actor guides dressed in Regency costumes will take you to discover how the ancient city of Bath affected Austen's and her writing.
After delving into the author's life, head to the museum's Regency Tea Room for a comforting afternoon tea!
Address: 40 Gay St, Bath BA1 2NT
Holburne Museum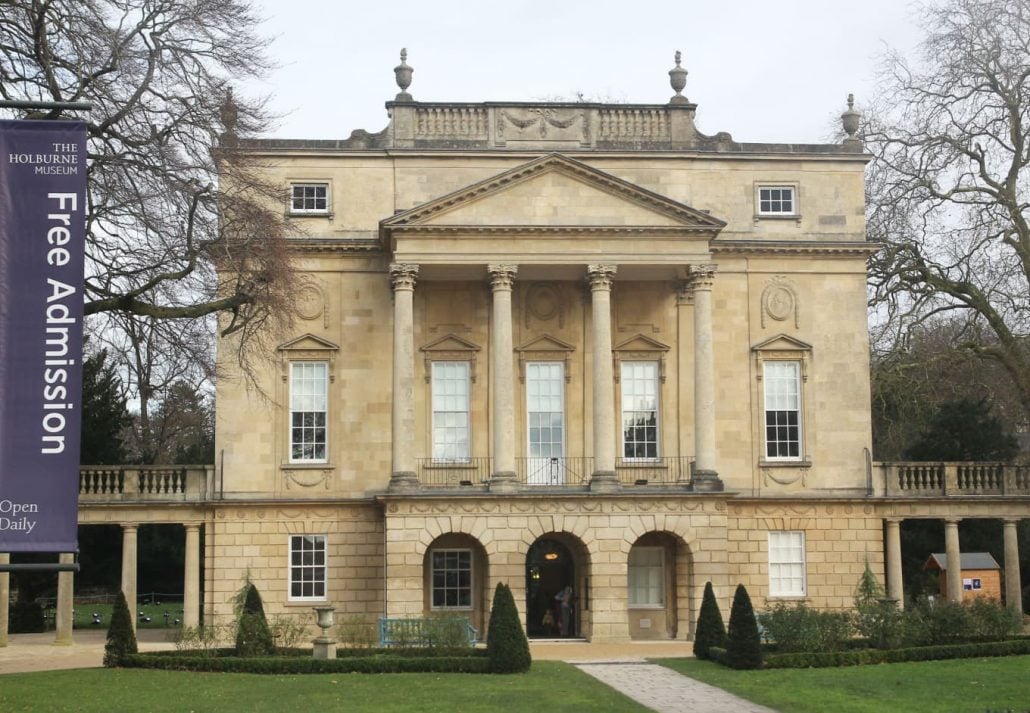 Nestled at the far end of Great Pulteney Street, in a Grade I-listed building, the Holburne Museum is Bath's first public art gallery. The museum was built around the dazzling collection of Sir William Holburne, the fifth baronet of Menstrie, and it displays fine and decorative arts.
While snooping around Holburne Museum's galleries, you'll find treasures such as Chinese armorial porcelain, stunning embroidered panels, and works by luminaries such as George Stubbs and Thomas Gainsborough.
Address: Great Pulteney St, Bathwick, Bath BA2 4DB
Fashion Museum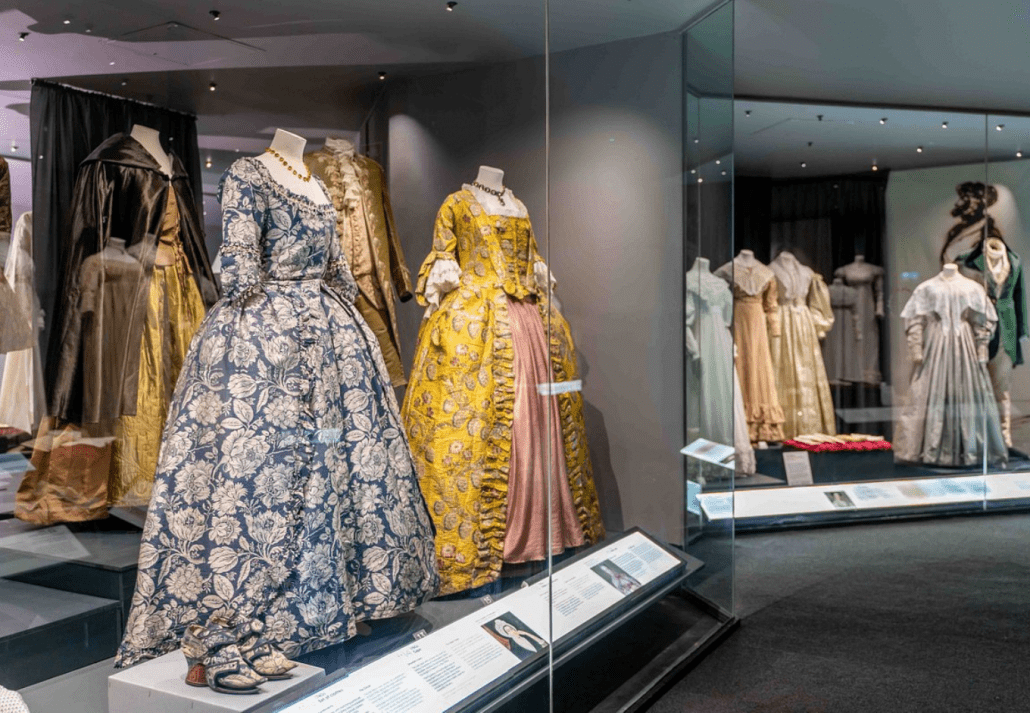 Housed in the basement of The Assembly Rooms, the Fashion Museum was initially opened by designer Doris Langley Moore in the 1960s. The museum hosts a fabulous collection of iconic attire from the 18th century, including carefully crafted Georgian gowns, Georgian silk shoes, and modern-day outfits.
Address: Assembly Rooms, Bennett St, Bath BA1 2QH
American Museum & Gardens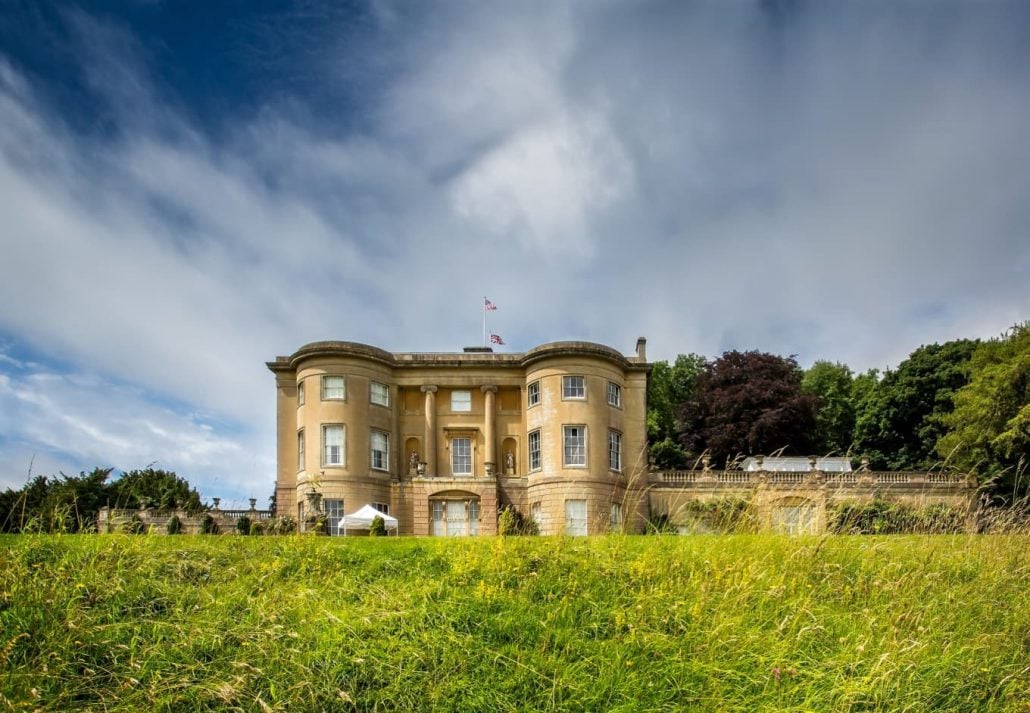 Gloriously located within a Grade 1 listed Georgian estate in Claverton, the American Museum & Gardens is the only museum of American decorative and folk art outside the USA. The museum overlooks the valley of the River Avon and was founded by two antique collectors in 1961.
Inside, you'll see well-appointed period rooms and a permanent collection of folk, decorative arts, and cultural objects, showing the rich American traditions and cultural heritage.,
Outside is a dreamy arboretum dotted with North American trees and a reproduction of George Washington's garden at Mount Vernon.
Address: Claverton Manor, Claverton Down, Bath BA2 7BD
FAQ
What is Bath famous for?
Bath is an ancient English town famous for its Roman remains, majestic Georgian architecture, soothing thermal spring spas, and renowned museums.
Is Bath worth visiting?
Bath is often considered one of England's most beautiful places to visit. The city is worth visiting thanks to its breathtaking scenery, stunning architecture, and relaxing thermal baths.
What do people do in Bath?
The best places to visit in Bath are:
Royal Crescent;
Roman Baths;
Bath Abbey;
Royal Victoria Park;
Pulteney Bridge;
Prior Park Landscape Garden;
The Circus;
Thermae Bath Spa;
Jane Austen Centre;
Holburne Museum;
Fashion Museum;
American Museum & Gardens.
What do couples do in Bath?
Bath is a charming city filled with romantic places. Tried-and-true activities for couples include relaxing in the Thermae Bath Spa, having a picnic in the scenic Prior Park, and pampering themselves in the Royal Crescent Hotel & Spa.
CuddlyNest provides all accommodations to all travelers at the best price. Find unlimited travel inspiration on our blog and social media channels.
You May Also Like:
How To Get To Stonehenge From London: 4 Easy Ways
Train From London To Paris: Everything You Need To Know
11 Fun Facts About The London Eye
How To Travel From London to Edinburgh, Scotland: 4 Easy Ways
Best Destinations for Family-Friendly Holidays in the UK
Top Attractions in London
A Guide To Visiting The Tower Of London
The Best Dog-Friendly Destinations In The UK
Best Destinations for Family-Friendly Holidays in the UK