There's a whole heap of captivating places to visit just a short hop from Orlando. Less than two hours away from the city you'll find idyllic beaches framed by staggering palm trees, history-filled towns dating back to the 16th-century, first-magnitude springs, and even a NASA launch center of human spaceflight.
So, whether you're seeking a fun weekend away with the kids, or a nature-centric destination for a serene holiday, you'll find plenty of one-of-a-kind destinations close to Orlando.
Ready to take a quick break from all the theme parks? Then this guide might be just what you need.
Here's a finely curated selection of 12 incredible day trips from Orlando, Florida, that are suitable for every taste, mood, and moment.
Find Places To Stay in Orlando, Florida
The 12 Best Orlando Day Trips
Daytona Beach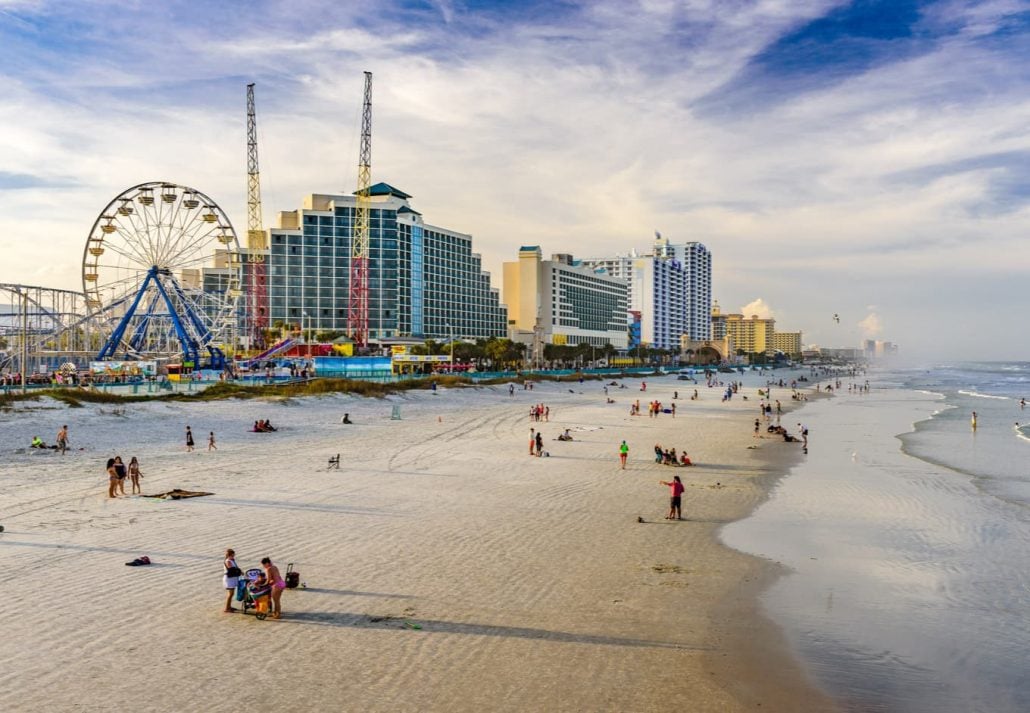 Daytona was not named one of the best beaches near Orlando by chance. Nestled poignantly on Florida's Atlantic coast, Daytona flaunts no less than 23 miles of glittering coastline, which offers fun and excitement for all ages and adventure levels.
Daytona Beach is especially sought after by water sports lovers seeking to get their hearts racing while indulging in a slew of activities — from surfing to parasailing.
Also ranked one of the top kid-friendly Florida vacations and best budget beach breaks in the United States, This coastal city also boasts an array of fun-filled attractions like the iconic Daytona Beach Boardwalk, a scenic location featuring two arcades, snack bars, and even rides (only during the summer).
Another must-visit in Daytona, especially if you're a thrill-seeker, is the Daytona International Speedway, where you'll get the one-of-a-kind chance to drive a NASCAR race car!
Distance From Orlando: 57 miles/ 1 h
Everglades National Park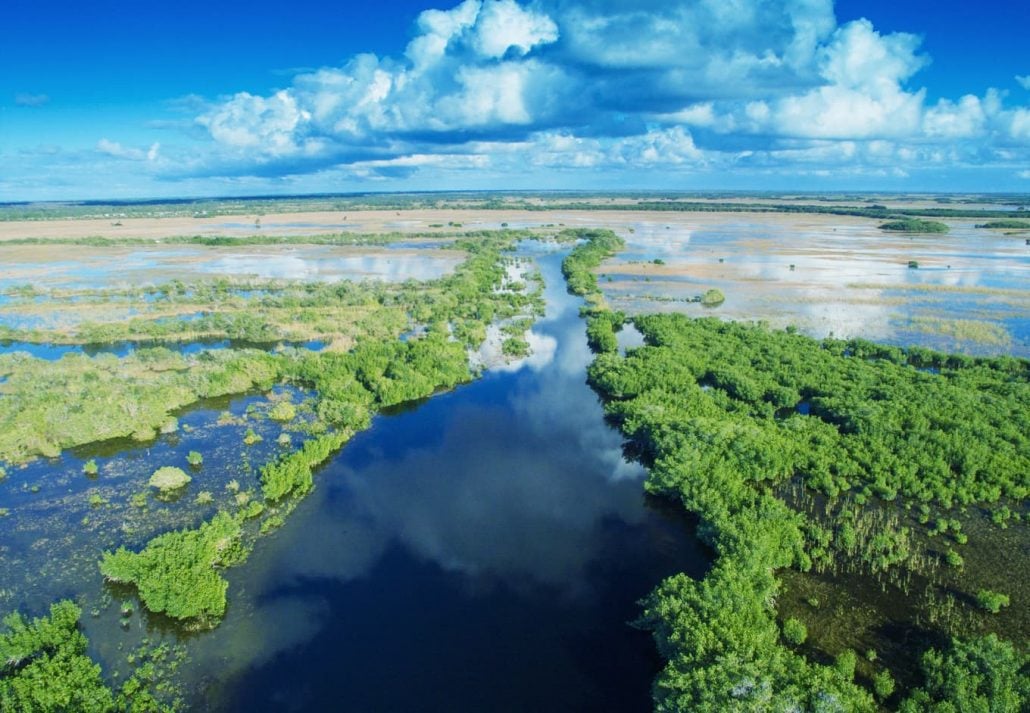 The Everglades National Park is a vast wonderland designed by mother nature. Located four hours from Orlando, this national park preserves the southern 20% of the Florida Everglades, a natural region comprising tropical wetlands, and a rich ecosystem not presently found anywhere else on earth.
One of the best ways to explore this 1.5 million-acre wetland preserve is on a boat cruise. While winding through coastal mangroves, sawgrass marshes, and pine Flatwoods, expect to come across a dazzling wealth of Florida wildlife, including alligators, crocodiles, turtles, several bird species, and other fascinating creatures.
Distance From Orlando: 265 miles / 4h4 min
Recommended Read: The 15 Best National Parks in The USA
Kennedy Space Center at Cape Canaveral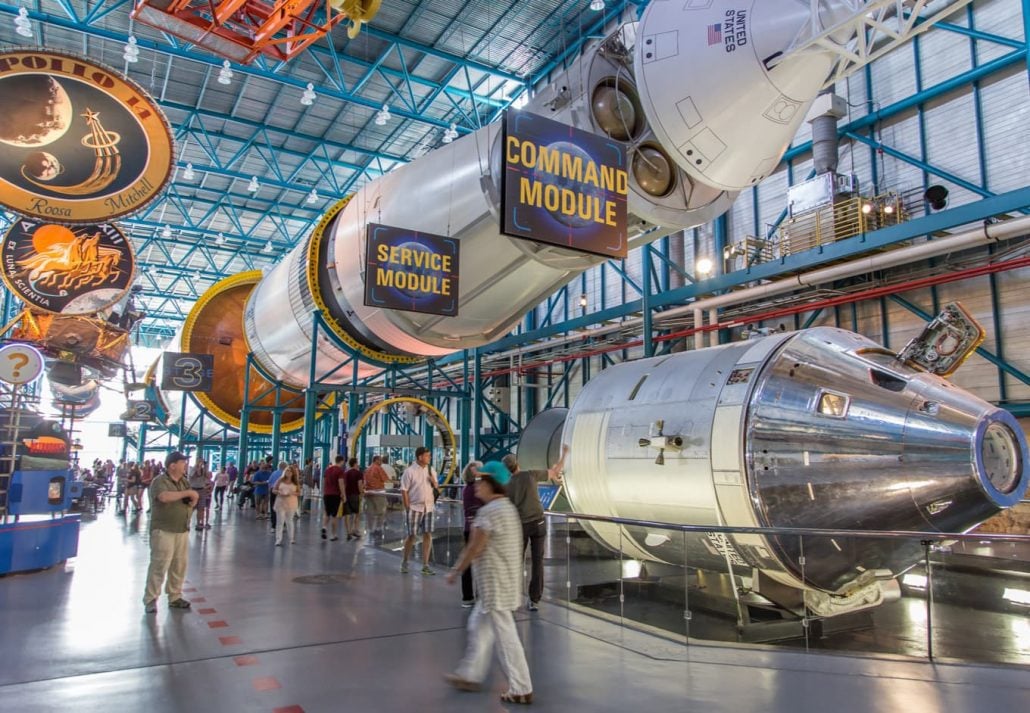 Always dreamed of seeing a real space shuttle up close? Then don't pass up the chance to go on a day trip to the Kennedy Space Center. Located at Cape Canaveral, on Merritt Island, this is one of NASA's ten field centers across the United States and has been the primary launch center of human spaceflight in the country.
The complex is organized into Mission Zones where the state-of-the-art attractions and tours are grouped. Highlights include the real space shuttle Atlantis — the last one to fly into space —, the gigantic Saturn V, the largest rocket ever flown, and a real NASA spaceflight facility.
Distance From Orlando: 60 miles / 45 minutes
Clearwater Beach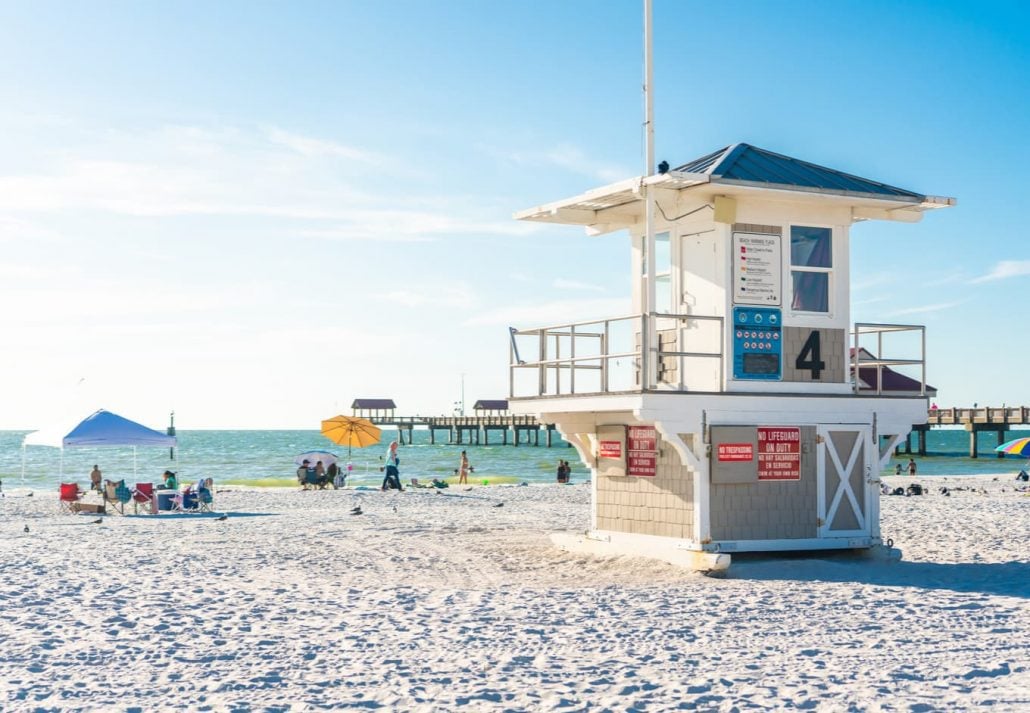 Nestled between Tampa Bay and the Gulf of Mexico, Clearwater Beach is often referred to as one of the best beaches in the United States thanks to its alabaster-white sand and shallow turquoise waters that are perfect for swimming.
When not enjoying a line-up of exciting beach activities, like boat rides, parasailing, kayaking, and paddleboarding, you'll find the perfect spot to relax in the shade or tan in the sun.
And while the beach is the centerpiece of Clearwater, there's plenty more to see and do in this inviting coastal town. Families will love visiting Pier 60, home to one of the largest beach playgrounds on the Gulf coast, as well as the Clearwater Marine Aquarium, which plays host to an array of rescued animals like sea turtles and dolphins.
Visiting Clearwater with your significant other? Then make sure you go for a stroll in the Beach Walk Promenade, a scenic pathway framed by staggering palm trees and show-stopping views of the pier.
Distance From Orlando: 107,9 miles/ 1 h 50 min
Wekiwa Springs State Park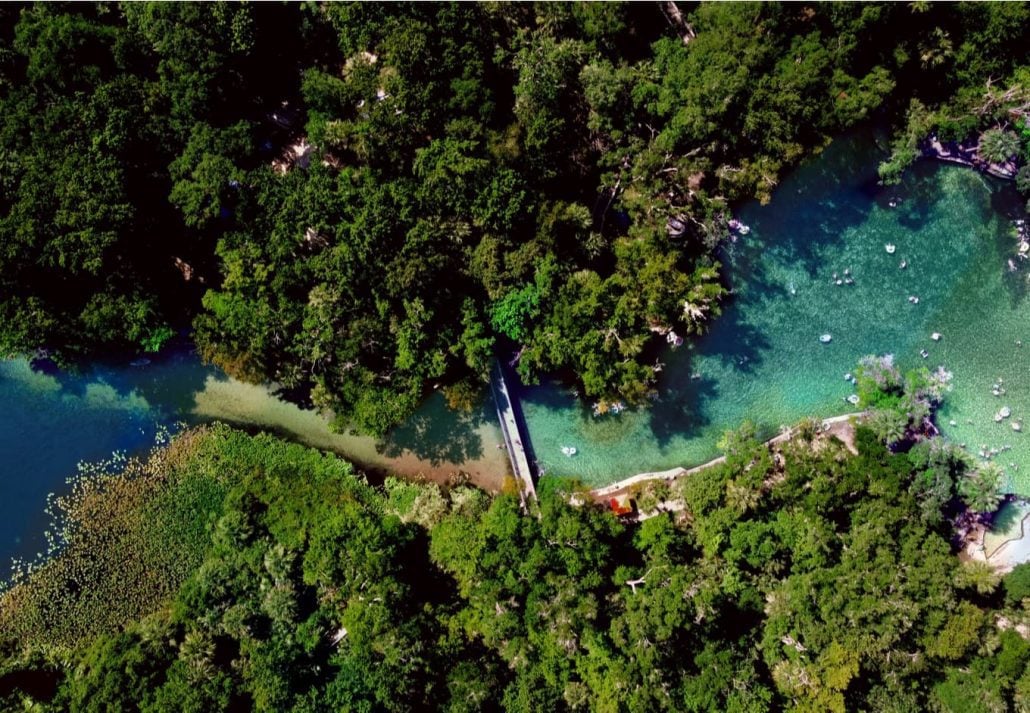 Emerald-green water springs, lush hammocks, and miles of scenic trails are an eternal draw for travelers who visit the Wekiwa Springs State Park. A fabled day trip destination since the mid-19th-century, the park is a quiet pocket of untouched greenery located just minutes from Downtown Orlando, making it the perfect place for those seeking a retreat from the city's hustle and bustle.
Activities on offer include swimming in the natural springs to cool off from the Central Florida summer heat, exploring nature trails on foot, bike, or horse, paddling on the Wekiva River or Rock Springs Run, and snorkeling in crystal-clear Wekiwa Springs where the water is a refreshing 72 degrees year-round.
Distance from Orlando: 17 mi/ 22 min
Recommended Read: The 8 Best Natural Springs Near Orlando, Florida
New Smyrna Beach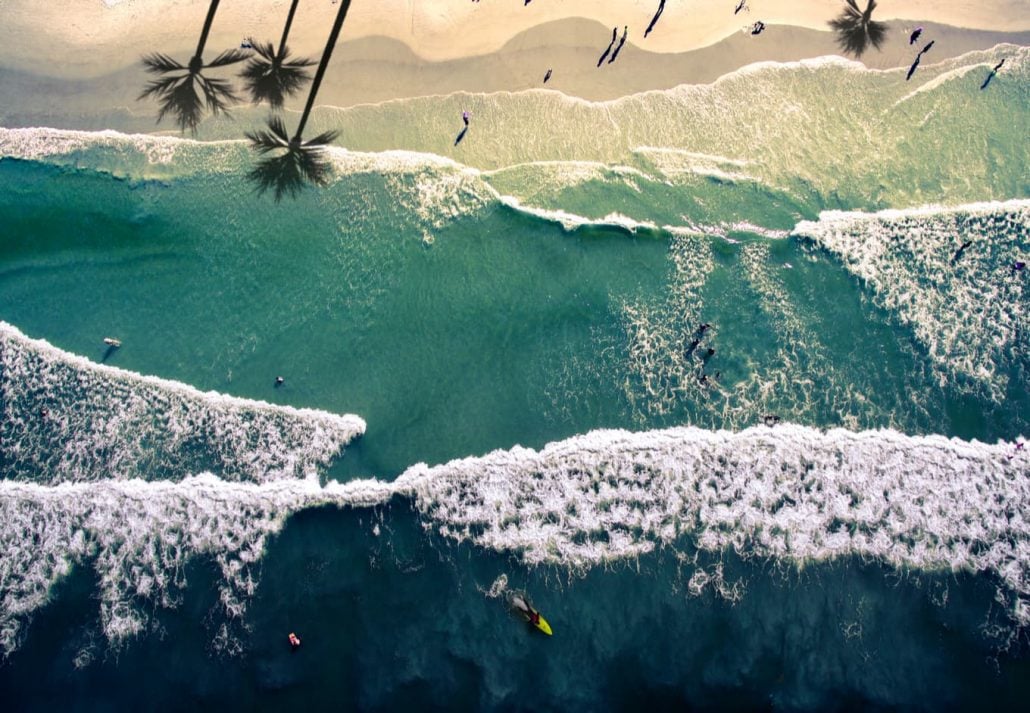 Always revered for its 17-mile stretch of snow-white-sandy beaches, a 184-acre inlet park — the Symra Dunes Park —, and scenic lush trails, New Smyrna is a gem spiked on Florida's Central Atlantic Coast. The beach also boasts some of the finest wave action on the east coast, making it a coveted surfing spot by pros and amateurs alike.
At the southernmost point of the island, you'll find The Canaveral National Seashore, a National Park featuring 24 miles of beaches, dunes, and mangrove wetlands spread across 58,000 acres.
New Smyrna also flaunts a collection of laidback restaurants where you can sample the most mouthwatering seafood dishes while marveling at awe-inspiring beach views.
Distance From Orlando: 55,4 miles/ 59 minutes
Blue Spring State Park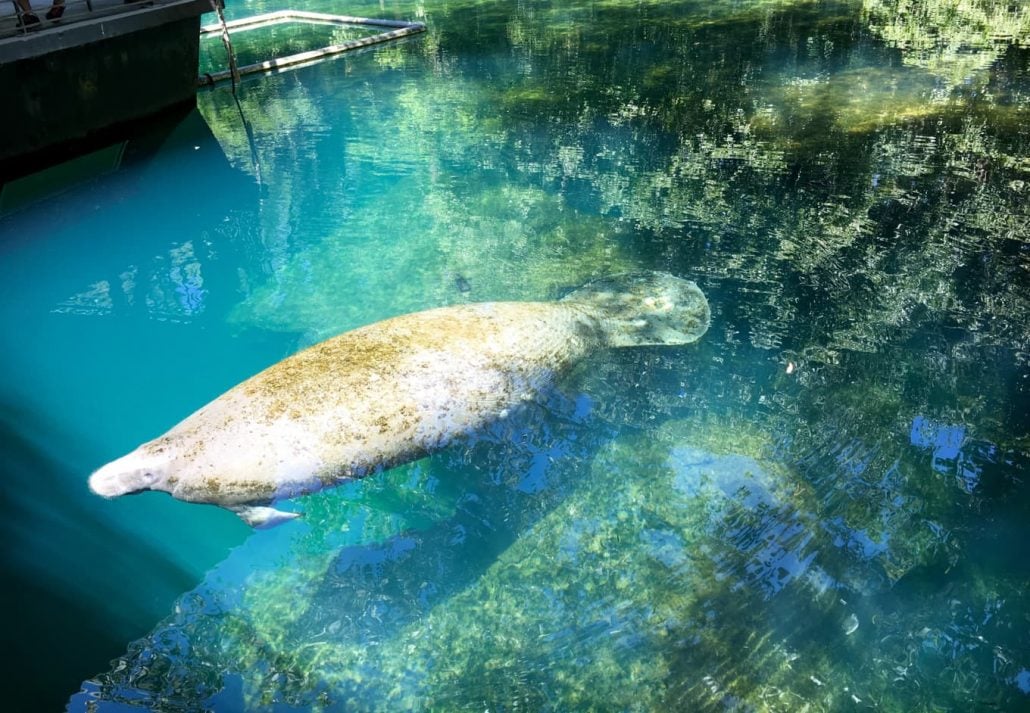 Wildlife comes in a spectacular variety in the Blue Spring State Park. Aside from being home to a dazzling first-magnitude spring, the park is one of the largest winter gathering sites for manatees in Florida, and it's inhabited by a canopy of wading birds, ospreys, eagles, and kingfishers.
Visitors will certainly gravitate toward swimming in the refreshing waters of Blue Spring, taking a guided riverboat cruise, and hiking along the 4.5-mile Pine Island Trail.
Distance From Orlando: 33,5 mi / 41 min
Ocala National Forest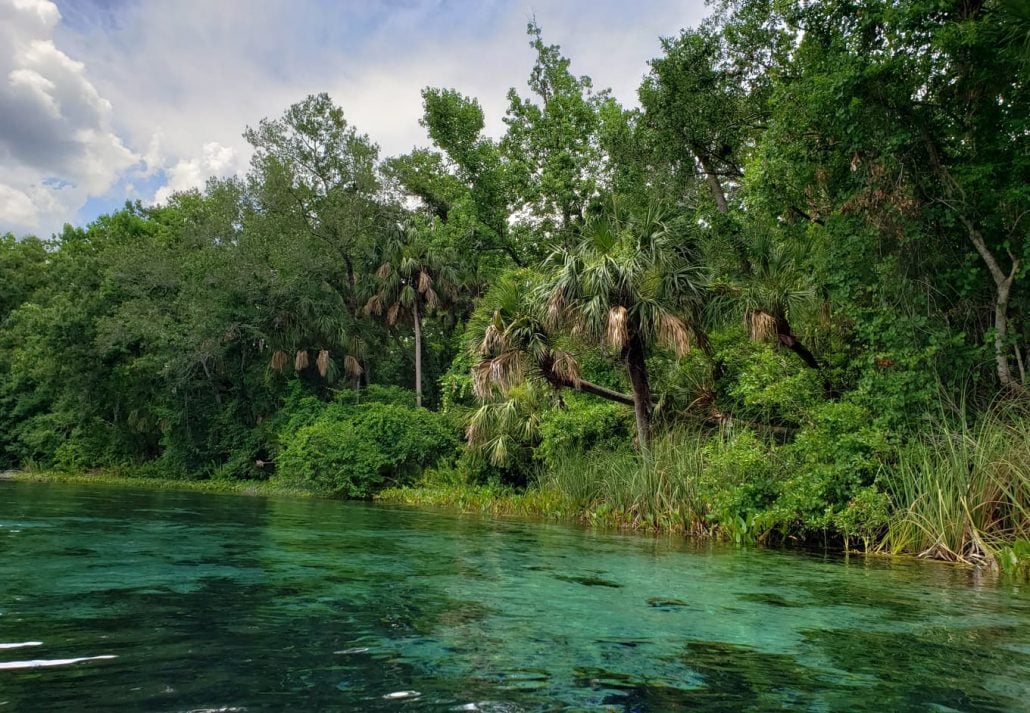 More than 600 lakes and rivers, migratory birds, playful manatees, and glittering freshwater springs are a feast for sore eyes in the Ocala National Forest. Comprising 430,447 acres of immense natural beauty, this is the second largest nationally protected forest in Florida and a sanctuary for adventure-seekers from all over the world.
The forest's delicate springs create the perfect environment for a refreshing swim or a snorkeling session, while the 66-mile segment of the Florida Scenic Trail is the go-to destination for a long walk in the woods.
Visitors can also check out the Juniper Springs, which has a scenic 7-mile paddle trail that winds through a lush sub-tropical forest.
Distance From Orlando: 73,3 mi / 1h24 min
Cocoa Beach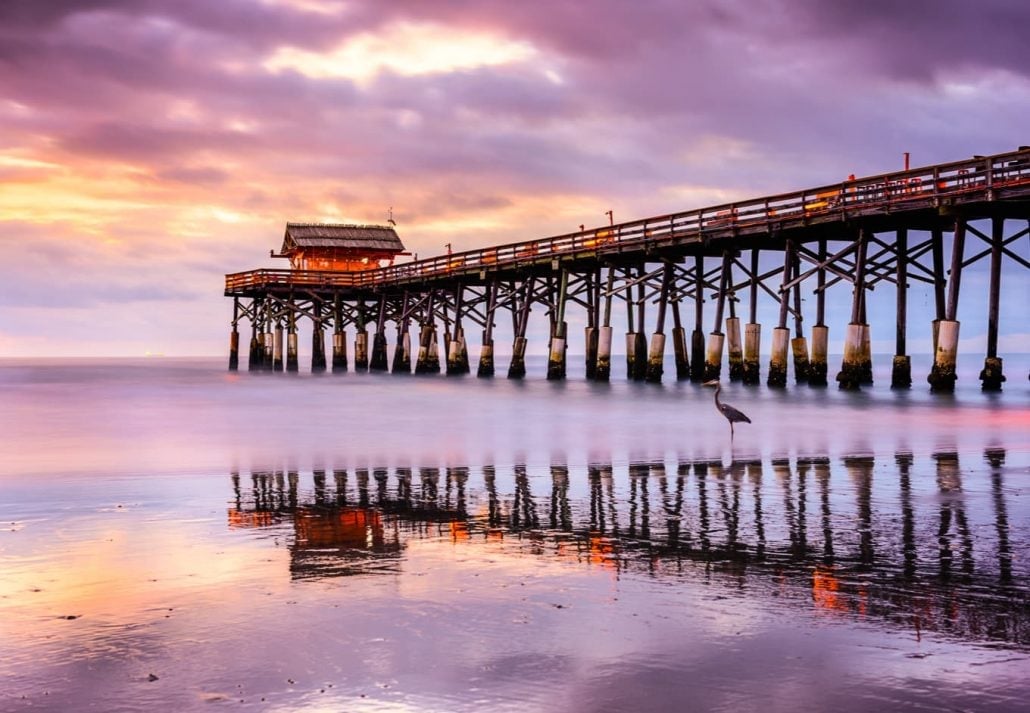 Cocoa Beach is a spellbinding destination known for its clean, wide beach with golden-hued sand. Nicknamed "the quintessential beach town", Cocoa boasts an inviting atmosphere, and a variety of family-friendly attractions, including a scenic pier (Cocoa Beach Pier), fun segway tours, a skate park, and breezy outdoor restaurants with gorgeous Ocean views.
Thanks to its calm, consistent waves, and shallow waters, Cocoa Beach is a coveted surfing destination. There, you'll find the iconic Ron Jon Surf Shop, the world's largest surf shop, and the Florida Surf Museum, a must for those seeking to learn more about the unique history and culture of surfing on the East Coast.
Cocoa Beach is the place where you get great surfing, awesome seafood, and gorgeous nature all-in-one. Flanked on Florida's Space Coast, this coastal town is particularly famous being home to a beach with golden sand and world-class waves, aside from harboring the iconic Ron Jon Surf Shop, the world's largest surf shop.
There's also a scenic pier (Cocoa Beach Pier) perfect for sunrise strolls with jaw-dropping views of the swirling Atlantic coast, tempting outdoor seafood restaurants, and the must-visit Lori Wilson Park, which encompasses sand dunes fringed with sea oats.
Distance From Orlando: 59,8 miles / 1 h 7 min
Busch Gardens Tampa
Named one of the best theme parks in the USA, Busch Gardens is a wonderland for thrill-seekers and nature lovers alike. This 335-acre African-inspired amusement park grants visitors the opportunity to enjoy a plethora of exciting rides, as well as enjoying a variety of nature experiences.
To get your heart racing, ride the adrenaline-inducing Cheetah Hunt, a thrilling triple-launch roller-coaster, and the Falcon's Fury, a 335-foot freestanding drop tower. Another must-do for daring visitors is Scorpion, which pulls riders through a 360-degree loop and speeds of 50 miles per hour.
But there are gentler options, too, including the award-winning Serengeti Safari, which allows visitors to have one-of-a-kind encounters with an array of fascinating animals like giraffes, rhinos, cheetahs, tigers, and lions.
Distance From Orlando: 83,3 mi / 1h20 min
St. Augustine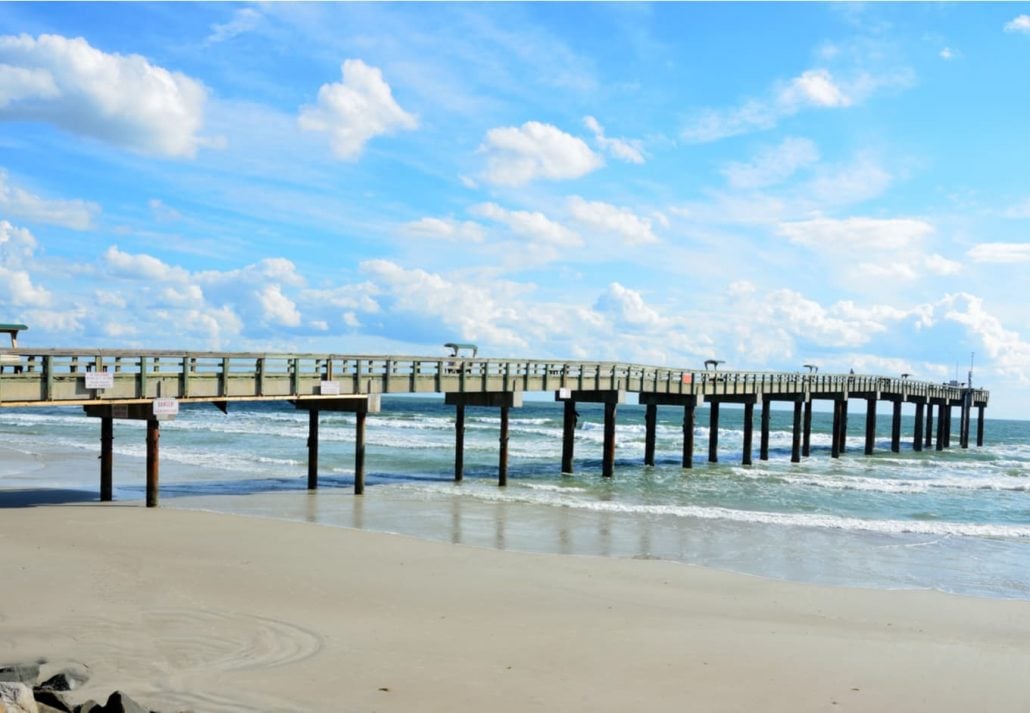 St.Augustine is a preferred Orlando day trip for travelers seeking to enjoy a wonderful beach day. Located in Florida's Historic Coast, San Augustine Beach displays a wide expanse of shoreline that is ideal for a jog or a bicycle ride with a view, aside from refreshing ocean waters that attract skimboarders, boogie boarders, surfers, paddle boarders, and kiteboarders.
But St.Augustine is far more than just a beach destination. The city, self-proclaimed the oldest in the country, was founded in 1565 by Spanish explorers, and still to the present day dazzles visitors with its rich cultural assets tucked around every corner.
This charm-filled city has plenty of historic buildings and museums to take in, including Castillo de San Marcos, the oldest masonry fort in the continental U.S., the Fort Mose Historic State Park, which is the site of the first free African-American settlement in the country, and the iconic St. Augustine Lighthouse and Museum.
Distance From Orlando: 103,6 miles / 1 h 36 min
Crystal River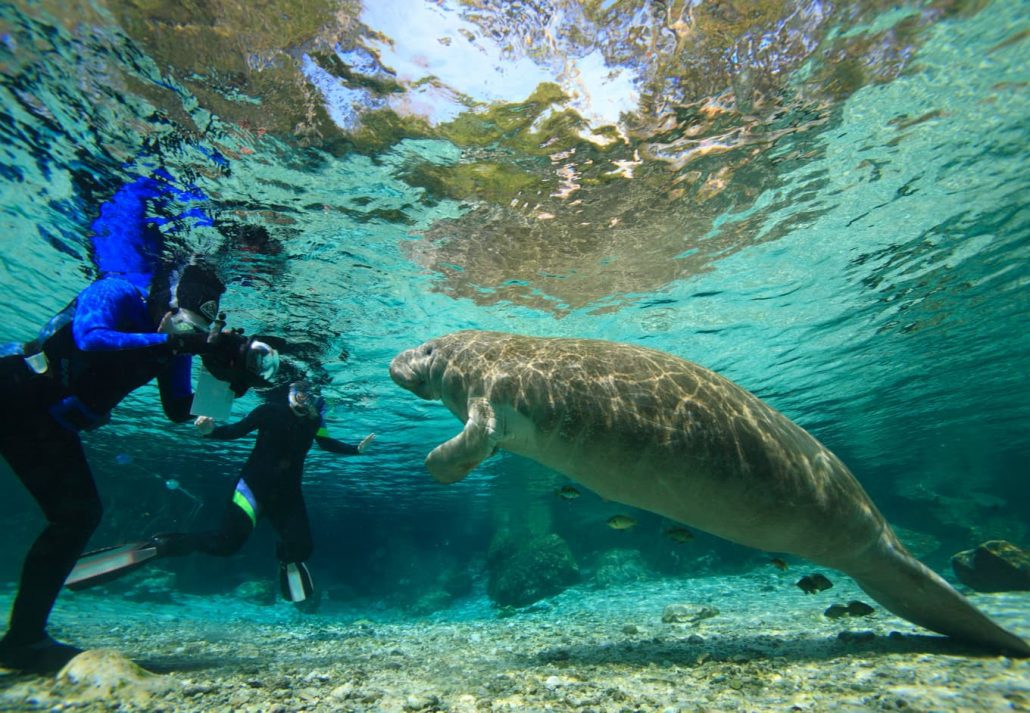 Gloriously placed along Central Florida's Nature Coast, Crystal River is an earthly Paradise filled with azure spring-fed rivers, sparkling lakes, and unspoiled forests. This alluring destination — dubbed the Manatee Capital of The World — is also known for harboring between 500 and 1000 manatees during the winter, and up to 100 in the summer.
When visiting Crystal River, you'll get the once-in-a-lifetime opportunity to swim with manatees in their natural environment, aside from learning all about this adorable marine creature. More water adventures in Crystal River include scalloping, kayaking, and scuba diving.
FAQ
What is a good day trip from Orlando, Florida?
The 12 best day trips from Orlando, FL:
Daytona Beach;
Everglades National Park;
Kennedy Space Center at Cape Canaveral;
Clearwater Beach;
Wekiwa Springs State Park;
New Smyrna Beach;
Blue Spring State Park;
Ocala National Forest;
Cocoa Beach;
Busch Gardens Tampa;
St. Augustine;
Crystal River.
Which beach is closest to Orlando, Florida?
New Smyrna is the closest beach to Orlando. The driving distance is 57 min (55,4 miles).
How long is the drive from Orlando to the nearest beach?
The driving distance from Orlando to New Smyrna, the nearest beach, is 57 min (55,4 miles)
What is the best beach to visit near Orlando?
The best beaches near Orlando are:
Daytona Beach;
Ponce Inlet;
Cocoa Beach;
New Smyrna Beach;
Caladesi Island State Park;
Canaveral National Seashore;
Clearwater Beach;
Fort de Soto Park;
Honeymoon Island State Park;
St Augustine Beach.
Is Daytona Beach better than Cocoa Beach?
Boasting a variety of family-friendly attractions, soft stretches of sand, and plenty of opportunities for water sports, both beaches are worth visiting.
What towns are near Orlando?
Cities near Orlando, Florida:
Fairview Shores, FL.
Apoppka, FL.
Pine Castle, FL.
Pine Hills, FL.
Azalea Park, FL.
Winter Park, FL.
Kissimmee, FL.
Tampa, FL.
Oak Ridge, FL.
Maitland, FL.
Is it worth driving from Orlando to Miami?
Driving from Orlando to Miami is worth it, especially for budget travelers seeking to save some money. The distance between both cities is 235 miles, and the driving time is 3h40 minutes.
Browse. Book. Stay.
CuddlyNest provides all accommodations to all travelers at the best price. Find unlimited travel inspiration on our blogs and our social media channels Facebook, Instagram, Pinterest
You May Also Like:
The 10 Best Beaches Near Orlando, Florida
15 Unbeatable Florida Family Vacations with Kids
The 4 Best Family-Friendly Vacation Spots in Orlando
The 15 Best Long Weekend Getaways In The US
The Ultimate North America Travel Guide
10 Best Day Trips From Naples, Florida
The Ultimate Guide For a Pet-Friendly Holiday in Florida
The Best Time To Visit Orlando, Florida
7 Amazing Water Parks In Orlando, Florida
8 Best Hotels Near SeaWorld Orlando, Florida
9 Best Hotels In Orlando, Florida
The 5 Best Hotels Near Downtown Orlando, Florida
The 8 Best Hotels Near Orlando Airport
The 9 Best Pet-Friendly Hotels In Orlando, Florida
The Best Hotels Near Disney World Orlando