Although for many, New Year's is about watching fireworks paint the sky in all the hues of the rainbow and counting down to the second the clock strikes 12 and the champagne gets unbottled, the micro-celebrations of the winter holiday are worth a mention, too, especially this year when most public events will be restricted. After a great New Year's eve, start your new year with flavors around the world.
A great start to a New Year's day is the New Year's brunch. Either you sitting by the table and sharing food with your family in one room or over a Zoom call, you can spend your first hours of the New Year together. We're sharing the top traditional recipes from around the world you can prepare well before, or make in a couple of minutes for New Year's brunch in the morning. With a brunch menu from sweet Vietnamese tofu pudding to savory Spanish omelets, go ahead and get inspired to start your New Years day with the flavors of the world.
Best New Year's Breakfast and Brunch Recipes from Around the World
As travel to most countries is restricted, or you simply choose not to travel for the New Year holidays in 2021, there are other ways to bring new experiences into your daily life. You can take a virtual tour to museums all around the world, or visit some of the greatest and oldest national parks in the world, all through a computer screen. And if that does not aid your urge to travel, then allowing your taste buds to experience exotic flavors and new food combinations may allow you to travel differently. Why not surprise yourself (and your family and friends) with an exotic New Year's brunch this holiday? Take a look at this list and decide what are you going to have for the first meal this year.
Easy Baked French Toast Casserole
French toast is probably one of the most well-known easy recipes to make for holiday breakfast meals or brunches. With tricks like making it from stale bread, using crunchy toppings, to grating orange or lime zest on top, it is easy to obsess over. But have you tried the baked french toast casserole yet? It is a perfect recipe to begin the New Year. Make this sweet addition to your New Year's day brunch, and it will make everyone happy.
Try it: Easy Baked French Toast Casserole
Easy Baked Swedish Cinnamon Rolls
If cinnamon rolls are more of your thing than the French toast, then we advise you to go with this Swedish recipe. Kanelbullar is a classic in coffee parties, as it is also to serve. While cinnamon rolls take some time, if you make the dough from scratch, you can make it ahead, and save the fun part of twisting and baking for New Year's morning. Just imagine the whole house smelling like sweet cinnamon!
Try it: Cinnamon buns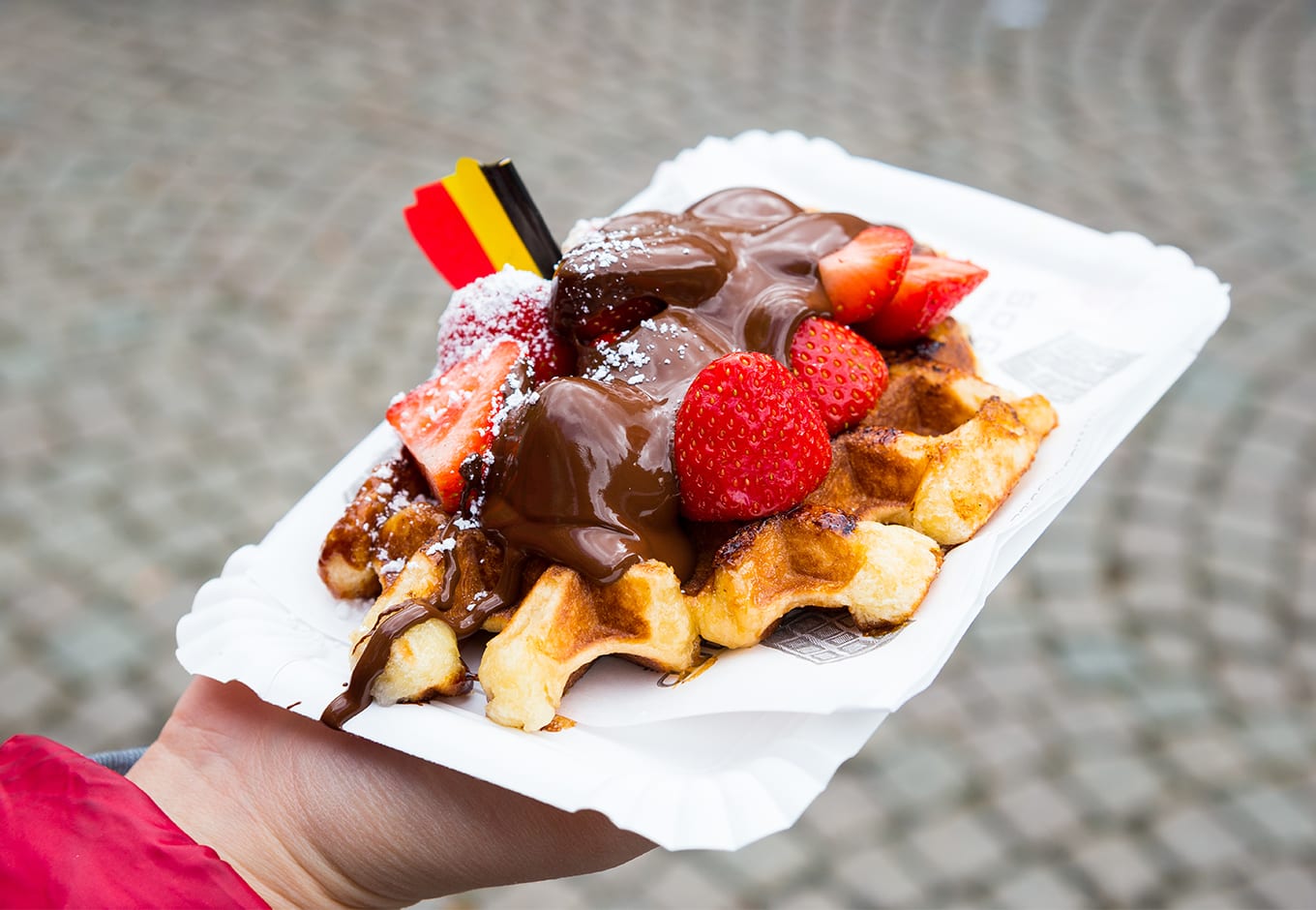 Belgian Waffles
Belgian waffles with their deep pockets for holding lots of syrup are great for those favoring sweet flavors, and everybody can vary their rich taste and fluffy structure by adding toppings of their choice. Serve it with maple syrup, strawberries, cranberries or other fresh berries, homemade jams, or caramelized bananas — the choice is yours to make, and opportunities are virtually endless! Want to make it more healthy? Go with greek yogurt and berries or fried egg and avocado. Anyhow, this Belgian street food staple will make your New Years Day brunch unforgettable.
Try it: Flemish Specialities: Waffles
South European Breakfast
It cannot get easier than flip an omelet to feel like you are in Spain this Christmas holiday. Even if the only option for you to travel to the South of Europe is to make a quick Spanish omelet to begin your New Years Day, it is worth it to start the year by indulging in food. Here are the two options with authentic Southern egg breakfast recipes: Spanish Tortilla and Italian Frittata.
Spanish Tortilla (Spanish Frittata)
If you want to do a make-ahead brunch that is savory and fluffy, then look no further. One of the best things about this egg, potato and onion recipe? It is packed with protein. Although often served as tapa (read about Spanish tapas in Andalusia), this can be a great way to make happy those with taste buds favoring salty flavors. Make it as your main dish for New Year's day brunch ahead of the New Years day, and serve with an arugula salad or tomato basil soup. And though there is no right Spanish way to serve it, if you want to get your morning vitamins while still fighting that hangover, make use of New Year's Eve leftover champagne mixed up with orange juice to arrive at this sweet and sparkly cocktail called Agua de Valencia.
Try it: Authentic Tortilla de Patatas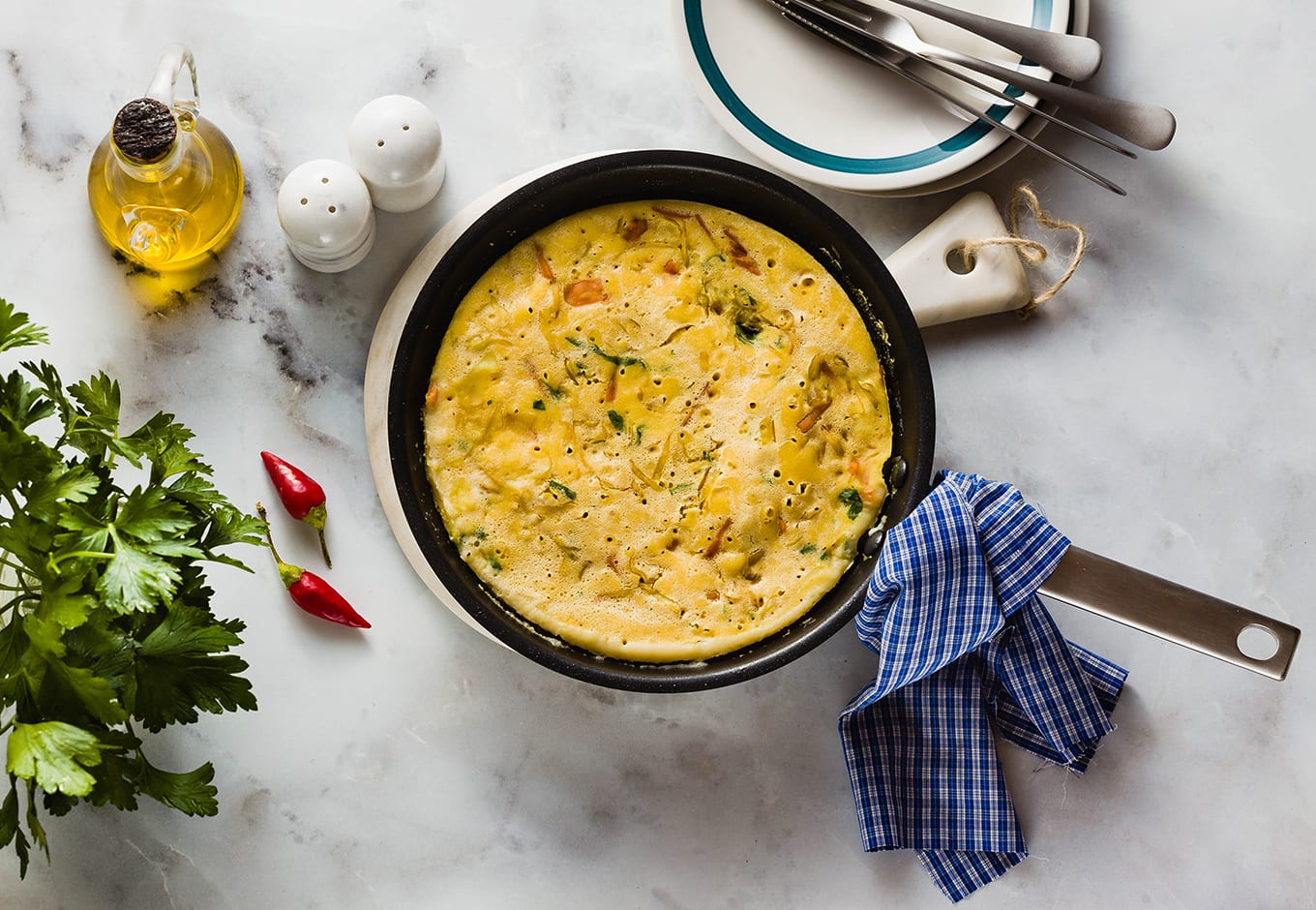 Italian Frittata
Italian frittata, another variation of the deep omelet, is likely to originate from its Spanish tortilla recipe. The difference? Along with eggs and potatoes, include pasta and cheese here, and throw in that bacon left from dinner, and serve for brunch hot in wedges. A little bit more work (30 minutes) before the New Year's day brunch, but it will surely be worth it.
Try it: Authentic Italian Potato Frittata
Steamed Indian Semolina Cake with Oats and Mint Leaves
Are you willing to begin the New Year's Day brunch with a twist of Indian cuisine? Pudina sooji and oats dhokla is a classic dhokla, a variation of the traditional sooji dhokla, and originates in Northern India. This steamed semolina cake can be served along green chutney made of fresh coriander and mint leaves, a perfect addition New Year's brunch to make this meal special for your guests. This great make-ahead no-bake brunch dish will not take you ages to make, and we are sure your guests will love to explore flavors from around the world.
Try it: Pudina Sooji & Oats Dhokla
Delicate Italian Panna Cotta
We already shared the signature Italian dishes to try making at home during the pandemic. While we will allow you to pick your favorite, the delicious and delicate panna cotta is a simple dessert not requiring you to bake. Serve it per person, and make it a night before — it will be good to go the New Year's day! If you want to take up a challenge and try out your hand at tiramisu, go ahead with this Italian staple from Sicily.
Try it: Panna Cotta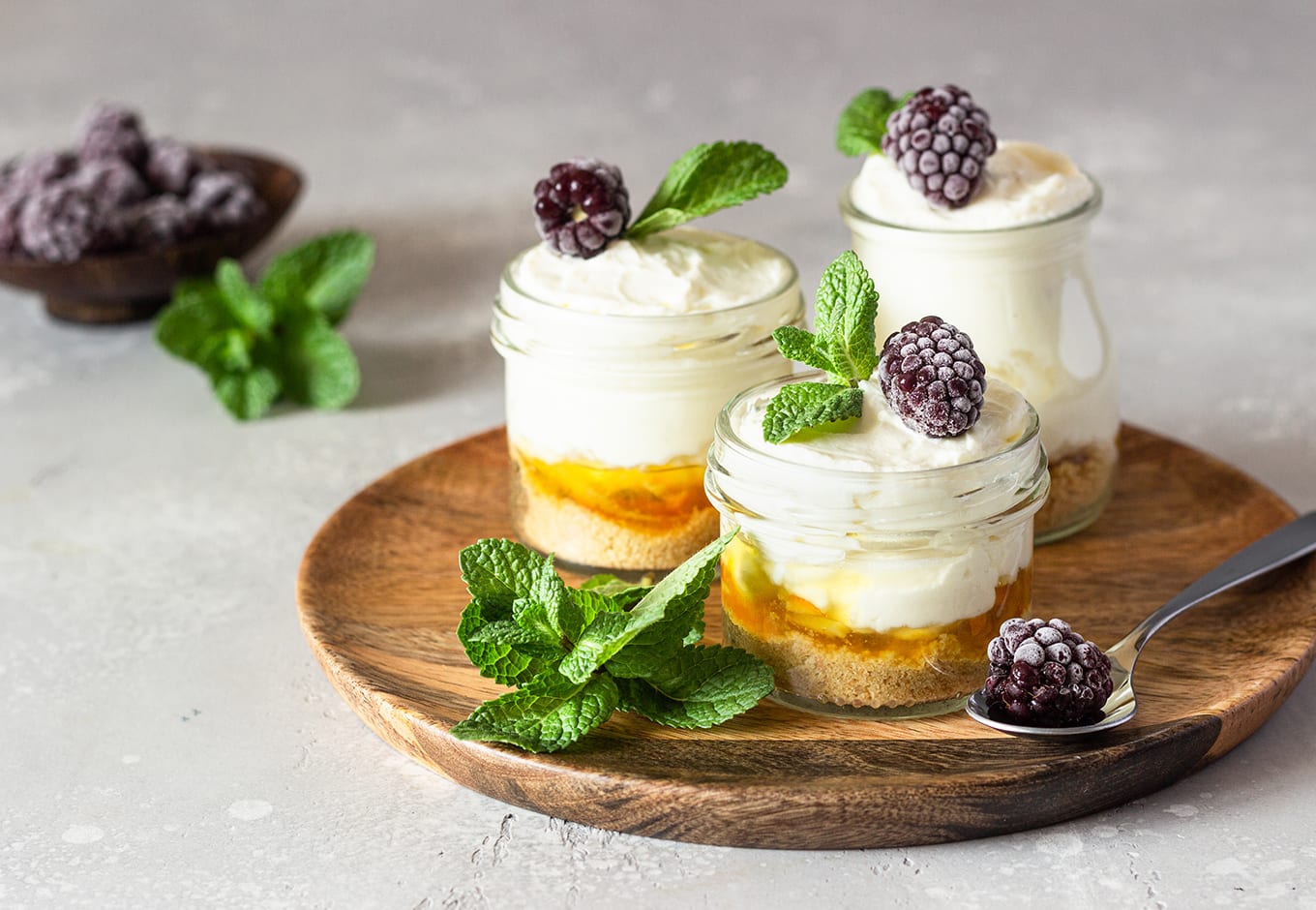 Easy Portuguese Peach Dessert
If your panna cotta comes out so good that your guests have a craving for some more delicious treats, you have this Portuguese peach dessert recipe at hand. Requiring you no more ingredients than heavy cream, sweetened condensed milk, vanilla, jam, and cookies, it can be made on a per-person basis in a couple of minutes before brunch.
Try it: An Easy Portuguese Dessert
Try out a variation with Christmas left-over gingerbreads or cinnamon for a taste for holidays.
Latvian Black Bread Pudding
Another version of a filling vegan Latvian dessert pudding. Made with black rye bread and sweetened with dried fruit, berries and served with heavy cream and cinnamon, it is an easy make-ahead dessert that is much heavier than the light Italian panna cotta, in case you need to balance out a light main dish on your New Year's Day brunch.
Try it: Rye Bread Pudding
Russian Cottage Cheese Pancakes
Although pancakes will take you some time to bake, this Russian breakfast staple will be a delicious addition to the New Year's day brunch to kick start the new year. Made from cottage cheese (dry curd cheese), eggs, flour, and vanilla or raisins, the Russian Syrniki is among the most popular breakfast recipes in the region. This is not a party food and will be the best for those having New Year's day brunch together with a small family, as the pancakes take time to cook. In Russia, the usual breakfast drink is black tea with sugar. If you have more time in the morning, try out the Swedish oven-baked pancake (flaskpannkaka) with bacon.
Try it: Russian Cottage Cheese Pancakes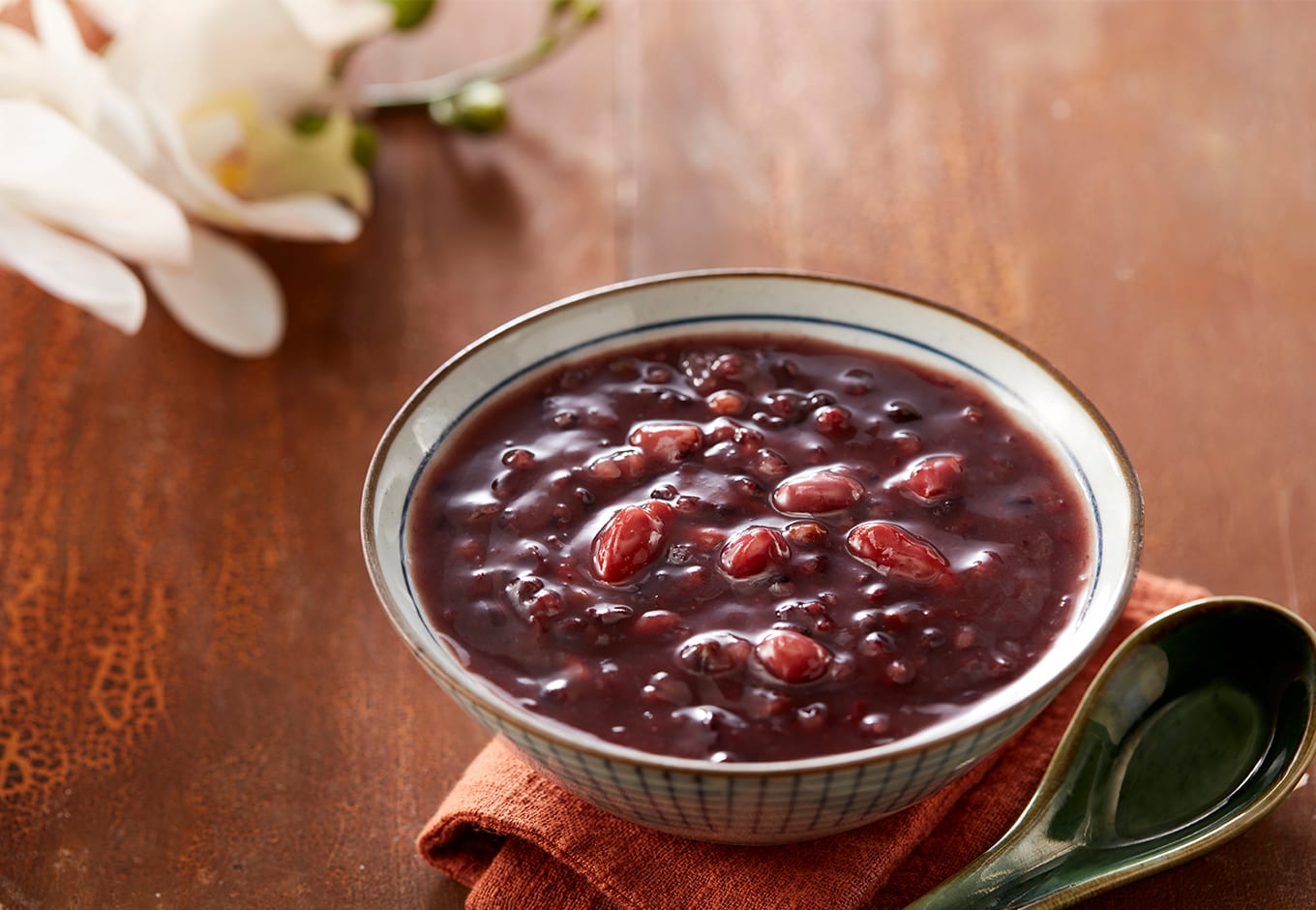 German Cold Fruit Soup with Heavy Cream
German cold fruit soup (kissel) is among some of the most traditional dishes in Baltic and German cuisine. Traditionally made in the summertime from seasonal fruit (cherries, strawberries, plums, forest berries, or apples), you can try out a version of it using store-bought ingredients in wintertime.
Try it: Kissel soup
Vietnamese Silken Tofu Pudding with Ginger Syrup
New Year's is a perfect time for new beginnings. If eggs are off-limits and you want to go vegan, try this egg-free recipe! As good as pudding can go, the Vietnamese Tau Hu Nuoc Duong will make you and your guests fall in love with Southeast Asian cuisine. The tofu pudding should be made at least a day before for beans to soak and the ready-made tofu pudding to set, so plan in some time before the New Year's Eve celebration.
Try it: Vietnamese Silken Tofu in Ginger Syrup Dessert
Still craving a Bloody Mary, some mimosas, and champagne after a long night? Read about the most interesting cocktails and weird European drinks to have your guests and get inspired by the dinner party food ideas to cook for a themed Croatian food party.
Share your favorite New Year's brunch menu recipes and cocktail drink suggestions for your next exotic party.
Browse. Book. Stay.
CuddlyNest provides all accommodations to all travelers at the best price. Find unlimited travel inspiration on our blog and social media channels.
Here are some curated readings for you:
10 Traditional Italian Dishes You Can Make at Home
22 Breakfasts Around the World's 22 Most Awesome Cities
Guide to Traditional German Must-Eats
You might also like:
Coffee Around the World
Best Colorado Coffee Shops
Japanese Tea Traditions