No matter what your vibe, tastes, or interests are, there's always something to do in New York. Dynamic and adrenaline-fuelled, the city is one of the most captivating urban playgrounds on the planet, a place where postcard-worthy landmarks, world-class museums, and iconic entertainment venues meet.
Whether you want to experience dazzling art exhibitions, iconic tourist attractions, lush green spaces, or first-class shopping, it's all here in New York City.
Where to begin? This well-curated New York bucket list is a good place to start — there's something for everyone here, from art lovers to first-time sightseers.
Keep reading to discover what are the 13 New York attractions you must see on your next trip.
Find Places To Stay in New York City, New York
The 13 Best New York City Attractions
Times Square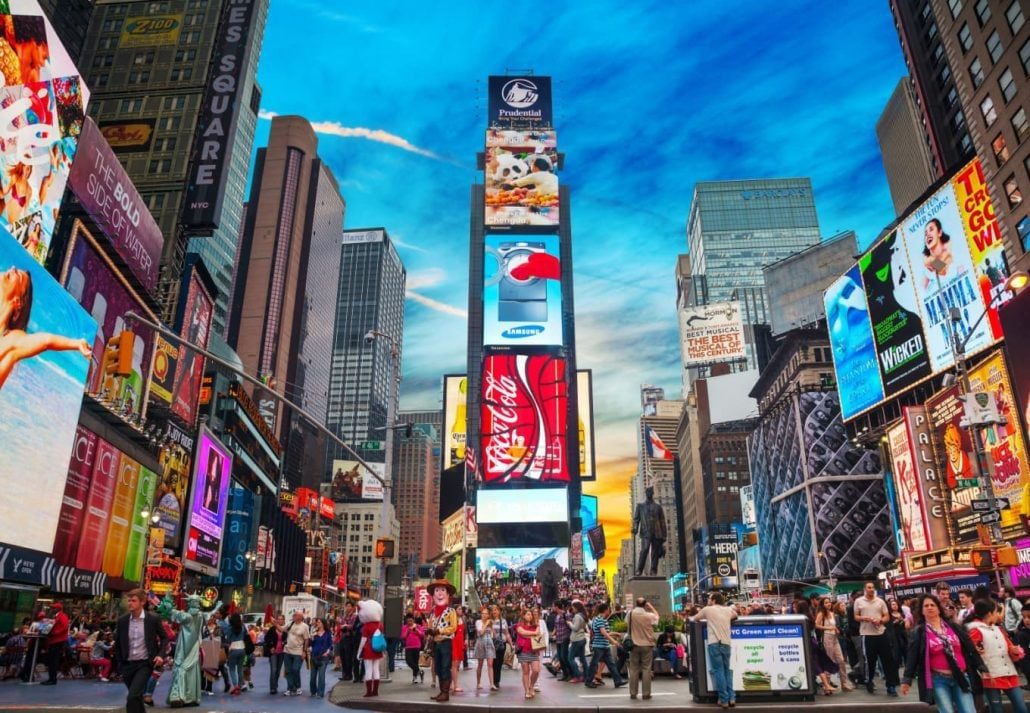 A walk down Times Square is an unparalleled way to absorb New York's energy. Often referred to as the "the Crossroads of the World", this lively area pulses with energy 24/7, and dazzles visitors with its massive billboards and flashing neon lights.
While meandering your way through Times Square, expect to come across historic theaters, restaurants, street performers, and state-of-the-art flagship stores of brands like M&M's, H&M, GAP, and Krispy Kreme.
Empire State Building
Majestically standing at 1,250 feet tall, the iconic Empire State Building is the 4th tallest building in New York City. From the building's observation deck, you'll be able to marvel at the Manhattan skyline in all its glory.
Some of New York City's attractions you can see from the Empire State include the Chrysler Building, Rockefeller Center, One World Trade Center, Central Park, and her majesty The Statue of Liberty.
Curious fact: did you know that the Empire State Building was constructed during a race to create the world's tallest building? Yes. Click here to learn more fun facts about New York that'll blow your mind.
Central Park
Gorgeous green spaces beckon too in NYC. To experience nature in a unique, picturesque setting, head over to the 843-acre Central Park, the most visited urban park in the United States.
Wildlife comes in a spectacular variety in Central Park. This massive lush destination is beautifully dotted with elms, cherry trees, pinetums, tupelos, daffodils, and magnolias, among other eye-popping plant species. Here, you'll also find 275 of the 800 North American bird species.
This breathtaking natural setting provides the perfect backdrop for an array of outdoor activities such as jogging, walking, picnicking, and biking.
At the southeast corner of Central Park, the 6.5-acre Central Park Zoo allows visitors to get face-to-face with an array of wild creatures, including leopards, monkeys, penguins, bears, and pandas.
Grand Central Terminal
The Grand Central Terminal is one of New York's most impressive architectural marvels. Located at 42nd Street and Park Avenue in Midtown Manhattan, the station is the largest commuter rail terminal in the Americas, welcoming 750,000 daily visitors.
A visit to the Grand Central Terminal is worth it even if you don't have a train to catch. You'll certainly stand in awe with the station's cathedral-like building, which was designed in Beaux-Arts and features a 125-foot ceiling vault painted with constellations.
One of the most prominent features of this Beaux-Arts building is the Booth Clock, which is decorated with sculptures of an American eagle and Roman deities, and it's estimated to be worth as much as $20 million.
Little known fact: There is a "whispering gallery" in the dining area of the Grand Central Terminal. In this gallery, people can stand on the opposite corners of the tiled wall and whisper their messages to each other.
New York City Museums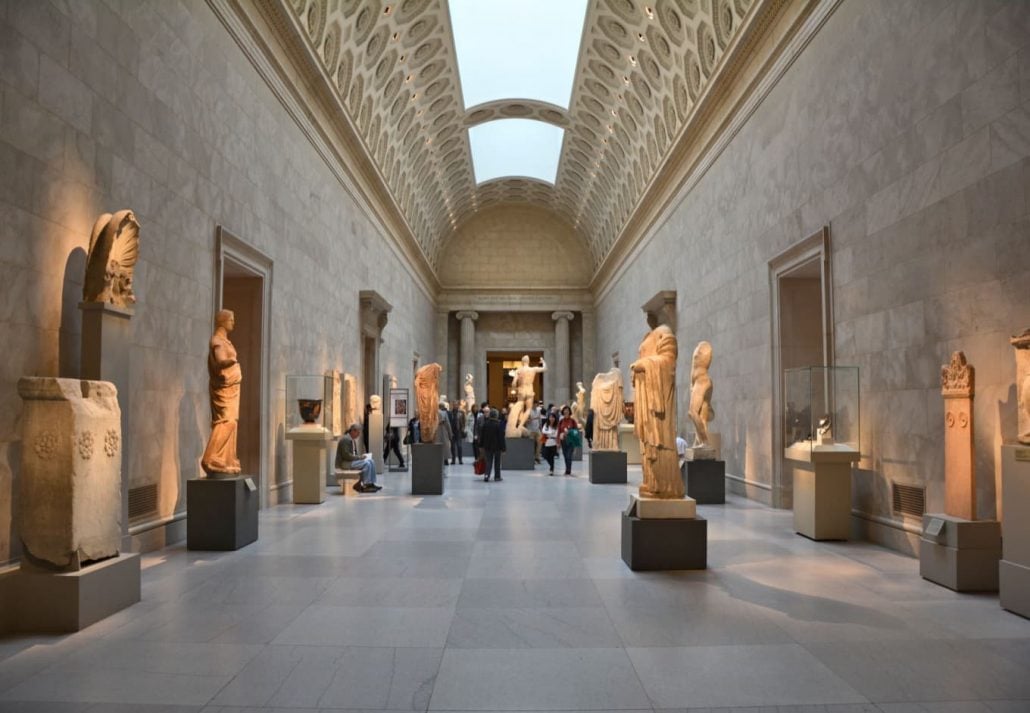 New York has a long itinerary of museums and galleries in-store. Featuring more than two million works of art spanning over 5,000 years, the Metropolitan Museum of Art (MET) is the largest museum in New York and also the most visited. Here, you'll spot masterpieces like "Self-Portrait with a Straw Hat" by Van Gogh, and "Bridge Over a Pond of Water Lillies", by Claude Monet.
The Museum of Modern Art houses almost 200,000 works of modern and contemporary art. If you're short on time, you can opt for MoMA's quick tour, which will take you to uncover works by renowned artists like Van Gogh, Henri Matisse, Claude Monet, and Andy Warhol.
Another bucket-list museum in New York is the Guggenheim Museum. Set within a building designed by the architect Frank Lloyd Wright, the museum boasts 8,000 modern and contemporary artworks by artists like Kandinsky, René Magritte, Jeff Koons, Francis Bacon, and Marc Chagall.
Visiting NYC with the kids? Then head over to the Natural History Museum, where the little ones will be face to face with a giant T Rex, a Blue Whale, and a 15.5-ton iron meteorite!
Statue Of Liberty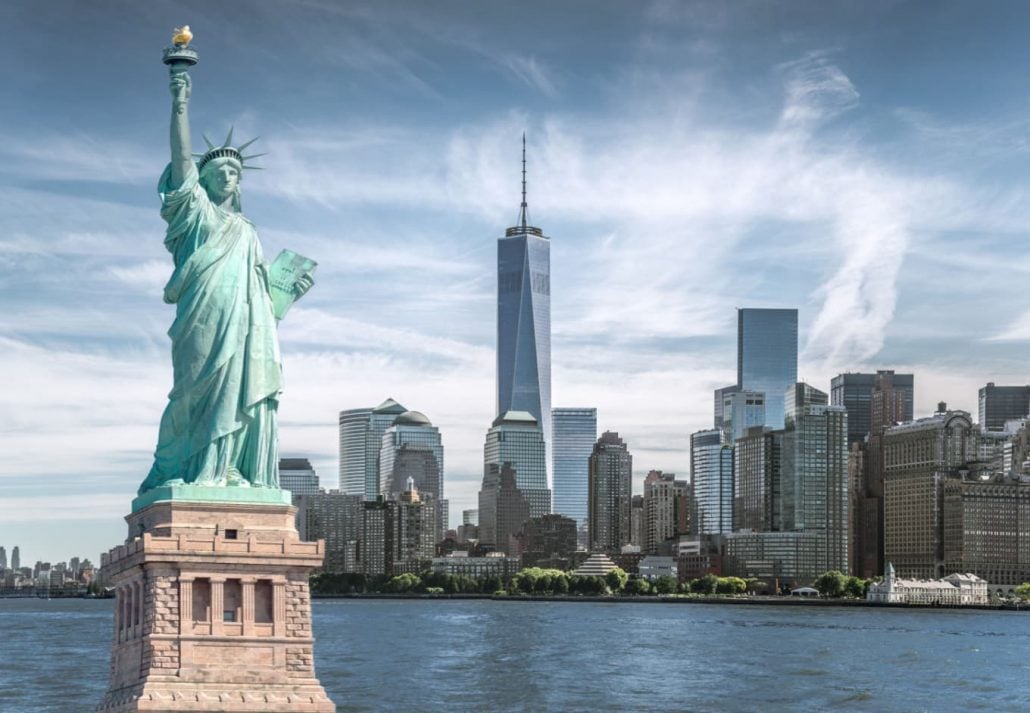 The Staten Island Ferry ride is a bucket-list experience for anyone visiting New York. This iconic ferry runs around the clock from Downtown Manhattan, providing heartwarming views of Ellis Island, Lower Manhattan, Governors Island, and Brooklyn Heights.
During this scenic ride, you'll also get the chance to see the majestic Statue of Liberty. Perched on Liberty Island, this colossal neoclassical sculpture was given as a birthday gift from France to the United States, and become one of the most famous landmarks in the world.
New York Aquarium
The New York Aquarium is the oldest continually operating aquarium in the United States. Occupying 14 acres, this 120-year-old facility is home to over 200 species of aquatic wildlife, including sea lions, penguins, rays, eels, sea otters, octopus, and jellyfish.
Be sure to check out the "Ocean Wonders: Sharks!" exhibition, which holds more than 500,000 gallons of water, and contains 18 species of sharks and a hundred other marine species.
St Patrick's Cathedral
The St Patrick's Cathedral is a shiny architectural gem in New York City. Erected in 1858 in honor of St Patrick, the Patron Saint of Ireland, this alluring Neo-Gothic cathedral features two spires rising 330 feet above the ground, and massive bronze doors that weigh over 9,000 pounds.
After passing through the doors, which depict several saints, you'll see the cathedral's stunning high altar with a 57-foot bronze canopy, and show-stopping stained glass windows behind. You'll also spot two majestic pipe organs of 3,920 and 5,918 tubes, and a spectacular sculpture of Pietà, three times larger than Michelangelo's Pietà in St. Peters Basilica, in the Vatican.
Brooklyn Bridge
Considered a marvel of 19th-century engineering, Brooklyn Bridge is a treasured suspension bridge that spans the East River between the boroughs of Manhattan and Brooklyn. This 3,460-foot bridge was completed in 1883 and was the longest suspension bridge in the world at the time.
Thanks to its iconic steel-wire structure, the Brooklyn Bridge become a legendary New York City landmark, being designated a National Historic Landmark by the U.S. National Park Service.
While walking across the bridge's pedestrian walkway, you'll likely get the chance to see the Freedom Tower (aka One World Trade Center), the Statue of Liberty, the Manhattan Bridge, and the dreamy New York City skyline.
High Line Park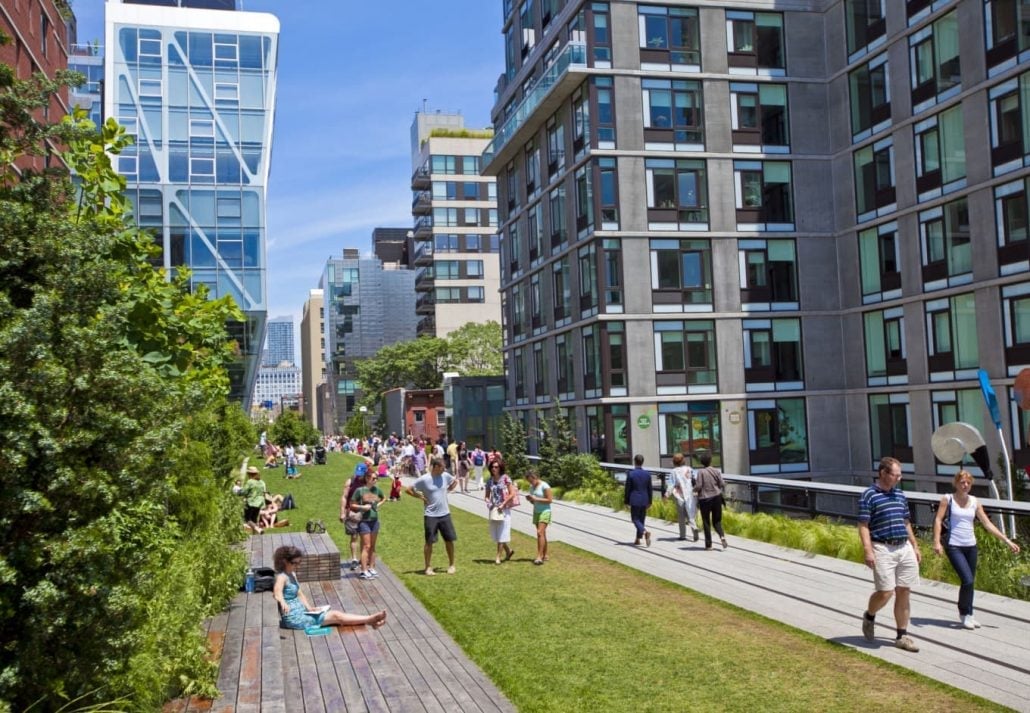 Allow yourself a 40-minute stroll at the idyllic High Line Park. This 1.45-mile-long elevated linear park lies on a disused New York Central Railroad that has been redesigned by James Corner Field Operations, Diller Scofidio + Renfro, and Piet Oudolf.
During the summer months, High Line Park hosts outdoor workout and yoga classes.
One World Trade Center
Located in Lower Manhattan, a central borough for business and culture, the One World Trade Center is the tallest building in the United States. This is the main building of the rebuilt World Trade Center complex.
The complex where the building is located also holds the "9/11 Memorial & Museum", which tells the story of 9/11 through media, narratives, and a collection of authentic artifacts.
On the top of One World Trade Center, there's an observatory deck (the One World Observatory) that rises 1,250 ft. above street level and offers heartwarming views of New York.
Rock Observation Deck, at the Rockefeller Center
home to Radio City Music Hall
Bryant Park
Seeking to escape New York's hustle and bustle? Then, head over to Bryant Park. Located in Midtown Manhattan, this lush 9.6-acre public park is filled with lush green lawns and shaded walkways that are perfect for a jog.
Bryant Park's crown jewel, however, is the ice 17,000 square foot rink, open through the Christmas season in NYC.
New York Public Library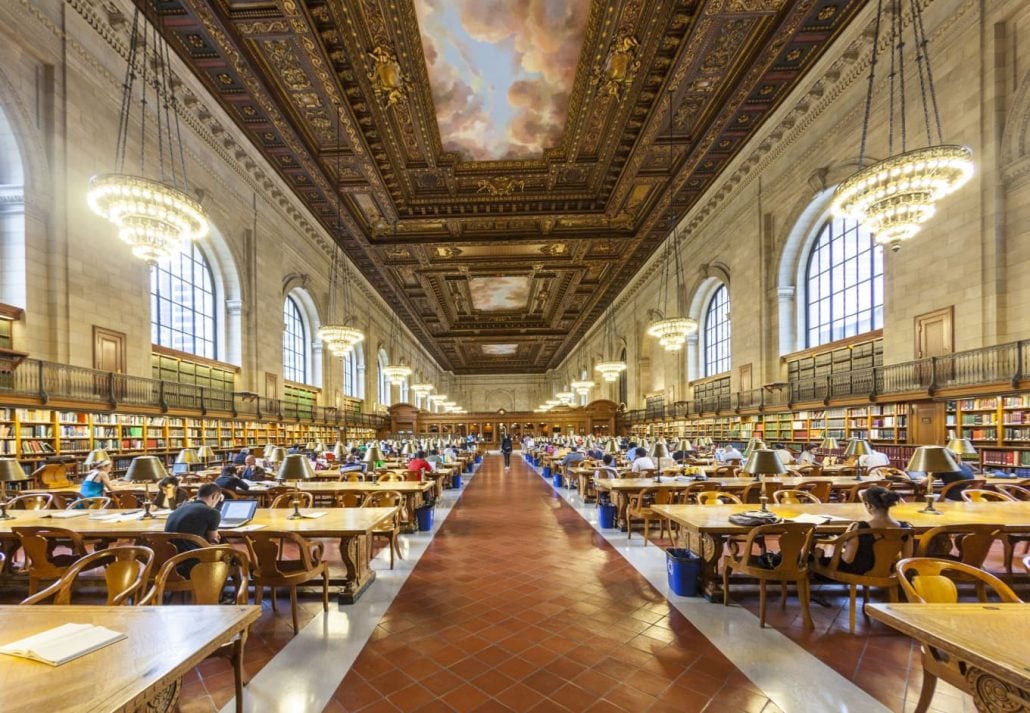 Home to nearly 53 million items and 92 locations, New York Public Library (NYPL) is the second-largest public library in the United States.
The main branch of the "New York Public Library" is located a 1-min walk from Bryant Park, and it's praised for its Beaux-Arts style of building that was designated a New York City Landmark.
Sat side by side in front of the library's entrance, two lion statues named Patience and Fortitude welcome visitors from all over the world. Inside, there are several majestic spaces that house 15 million items in the humanities, social sciences, and fine arts.
The building's more precious space is the majestic Rose Main Reading Room, which measures 78 feet by 297 feet, and boasts 52-foot-tall ceilings displaying murals of vibrant skies and billowing clouds.
FAQ
What is New York City known for?
New York is known for being one of the most visited places in the world. This iconic city draws around 10 million visitors annually thanks to its famous landmarks, tempting shops, and international restaurants.
What are the top attractions in New York?
The 13 top attractions in New York are:
Times Square;
Empire State Building;
Central Park;
Grand Central Terminal;
New York City Museums;
Statue Of Liberty;
New York Aquarium;
St Patrick's Cathedral;
Brooklyn Bridge;
High Line Park;
One World Trade Center;
Bryant Park;
New York Public Library.
How many days are enough in New York City?
5 days in NYC is actually the ideal amount of time if it's your first visit.
CuddlyNest provides all accommodations to all travelers at the best price. Find unlimited travel inspiration on our blogs and social media channels Facebook, Instagram, and Pinterest.
You May Also Like:
8 Best Things To Do In New York City
Where To See The Best Christmas Lights In New York City
10 Best Weekend Getaways in New York State
Berlin vs New York: How Does It Compare?
The Best Things To Do In New York During Christmas
Best New Year City – New Year's Eve In NYC
Fun Facts About Mexico: 50 Things You May Not Know
The Best Time To Visit New York