Turkey has everything – from vibrant beach and garden bars to opulent rooftop bars with city views. No matter where you go, there seems to be an endless choice of craft beers, signature cocktails, freshly roasted coffee, and full-bodied wines.
Even if you're only searching for a cozy spot where you can relax and enjoy your drink, most Turkish bars won't let you leave with an empty stomach. Prepare to relish mouthwatering local and international dishes too. You can find T-bone steaks, kebabs, lobsters, and more on their menus.
Don't wait any longer, browse through our list of the 7 best bars in Turkey!
Find The Best Hotels Near Beaches In Turkey
The 7 Best Bars In Turkey
Geyik – Coffee Roastery & Cocktail Bar
Since 2014, Geyik – Coffee Roastery & Cocktail Bar has been gathering people with similar tastes under one roof. This cozy spot offers perfectly brewed coffee made from high-quality coffee beans. The mastermind behind the irresistible cups of coffee is the co-owner and the award-winning barista Serkan Ipekli.
At night, Geyik transforms itself into an urban-chic cocktail bar. Mixologist Yağmur Engin crafts incredible signature cocktails that are carefully thought-out and unique. If you find yourself in the trendy area of Cihangir, you have to stop by!
Address: Cihangir, Akarsu Ykş. Sok. No:22, 34425 Beyoğlu/İstanbul – Avrupa, Turkey
GIO Rooftop Bar
Centrally located in Kusadasi, GIO Rooftop Bar serves great food, amazing drinks, and features views of the Setur Kusadasi Marina, the city, and the Aegean Sea. The menu highlights cocktails like Cheri Cheri Lady with gin, grapefruit, Campari, orange and tonic. There's also a perfectly mixed Black Irish cocktail with bittersweet sauce, Jameson, and coffee liqueur. If cocktails aren't your thing, enjoy a refreshing glass of beer or wine.
As one of the best rooftop bars in Turkey, GIO also serves mouthwatering food. Taste the flavorful duck risotto, a T-bone steak with spicy potatoes and mushrooms, grilled beef tenderloin and asparagus, and the otherworldly pumpkin creme brulee.
Address: Türkmen, Atatürk Blv. Double TREE Hilton Kuşadası, 09400 Kuşadası/Aydın, Turkey
Buzz Beach Bar
The Buzz Beach Bar on the Oludeniz beachfront stands out with its friendly service, delicious food, an array of drinks. Order a Buzz Punch beach vibe cocktail with Smirnoff and Southern Comfort, Tom Collins with Gordon's Gin and fresh lemon juice, or any other drink on the list. You simply can't make a wrong decision! There are also champagnes and wines, martinis, spirits, smoothies, milkshakes, and soft drinks.
Pair your drinks with grilled chicken paninis, cinnamon and apple crepes, a Mexican hot pizza, a BBQ bacon cheeseburger, creamy carbonara, or grilled kebabs. Yum! Once you've experienced the exquisite flavors, you'll want to return here time and time again.
Address: Ölüdeniz, Denizpark Cd. No:7/B, 48340 Fethiye/Muğla, Turkey
Recommended Read 8 Historical Attractions In Turkey That You Must See
James Joyce Irish Pub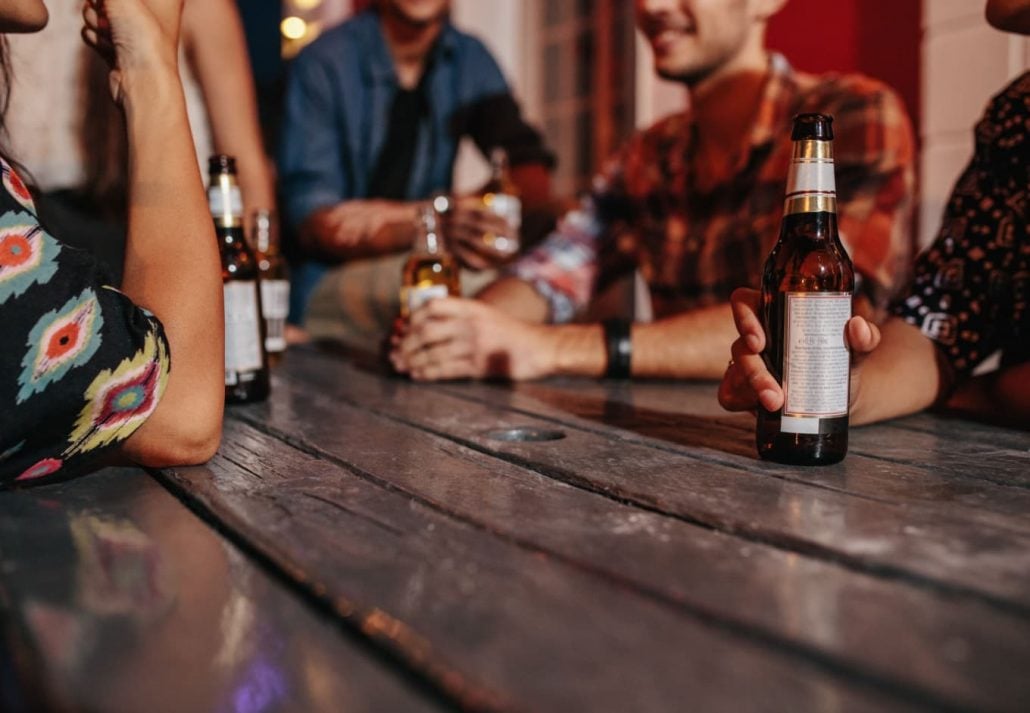 With live music, the best drinks, and an authentic Irish atmosphere, James Joyce attracts guests wanting to relax with a pint of craft beer. To compliment your beverage, relish shrimp nuggets, chips, fresh salads, or croquettes. This is a cozy place that's perfect for catching up with friends or watching major sports events. Plus, the pub hosts fun live bands and fantastic DJs.
Address: Hüseyinağa, Balo Sk. No:26, 34435 Beyoğlu/İstanbul, Turkey
Sensus Wine Boutique Galata
This charming wine bar near Galata Tower offers a large selection of Turkish wines by glass and bottle. Pair them with delicious types of cheeses including the Aegean Tulum, Gruyere, knitted cheese, and more. You can also taste international dishes: salmon tartar, shrimp pizza, a mushroom risotto from the parmesan wheel, lamb chops, and the popular San Sebastian cheesecake. If you're a wine lover, you'll absolutely love this place!
Address: Bereketzade, Kuledibi, Büyük Hendek Cd. No:5, 34420 Beyoğlu/İstanbul, Turkey
Recommended Read A Guide To The Best Night Clubs In Turkey
Vogue Restaurant & Bar
Overlooking the Bosphorus strait, Vogue Restaurant & Bar provides guests with fantastic gastronomic delights and cocktails. The menu has a wide range of tasty dishes such as spaghetti with lobster, beetroot risotto, grilled free-range chicken, sashimi rolls, mochi, and Turkish rice pudding.
Furthermore, the interior of the elegant rooftop bar features images from Vogue Magazine and chic decorations. Wines from the extensive wine list can be enjoyed either indoors or outside, depending on the weather. No matter where you choose to sit, it's impossible to miss the sunset!
Address: Vişnezade Süleyman Seba Caddesi No:134 A Blok Bjk Plaza, Beşiktaş/İstanbul, Turkey
Botanik Garden Bar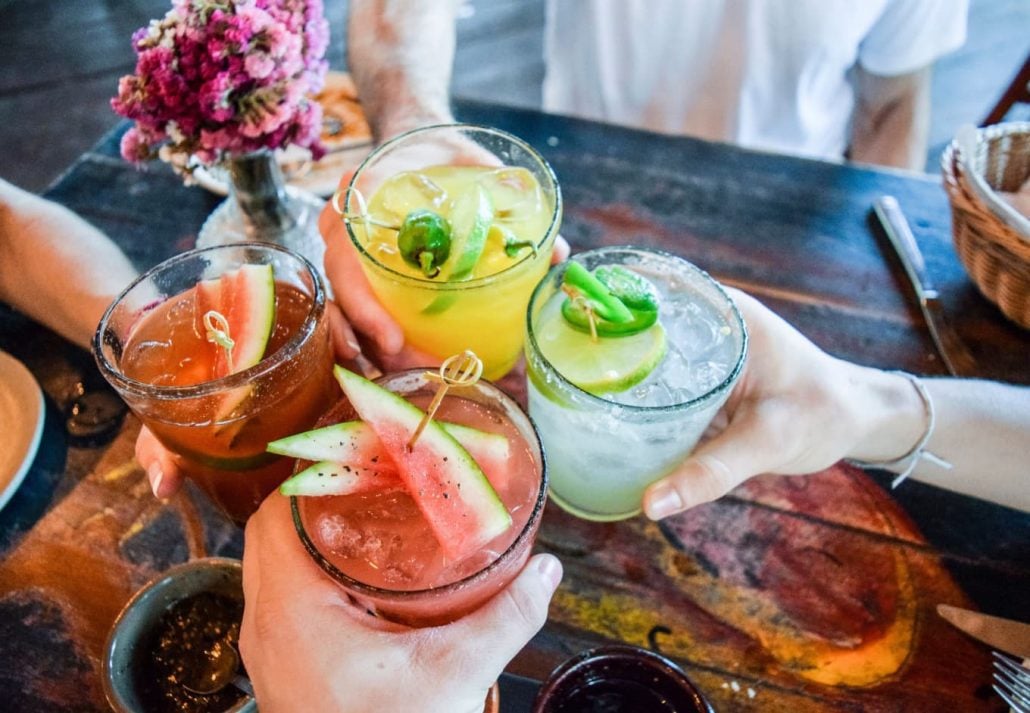 Visitors can unwind in this bar's cozy setting after a long day of sightseeing Kalkan – a beautiful destination on the Turkish Mediterranean coast. The most popular things on the menu include milkshakes, lemonade, strawberry daiquiri, and wines. Plus, the wonderful tree house garden is the ultimate hangout spot and has a warm homey feel to it. Simply allow your worries to fade away here!
Address: Kalkan, 07580 Kaş/Antalya, Turkey
FAQ
What are the best bars in Turkey?
The best bars in Turkey are:
Geyik – Coffee Roastery & Cocktail Bar

GIO Rooftop Bar

Buzz Beach Bar

James Joyce Irish Pub

Sensus Wine Boutique Galata

Vogue Restaurant & Bar

Botanik Garden Bar
Is the nightlife in Istanbul good?
Yes, the city's nightlife is fantastic. It boasts vibrant streets, lively nightclubs, themed parties, and eclectic bars.
What are the best wine bars in Turkey?
The best wine bars in Turkey are:
Pamukkale Wines Bozburun

Solera Winery

Bordo Wine Bar

Viktor Levi Şarap Evi

Pano Wine Bar
What are the best bars near Blue Mosque?
The best bars near Blue Mosque are:
GRACE Rooftop Restaurant

Loti Roof Lounge

Harab'be Cafe

Süreyya Teras Lounge
What are the best Turkish restaurants near Golden Horn?
The best restaurants serving Turkish food near Golden Horn are:
Tomtom Kebap

Antiochia

Bilice Kebap

Aheste

Guney Restaurant

Double Meze Bar
CuddlyNest provides all accommodations to all travelers at the best price. Find unlimited travel inspiration on our blogs and social media channels Facebook, Instagram, and Pinterest.
You May Also Like:
5 Amazing Hotels Near Blue Mosque In Turkey
The Best LGBT-Friendly Bars & Restaurants In Turkey
The 5 Most Beautiful Beaches In Turkey
A Guide To The Best Kid-Friendly Attractions In Turkey
The 5 Best Hotels Near Grand Bazaar In Turkey
Skiing In Turkey: The Best Ski Centers
The 5 Best Hotels Near Taksim Square In Turkey
The 5 Best Wineries In Turkey
The 6 Best Restaurants In Turkey
The Five Best Hotels in Turkey
The 5 Best Amusement Parks In Turkey
The 8 Most Amazing Museums in Turkey
12 Amazing Art & Cultural Attractions In Turkey