Kyoto is well-known for harboring a wealth of culturally rich sites, from temples to imperial palaces, dating back thousands of years. But this beautiful Japanese destination is also a retail heaven, as it boasts a plethora of top-notch shopping locations.
While exploring the alluring streets of Kyoto, you'll be happy to find a tempting selection of department stores, lively flea markets, shopping malls, high-end boutiques, and traditional and modern shops.
So, whether you're seeking to find vintage clothes, quirky souvenirs, or stylish home furnishings, you're sure to find them in and around Kyoto.
To help you have a one-of-a-kind shopping experience, we've created a guide to the top 8 places to shop in Kyoto. Read on to learn more!
Find Places To Stay In Kyoto, Japan
The 7 Best Places To Shop In Kyoto
Kyoto Handicraft Center
Are you looking to bring back home some authentic Japanese souvenirs? Then head over to the Kyoto Handicraft Center. Inside this seven-story center, you'll find a dazzling range of traditional craft-work goods that are unique to Japan and Kyoto.
Some of the items you'll come across while browsing through the Kyoto Handicraft Center include beautiful lacquerware, porcelain, pearl jewelry, woodblock prints, fabrics kimonos, and even ornamental swords.
Address: 17 Shogoin Entomicho, Sakyo Ward
Nishiki Market
With over 400 years of history, the famous Nishiki Market is the go-to shopping destination for those seeking to buy Kyoto's famous foods and goods.
This vibrant market located in downtown Kyoto is dotted with stalls selling all kinds of local culinary delights such as Japanese sweets, pickles, dried seafood, and sushi. Due to the fact that Nishiki is a veritable haven for foodies, it is also known as "Kyoto's Kitchen".
In addition to an abundance of food, Nishiki Market also sells also kitchenware and other Japanese souvenirs. One of the market's most famous shops is Aritsugu Knives, a legendary knife shop that is popular among Japan's top professional chefs. It's possible to get the knives engraved, which makes for a great memory or even a gift.
Address: Nakagyo Ward, Kajiyacho, 219
Kyoto Takashimaya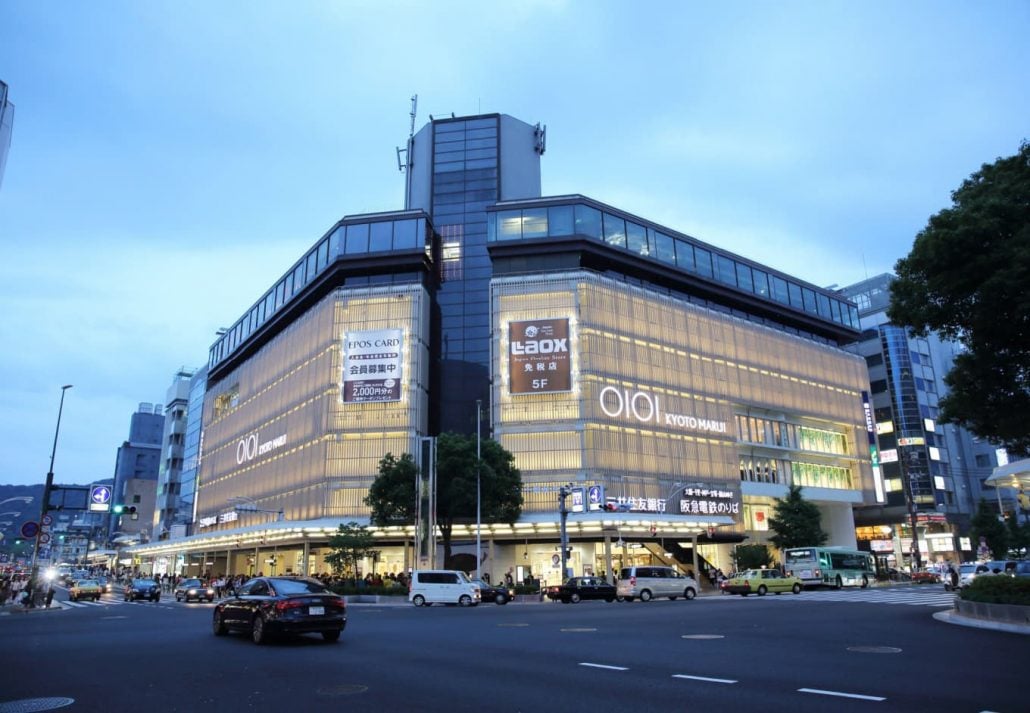 Founded in Kyoto in 1831, Takashimaya started as a small secondhand clothing and cotton cloth store run by a married couple. Throughout the years, the store grew to become one of Kyoto's most famous department stores, and today it's well known for its dazzling selection of high-end fashion brands.
While snooping around Takashimaya, shoppers will come across a variety of luxury items of different categories, such as cosmetics, clothing, watches and jewelry, sports goods, and travel gear.
Some of the international boutiques visitors will find at Takashimaya are Coach, Furla, Gucci, Hermes, Tiffany, Rolex, and Montblanc, to name a few.
Address: 〒600-8520 Kyoto, Shimogyo Ward, Shincho, 52
Aeon Mall Kyoto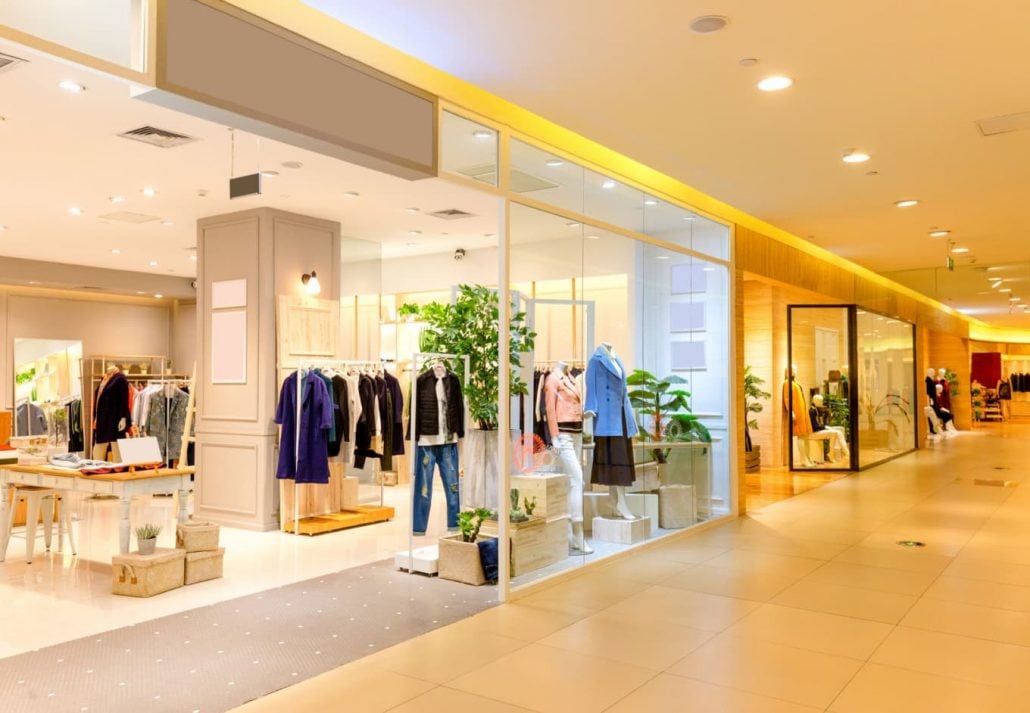 Aeon Mall Kyoto is a popular shopping mall located just a five-minute walk from the JR Kyoto Station. Inside the mall there are dozens of mid-range retail stores, making it a prime location for shoppers seeking to find items at reasonable prices.
Some of the well-known stores located in Aeon Mall include The Gap, Muji, and Daiso, a 100 yen store (all goods are priced at 100 yen before tax).
In addition to dozens of retail stores, this mall also houses a grocery store, an arcade, and a movie theater that shows Japanese and international movies
Address: 1 Nishikujo Toriiguchicho, Minami Ward, Kyoto, 601-8417
Kyoto Station Building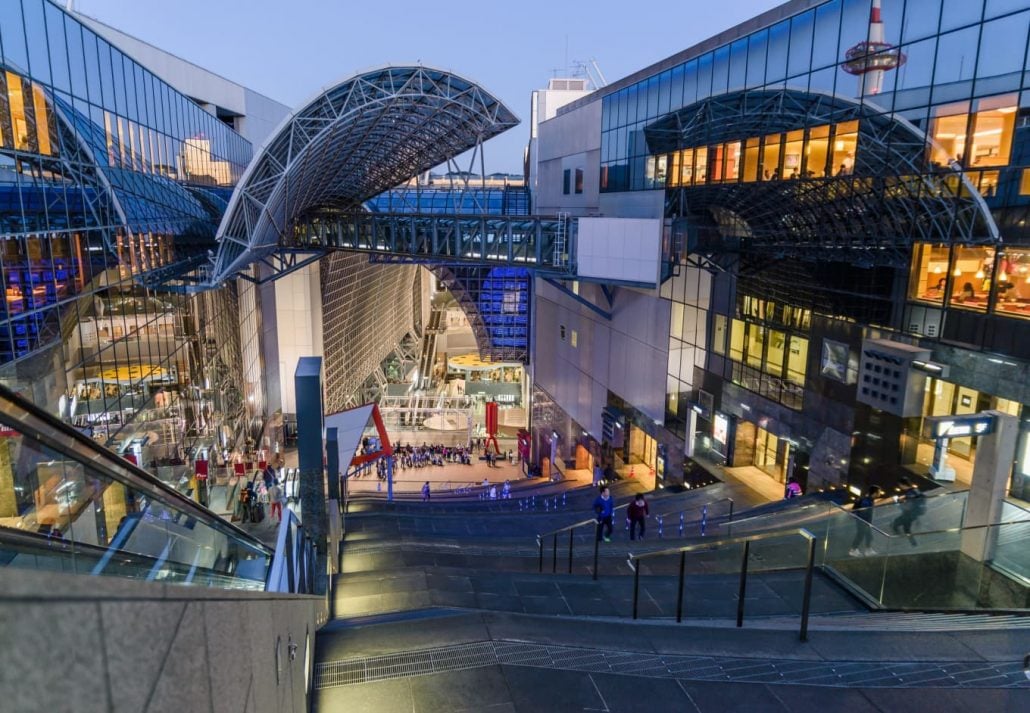 Kyoto Station is self-described as "more than just a place to catch a train". Set within a massive ultra-modern complex of glass and steel, the station is an attraction itself thanks to its grandiose architecture and the wide array of facilities and services available.
One of the station's most popular shopping spots is "The Cube", a large Isetan department store that sells confectionery, souvenirs, and fashion items. On the first floor of this store, you can buy all kinds of sweet souvenirs that are unique to Kyoto, including a variety of sweet and savory sembei rice crackers.
Another must-visit shopping destination in the Kyoto Station is Isetan, a major department store that occupies thirteen floors on the building's northwest side. Inside the shop, there's a myriad of items ranging from clothing to homeware, and jewelry.
While exploring the Kyoto Statio Building, be sure to stop by Kyoto Yodobashi. This large department store is home to the well-known Yodobashi Camera, considered one of the best electronics stores in Kyoto.
Daimaru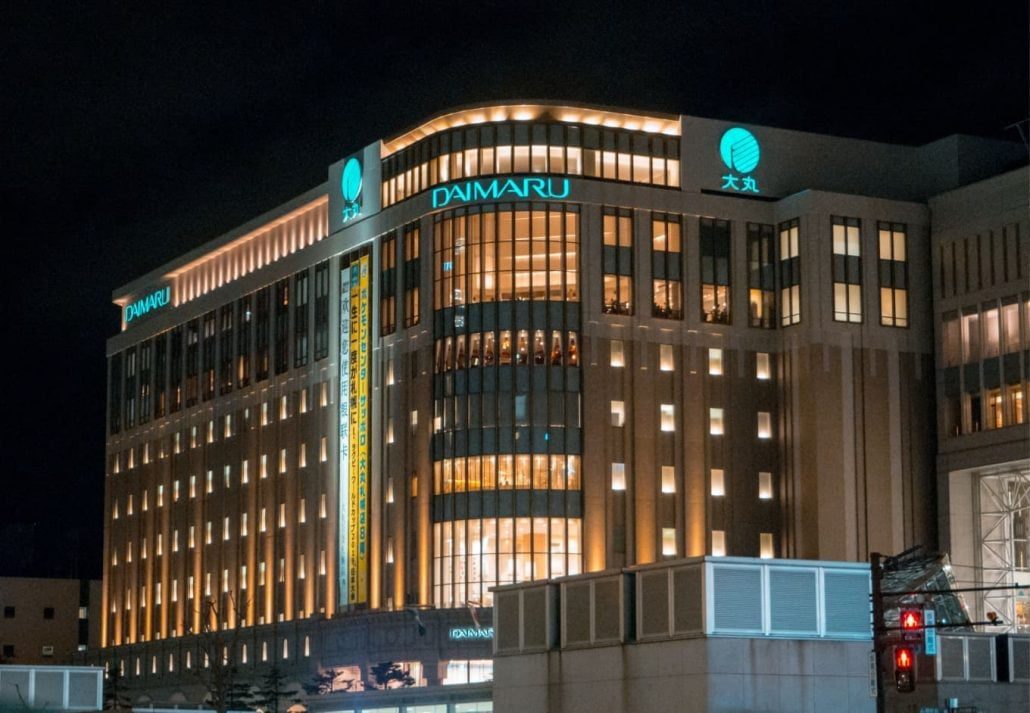 Daimaru is one of Kyoto's two largest department stores and a bucket-list place for luxury-loving shopaholics. Like Takashimaya, Daimaru has a huge selection of international brands and high-end fashion boutiques such as Hublot, Estee Lauder, Omega, Jimmy Choo, Chopard, and Jo Malone.
The store also features an impeccable food floor filled with lip-smacking restaurants and cafes serving both Asian and international dishes.
Address: 〒600-8511 Kyoto, Shimogyo Ward, Tachiuri Nishimachi, 79
Tenjin-San Flea Market
Once a month on the 25th, the Kitano Tenmangu Shrine area comes alive with the Tenjin-San flea market.
Boasting over 1,000 participating vendors, this bustling market is one of the largest not only in Kyoto but in the entire Kansai area.
While meandering through the market's lively stalls, you'll stumble upon a variety of antiques, but mostly fabrics and second-hand kimonos. Not by chance, Tenjin-San is considered one of the best places to buy good quality fabric shopping in Kyoto.
The market is also dotted with food stalls selling all kinds of Asian delicacies such as fried noodles, and candied fruits.
Address: Bakurocho, Kamigyo Ward, Kyoto, 602-8386
FAQ
What are the best places to go shopping in Kyoto city?
The best places to go shopping in Kyoto are:
Kyoto Handicraft Center;
Nishiki Market;
Kyoto Takashimaya;
Aeon Mall Kyoto;
Kyoto Station Building;
Daimaru;
Tenjin-San Flea Market.
Is Kyoto good for shopping?
Yes, Kyoto is a great place for shopping. There, you'll find malls, traditional shops, upscale stores, flea markets, and souvenir shops that cater to every taste and budget.
What are the best shopping malls in Kyoto?
The best shopping malls in Kyoto are the Kyoto Station Building and Aeon Mall Kyoto.
CuddlyNest provides all accommodations to all travelers at the best price. Find unlimited travel inspiration on our blogs and social media channels Facebook, Instagram, and Pinterest.
You May Also Like:
20 Countries Where You Can See the Japanese Cherry Blossoms
The Ultimate Asia Travel Guide
The 5 Best Sakura Places in Singapore
A Guide To The Best Shopping In Japan
The 6 Best Restaurants In Hiroshima, Japan
The 7 Best Beaches In Japan
A Guide To The Best Dining Areas In Japan
Kinrō Kansha No Hi: All About Thanksgiving Day in Japan
5 Best Hotels In Tokyo
A Guide To The Best Shopping in Singapore