Once the capital of Japan and the emperor's residence, Kyoto is home to an array of culturally rich sites dating back thousands of years.
Among the city's precious landmarks, visitors will find a collection of more than 2,000 Buddhist temples and Shinto shrines, each special in its own way.
Many of which, by the way, have been designated collectively as World Heritage Sites by UNESCO.
Visiting Kyoto's serene temples is a unique way to delve deep into the culture, traditions, and history of Japan which you won't find anywhere else.
Check out some of the most important Kyoto temples, and shrines that are must-sees on your next visit. Japan's ancient capital will certainly leave you in awe!
Find Places To Stay In Kyoto, Japan
The 9 Best Temples in Kyoto
Kiyomizu-dera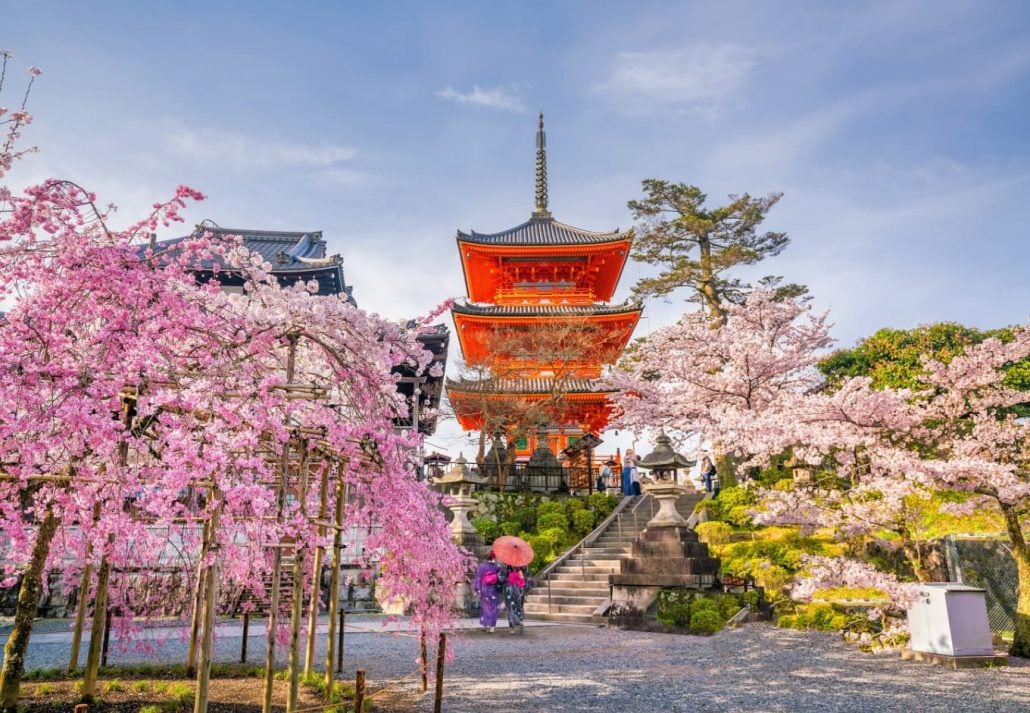 With over 1200 years of history, Kiyomizu-dera is one of Kyoto's most alluring locations. This dreamy temple was founded in 778 AD as a holy place where Senju Kannon, a deity of great mercy and compassion, is worshipped.
When you visit the temple, simply put your hands together when in front of the statue of Kannon.
Kiyomizu-dera lies gloriously halfway up Mt. Otowa, one of the peaks in Kyoto's Higashiyama mountain range.
The temple grounds are spread over 130,00 square meters, and it encompasses 30 Buddhist buildings, many of which have been destroyed by fires and rebuilt over time.
The temple's most famous feature is, unarguably, the wooden Kiyomizu stage, which offers visitors the most showstopping views of Kyoto.
Other important buildings located within the temple complex are the main hall, which houses the temple's primary object of worship, and the Jishu Shrine, dedicated to the deity of love and matchmaking.
Due to its cultural, religious, and historical significance, Kiyomizu-dera Temple was a UNESCO World Heritage Site as one of the Historic Monuments of Ancient Kyoto, in 1944.
Address: 1 Chome-294 Kiyomizu, Higashiyama Ward
Fushimi Inari Shrine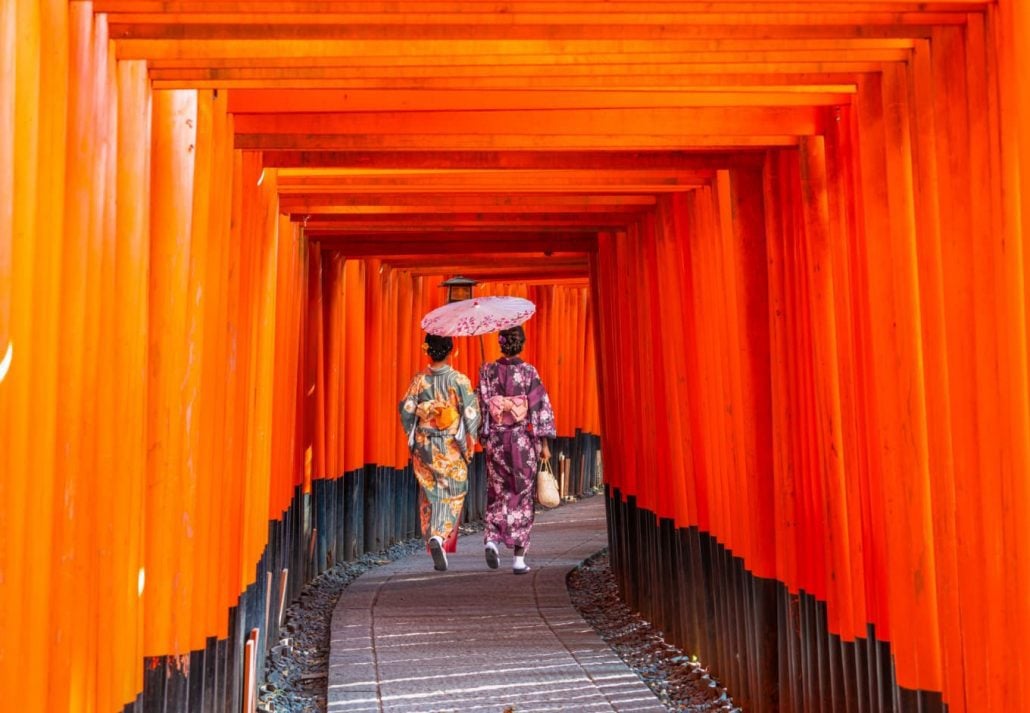 The Fushimi Inari Shrine is a sight to behold. Located in southern Kyoto, this magnificent Shinto shrine is well-known for its thousands of bright orange Torii gates, which straddle a network of trails, which leads up to the 764 ft tall Mt.Inari.
At the base of the mountain lies Fushimi Inari's main shrine. Throughout the area, visitors will find several statues of foxes, who are believed to be the divine messengers of the deity Inari.
Considered the most important shrine dedicated to Inari, the Shinto god of rice, the shrine is believed to have been founded in 711 AD before Kyoto became Japan's capital.
In the 1300 years since its establishment, thousands of people have gathered here to pray for bountiful harvests, business prosperity, the safety of their homes and family, and the fulfillment of their wishes.
To express gratitude to the deity of the shrine, visitors traditionally donate a torii gate whenever their wish comes true or when making a prayer for prosperity.
Address: 68 Fukakusa Yabunouchicho, Fushimi Ward
Heian Shrine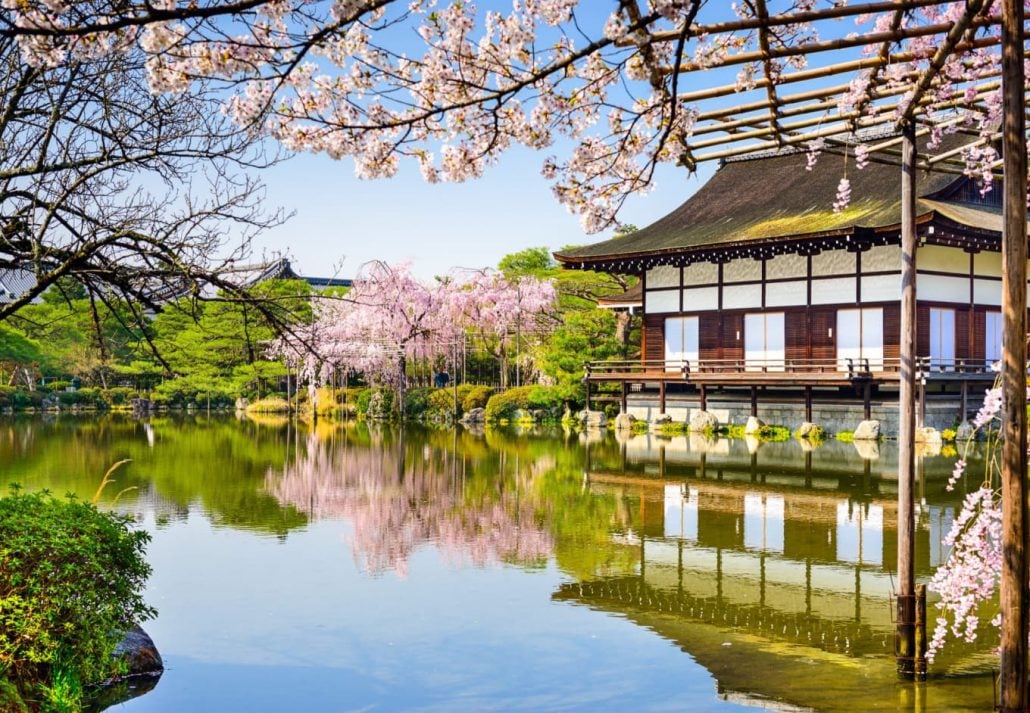 Built to celebrate the 1100th anniversary of the capital's foundation in Kyoto, Heian Shrine is one of the city's newest shrines.
A massive torii gate (one of the largest and tallest in Japan), marks the road leading to the shrine, which is home to a variety of constructions that replicate the original Imperial Palace from the Heian Period.
One of Heian's most dazzling features, however, is the shrine garden located behind the main buildings.
There, visitors will find a breathtaking collection of 300 cherry blossom trees, whose stunning reflections can be seen in the pond's glittering waters.
Address: Okazaki Nishitennocho, Sakyo Ward, Kyoto, 606-8341, Japan
Recommended Read: The 10 Best Places To See Cherry Blossoms in Kyoto
Kinkaku-ji Temple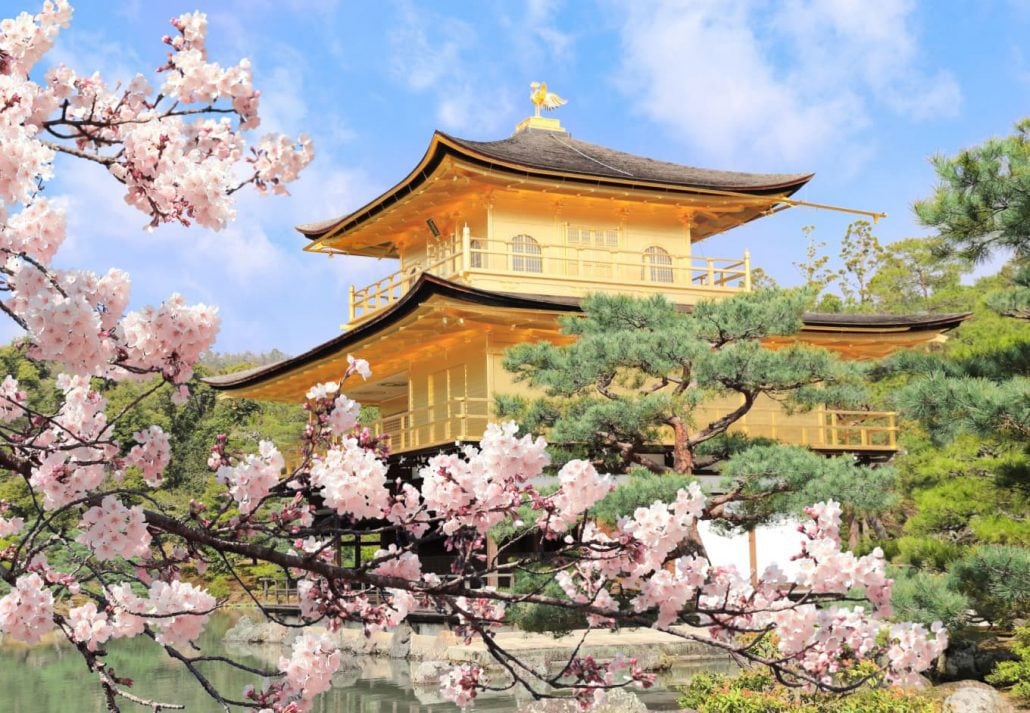 Kinkaku-ji is one of the grandest temples in Kyoto. Also referred to as Rokuon-ji, the building was first constructed in 1397 CE to serve as the retirement residence of the shogun Ashikaga Yoshimitsu (r. 1368-1394/5 CE).
After Yoshimitsu's death in 1408 CE, it was converted into a Rinzai zen Buddhist temple.
Kinkaku-ji is gloriously located by a sparkling pond surrounded by serene gardens. The temple boasts a fascinating mix of three distinct Japanese architectural styles, and it's particularly famous for its two top floors that are lavishly covered in gold leaf. Not by chance, the Kinkaku-ji is also known as the Golden Pavilion.
Inside the temple, visitors will come across precious statues and relics of Buddha, as well as a shrine to Kannon, a deity of mercy and compassion.
The top floor of Kinkaku-ji gives a fantastic view of Mt. Kinugasa.
Yasaka Shrine
Yasaka Shrine was founded more than 1,350 years ago in honor of a guardian deity called Susanoo, and the goddess Kushinadahime.
Also known as Gion Shrine due to its location in Kyoto's Gion district, Yasaka comprises several buildings, including gates, a stage, and the main hall.
For more than 1150 years, the shrine has been hosting the traditional Gion Festival, one of the most famous and largest festivals in Japan.
This Shinto festival happens throughout the entire month of July and features a variety of rituals in honor of the purification and pacification of disease-causing entities
Address: 625 Gionmachi Kitagawa, Higashiyama Ward
Kennin-ji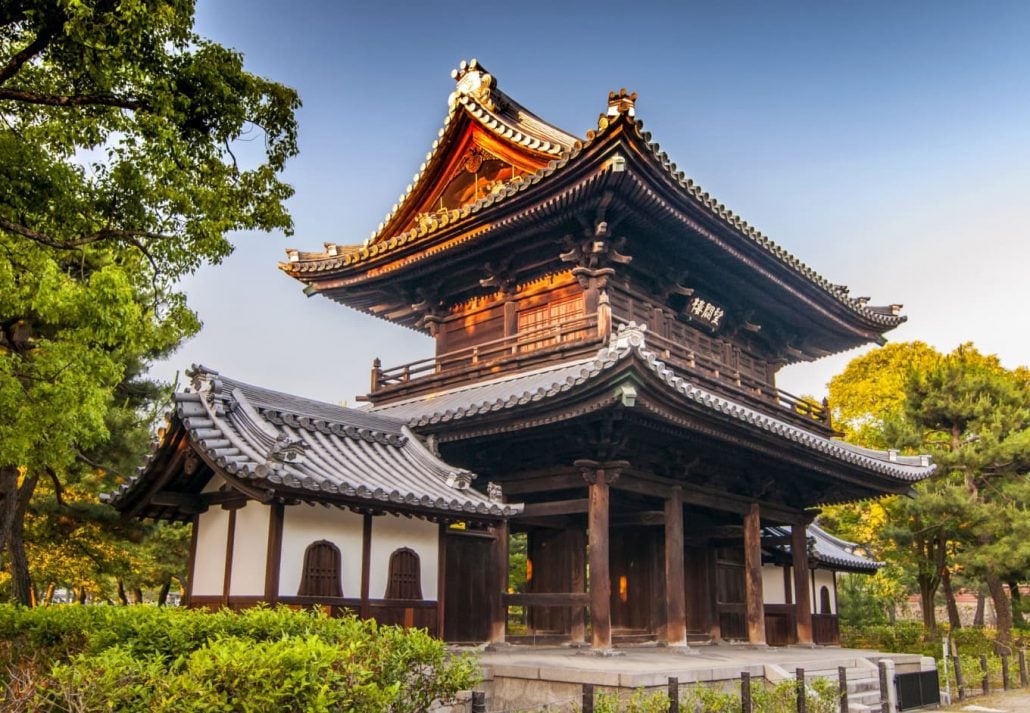 Kennin-ji is a dreamy temple located just south of Kyoto's famous Gion district. Considered to be one of the so-called Kyoto gozan, or "five most important Zen temples of Kyoto," it was founded in 1202 and claims to be the oldest Zen temple in the city.
The temple consists of several large halls and gates with a series of smaller buildings arranged around them.
While most of the temple grounds are freely open to the public, visitors have to pay an entrance fee to access the main buildings.
Inside the paid grounds, visitors will be able to uncover the interiors of the main buildings, as well as a variety of lush gravel and moss gardens.
Highlights of the temple include whimsical images of dragons painted on the interior sliding doors and a gilded folding screen adorned with one of the most famous images of the wind and thunder gods.
Another must-see feature of Kennin-ji is the strikingly beautiful ceiling of the Dharma Hall, which boats an ink painting of two giant dragons.
Address: Higashiyama Ward, Komatsucho, 584
Ginkakuji Temple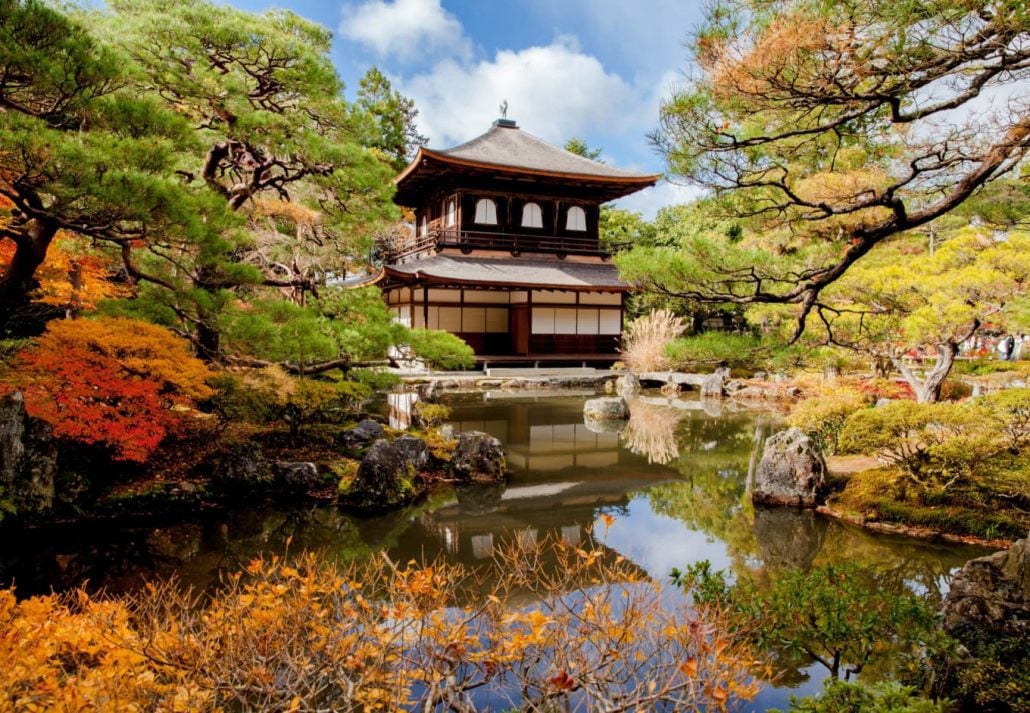 Ginkakuji, officially named Jishō-ji, is a zen temple located along Kyoto's eastern mountains (Higashiyama).
It was originally built by Ashikaga Yoshimasa, the 8th shogun of the Muromachi shogunate, as a retirement villa.
After Yoshimasa died, the villa became a temple named after Yoshimasa's posthumous Buddhist name of "Jishō-ji". 
For the temple's architecture, Yoshimasa sought to emulate the famous Kinkaku-ji, aka the Gold Pavillion, which had been commissioned by his grandfather Ashikaga Yoshimitsu. For that reason,
Ginkakuji is also known as the "Silver Pavilion", in contrast to his grandfather's temple. It is also said that moonlight reflecting on the building's dark exterior (which used to be covered in black lacquer) gave it a silvery appearance.
Ginkakuji consists of several temple buildings, magnificent halls, a unique sand garden, and a beautiful moss garden, which is embellished with, little streams, various plants, and ponds decorated with islands and bridges.
Address: 2 Ginkakujicho, Sakyo Ward
Toji Temple
Toji Temple was founded at the beginning of the Heian Period just after the capital was moved to Kyoto in the late 700s.
Located in the south of Kyoto, around a 15-minute walk from Kyoto Station, this UNESCO-listed temple comprises a collection of fascinating buildings, each with its own features and charm.
Toji's main structure is the Kondo Hall, which was destroyed by a fire and 1486 and reconstructed in the early Edo Period in a contemporary architectural style.
The hall plays host to the temple's main object of worship, a wooden statue of the Yakushi Buddha, flanked by his two attendants, the Nikko and Gakko Bodhisattvas.
Just next door there's the Kodo Hall, which houses 19 statues imported by Kobo Daishi from China. They're all arranged according to a mandala with Dainichi Buddha (Vairocana) at the center, surrounded by Buddhas, bodhisattvas, and the fearful and guardian kings.
The temple also boasts a 5-storied pagoda — the tallest in Japan — that can be seen from several places across Kyoto.
Address: 1 Kujocho, Minami Ward
Tenryu-ji
The Tenryu-ji temple is the most important temple in Arashiyama, a scenic district at the foot of the mountains on the western outskirts of Kyoto.
Colloquially known as the Temple of Heavenly Dragon, it was built in 1339 by the ruling shogun Ashikaga Takauji in memory of Emperor Go-Daigo (1288-1339),
Since its founding, Tenryu-ji has been repeatedly destroyed by eight major fires, and most of its halls date from the relatively recent Meiji Period (1868-1912).
Unlike the temple buildings, Tenryuji's garden survived the centuries in its original form and grew to become to temple's main attraction.
Developed by the famous garden designer and Zen master Musō Soseki, who also designed the gardens of Kokedera and other important temples, the well-manicured garden flaunts an alluring central pond surrounded by rocks, pine trees, and the forested Arashiyama mountains.
The temple, which serves as one of the headquarters of the Rinzai School of Zen Buddhism, is also famous for its gorgeous dragon painting in its Dharma Hall.
Address: Ukyo Ward, Sagatenryuji Susukinobabacho, 68
FAQ
How many temples are there in Kyoto?
There are over 1600 temples in Kyoto.
What are Kyoto's best temples and shrines?
The 10 best shrines and temples in Kyoto are:
Kiyomizu-dera;
Fushimi Inari Shrine;
Heian Shrine;
Kinkaku-ji Temple;
Yasaka Shrine;
Kamo Shrine;
Kennin-ji;
Ginkakuji Temple;
Toji Temple;
Tenryu-ji.
What is the most famous temple in Kyoto?
With over 1200 years of history, Kiyomizu-dera is one of Kyoto's most popular temples.
What is the most famous shrine in Kyoto?
Known for its bright red torii gates, Fushimi Inari Shrine is one of Kyoto's best-known shrines.
CuddlyNest provides all accommodations to all travelers at the best price. Find unlimited travel inspiration on our blogs and social media channels Facebook, Instagram, and Pinterest.
You May Also Like:
20 Countries Where You Can See the Japanese Cherry Blossoms
The Ultimate Asia Travel Guide
The 5 Best Sakura Places in Singapore
A Guide To The Best Shopping In Japan
The 6 Best Restaurants In Hiroshima, Japan
The 7 Best Beaches In Japan
A Guide To The Best Dining Areas In Japan
Kinrō Kansha No Hi: All About Thanksgiving Day in Japan
5 Best Hotels In Tokyo
A Guide To The Best Shopping in Singapore