The first and most central borough of Berlin, Mitte is gleaming with unrivaled attractions and experiences. Located along the Spree River, this bustling area offers both locals and tourists options for enjoying something new every day, whether it's art, food, history, or shopping.
In Berlin's Mitte neighborhood, travelers are surprised to find most of the city's tourist attractions, including the Reichstag Building, Museum Island, Brandenburg Gate, TV Tower, and other postcard-worthy sites.
Not to mention that there's also an array of hidden gems to be found all over the standalone neighborhood.
To help you experience every bit of Mitte, we've created a thorough guide with everything you need to know about this charismatic area. Read on to discover how to get around the neighborhood, the best places to stay, things to do, and more travel tips.
Berlin Mitte Neighborhood: An Overview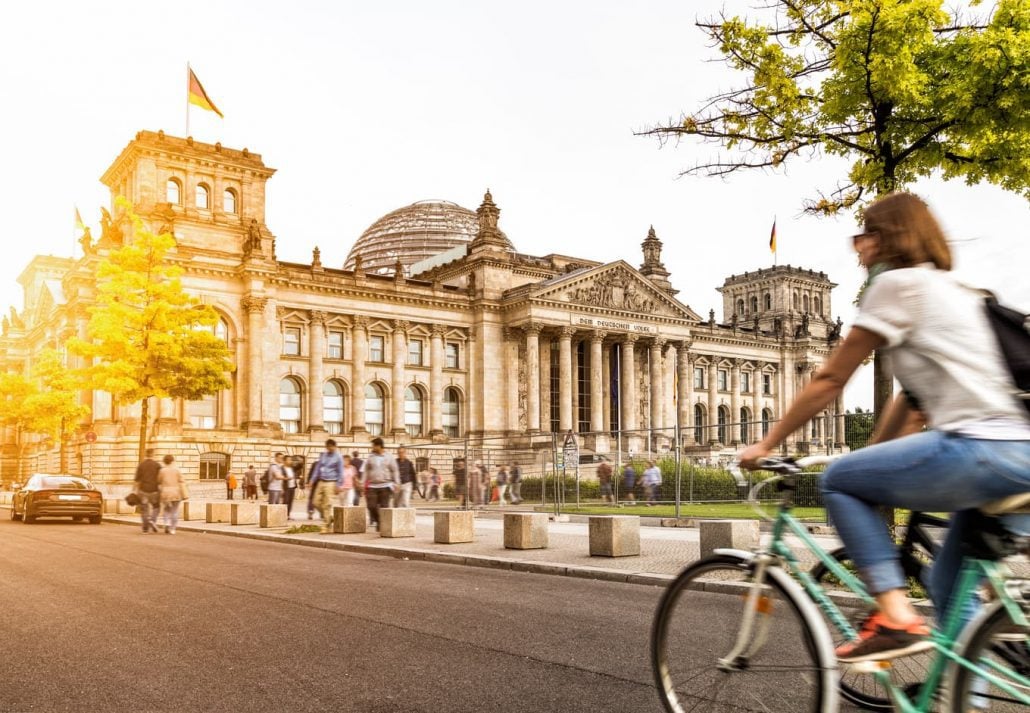 Where is Mitte Located
Mitte (German for "middle", and "center") is located in the heart of Berlin along the Spree River. The borough encompasses several neighborhoods and quarters, including Fischerinsel (Fisher Island), Museumsinsel (Museum Island), and Alt-Berlin (Old-Berlin) along with the Nikolaiviertel (Nicholas' Quarter), the Friedrichswerder, Dorotheenstadt, Friedrichstadt, Luisenstadt, and Stralauer Vorstadt neighborhoods.
A Brief History Of Berlin Mitte
Mitte is the place where Berlin began, back in the 12th-century. The area was first settled as a small trading post by the River Spree, and it became the first official district of the city in 1920.
Between 1961 and 1990, Mitte was part of East Berlin, surrounded by the Berlin Wall on the north, south, and west. There were some border control points, the most famous of which was Checkpoint Charlie between Kreuzberg and Mitte, which still exists and can be visited.
In 2001, the districts were redrawn and Tiergarten and Wedding joined the district of Mitte, which grew to become the vibrant city center of the German capital. The area is filled with historic buildings, world-class museums, and must-see landmarks that depict Germany's rich history.
What Makes It Unique
Mitte's allure comes from a mix of fabulous historical sights — Brandenburg Gate, Reichstag Building, Holocaust Memorial, etc —, many museums, tempting shopping spots, and dazzling nightlife opportunities.
Aside from being home to some of the top attractions in Berlin, the central Mitte district provides easy access to other worth-visiting locations in the city. From there, you can get to the Tiergarten Park (Berlin's most popular inner-city park), East Side Gallery, and the Stasimuseum, in no time.
Transportation & How To Get Around Mitte
Mitte is well served when it comes to public transport. Scattered throughout the area, there are several U-Bahn Stations (lines U7 and U2) that make it easy and quick to navigate around.
If you want to get around the city at nighttime, opt for the city buses, which work 24/7. The M27, M21, S41, S42, and N7, among buses, all have routes that pass through Mitte.
Mitte is also home to the Berlin Jungfernheide railway station, which is located at Charlottenburg-Nord. The station is served by the S-Bahn lines, the U-Bahn line, and Regional-Express trains of the Deutsche Bahn.
Many of the borough's attractions are located within walking distance of each other, meaning you can take the opportunity to explore the area on foot.
Recommended Read: A Guide To Public Transport in Berlin

Places To Stay In Mitte Berlin
Mitte is probably the best vantage point for exploring Berlin (especially if you're a first-time visitor). Aside from boasting a privileged location, great transportation links to other parts of the city, and a range of leisure opportunities, the area is home to some of Berlin's finest accommodation options.
No matter your style, budget, or travel type, you'll find the perfect place to stay in Mitte. From budget-friendly hostels to luxury boutique hotels and cozy vacation rentals, there's something for everyone.
Recommended Read: The Best Boutique Hotels In Berlin
Find Places To Stay In Berlin, Germany
The Top Things To Do In Mitte, Berlin
Check The Archaeological Collections At The Museum Island
Often considered one of the best museums in Berlin, the Museum Island is a must-visit attraction for culture vultures visiting the city. Located on the northern part of the Spree Island, this complex contains five museums — Altes Museum, Neues Museum, Alte Nationalgalerie, Bode-Museum, and the Pergamonmuseum —, all of which were built from 1830 to 1930 by order of the Prussian Kings.
In the Pergamonmuseum (Pergamon Museum), you'll find the amazing Collection of Classical Antiquities, the Islamic Art Museum, and the Middle East Museum. One of its most precious treasures is the Pergamon Altar, a massive monument featuring a 370-foot long marble frieze depicting the Gigantomachy from Greek mythology.
Altes Museum is home to Berlin's Antikensammlung (Collection of Classical Antiquities) and part of the Numismatic Collection, while the Bode Museum houses the Collection of Sculptures, the Museum of Byzantine Art, and most of the Numismatic Collection.
In the Neues Museum, visitors will find the Egyptian Museum — home to the famous bust of Queen Nefertiti —, and the Museum of Pre and Early History.
There's also the Alte Nationalgalerie (Old National Gallery), which contains 1800 paintings and 1500 sculptures by artists like Paul Cézanne, Renoir, and German painter Caspar David Friedrich.
Another bucket-list site on Museum Island is the Berlin Cathedral, the city's most significant protestant building. Inside, expect to stumble upon a variety of eye-opening features such as artfully designed mosaics, and the crypt of the powerful Hohenzollern dynasty. Before you leave, be sure to head over to the cathedral's dome (Berliner Dom) for show-stopping views of Berlin.
With such a cultural richness, it's no surprise that Museum Island was designated as a UNESCO World Heritage Site!
Address: Bodestraße 1-3, 10178
Opening Hours: Museum Island & Panorama Pass €19, Museum Pass €29
Learn About Nazi Germany In The Reichstag Building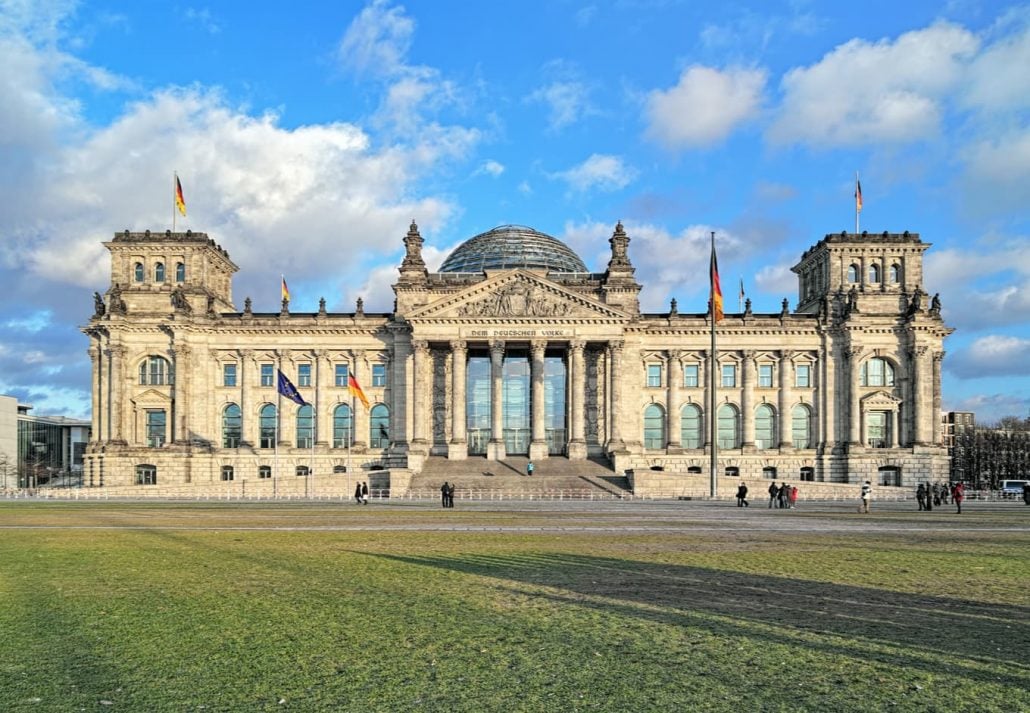 Originally constructed in 1894 to house the Imperial Diet (German: Reichstag) of the German Empire, the Reichstag building was severely damaged in 1933 after being set on fire, and fell into disuse after World War II.
The Reichstag building was fully restored after the German reunification,
In 1990, after the German unification, the Reichstag underwent a reconstruction led by renowned architect Norman Foster. Now, this century-old construction is Germany's main Parliament building, making it one of the most important historical landmarks in Berlin.
If you plan on visiting the Reichstag building, be sure to check out its 800-ton steel and glass dome, which boasts an observation deck from where visitors can enjoy fabulous views of Berlin.
Address: Platz der Republik 1, 11011
Marvel at Berlin From Top Of The TV Tower
Do you want to take in the most heart-warming views of Berlin? Then head over to the iconic TV Tower on Alexanderplatz. Opened in 1969, this 368m-tall tower features a 360º deck from where visitors can observe Germany's capital in all of its glory!
Address: Panoramastraße 1A, 10178
Opening Hours: November to March from 10 am to 10 pm | April to October 9 am to
See The Brandenburg Gate Up-Close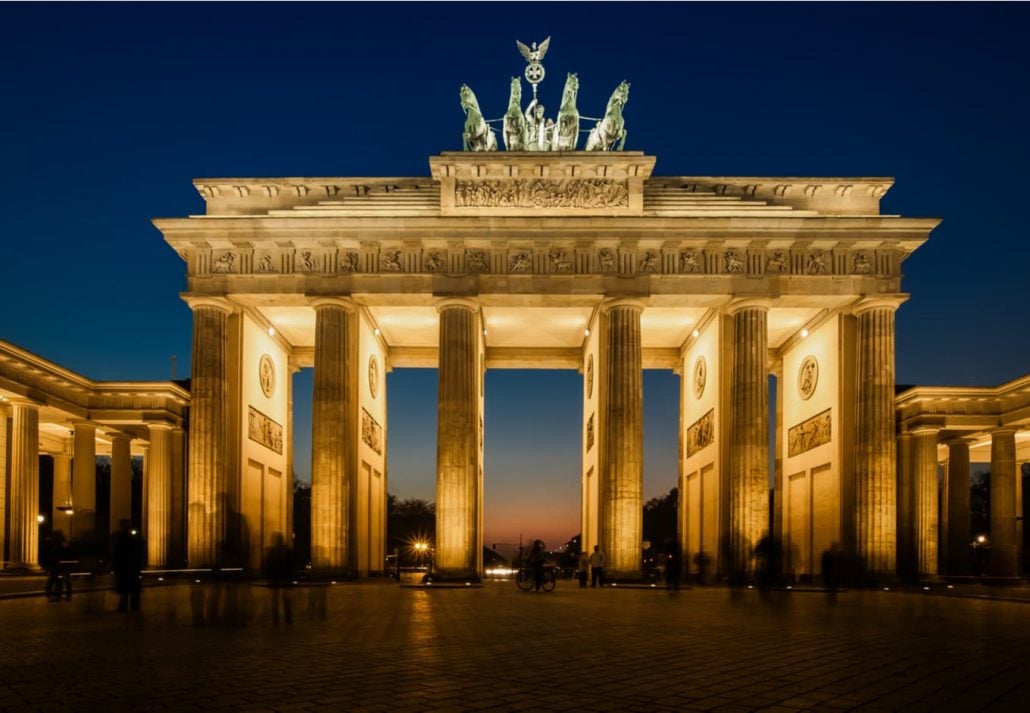 The Brandenburg Gate (Brandenburger Tor) is one of Berlin's most instantly recognizable landmarks. Overlooking the alluring Pariser Platz square, the monument was commissioned by King Frederick Wilhelm II and built between 1788 and 1791 as an entry point to Unter den Linden, which led to the Prussian palace.
Later on, the gate came to symbolize Berlin's division into East and West during the Cold War, and after the wall fell, a reunified Germany.
Aside from its historical significance, the Bradenburg Gate dazzles visitors with its striking architectural features. Designed by German architect Carl G. Langhans, who was strongly inspired by the Propylaea of the Athenian Acropolis, the monument is composed of 12 Doric columns that create five portals and is decorated with reliefs and sculptures designed by Gottfried Schadow. At the top, there's a statue known as the "Quadriga," which depicted the goddess of victory driving a chariot pulled by four horses. A masterpiece of neoclassical architecture!
Address: Pariser Platz, 10117
Explore Berlin's Provocative Street Art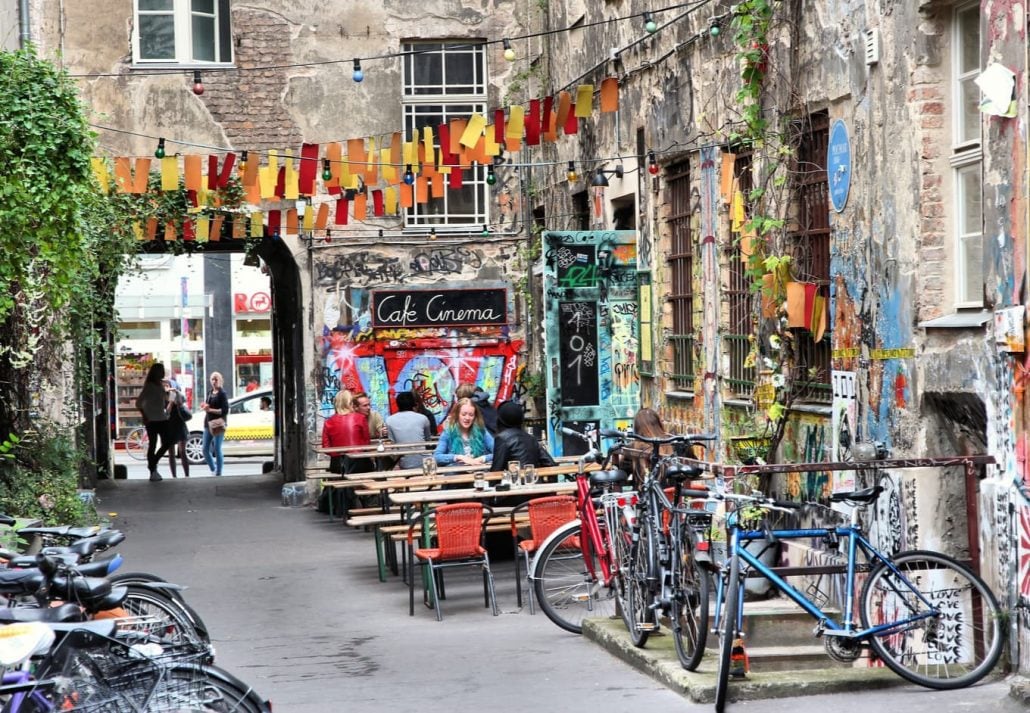 Mitte's museums and galleries display enough exhibitions to satisfy everyone — from history aficionados to photography lovers. But this incredible borough also has plenty of street art begging to be explored, making it the perfect option for offbeat travelers seeking to explore a more irreverent side to Berlin.
A top-notch idea is taking a street art tour of Mitte, which is smothered top to bottom with incredible murals artfully painted by the world's most talented artists such as El Bocho, Dmitri Vrubel, and Thierry Noir. A must-visit is Haus Schwarzenberg, a small building courtyard home to some of Berlin's most incredible artworks, including collages, tags, paintings, stickers, and graffiti.
Go On A World War II Tour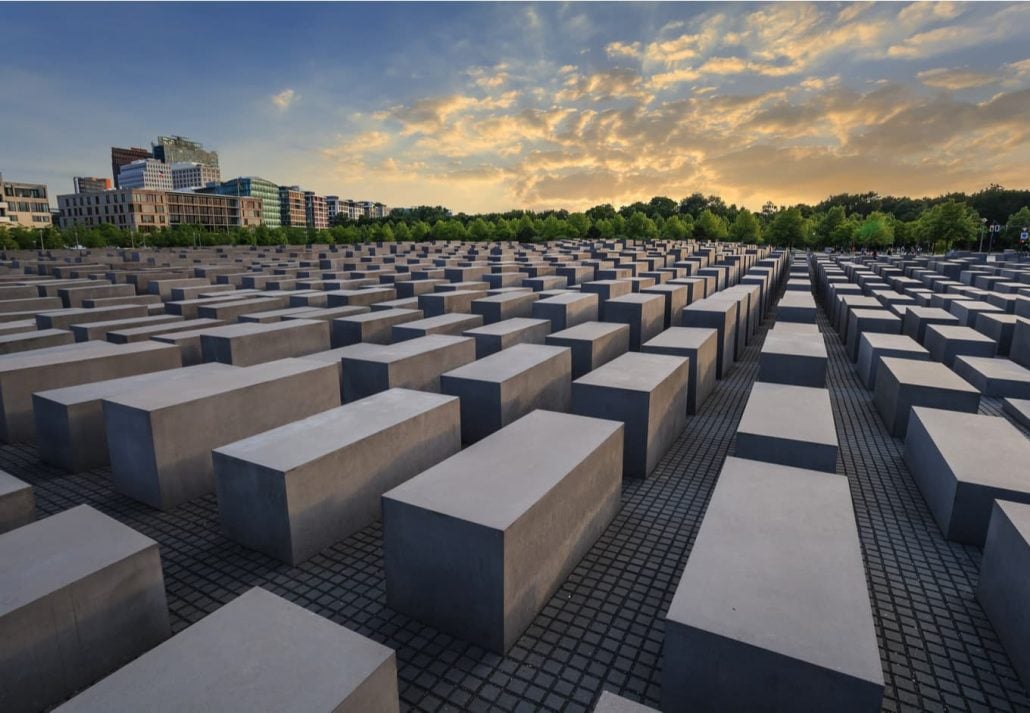 Seeking to delve deep into the history of World War II? Then don't pass up the chance to go on a tour of the sites and buildings that were most significant in Nazi Germany. Many of these places, by the way, are located within the Mitte area, and along the way, you'll be able to learn about major historical events, and stories surrounding Berlin in WWII.
Emblematic World War II Sites in Mitte include the Reichstag building, where you'll learn about the rise and fall of the Nazi regime, and the Führerbunker, the air raid shelter where Hitler committed suicide during the last days of WWII. Be sure to also visit the Memorial to the Murdered Jews of Europe (Holocaust Memorial), a central place of remembrance for the Jewish victims of the Holocaust.
Recommended Read: The Best Tours In Berlin
Taste Mitte's Lip-Smacking Food Scene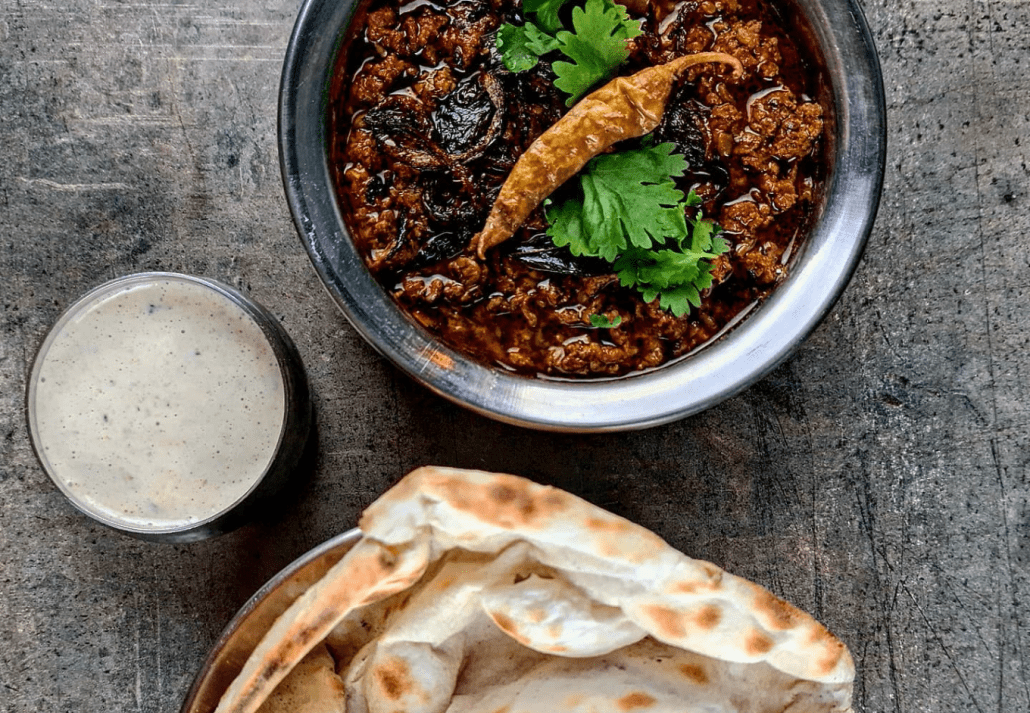 Travelers who are fastidious about food will have the time of their lives in Mitte. The borough has an unlimited variety of food and dining in every class, so it's no surprise that eating is one of the best things to do in the area.
Every type of cuisine is represented in the restaurants of Mitte. For fine Syrian food from Damascus, stop by Yarok and try the halloumi cheese sandwich. The Tree has an amazing selection of Szechuan rice bowls and noodle soups, while To The Bone is famous for its modern-style Italian dishes (try the risotto with borage, provolone, and eel sausage skewers).
If authentic Spanish tapas is what you're craving, El Colmado, in Alexanderplatz is the place to go.
Want to buy freshly baked pastries for an afternoon snack? Then head over to Zeit für Brot and order their famous cinnamon rolls.
Treat Yourself To Some Shopping
If a well-deserved retail therapy is what you're looking for, rejoice: Mitte is filled with shopping opportunities for all styles and budgets. The borough is home to a variety of malls, boutique stores, and trendy independent shops where you can find the latest trends.
Some of the best-known shopping malls in Mitte are ALEXA, home to stores like Pull&Bear, Mango, and H&M, and the Mall of Berlin, which displays over 250 retail heavy hitters such as Bershka, Levi's, and Nike.
For a more high-end shopping experience, visit The Store X at Soho House, where you'll come across precious items by brands like Balenciaga, The Row, Jil Sander, Christophe Lemaire, Proenza Schouler, and Issey Miyake.
FAQ
Is Mitte a good area in Berlin?
Yes. Aside from having a great location in the city center, Mitte is home to a variety of Berlin tourist attractions, as well as restaurants, bars, and shopping spots.
Is Mitte safe?
Mitte is safe. However, be sure to always take care of your belongings while navigating around the area to avoid pickpocketing.
Is Mitte West or East Berlin?
Now the heart of the city, the district Mitte was part of East Berlin.
CuddlyNest provides all accommodations to all travelers at the best price. Find unlimited travel inspiration on our blog and social media channels.
You Might Also Like:
A Complete Guide To Public Transport in Berlin, Germany
13 Amazing Museums and Galleries in Berlin, Germany
Top 7 Traditional German Foods – German Cuisine
Walk around Berlin through the big screen
Places To Stay In Berlin, Germany
9 Unique Things To Do in Berlin, Germany
The 5 Best Spas In Berlin, Germany
The Best Street Food In Berlin: The Top 5 Spots
The 9 Best Lakes in Berlin, Germany
Guide To The Best Markets In Berlin