Greece is a beautiful, soulful place to visit and will be thoroughly enjoyed whether you want to lay back on a beach bed while admiring the deep blue sea and enjoy the sun, party till the early hours of the morning, absorb the rich history and culture of Greece, or want to indulge in some adventure travel.
From rock climbing and sea kayaking to visiting the most prominent UNESCO world heritage site, there's an endless sea of outdoor adventures that Greece has to offer. The breathtaking beauty of this country is truly unparalleled and visiting these outdoor attractions in Greece will truly make you have the best vacation of your lifetime. Let's jump right into the ten best outdoor places that you can visit in Greece.
Top 10 Outdoor Attractions In Greece
Mount Olympus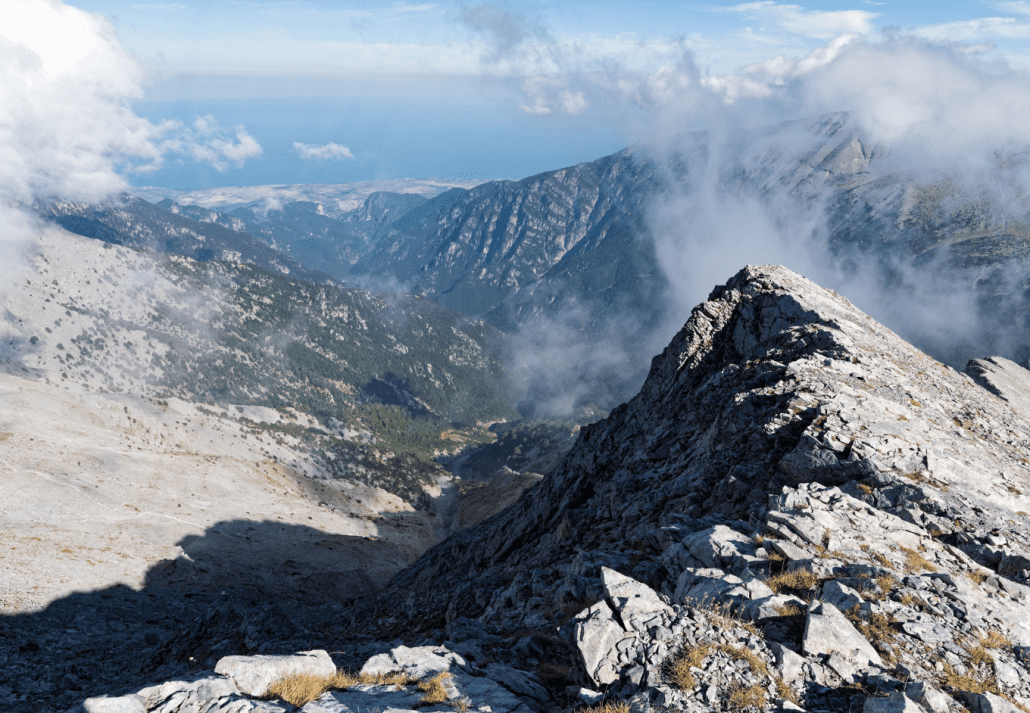 Climbing Mount Olympus, Greece's the tallest of Greek mountains and a key component of Greek mythology, regarded as the abode of the Greek Gods, is a must for every visitor to this country. Travelers are left in awe of the rich ecosystem on this mountain, which has a longstanding history and a diverse range of plants and wildlife.
The most frequent starting point for climbing Mount Olympus is the village of Litochoro in the mountain's foothills. This is a difficult hike, so we recommend joining a hiking group or taking a guide with you.
Acropolis of Athens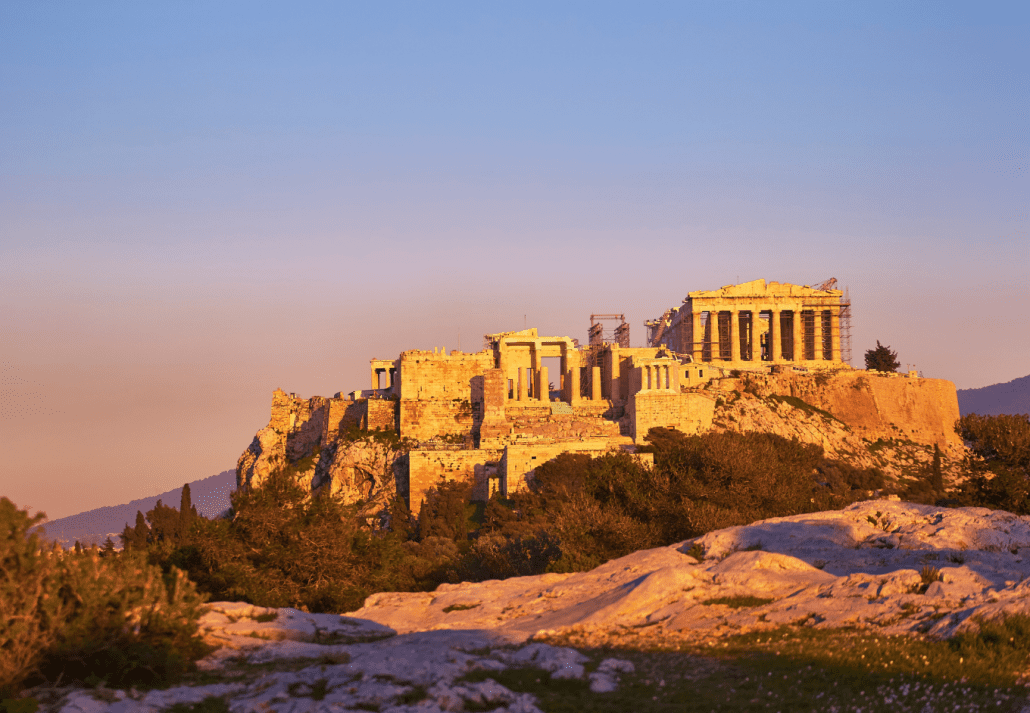 The Acropolis of Athens is one of the most famous archaeological sites in Greece that is still intact today and every traveler to Greece should visit it along with the Acropolis Museum to truly understand the facets of Greek history. This must-see monument in central Greece, set atop a hill, is a popular UNESCO world heritage site and a feast for the eyes of any history buff or admirer of Greece's ancient ruins. The Parthenon, the most important monument on the Acropolis, rises majestically on the hill's top, symbolizing the timeless majesty of ancient Athens.
Visit the Acropolis Museum, which houses all of the site's treasures, to learn more about Greece's ancient history. Then, travel to the Ancient Agora, which was a popular gathering place in the ancient city and is located on the northwest side of the Acropolis.
Santorini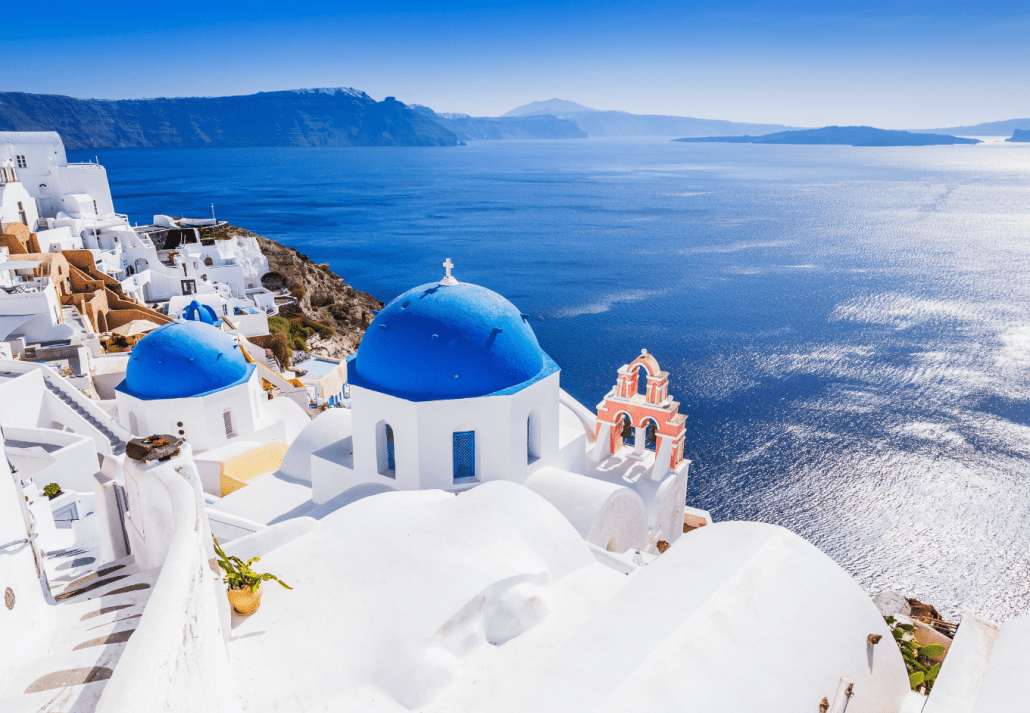 Pictures of Santorini's beautiful blue-domed churches facing the sea are famous all over the world. Santorini, one of Greece's most renowned tourist destinations, is the most romantic island you'll ever visit. Santorini is known for its spectacular sunsets and vistas of the Aegean Sea.
Its postcard-perfect setting, flanked by classic Cycladic buildings, is a sight everyone should see. You will be able to experience the nicest views in Greece because all of the landscapes are shaped by sloping volcanic rock on the water. There are several outdoor activities to indulge in when in Santorini, such as kayaking, sailing, scuba diving, snorkeling, and more.
Elafonisi Beach, Crete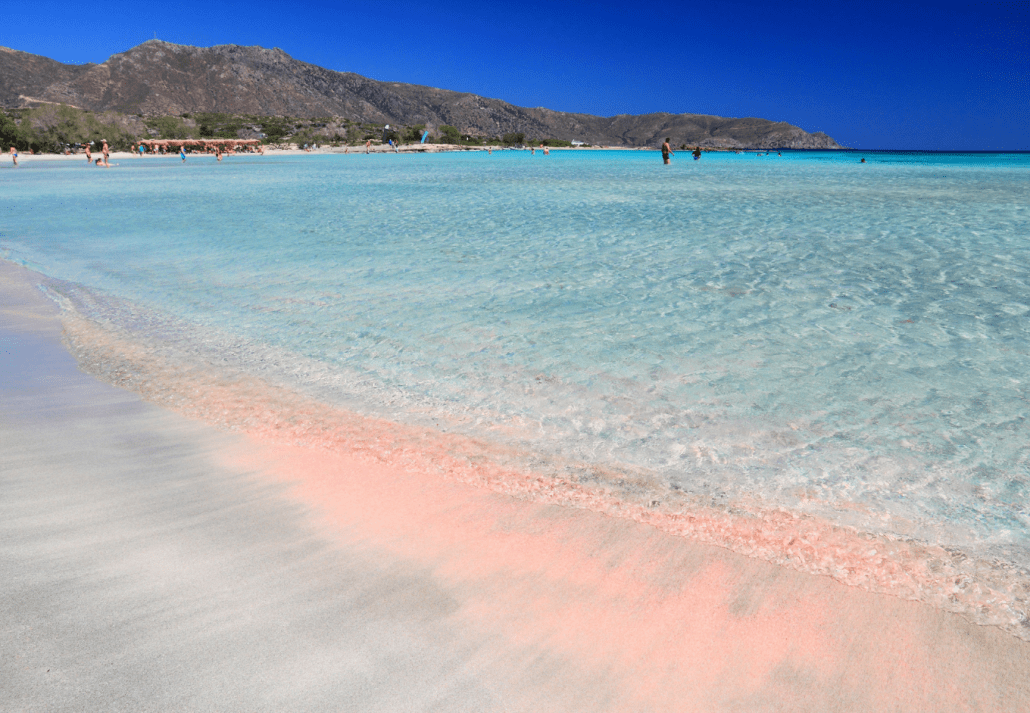 The Elafonisi beach on the Greek island of Crete is one of the country's most distinctive and beautiful beaches. This beach is well-known for its characteristic pink ombré shoreline, which is composed of pink broken seashells and white sand, creating a wonderful pastel contrast with the crystal blue-green water.
Elafonisi beach was formerly a well-kept secret but is now a popular holiday destination during the peak season but is a must-see no matter when you visit the Greek islands. This is one of Greece's most well-known white sand beaches. This beach, a certified natural reserve, is not only one of the top 25 in the world but is also one of the greatest in Greece. While in Crete, we also highly recommend visiting the beaches on the Libyan sea for a peaceful and relaxing experience.
Meteora Monasteries
The Meteora Monasteries, located on the Greek mainland in Thessaly in northern Greece, are situated on massive rock formations formed millions of years ago as a result of peculiar geological events. Meteora, a well-known UNESCO world heritage site, is one of the most peaceful things to do in Greece.
Six of the 24 monasteries built atop these "sky columns" by monks who initially came here in the 11th century are still in use today. The monasteries are just 10 minutes by vehicle from Kalabaka, and while the climb up the rocky outcrops is difficult, it is undeniably worth it. To make things easier, we recommend organizing a monastery visit. You can also go rock climbing here to get unbeatable views of the natural beauty of Meteora. You must also visit the highly raved about Lake Plastira in Thessaly for stunning views lined with pine trees all year round, especially during winter, where you can also go mountain biking.
Mykonos Town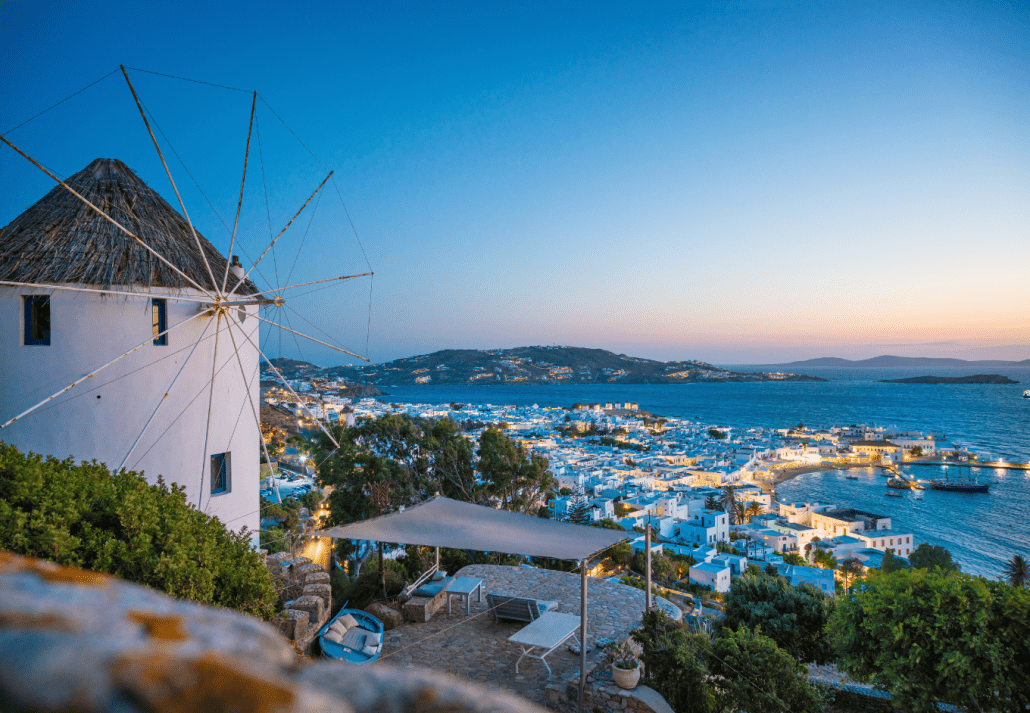 Apart from sunbathing on its famed Paradise Beach, Mykonos town is recognized as the nightlife capital of Greece, and you must visit the town to enjoy the broad array of nightlife that it has to offer.
The clubs may be observed gradually transitioning from daytime beach clubs to nighttime sunset-watching coffee bars and then to all-night ragers that can go until 5 a.m. Mykonos town has a lot to offer and discover, from the most vibrant nightlife experiences to breathtaking beaches and delectable Greek food. You can also engage in some exciting outdoor adventures in Mykonos such as jet-skiing.
Mykonos is known for the picturesque windmills in the city. There are multiple windmill locations in Mykonos, however, none are operational now. They were erected in the 16th century by Venetian immigrants and are still standing today.
Melissani Cave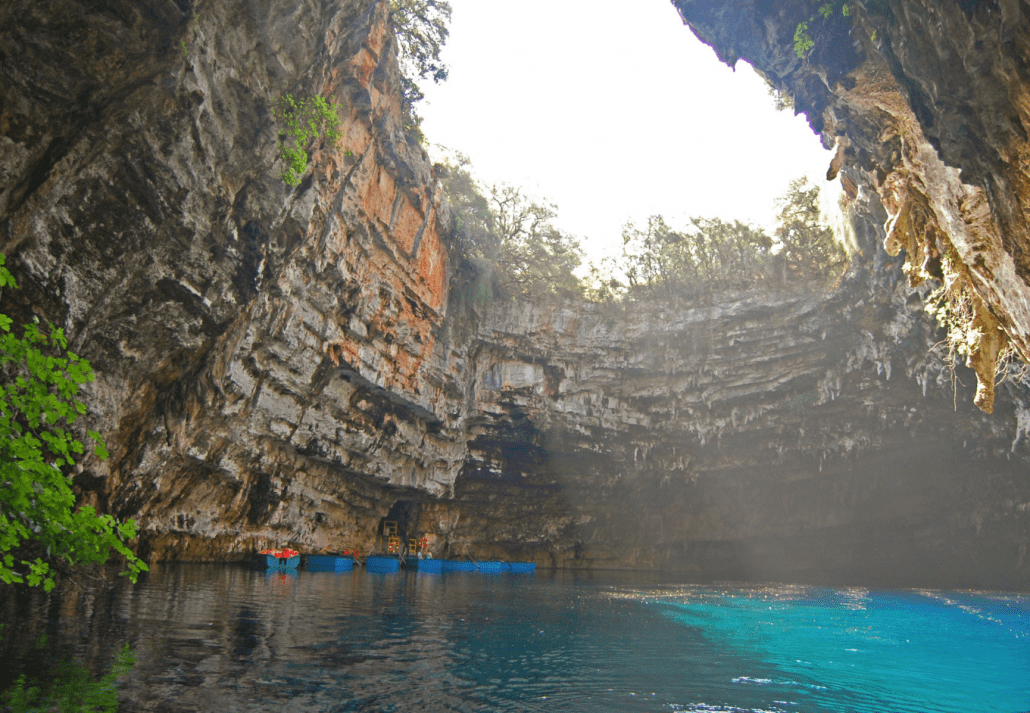 The Melissani Cave is a spectacular geological phenomenon located near many Ionian islands in the sea. This sea cave, also known as the Cave of Nymphs, will transport you to another universe.
Take a boat ride into the caverns and marvel at the natural beauty of the gorgeous blue water as sunlight filters through the tunnels and chambers of the cave, making the water shine brilliantly. Don't miss out on this once-in-a-lifetime opportunity!
Paros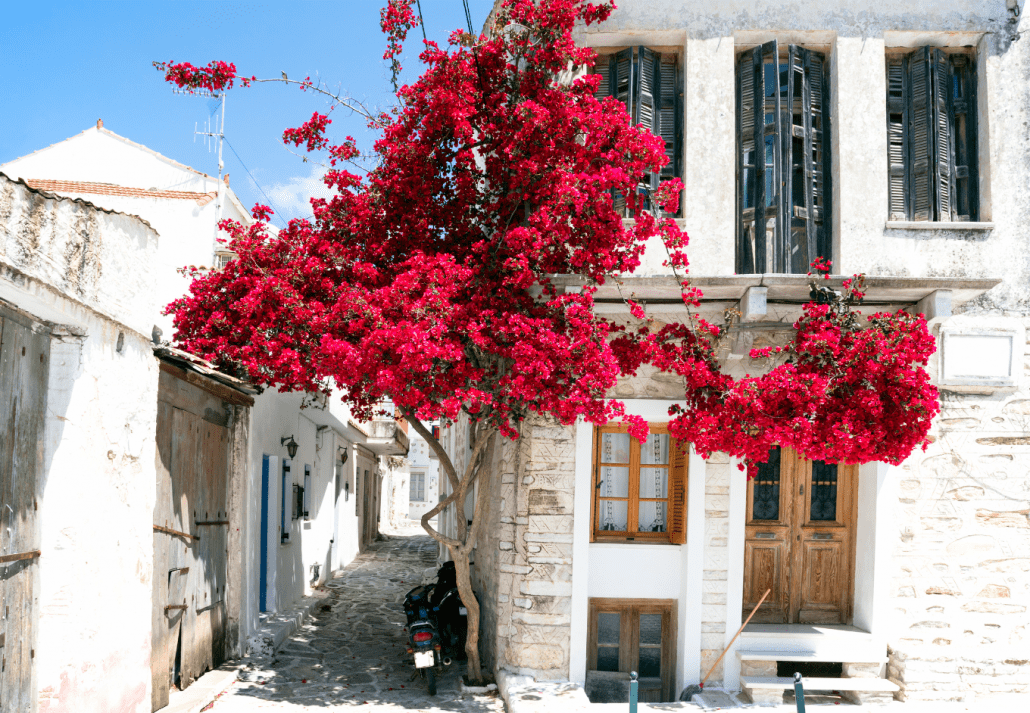 Paros, located in the Aegean Sea and known for its gorgeous towns, is an attractive Greek island that, unlike the rest of Greece lacks the regular hustle and bustle of visitors. Paros, with its ideal combination of modern city life and traditional Greek culture, is at the top of our list of attractions to visit in Greece.
You'll fall in love with Paros whether you're relaxing on Lageri beach, shopping in Parikia Village, sampling wine at Moraitis Winery, or enjoying a sailing boat tour across the island!
Sarakiniko Beach, Milos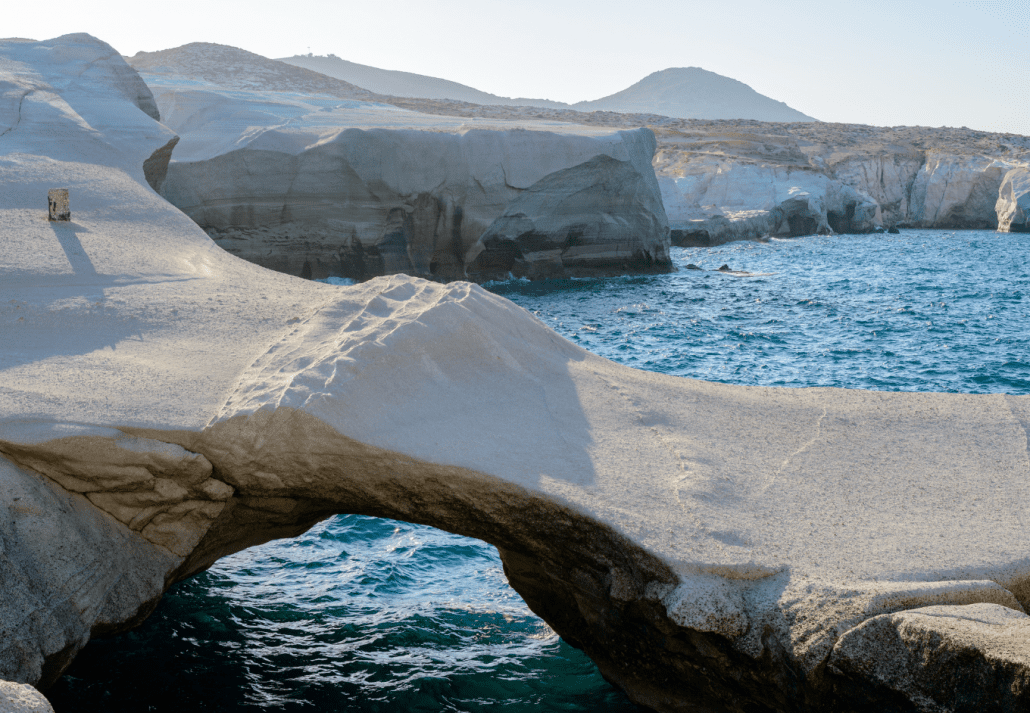 No journey to the Greek islands' beaches would be complete without a visit to this gorgeous beach on the island of Milos' north shore. Sarakiniko Beach is one of the most photographed beaches in Greece. It is also an ideal location for photographing images that are artistic, ethereal, and otherworldly.
It's easy to see why the locals call this beach's lovely shore "Lunar," since the waves of white-gray volcanic granite that compose it bore a remarkable resemblance to the moon's surface. The strong contrast between the moon-like off-white coastline and the deep turquoise seas with numerous blue-green tones creates an unforgettable experience!
Corfu Town
Corfu is an island that you must visit when in Greece. The historic town and beaches on this Ionian island are extremely stunning. Expect Venetian architecture, bright flowers, and tiny alleyways with quaint cafés in Corfu town, as well as wonderful tranquil beaches that are perfect to unwind in
Visit the sandy Sidari beach in Corfu for a relaxing day. Visit Canal d'Amour, a natural rock formation that creates a tunnel-like entry into the sea, and tradition has it that if you swim here with your partner, you will be together forever!
FAQ
What is the number one tourist attraction in Greece?
The Acropolis of Athens is the number one tourist attraction in Greece. With people especially visiting the Parthenon and the Acropolis Museum, this attraction on a hill in the heart of Athens makes for one of the best views in Greece.
What are some recreational activities in Greece?
Scuba diving, sea kayaking, sailing, rock climbing, rafting, hiking, surfing, and skydiving are some of the outdoor adventures and recreational activities in Greece.
What are 3 things Greece is famous for?
Greece is famous for being the birthplace of democracy, being the foundation of western civilization, and for hosting the first Olympic Games.
Why is Greece so popular with tourists?
Greece is popular among tourists for several reasons ranging from its archaeological sites which display the rich culture and history of Greece, to the country's pristine beaches with turquoise waters, and even its delectable Mediterranean food.
Why is Greece so famous?
Greece is regarded as the origin of democracy, western literature and philosophy, western civilization, important scientific ideas, theater, and the Olympic Games. This combined with the natural beauty of the country and its rich historic sites, all make up the reason Greece is so famous.
CuddlyNest provides all accommodations to all travelers at the best price. Find unlimited travel inspiration on our blogs and social media channels Facebook, Instagram, and Pinterest.
You May Also Like:
The 5 Best Hotels In Greece
The 5 Best Hotels Near Acropolis of Athens in Greece
The 9 Most Instagrammable Places in Greece
Top 10 Best Restaurants In Greece
The 5 Best Hotels Near Beaches In Greece
10 Of The Best Beaches In Greece
The 7 Best Bars In Greece
5 Amazing Wineries In Greece
A Guide To The Best Kid-Friendly Attractions In Greece
A Guide To The Best Shopping In Greece
The Best Time To Visit Greece