Famous for its Renaissance buildings, and fabled museums, Florence is the perfect vantage point for exploring central Italy. The city provides easy access to an array of scenic destinations located throughout the idyllic Tuscany region, which encompasses sun-kissed wineries, historic towns, olive groves, and age-old villas.
One of Tuscany's most enchanting destinations is Siena, a charming hill town that will transport you back to the Middle Ages. There, you'll stumble upon a dazzling wealth of medieval buildings and Renaissance palaces, as well as a fabulous historic center that has been named a UNESCO World Heritage Site.
Filled with history, art, and culture, Siena makes a fabulous day trip from Florence, as it's located just 52 miles from the city.
Whether you're seeking a quick day trip or a weekend getaway to the Tuscan countryside, we've put together a guide to the best ways to travel from Florence to Siena, covering different transportation options. Have a look!
Find Places To Stay in Siena, Italy | Find Places to Stay in Florence, Italy
Where Is Siena Located?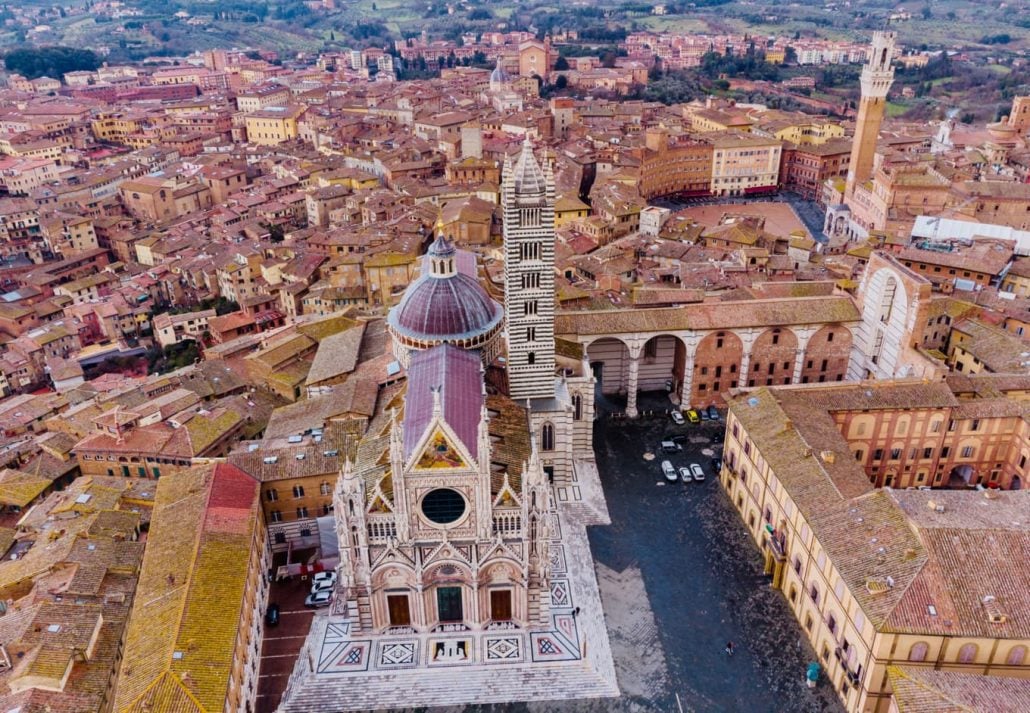 Siena is located in the central part of Tuscany, 32 miles south of Florence, in the middle of a vast hilly landscape. The city lies at 1,056 ft above sea level.
How To Get From Florence to Siena?
Florence to Siena by Car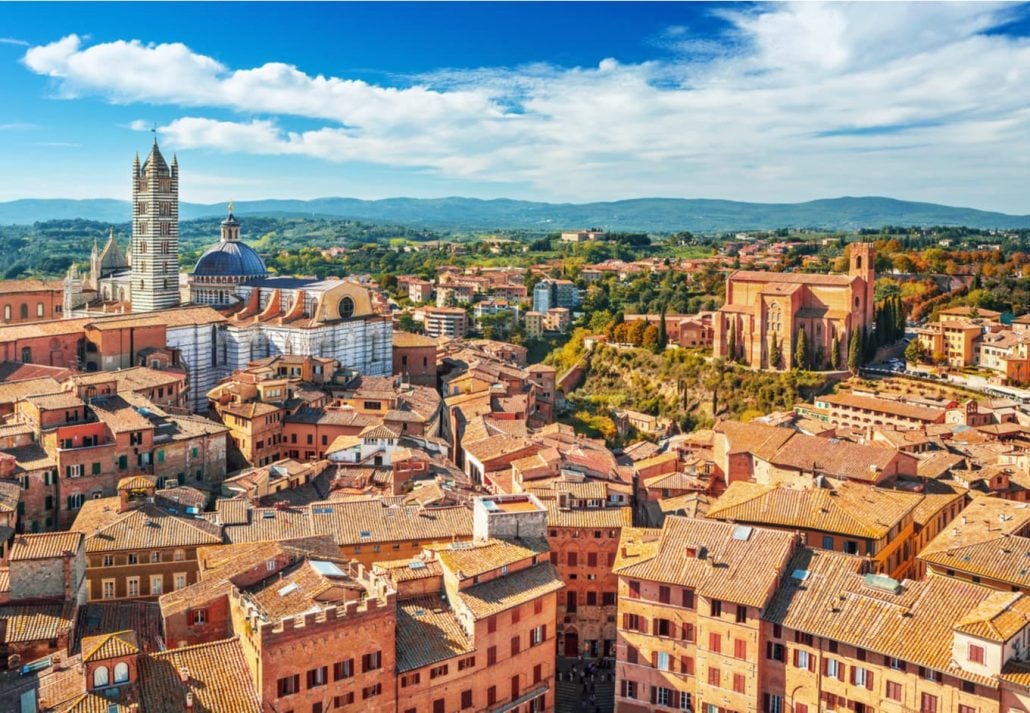 Driving is a great way to reach Siena from Florence, especially if you have some spare time up your sleeve. The car journey takes just over an hour (45.4 miles), but you'll be rewarded with some of the most beautiful landscapes of the Tuscan countryside.
Some of the great stops along this scenic route include Reggello, Prato, Montepulciano, and Volterra.
For the fastest route, take the Raccordo Autostradale, which offers fewer stops along the way. However, the most beautiful cities are to be found along SR 222, aka the historical Chiantigiana road. This option does take longer — about 90 minutes without stops —, but it's worth it, as it'll take you on a one-of-a-kind road trip through rolling vineyards to see, and beautiful wineries.
Florence to Siena by Train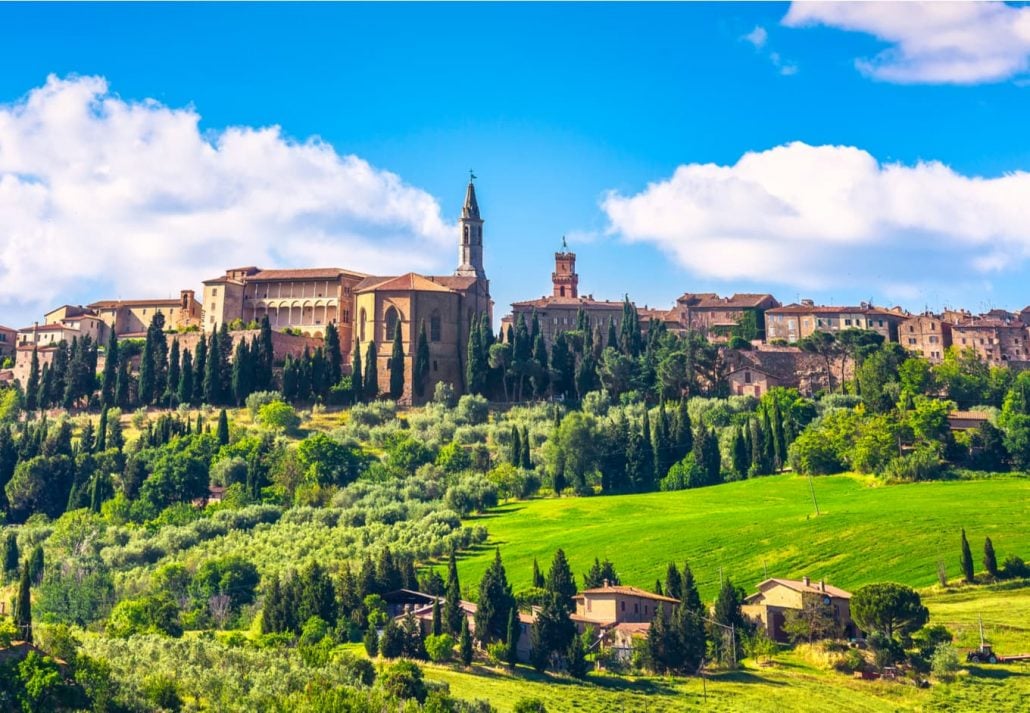 Taking the train is a convenient way of going from Florence to Siena. The average train journey time is two hours and covers a distance of around 31 miles. The journey time may be longer on weekends and holidays.
However, there are no high-speed trains that cover the Florence to Siena route. Instead, you'll have to take the regional trains (regionale trains) that depart from Firenze Santa Maria Novella and arrive at Siena's train station, the Stazione di Siena.
Though many lines require a change along the way, there are 15 direct trains from Florence to Siena each day, so it's possible to cover the route without having to change trains.
Train ticket prices from Florence to Siena can start from as little as €4.80, but the cost of tickets can vary depending on the time of day, route, and class you book. If you book in advance, train tickets tend to be cheaper.
One of the good things about traveling between the two cities by train is that the journey will reward you with stunning views of the Italian countryside, which is a sight to behold.
Please note that the Siena train station is located just outside the city walls, at the bottom of a hill. So, to reach the city center, you'll have to take the Siena train station escalator, which escalator runs from inside the Porta Siena shopping center – across the train station – up the hill to just outside the city walls. From there, you can continue walking until you reach Piazza del Campo.
Florence to Siena by Bus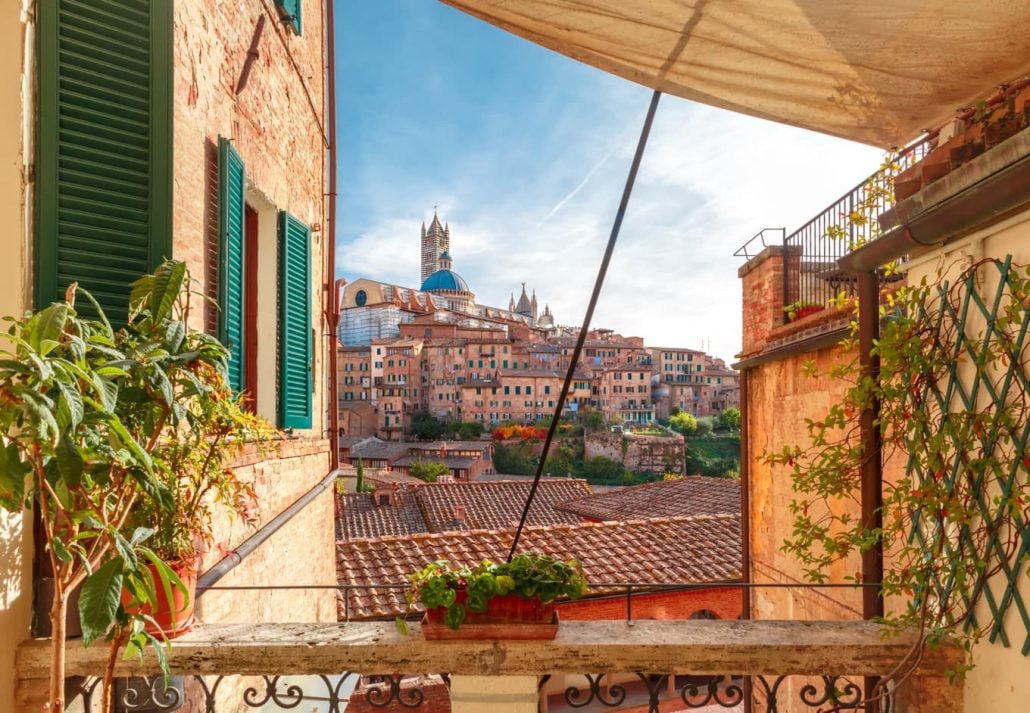 Taking the bus is a great way of going from Florence to Siena. The bus is not only faster than the train (1h15 approximately) but also drops you off in the very heart of Siena.
There are two local buses that cover the Florence to Siena route: Rapida (line 131R) and Ordinaria (line 131O). Rapida is a direct bus that gets to Siena in 1 hour 15 minutes, while the Ordinaria takes 1h30 due to two stops along the way. Tickets can be bought at the bus station (EUR 7.80) and on the bus itself (EUR 12).
Buses depart from Autostazione and Piazzale Montelungo, in Florence, and arrive either at Piazza Gramsci or at Viale Tozzi in Siena (both are close to the city center).
The only downside of the bus trip is that the roads are winding and mountainous, which is not ideal for people who get motion sickness.
FAQ
What is the distance between Florence and Siena?
Siena is located 32 miles south of Florence (over an hour's drive).
Can you get from Florence to Siena by direct train?
Yes. There are direct trains that leave from Firenze Santa Maria Novella and arrive at the Siena train station.
What is the cheapest way of going from Florence to Siena?
The bus and train are the cheapest ways of reaching Siena from Florence. Prices for a one-way adult ticket range from 5 € to 12 €.
Is visiting Siena worth it?
Yes. This medieval city boasts a variety of history-filled sites and experiences, including alluring squares, ancient old cathedrals, and typical festivals.
What is Siena known for?
Tuscany's second-largest city, Siena is known for its medieval cityscape, and museums, and for hosting the Palio, a horse race held twice a year in Piazza del Campo.
CuddlyNest provides all accommodations to all travelers at the best price. Find unlimited travel inspiration on our blog and social media channels.
You Might Also Like:
The 13 Best Attractions in Rome, Italy
The 12 Best Things To Do In Berlin, Germany
The 6 Best Day Trips From Rome, Italy
The 9 Best Kid-Friendly Attractions in Rome, Italy
Rome 5 Day Itinerary: The Top Things To Do
Rome 2 Day Itinerary: The Top Things To Do
Rome 4 Day Itinerary: The Top Things To Do In The City
Rome 3 Day Itinerary: The Top Things To Do
Rome 1 Day Itinerary: The Top Things To Do
The 7 Best Places for Nightlife in Rome, Italy
The 9 Best Museums in Rome, Italy
The Best Time To Visit Rome, Italy
9 Free Things To Do In Rome, Italy
The 10 Best Restaurants in Rome, Italy
Transportation In Rome: How To Get Around The City
The 10 Best Pizza Restaurants in Rome, Italy
The 5 Best Places To Go Shopping in Rome, Italy
The Top 5 Hotels Near The Colosseum, Rome
Best Italian Breakfast: The Top Foods To Try