Are you looking for a way to get quick access to travel news and information? We have just the thing for you! Travel podcasts. Podcast culture has quickly risen over the past few years to become a leading medium for entertainment, news, and more. With hundreds of different shows and platforms to listen on, podcasts are one of the best ways to fill your wanderlust. We guarantee you'll have fun while listening.
The Best Travel Podcasts in 2020:
We compiled a list of the top travel podcasts to listen to in 2020. From advice during the current pandemic to tips and hacks on how to make your future travels budget-friendly, these hosts cover it all. We got the inside scoop on what sets these podcasts apart from the rest. Check them out here:
Hosted by TravelPulse's Eric Bowman and Dan Callahan, travelers will gain so much insight into the travel industry by tuning into this podcast. What sets them apart from the rest? "The TravelPulse Podcast cuts through all the noise and brings you the most important and relevant news from around the world," says Bowman. "Everything from travel advisors looking for advice on where to send clients, to travelers that love learning about trends." This podcast will provide you with the ins and outs on all sides of the travel spectrum.
Wild Ideas Worth Living, hosted by Shelby Stanger is all about making your wild dreams and ideas a reality. "Part of living wildly is staying healthy, mentally, and physically." From better breathing and changing up your routine during this current pandemic, there is still a lot of adventure to be had. REI and Shelby will guide you on excursions through their episodes. Keep an eye out for Shelby's podcast Vitamin Joy, launching soon.
Brought to you by award-winning travel writer, photographer, and broadcaster, Phoebe Smith, Wander Woman is a place to explore off-the-beaten-track. This podcast will give you incredible insight into what it means to be a solo female explorer. What's our favorite part about Phoebe's podcast – Wander Woman of the Month. "The key is to ask lots of questions, dig a little deeper and wherever you go, go with an open mind," says Phoebe. We couldn't agree more.

Featuring over 100 stories by real female travelers, Condé Nast's podcast is all about empowerment and smart travel for women. "A women's place is wherever she chooses." From Jane Goodall's influence on how we can all be better travelers to inspiration during a time of uncertainty, WWT offers a safe and welcoming community for women across the globe.
Running his podcast for the last 12 years, and a radio show for the last 20, Peter Greenberg is a true professional traveler. For Peter, it's all about the conversation and giving his audience the information that can't find anywhere else. "There are three things people want to know about today…health, finance, and travel," says Peter. He guides his audience on how not to be a victim of simple travel mistakes and errors. We live for the fun we can have when traveling safe and smart. Travel Today with Peter will guide you on the right path.
With more than 700 episodes to choose from, you can join along for every adventure with Chris Christensen. What's Chris's key to keeping his audience informed and up to date when planning their travels? He's already been there. Which means he can give you all the ins and outs, in an episode. Tune in every week to explore a new destination. You'll have a full travel list ready by the time we can explore again.
The Travel Diaries with Holly Rubinstein includes traveling vicariously through her fun and entertaining episodes. "Listening to this podcast is a great opportunity for people to be transported to far-off lands from the comfort of their homes. It's wanderlust guaranteed," says Holly. From virtual tours and experiences to making your bucket list, listen to episodes with special guests, and let your travels take you virtually anywhere.
"We like to think of ourselves as the 'Today Show' for RVers and other road travelers," says podcast host Abigail Trabue. Offering entertainment, interviews, and tips, there is something for anyone looking to hit the open road. Abigail and her family are full-time RV travelers, for the last three and a half years, calling everywhere they explore home. Now is the perfect time to tune in and learn how to explore the great outdoors from the comfort of an RV. You can find their other podcasts See America and America's National Parks for additional episodes.

The World Nomads Podcast is a go-to for real-life stories and testimonials to give you the best insight. Phil and Kim have created a network of people who know a destination inside and out. Those experts share everything a traveler needs to know before visiting. "The true joy of travel is forging your own path," says Phil. From healthy doses of inspiration to ways to face future travel, this podcast offers facts and fun all in one.
Launched in 2006, hosts Craig and Linda began a new adventure through the Indie Travel Podcast. Together they guide their listeners through everything from how to travel with kids to how to pack your suitcase. There are so many parts of travel one may not even consider when planning or preparing for a trip. This is the place to go to make sure you don't miss a single step.
What if you could explore the world without breaking the bank? You know at CuddlyNest, we have the best price for every stay, and Jackie Nourse of JUMP Podcast has incredible for tips budget-friendly adventures. We make the perfect pair. Loved for her positivity, if you are looking to feel empowered while seeing the world, JUMP is the podcast for you.
"Every adventure begins in the imagination. The Armchair Explorer is all about firing that imagination up." Aaron Miller has created a world for each of his listeners to explore. What makes this podcast so unique? It is made in a documentary-style format and set to music to create a storytelling experience. We want to immerse ourselves in this world, too. A place for adventure and action, that's the Armchair Explorer way.
Mixing three of our favorite things, food, fun, and travel, this podcast satisfies our thirst for new experiences. "The Dish" food and travel show is hosted by Tommo & Megsy, two food and travel bloggers who have visited 95 countries seeking the best "Food Worth Traveling For". Enjoy learning about their favorite dishes from around the globe and the adventures they had to find them.
We hope you enjoyed tuning in with us! We can't wait to hear what travel podcasts you listen to. Don't forget to let us know.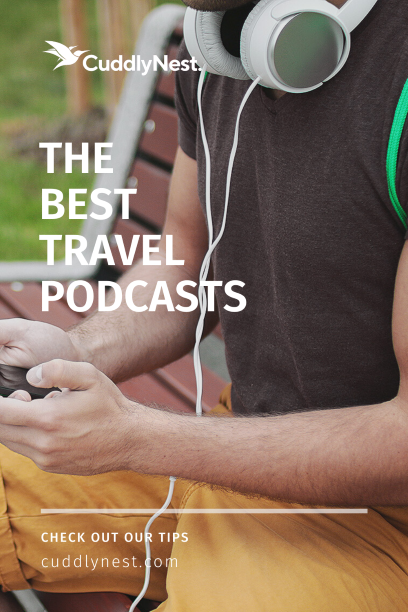 Browse. Book. Stay.
CuddlyNest provides all accommodations to all travelers at an unbeatable price. This blog post is the eighth post in a series by the CuddlyNest team, on the Coronavirus Outbreak. To see more information about our policies please visit our response page.
https://www.cuddlynest.com/blog/wp-content/uploads/2020/05/shutterstock_360890771.png
627
1200
2020-05-08 12:03:54
2020-06-29 09:22:21
13 Travel Podcasts to Check Out in 2020