It's finally the weekend! And if you're looking for a way to relax and have a good time, look no further: in this post we're helping you plan the perfect Florida weekend getaway, recommending the different beaches and quirky towns that are perfect for a quick trip.
With varying activities such as exploring the amazing architecture or sunbathing on its paradisiac beaches, in Florida, there's something for everyone!
The 11 Best Weekend Getaways in Florida
South Beach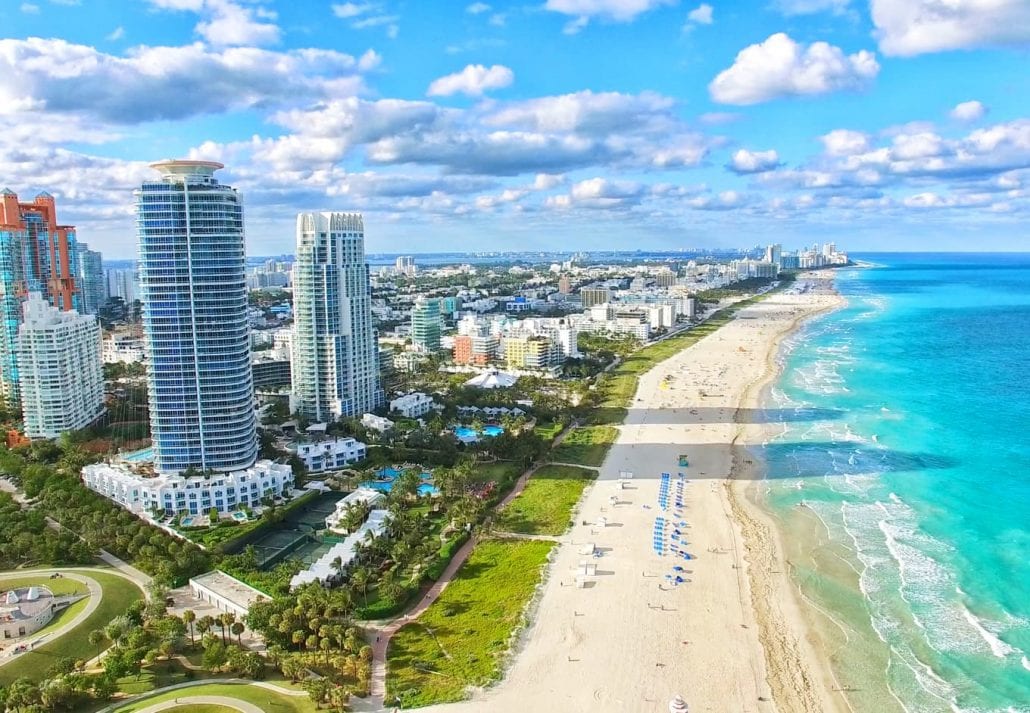 Named one of the best beaches in the United States, South Beach is known for its glittering coastline and glamorous scene. This Miami Beach is also f filled with tempting nightspots such as Kill Your Idol (the coolest karaoke bar in the city) and sleek modern restaurants such as Minibar, which are ideal for a night out with friends.
This plush and upscale beach neighborhood are also home to Lincoln Road Mall, one of the United States' first pedestrian-friendly outdoor shopping malls filled with chain stores and indie fashion shops.
If you're looking for cool spots to take photos or to simply enjoy the architecture, don't hesitate to go to Ocean Drive — its well-preserved art deco architecture and outdoor cafes are simply a treat for sore eyes!
And if your heart desires a bit of culture, we recommend visiting the local museums, including the Jewish Museum of Florida, the World Erotic Art Museum, and the Wolfsonian IFU, which boasts one of the largest university art collections devoted to design, propaganda, and decorative arts in the country.
Find Places To Stay In Miami, Florida
Palm Beach
Located in South Florida, Palm Beach is known for its glitzy estates and beaches, including the long, sandy Palm Beach Municipal Beach.
The city is simply perfect for weekend getaways. Activities on offer include strolling through Worth Avenue, which is located just steps away from the ocean, and exploring the town's luxury boutiques and breezy restaurants.
If you feel like getting adventurous, though, don't hesitate to get on the Private Half-Day Luxury 51′ Yacht Charter, in Jupiter, for a luxurious experience.
And if you're seeking to see Palm Beach from a different perspective, the Land and Lagoon Narrated Musical Tour is the best bet. This 75 minutes musical boat tour will take you to learn about the history of Palm Beach and West Palm Beach, and discover the homes of celebrities and billionaires.
Other bucket list experiences include visiting the Flagler Museum to see Henry Flagler's grandiose mansion, Boca Express Train Museum to learn how railroads made travel easy in Palm Beach, and the Norton Museum of Art to marvel at a dazzling collection of over 7,000 works, with a concentration in European, American, and Chinese art as.
Recommended Read:
Most Romantic Places In Florida
West Palm Beach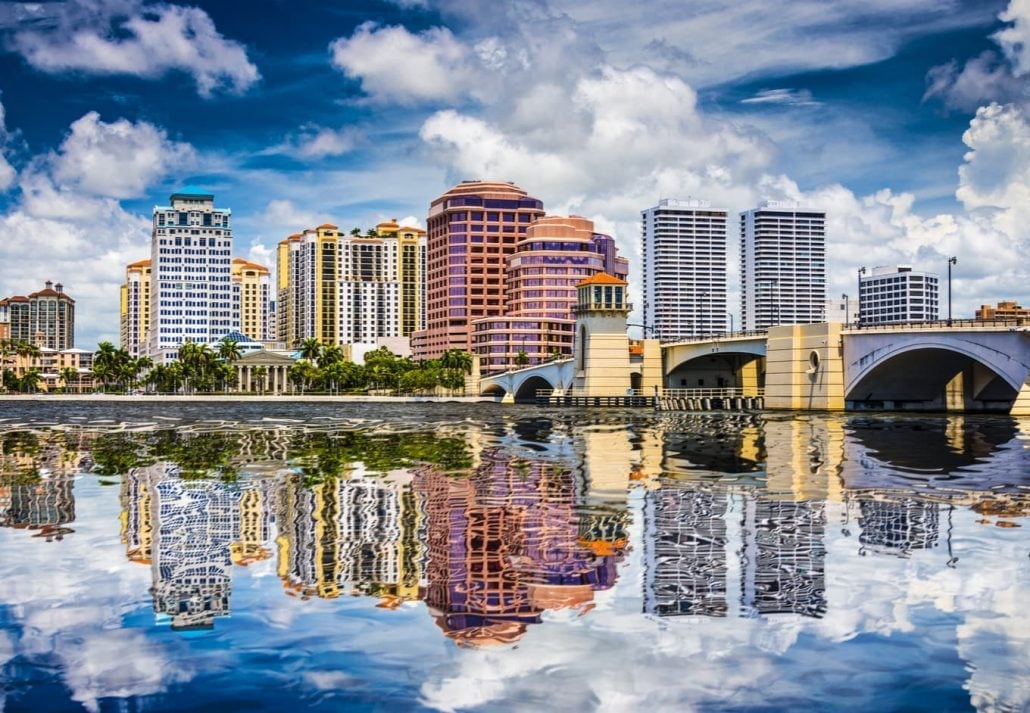 West Palm Beach is a sparkling gem in South Florida. Separated from Palm Beach by the Lake Worth Lagoon, this breezy town is rewards visitors with an array of cultural activities, that range from visiting The Norton Museum of Art, and the 4-theater Kravis Center for the Performing Arts, which hosts awe-inspiring music concerts, theatre plays, dance performances, and opera.
While visiting West Palm Beach, don't forget to go to Downtown West Palm Beach, a buzzing nightlife hub with swanky cocktail lounges, refined wine bars, and low-key pubs with live music. This area is also full of amazing eateries and dining options like classic Southern restaurants, sleek tapas spots, and gourmet burger joints!
West Palm Beach has a little bit of everything!
Find Places To Stay in West Palm Beach, Florida
Everglades National Park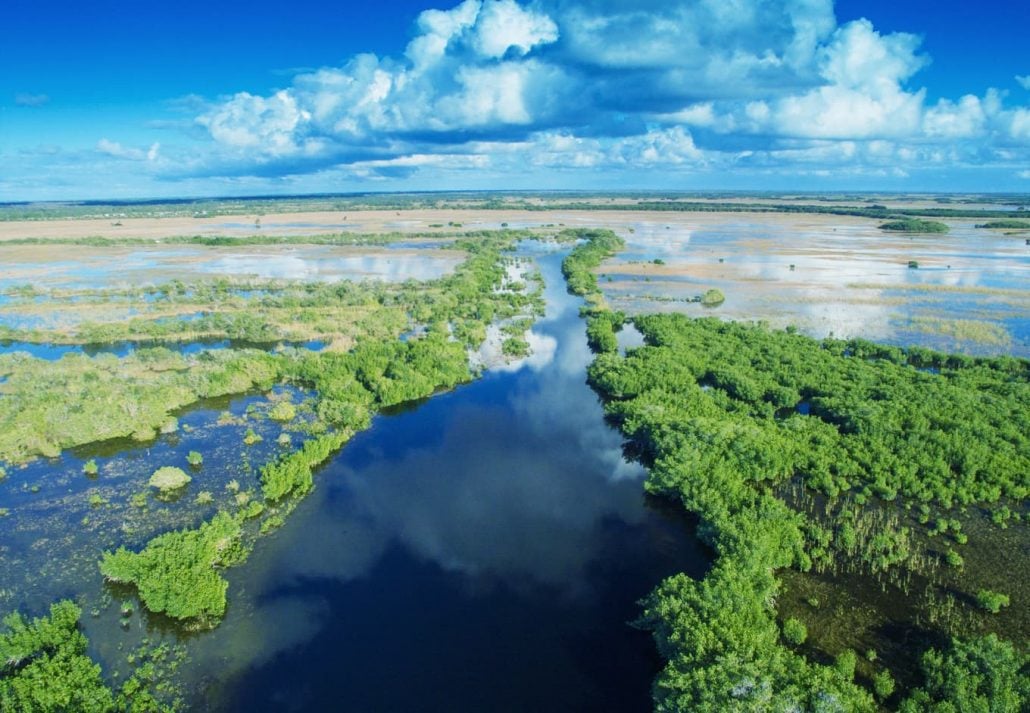 The Everglades National Park is an expansive area of land in Key West, south of Florida, and it encompasses 1.5 million acres of wetland. This is the largest subtropical wilderness in the United States, and it's inhabited by rare and endangered species, such as the American crocodile, Florida panther, and West Indian manatee.
This sprawling nature preserve has been designated an International Biosphere Reserve, a World Heritage Site, and a Wetland of International Importance, in recognition of its bountiful wildlife.
Activities there vary between hiking, exploring the wildlife, or enjoying outdoor sports, such as biking, canoeing, and kayaking. You won't be bored, we promise!
Key West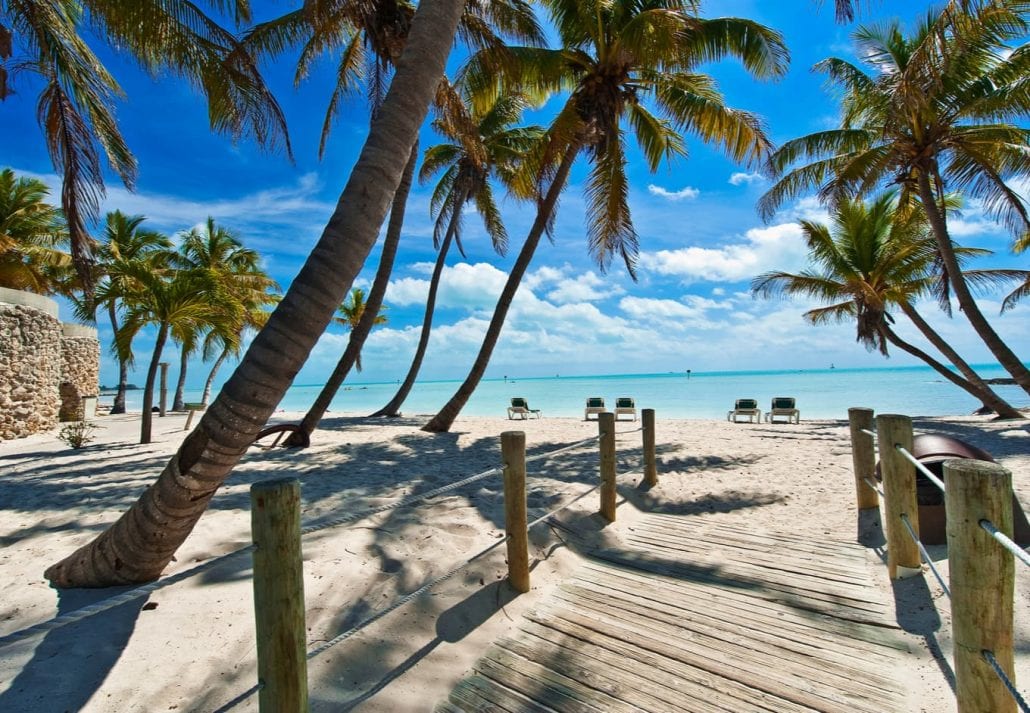 Key West is an island city, and it's part of the Florida Keys archipelago. It's famous for its pastel-hued, conch-style houses, and for its coral reefs, where people go diving and snorkeling.
Ernest Hemingway used to vacation there, so don't forget to visit The Ernest Hemingway Home and Museum, one of the top Key West attractions. It's a beautiful Spanish Colonial-style mansion that was built in 1851. But it isn't the only impressive mansion on the island—The Audubon House & Tropical Gardens is also a beautiful estate that was built in 1840 for Captain John Huling Geiger and his family.
In Key West, be sure to enjoy scenic sunset cruises, go island hopping and camping, enjoy bird watching and dolphin watching sessions, and go snorkeling to explore the little hidden KeyWest coves and their unforgettable bays!
Find Places To Stay In Key West, Florida
Marco Island
Marco Island is just a short ride from the Florida Everglades, close to the city of Naples, and the largest and only developed land in Florida's Ten Thousand Islands.
This Gulf Coast retreat has luxury resorts, beautiful beaches, and unspoiled parks. Marco Island's tropical climate and proximity to the ocean are just what tourists are looking for.
If what you want is for a place to camp, Collier Seminole State Park, located just a few miles from Marco Island, is the perfect spot. You can also go canoeing, fishing, boating, picnic grounds, and a mile-long nature walk.
Briggs Nature Center features a half-mile boardwalk where Marco Island visitors can observe wildlife in its natural habitat. And if you're feeling adventurous: shelling excursions and self-guided canoe trips are also offered. You can't miss it!
Find Places To Stay in Marco Island, Florida
Panama City Beach
Panama City Beach is also one of Florida's Gulf Coast beaches, located in the Southeastern United States in the area of northwest Florida known as the Panhandle.
The beach is the ultimate destination for fishing, boating, parasailing, diving, and other fun-filled activities. There are also plenty of other attractions on offer, like thrill rides and miniature golf.
Panama City Beach also offers an array of ecotours that will help you get acquainted with the abundant wildlife and sublime scenery. And if you want to explore nature, parks like St. Andrews State are the perfect places for you to marvel at lush trees, turquoise waters, and native wildlife.
If you're looking for culture and art, you can go to Aaron Bessant Park, which provides state-of-the-art locations for festivals and live music!
Find Places To Stay in Panama City Beach, Florida
Vero Beach
Vero Beach is the second-most populous city in Indian River County, filled with abundant beaches and wildlife. The city is thirty-four miles south of Melbourne.
The beaches in Vero Beach are part of Florida's Treasure Coast. Vero's three main public beaches are South Beach, Humiston Park, in Vero's Central Beach Business District on Ocean Drive, and Jaycee Park which is adjacent to Conn Beach.
There are plenty of things to do in Vero Beach—visiting McKee Botanical Garden, which unfolds with native plants and tropical botanicals, enjoying The Vero Beach Museum of Art, which is a 55,412 sq. ft. arts facility with five art galleries, a sculpture garden, and an education wing with seven studio classrooms. It even has an art library and seminar rooms!
Find Places To Stay in Vero Beach, Florida
Fort Myers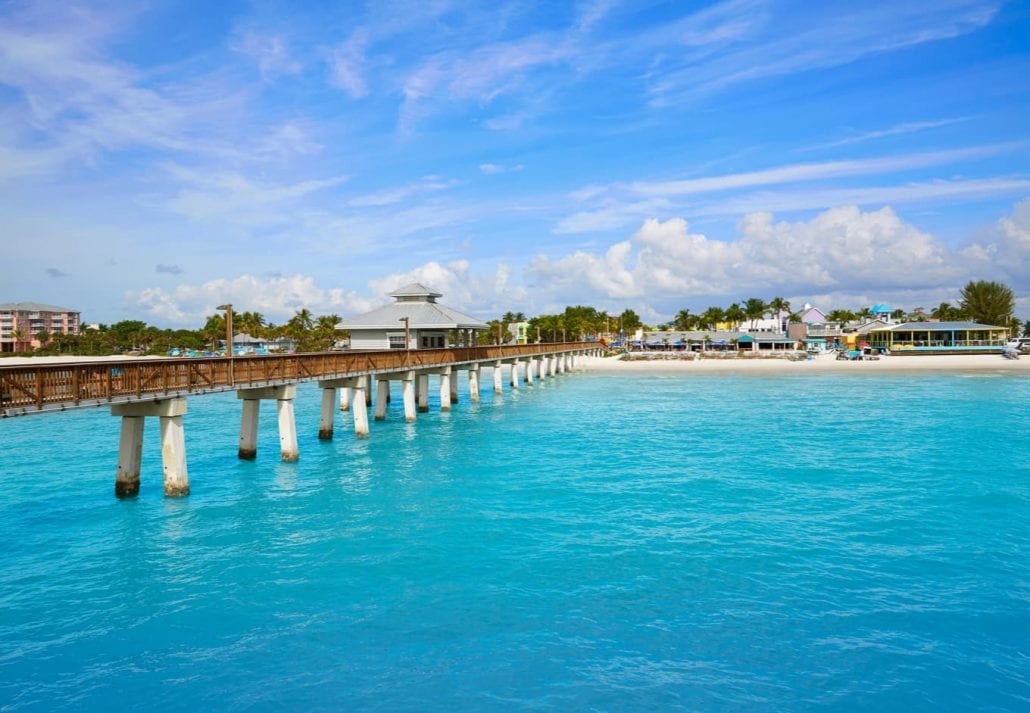 Fort Myers is the county seat and commercial center of Lee County. Many tourists and natives go there yearly due to its pristine beaches, and nature preserves.
Did you know that Thomas Edison and Henry Ford wintered in Fort Myers? So it's no surprise that sitting next to the Caloosahatchee River it's the Edison & Ford Winter Estates (later dubbed "Seminole Lodge" and "The Mangoes" respectively), one of the best museums in Florida that'll transport you to turn-of-the-century America!
Lover's Key State Park is perfect for romantic getaways and there's a good reason behind it! Thanks to its history of being only accessible by boat, it is believed that only lovers made the effort to get to the island, thus the name Lovers Key. Now, this idyllic location hosts some of the most beautiful weddings in the country!
Don't forget to go to Captiva Island while you're there, where you'll enjoy swimming, scuba diving, and parasailing.
Find Places To Stay in Fort Myers, Florida
Sanibel Island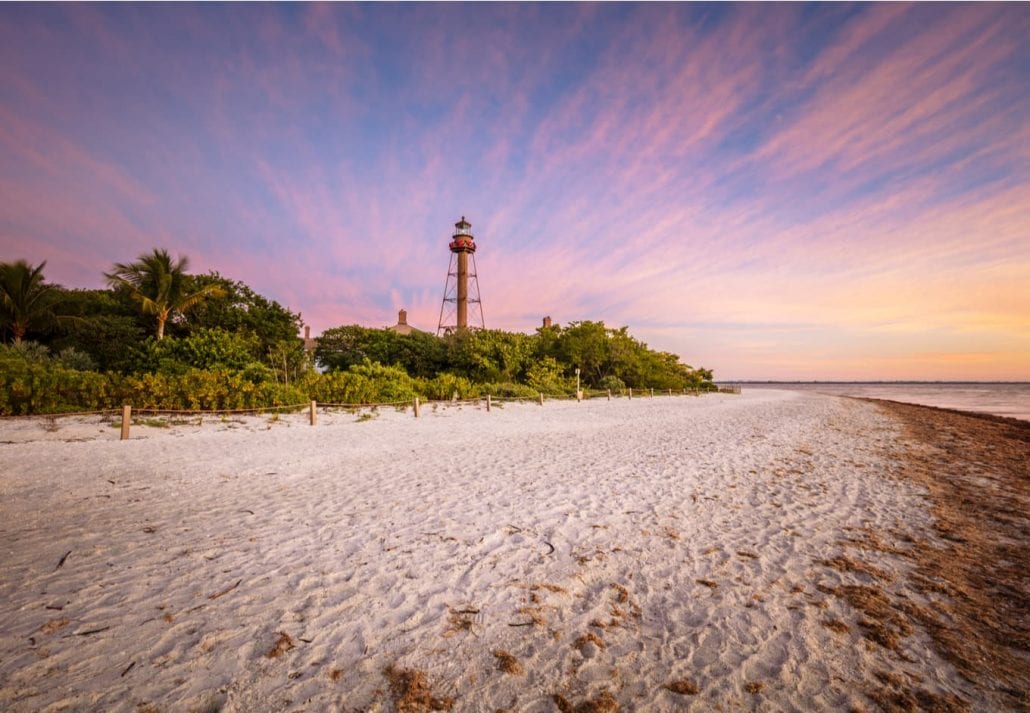 Regarded as one of the most beautiful islands in Florida, Sanibel is a jewel in Lee County. With 15 miles of unspoiled beaches, 25 miles of bike paths, 50 types of fish, 230 types of birds, and 250 kinds of shells, this place will never bore you!
It's a lush, tropical island surrounded by white sandy beaches and tall swaying palms. The island has a colorful history with proud Calusa Indians, pirates, Spanish adventurers, and buried treasures all playing their parts.
Visitors on their day trip or weekend getaway to Sanibel Island can enjoy unique restaurants and beautiful beaches.
Find Places To Stay in Sanibel, Florida
Amelia Island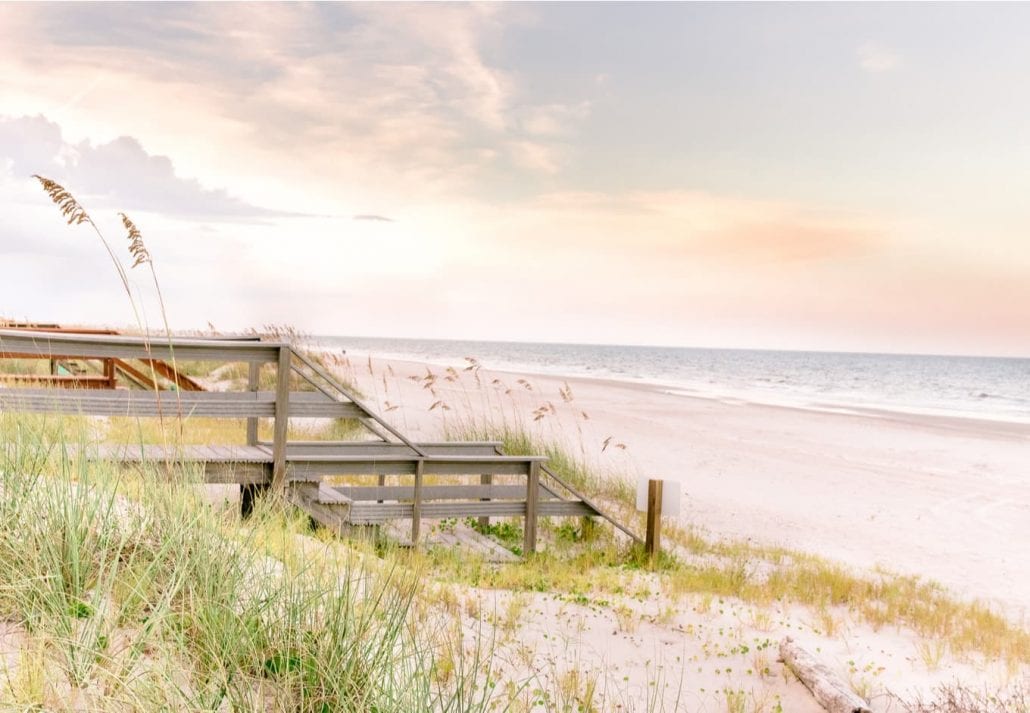 Amelia Island is the southernmost of the Sea Islands and the northernmost of the barrier islands on Florida's Atlantic coast. Located in Nassau County, the island harbors the communities of Fernandina Beach, Amelia City, and American Beach.
There are many things to do on the island, like sunbathing at Fernandina Beach or exploring the Amelia Island Historic District, which is home to over 300 Victorian-era buildings.
With luxury resorts, golf courses, and numerous sandy beaches like Main Beach Park, with its dunes, boardwalks, and public sports and recreation facilities, Amelia Island will be the weekend perfect getaway for you.
Find Places to Stay Near Amelia Island, Florida
FAQs
Where can I go for a relaxing weekend in Florida?
Top destinations for a relaxing weekend in Florida:
Pine Island;
Wekiwa Springs State Park;
Ocala National Forest;
Blue Spring State Park
Gasparilla Island State Park.
Where can I do a staycation in Florida?
The Best Florida Staycation Destinations:
South Beach;
Key West;
Siesta Key;
Orlando;
Sanibel Island;
Tampa;
Palm Beach.
Where should I go for a weekend in Florida?
The Best Weekend Getaways In Florida:
South Beach;
Palm Beach;
West Palm Beach;
Everglades National Park;
Key West;
Marco Island;
Panama City Beach;
Vero Beach;
Fort Myers;
Sanibel Island;
Amelia Island.
What is a good weekend getaway for couples in Florida?
The 10 Most Romantic Places In Florida:
South Beach;
Palm Beach;
Key West;
Santa Rosa Beach;
Fort Lauderdale;
Amelia Island.
Where is the cheapest beach vacation in Florida?
The Most Affordable Beach Vacations In Florida:
St. Augustine;
Clearwater Beach;
Daytona Beach;
New Smyrna Beach;
Panama City Beach;
Marathon.
CuddlyNest provides all accommodations to all travelers at the best price. Find unlimited travel inspiration on our blog and social media channels.
You Might Also Like:
10 Best Weekend Getaways in New York State
The 8 Best Natural Springs Near Orlando
Next Long Weekends 2022: Plan a Short Vacation
12 Amazing Day Trips From Orlando, Florida
The Ultimate Guide To Holidays In Orlando, Florida
Valentine's Weekend – Places To Go For Valentine's Day in 2022
18 Romantic Weekend Getaways in Arizona
The Best Long Weekend Getaways In The US