Hong Kong is a place that shines brightest when the sun goes down. The island is home to numerous drinking spots where is possible to try everything from the finest craft beer to world-class wine and masterfully crafted cocktails.
Thirsty visitors will be spoilt for choice while exploring the tempting Hong Kong bar scene.
But since there are so many options to choose from, we listed the 7 addresses that offer the best cocktails, and the most stylish settings — whether you're seeking an intimate escape or a fun hangout for some happy hour drinks.
Whatever you seek, the city won't leave you high and dry! So read on to discover the best bars in Hong Kong.
Find Places To Stay In Hong Kong
The 7 Top Bars In Hong Kong
Bar De Luxe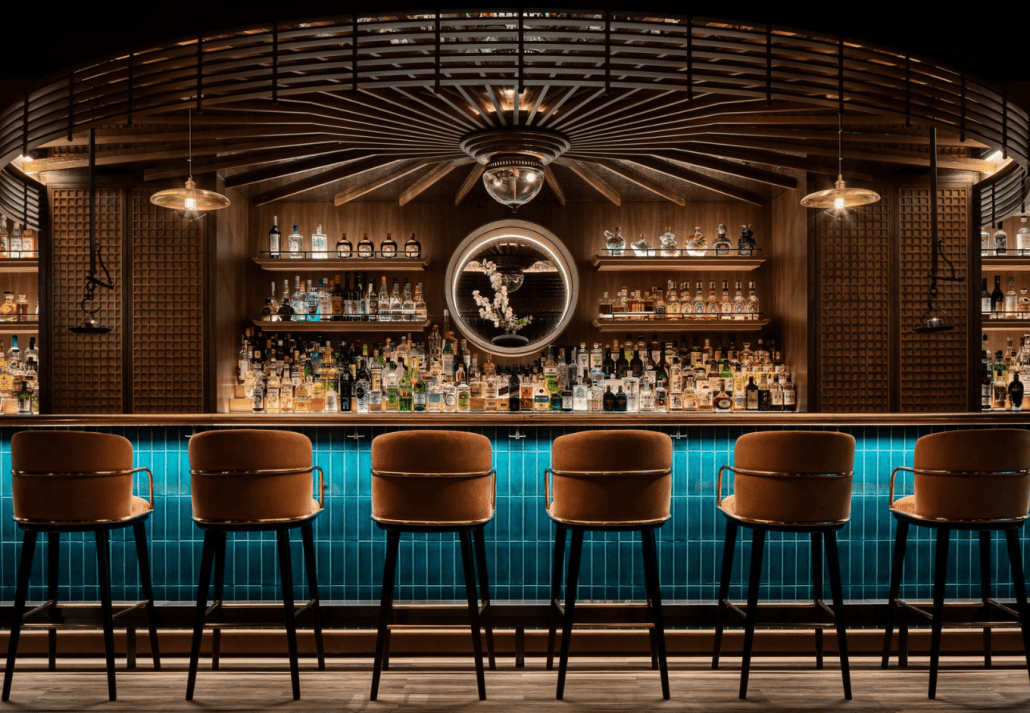 Overseen by the legendary mixologist Hidetsugu Ueno — he is the owner of the award-winning Bar High Five, in Tokyo— Bar de Luxe is one of the few cocktail bars in Hong Kong specializing in Japanese bartending.
This stylish and elegant bar welcomes guests with dramatic floor-to-ceiling windows and a long, wooden counter where creative cocktails are served.
On the carefully crafted cocktail menu, you'll find a variety of signature cocktails that are guaranteed to tantalize your tastebuds.
A must-try is the Wakey Wakey, made with scotch whiskey, homemade black melon seeds, homemade hawthorn fruits with rose tea syrup, tonic water, and lemon juice.
There are also classic cocktails such as the Old Fashioned, and a stellar whisky collection with bottles from around the world.
The best part? You can try these expertly crafted drinks while enjoying hart warming panoramic views of Hong Kong!
Address: 7/F, H Code, 45 Pottinger St, Central, Hong Kong
Caprice Bar at Four Seasons Hong Kong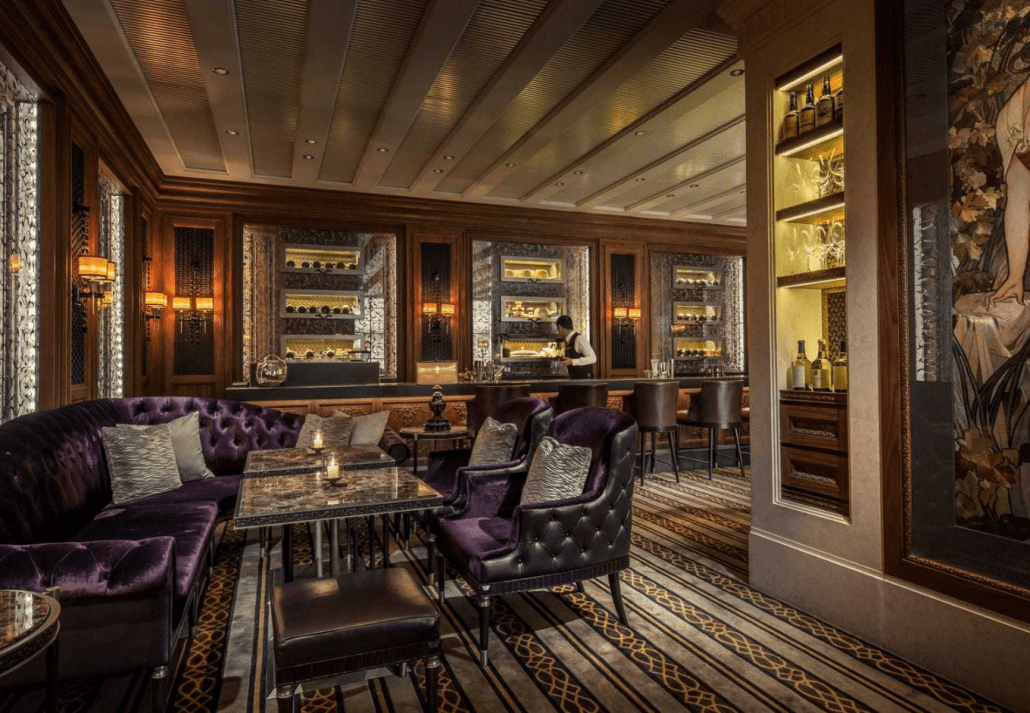 Named one of Asia's 50 Best Bars, Caprice Bar is a stylish and discreet gathering spot tucked into the luxurious Four Seasons Hong Kong.
This plush hotel bar was awarded three Michelin stars, and it's praised for its extensive selection of wines, and inventive cocktails.
Are you feeling extra bold? Then order the Truffle Negroni, made with fresh truffle-infused Tanqueray 10, Campari, and Rosso Vermouth.
Caprice's cocktails and wine can be perfectly paired with Chef Guillaume Galliot's inventive food menu.
We recommend the Alaskan king crab, with crustacean jelly and Osciètre Prestige Caviar from La Maison Kaviari, the bar's signature dish.
A true symphony of flavors!
Address: 8 Finance St, Central, Hong Kong
MO Bar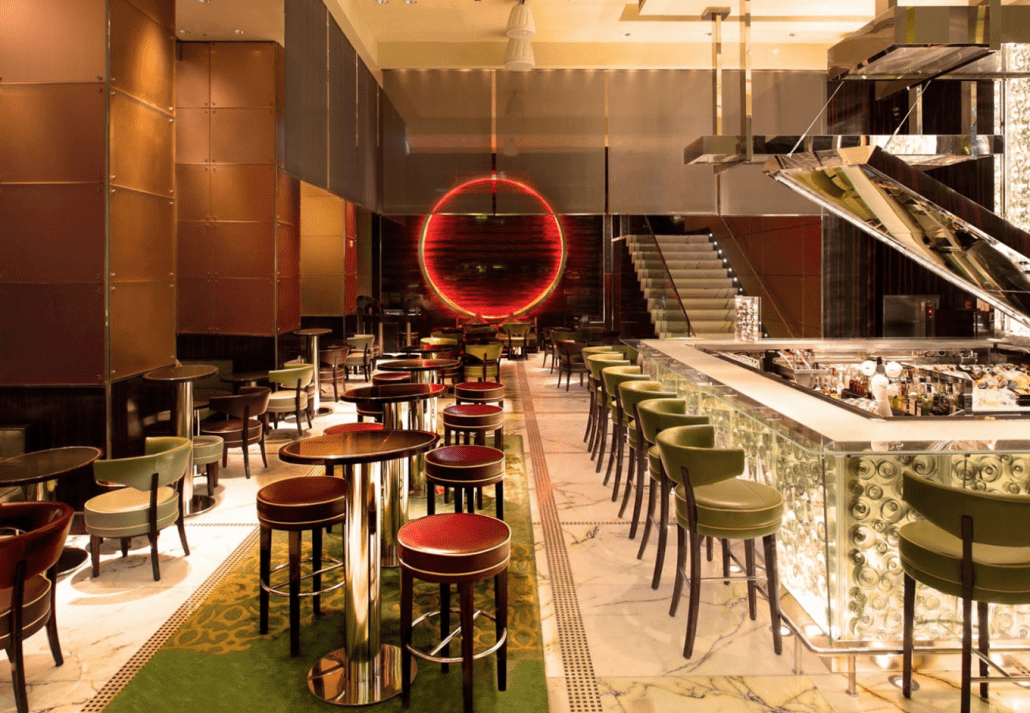 Located on the ground floor of the Mandarin Oriental, MO Bar is one of Hong Kong's hottest dining and drinking spots.
This sophisticated bar offers a whimsical selection of cocktails that range from classics, like the Espresso Martini, to Japanese-inspired drinks.
MO Bar is also presenting its new signature Highballs, a range of cocktails made with cold brews and citrus foams.
On the menu, you'll also find premium beers, stellar Champagnes, and a dazzling wealth of wines, including bottles from France, Italy, Argentina, and Australia.
Aside from exceptional cocktails, MO Bar is also praised for its glossy parties. The bar features one of the greatest sound systems in Asia and frequently hosts a series of DJ sets as well as performances by famous international artists such as Alicia Keys.
Address: 15 Queen's Road Central, Central, Hong Kong
Argo Four Seasons Hotel Hong Kong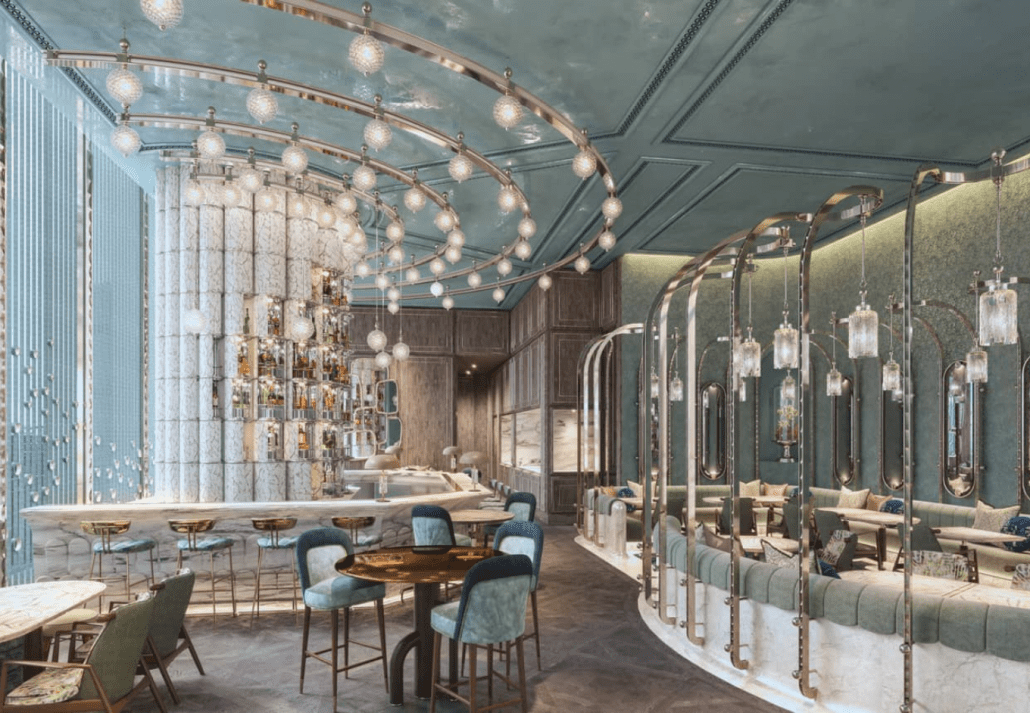 Argo is a sparkling gem in Hong Kong's Four Seasons Hotel. Directed by beverage manager Lorenzo Antinori, this new concept bar will captivate your senses with its alluring decor inspired by a neo-classical conservatory, and its cocktail menu featuring a collection of the world's most innovative spirits.
Designed to mimic a conservatory with small terrariums and views of the Victoria Harbour, this 70-seater bar has a cocktail menu with ingredients ( coffee, honey, rice, cacao, vanilla, and apples) at risk of becoming endangered in the future because of climate change or the way they're being cultivated.
Must-tries from the menu include their signature Cocoa-Aged Single Negroni, made with St. George Terroir Gin, Cascara Vermouth, Hulu Gali Cocoa, Campari, and Smoked Jalapeño.
Address: 8 Finance St, Central, Hong Kong
The Aubrey
Recognized as one of Asia's 50 Best Bars, The Aubrey is a new omakase cocktail bar that spoils guests with an eccentric Japanese izakaya experience.
The bar is gloriously located on the 25th floor of the Mandarin Oriental Hotel and boasts sweeping views of Victoria Harbour as well as three distinctive bar experiences.
At the Main Bar, visitors can sample Aubrey's signature cocktail menu and seasonal cocktails, which are based on a seasonal Japanese fruit that rotates quarterly.
Small and intimate, the four-person Omakase Cocktail Bar emulates the quintessential Omakase experience, leading guests to embark on a unique beverage journey across Japanese spirits and flavors.
Finally, there's the Champagne and Sake Bar, which celebrates the age-old tradition of oysters and champagne.
Address: 5 Connaught Road, Central, Hong Kong
The DarkSide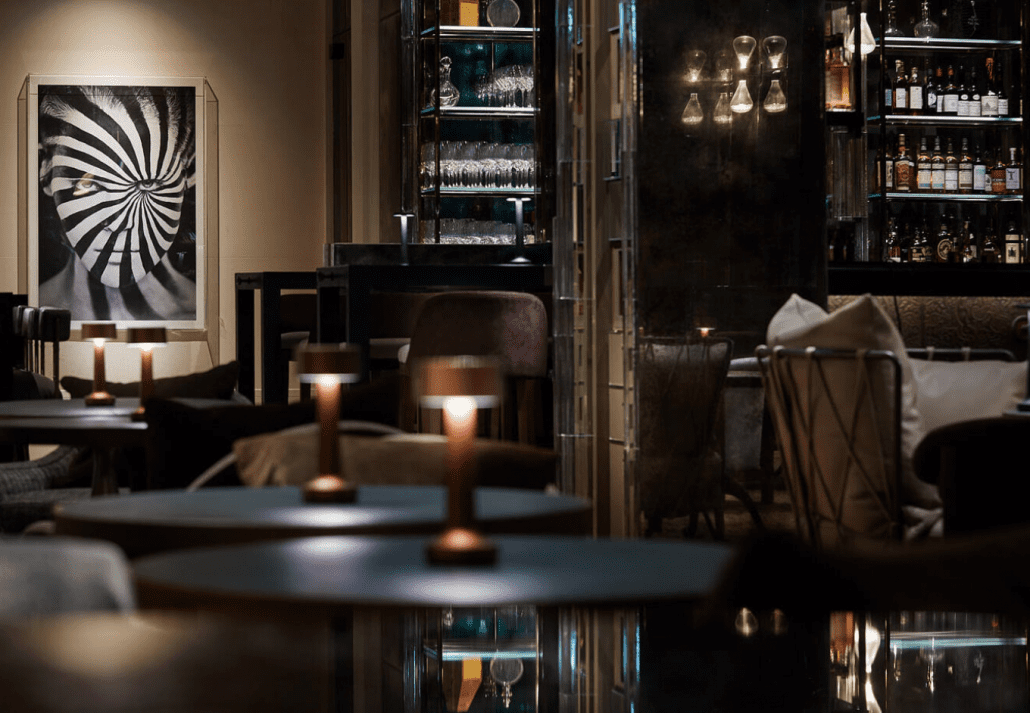 The Rosewood Hong Kong Hotel plays host to DarkSide, a cocktail parlor that specializes in rare aged spirits, vintage cigars, and classic cocktails — all topped off by sultry live jazz.
Featuring show-stopping Harbour views, and a breathtaking ceiling installation comprised of rotating hourglasses from Murano, Italy, this intimate bar has an extensive selection of fine rum, whisky, and calvados.
There's also a dark spirits selection that includes their specially sourced cask of rare cognac and exclusive cask-aged port, both of which visitors can taste from barrel to glass.
Address: Rosewood Hong Kong Victoria Dockside, 18 Salisbury Rd, Tsim Sha Tsui, Hong Kong
Terrible Baby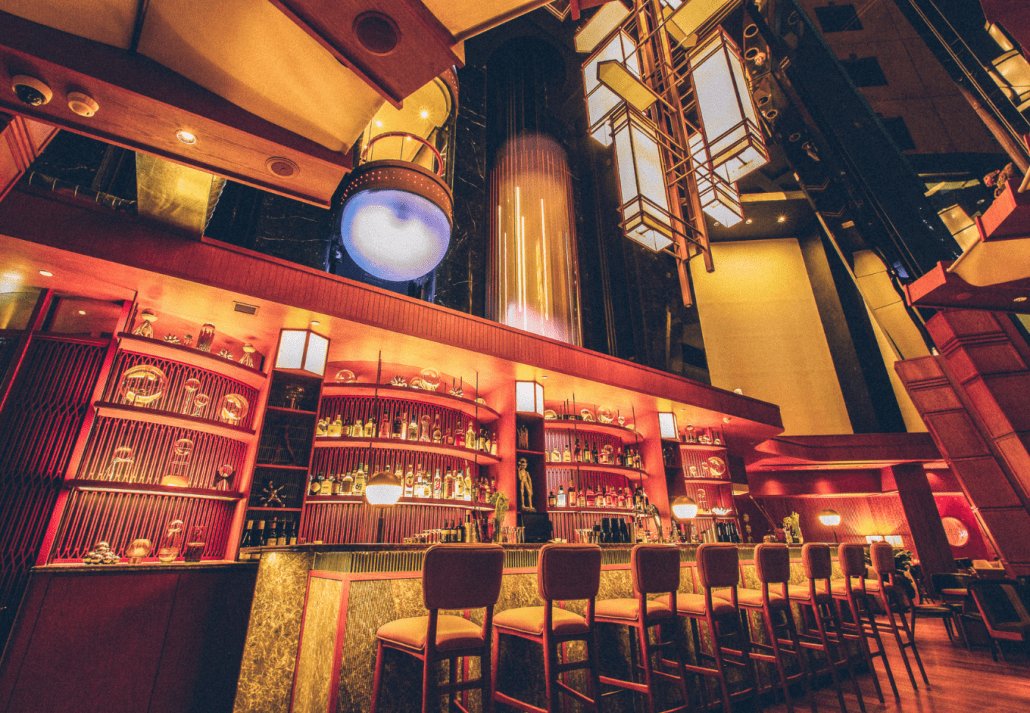 Set within the up-and-coming neighborhood of Jordan, in Hong Kong, Terrible Baby is one of the city's trendiest destinations.
This Insta-worthy bar is sought after by a bold and creative crowd seeking to enjoy some good live music and craft cocktails.
Terrible Baby is set on the 4th floor of Eaton HK and features a breezy outdoor terrace that provides views of Jordan's most iconic buildings.
The bar also boasts a Music Room, where guests can record or mix their own tracks, and listen to local and international live sets.
Cool to the max, this indoor/outdoor music venue and bar is also praised for its impressive collection of rosés, gins, and whiskeys.
Must-try signature cocktails include Freak Show, made with tequila, passion fruit, Thai red chili syrup, and lager; and Kyoho, which blends London dry gin with lime juice and Crème De Kyoho.
Address: 4/F, Eaton HK, 380 Nathan Rd, Jordan, Hong Kong
Quinary Bar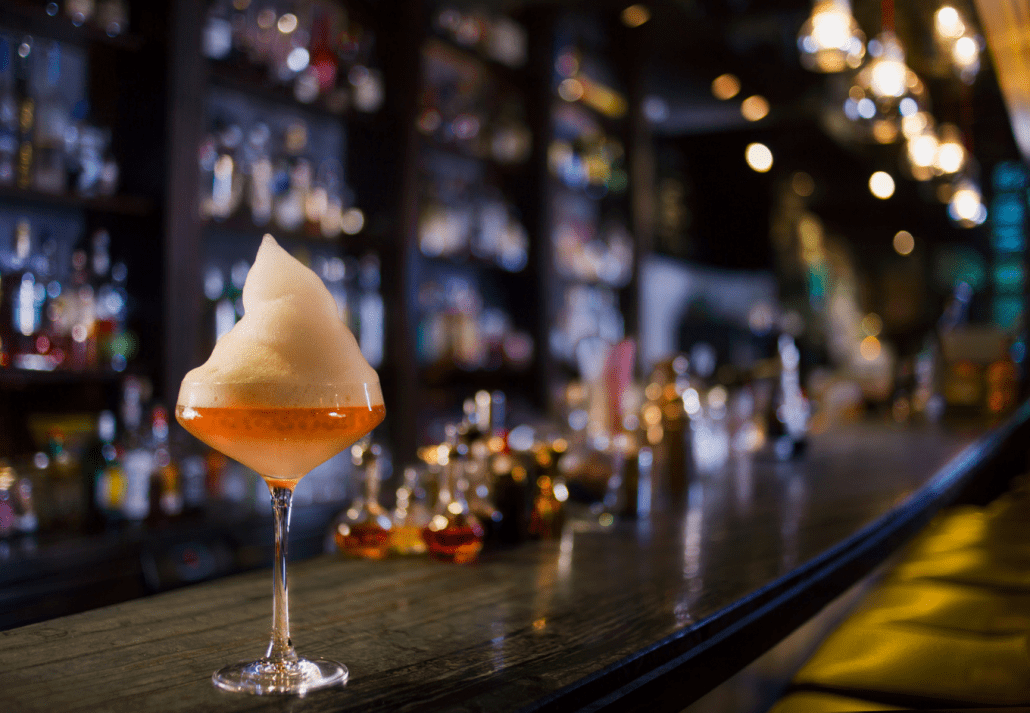 Located in the vibrant Holywood Road, Quinary Bar Hong Kong offers an intimate escape from the busy streets of Hong Kong.
This award-winning bar is the work of founder Antonio Lai, a prestigious bartender famous for popularizing molecular mixology in Hong Kong.
Quinary takes a modernist approach to cocktail making. All of the drinks here are carefully crafted to stimulate the senses, using cutting-edge technology like rotovap distillation and centrifuges.
The richness of flavors, aromas, textures, and colors create a Multisensory experience, providing guests with a one-of-a-kind experience.
The bar is especially famous for its tea-based cocktails. Make sure to try their signature Earl Grey Caviar Martini, made with Cointreau, citrus vodka, and elderflower syrup, and finished with caviar and Earl Grey "air".
Address: 56, 58 Hollywood Rd, Central, Hong Kong
FAQ
Does Hong Kong have nightlife?
Yes. Hong Kong has exciting late-night options, with countless bars and nightclubs to choose from.
Does Hong Kong have bars?
Yes. Hong Kong has an ever-evolving bar scene, with a place to suit every taste: intimate speakeasies to modern rooftop terraces.
Do people in Hong Kong drink alcohol?
In Hong Kong, 1.9% of the population drinks regularly, and 70% of the population is not regular drinkers.
How's The Hong Kong bar scene?
Hong Kong has a bustling bar scene, with places to suit every taste and budget. With that being said, there's no shortage of great bars where you can find a proper pour in Hong Kong, and whether you're looking for some artisanal beer or a rare whisky, you'll find it in the city.
What's the best cocktail bar on Hong Kong island?
Hong Kong's best bars are:
Bar De Luxe;
Caprice Bar at Four Seasons Hong Kong;
MO Bar;
Argo Four Seasons Hotel Hong Kong;
The Aubrey;
The DarkSide;
Terrible Baby.
CuddlyNest provides all accommodations to all travelers at the best price. Find unlimited travel inspiration on our blogs and our social media channels Facebook, Instagram, and Pinterest.
You May Also Like:
The 6 Best Night Clubs In Hong Kong
A Guide To The Best Wineries In Hong Kong
A Guide To The Best Shopping In Hong Kong
The 6 Best Beaches In Hong Kong
The 5 Best Amusement Parks In Hong Kong
The Best 5-Star Hotels In Hong Kong
The Best Time To Visit Hong Kong
10 Best Restaurants In Hong Kong
The 6 Best Night Clubs In Hong Kong