Christmas is just around the corner. And, since most people are longing for some travel and recharge time, going on a passport-free holiday vacation is the best way to enjoy the radiance of the season.
And in case you don't feel like hopping on an airplane to travel internationally yet, you can go on a holiday staycation trip within your own city or set off to an exciting U.S. destination you've always wanted to go to. Either way, you'll be in good hands.
The options of places to spend Christmas in the U.S. are endless, as the country is home to a showcase of holiday getaways that offer seasonal treats, comfortable accommodation options, and plenty of activities for the whole family.
To help you with your holiday planning, we've rounded up the 10 best Christmas vacations in the U.S. So grab a cup of hot cocoa, put on some holiday music, and start planning!
Find Places To Stay In The United States
The 10 Best Christmas Vacations for Families in the U.S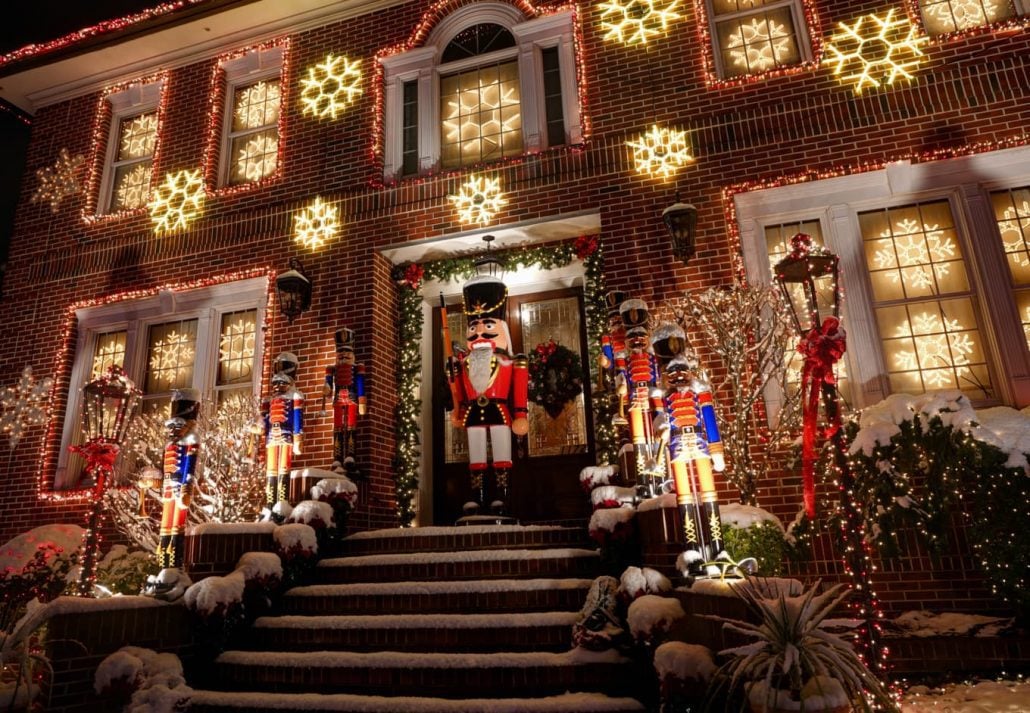 Are you itching to escape the urban sprawl and enjoy the restorative benefits of being around nature? If so, a great Christmas vacation idea is to set off on a family trip to the wilderness. You can even rent a cozy cabin in the woods and have your own holiday celebration while enjoying the brisk air and sweeping forested views.
For families who are seeking the ultimate holiday experience, why not head over to Disney World with the kids during the Christmas season? This year, the park will host a showcase of entertainment experiences, light displays, and festive treats until December 30.
Filled with seasonal activities and an array of lights, New York will surely light up your holiday spirit during your family vacation. The city becomes a magical wonderland during the holidays, hosting a range of iconic events such as the Rockefeller Center Christmas tree lighting ceremony and the European-style Christmas market at Bryant Park.
The Best Christmas Vacations for Families
San Francisco, California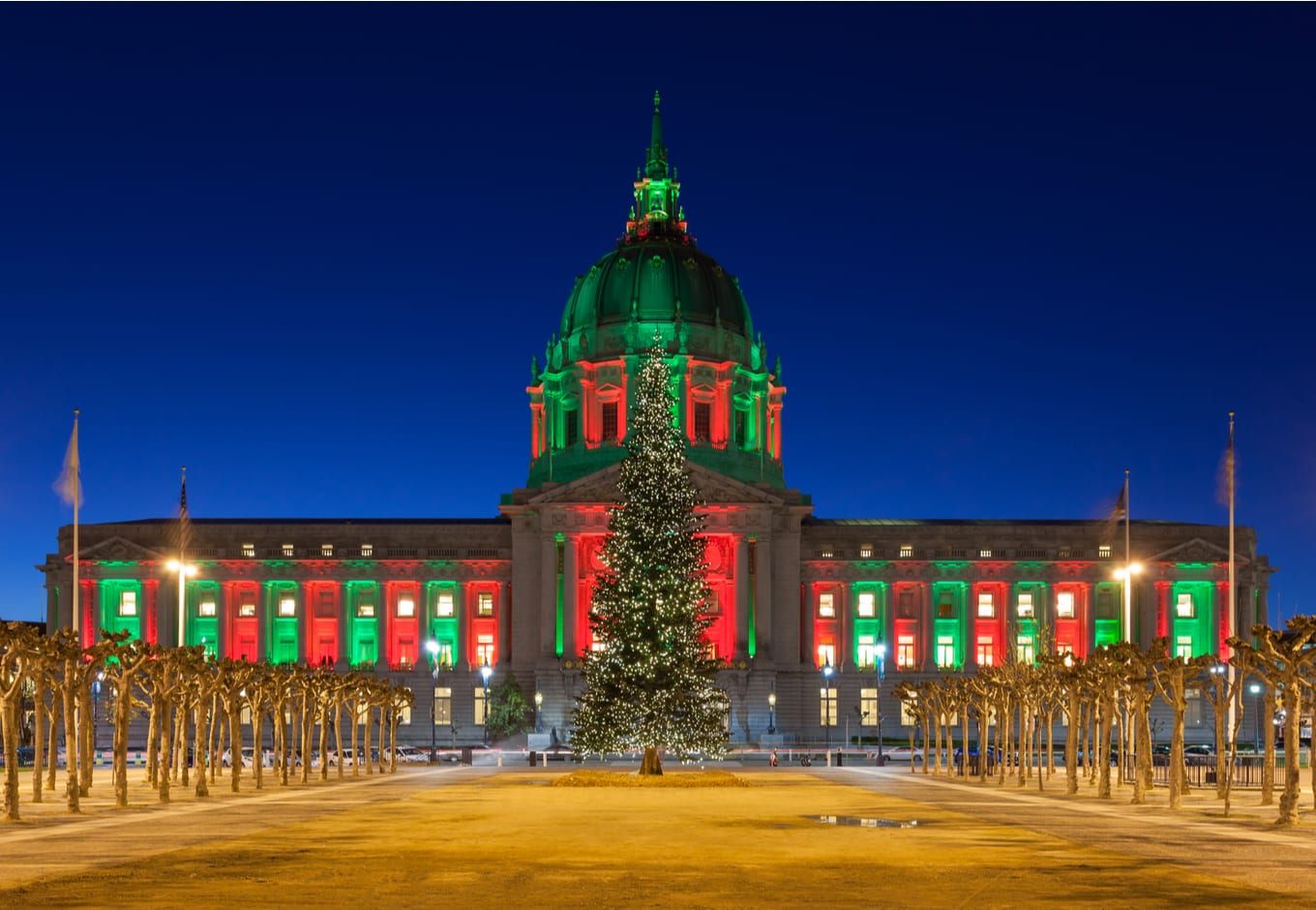 One of the things that makes San Francisco one of the best places to spend Christmas in the United States is the fact that it has a lot of kid-friendly activities. During this time of year, the city houses a panoply of festive lights and decorations, including the iconic 83-foot-tall Macy's "Great Tree", which is decorated with more than 33,000 energy-efficient LED lights and 1,100 ornaments.
Travelers can also take the little ones to Golden Gate Park, which turns into a veritable winter wonderland in December and houses whimsical installations like "Entwined", themed around an enchanted forest with 2,000 LED lights.
Aside from indulging in plenty of holiday activities, make sure you also tour around San Francisco and check out some of the city's top-rated attractions, including Chinatown, the San Francisco Museum of Modern Art, and Ghirardelli Square.
Don't forget to sight-see the Golden Gate Bridge, which is the most photographed spot in San Francisco, and one of the most Instagrammable places in the world.
Our San Francisco travel guide is sure to help you plan your trip to the city and make the most out of your Christmas vacation.
Find Places To Stay in San Francisco, California
San Diego, California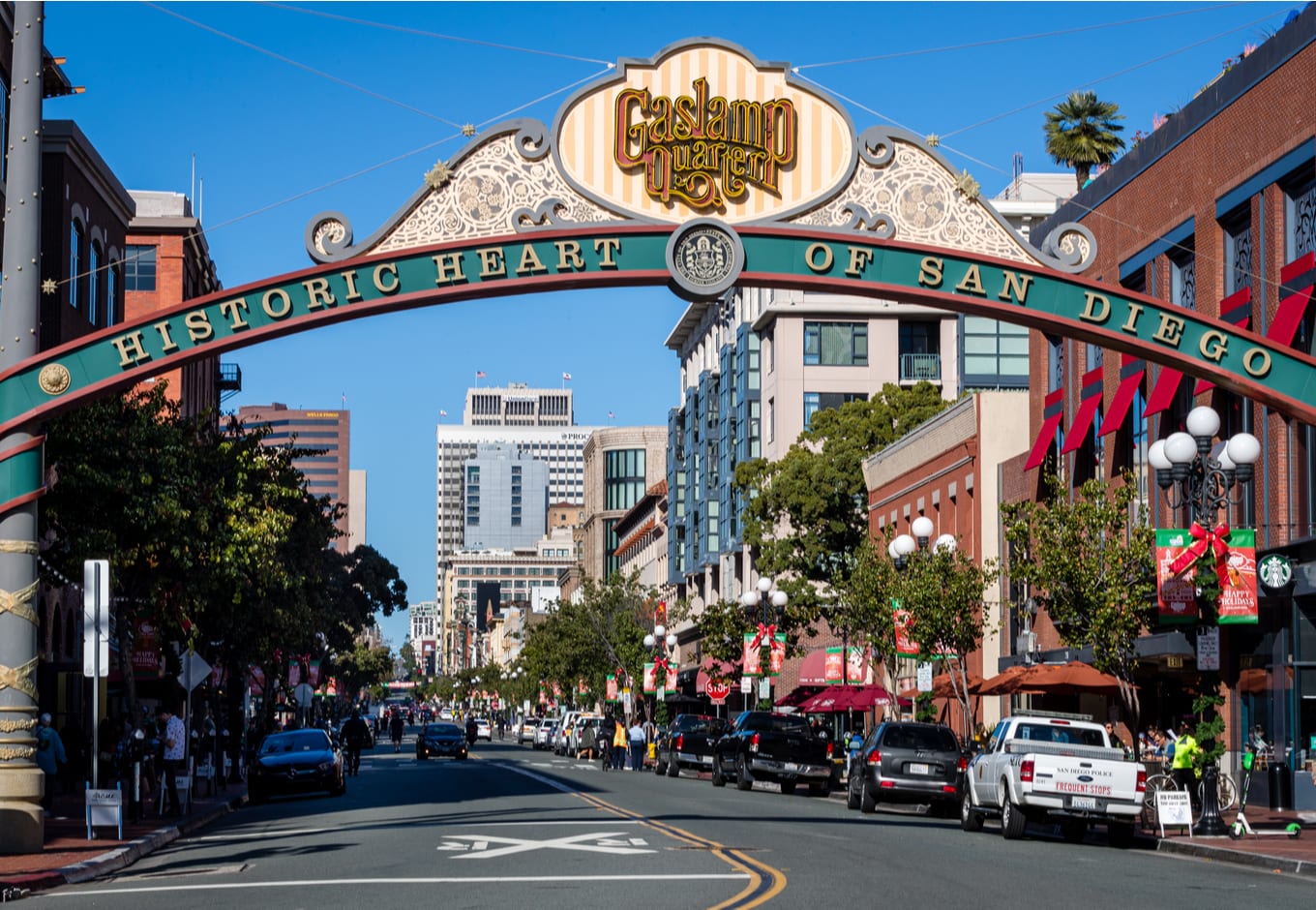 In case you have a bit more time, you can turn your Christmas vacation into a fun road trip with your family by taking the Pacific Coast Highway to explore the cities along California's coast. After a weekend in San Francisco, for instance, you can head south and either stop in Santa Barbara or go straight to San Diego. Offering a pleasant climate all year round, San Diego is the perfect getaway for families who want to escape the cold weather.
Aside from beaches, gardens, and parks, San Diego also displays a showcase of festive events during Christmas. In December, visitors can wander through 37 acres of illuminated plants and garden areas in the San Diego Botanical Garden. The event also hosts a display of lighted animals, laser lighting, and fire pits for the whole family.
Other fun-filled events that will happen in San Diego during Christmas time are the iconic Mission Bay Christmas Parade of Lights, and the Julian Christmas Tree Lighting, on the Saturday after Thanksgiving, at Julian's Pioneer Park.
Find Places To Stay in San Diego, California
Also Read:
Exploring The Best Christmas Towns In The US
Chicago, Illinois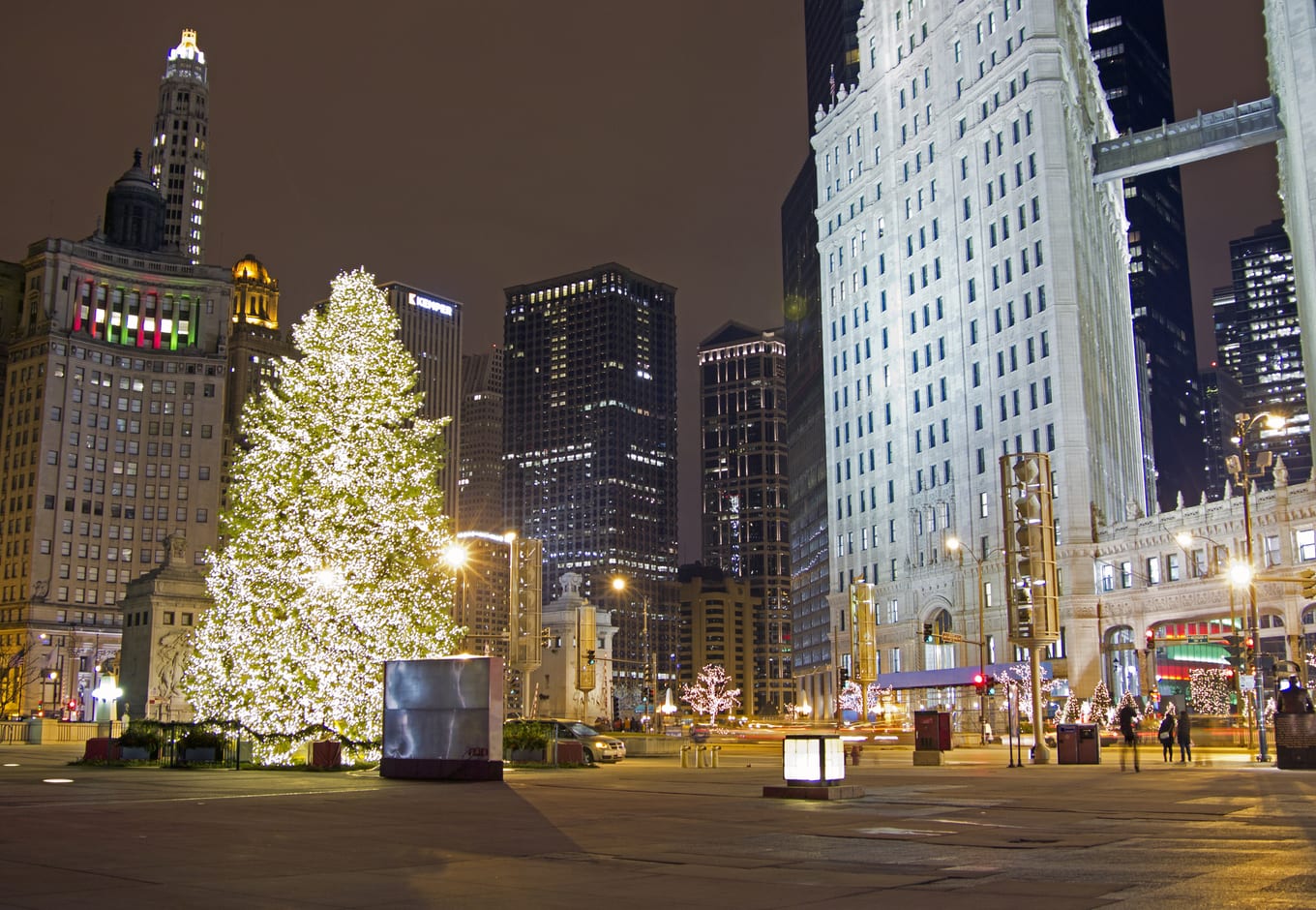 While some events were called off this year due to the current situation, there will still be plenty of Christmas activities throughout Chicago. Until January 2023, the Lincoln Park Zoo will host its 28th annual ZooLights, an iconic event featuring a range of attractions, such as a dazzling light display, visits with Santa, a holiday pop-up bar, Enchanted Forest, and more.
To sight-see some more dazzling lights, head over to the Morton Arboretum's annual tree lights display. Visitors can walk through a two-mile stretch of trees decorated with colorful lights while listening to a musical soundtrack. Another must-go for a Christmas vacation in Chicago is the Great Tree at Macy's Walnut Room restaurant.
Looking for an outdoor ice skating rink to take the kids to? Then head over to the iconic Millennium Park or to the Ice Skating Ribbon at Maggie Daley Park.
Find Places To Stay in Chicago, Illinois

Washington, D.C.

As the year begins to wind down, Washington, D.C, turns into a sparkly holiday destination that appeals to both couples and families with children. One of the most famed activities during Christmas it's visiting the National Christmas Tree, which is traditionally lit by the President of the United States.
When in Washington DC for your Christmas family vacation, be sure to also go to the Downtown Holiday Market, an outdoor shopping village that will feature more than 70 exhibitors. Aside from doing your spot of shopping, you can also indulge in some live music concerts, and delicious heartwarming food, such as churros, barbeque, and doughnuts.
Find Places To Stay in Washington, D.C.
New York City, New York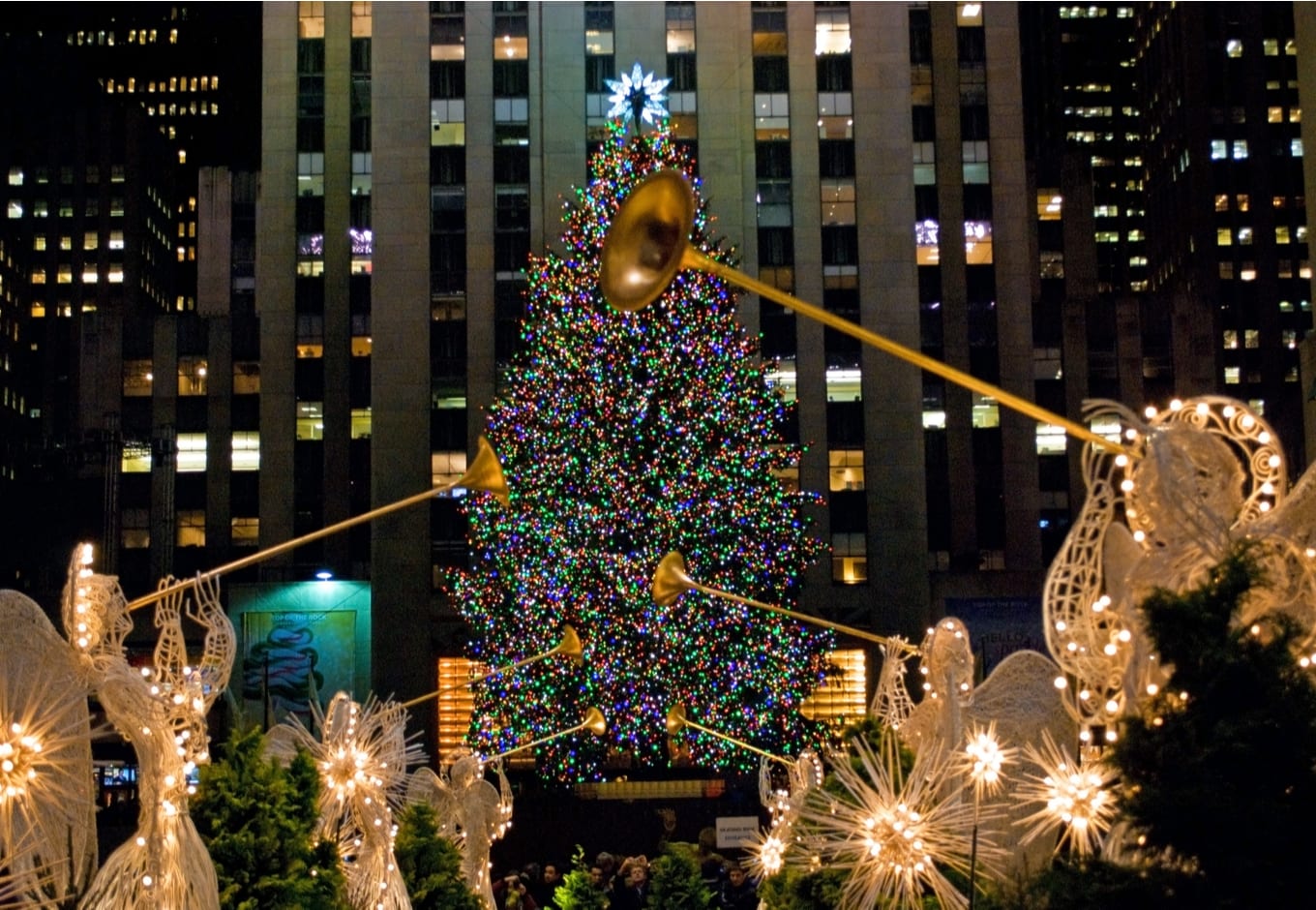 New York City during the Christmas season is a true sight to be seen. In fact, New York embraces the Christmas spirit like no other place in the United States.
And what makes NY one of the best Christmas getaways is the fact that the city has something to offer everyone, from adults to children. Think of otherworldly holiday decorations, alluring Christmas markets, stellar skating rinks, and other attractions that are suitable for the entire family.
For a flavor of the winter in NYC, you can start off your trip with some family-friendly activities, such as ice skating in Bryant Park, checking out the Christmas tree at Rockefeller Center, and watching the Rockettes on the Radio City Christmas Spectacular Show.
Once these are done, you can move on to other magical holiday activities, such as visiting the New York Botanical Garden, which will their famous miniature train show, where visitors can watch little trains traversing a display of nearly 200 of the city's landmarks, such as the Statue of Liberty, and the Brooklyn Bridge.
And, in case you're in a true Christmas mood this year, there are more holiday activities in New York for you and your family. So what about marveling at New York's festive lights by going to the iconic Dyker Heights Christmas Lights Display?
A tradition for more than 30 years, the light display spans three avenues and several streets in Brooklyn, from 11th to 13th Avenues (also known as Dyker Heights Boulevard), and from 83rd to 86th Street in Dyker Heights. The houses located in this area are over-the-top decorated in the old-fashioned style, filled with dazzling lights, giant sleighs, inflatable Santas, Christmas trees, and more.
Feel like taking a quick break from all the Christmas-themed events? A great idea is to visit New York's top-rated attractions. You can always go for a walk in Central Park and feel the brisk air or winter, wander around Chinatown for a dumpling-filled meal, or go visit the city's museums.
Find Places To Stay in New York City, New York
Also Read:
The Bryant Park Winter Village Guide
Seattle, Washington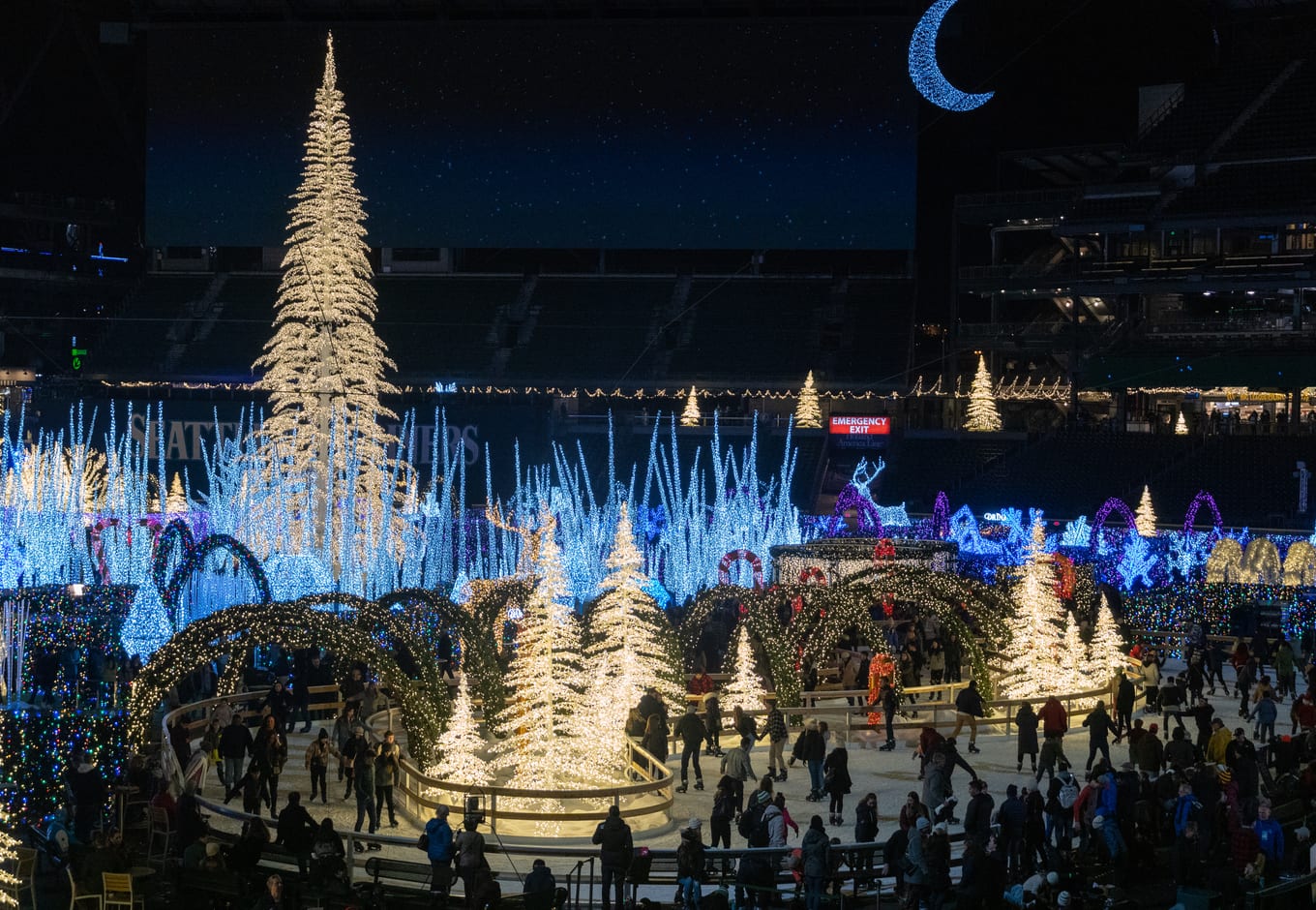 Seattle might not be the first destination you consider when planning a holiday getaway. But we guarantee that you won't regret it if you decide to spend Christmas in the city. Start your Seattle family vacation by going to the "Illuminate Your Holidays" at the Woodland Park Zoo. This immersive experience will take you through an exhibition of large-scale animals and naturescape lanterns that represent wild places from around the world.
After the dazzling experience at Woodland Park, go visit the famous Candy Cane Lane in Seattle's Ravenna neighborhood. Also known as the N.E. Park Road, Candy Cane Lane consists of 23 houses decorated with lights, life-size moving objects, Christmas trees, and fake snow.
Craving some Christmas shopping spree? Then make your move to the Pike Place Market, an open-air market where you'll find a slew of amazing handmade gifts for your family.
Find Places To Stay in Seattle, Washington
Jackson Hole, Wyoming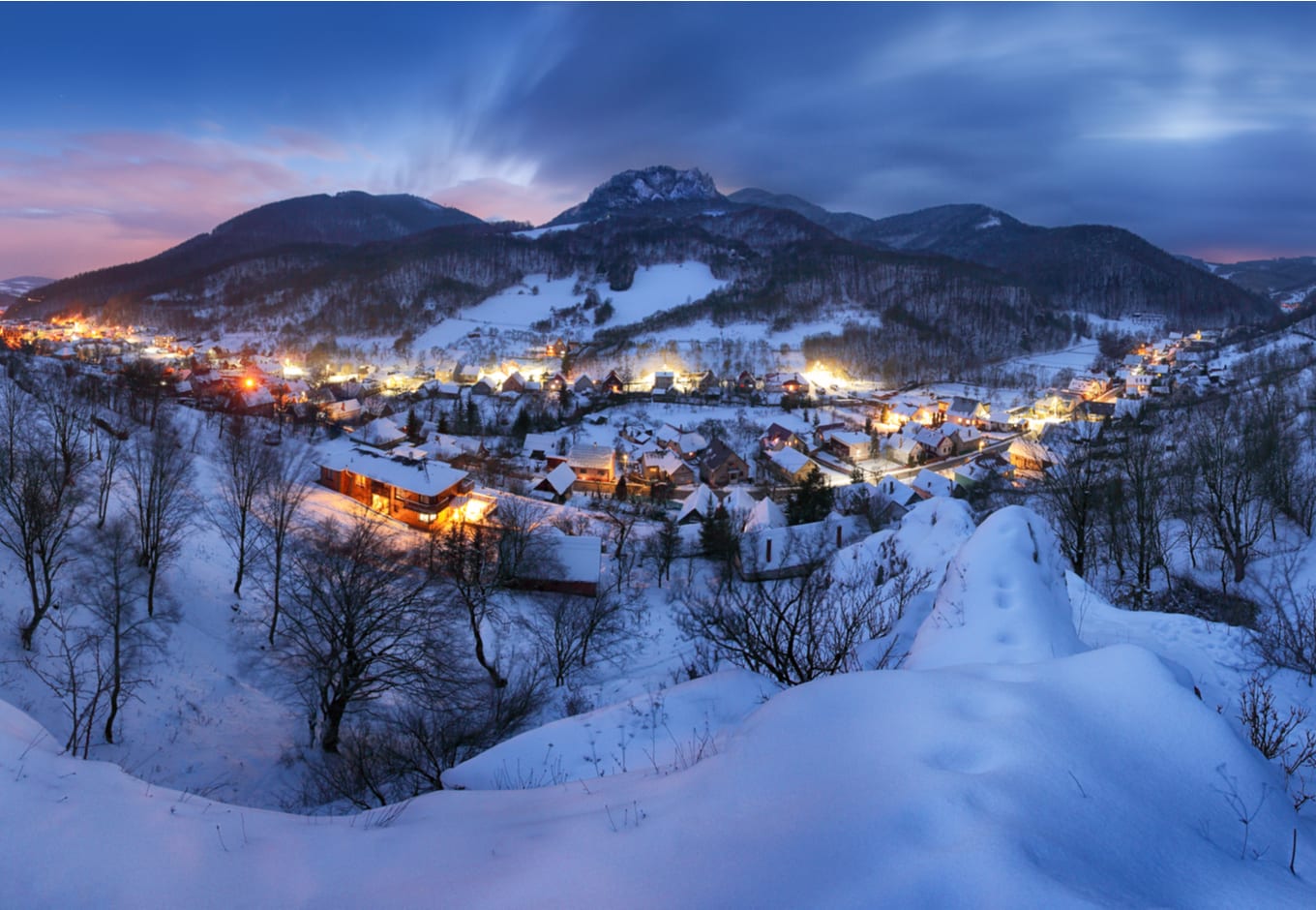 Jackson Hole, Wyoming, is one of the best Christmas vacations for an authentic holiday in the wilderness. Located between the Gros Ventre and Teton mountain ranges, Jackson Hole is well-known for being home to three major ski areas, and for being close to the Grand Teton National Park, and the Yellowstone National Park.
If hitting the slopes during winter is your family's favorite holiday tradition, you can plan a ski trip and stay at a mountain resort. This year, the Jackson Hole Mountain Resort and the Teton Village Association will have an array of Christmas activities, such as skiing with Santa Claus, a snow sculpture-building contest, and free ice skating on the Village Rink, among others.
And, when you're not sleigh riding, nordic skiing, and snowboarding in Jackson Hole, you can celebrate the holidays by taking your family to Town Square, which is filled with twinkling lights and Christmas decorations.
Seeking some cozy time curling up by the fireplace and binge-watching your favorite Christmas movies with your family? Then a great idea is to rent a cabin in the woods. You can throw your own Christmas dinner party and maintain your beloved holiday traditions while traveling.
Find Places To Stay in Wyoming, USA
Also Read:
The Best Winter Vacations In The US
Charleston, South Carolina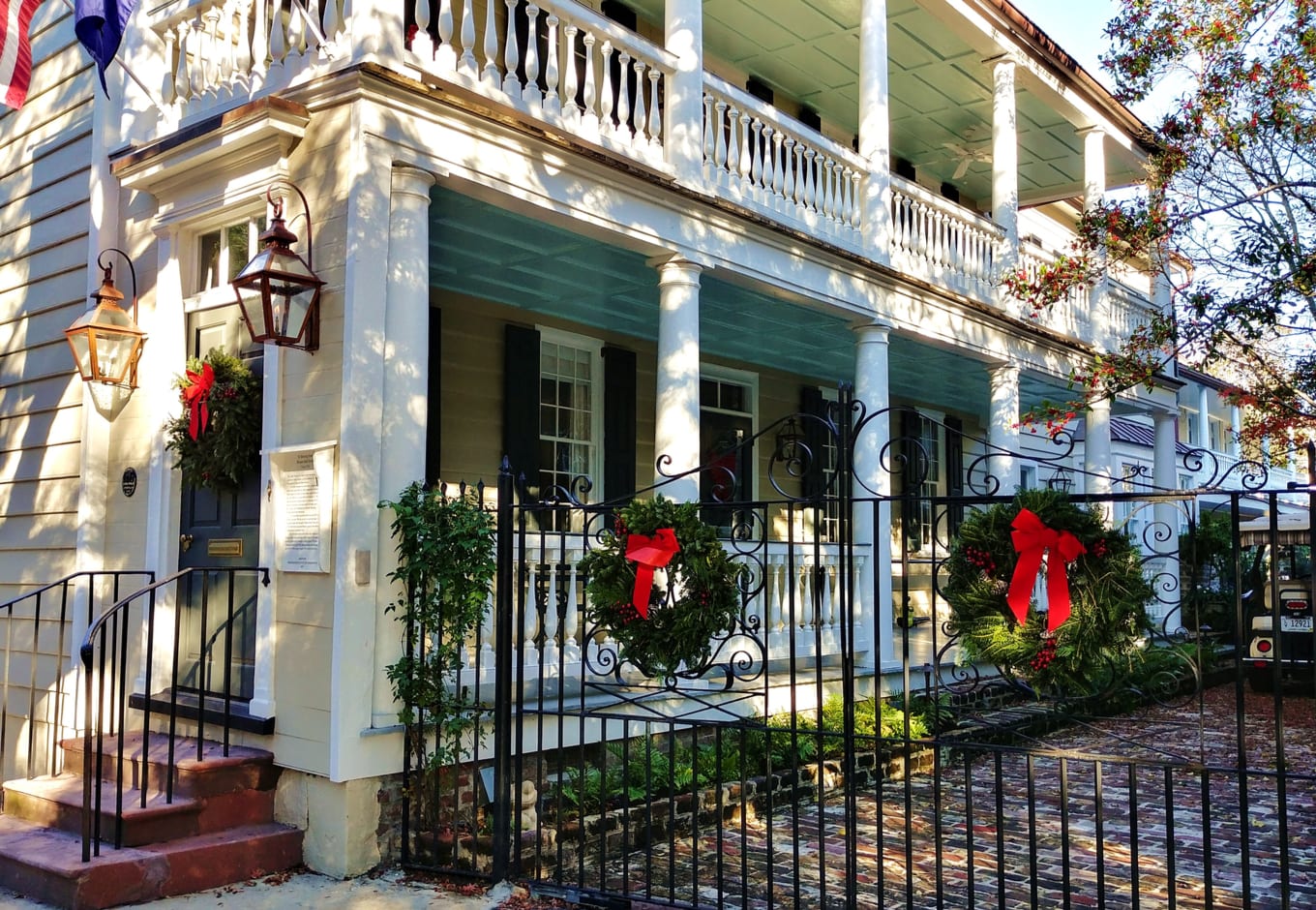 For some heartwarming Southern hospitality during the holidays, go to Charleston, South Carolina. Filled with historic homes, gorgeous piazzas, and award-winning restaurants, the city is often regarded as one of the best long weekend getaways in the United States.
Perfect for a Christmas break, Charleston is guaranteed to provide you with a memorable experience this winter, as it offers plenty of holiday cheer and a range of swoon-worthy events.
Until 31 December Charleston will host one of the most awaited shows of the year: the Holiday Festival Of Lights. Visitors will be able to marvel at two million lights while enjoying mouth-watering treats.
To level up your holiday season in Charleston, go on the Christmas Candlelight Tour, which will take you and your family to explore the beautifully decorated Boone Hall Plantation.
If you feel like having even more fun with the kids, a great place to go is Theodora Park, the only small city park with holiday lights that look like jewels spread across the gardens.
Find Places To Stay in Charleston, South Carolina
Santa Fe, New Mexico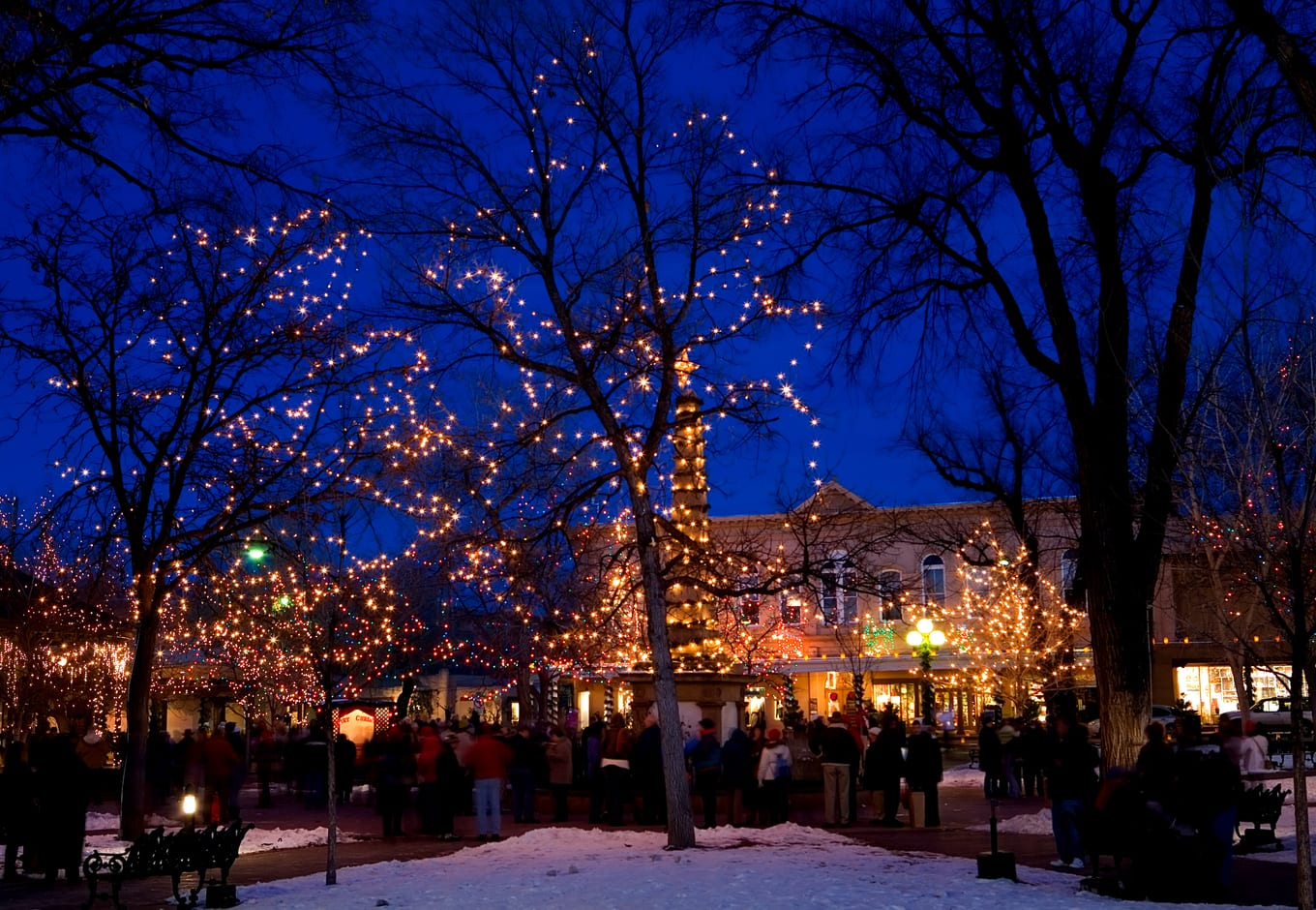 Known for its Pueblo-style architecture and dramatic mountainous backdrop, this off the beaten path destination is one of the best places to spend your Christmas vacations in the U.S. Christmas in New Mexico is influenced by different cultures, including Spanish, Native American, Mexican and Anglo-American, which will allow you and your family to learn about other holiday traditions.
In fact, many pueblos close to Santa Fe celebrate Christmas with traditional festivals, which usually feature typical dances and music.
Adrenaline enthusiasts can also benefit from spending Christmas in Santa Fe, as the city turns into a veritable wonderland for winter sports during the holiday season. There are several mountainous areas around Santa Fe where you can go skiing, snowboarding, snowshoeing, and even sleigh-riding.
Find Places To Stay in Santa Fe, New Mexico
Walt Disney World, Orlando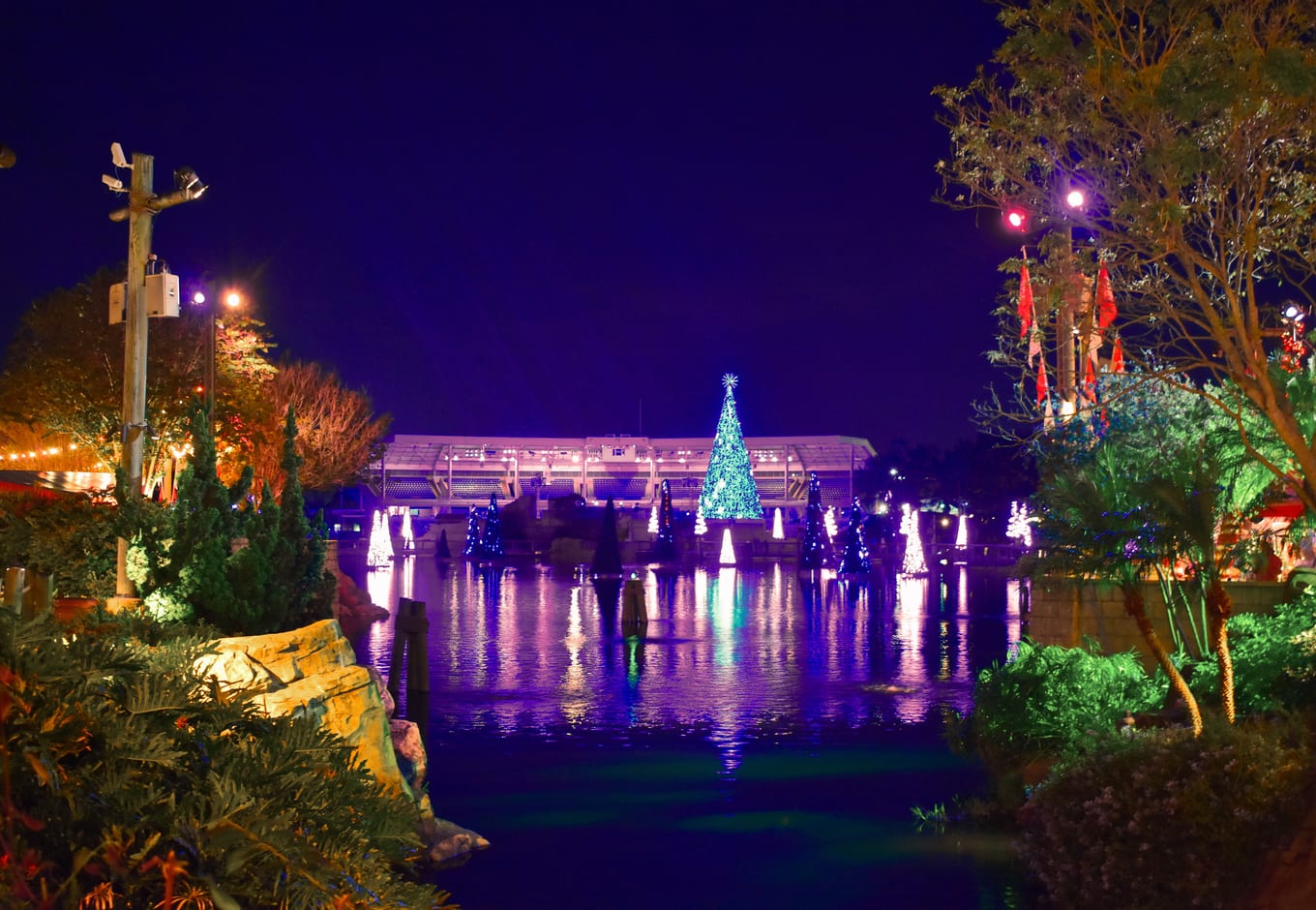 Get ready to be spending the happiest time of the year in the happiest place on earth. After all, when it comes to having a wonderful time with your family, Walt Disney World never disappoints.
Disney brings Christmas cheer to each one of its theme parks by offering a myriad of events. In Epcot, for instance, visitors will witness Santa Claus touring around the World Showcase in his horse-drawn sleigh, while wishing everyone a happy holiday season. Until December 31, guests will also be able to participate in the Taste of Epcot International Festival of the Holidays and visit the Holiday Kitchens around the world.
Magic Kingdom will feature colorful castle projections, a holiday trolley, and a philharmonic. To satisfy your cravings, you can indulge in some sweet and savory holiday treats, such as hot chocolate and cookies.
Wondering where to go for your holiday shopping? Well, Orlando has infinite options of outlets where you can find great deals and go hunting for Christmas presents for your family. With a wide range of things to see and do, Orlando is certainly one of the best Christmas family vacations in Florida.
Find Places To Stay in Orlando, Florida
Also Read:
The Best Places To Travel In December — USA
Best Places To Travel In January — USA
Frequently Asked Questions
Where is the best place to spend Christmas in the USA?
The Best Places For Christmas Vacations:
San Francisco, California;
Chicago, Illinois;
Washington, D.C.;
New York City, New York;
Seattle, Washington.
Where should I go for family a vacation in December?
The Best Places For Family Christmas Vacations:
San Francisco, California;
San Diego, California;
Jackson Hole, Wyoming;
Washington, D.C.;
New York City, New York;
Seattle, Washington.
Where are some warm places to spend Christmas?
Snowbirds who want to escape the cold weather during Christmas time will have a great time spending the holiday in places like San Diego (California), Palm Springs (California), Orlando (Florida), Savannah (Georgia), and Honolulu (Hawaii).
Find Places To Stay in Orlando, Florida
Browse. Book. Stay.
CuddlyNest provides all accommodations to all travelers at the best price. Find unlimited travel inspiration on our blog and social media channels.
Here are some curated readings for you:
Magical European Winter Destinations
Balkan Ski Resorts For Holidays
Best New Year's Eve 2020 Destinations
You might also like:
Christmas Lights 2022
The Best Christmas Lights In NYC
Things To Do In New York During Christmas