Europe is always a good idea. But there's something really special about it this time of the year. Imagine sipping on foamy hot chocolate, foraging through the best Christmas markets in Europe, as snow-capped churches set a picture-perfect backdrop. From Denmark's Copenhagen to Salzburg in Austria, the streets of Europe twinkle with lights and Christmas carols, as the whiff of freshly-baked gingerbread cookies accompany you all along the way.
And those who thought this year would be any different can take heart, as many of these markets continue to spread love and laughter, drawing visitors galore!
Where are the best Christmas Markets in Europe?
Germany
Berlin
Usually from the month of November up until the end of January, the city of Berlin is lit with some of the best Christmas markets in Europe! Filled with shimmery trees, fairy lights, and luminous colors, it's the perfect place to enjoy some German music and culture. One must also feast on local cakes and cookies such as Lebkuchen and Pfeffernüsse.
While Berlin hosts almost 60 winter markets every year, the most popular ones remain Alexanderplatz, Kurfürstendamm, Historical in RAW Friedrichshain, and one can never miss the iconic Berliner WeihnachtsZauber.
Cologne
There's something really special about the city of Cologne and its age-stained architecture. But one of its most remarkable features is the arsenal of winter villages it offers; some of them even earn the reputation of best Christmas markets in Europe!
Every holiday season, the city is brimming with vibrant bazaars with a host of live performances and music shows. You can browse through a range of charming market stalls for souvenirs, trinkets, and goodies.
With many entrants into the fray, Angels, Stadtgarten and Saint Nicholas' Village continue to be the ones packed to the hilt.
Recommended Read: Experience Berlin through the big screen
France
Paris
Even with a plethora of winter wonders around the globe and the best Christmas markets in Europe, no one does it quite like the French.
If you are in the capital city, make sure to visit the iconic Champs Elysées, which is so famously big, that it is sprawled across the Champs Elysées till the Arc de Triomphe.
There's also the Marché de Noël Féeries d'Auteuil, where you can find the most exquisite French food! From aromatic mulled wine and local champagne to the most enticing spread of cheese, fill your visits (and your tummy) with these scrumptious treats.
Metz
Wondering what is the best Christmas market in Europe? Well, this one's a hell of picturesque beauty!
The city of Metz is widely popular for its manicured gardens and enormous promenades. But the little-known fact is, it also boasts some of the best Christmas markets in Europe! You can witness an over-the-top ice rink, sample festive treats, and shop for wooden toys from a plethora of stalls and boutiques. You will find colorful giant wheels with views of the city so enthralling that we recommend you keep your cameras ready at all times!
Place Saint-Louis — being the largest and all-time favorite — continues to be filled to capacity, while Marché de Noël is also a great option to stretch your legs and unwind.
Strasbourg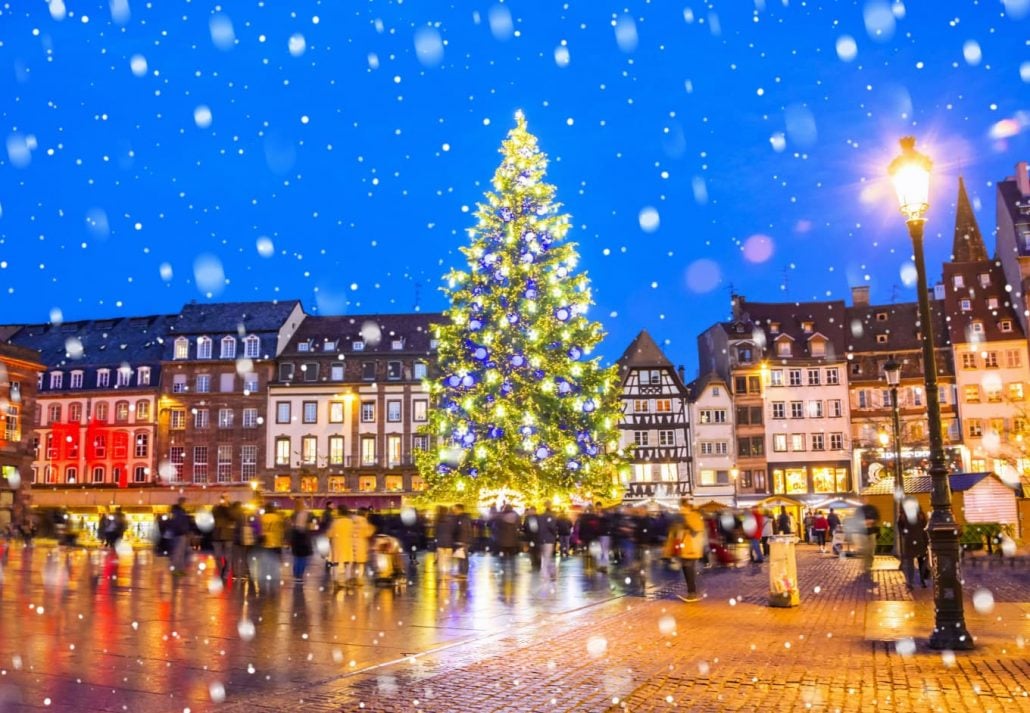 Strasbourg is a UNESCO World Heritage Site, and an old town in France with a captivating winter market. Littered with charming cottages and chalets, it is the place to be if you have an appetite for freshly-baked French sugary treats and locally-produced mulled wine. 
Head to Strasbourg market in the city center area, to catch some of the oldest Christmas markets in European cities. We recommend Christkindesmäkir, Place du Château, Place de la Cathédrale, and Place Kléber for beautiful fairy lights, market stalls selling fresh gingerbread, and a glorious Christmas tree!
Recommended Read: Travel Guide: Travel tour de France Route
Austria
Vienna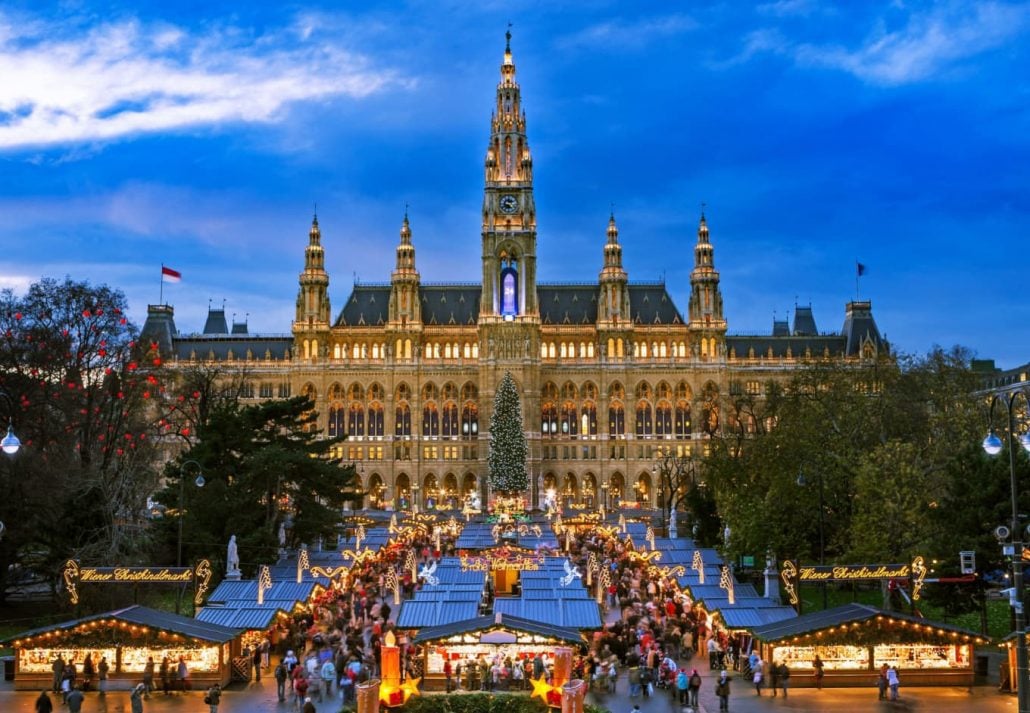 Filled with activities, sceneries, and eateries, the Austrian capital is a magical place to be if you are wondering what is the best Europe Christmas markets. Come winter, it's sparkling with festive cheer and curious tourists.
We recommend Viennese Dream near City Hall for an evening of classic Austrian holiday festivities. It features a myriad of pop-up shops, wooden chalets, and delightful holiday bakeries, along with captivating performances by international choirs.
Note: Viennese Dream offers free entrance on certain days, so make sure to call their inquiry team for details.
Salzburg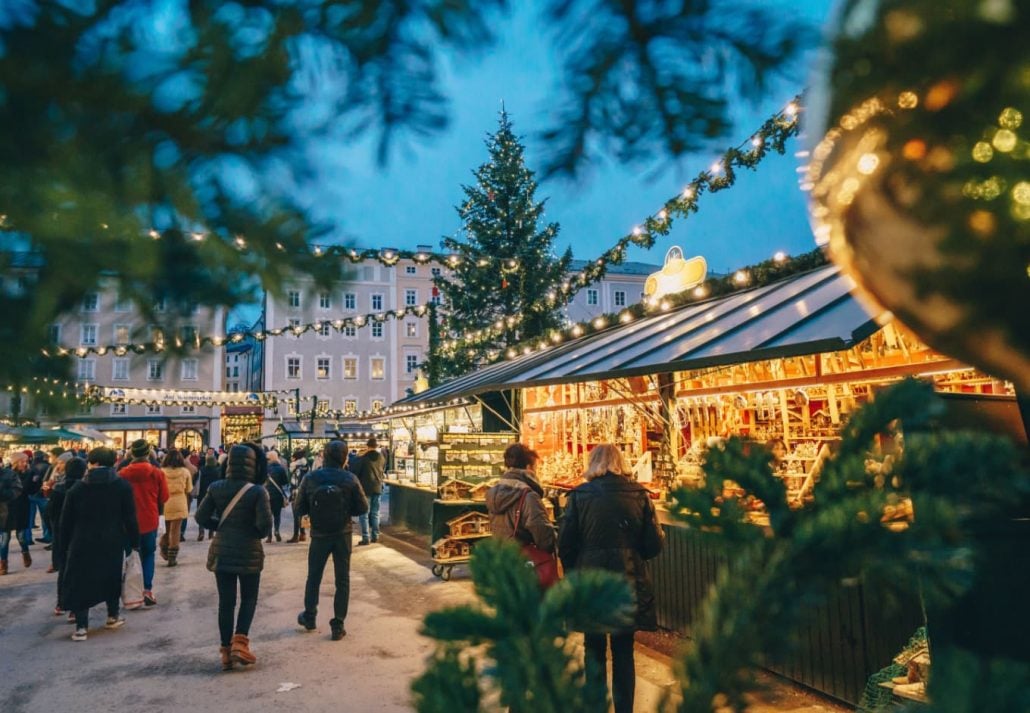 The town of Salzburg is widely popular for its breathtaking scenery. This time of the year, however, one just can't miss its larger-than-life Christmas trees, ice skating rinks, and eclectic fairy lights.
You can enjoy a relaxing winter evening at Salzburg Christmas Market near Cathedral Square. It hosts over 80 events to choose from. However, the winter village is most famous for its vibrant dining and drinking scenes along with a festive menu that will spoil you for choice!
Recommended Read: European countries to visit during Chinese New Year
Poland
Krakow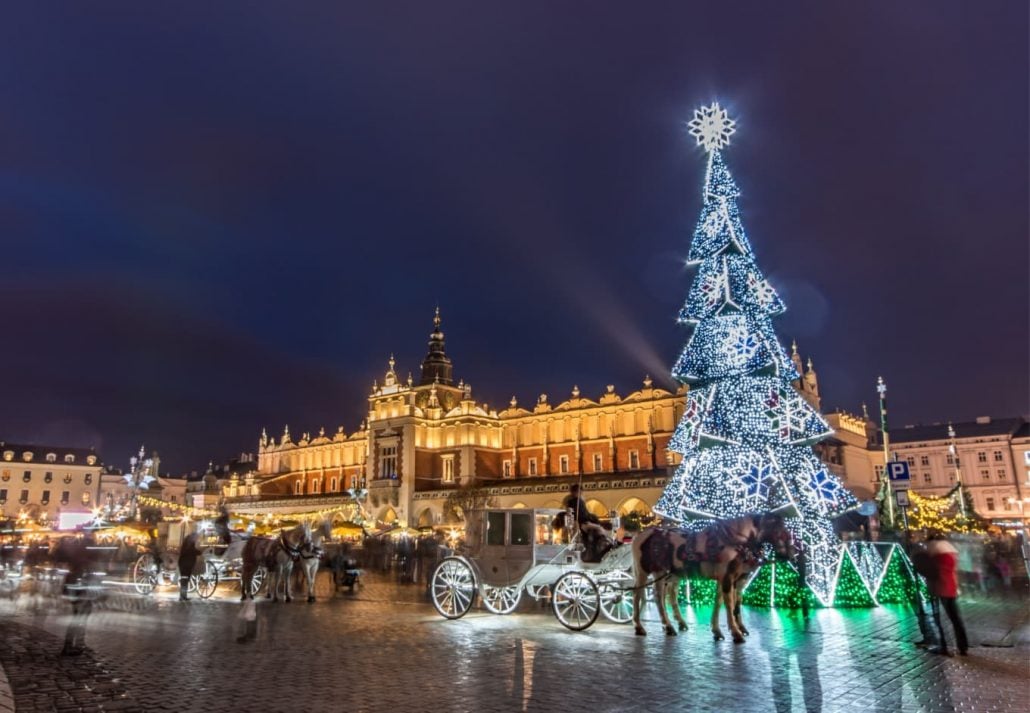 For kids and adults alike, this Polish capital boasts the most over-the-top, vibrantly-lit ice skating rinks during the holiday season! You can stroll around the Old Town Square area and check out quaint little stalls selling intricate Christmas lights.
We also recommend binging on Polish sausages, and freshly-baked gingerbread, and guzzling down some decadent eggnog or mulled wine. While you are here, don't forget to also sample bigos during Sylwester.
Wroclaw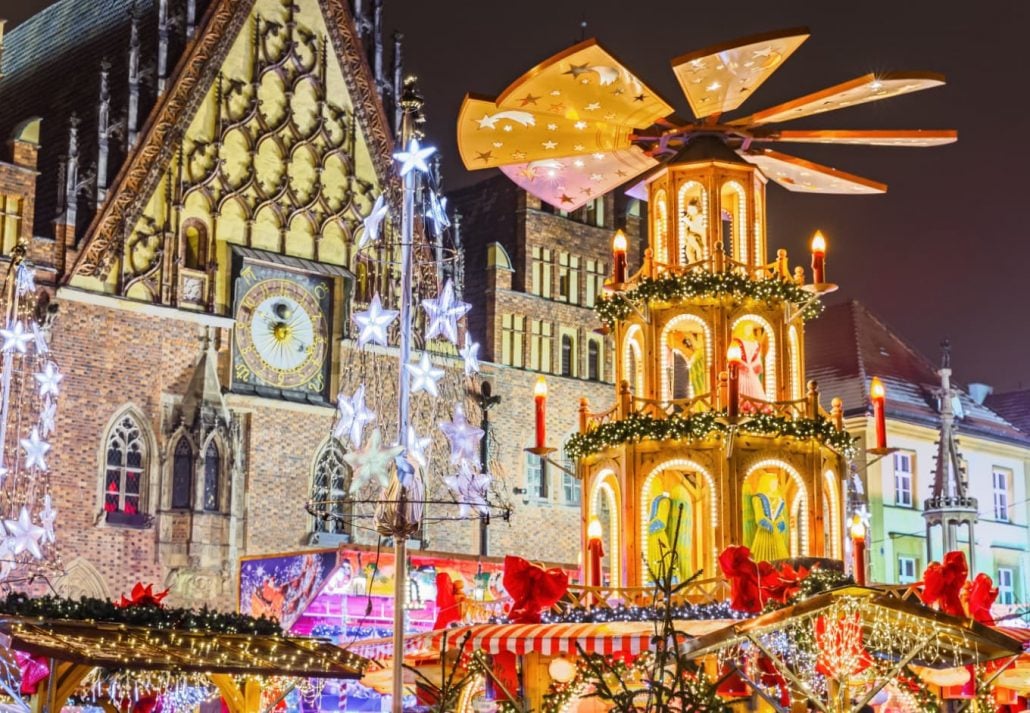 The city of Wroclaw is steeped in history, it's no wonder then that this Polish town is home to some of the most breathtaking ancient architecture and century-old stories!
The city is also littered with visitors from around the globe in search of the oldest Christmas market in Europe!
Recommended Read: Holidays with pets around Europe
Estonia
Tallinn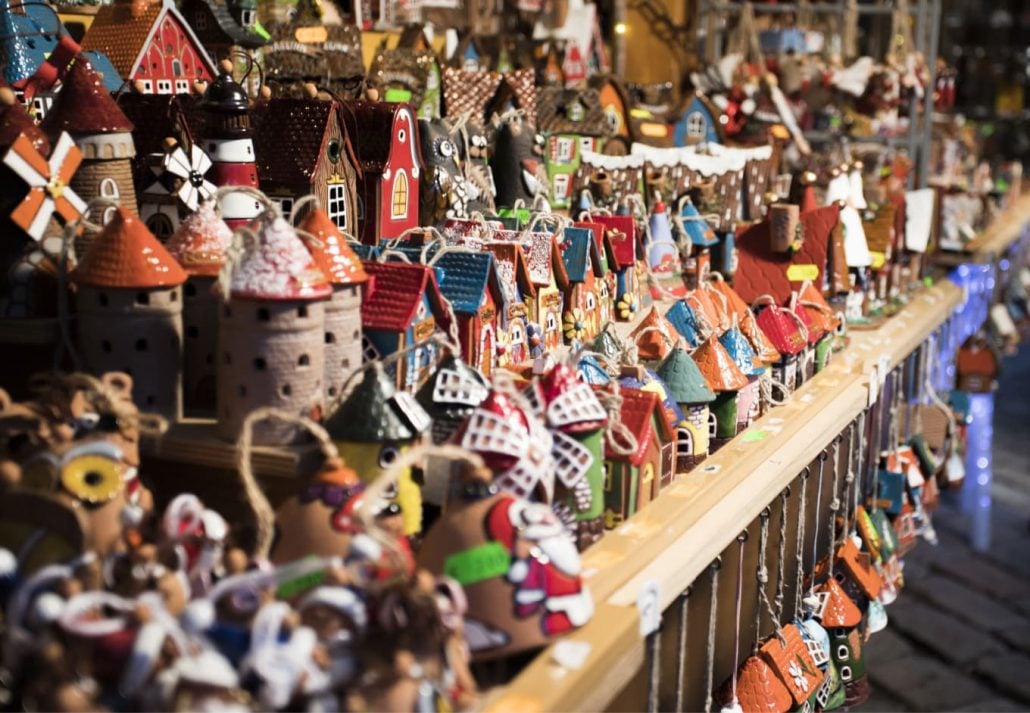 Then there is the capital of Estonia — a quaint, medieval town by the name of Tallinn, which is home to an enviable range of historic staples and hidden gems.
You can explore the Tallinn Christmas Market near Town Square Hall for fun-filled holiday activities, scintillating views, and photo-worthy moments. Don't forget to also enjoy some yuletide tipple (local mulled wine) along with fresh black pudding.
Recommended Read: Best Eastern European holidays
United Kingdom
London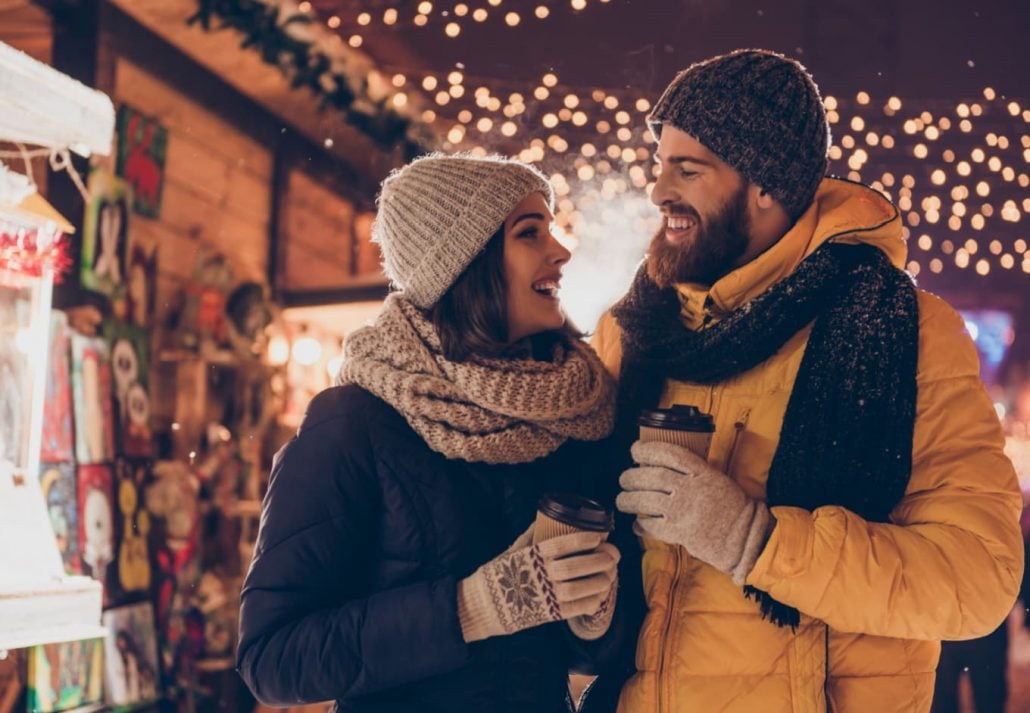 From London to Leeds, the United Kingdom is home to some of the best Christmas markets in Europe, and the Hyde Park Winter Wonderland in London is the highlight among them!
You can spend the evening racing on the ice-skating rink, shop for wooden toys, and feast on some English trifle before you call it a day.
Winchester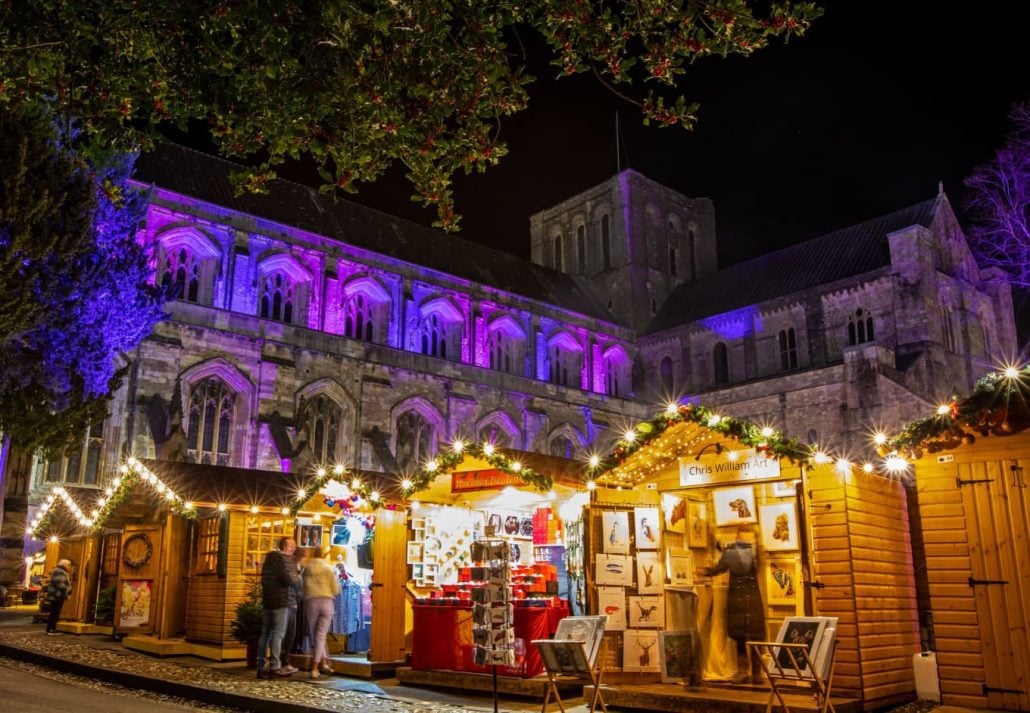 Winchester Cathedral's Christmas Market is the place to be if you want to cocoon yourself from the city's rut and experience classic British holiday festivities. From charming wooden chalets, and locally produced mulled wine to the finest collection of chocolates and coffees, there's so much here to spoil you for choice!
Recommended Read: London top 5 alternatives
Denmark
Copenhagen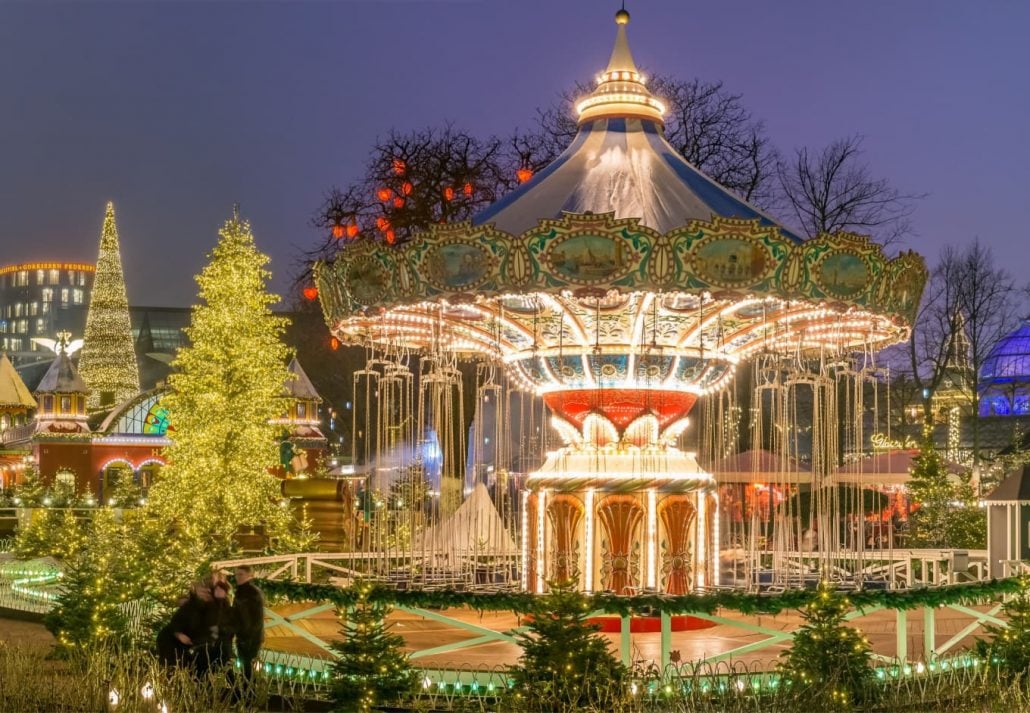 Also among the best Christmas markets in Europe, Tivoli Gardens is widely-popular for being the most luminous winter bazaar.
On arrival, you will be greeted with the aroma of fresh Danish pastries and Christmas lights as charming cathedrals are set in the backdrop. You will find patrons feasting on traditional treats, while children keep themselves entertained by Santa and the elves.
Tivoli Gardens also features a merry-go-round, wooden huts, and an enchanting amusement park.
Aarhus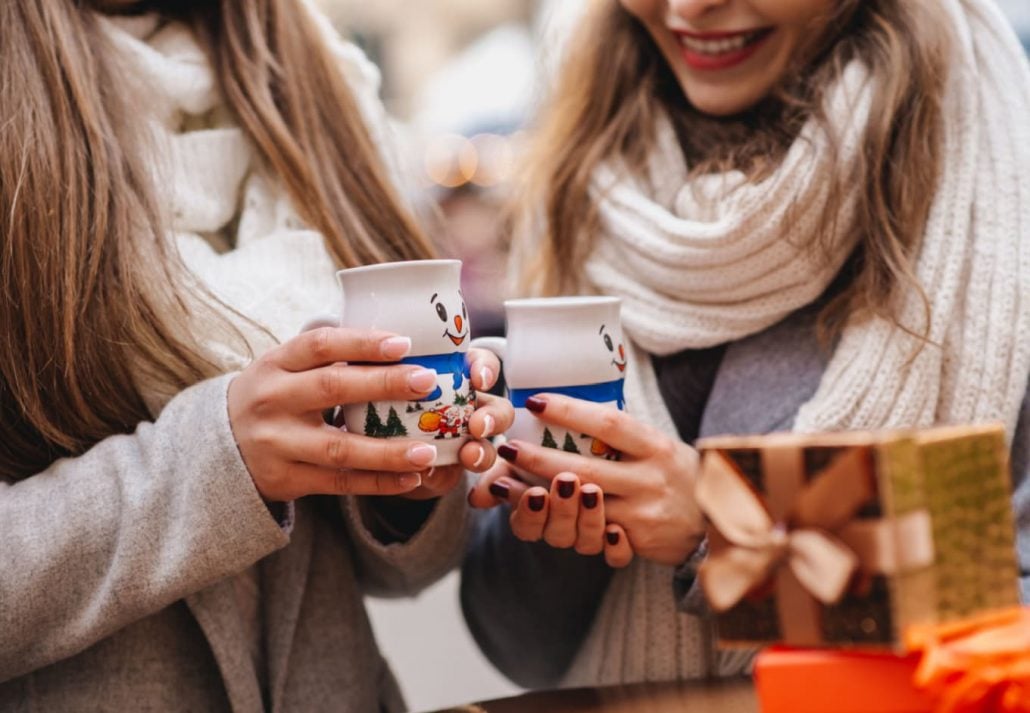 Considered among the best markets in Europe, the old town of Aarhus is the perfect place to experience some hygge and Christmas cheer.
Located near the City Hall, it is known for its homemade wreaths and intricate wooden toys. You can also explore the open museum or take a ride in an open carriage. For adventure junkies, we recommend sitting on the roller coaster, Ferris wheel, and merry-go-round.
Once all this fun works up your appetite, don't forget to devour mouth-watering cakes and swiss rolls.
Recommended Read: What to pack for a sustainable trip in Europe?
Czech Republic
Prague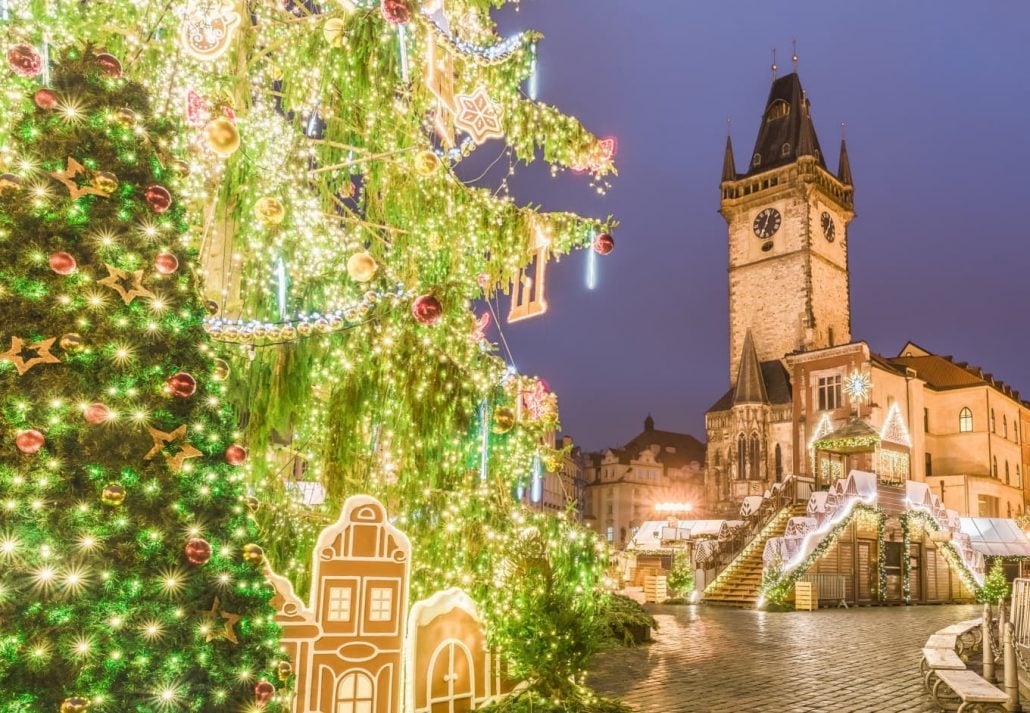 We are always traveling in search of happy places, aren't we? What if we tell you there's an old town filled with glorious colors, magnificent lights, and wonderful people? Well, it's the city of Prague that is famous for hosting wonderful winter bazaars year after year!
For locals, it's a tradition to visit the Wenceslas Square Christmas Market and Old Town Christmas Market near Town Square, which are only a stone's throw away from each other. Known for an extensive spread of pork and pastries, the food here is serious business.
If you haven't already, make sure to try a glass of gorg, which is a local drink concocted with rum, lemon, sugar, and water.
Recommended Read: Weekend in the last feudal state of Europe
Iceland
Reykjavik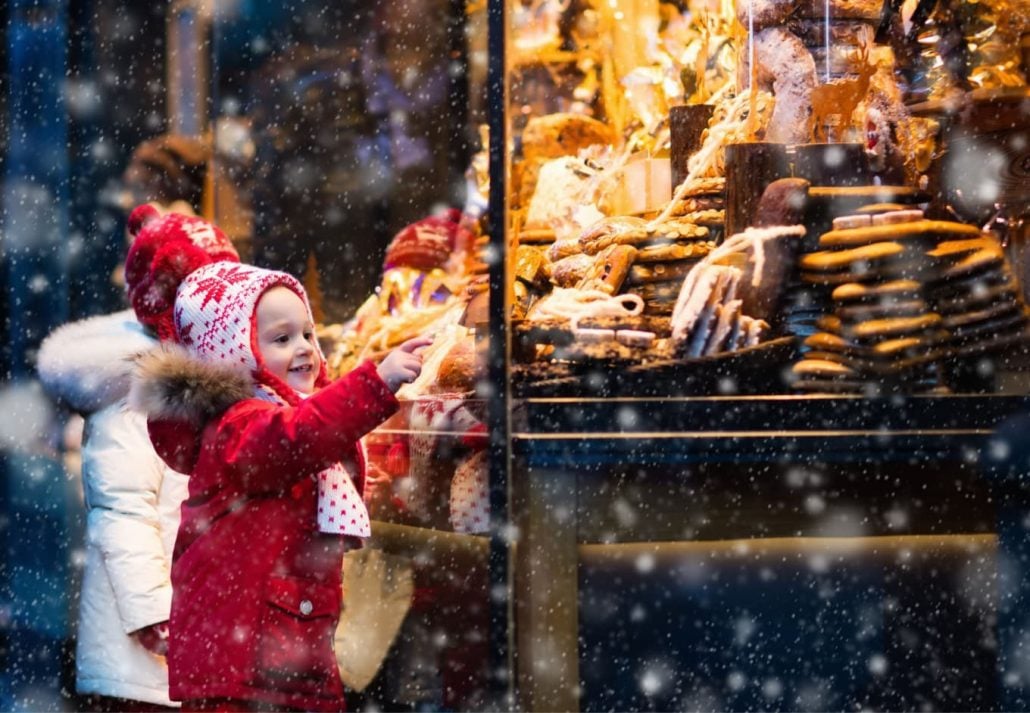 Wondering where are the best Christmas markets in Europe? Situated by the lake of Elliðaárvatn in Heiðmörk, the Reykjavik Christmas Market is the perfect place to escape the city's heaving crowds!
The Christmas Market in Reykjavik has it all — a giant glowing Santa, homemade treats, and captivating views, along with an amusement park! When here, one must also make sure to catch Icelandic sagas and live entertainment and sip on freshly produced whiskeys to keep you warm.
Ireland
Dublin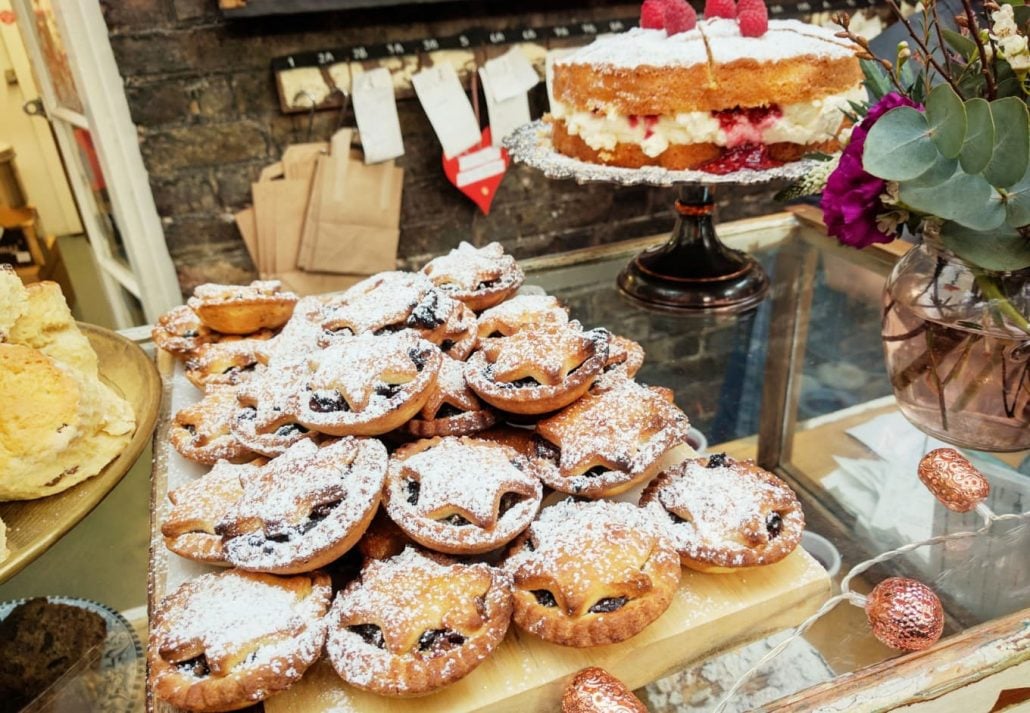 Colorfully-decorated wreaths, adorable wooden huts, a postcard-perfect Christmas tree, and a thousand lights — put it together and you will find a Christmas market in Dublin!
Although, unlike the other best Christmas markets in Europe, the ones in Dublin are smaller and more humble. Don't worry, it still offers a wide range of shops and stalls, along with the most sought-after restaurants from across the city.
Don't forget to also listen to Irish pipes and get into a swing of the ceilidh, when in Dublin.
Recommended Read: European destinations as per your personality
Belgium
Brussels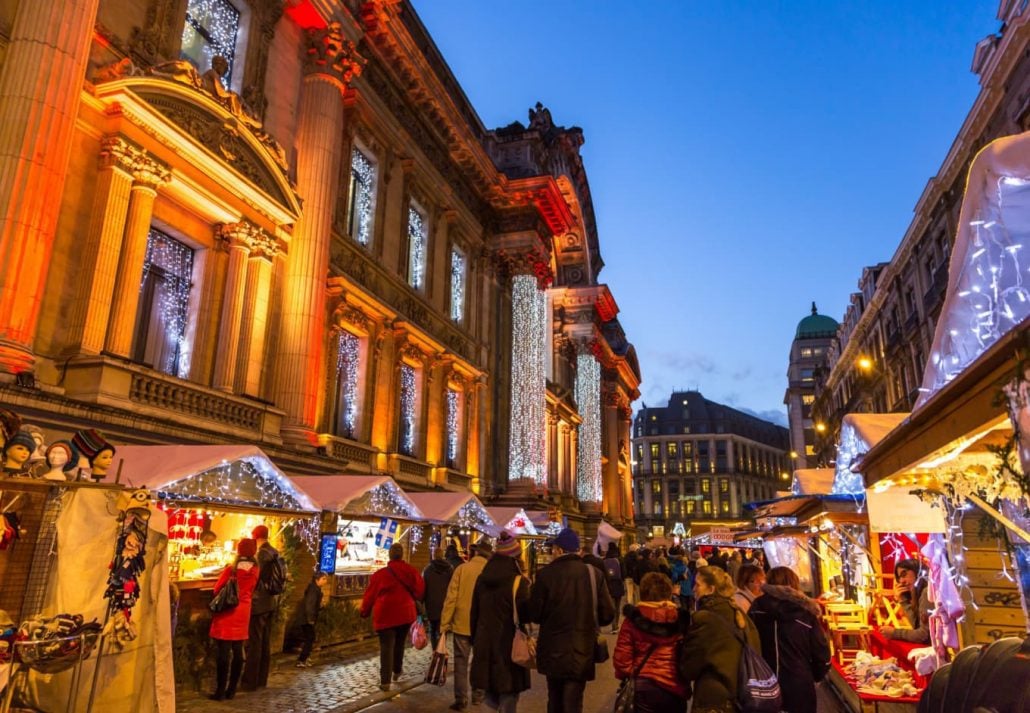 Christmas markets in Belgium are the highlight of the festive season. You will spot patrons sampling bar eats and Belgian beers at pop-up restaurants that are sprawled across the city this time of the year!
These winter villages are also some of the biggest that you will find — from Grand-Place, Bourse, and Place Sainte-Catherine all the way to Marché aux Poissons!
We also recommend their Instagram-worthy Ferris wheel, ice-skating rink, and light and sound shows.
Scotland
Edinburgh
Tucked away in the East Princes Street Gardens — with the Scottish National Gallery a stone-throw-away — this winter wonderland is also among the best Christmas markets in European cities.
What's special about this one, though, is its fun-filled festive activities! You will spot a mini train ride and maze for kids and adults alike.
To soak in the city's most tantalizing scenery, there is also the Edinburgh eye, which is turned into a Ferris wheel this time of the year.
Hungary
Budapest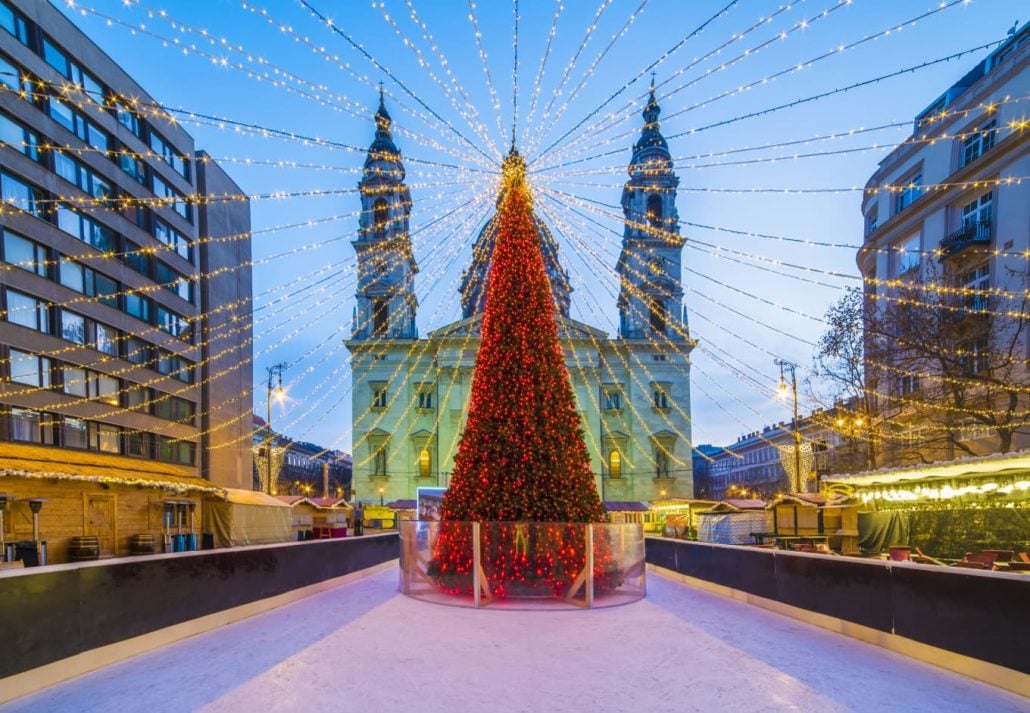 One of the top Christmas fairs in Europe, the city of Budapest looks straight out of a storybook during the holiday season. With many wonderlands littered around, there are two in particular that bring together locals and tourists, year after year.
Basilica, which is also Budapest's first, is unlike any other. Apart from offering the usual festive treats, a beautifully-decorated tree, and snow-clad bazaars, it's among the few green markets on the continent. You will find food served in recycled cutlery and gifts wrapped in eco-friendly paper.
The market in Vorosmarty Square, on the other hand, is one of the most popular haunts for warm chimney cakes, mulled wine, and music concerts.
Recommended Read: Free things to do in Budapest
Finland
Helsinki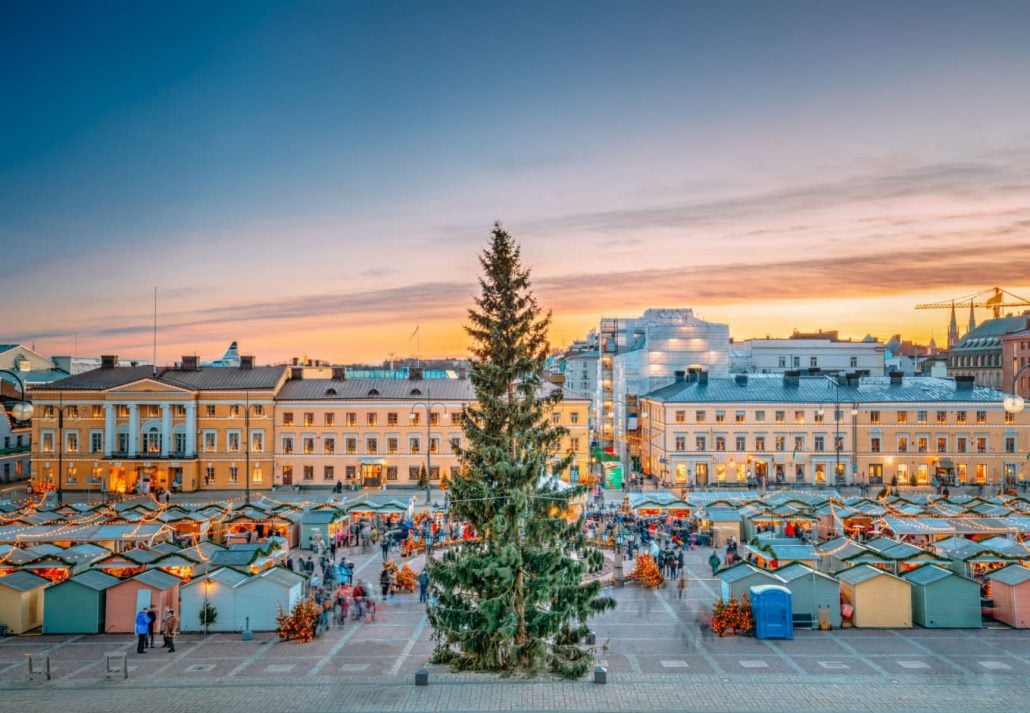 Tuomaan Markkinat in Helsinki has to be among the most delightful open-air markets! Located in Senate Square, it is the oldest market in the city.
But what makes it truly fascinating, however, is its state-of-the-art facilities and mind-boggling entertainment. Tuomaan Markkinat features a heated sauna for you to unwind at, a fashion contest for dogs, and — believe-it-or-not — quaint little eateries selling vegan ham!
Not to mention, Tuomaan Markkinat is also among the few sustainable markets in Europe offering extensive plant-based food fare and eco-friendly gifts and goodies.
One must also visit the market for its warm porridge and abandoned castles that make for a surreal backdrop!
Recommended Read: 5 unusual European drinks to try on your next trip
Sweden
Stockholm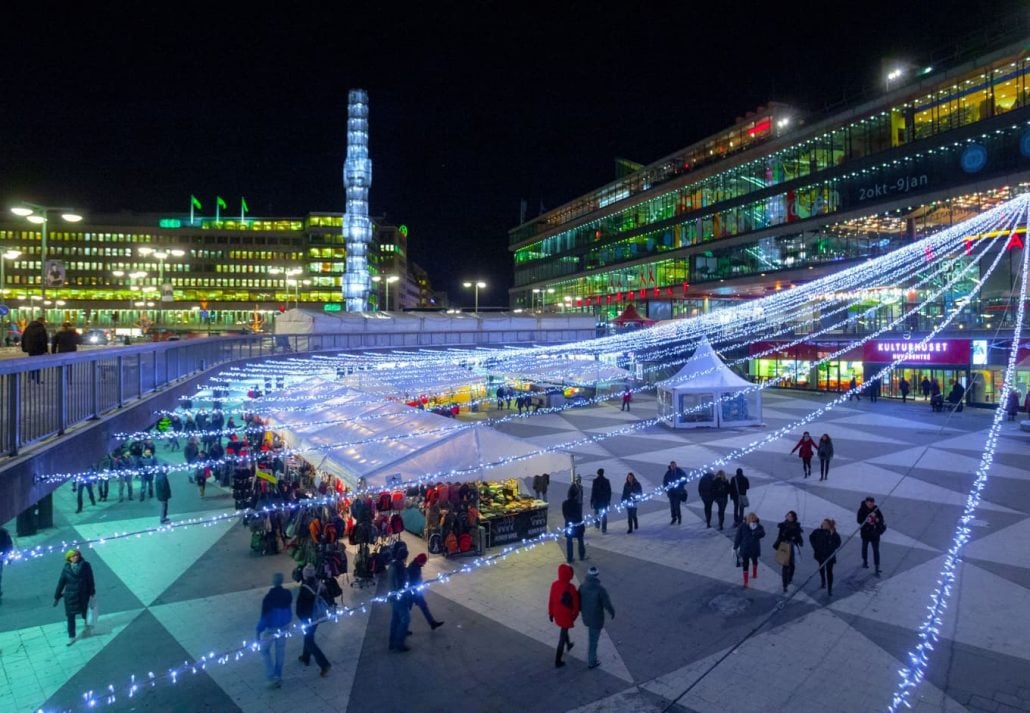 When in Sweden, do it like the Swedish. Head to Skansen to witness the surreal open-air museum and break a leg with some Swedish folk dance. Feel the festive cheer nibbling on chocolate-glazed apples at the Skansen near Town Hall or spend an afternoon window shopping around Nordiska Kompaniet in Hamngatan and Kungsträdgården.
It is also known for the most magical nativity scene.
Recommended Read: Tips for better train travel in Europe
Norway
Oslo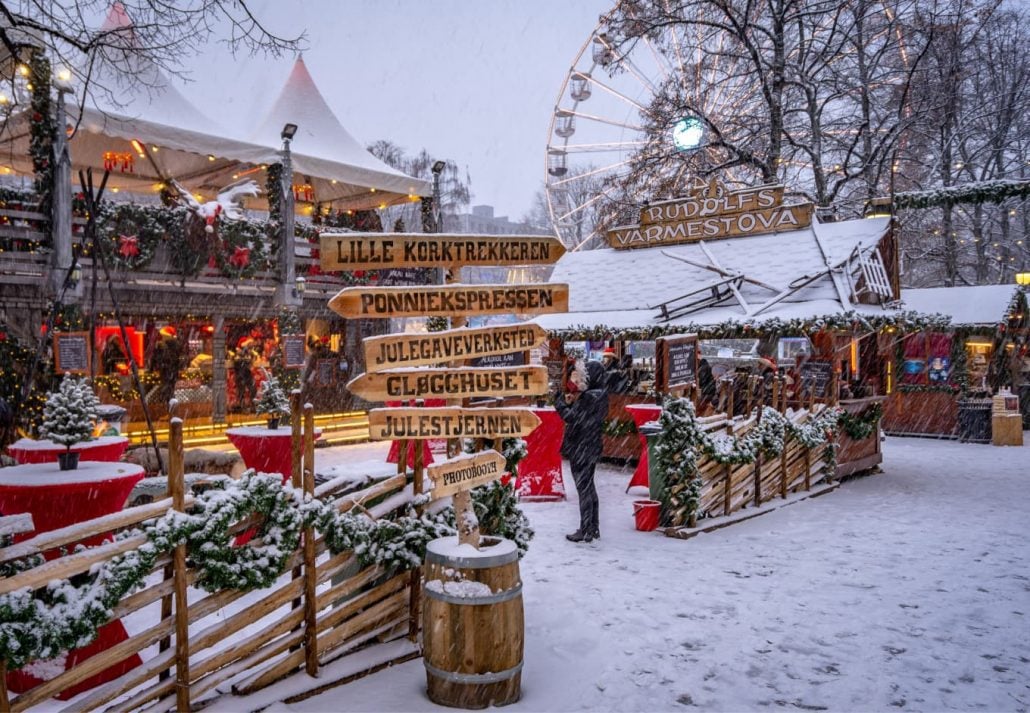 Locally known as Jul i Vinterland, Oslo's most popular Christmas market is tucked in the heart of the city itself, and near the City Hall Square. Imagine fairy-tale landmarks, picturesque views, delectable cuisines, and a beautifully-lit Christmas tree — it has it all!
But its most remarkable feature is the food spread that it offers, which is so famously succulent, that one always eats well here! On its menu are smoked salmon, Norwegian duck, and sugary cupcakes. And if you are in the mood for adventure, do try home-cooked reindeer.
Croatia
Zagreb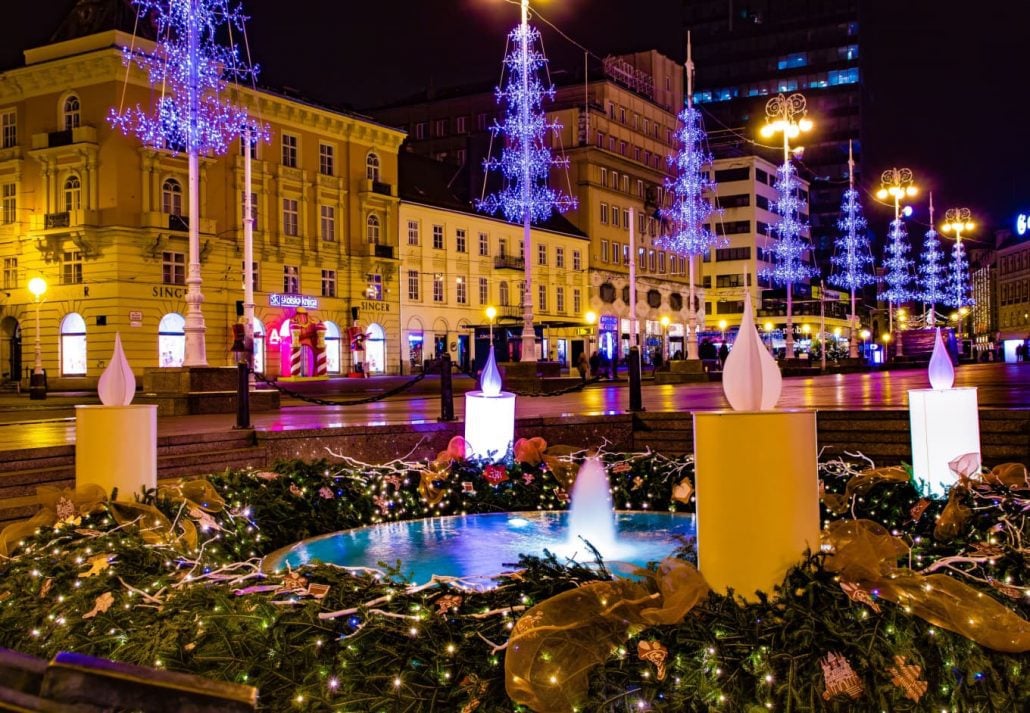 With vibrant bars, a captivating ambiance, and an endless array of things to do, there's so much here in Zagreb! But it's the winter season that truly makes the city the surreal beauty that it is. And Advent in Zagreb is the reason why.
Three-time winner of best Christmas markets, it's full of handmade wooden toys, luminous colors, and a tizzy of love and laughter.
You will find a scintillating carousel, a stunning ice-staking rink, and a host of music gigs! If you are a foodie like us, we recommend digging into some local sausages, mud pie, and holiday treats!
You can also spend your New Year here, as the city continues to brim with teeming restaurants and pubs throughout the year.
Switzerland
Basel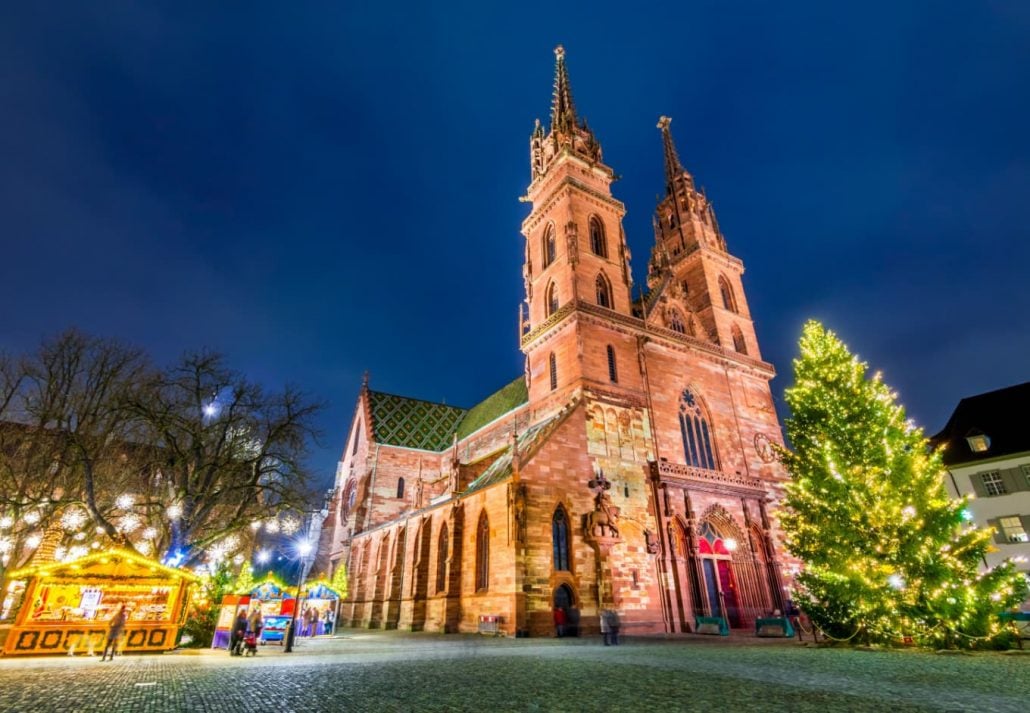 Basel in Switzerland is famous for putting together the most surreal nativity scene and fairytale-like magic. It has a line-up of over 100 shops and wooden stalls that —with incomes drying up in the pandemic — is also offering pocket-friendly handicrafts and food items.
FAQ
Where was the first Christmas market?
While the Christmas market has only recently become a trend on social media, it has its roots steeped in native European history.
One of the first-ever to be hosted was called the December market, which was located in the city of Vienna in Austria. It's believed that it was later replaced by Dresden's Striezelmarkt, which brings visitors from around the world even today.
Are German Christmas markets safe?
Those that have announced their dates and operating hours (amidst the COVID-19 pandemic) are following stringent protocols and precautions.
While many are hosting Christmas markets in the open air, others have reduced the number of shops and stalls. Patrons are also encouraged to maintain social distance and hygiene at their end.
Which is the biggest Christmas market in the United Kingdom?
With its picturesque abandoned cathedrals along with a sizeable host of stalls and shops, Winchester continues to be one of the biggest and best.
Hyde Park in London, Broad Street in Oxford, and Winter Wonderland in Nottingham are recommended alternatives.
How much does it cost to live near one of the best Christmas markets in Europe?
CuddlyNest offers a variety of accommodation options for all budget sizes. You can find your best pick here.
With an endless list of the best Christmas markets in Europe like so, choosing where to go can be quite a rut. But believe us, the snow-capped mountains, a larger-than-life ice rink, and a charming Christmas tree are all worth the fuss!
Tip: Now that you know what to do when Santa Claus comes to town, don't forget to read more about the best New Year's Eve destinations!
Browse. Book. Stay.
CuddlyNest provides all accommodations to all travelers at the best price. Find unlimited travel inspiration on our blog and social media channels.
You might also like:
Christmas Lights 2022
The Best Christmas Lights In NYC
Things To Do In New York During Christmas